Disclaimer: This story contains details of infertility.
"I have always wanted to be a mother. Ever since I was little, I knew I was meant to be a mom. I spent countless hours playing 'house' as a child and even as my younger siblings grew up and I was much too old to be playing with babies, I would do whatever I could to convince my two younger siblings that we needed to play 'house.' We would spend a lot of time setting up the 'nursery,' filling bottles, changing pretend diapers, or even fastening the play Graco car seat into my parents SUV to pretend we were going to the park. Even as a young child, I fostered a love for mothering. 
In my teenage years, I would much rather have spent my evenings babysitting for family friends than be out with my own friends. Even my vocation as an educator fosters my love for children. You see, it is in my blood; it is my calling. I always wanted to take on the role of motherhood. The title I had always been sure would one day be mine. My journey to motherhood was different than some, but I am so grateful for the path I walked leading to my miracle babies.
I met my husband, Jay, in the spring semester of my first year of college. He was seeking a degree in project management and I was seeking a degree in education. We found ourselves sitting at the same table the first week of class and the rest is history. After four years of dating, we got engaged and started to plan for our future together as husband and wife. We were married in June of 2014, and soon after began to talk about expanding our family.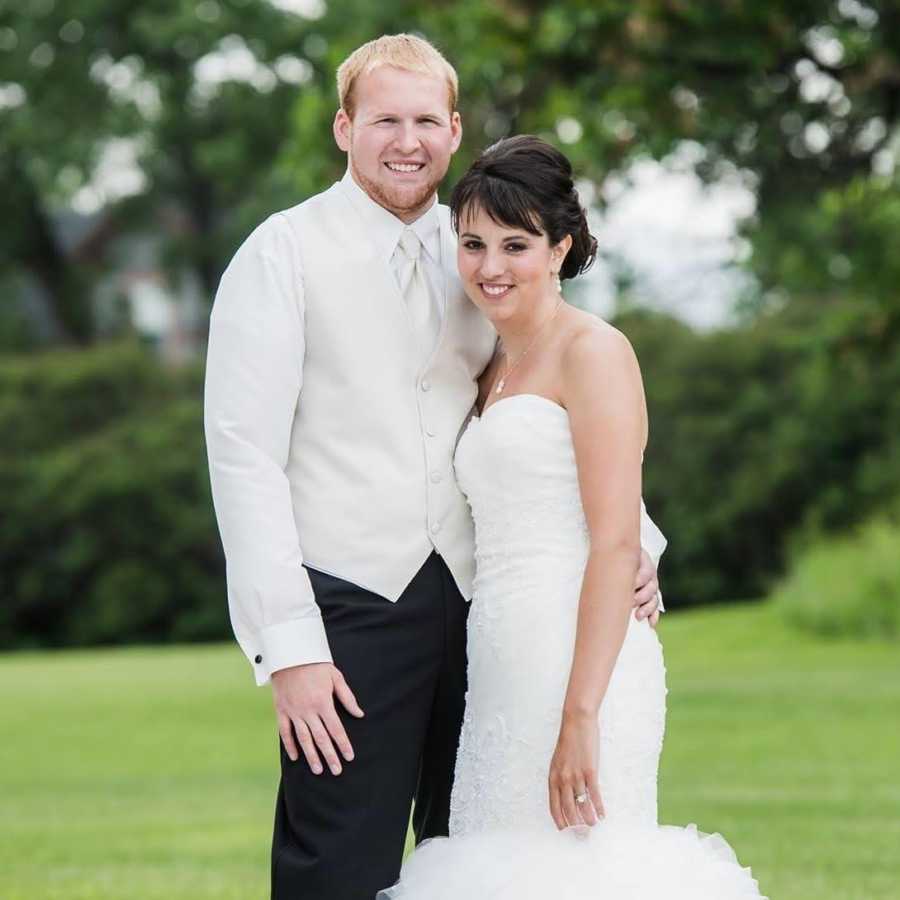 One spring day in 2016, two years into our marriage, I found myself in a tremendous amount of pain while working out at the gym. I quickly left, driving myself home to hopefully sleep it off. Two days later and still in excruciating pain, I drove myself to the ER with my husband working six hours away, and was diagnosed with a ruptured ovarian cyst. From this moment forward, our journey to parenthood would be masked by the word infertility, covered in numerous unanswered questions, countless tears, and newly traveled roads leading to our ultimate blessings nearly three years later.
After this day in 2016, I wanted to find the answers to my most burning questions. I wanted to know why I had a ruptured cyst, where ovarian cysts come from, and how I could prevent them in the future. My official diagnosis came after two years of multiple doctors telling me, 'We don't know what's wrong,' 'Cysts just appear, we don't know why,' 'If we could fix it, we would,' and so on. All uneven lies and half-truths that I just knew weren't the answer. It wasn't until I found a doctor 200 miles away from my home who actually listened to me and heard my pleas, that I received a diagnosis.
I went in for my exploratory laparoscopic surgery in the summer of 2017. I will never forget waking up from my surgery, hearing the words, 'We found stage 4 endometriosis, one of the worst I have ever seen in someone so young,' coming from my doctor's lips. A moment that will forever be etched in my mind, my husband holding my hand, and with tears streaming down my face, I realized my road to motherhood would be filled with even more questions and more waiting.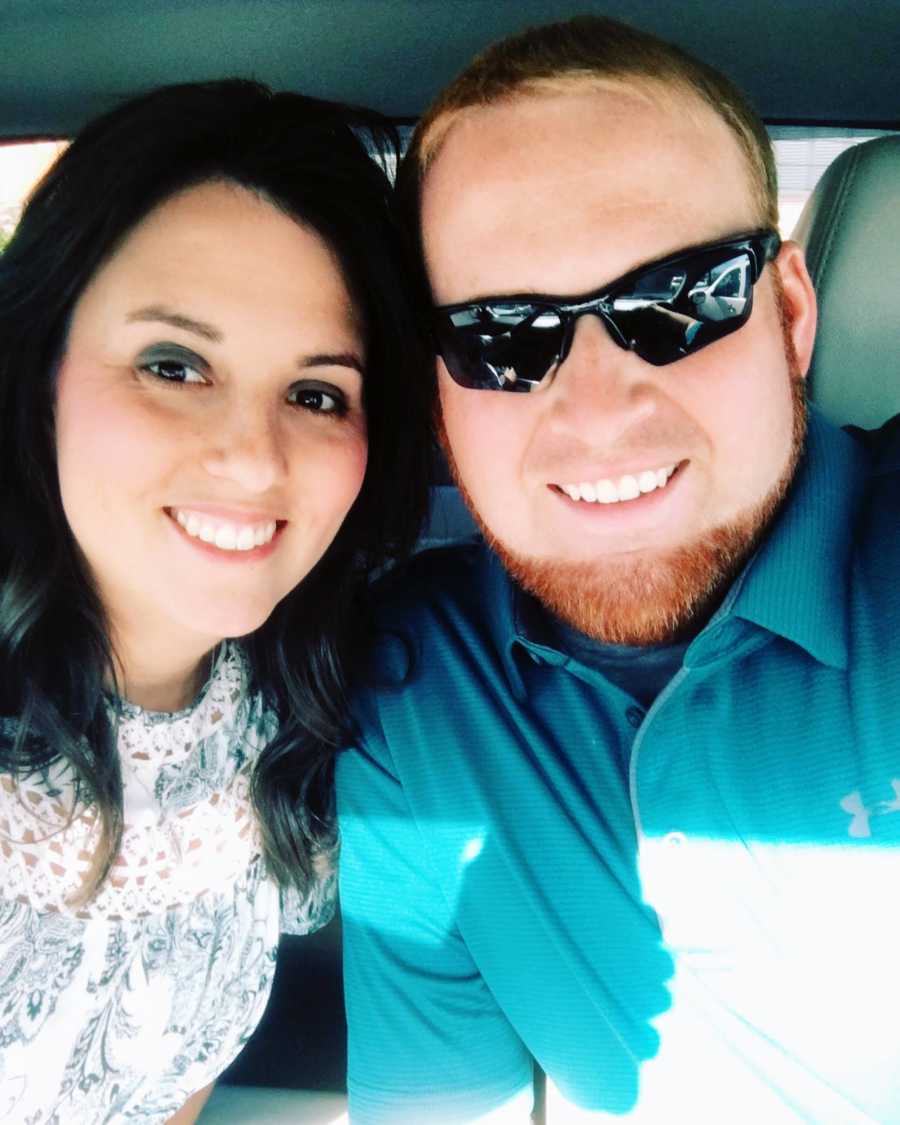 It was up until this point that very few, and by very few I mean six people at most, knew about this difficulty in my life. I was so ashamed, embarrassed, distressed, uncomfortable, and unsettled about sharing this with anyone around me. I didn't want to have a label put on me or let anyone know my husband and I had encountered this hurdle in starting a family. Since I was having the surgery, naturally my siblings and some of my extended family found out. As time went on, family member's words of encouragement were so comforting to me and my husband that I began to be grateful that people knew. We felt that even though they may not have fully understood our pain, their support was a huge help in coming to terms and accepting that starting a family may not go as smoothly as we hoped. As more time passed, the scars from my surgery began to heal and I did too. I was just so grateful to finally know what was causing our issue and that was relief in itself.
After receiving my official diagnosis, it was around this same time that Jay and I decided to send in our initial paperwork to our adoption agency which helped to provide some comfort and healing. Without telling anyone about our plan to adopt, we submitted our application in July. A few short weeks later, our first application was accepted on July 24, 2017. We were officially on the list with an agency! What a sigh of relief and huge blessing this was to us. We felt so much joy in our decision! We were so excited about the prospect of adopting, which is something we had discussed before we were even ready to start a family, years before our issues with infertility. We wanted to keep it a secret so we could surprise our family with the amazing news. From this point forward, it was full steam ahead. At Christmas of that year, we announced to our families that we were pursuing adoption.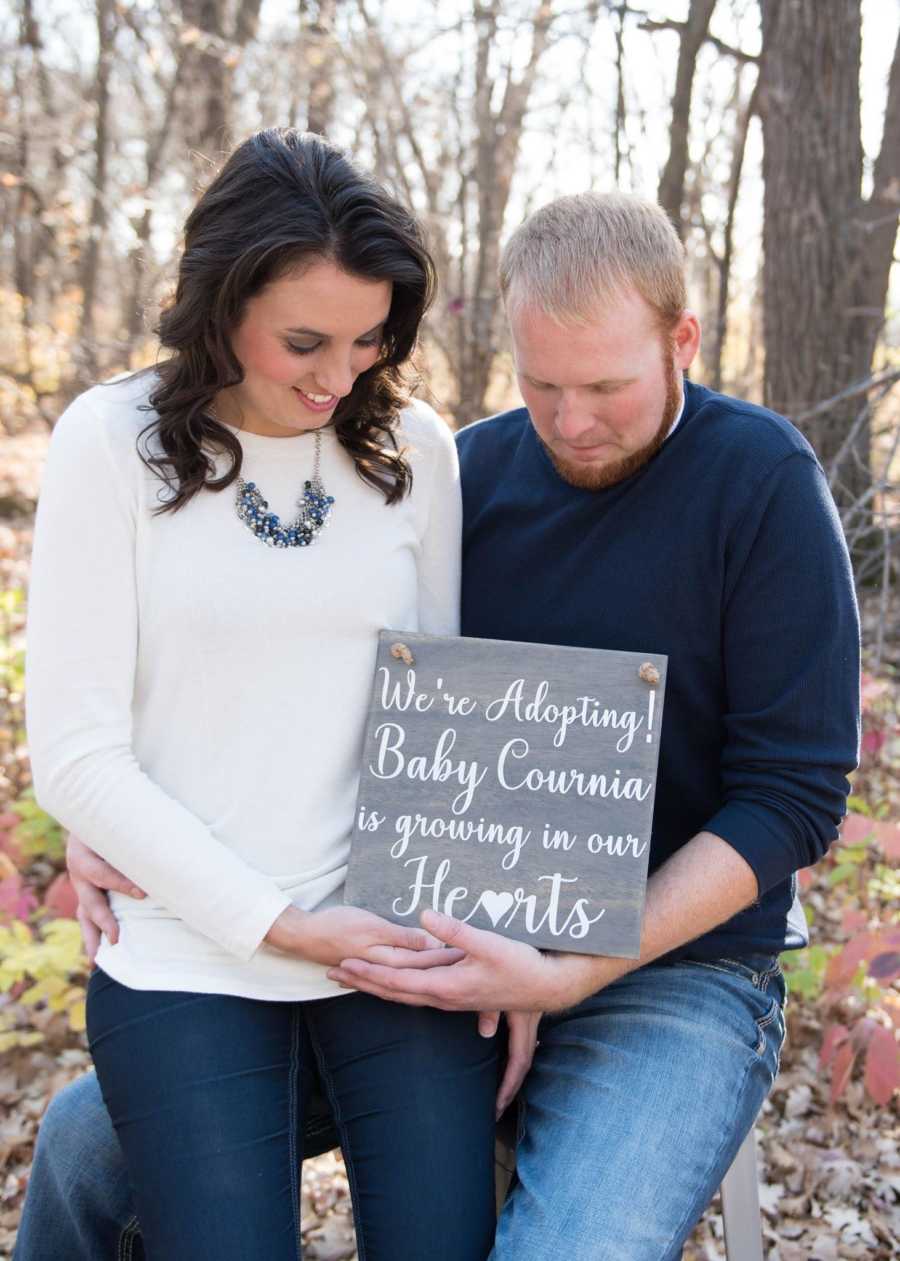 For over a year and a half, we pursued adoption, spent countless hours completing paperwork, finalized our home study, created an adoption profile book, started an adoption blog, and shared our journey on our adoption Facebook page and Instagram. During this time, we had been contacted by many women pursuing adoption for their unborn baby, providing resources and personal counseling. We even had an expectant mother from our home state reach out to our agency asking to view our information and see our profile book. Ultimately, she chose a different family, but we continued to pursue adoption with our whole hearts. Throughout that year and a half, we prayed for our family and our circumstances, all the while grappling with the many unknowns associated with infertility.
Throughout the time we pursued adoption, I stopped believing a natural pregnancy was even a possibility for me. Then, one day in March of 2019, I decided to take a pregnancy test. As I drove home from teaching that day, I had a strange urge to take it. With my husband on his way home from work, I snuck upstairs to our bathroom and dug out a pregnancy test from underneath our bathroom counter. When those two pink lines appeared, I fell to my knees in tears. 
Shaking and trembling, I quickly ran to the nursery we had partially set up with an old rocking chair and grabbed the onsie we had used for our adoption photoshoot and baby blanket my mother-in-law sewed for me that summer, and ran downstairs to meet my husband at the door. I will never forget the look on his face or the embrace we held with each other for some time after. Finally, after 1,460 days, God revealed his plan to us in the most amazing way: blessing us with a pregnancy. The miracle we had been praying for was finally coming. It was the dream I had long been hoping for and one I thought would never come.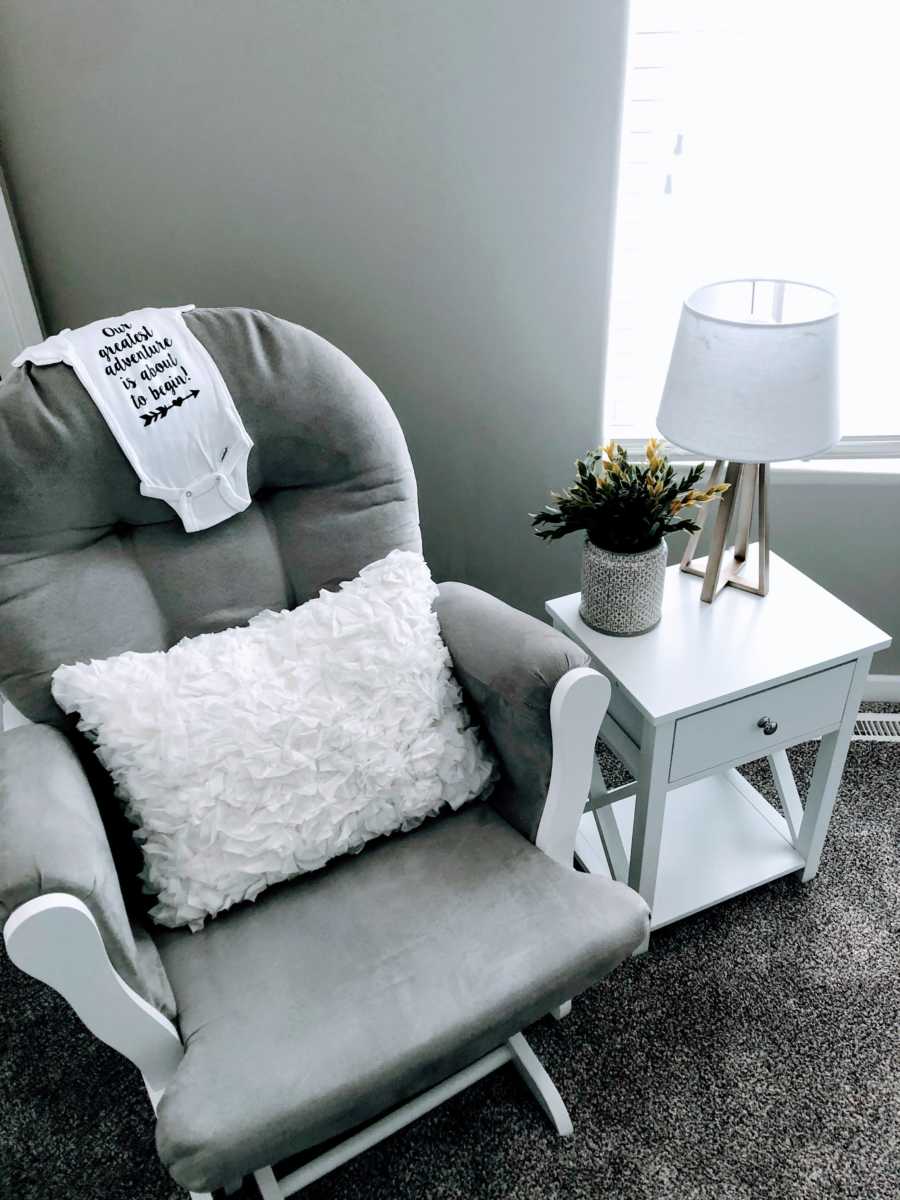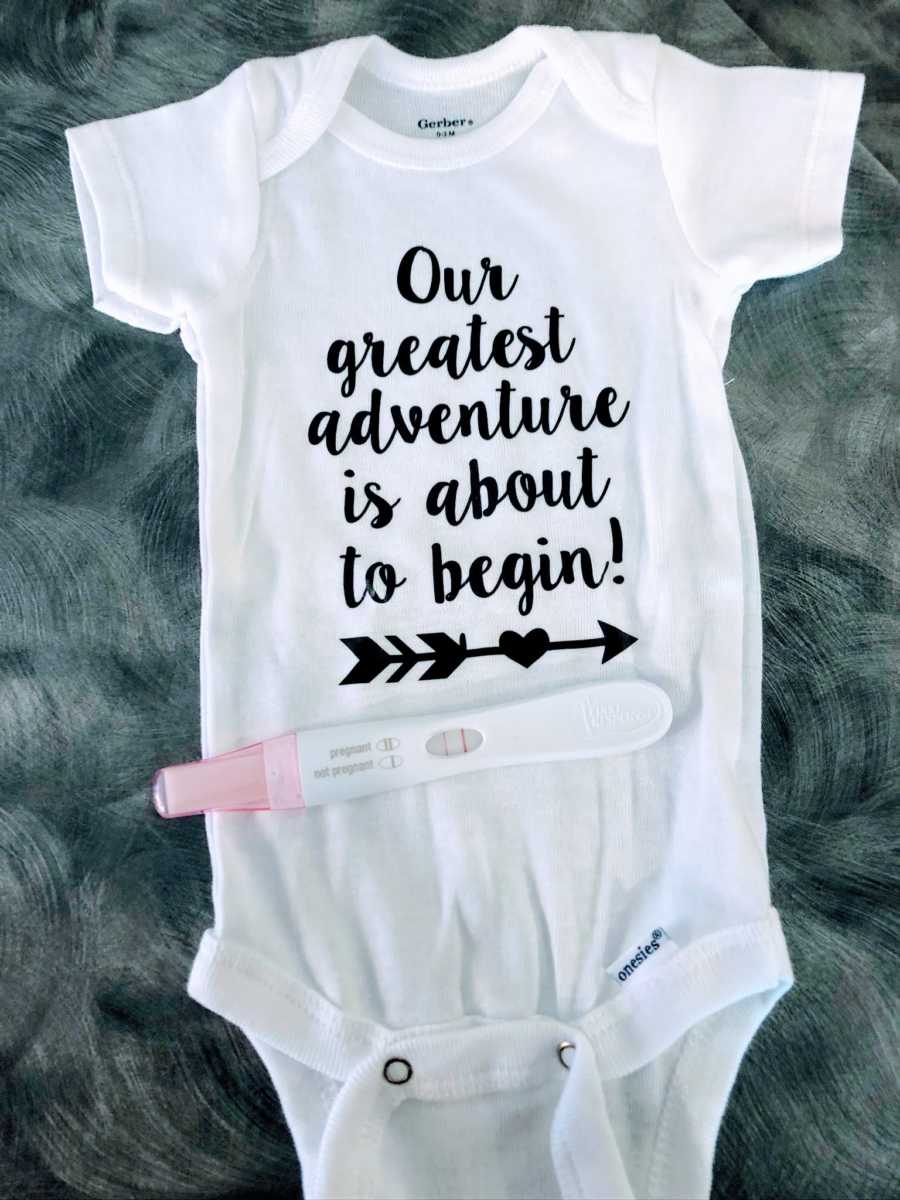 As someone who has struggled with infertility for the better part of four years, you begin to lose sight of the possibility of ever becoming pregnant. You stop planning for this adventure because it is too difficult to share this excitement every month, only to be let down each time it doesn't happen. For Jay and I, we came to terms with this reality, we learned to adapt to a new adventure that was ahead for us. Even though our desire to pursue adoption came before we even learned about our infertility, a deeper desire grew when we began to pursue this path to start our family. We have spent almost three years walking through the adoption process, going to all of the necessary classes, completing the countless pages of paperwork, and really envisioning this path as a way to start our family. We no longer looked to a positive pregnancy test, but a positive connection with an expectant family online.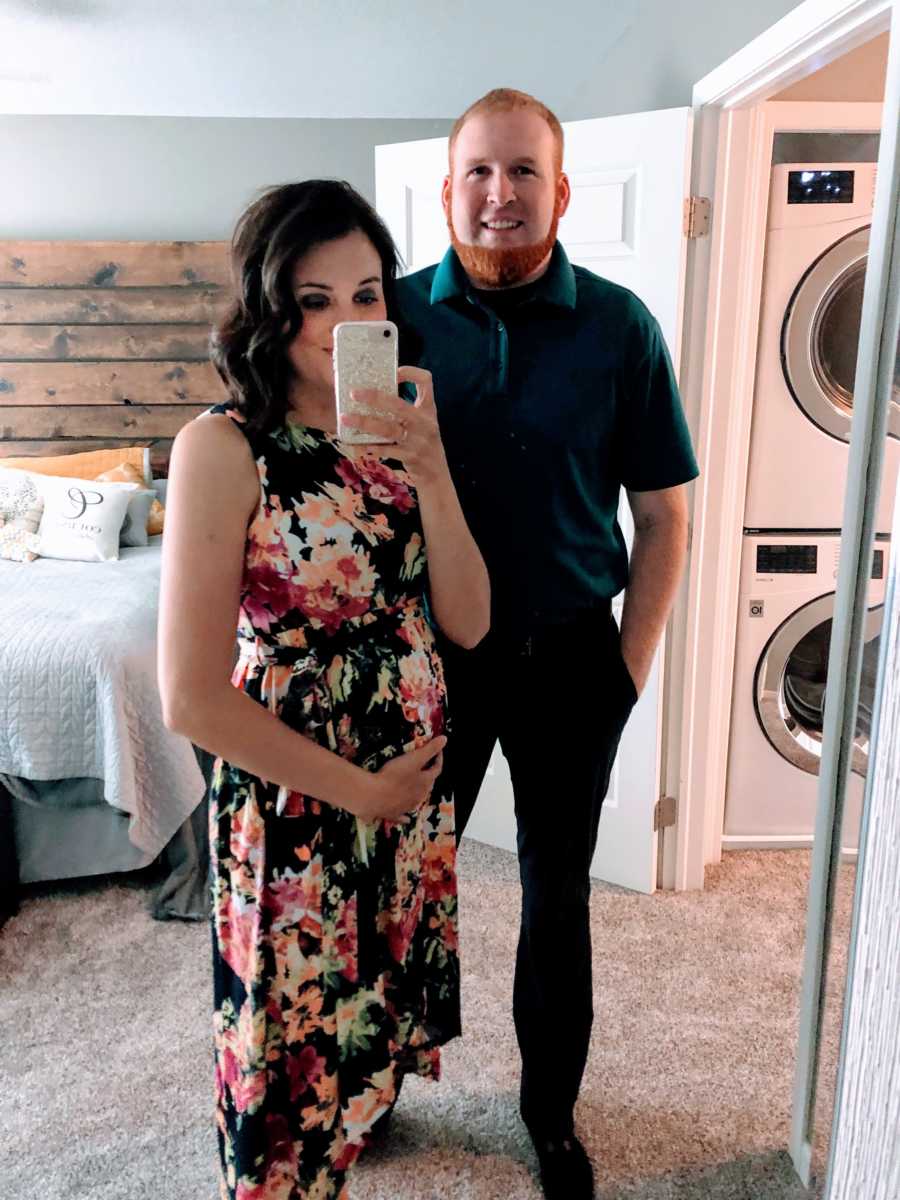 We no longer dreamt about carrying our own child, but dreamt about the day we would get the call from our agency that we were a chosen family. We no longer prayed for God to bless us on our own path to becoming parents, but prayed for the mama who would give us the most amazing gift. Three years we let our mindsets shift to this path and we were so excited about it! So much so that when we found out we were expecting it actually took us some time to move beyond this path we had prayed for so long. It was actually a mourning process for me as I had to once again shift my mindset back to what we had always dreamt would happen. Not to mention the fact I was experiencing guilt about getting pregnant when so many others were still waiting for this same blessing.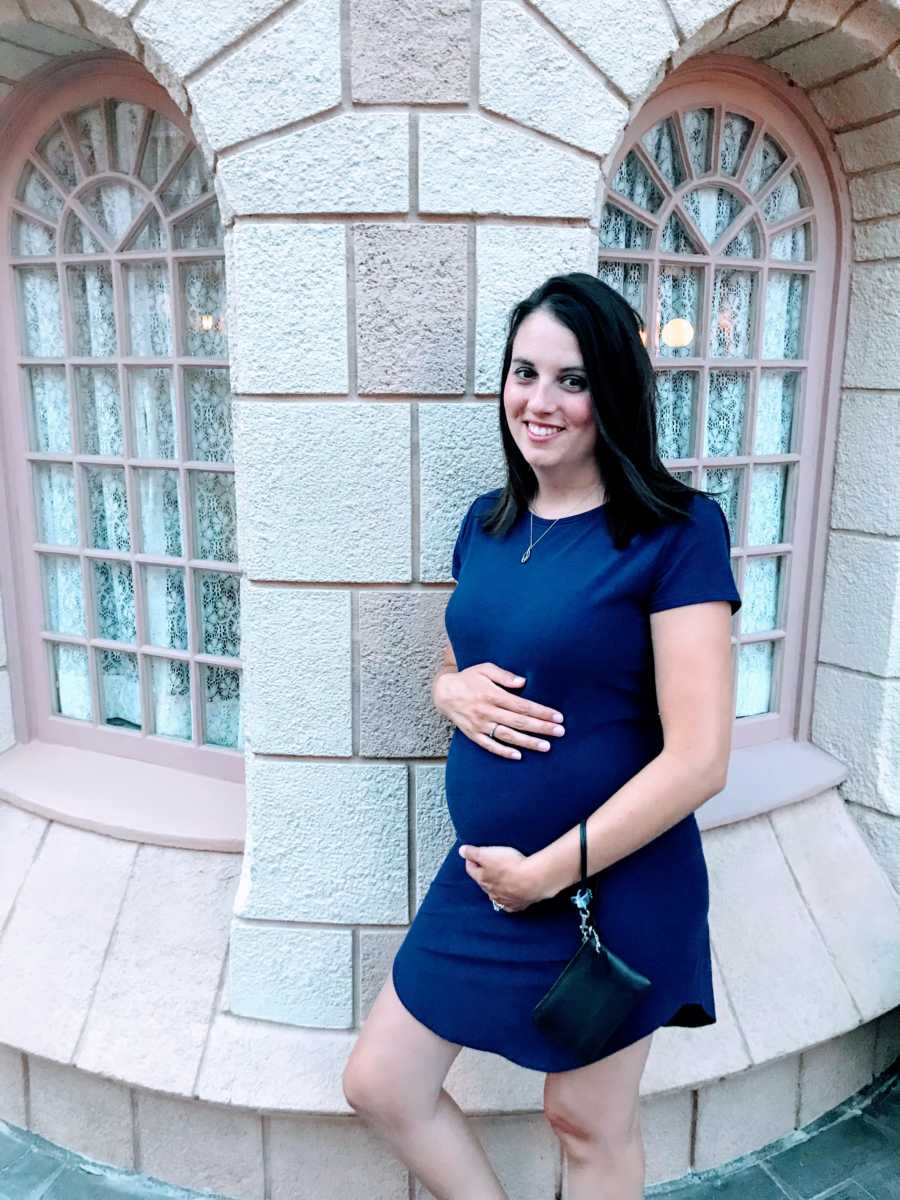 Fast forward two weeks later at our first ultrasound. Jay and I were shaking at the knees, anxious at what was to come for us. Our previous experiences at doctors' appointments meant pain and suffering, negative news, and many years of failure along with feelings of only previous trauma. After a few moments of silence, the ultrasound tech begins to mutter, 'I think I see another heartbeat here. Yep, I definitely see two heartbeats.' Our shock and surprise at this moment were one that I can't even begin to explain. Shock, awe, excitement, and anxious anticipation. Two heartbeats. Two. These words will forever be etched in my mind, covering my aching heart. I had spent so long praying to become a mother. I spent four years praying for motherhood to be a title I would carry. Then, in one short instant, I would find out that I would proudly get to carry that title twice. Every single tear, heartache, and moment of suffering was worth it and I would go through it all over again because it brought me to my two miracles.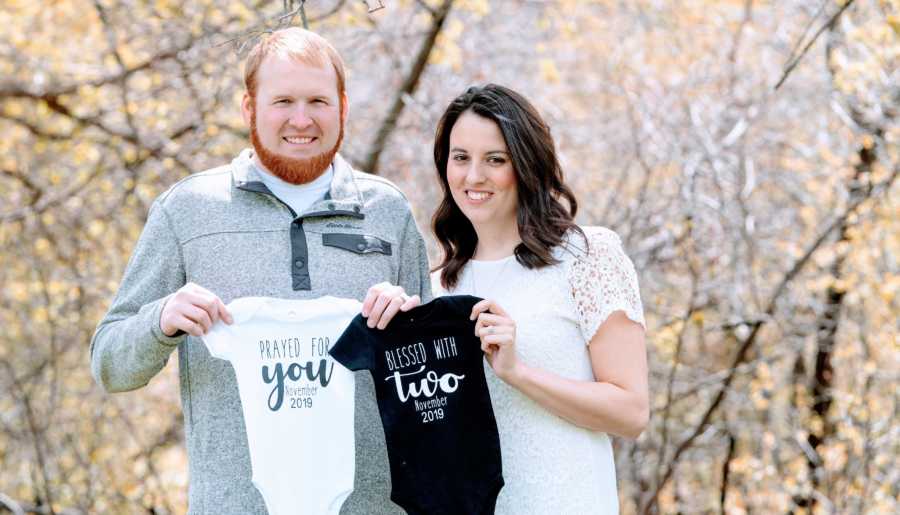 During the time in between pursuing adoption and finding out I was expecting, I purchased some baby items in faith that one day, we would have a little one of our own. I felt the desire to purchase something that would be an outward reminder of our inner pleadings for a child. I actually went to a store searching for the perfect baby item. I knew it needed to be something that was gender neutral and wouldn't go out of style. I remember feeling so shy and embarrassed as if everyone in the store knew I was struggling with infertility. Fast forward 3 ½ years, after I found out we were expecting twins, I went back to the store to see if they still had the same booties, I walked right in and found them in the same spot in the store from years earlier. Same color, same style, same fabric. I was able to purchase another set for our little ones in the womb.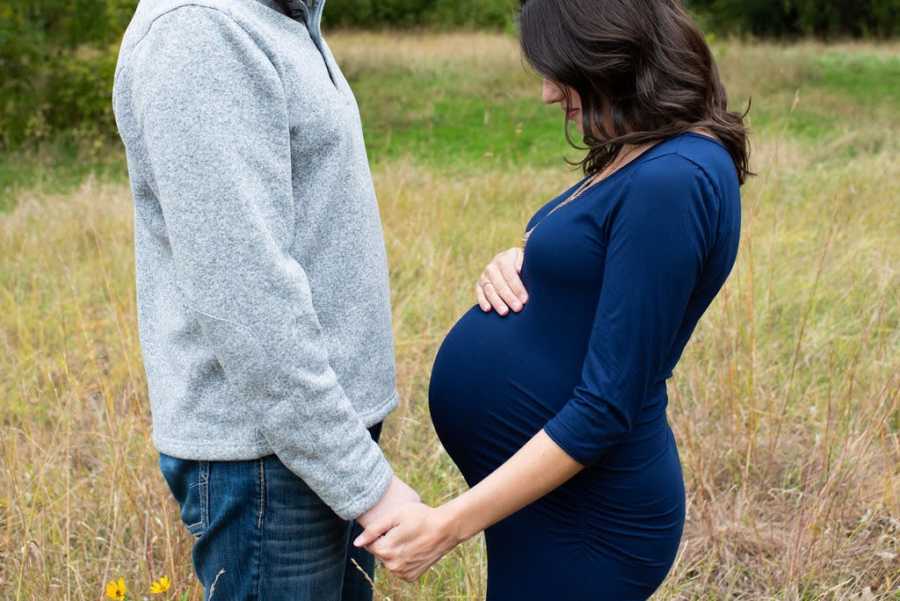 The days, weeks, and months following that first ultrasound would be a continuous battle of emotions. I was happy and excited, but so scared and fearful. Pregnancy doesn't make the pain of infertility go away. I guess that is something infertility robs you of. The ability to be thankful and joyful for a pregnancy, the ability to just go on as if everything will proceed as normal. Every doctor's appointment after that first one had us holding our breaths, praying everything would work out the way we wanted. We had to worry about each appointment. Would they both be growing at the same rate, would I gain enough weight to sustain a pregnancy, would I develop gestational diabetes, would my body be able to carry them to term, and on and on. I suppose these are the same things that every pregnant woman worries about but after dealing with infertility, because I feel like these emotions are heightened. Even after the babies were born, I still felt like something would happen to them, like it was all a dream.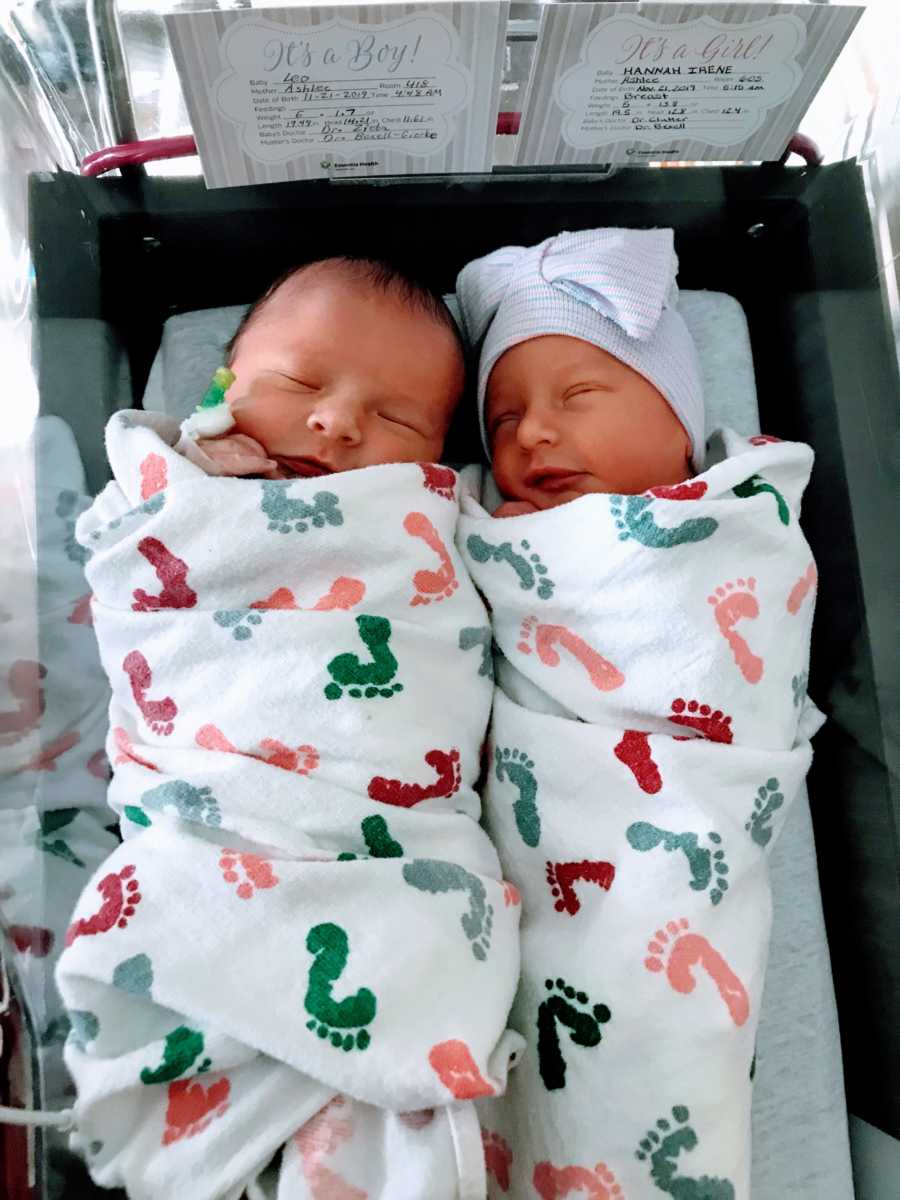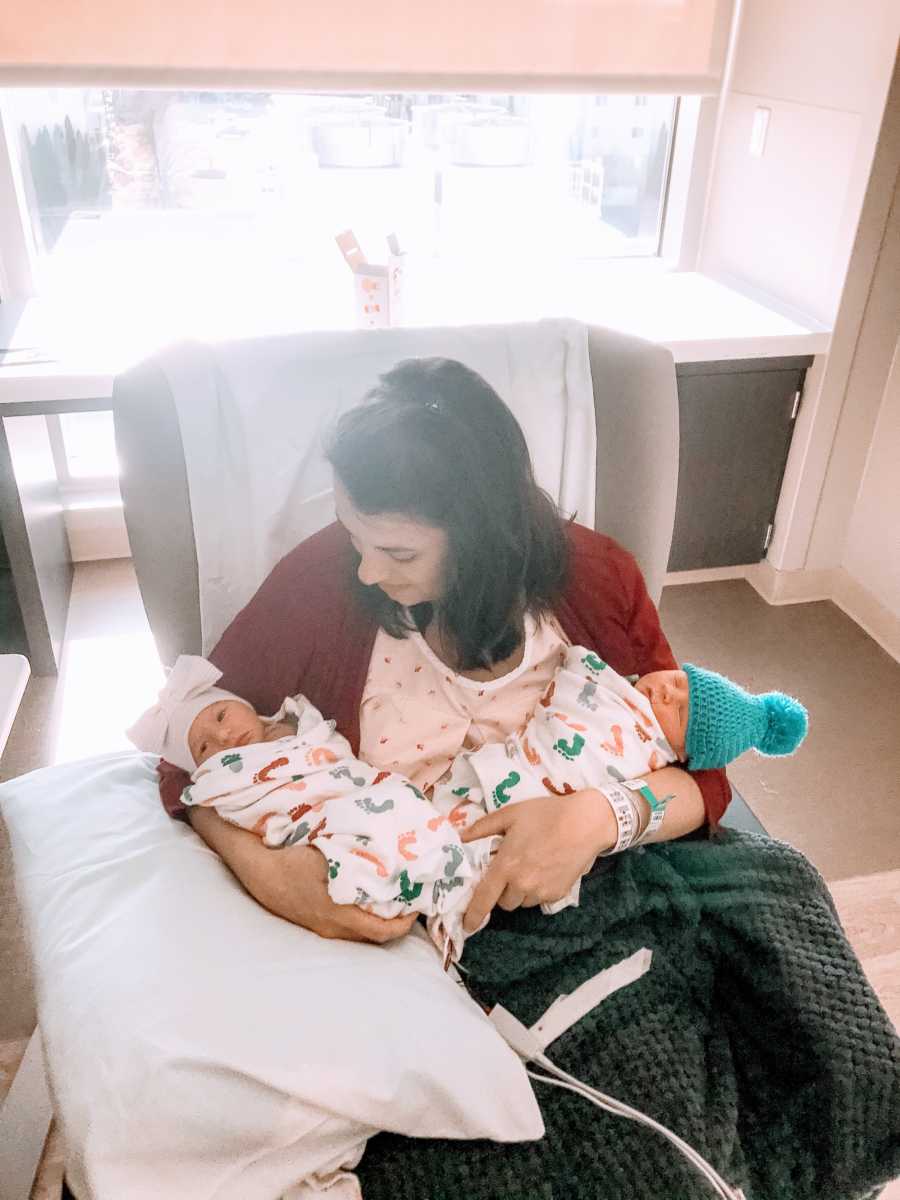 Our twins were born in November of 2019. After four years of waiting and two days of intense, hard labor, our miracle babies finally arrived. After all of the years of brokenness and heartache, our arms and hearts were finally full.
Life as parents of multiples is busy. Our time is filled with many sleepless nights, never-ending piles of laundry, overflowing bottles in the kitchen sink, constant diaper changes, and two littles needing our undivided attention. There are days when I am so tired I can hardly keep my eyes open. Motherhood is messy and chaotic most of the time, but these are the days I prayed for. These are the days I dreamed of and I wouldn't change it for the world.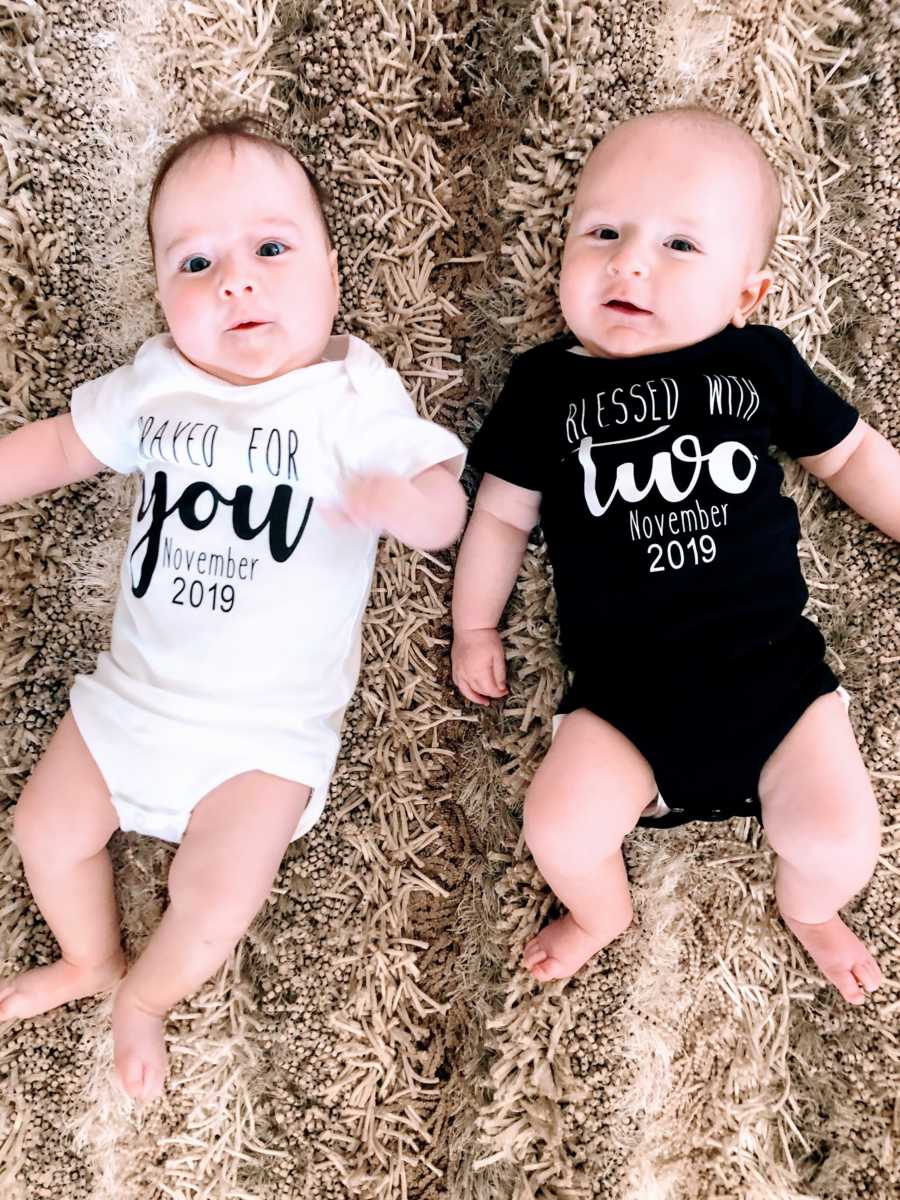 Long before my time being a mom made, I began to see the world around me in a different light. I began to understand there was a greater purpose for me, a better reason for my hurt. This feeling of acceptance didn't happen overnight and it took me many years to feel at ease with the path God had for my life, but I was able to overcome my grief. I found a support system in my husband, my sisters, and my family. I found other women who struggled with the same things I was struggling with. I found strength in their stories of wisdom and comforting advice. I read blogs from infertility warriors and joined ministries dedicated to coping with infertility. I listened to podcasts from experts in the field and began to find peace from my pain.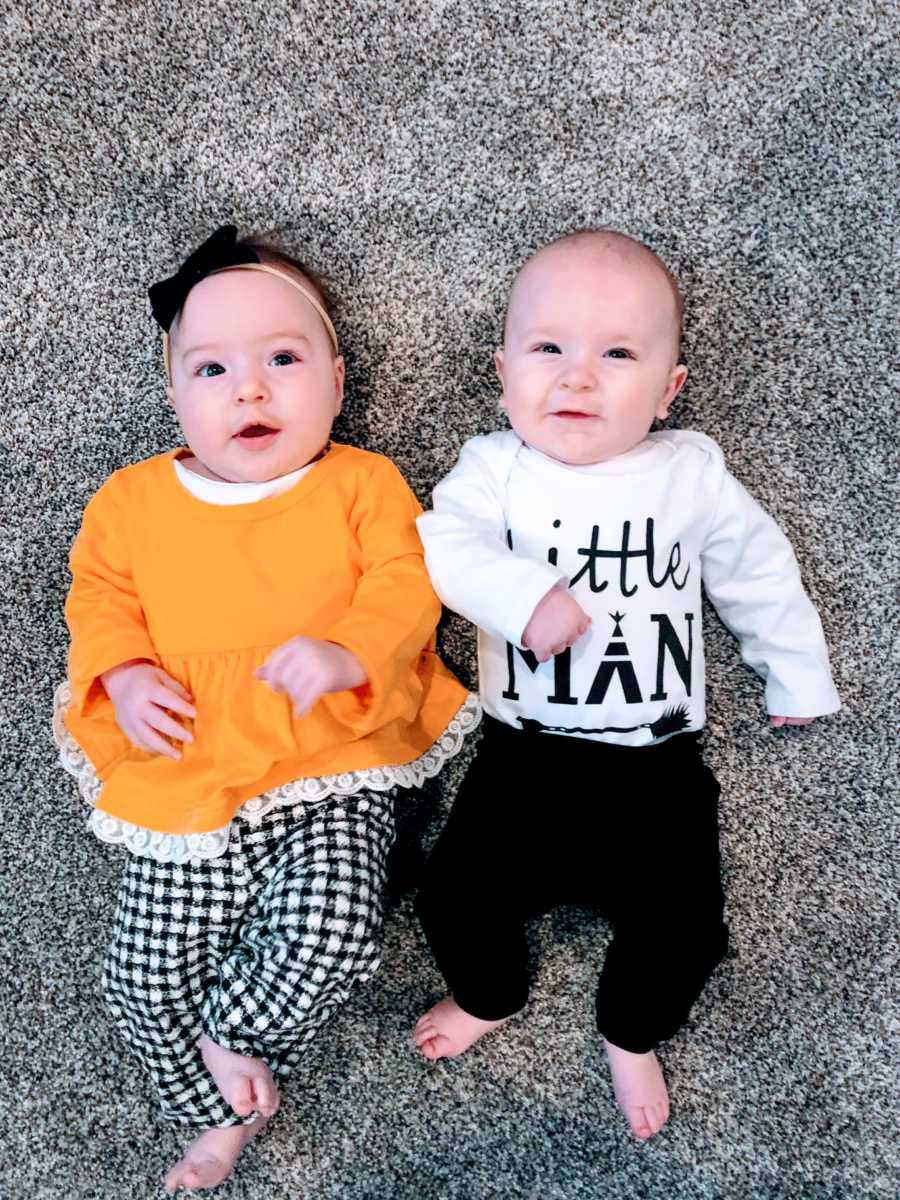 Infertility has impacted my life for the better. I always say I am actually thankful for my infertility because it has shaped me in so many beautiful ways. I am more patient, humble, caring, and kind towards myself. I am more reflective, empathetic, and considerate towards others. I am more loving, passionate, supportive, and thoughtful in my marriage. I am more prayerful and intentional in my relationship with Christ. I am stronger, braver, more compassionate, and ever so thankful for my role as a new mother. I have learned to lean into my journey and become grateful for it. I am all of these things BECAUSE of my infertility!
Infertility will forever be a part of who I am. I know it has been for the very best as I now have two of the world's greatest blessings in my life. All of the tears and heartache were so worth it to get to where I am today. And even though parenthood came to us in ways different than most, through cries of suffering and anguish, through unrelenting prayers and pleading, I wouldn't have it any other way."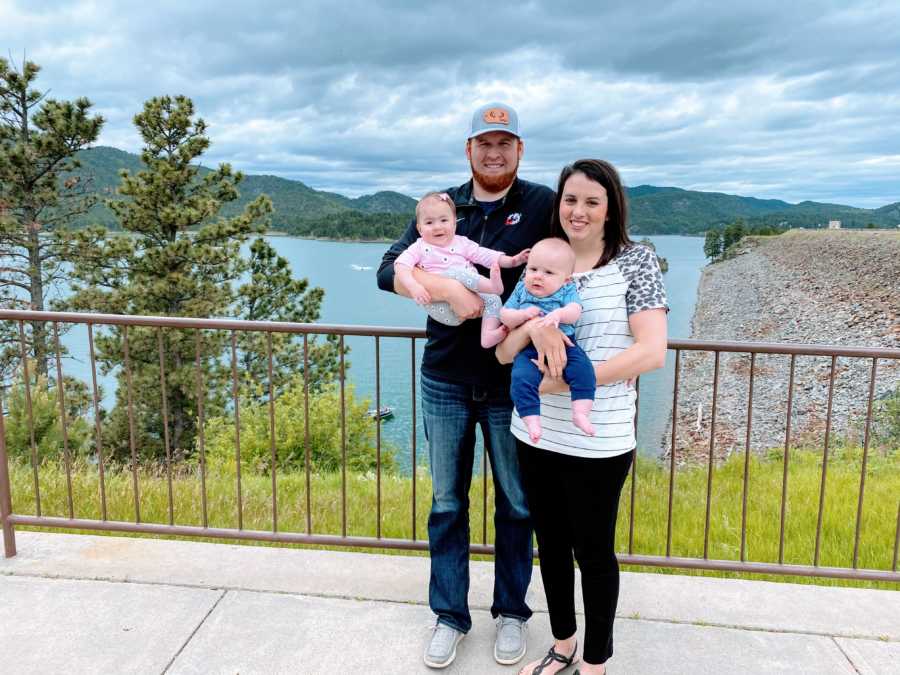 This story was submitted to Love What Matters by Ashlee Cournia. You can follow her journey on Instagram. Be sure to subscribe to our free email newsletter for our best stories.
Read more stories like this:
'At 60 years old, my mother said, 'Oh, I love being pregnant!' We laughed. She couldn't have a baby, could she?': LGBT couple welcome baby after sister donates eggs, grandmother volunteers as surrogate
'I started bleeding at 6 weeks pregnant. We braced ourselves for familiar bad news. 'There are TWO heartbeats!' I immediately burst into tears.': Mom pregnant with 'miracle twins' after 8 pregnancy losses
Please SHARE this story on Facebook and Instagram to encourage others to cherish every moment and love what matters most.