"A month before my 4th birthday my parents bought a salvage yard called Orr-Reed Wrecking Company. I was raised on Disney movies and to me, the piles of wood were my real life castles. Through my little girl eyes Orr-Reed was a magical place and at nearly 30 years old, it has held its appeal. Growing up I didn't see junk – I saw people's memories and I would make up stories for various items. Not much has changed in the last 26 years other than the fact I now run the store. At every demo site I still thank the houses for providing their former residents a home. Front doors aren't just pieces of wood. Some bride was carried over the threshold into her new home. Dads taught their little girls to dance atop their feet on our reclaimed floors and moms gave their babies their first baths in our kitchen sinks. Our light fixtures once served the purpose of lighting up tables as people worked feverishly late in to the night and people stared out our windows waiting for their loved ones to return home. Every item we have carries some sort of story and being able to sell them to others allows those stories to continue. To some people it is just trash, but to me it is priceless.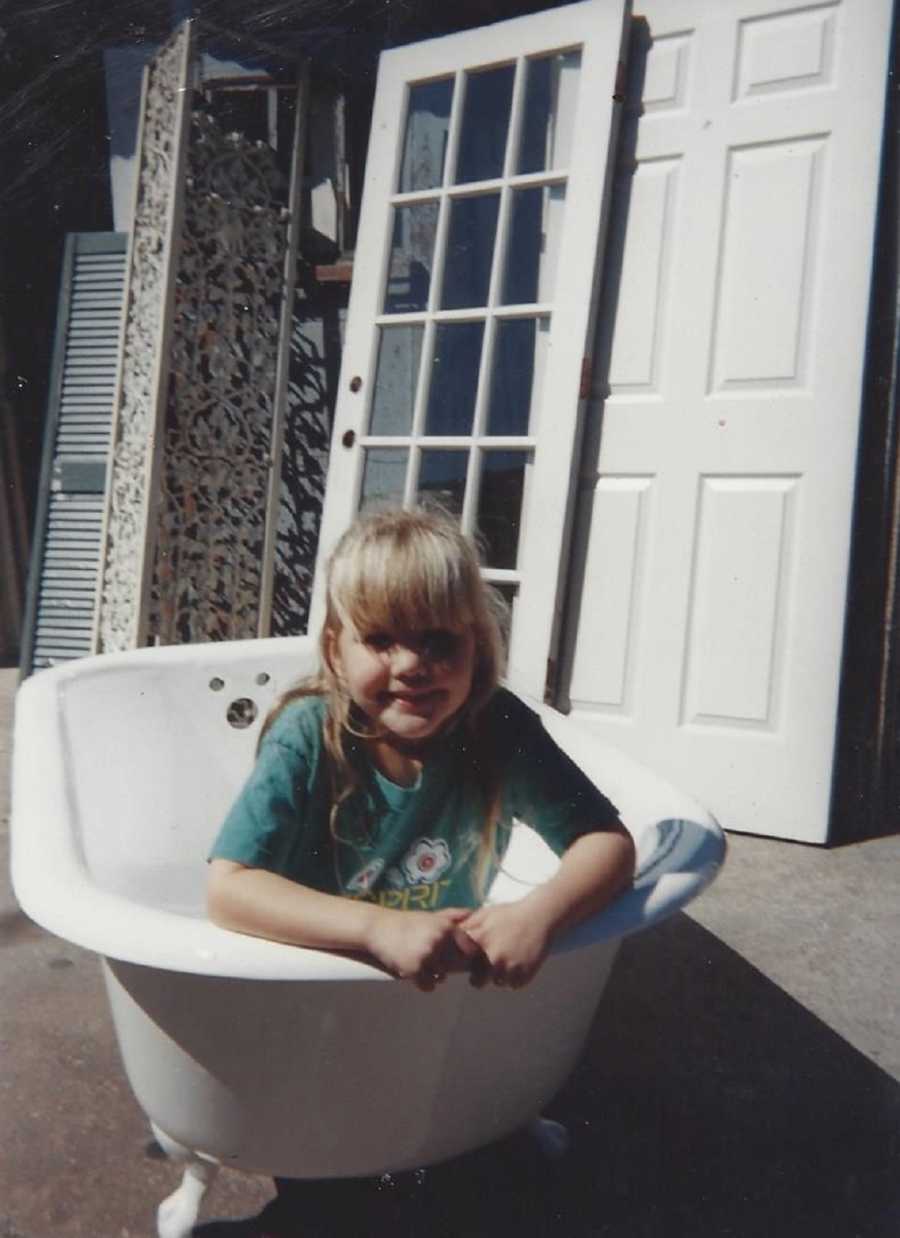 We do get a good amount of our inventory from demolitions but we also have several vendors who bring us items. These vendors are a wide variety of individuals who range from trash pickers to remodelers. I try not to play favorites but there are a few who I have grown to genuinely love. The one who holds the biggest spot in my heart is a gentleman named Daryl. He is a fix-it man for those who really can't afford it. He tends to work in trade for the items he clears out of people's homes. He makes a little money scrapping metal items and he brings me the treasures. He has brought me some truly cool things and some really obscure items. He is one of those people that lights up any room he is in. He just wants to help his community and just like me and my crew, he has a hard time throwing away anything that might serve a purpose. He comes at least four times a week with a truck bed full of items ranging from glass door knobs to broken furniture. Last week he brought us a load with a freestanding mailbox, a rocking chair, a little bit of oak floor, a wooden shoe planter, a light fixture and a trunk. When the trunk was opened we realized it was jam packed of memorabilia from the late 1960s. As we carefully pulled each item from the trunk we found a name – Patricia. We get a lot of personal items here and there isn't really a way to track down the previous owners but for once, we had an actual shot of finding the original owner of these items.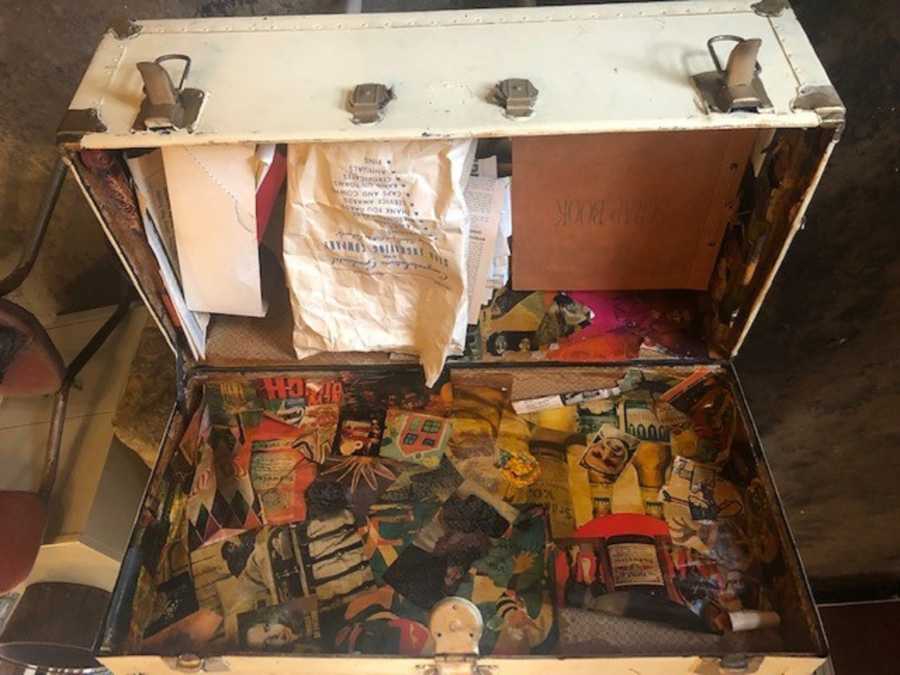 I quickly got to work trying to find out why this trunk was abandoned. After talking to Daryl I discovered the current occupants of the home found it hidden in the attic. I looked up the home's history and it seemed as if the house was sold while the trunks owner was off at college. I looked up obituaries to see if the trunk's owner was even still alive. I called her former high school to see if there was any alumni listing for her. I checked Facebook and google with no results. Obviously, people move and women tend to change their names when they get married, but I just felt in my gut I was going to be able to find her. At my mother's urging, I posted on the Dallas Historic Guilds page and the Orr-Reed page about our discovery and asked for help. Overwhelmingly people started commenting and trying to help. I heard from the woman organizing their 50th high school reunion. Unfortunately, Patricia was on the 'can't find' list. Another gentleman found a home phone number but it had been disconnected. Still, we held out hope.
I called a cell phone number I found on a people finder website and left a voicemail. It was the oddest voicemail I have ever left anyone. I said something along the lines of 'my name is Hannah and I am not trying to sell you anything. I found a trunk I think belongs to you. Please call me back.' I didn't hear anything back for two days but on Saturday around 11:30 a.m. I got a phone call from an unknown number. I don't typically answer phone calls from people I don't know because as a business owner I get inundated with sales calls. No I don't need a $200,000 capital loan and I am not suffering from chronic pain nor does our 1999 Ford F250 need an extended warranty. For whatever reason though, I decided to answer that early afternoon phone call. It was Patricia.
Our conversation went as well as any conversation between two strangers can go. She greeted me with a timid, 'Hello Hannah, my name is Patricia.' It took my brain about 30 seconds to process she was the woman I had been trying so desperately to reach. I very excitedly responded with the full story of how her trunk came into my possession. I told her about all my efforts to find her. After my long spiel she responded by saying, 'I really appreciate all of the work you put in.' I quickly responded by telling her I was pleased to do it and I asked her if she wanted her trunk back. 'Oh yes, I very much would,' she said, but I could tell she was a bit hesitant. I don't think she understood why someone would care enough to reunite her with her teenage memories. I can understand that I suppose, but if someone found a trunk full of my history I would want them to return it.
The trunk was packed with pictures of piano recitals, carefully folded letters, articles she wrote for her school paper, high school graduation notices and countless other items. The trunk itself was carefully lined in pictures painstakingly cut out of magazines. We could have easily sold it for $75.00, but I knew it was worth way more to her than that, which is why I spent the better part of a week tracking her down. All my efforts were worth it if it brought her a single moment of pure joy. She wasn't sure when she would be able to come down and get it so I offered to drop it off at her home. It turned out her house was 6 minutes from mine. Dallas might be a city of over a million people yet Patricia and I have probably shopped at our local Target at the same time or eaten at the same restaurants. We are all so much more connected than we could ever really imagine. On Monday my mom and I loaded the trunk in her Bug and took it over to Patricia's house.
I am an overly energetic person. I get asked daily how much coffee I've consumed (the answer is none, I don't like coffee). When my mom and I arrived at her house I was at a level 10 on the excited scale. We walked up her sidewalk with the trunk in tow. I couldn't believe I was about to meet the person whose life we had spent a week researching. I put the trunk down on her front porch, took a deep breath and rang the doorbell. As I heard her steps as she approached the door I couldn't contain my glee. I'm sure I was a bit overwhelming to Patricia who seemed be the type who is very calm and even tempered. Here I was, a ball of energy standing on this gentle spirit's front porch bursting with excitement. My mom told me to temper it down but frankly it was impossible. I was just so excited that for once I got to actually reunite someone with their stuff. It was 29 degrees out yet my heart was beating so quickly I felt like I was on fire.
When she opened the door, she greeted us with a shy smile. She looked down at the trunk and with joy in her voice said, 'I can't believe you found my trunk.' Her shy smile remained but when she saw the trunk her eyes came alive. She might not have been bouncing off the walls like I was but it was obvious that seeing a piece of her childhood on her adult front porch meant so much to her. We made small talk for a minute but it was so cold out that our conversation was short. We offered to carry it inside for her but her husband was ill and she didn't want us exposed to the germs. Before we left she sweetly looked at us and said, 'I remember this trunk well and I am so thankful you went to the effort to find me.' As we were walking back to my mom's car I glanced back and Patricia had a wide smile on her face as she gently stroked the worn top of the trunk containing so many priceless memories. Before we drove away we watched her carry her trunk inside as if it contained all the treasures in the world. A tear fell down my cheek as I imagined her opening her trunk and seeing all the precious memories it contained.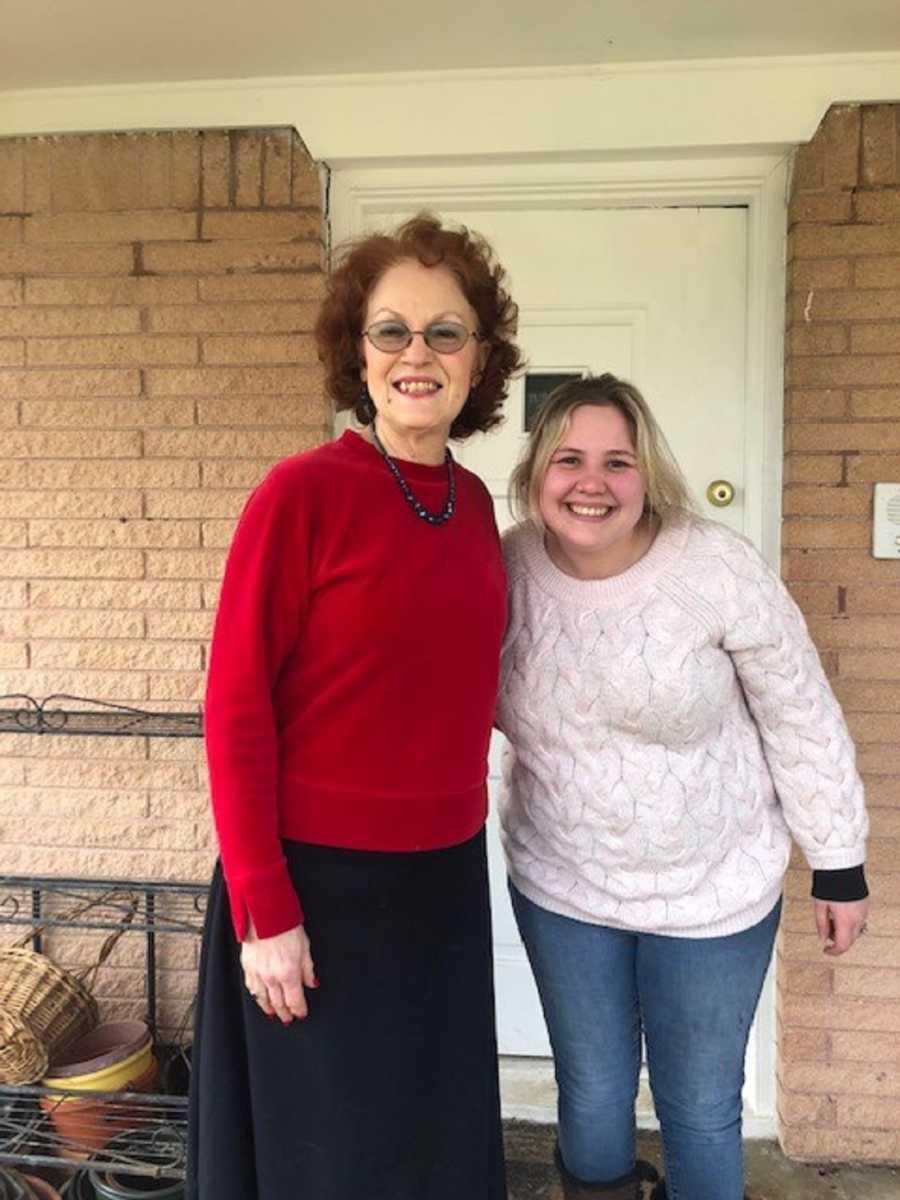 Salvage yards get a bad rep. To some people, we are destroying history but frankly that couldn't be further from the truth. Houses will be torn down and instead of filling up landfills we save things so others can use them. When people walk onto our yard they tend to either react with glee or disgust. Some people don't see the beauty in reclaimed and that's okay. They want everything to be new and shiny. Layers of dust and peeling paint aren't their cups of tea but for those who walk in here and see the beauty in the old, Orr-Reed is a wonderland. My life is dedicated to saving. Sometimes it is piece of wood and sometimes it is a person who society has shunned that needs a job. Never before have I saved someone's memories. I hope Patricia realizes how much it meant to me to find her. I am so beyond thrilled that she called me back and that we were able to return what was rightfully hers."
This story was submitted to Love What Matters by Hannah Hargrove of Dallas, Texas. You can follow her work on Facebook and at Orr Reed. Submit your own story here, and subscribe to our best stories in our free newsletter here.
Read more from Hannah here:
'My dad was murdered. I assumed it had been thrown away years ago, but it was there. He saved it.'
SHARE this story on Facebook to encourage others to cherish every moment and love what matters most.