"Part 1: Uh, I think I might be gay?!
I realized I was gay in my early 30's. It totally blindsided me, because I had NO IDEA I was going to have that realization. I was living with a common-law spouse in a house we bought together, working at a local hospital as a social worker, living (what I thought) was my dream life, so how could I be gay?!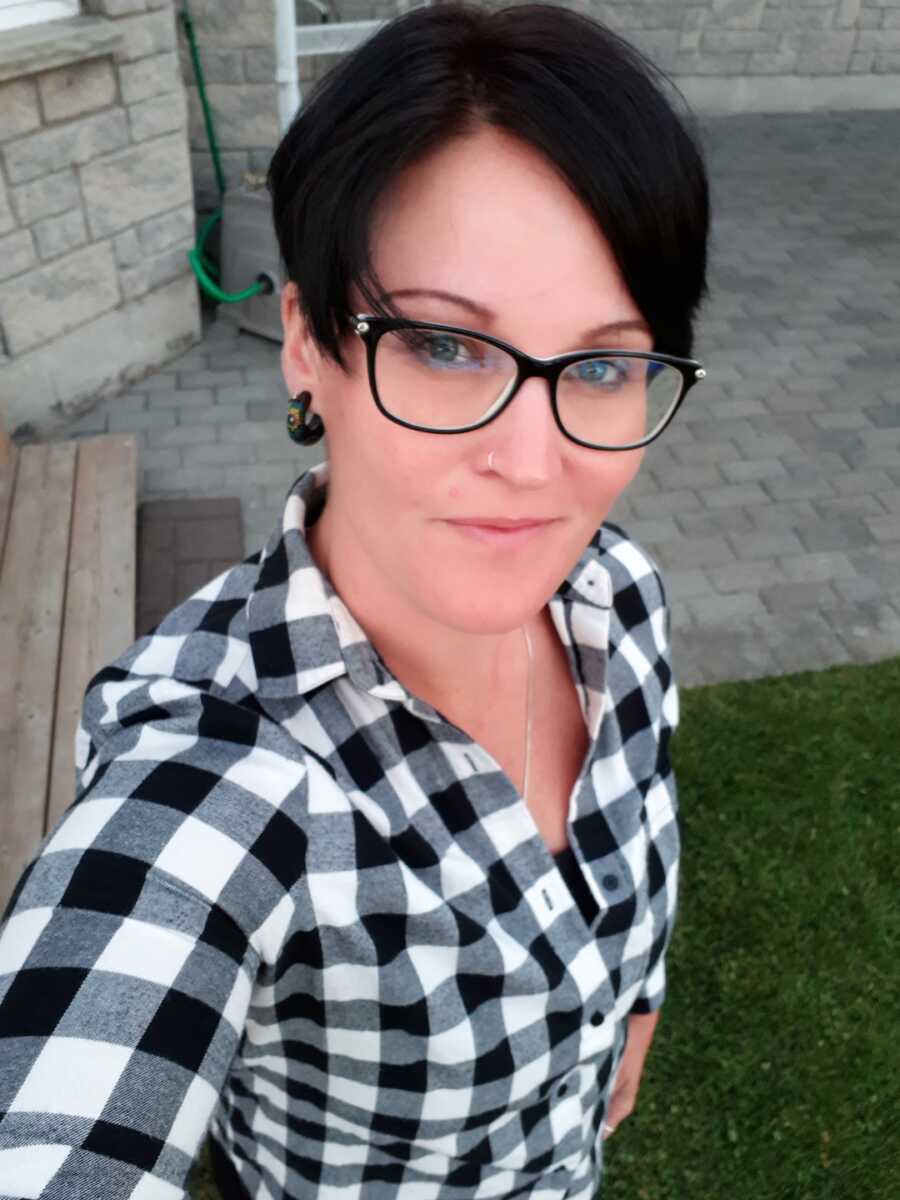 The day I had my first realization that I might like women was like any other. I got up, went to work, came home, and ate dinner with my spouse. The only break from routine was that evening. I had signed up for a community class to learn more about world religions and was looking forward to it.
I grabbed a green tea at Tim Horton's (Canada's equivalent to Dunkin Donuts), and headed to class early. When I got there, there was one other early attendee. This woman was average-looking, with short hair, a make-up-free face, dressed casually. I think we were about the same age. The woman teaching the group greeted us warmly and introduced us. I shook her hand and then—BAM—lightning! I literally felt a shock when our hands met, which was extremely surprising, and was not an experience I have had before. I was confused and felt stunned as I took my seat.
As the class was starting and the facilitators were instructing us about a 'get-to-know-you' icebreaker in dyads, I remember praying to the universe that I wouldn't get matched with this person…and then, of course, I got matched with her (insert eye roll here). I loved and hated every minute of our interaction. We had so much in common and conversation flowed freely. However, I felt like something terrible had happened at the same time.
I left this class feeling confused, excited, and anxious. Nothing happened between myself and this woman, as we were both in committed relationships, but I couldn't stop thinking about her and the idea of dating her for weeks. I had NEVER had thoughts of dating women before. What I have come to learn over the years is that this person was my 'catalyst,' which is a term used to describe the person who helps you realize your sexuality.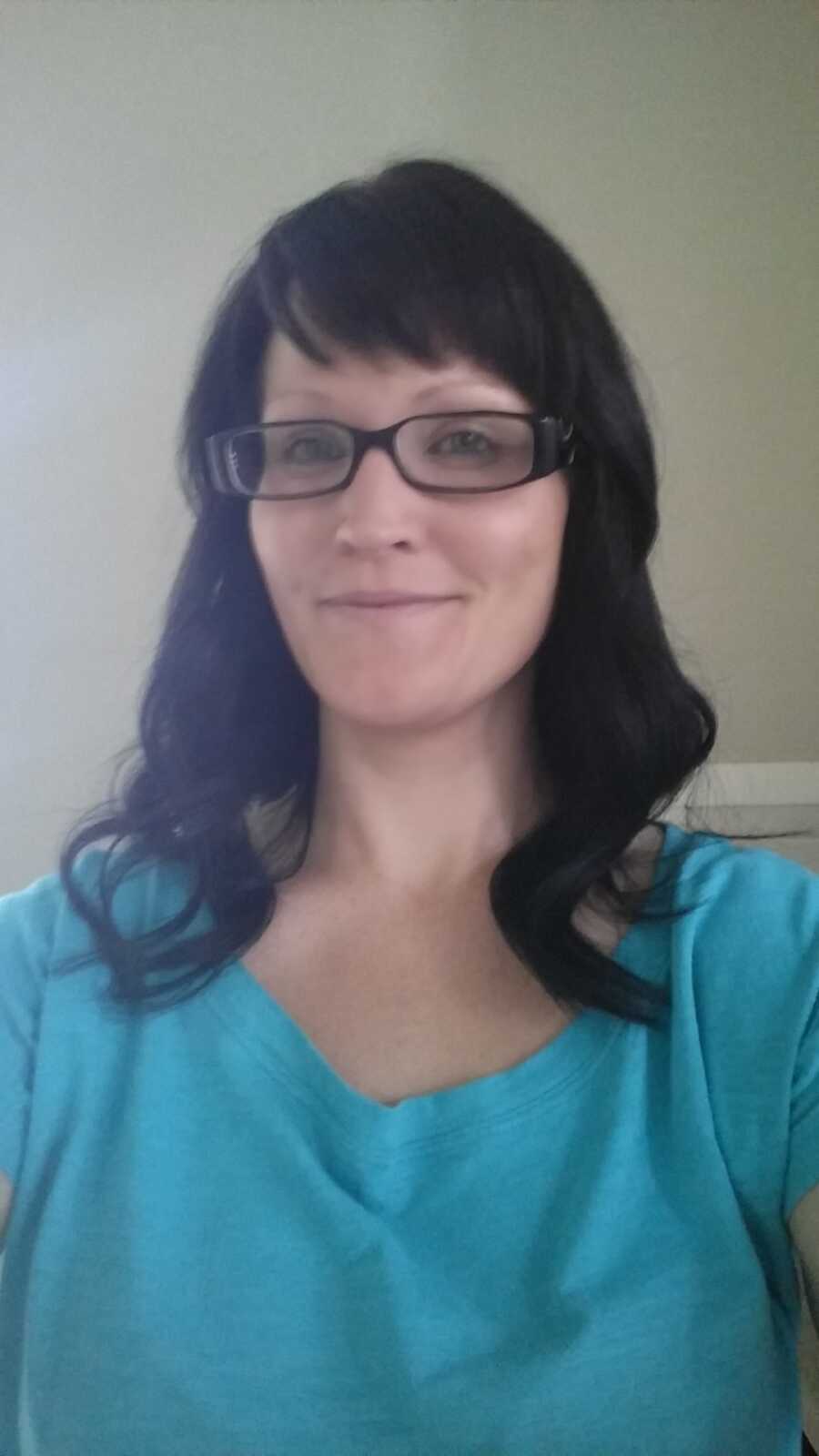 I didn't say a peep about this experience to anyone for a whole year. I just kept living my heterosexual life, hoping my inklings would be untrue and nothing would have to change. I did a lot of research that year. I read books about sexuality hidden in the covers of other books. I took countless online quizzes about 'How do I know if I'm gay' on the interweb, and I joined some secret Facebook groups about late-in-life lesbians with a fake Facebook account. No, I didn't feel good about keeping this from my spouse, but it's what I needed to do to understand and get to know myself better. I needed time and space to figure it all out.
In January of 2017, I finally told my therapist that I think I might like women, and then promptly took it back—'Ah, maybe not.' But after that fateful day, I couldn't un-know my truth. I had done a lot of 'soul searching' that year, and really got connected with my intuition. I knew I was gay without ever kissing a woman. The second person I told was my spouse. He was obviously shocked, but took it well. We officially broke up in March of 2017, and I moved out six months later.
The six months in between coming out and moving out were an emotional roller coaster. I came out to a select few people (good friends and immediate family), and although I was greeted with love, it was a difficult, uncomfortable, and awkward process. I certainly grieved the ending of my relationship and my identity as I had known it, too. I was scared for what was to come and hoped I wasn't making a terrible, irreversible mistake.
Part 2: Okay, I'm gay. Now what?
So, in August of 2017, I bought myself a beautiful condo overlooking a bird sanctuary. It was exciting to be living in my own place for the first time and to be living more authentically. I grieved for much of the year, healing in my nature-connected condo, cuddling with my puppy, Ollie, and taking space to breathe.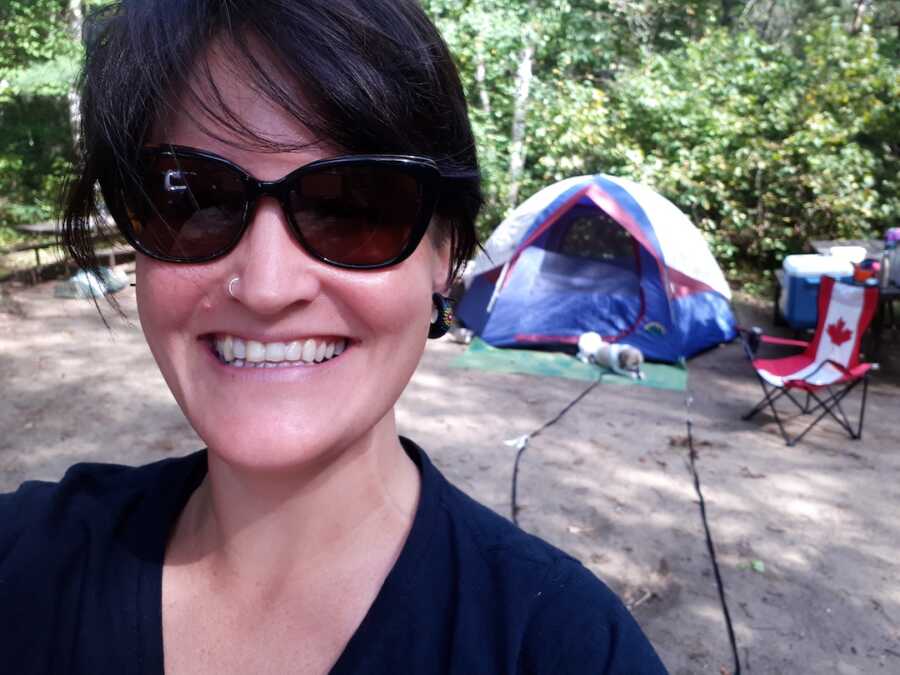 And then I decided to start dating. This was one of the most anxiety-provoking things for me about coming out later in life. Being a 'newbie,' I felt like I was at a disadvantage. First of all, I hadn't dated in many years…and I don't love dating in general. Secondly, I had never dated a woman…heck, I hadn't even kissed a woman! Who would want to date me?! I was practically a teenager in a 30-something's body. Anyway, needless to say, I didn't want to be alone forever, so I took the plunge and signed up for the quintessential dating apps. I wasn't sure what my lady type was, so I just got to swiping.
Let's just say, I had some very interesting experiences. My first few dates were with an extroverted vegan who hadn't been with women either. One thing I loved the most about our dates was our ability to chat for hours about everything. I thought we clicked (minus the fact that I was paleo at the time and considered myself introverted). However, I was so anxious about the first kiss. On date number four (my anxiety took things reeeal slow), I walked her to her car, and she kissed me. And guess what?!…. I felt NOTHING.
This was the last time we saw each other, as we both lost interest. And I was devastated. Did I make the wrong decision?! Did I throw away a perfectly good-ish life for this?! There were many sleepless nights and lots of pining for my old life. But I still knew deep down that I was gay, so I kept on truckin'.
I went on many other first dates. Some people I wasn't attracted to, and some weren't into me. I also had one woman reject me because of my newbie status. That stung a bit.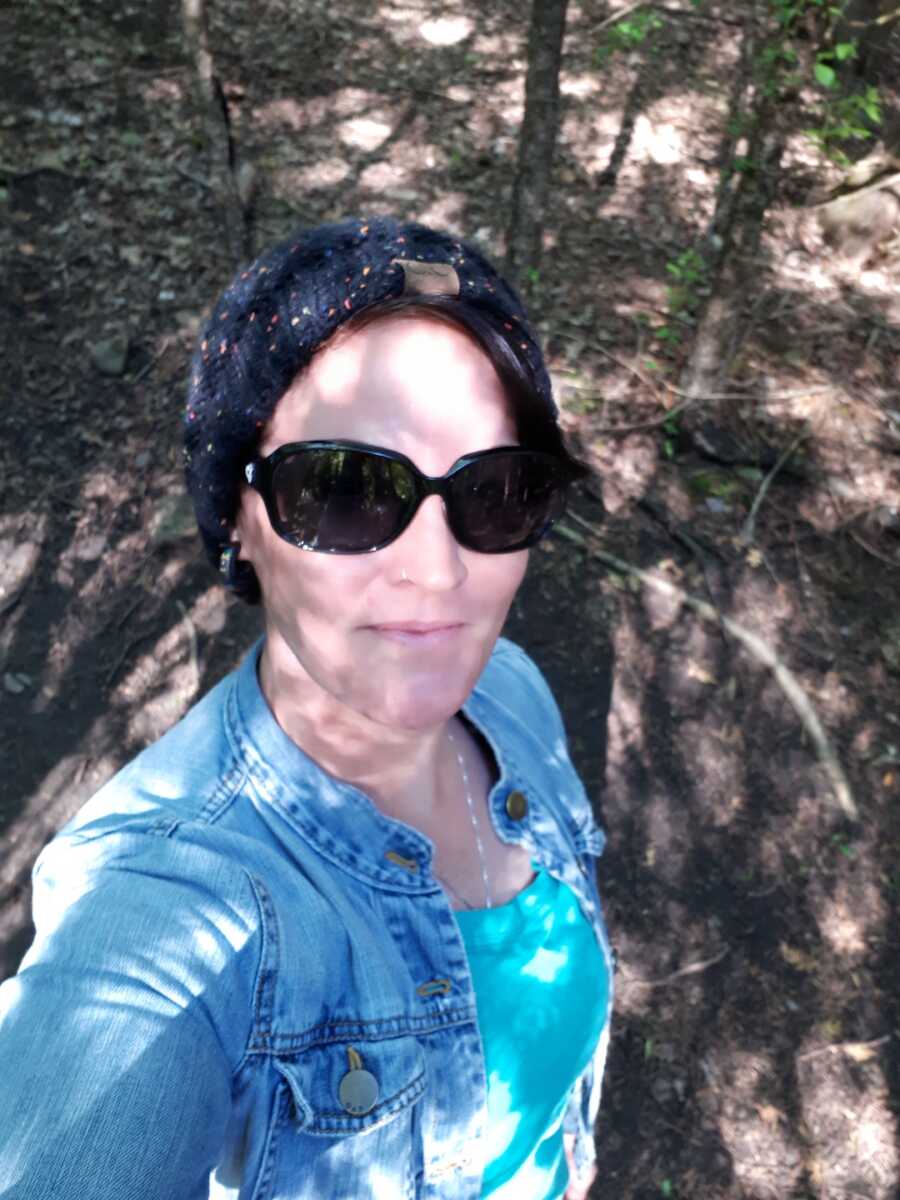 The next woman I kissed, after the 'nothing kiss,' was someone I had met at a bar. I'd attended my first queer dance party night with people I didn't know very well (which is not my forte, as an introverted and sometimes socially anxious chick). I saw her and felt immediately attracted to her. She wore a red tie and checkered converse. We ran into each other a few other times over the next month or so and eventually started dating. When we kissed, I received the confirmation I needed that I was in fact gay. Unfortunately, she wasn't the girl for me.
And neither was the person I dated for a year after that. We broke up right as Covid was beginning. And I found myself single, alone, and isolated in the midst of a global pandemic.
Part 3: A socially-distanced love story
So, I took a few weeks to grieve my short-lived relationship and got back on the apps. I was bored and alone and had low expectations. I'd message a few people and then log off for a few weeks at a time.
Then, in May of 2020, a lovely paramedic and I matched. We sent a few messages and exchanged numbers (which is also not my forte because—stranger danger). We texted every day, sharing our likes and dislikes, values and beliefs, childhoods and hopes for the future. I had never met someone I clicked with as much as this person online.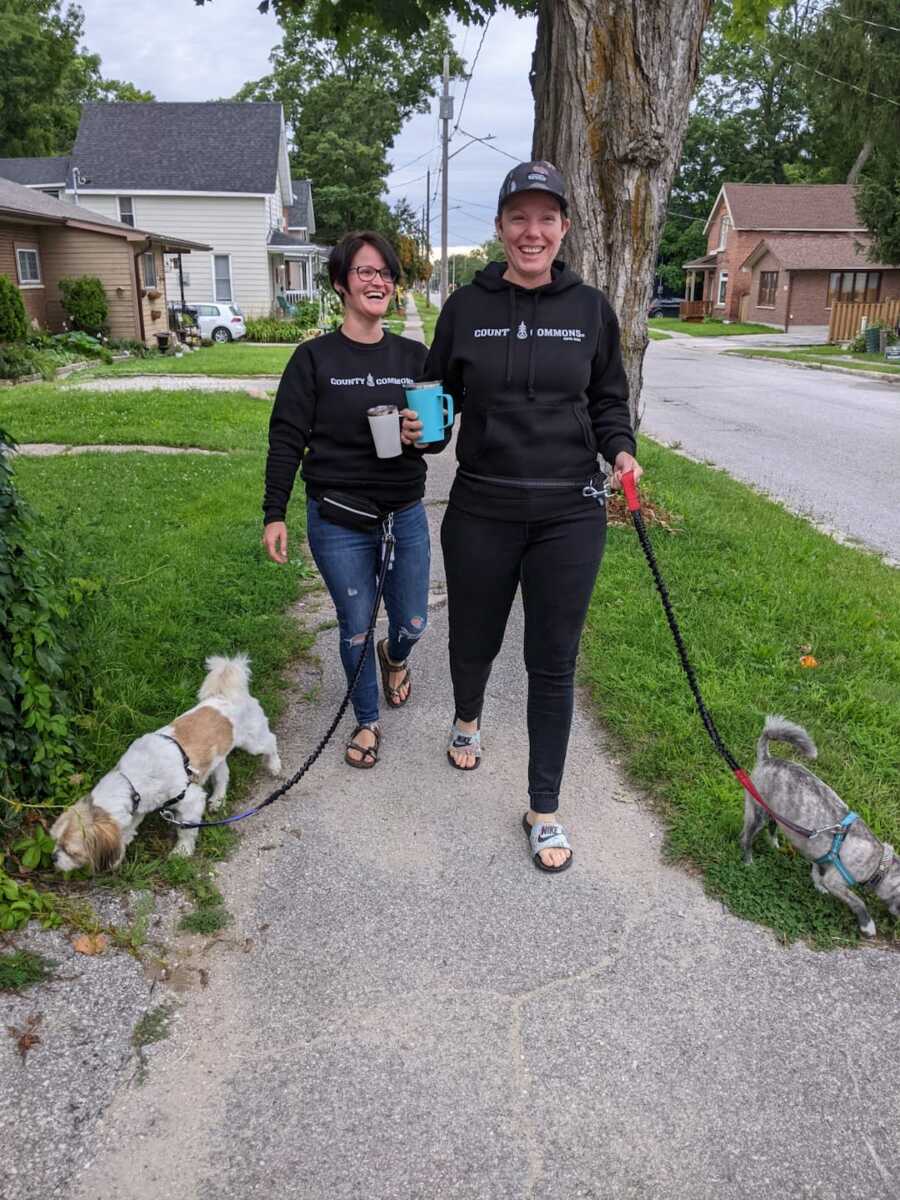 We decided to meet up on June 7, 2020, for our first date—socially distanced, of course. We met in a park and walked and talked for hours. We wanted the same things and complemented each other in the most beautiful ways. And she had the most gorgeous blue eyes I had ever seen. A part of me knew after that first date that we would get married someday, which was a wild thought because I had never wanted to get married before!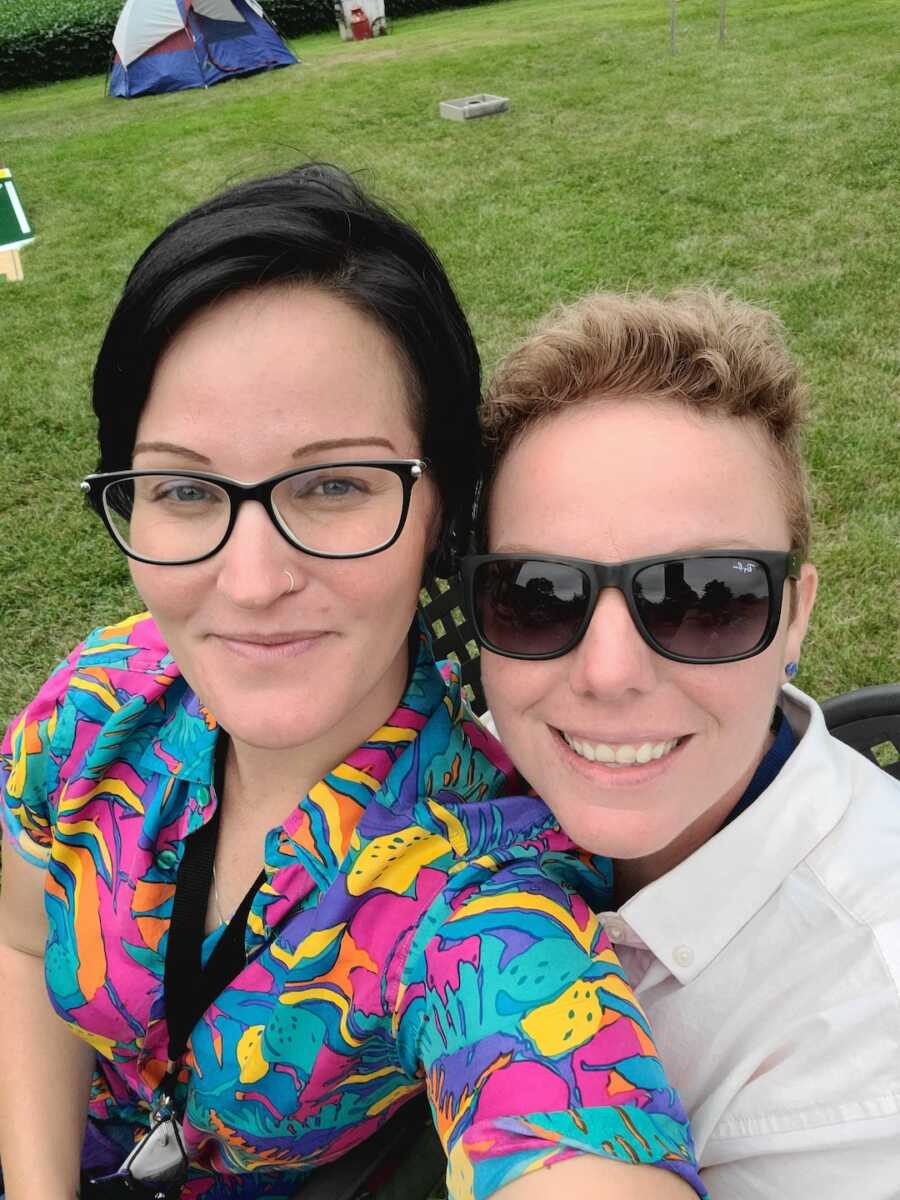 We became fast loves, 'bubbling-up' and spending amazing quality time together during the Covid lockdown (Cue the song 'Lovers in a Dangerous Time' by Canada's Barenaked Ladies). We cooked together, had deep conversations into the night, and spent lots of time in nature. I got to know this woman fully and truly and felt fully known and seen by her too.
Things moved fast in a way I have never experienced before, from a grounded and confident place. This relationship felt different from all the rest—it was simply the best! I had met my match and was ready to make a commitment. We planned a mutual proposal and got engaged in December 2020. We told our family, and although they thought it was a bit soon, they all supported us as they understood our love.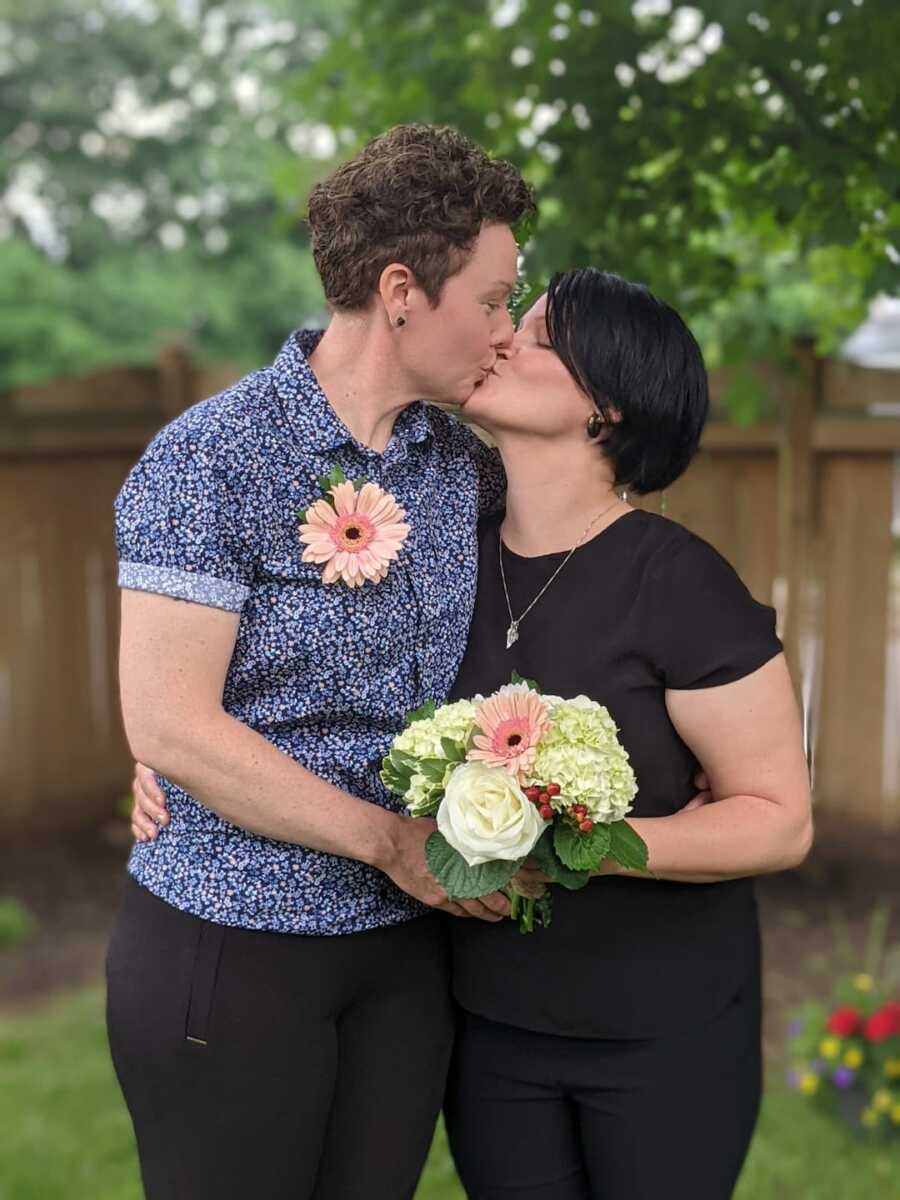 We then bought a house in a new city, moving in the spring, and got married in our new backyard accompanied by our siblings and an officiant. Our wedding day was on June 7, 2021—one year after our first date. My wife and I are in a happy and healthy relationship, living with our puppies, and we hope to start a family soon. We are also entrepreneurs, and continue to build a life that feels good for us. In fact, I have opened a new business focusing on supporting fellow late-in-lifers, turning my experience and passion into my career.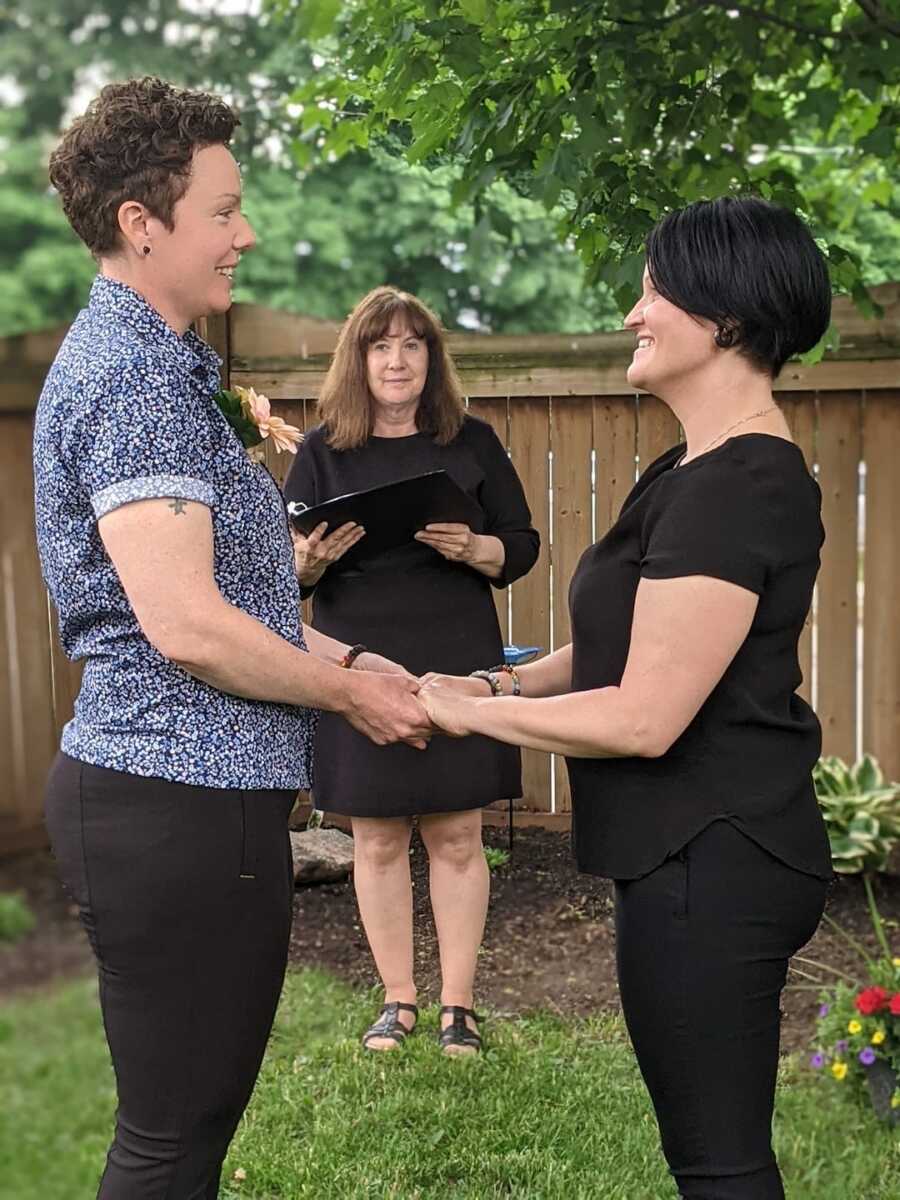 For anyone reading this story, whether you are coming out later in life or you are wondering if you will ever find love…I just want you to know that it's possible. When we learn to connect with our gut, trust in ourselves and take the risk of putting ourselves out there, beautiful things can happen.
We are never too old, and it's never too late!"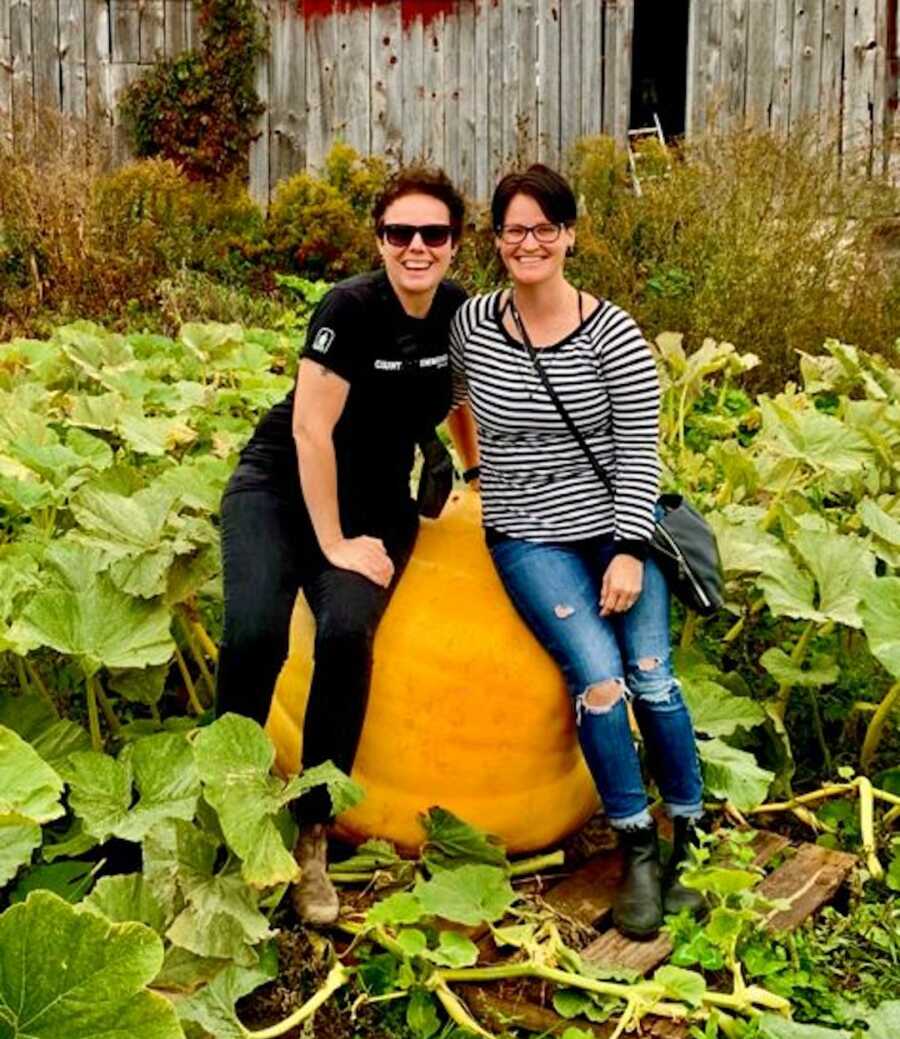 This story was submitted to Love What Matters by Kristie Brassard, GUIDE | MSW | QUEER from Ontario, Canada. You can follow her journey on Instagram, Facebook, and her website. Do you have a similar experience? We'd like to hear your important journey. Submit your own story here. Be sure to subscribe to our free email newsletter for our best stories, and YouTube for our best videos.
Read more touching stories like this:
'I dare you to smooch Michelle.' I promised myself I'd forget that night. I'd committed a terrible sin.': Ex-Mormon shares coming out journey, 'Who you are is not a sin'
'With a huge grin, my mom said, 'Your daughter is an honor student? Well, mine's a lesbian!' She was so proud.': LGBTQ mom shares what Pride means to her
'Will you marry me?' It was the easiest YES I've ever said. We daydreamed about adoption until suddenly, it wasn't a daydream anymore.': Lesbian couple share emotional love, adoption story
'Recently, I walked into a room full of young men. I didn't find any of them attractive. It hit me: I like girls.': Teen comes out as lesbian to her family, 'They love me no matter who or what I am'
SHARE this story on Facebook to promote the power of acceptance and inclusion for EVERYONE.