"'Mommy, I was really scared when that truck hit us. It almost crushed us, and we almost died, but Jesus saved us. We had angels watching us.' Those are the words I've heard my three-year-old daughter say daily to me in the weeks since 'the accident.' October 27th had always been a very special day for me. I had no ill will towards it, until that day.
I spent the entire weekend with my husband and two daughters, Grace (3) and Addi (2). That Saturday had been a 'lazy day,' where we sat around, ate junk food, and watch television all day. On Sunday morning, I woke up to find the sun shining, ready to get my day started. The girls and I had plans of visiting with my parents and going to watch Andy play in his weekly softball game. We were going to end our weekend by attending the annual Thriller Parade in downtown Lexington that evening and having dinner as a family, eating the delicious potato soup I had made earlier that morning.
That day, Andy did not have his weekly softball game, due to the fields being too wet from the previous day's nasty weather, nor did we get to eat the potato soup. We did, however, decide we were going to attend the first Kentucky Basketball Home Game (Exhibition) against Georgetown. We had come across two extra tickets and thought since we were already heading downtown to the parade, we might as well attend a little bit of the game beforehand since they were within walking distance.
There are no exciting events to tell you about going to the UK game with the girls, except that Grace was a tad terrified of the water fountain displays in front of Rupp Arena. We left the game before half time in order to secure good spots for the parade, so the girls could see the floats and zombies up close. During our wait for the parade to start, we all snacked on really tasty kettle corn. At one moment, Grace and Addi were sitting on the sidewalk, fiddling around, while Andy and I stood at the rope talking about our future. I saw a man, pushing a cart down the opposite side of the street with tons of light-up wands, necklaces, headbands, etc. I immediately looked at Andy and told him we needed to keep Grace distracted because if she saw him, she was going to want a light-up wand and want one badly. After all, every time we attend an event, she ends up with a light-up wand. I can't even begin to tell you how many 'magical wands' we have at home.
Unfortunately, Grace saw the salesman and begged for a wand. It was only five dollars. Why not? We did try convincing her it was cheap plastic and would more than likely break within the first two minutes.
The girls loved the floats and Grace loved the dressed-up characters and zombies even more. But if I'm being honest, I was a little bit disappointed with the event. I had talked up the 'thriller' dance and the zombies all week long to Grace. Have you even heard 'Thriller' by Michael Jackson? The song is like eight minutes long. Between the time the float parade and the zombies began their dance, we heard the song roughly six or seven times. According to a roadside worker, the zombies were late getting started and the dance would be moving slowly.
The dance began about 45 minutes later than expected, not to mention we were towards the end of the event. It was going to take roughly another 45 minutes for them to get to us. At 8:15 p.m., Andy and I decided to walk the girls up the street to try and see the dancers for a few minutes, versus waiting for them to get to us. Unfortunately, at the crosswalk, there was construction, so we were unable to walk up further. I insisted we go ahead and leave because we still needed to get home, get the girls fed, and prepare for our next day of work and school. Andy was willing to stay. He knew I was secretly excited to see this and for the girls to witness it, but I insisted we begin walking back to the car. The girls were getting antsy, anyway.
As we were walking down the sidewalk on South Broadway, Grace remained on my right side, holding my hand. We were discussing stopping at McDonald's for dinner, while Andy was carrying Addi about ten feet ahead of us. I can't tell you what street we were actually crossing, only the fact we were actually in a crosswalk. I saw Andy reach the other side, while Grace and I were still in the middle. To my left, I saw a larger truck with its bright lights turning left into our direction. I remember briefly thinking, 'This guy better stop,' but telling Grace in a quick tone, 'Come on, Grace. We need to hurry.' The next 10 seconds was the slowest, yet the fastest and scariest moment of my life. It was an out of body experience for me.
From the sidewalk, I watched my own self and three-year-old daughter get struck by the moving vehicle. I distinctly remember trying to reach out both of my hands and yell 'Stop!' At the exact moment I reached out, I watched Grace's head hit the front of the truck and bounce back onto the ground, followed by the feeling I had been hit.
My right arm was barely under Grace's back and I was shielding her front. Both of us hit full-frontal body and landed on our backs. Our entire bodies went under the truck, as I remember seeing all four tires, and thinking, 'Oh my gosh, please quit driving, these tires are going to run us over and I'm going to lose my child.'
What seemed like minutes was only seconds. After I realized we were unable to move, I scooped my daughter into my arms and darted to the sidewalk. As I was running, I recall Andy walking towards me, holding my other daughter, shouting some inappropriate phrases to the driver. My heart raced. Grace was crying the 'I'm scared' cry. I just wanted her to be okay.
A man showed up at our side, introducing himself as a retired army veteran named Chad. He was an off-duty EMT, wearing a dark gray t-shirt that read 'ARMY' across it. He had Grace sitting on his lap, asking her questions, such as 'Are you okay? Do you know your name? Do you know who this is? Does anything hurt?' My world was spinning.
The driver was still in his truck, repeatedly saying, 'I'm so sorry.' He asked if he needed to pull over and he did. People were gathering around, but I couldn't make out their faces. I remember calling my mom and just telling her what happened. She asked where we were. I told her I would call her back and hung up.
My world continued to spin. Literally, like you see in the movies where the character is turning around in circles and everything is just blurry. I saw Grace on the EMT's lap and Addi sitting on Andy's lap, remaining calm as I've ever seen her. I watched the ambulance drive slowly towards me in slow motion. Everything was silent. The next few minutes continued to be a blur. The EMS/Paramedic team told me Grace's head was swelling rapidly and she needed to get to an ER via ambulance.
I have never met a braver child than I have Grace. Although she cried the entire way there, she was cooperative and responsive. She sang me her favorite Halloween songs to calm me down and feel better. The paramedic taking our information had to remind me she was okay and would BE okay. Deep down, I knew that, but I was still shaken to the core.
I cannot say enough good things about the University of Kentucky Pediatric ER Unit. Grace was seen nearly immediately, and the staff was very attentive and friendly. She absolutely loved the attention she was getting. Meanwhile, while Andy and Addi were still trying to find their way to the ER due to traffic and parking, my mom and youngest brother arrived. At that point, my mom had to remind me I needed to be strong for my daughter. Talk about a wakeup call. Was I scaring Grace? Did she see the fear and hurt in my eyes and reciprocate the same thing?
After a few hours of observation, Grace was released, thankfully unharmed, except for a few bumps and scrapes. I originally didn't think she would be 'traumatized' since she didn't understand the severity of what happened and what could have been. However, she's been very skittish of any cars driving around us, no matter how much reassurance I try and give her. When I try to put her mind at ease, SHE reminds ME we're safe, by saying, 'Mom, Jesus and the angels saved us. We're going to be okay.'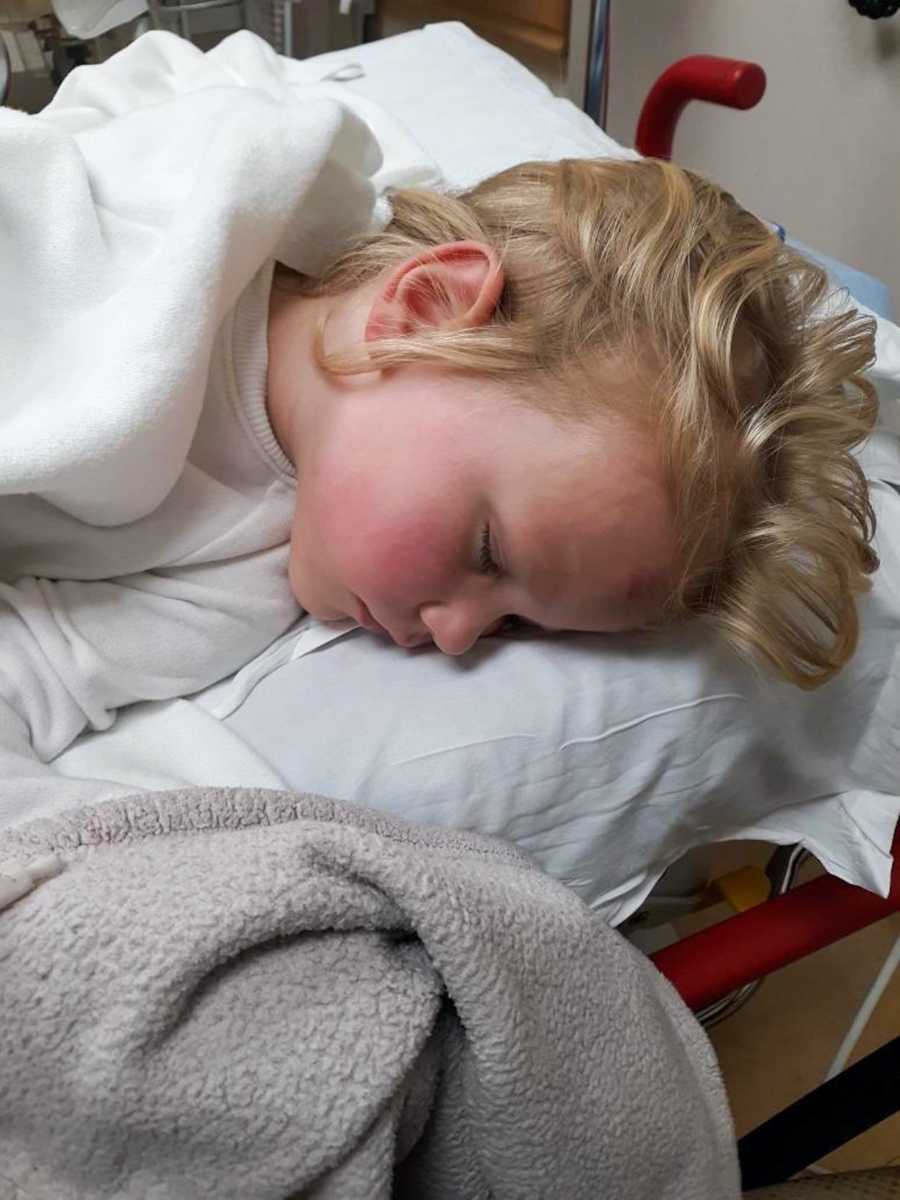 The days and weeks following the accident have continued to mess with my head. The day after it happened, Grace woke up in bed with us, crossing her arms over her chest, shaking, saying, 'Mommy, I was so scared when that truck hit us.' I did all I could not to break down and cry in front of her. Ten days after the accident, I drove for the first time after dark and my stomach was twisting into knots. I have been taking extra precautions to look for pedestrians at all points in the road, whether there is a crosswalk or not, and even driving slower than normal. Although it's inevitable, I, personally, do not want anyone else in this world to ever feel the mental and emotional pain I have felt from an accident like this.
As I go forward with the next several weeks and months of my life, I know I will struggle with the ramifications of what happened. I can still close my eyes and see everything the same as it happened. My eyes still flood with tears when I think about it all. I now drive like I'm 92–very slow. I continue to play the 'what if' game with myself.
'What if we decided to NOT attend the Kentucky basketball game? What if we had just sucked it up and waited until the dancers got to us so the girls could have seen? Would this have happened then? What if Grace hadn't seen the man selling light-up wands? Would we still have bought one for her? Would I be telling a different story right now? After all, the driver commented the only reason he stopped after hitting us was because he saw Grace's light-up wand.'
I know there are far worst events that have happened to others out there, to my family, my friends, my co-workers, my pets. I empathize with you. However, there is still nothing scarier in my life that has happened than literally falling onto the ground with my three-year-old daughter, praying the tires you see come towards you stop instantly, and thinking you're either going to lose your daughter or she's going to be hurt for a lifetime.
I wrote earlier, October 27th had always been a special day in my life. It was my grandmother's birthday. If you knew my grandmother before she passed, you would have known we were like two peas in a pod. She was my very best friend in life. I adored her.
Grace has been continually talking about these 'angels' that saved us. I know these angels! I know them! We had two of them, for sure. One was Ginyay, my grandmother. The other was Baby Chambers Number Three. But, what if?"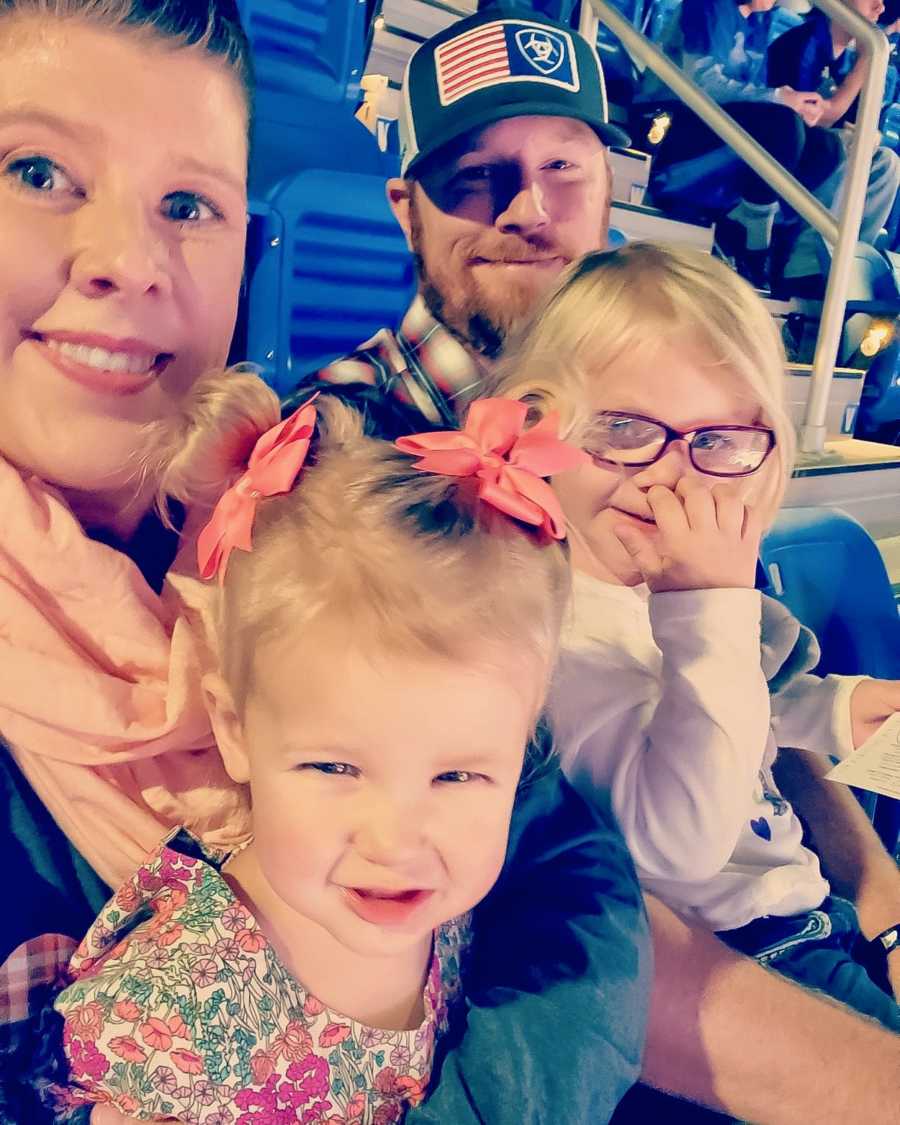 This story was submitted to Love What Matters by Sandi Chambers. Visit her website here. Do you have a similar experience? Submit your own story here, and be sure to subscribe to our free email newsletter for our best stories.
Read more from Sandi here: 
'I am a C-section-having, formula-feeding, disposable diaper, working kind of mom. I do not regret it.': Mom explains her parenting choices, but says, 'Please respect my parenting views as I've always tried to respect your parenting views.'
'I answered the phone. 'Anne?' No, this is her daughter.' 'Oh, I didn't know she had a daughter.' Did my mom not talk about me? Was I not good enough for her?': Woman recounts relationship with her mother
Do you know someone who could benefit from this story? SHARE this story on Facebook with your friends and family.