"An ode to pediatric nurses:
You are the most incredible humans I have ever met.
When people ask me, 'What is it like to live in the hospital?' the first images that come to my mind are your faces and your hands.
I have never in my life met people who are as full of healing and compassion as you.
You are strong, brilliant, incredibly compassionate individuals.
You care. You fight. You advocate. You show up when you're tired.
You don't back down when things look bleak.
You problem solve. You invent. You do crazy math in your head. You comfort. You soothe. You stand ALL DAY LONG.
You improvise pumps and rig oxygen tanks. You bandage and pull and poke and restrain because DARN IT you have to do it to help her heal but you never like it.
You look me in the eye to deliver good and bad news. You hug me when I cry. You bring me coffee and chocolate.
You bring my little Josie presents and good lavender lotion. You visit on your own time just because 'you miss her.'
You cheer her on. Your joy in my daughter's life is contagious. You are invested. You save lives all. day. long.
You listen and teach. You take the time to help us understand. You encourage me to rest.
You alleviate my burdens even when it means getting 'too close.'
To our nurses: you LOVE out loud and I have never been more honored to witness anyone fulfill their calling in life.
I truly feel that I am on sacred ground with you— you have miracle hands. God works through you in beautiful ways.
If this journey has taught me anything it's that you do some real tough stuff and holy wow—IT MATTERS.
You may not see it this way, but you are saving a GENERATION of children. You are innovators.
These lives you touch, they are lives that will change the world one day.
And the world should be thanking you.
Thank you."
From podcasts to video shows, parenting resources to happy tears – join the Love What Matters community and subscribe on YouTube.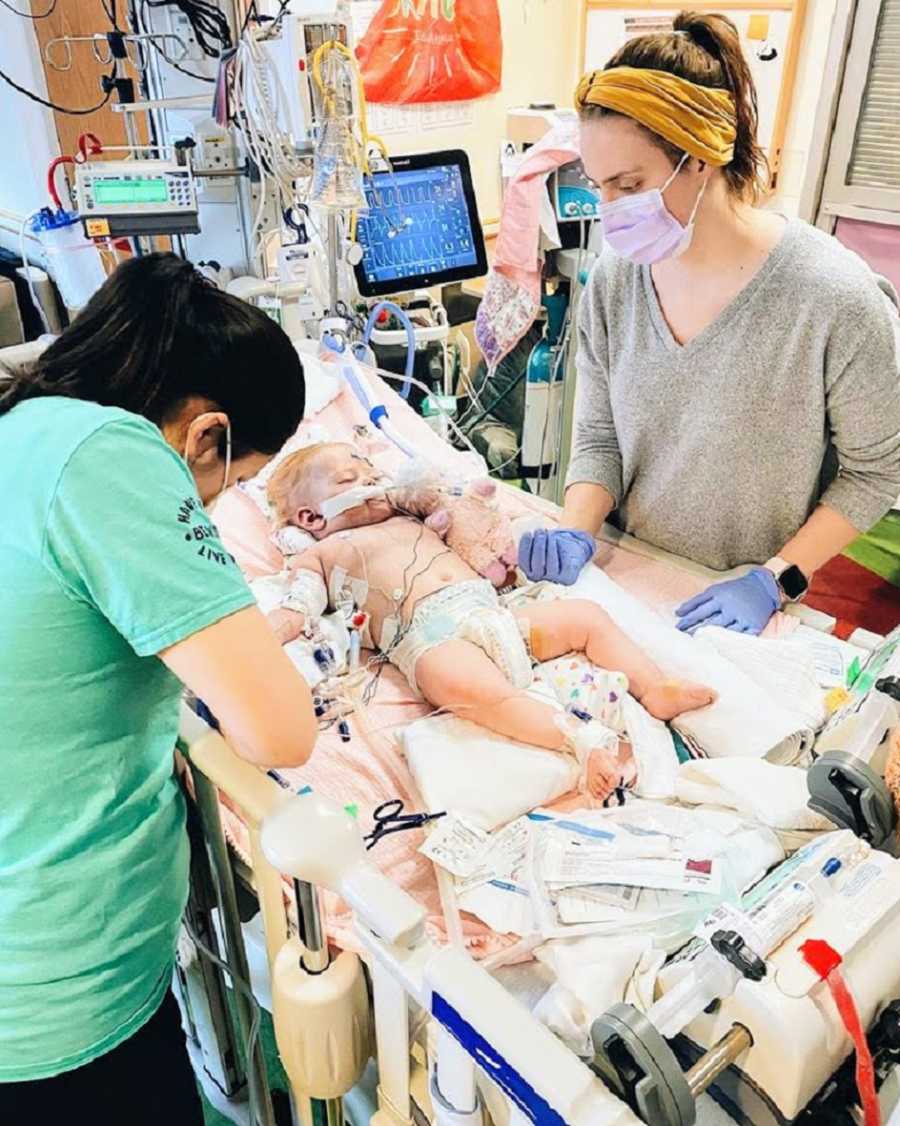 This story was written by Carly McClure, and originally appeared here. You can follow her journey on Facebook and Instagram. Submit your own story here and be sure to subscribe to our free email newsletter for our best stories.
Read more stories like this:
'We come home empty. We don't want to talk. The hardest work you'll ever do is love a nurse.': Nurse pens 'thank you' letter to those who 'love us and let us do this work'
'When you marry a nurse, you marry their job. She gives 100% day in and day out.': Man writes sweet tribute to nurse wife, 'this is her calling'
Show your appreciation for nurses. SHARE this story on Facebook with family and friends.