UPDATE: On June 3, little Addy Joy succumbed to her highly aggressive brain cancer, DIPG, after a brave battle. Her father's desperate plea to save her less than a month ago went viral after the 4-year-old's treatment in Mexico "that kept her cancer stabilized" stopped working. Addy's father, Matt Sooter, posted this heartbreaking update on their Facebook page, letting the world know she passed away peacefully, surrounded by her family:
"At 1:04 a.m. our sweet little girl received the miraculous healing that we've all been praying for for so long and ran into the arms of Jesus. She passed from this life to the next just as she had lived: stubbornly but also peacefully, and surrounded by family. She wasn't in any pain at the end. For those who were wishing to say goodbye, I'm so sorry. This all happened so much faster than we expected, but that in itself is a blessing because she suffered so little at the end. We will let you all know once services are scheduled. Thank you for being a part of our little girl's miracle. While this is only goodbye for now we miss our baby girl terribly.
Always remember: God is in this situation, He's up to something, and He's up to something GOOD."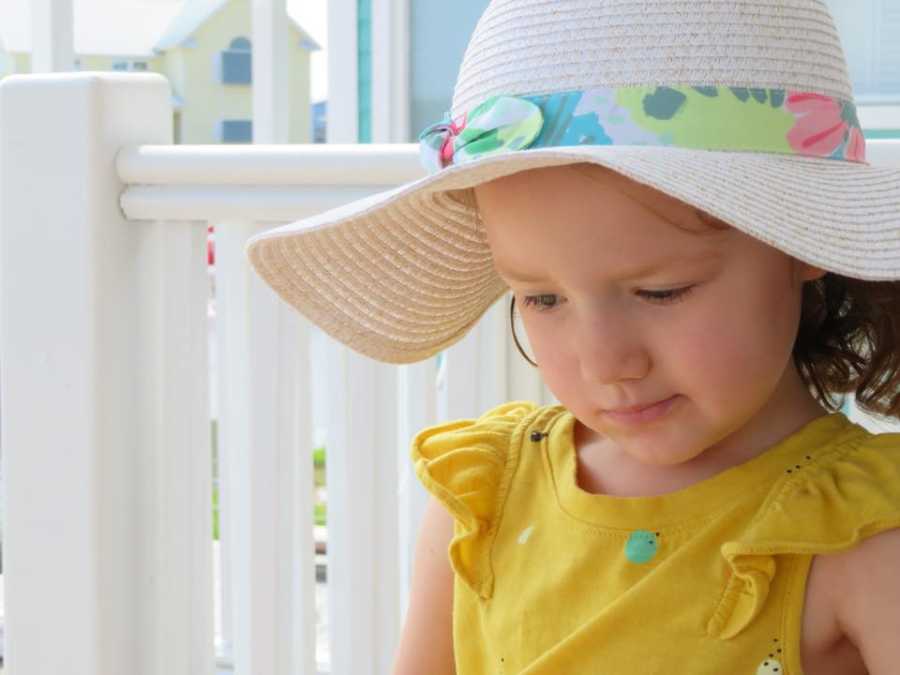 The night before, Sooter wrote "this isn't how it's supposed to be" as his son sweetly embraced his sister, not wanting to leave her side.
"A little boy should not have to say goodbye to his partner in crime, his play mate, his best friend, his little sister. This isn't how it's supposed to be. But this is the broken world we live in. Addy's symptoms have progressed rapidly over the past day and a half. Yesterday she woke up as her spunky playful self. While we still see short instances of our girl she can no longer eat or swallow without difficulty and she's sleeping most of the time now and we've admitted her into inpatient care. Most likely she doesn't have much time left. For our family and close friends, if you feel you need to tell her goodbye, we recommend you contact us and do so soon. Pray for Jackson. He doesn't want to leave her side and we won't make him. Pray for us. That we have the right words and can make the necessary arrangements in time."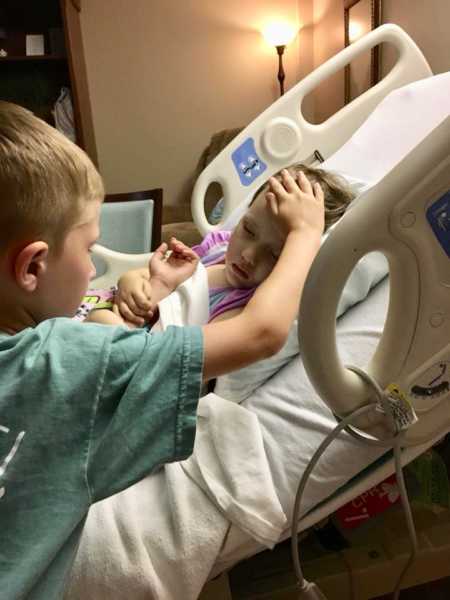 Read Addy's full story below, as written by her father, Matt Sooter:
"When young, and especially into the teenage and young adult years, most people tend to have a feeling of invisibility. Nothing can or will ever hurt you and nothing will ever derail your plans for a healthy and prosperous life. A little age and experience have a tendency to teach the fallacy of these thoughts, but these thoughts can sometimes creep back into one's mind during parenthood: nothing can or will ever hurt my child or derail their plans. They will be perfect in every way. Once again, experience tends to bring these expectations back down to earth as our children skin knees and bump heads on every table they encounter, and yet, we tend to hold onto these expectations when it comes to life's bigger complications. We expect the best for our children and work hard to make sure they receive the best. We recognize that there are many things out there that could harm our children, but tend toward a, 'That could never happen to my child' attitude. This was my view of life up until November of 2016. But this story isn't about me.
But first, a little back ground. In June of 2016 life was good; one might even go so far as to believe life was perfect. I was 27 and life was good. I had recently been hired for a new job that I absolutely loved, I had a beautiful wife and two beautiful children who were healthy and strong and loving life. We had just moved to a new town and were getting settled into a new home. Things were off to a great start and we made the most of a busy summer with my new job while my wife, a teacher, was off for summer break. We spent time with family, went on day trips to fun places, and spent lots of time playing with good friends. Life was good.
For our best stories, subscribe to our free email newsletter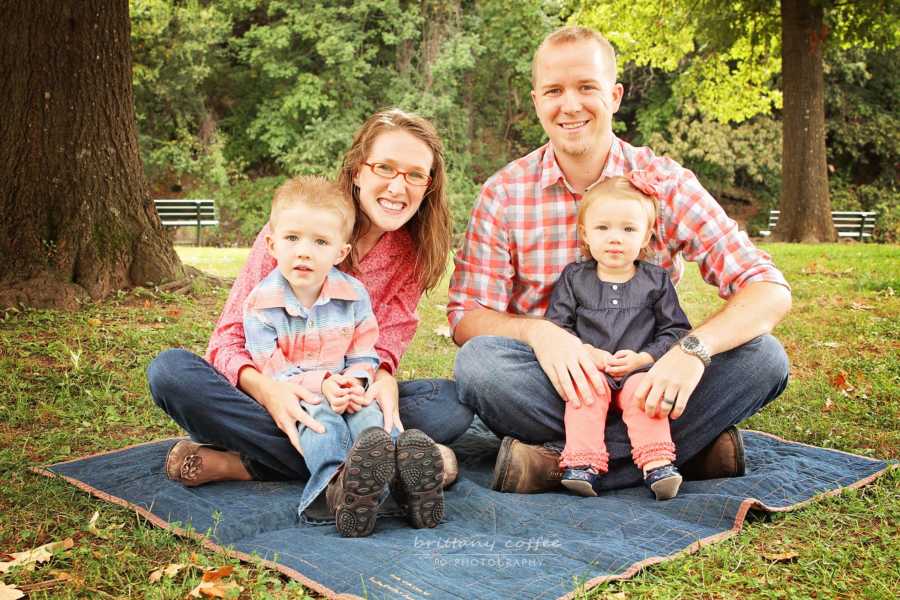 Fast forward to October of 2016 and we're spending a day in Branson at Silver Dollar City with grandparents. As always when you're at Silver Dollar City it was a long, but fun, day and the kids were thoroughly tuckered out. As we were walking up yet another hill toward the exit my mother asked me if my 2-year-old daughter, Addy, was OK because she seemed to be walking a little funny. It was nothing extremely noticeable, but as I watched her I noticed she had a little hitch in her step every once in a while. Not thinking too much of it I chalked it up to being tired and having gone through a growth spurt recently. She was probably just still growing into her new height I thought, but I decided to keep an eye on her over the next few days. Nothing could actually be wrong with my child right? That just happens to other people's children; not mine.
A couple weeks went by and that hitch grew into a missed step, a stumble, a fall. Almost daily she was having more trouble walking. Trouble walking grew into a tremor in her hands and then she was having trouble feeding herself because all her food would fall off her fork or spoon before it made it to her mouth. A few more days passed and she couldn't walk down the hallway without holding a hand or feeling her way along the wall. We were worried to say the least and made a point to bring it up with her doctor at her checkup the next week. I was scheduled to be at a conference three hours from home on the day of Addy's checkup so my wife took her and spoke of our concerns with our doctor, who has known each of our children since the day they were born. The symptoms he saw when he met with Addy that day concerned him greatly. He informed my wife that he was going to be calling Arkansas Children's Hospital (ACH) to consult with them and that she would likely need to make the drive from Rogers to Little Rock for an MRI, but that he would call her to confirm that he had been able to make the appointments on short notice. For the time being he recommended she take the kids home and pack a bag just in case. When my wife called to update me on how the doctor visit went I could hear the fear and panic in her voice. We agreed that I should stay where I was since she would likely be making the trip to me and then we waited to hear back from her doctor.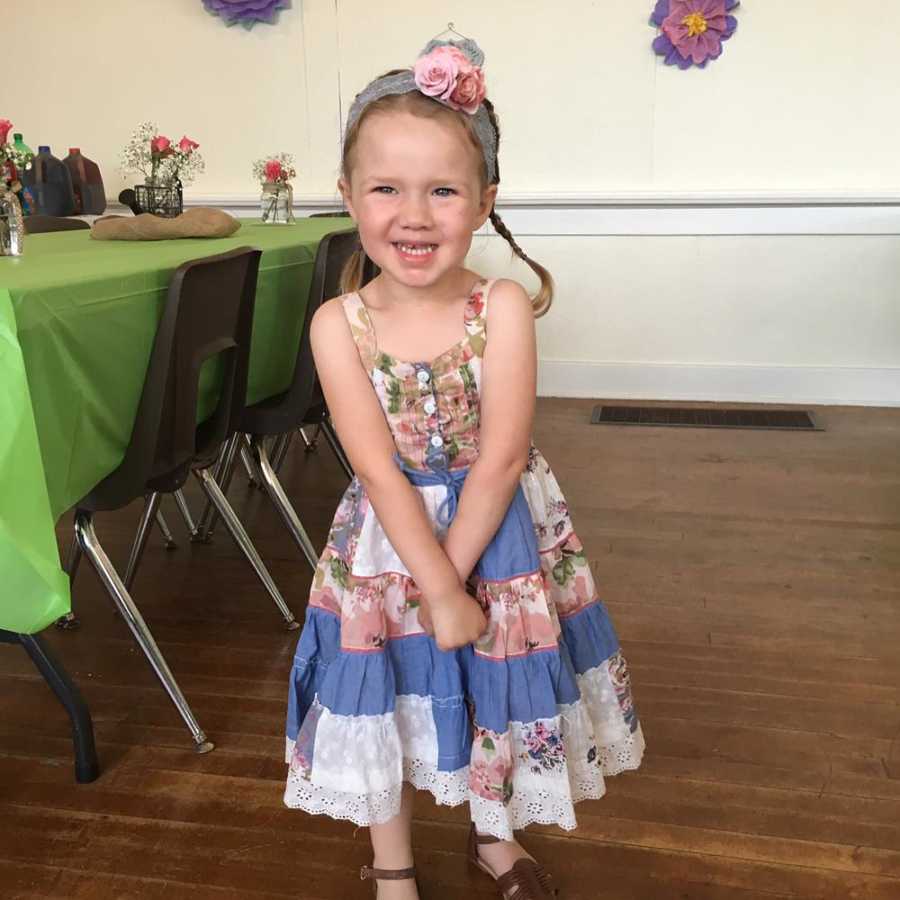 It didn't take long for her doctor to call and tell my wife to get on the road to Little Rock because they were expecting us for an emergency MRI. She immediately loaded up the kids and started the three hour drive. Once I knew she was on her way I headed to ACH to see if there was any paperwork I could get done before they arrived so things wouldn't be delayed once they got there; there wasn't. So I sat, and I waited. Time never moved so slowly. It was about to slow down even more. Once my wife arrived with the kids we were checked in through the emergency room and placed in a private room to wait. And that's exactly what we did. We waited and waited. And then we waited some more. Unfortunately, an emergency case came in and the pediatric anesthesiologist who was scheduled to help with Addy's MRI was pulled to help with an emergency surgery. We were finally moved to an overnight room around 2:00 in the morning.
Later that morning, Addy was finally sedated and went back for her MRI. One again, we waited. The MRI went well and she woke up hungry as she hadn't been able to eat anything since before she arrived the night before and it was now nearly noon on Saturday, November 12th, 2016. Again, we waited.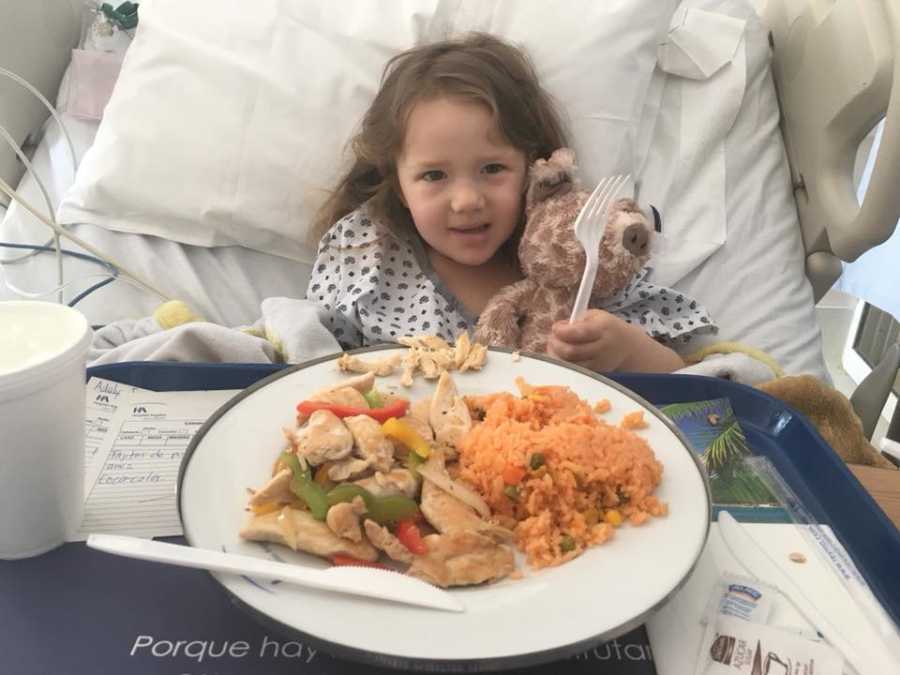 We waited until that evening when a team of doctors came to our door with grim faces. We sat there and listened as they showed us images from the MRI and used big words and complicated phrases we didn't understand at that time. The short version, they were fairly certain our daughter had a tumor growing in her brain stem, it was aggressive, there was no treatment and therefore no cure, and it was going to take our little girl from us in a matter of months. We spent the next week in the hospital hooked up to machines and wires being monitored and woken at all hours of the night by kind nurses just trying to do their jobs. Scans were sent to St. Jude's for second opinions and we were released after a week with a two day reprieve before a scheduled biopsy. Our little girl was going to have brain surgery at the age of two to confirm that she had a monster in her head named Diffuse Intrinsic Pontine Glioma (DIPG).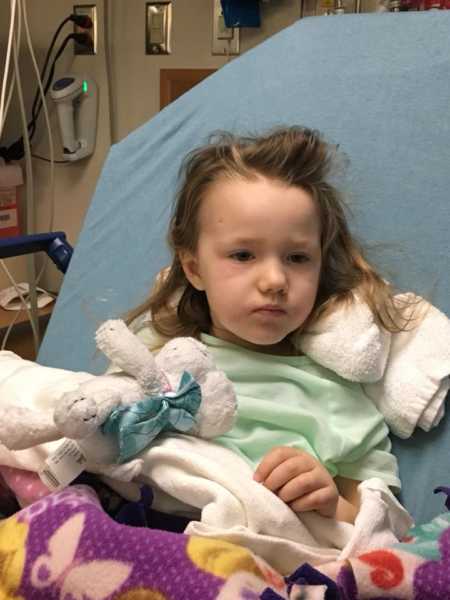 The nearly eighteen months since our first visit to ACH have been a wild ride. Addy's biopsy confirmed her diagnosis of DIPG. Our only option at the time was to do radiation therapy. From November 2016 to January 2017, Addy had 33 courses of radiation. Her tumor responded by shrinking by over half, and her symptoms were alleviated. She was once again able to walk, run, and play as a normal little girl should. Radiation gave her six months of happy, normal life. In July of 2017 an MRI confirmed that her tumor was once again growing. During those months we searched the globe for a treatment. We spoke with doctors in New York, London, Mexico, and nearly everywhere in-between. The week before Addy's MRI we received word that she had been accepted into an experimental program in Monterrey, Mexico. After the MRI I sent my wife, Addy, and our son to spend the weekend with family while I made preparations to travel to Mexico. The next week we were all on a plane toward a lot of unknowns. We prepared for a long trip because we didn't know how long we would be there. Our first meeting with the doctors in Mexico and Addy's first treatment all went well and we were able to return home after only a few days. Since then we've been traveling back and forth every three to six weeks to have treatment. These treatments have been expensive, totaling over $250,000 for treatments and airfare since July 2017. God has provided through many generous people who have continually partnered with us to care for our little girl.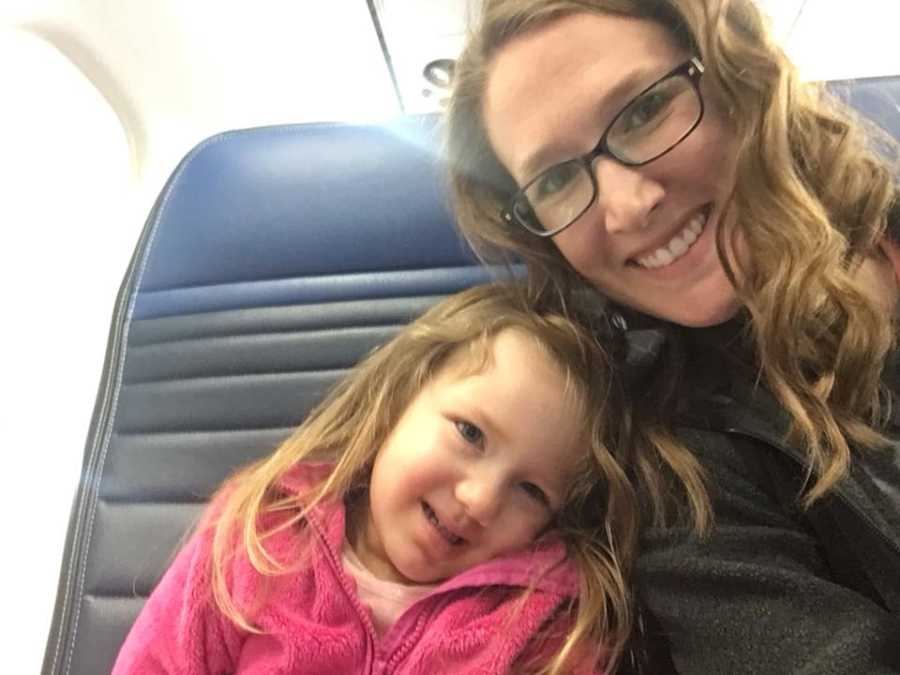 On Monday, May 7th, Addy and my wife were once again in Monterrey for treatment. We were anxious about this trip because Addy had been presenting some symptoms and we were unsure of what was causing them. After her MRI, the doctors came out and informed us that she had developed hydrocephalus, a fluid build up in her brain, and that she would need a shunt placed immediately to drain the fluid. Treatment was postponed and my wife booked a flight straight to Little Rock. Addy's shunt was placed and an MRI performed on her spine based on some things the doctors saw on another MRI of her brain. On Wednesday the 9th, we found out that Addy's cancer had spread to the lower part of her brain and on down her spine as well. Her Mexico treatment that has kept her cancer stabilized is no longer working either because the protocol has changed, or because the tumor has mutated. Whichever it is doesn't really matter at this point because the outcome is the same. For the second time now our doctors have told us to go home and make memories. So that's our plan. We're going to go make memories, but we're also not going to give up. We are desperately searching for a new treatment that will give us more time. It may be too little too late, but we have to try. God has moved mountains for our little girl up to this point and we pray He'll continue to do just that.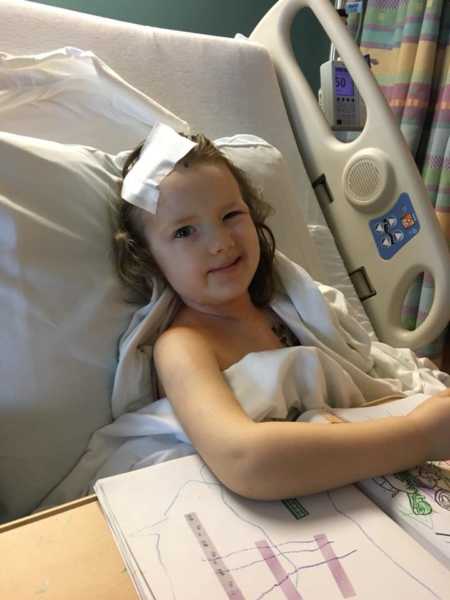 As you can see from this story, our children are not invincible. They get scrapes, and booboos, and cancer. So what's the point of this story? Why have you read this incredibly sad and discouraging story up until this point? My hope is that you've not only been saddened by this story, but that you've also become angry that someone would have to go to Mexico to receive treatment for cancer. My hope is that this story would inspire you to take action for those who cannot take action for themselves. Our children are our future and yet they only receive 4% of cancer research funding. 4% for all of childhood cancers. And of that 4% only about 4% of that goes toward research for DIPG patients. The average adult cancer victim loses about 10-15 years of their life to cancer. The average child cancer victim loses around 75 years of life. Our children deserve more. Please, write your representatives and demand that more funding be given to childhood cancer research. If you are able, please give to the Michael Mosier Defeat DIPG Foundation. Most of all, please pray for our little girl as we continue to fight this monster.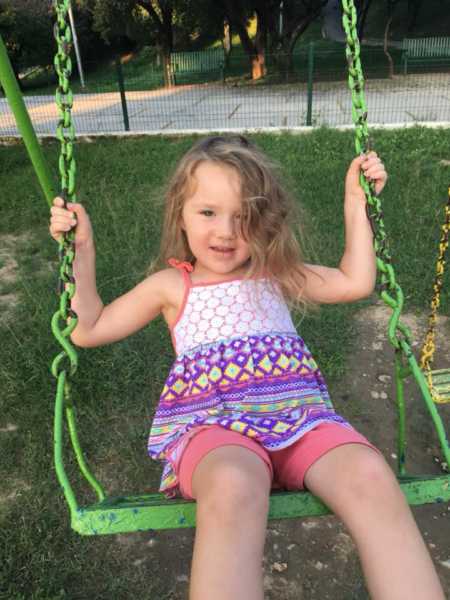 We serve a great God who is able to use all things for His good. We know that He will heal our little girl one way or another, and that we will see her again one day. We'll just have to wait a while to see her again. Until then, please help us fight for our girl and for the many others like her who are fighting with very little help. Please help us fight and defeat DIPG."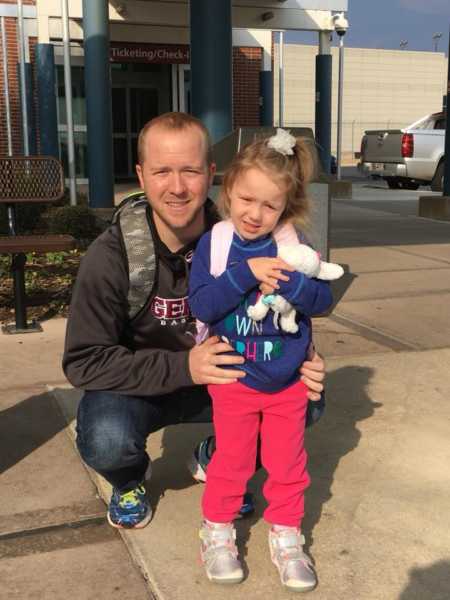 This story was submitted to Love What Matters by Matt Sooter of Rogers, Arkansas. Submit your own story here, and subscribe to our best stories in our free newsletter here.
Please SHARE this article with your friends and family to raise awareness about DIPG.