"Perhaps you've got a big nose or a prominent forehead — me, I've got both.
I never knew I was living and leading large with my smeller or that my vast forehead would be a breeding ground for what my kids lovingly call the 'racetracks' that now decorate my beautiful face, but my uber-complimentary(ish?) children and husband enjoy reminding me of such.
In jest, of course.
But, can I be honest with you? Of course, I can.
So, I used to see pictures of myself and think I looked FAB. That's when I was young, naive, and believed I was the shiitake.
That's when I could eat like shiitake and not gain any weight cause I was young and immune to increasing pounds.
Until I wasn't. Until I was in college living above a pizza and wing joint and drunkenly ordering it almost every night. Until I got married, had one baby, and then two.
And after the birth of my second child, I found myself at 206 lbs.
I'm no longer at that number and, at present, live a pretty healthy(ish) lifestyle. Like most, I exercise and eat well during the week, but the weekends are a free-for-all. These days, my insecurities regarding my appearance are less to do with my size, but my features.
Now, I see pictures of myself, and it's so very easy (and I'm so very quick) to think I look rough, aged, and yes, at times, even ugly.
It's embarrassing to admit. As a mother raising my children to know, believe, and trust that beauty is beyond skin deep and a person who, deep down, believes just the same, I still struggle with not comparing myself to my friend, my neighbor, or a stranger and her perfect body, appropriately-proportioned features, pristine brows, flawless skin, and perky boobs.
But then, I come to my senses and remind myself this body, with its stretch-marks, cellulite, wrinkles, eye bags, barely-there brows, and saggy breasts, made three miracles.
I recall that the lines on my face are thanks to all the smiles I've smiled and the feelings I've felt while being with and raising them.
That my nose, though slightly oversized for my face, allows me to breathe in not only the smell of my three gorgeous children and wonderful husband but also the fresh air I am so blessed to take in every single day.
I'm not picture-perfect, and, likely, you're not either.
What is perfect, though, is my understanding of the fact that while someone's looks matter very little, how we feel about ourselves comes through very much in how we look.
Grateful and happy people are stunning AF, and if you want to look good, all you've really got to do is get yourself feeling good, and one way to do that is to look around at your life and marvel at what you have accomplished (and perhaps who you have created) to date.
You've done a damn good job, lady, and you believing such, it looks really good on you.
In fact, you've never looked better."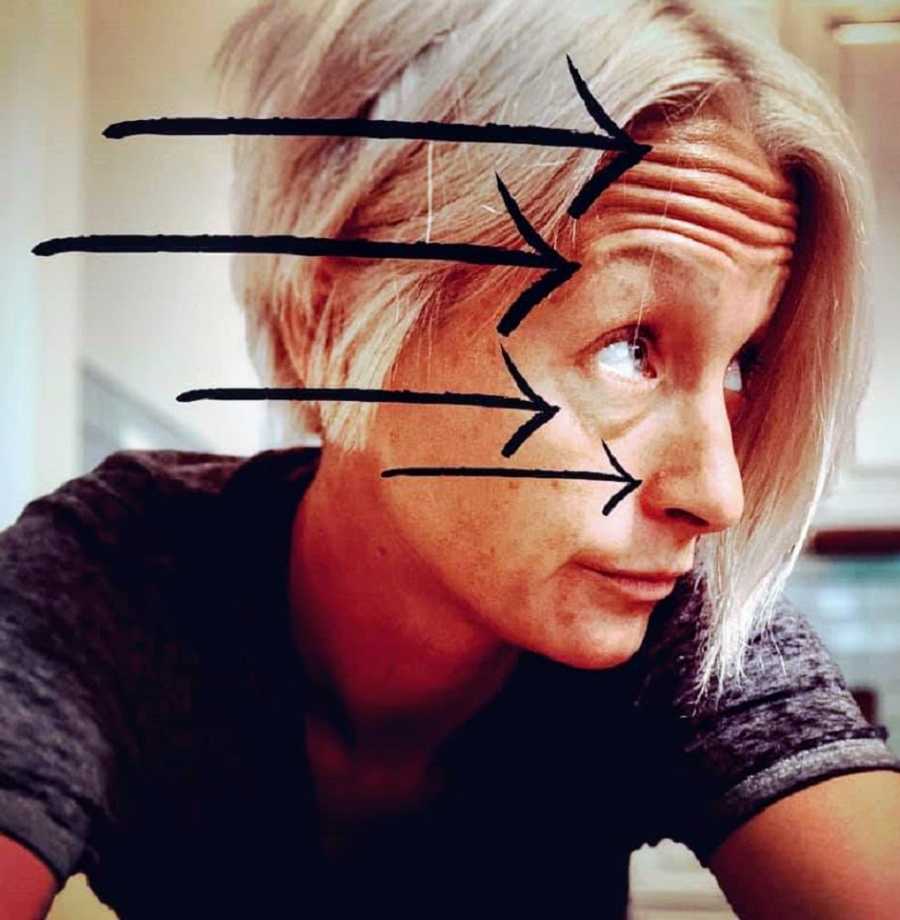 This story was submitted to Love What Matters by Nicole Merritt of Jthreenme, where the post originally appeared. You can follow her on Facebook, her website or podcast. Do you have a similar experience? We'd like to hear your important journey. Submit your own story here. Be sure to subscribe to our free email newsletter for our best stories, and YouTube for our best videos.
Read more stories from Nicole:
'To all the men with daughters, you need to love your WIFE as you want your DAUGHTER to be loved.'
'You're too young to get married,' they said. I was 22, fresh out of college. This man was 8 years my senior. 'What do you see in him? It will never work.'
'My husband and I don't hold hands anymore. When I see other couples, I feel a pang. Jealously? Concern?': Wife explains how husband 'holds her' in other ways to support marriage
'I started to cry. You should never have to sit that far away from your friends.': Mom talks social distancing and kids, 'You don't have to be emotionally distant'
Provide strength and encouragement for others. SHARE this story on Facebook with your friends and family.