"I own a little Bakery/Coffee Shop in our little town. I opened it almost 5 years ago at the age of 55 after dreaming about it since I was a teenager. I finally decided to take the leap and create what I hoped would be so much more than wonderful homemade baked goods and delicious coffee. It is a grab and go, so there is no seating inside (though some outside when the weather and seasons permit). It is small but it works and it is the best thing I have ever done.
I wanted to create a place filled with smells – smells of our childhood. Smells of coming home. I made it cozy and comfortable with my favorite quotes on the wall to read and photos of people I love. We donate baked goods to our local USO and VA Medical Center. We raise money for needs in our community. We celebrate our customer's birthdays with the option to wear a ginormous handmade gnome hat while we sing to you. We ask the community to help us collect aluminum cans for our Ralph who lives in the neighborhood (see photo below). We tell people's stories and share them on our page. We share our beaters. We laugh – A LOT.  And from there it has taken on a life of its own. OH, and we have gnomes who live in the bakery. Gnomes who get in trouble and teach us lessons in the stories I share on our Facebook page. So I'm either losing my mind or creating a place like no other. A warm, magical place that when you step inside you feel it – you feel love.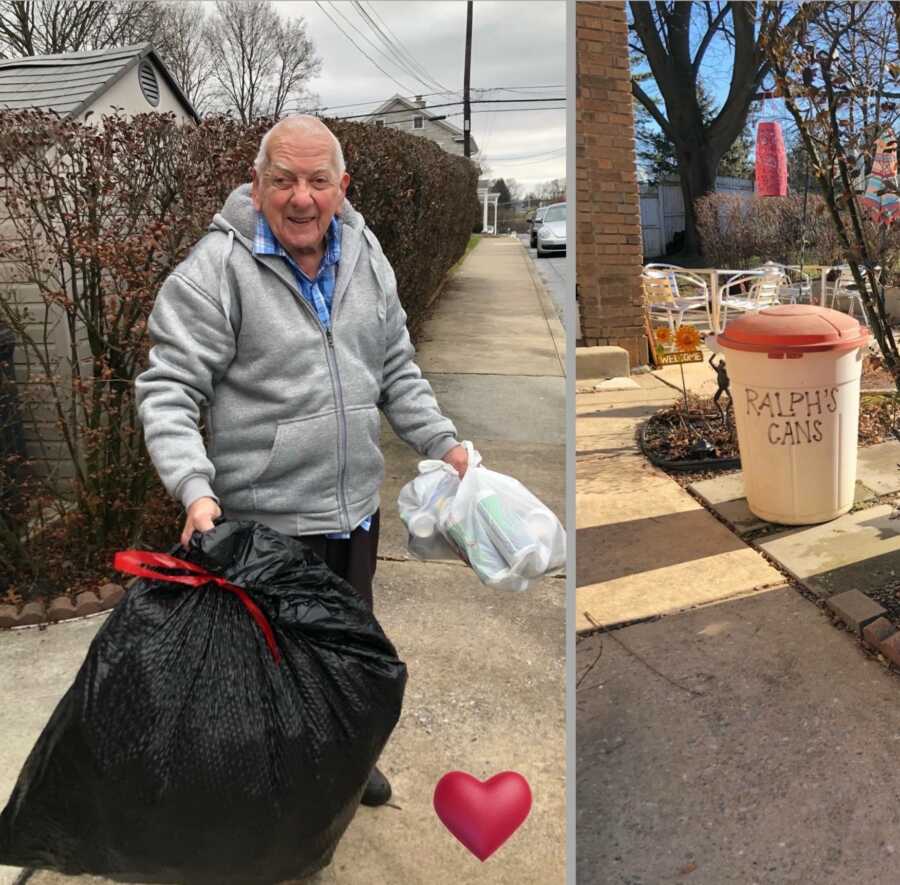 Fast forward to the present. A Christmas story about 5-year-old Brooks. Brooks comes into the Bakery on Thursdays on his way to the library with his mom. A little stuffed bear sits on a shelf and Brooks has fallen in love. He picks him up, and hugging him, carries him to the display case where his mom is standing. He joins her and quietly says, 'I want him.' This is a few weeks before Christmas. His mom smiles and says, 'Maybe you can put him on your Christmas list.' Brooks continues his hugging. On the way out, his mom asks him to put the bear back on the shelf. He quietly sets him down and they head for the door. I call to Brooks and tell him Santa stops in our bakery once in a while and if he does I will be sure to tell him how much you love our bear. He turned to his mom and said, 'Mom, Santa stops here sometimes,' with pure magic in his voice. My heart is full.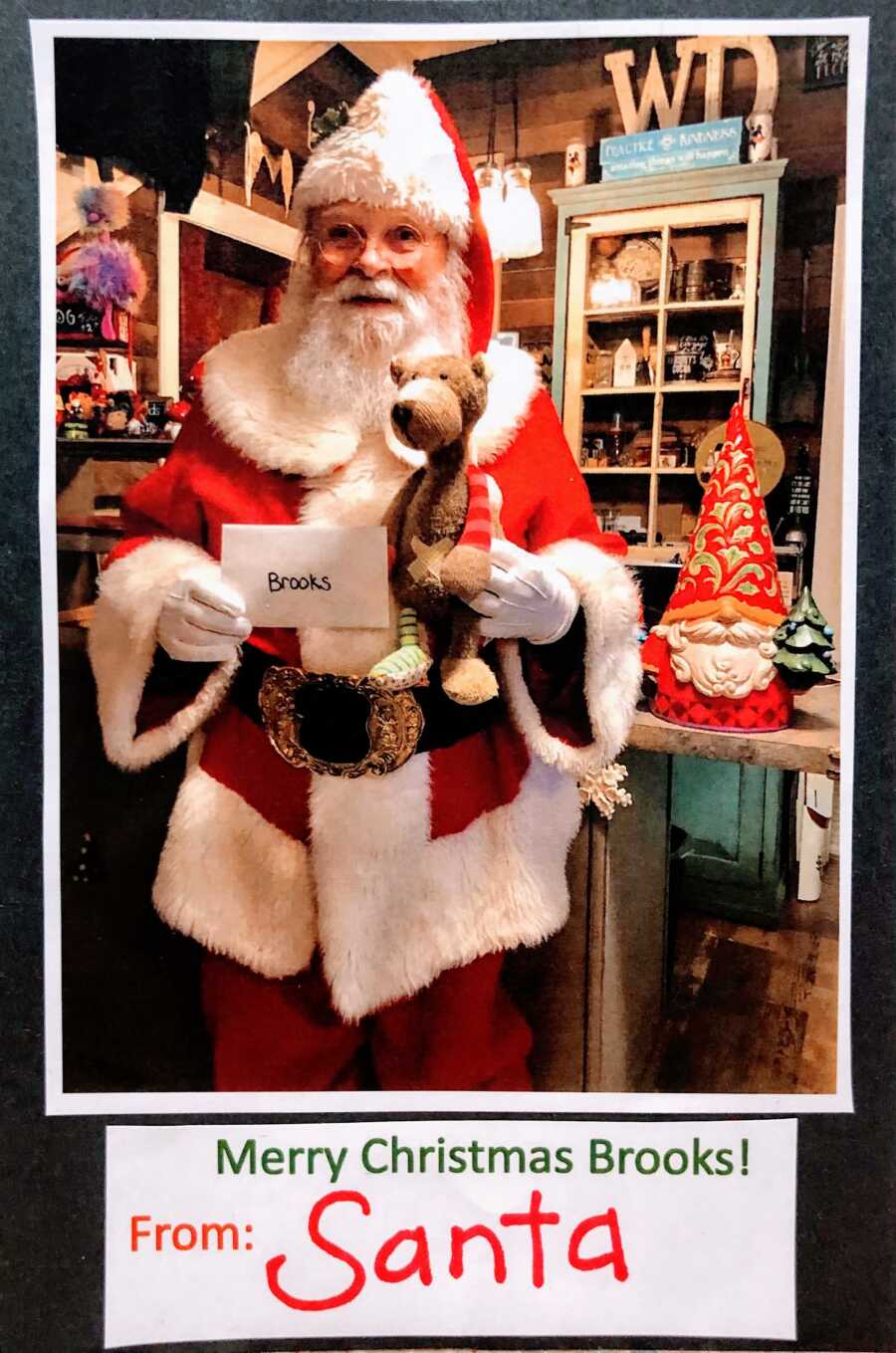 The fact is, I do know Santa so I gave him a call to see if he could stop by so I could get a photo of him with the bear and a card for Brooks. He graciously agreed. The next Thursday when Brooks stopped in with his mom, he immediately notices his bear is missing. He looks at his mom and points. She asks about the bear. I hand her a black bag with a wrapped box inside. I asked her to text me later so I could explain.
Soon it's Christmas morning…
Brooks opens his box and his card from Santa. His mom was kind enough to send us a photo. Oh, my heart! To say this is what Christmas is all about is an understatement. To see Brooks' face on Christmas morning with his bear from Santa made this Christmas morning simply magical! A text message from his mom comes: 'He's so happy. Hasn't stopped holding it.'
Merry Christmas sweet Brooks! We can't wait to see you and your bear, Lionel, in the Bakery! In a world where you can be anything, be kind."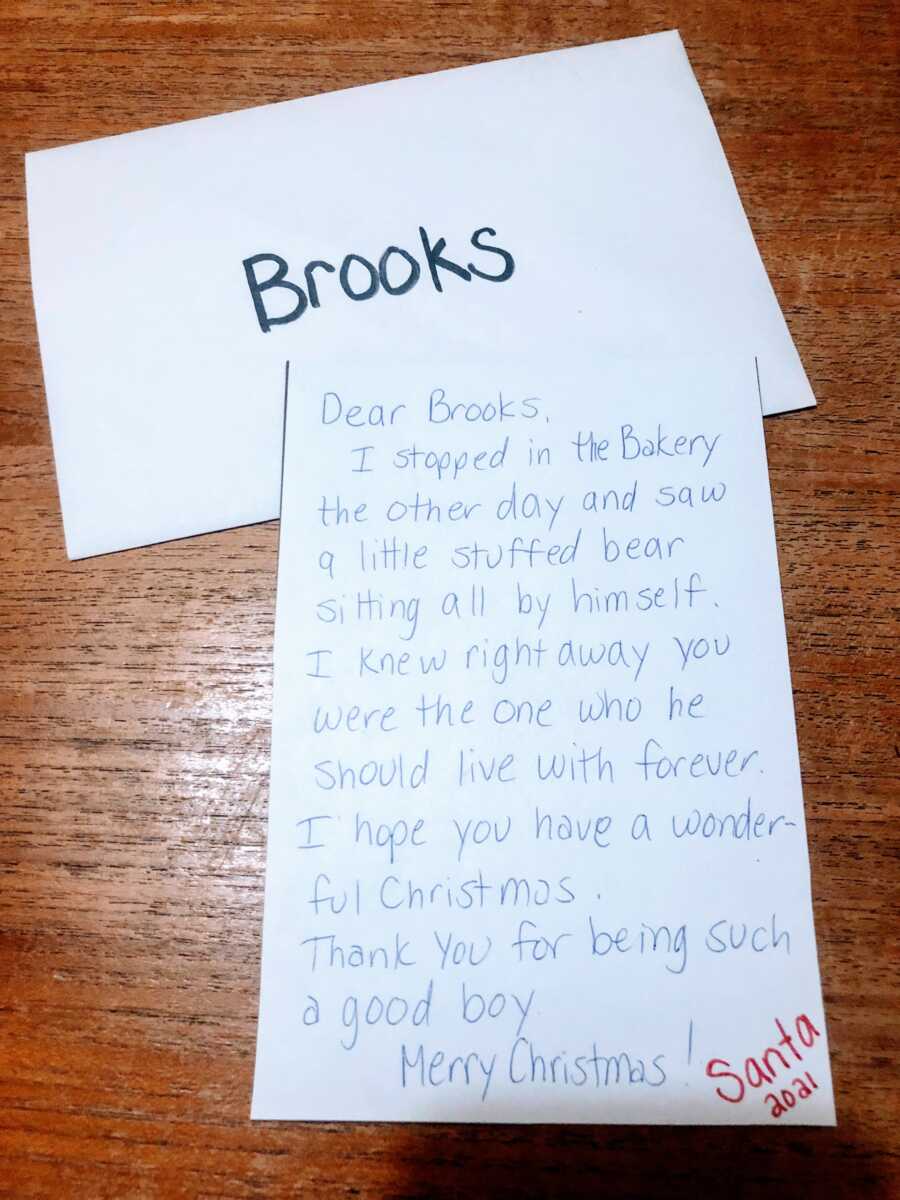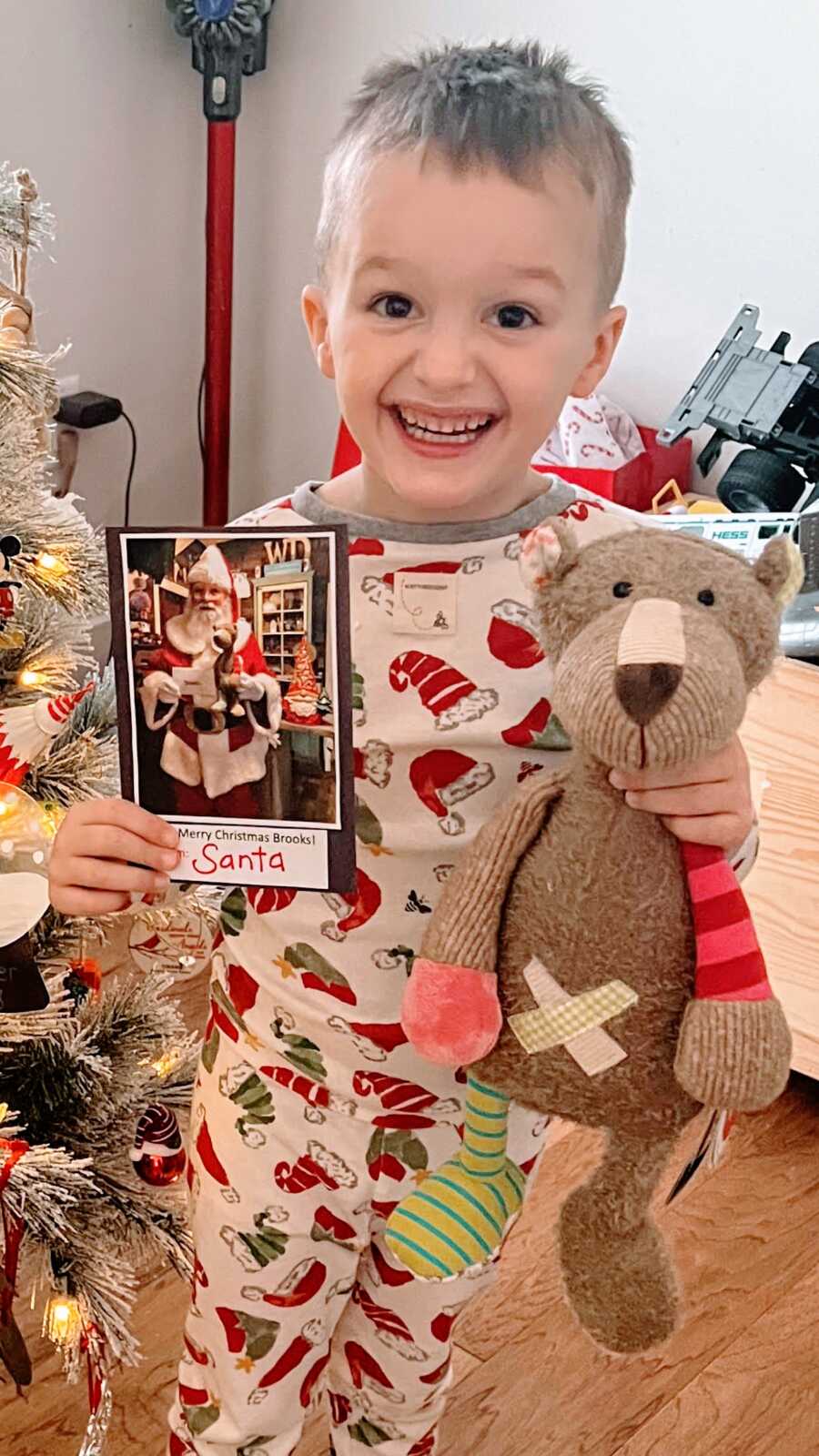 This story was submitted to Love What Matters by Becky Gacono of Pennsylvania. You can follow her bakery, Whirling Dervish Bakery, on Facebook. Submit your own story here and be sure to subscribe to our free email newsletter for our best stories, and YouTube for our best videos.
Read more from Becky:
'I drove by my grandchildren's house to drop off something they love on their front porch. I knocked on the door, and backed away.': Woman shares plea for kindness during pandemic, 'Love, not anger, makes the world a better place'
'Follow me to the side yard. I have a surprise.' They were nervous. 'I'd like you to adopt them.': Girls befriend bakery gnomes during pandemic, get surprise adoption party
'There were 2 missing from our Thanksgiving celebration this year – our brother, who lost his battle to cancer, and our mom, who is still with us, but lost within herself.': Woman navigates grief during the holidays
'As my mom battles her dementia I realize the importance of a memory': Daughter savors the 'crazy, laughter, tears' because 'it's all that matters'
Help us show compassion is contagious. SHARE this story on Facebook with family and friends.