"Practical thinking in the midst of hysteria–
1. If you just bought that 8 pack of Clorox wipes, go home and clean your house. Clean your car. Clean whatever you need to. And then, take a container to an elderly neighbor, teacher, or nurse. Hoarding it under the sink does nothing. And guess what? Cleaning turns panic into productivity.
2. If your church cancels services, find a way to give online. If the economy is hitting you hard, don't stop giving. Churches are often the first place people run to in the midst of a crisis. Churches fund the livelihood of missionaries around the globe. Churches are having to find room in their budgets for even greater cleaning protocols for the congregation. Now, more than ever, churches need the funds to be equipped to help those in need and those serving around the world.
3. Produce can be chopped up and placed in the freezer. If you can, support local farmers and markets. Canned goods aren't the only method of preserving food. Unfortunately, toilet paper only works best when kept in a dry climate.
4. Stop scrolling and open your Bible. Be intentional with where you are placing your trust.
5. Watch the local news over cable news. Local news will give you the necessary facts and stats, without over-analyzing and causing further panic. Cable news will only continue to add to the noise.
6. Enjoy being home. Start that project. Clean out those drawers. Work in the yard. Read that stack of books. Snuggle those babies home from school. Use this time wisely.
7. Pray for and be aware of those around you who have compromised immune systems. Pray for the mamas of children and young adults who live this fear every day. Pray for the elderly who are only further cut off from the world in a moment like this. Offer to help in any way, if you are healthy and able.
8. Don't trivialize this even further. Two days ago, I was the one trivializing it. But precautions are being put in place for a reason. Follow directions even if they seem nuts — which includes staying home.
9. Take this thing day by day. Don't make any decisions for anything 2-4 months from now, based on the fear of right now. That is borrowing trouble.
10. Sit around the table as a family. Talk through what's going on, have a plan in place, and then change the subject. Go about life as normal as possible.
11. Pray for the healthcare workers working around the clock. Pray over your grocery store cashier. Pray for the ex-pats around the world. Pray for your government and city officials as they seek to make informed and wise decisions.
12. Whatever you do, don't make this political. We need to be a unified country more than ever. Working together for the greater good of our nation and its citizens. This isn't about party lines — this is about being Americans and doing the right thing.
13. Wash your hands.
14. Wash your hands.
15. Wash your hands.
The economy scares us. The pandemic has brought on mass amounts of crazy. Long-awaited vacations and plans are canceled. Schools are closed. We're all on edge. BUT there are things we all can do to make this a bit easier. This time isn't wasted, and God is sovereign over this situation. So let's be practical. Let's be wise. Let's trust Him with the outcome.
*I'm not a doctor and I'm not a know-it-all. In fact, I 'rage-cleaned' tonight to be productive instead of anxious. But I am naturally a take-charge personality. I like practical solutions. I'm a mom, and I have people close to me that could be affected. This is what we are enacting in our home."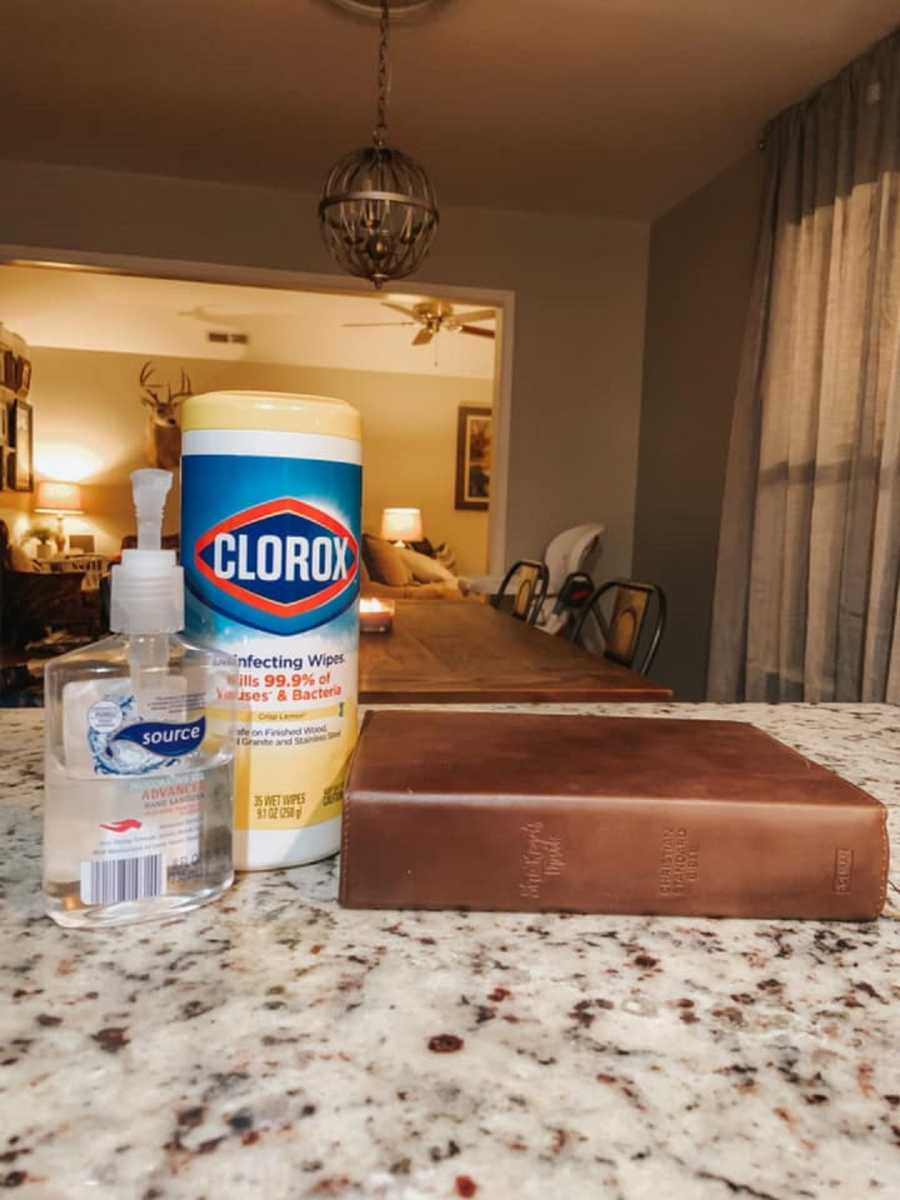 This story was submitted to Love What Matters by Arianna Freelen of Texas. You can follow her on Facebook. Submit your own story here and be sure to subscribe to our free email newsletter for our best stories, and YouTube for our best videos.
Read more stories like this: 
'I cancelled our baby shower. Suitcases out, cookies, decor and appetizers ordered.': Mom to be cancels baby shower due to coronavirus 'staying home is the most loving thing we can do at this time'
'This virus is basically just a cold.' School is canceled, our spring break trip isn't happening. I'm looking at lots of time home with 5 kids.': In the midst of coronavirus panic, mom urges 'use this time to show kindness'
'I was beelining it right to the water and toilet paper aisles, only to find nothing left. The anxiety kicked in.': In the midst of Coronavirus panic, mom 'thinks outside the box'
Help us show compassion is contagious. SHARE this story on Facebook with family and friends.