"Picture it: Spring Break, 2000. My roommates and I purchased discount airfare and hotel rooms from a toll-free number posted on a bulletin board in the union of our frigid college in Brockport, NY. (Go, Golden Eagles!) For about $200 per person, we scored round-trip airfare and five nights at a beachfront hotel in sunny Florida, so obviously everything was going to be five stars.
The flights were red-eyes and when we arrived in Daytona Beach, we discovered the hotel we'd been booked in had been demolished weeks earlier. Still, optimism abounded as we waited hours to be re-booked in a different luxury roadside motel and befriended hundreds of other spring break orphans.
We spent the week playing volleyball in the burning sand, forgetting about the ice and snow up north, and drinking $1 rum concoctions as Sisqó's 'Thong Song' pounded through the speakers of every club we went to. It was inconvenient and exhausting and loud and absolutely amazing and unforgettable.
Spring break at forty–one looks a little different. It's 2020. Where are the flying cars I was promised?
First, my three boys — Twelve, Ten, and Eight (their ages, not their real names, but it's easier this way) — do not like it when I sing the 'Thong Song.' It makes them uncomfortable.
Secondly, they can't get into the clubs in Daytona, so I have to think up other Spring Break activities for them. In order to combat the smartphone monster, I'm going retro this year, pulling from my own childhood experiences to ensure a restful and restorative week.
1. Watching TV. This timeless tradition started in my house in the 80s. To make it authentic to the days when we only got three channels, I will limit their viewing to golf, televangelism, and infomercials.
2. Playing in the woods. While there aren't really woods on our lot, I think if I could convince the kids to play SPUD near a tree, they will get the full effect.
3. Going to the beach. The beach in upstate NY was not swimmable in March because the water was still at or near freezing, but the good news was the razor-sharp rocks along the edge of the Finger Lakes were available to slice your feet open year-round. Unfortunately for my kids, the beaches here are on the ocean, totally free from the Freddy Krueger rocks and uncomfortably cold weather, and the ice cream shops are seasonal — so the experience will not be vintage. It's a poser.
4. Traveling. A road trip to Grandma's for us was five hours and two McDonald's stops. We'd buckle in before the sun came up and drive to Massachusetts in our pajamas. Grandma would be waiting intuitively on the porch to greet us, clapping her hands. We didn't have cell phones to let her know we were almost there; she always just knew.
These were my very best memories of spring break up north.
So, friends, maybe we'll see you on the beach in these upcoming weeks! Or maybe we'll take advantage of Frontier's or Allegiant's rates that can get the whole family up north without breaking the bank (unless anyone brings a carry-on — or even emotional baggage — that's extra), to enjoy a spring break of yore. Either way, I'll be the one belting out the 'Thong Song.'
See you out there!"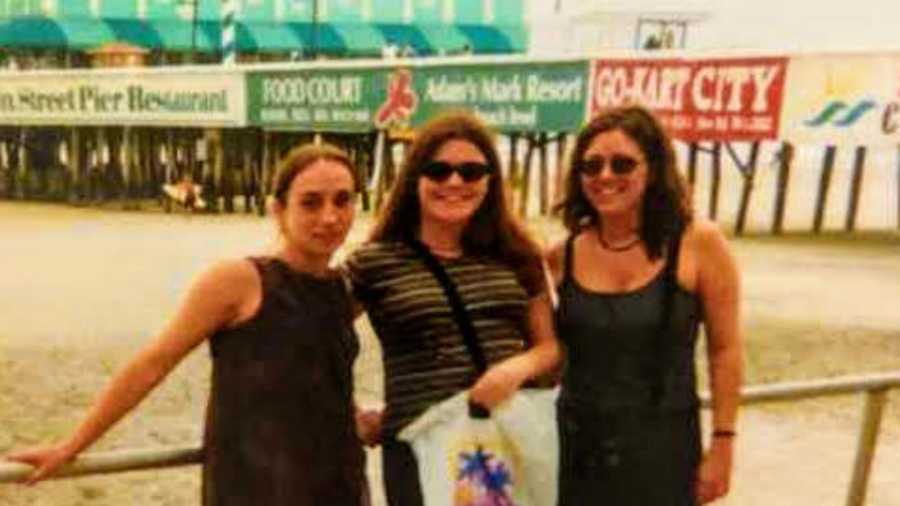 This story was submitted to Love What Matters by Lindsay Chamberlin, a Florida mom and writer for The Community Paper, and originally appeared here. Submit your own story here and be sure to subscribe to our free email newsletter for our best stories, and YouTube for our best videos.
Read more from Lindsay here:
'Aren't you sad you never had a girl?': Mom of 3 'wild boys' hilariously breaks down how #BOYMOMS have 'earned' their exclusive title
'I asked her when vacation starts. 'In a week. I'm DREADING it. I already lied to my church and said Nicholas was 5 so he could go to Vacation Bible School.' This warmed my soul.'
Do you know other moms who can relate? SHARE this story on Facebook with family and friends.