"Dry the dishes.
A few weeks ago I had lunch with a good friend of mine when the topic of conversation turned to relationships.
The statement was made that you can't always have excitement and partnership, sometimes you have to sacrifice one of those things.
I politely disagreed. I was immediately asked:
'Okay, then what do you think is the most important thing that allows you to achieve both long term?'
Off the top of my head, I couldn't answer that question.
If you really know me, you know I have unrealistic, almost movie-like expectations when it comes to love.
I'm the furthest thing from an expert in this category, so I was perplexed…or so I thought until I went out to visit my parents later in the week.
They'd just finished dinner.
My mom was washing dishes and my dad was drying them—a sight that I'd witnessed every single dinner of my life growing up.
And then it hit me—the most important thing in a healthy and exciting partnership is consistency.
Consistency.
Simple, right?
My mom always washed the dishes.
My dad always dried them.
No matter if he'd worked 16 hours that day or not.
As a kid, I didn't think much about it.
That was just what they did.
But, as a 33-year-old standing in the kitchen I grew up in I looked at that small gesture completely different.
I'm sure hundreds of important conversations happened over that sink that my sister and I never knew about.
I'm sure parenting decisions were made, Christmas present ideas were discussed, vacation plans were put into motion and so much more with every stroke of that hand towel.
I'm sure there were days they were mad at each other, annoyed, stressed, or tired from a long day at work—but they still washed/dried the dishes together.
My parents have been married for 41 years.
I'm sure not every day has been exciting, but I can promise you every day has been consistent.
Relationships in 2021 are hard.
You have to work at them, all the time.
You have to continually choose someone other than yourself every single day, even on the days you don't want to.
With social media—everyone is obtainable.
You can slide into someone's DMs easier than you can tie your shoe.
That has ruined countless relationships/marriages and to be frank, that is terrifying.
The future of relationships are more vulnerable than ever.
But my argument is simple.
Be consistent and not just in your relationships, but your friendships, too.
Be consistent with the people that matter to you.
Put in the effort.
Be uncomfortable for your people.
Make them feel like they are more important than your phone, your job, and your 'stuff.'
Never make someone question in the back of their mind if you're going to be there to dry the dishes.
My parents' lives are much different now.
They've been empty nesters for several years.
But, this year they've both officially retired and are learning how to navigate this new phase of life.
The people sitting around the kitchen table are fewer, the dishes aren't quite stacked up as high as they used to be—but at the end of every day, my Dad is consistent and dries the dishes.
And some days, I'm sure, that made all the difference."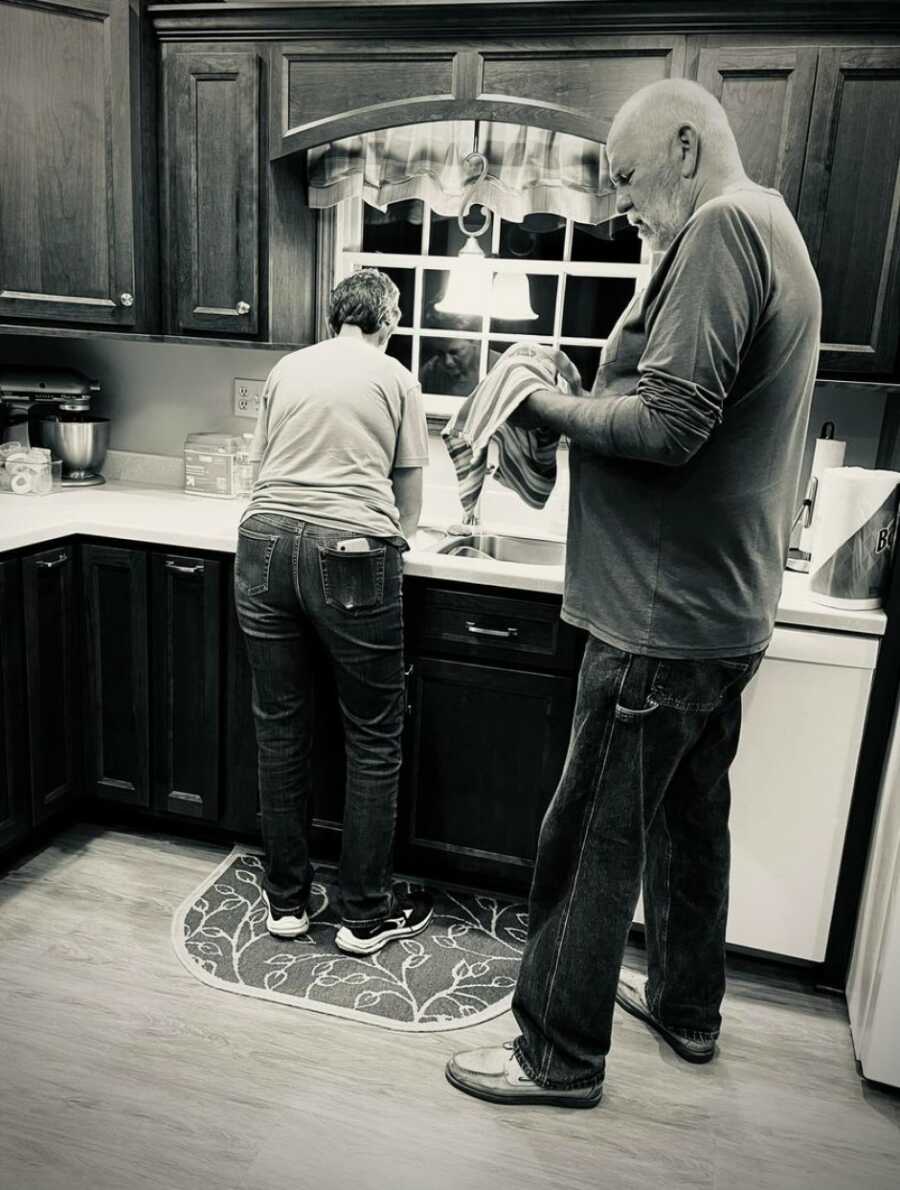 This story was submitted to Love What Matters by Amy Frasure of Huntington, WV. You can follow her journey on Facebook. Submit your own story here and be sure to subscribe to our free email newsletter for our best stories.
Read more stories like this:
'Days after my divorce, an old childhood friend sent a friend request. It was thrilling. The universe, in all her wisdom, had plans for me.': Woman marries 'slice of Heaven on Earth' after abusive relationships
'My daughter grabbed my face. 'You got this, mom. It's time for you to move on.' I signed the divorce papers, and finally put myself first.': Teen mom divorces after 12-year emotional battle with husband, 'Never be afraid to start over'
8 Building Blocks For A Long, Healthy Marriage
'When marriage gets hard, I picture myself old. Grayed hair, shriveled little body, with feet difficult to put in front of the other.': Woman says 'our love will be the greatest accomplishment of our lives'
Do you know someone who could benefit from this story? Please SHARE on Facebook or Twitter