"When life changes you have no other choice than to change with it. The change in 2019 was never what I expected.
I started my own health coaching business with E Squared Health after Lifetime down-sized our team back in 2018. I had been working hard, like really hard, to make sure my business took off and I was full of clients in May 2019! I'm not gonna lie, I was a complete and total workaholic-girl-boss.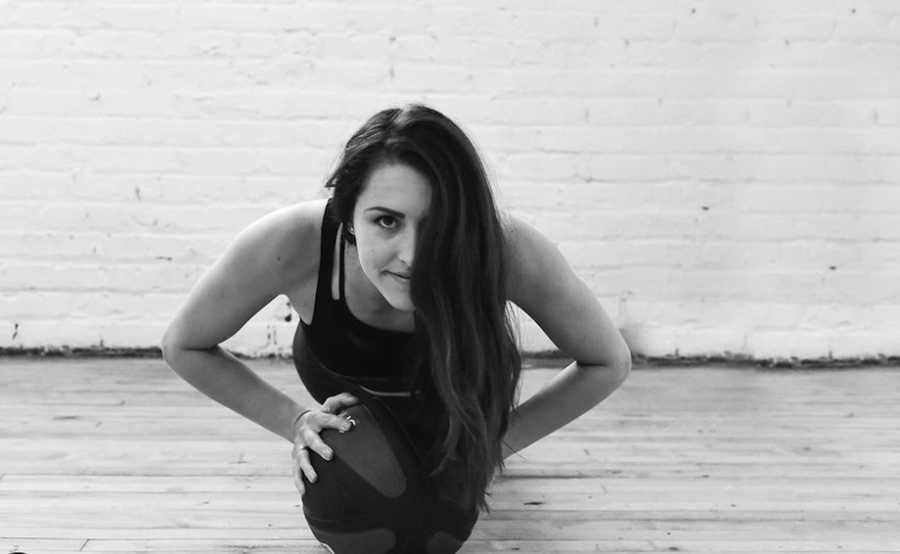 Now, this 'girl boss,' as I called myself during this time, also started to notice headaches often. My 'often' headache turned into every day! Quickly after I developed these frequent headaches, I additionally started having 'spit up' episodes. These episodes, I found out, were actually seizures.
My first spit up episode was after washing my face. I immediately began spitting up in the toilet like I was going to vomit. I felt completely off and weird! Before I knew it, it started happening at work, during meetings, with clients, while driving — you name it! I would have to spit up in a cup and I would get really dizzy. After these spit-ups started happening, I would do it twice or three times a day daily.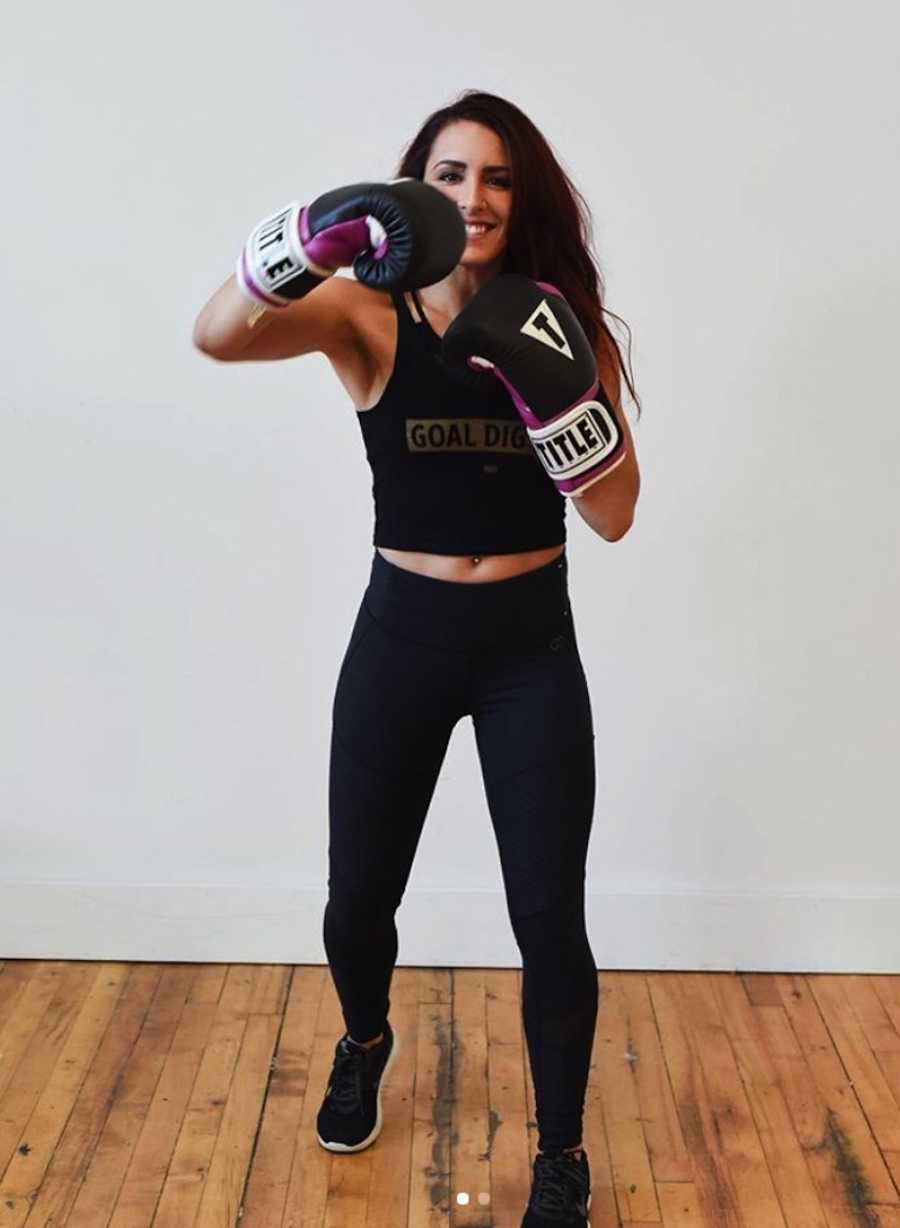 Part of me thought it was just anxiety, so I decided to see an acupuncturist to try and find some relief. I called and got an appointment for 8 a.m. the next day.
After my appointment, I got to work and went up the elevator to our floor. As soon as I walked out of the elevator, I felt DRUNK. I was so dizzy I could barely keep myself walking straight. My boss knew I wasn't my normal self and asked me to go to the hospital and call my husband to come and get me. Davis picked me up and we drove to the hospital. We checked into the emergency room and they observed me and wanted to get a CT scan of my brain.
The CT Scan felt like I was on a spinning rollercoaster ride and I had never experienced that before.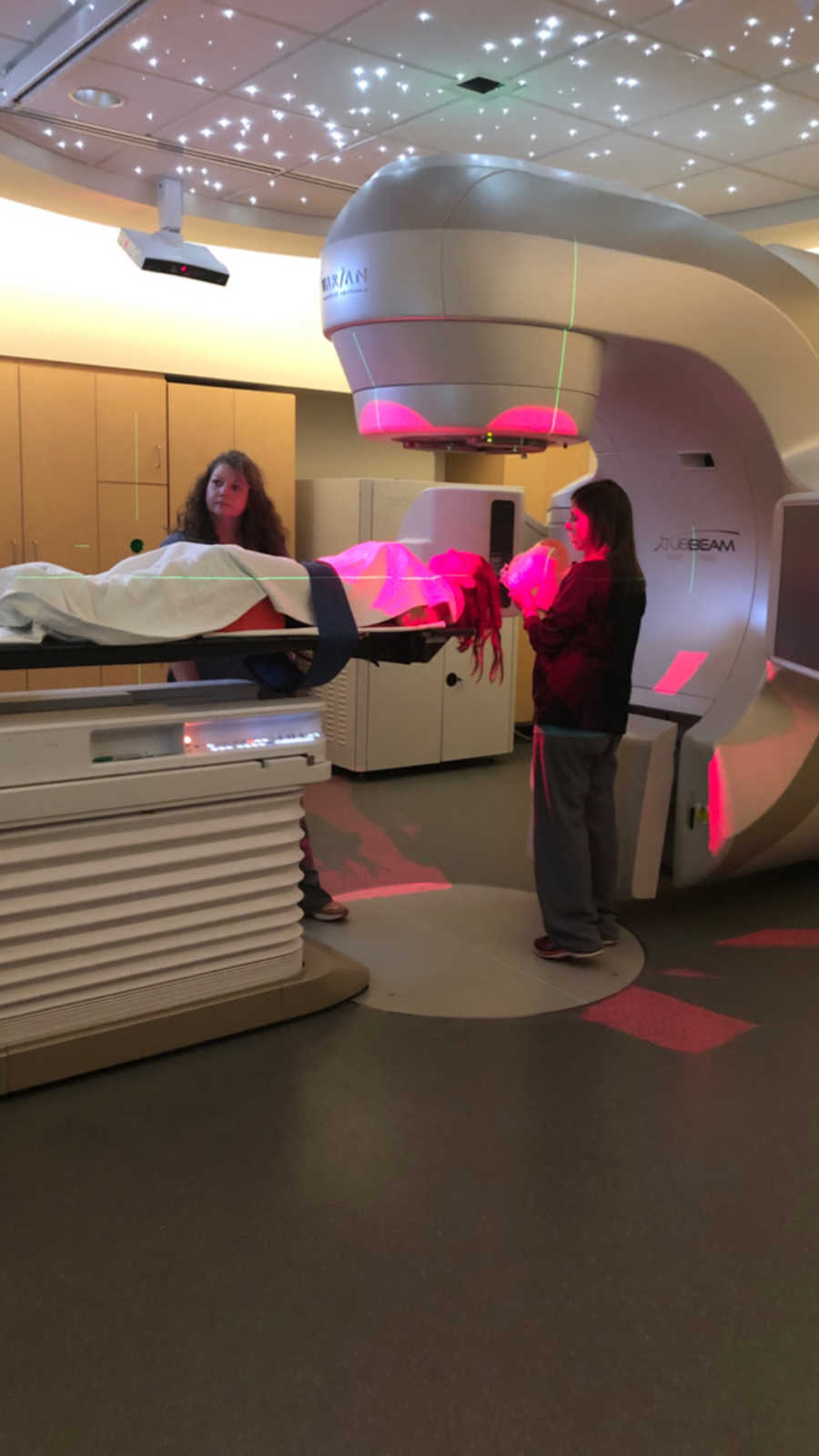 Also, this appointment was over lunchtime and I was STARVING! Before we got my results, Davis went to get me a snack out of a vending machine.
When the doctor came in, she told me the news. I had a huge tumor in my head. She also had high suspicion it was cancerous. Davis wasn't in the room to hear this for the first time. She left telling me this awful news and I had to share it again with Davis myself. It broke our hearts. We were very emotional.
After checking into the Abbott Northwestern Hospital in Minneapolis a few hours later, we met with a neurologist. After taking an MRI, he had a lot of information to share with me and will be completing a brain biopsy fairly soon to learn more.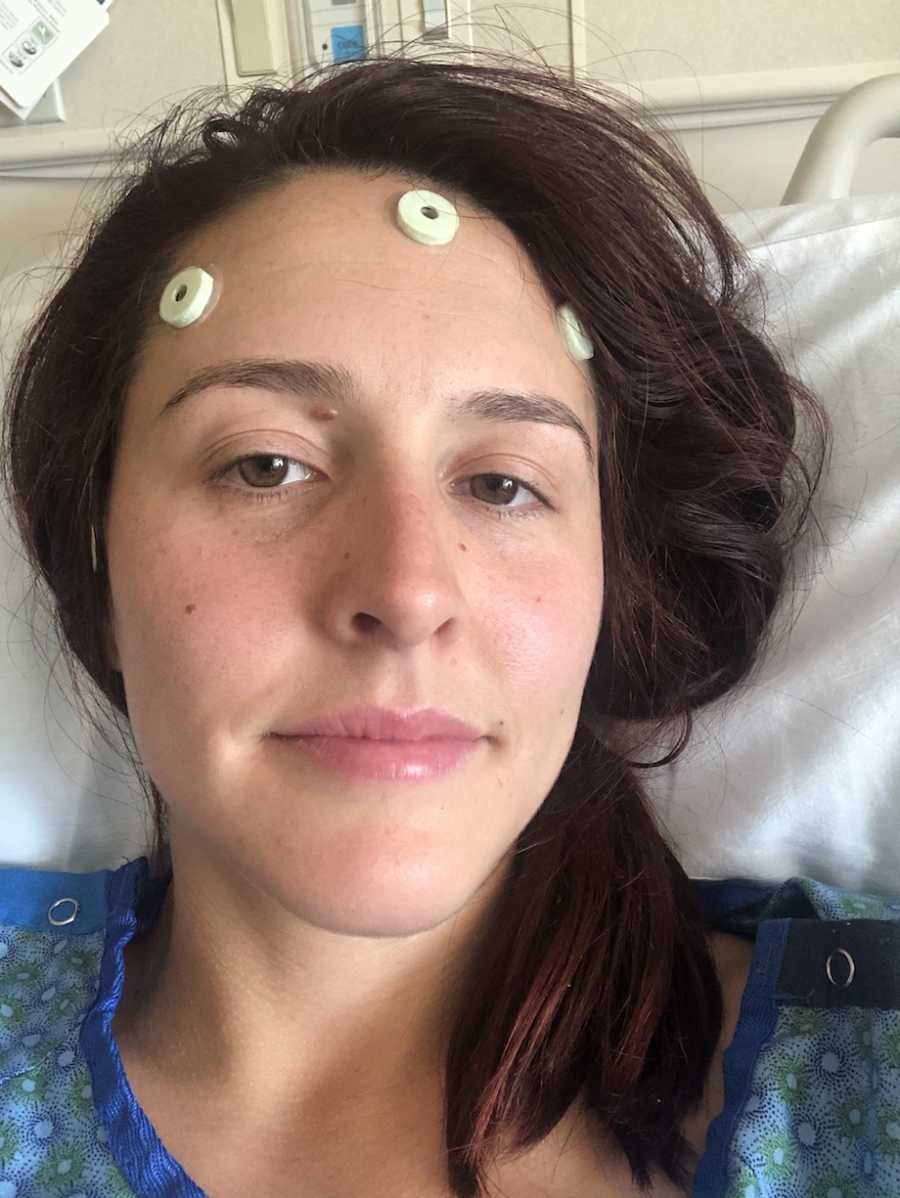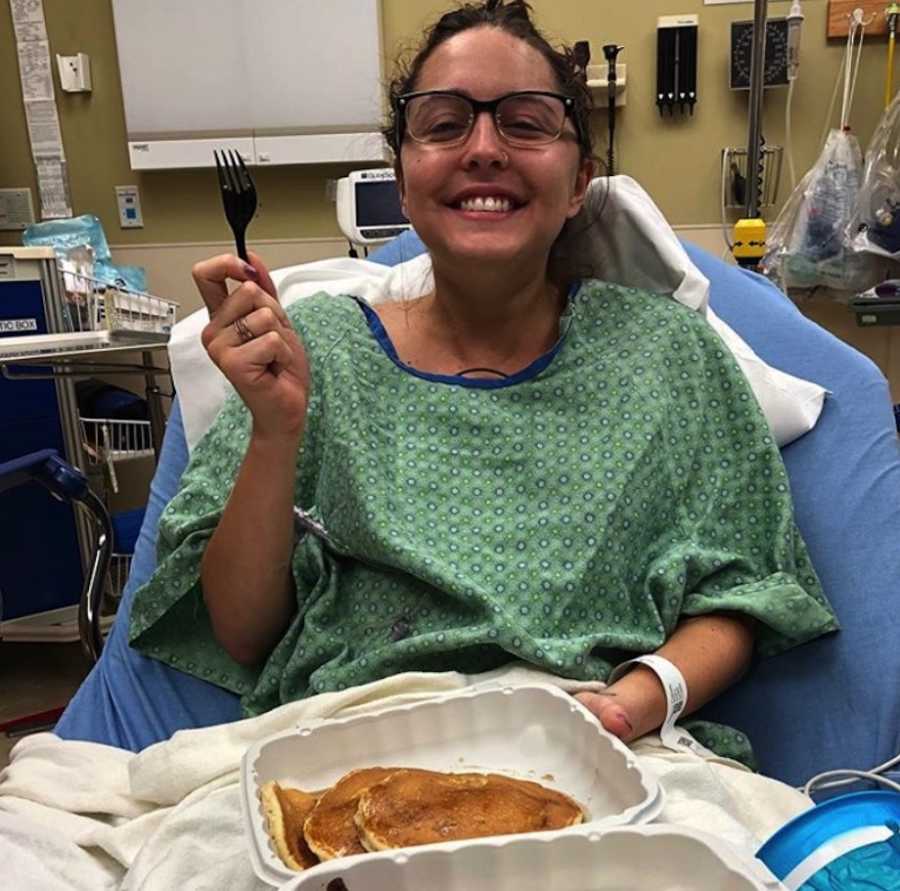 After the surgery, we learned the tumor was cancerous and I was diagnosed with Astrocytoma. My tumor was located on the frontal lobe, temporal lobe, and basal ganglia of my brain. After the biopsy, we headed back home to heal and waited to meet with a team in Mayo Clinic to learn more about our next steps for brain surgery. Davis and I met with a neurosurgeon named Dr. Ian Parney at the Mayo clinic and discussed the idea of performing awake brain surgery.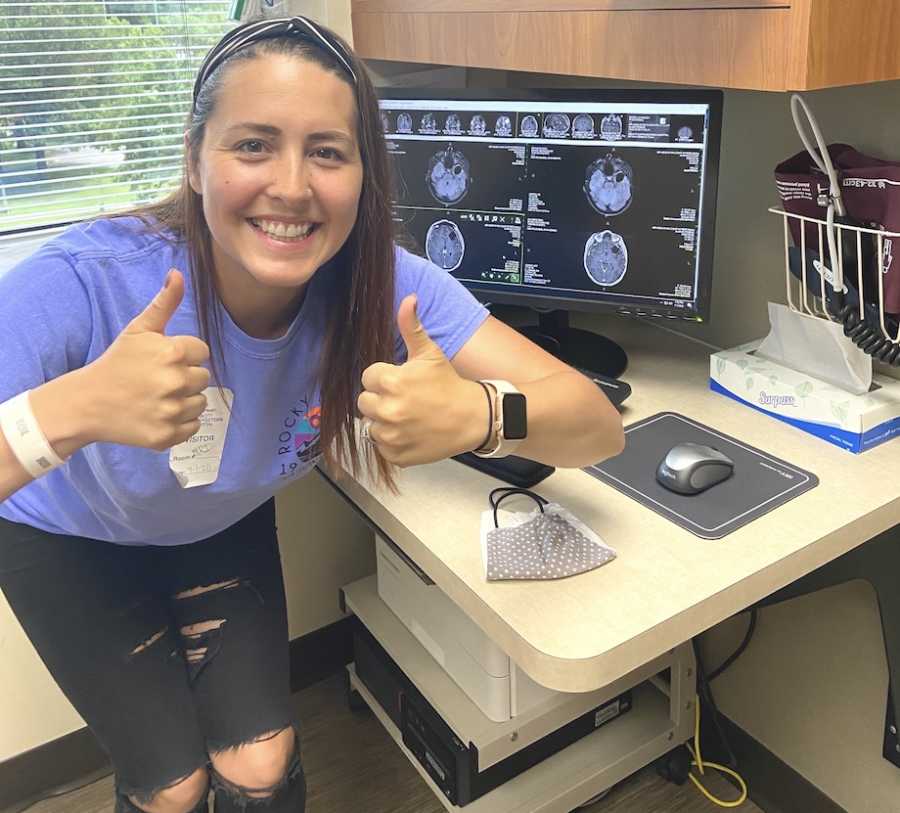 I officially had brain surgery on August 23, 2019, after completing numerous brain exams the day before to understand what will happen the day of the surgery. During surgery, I completed several exams and MRIs to ensure Dr. Parney knew everything he was doing was safe and the right parts of my tumor to be removing.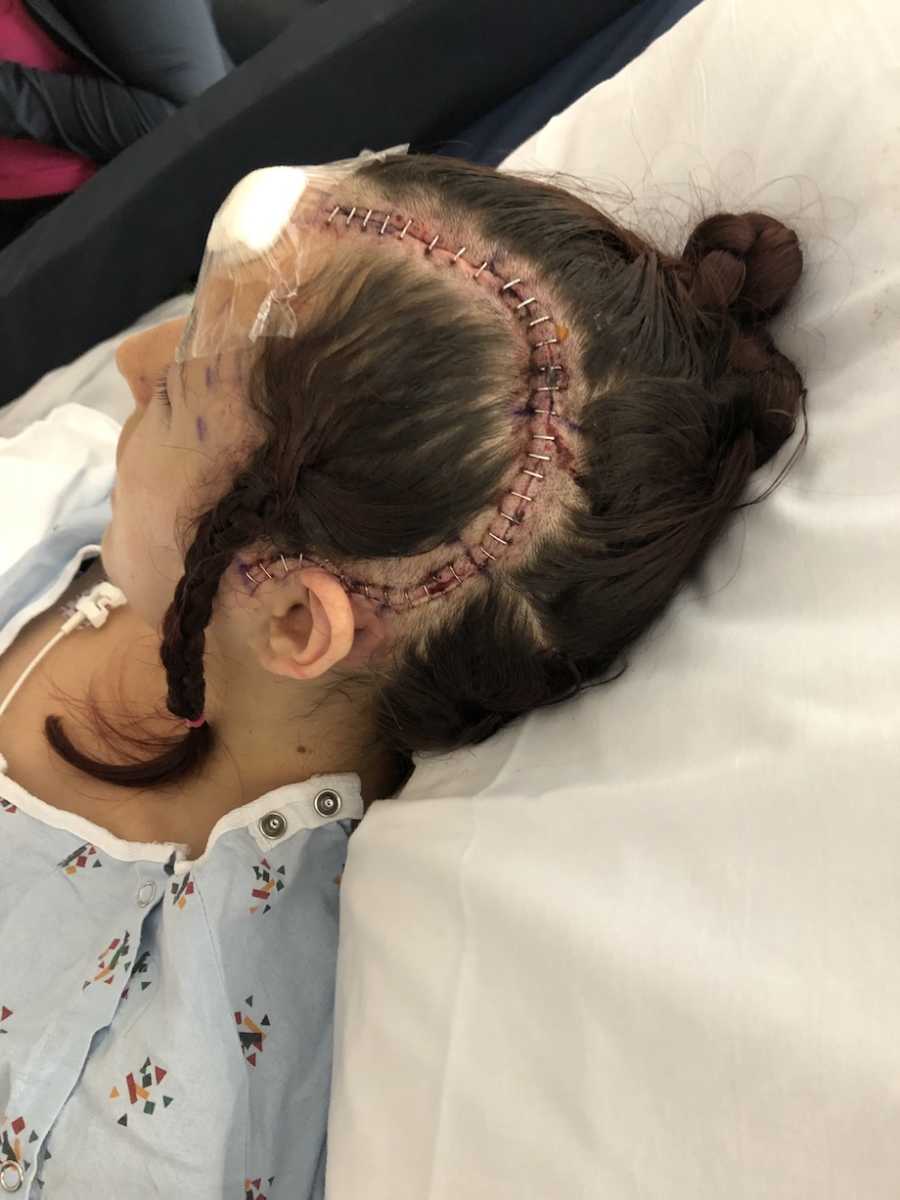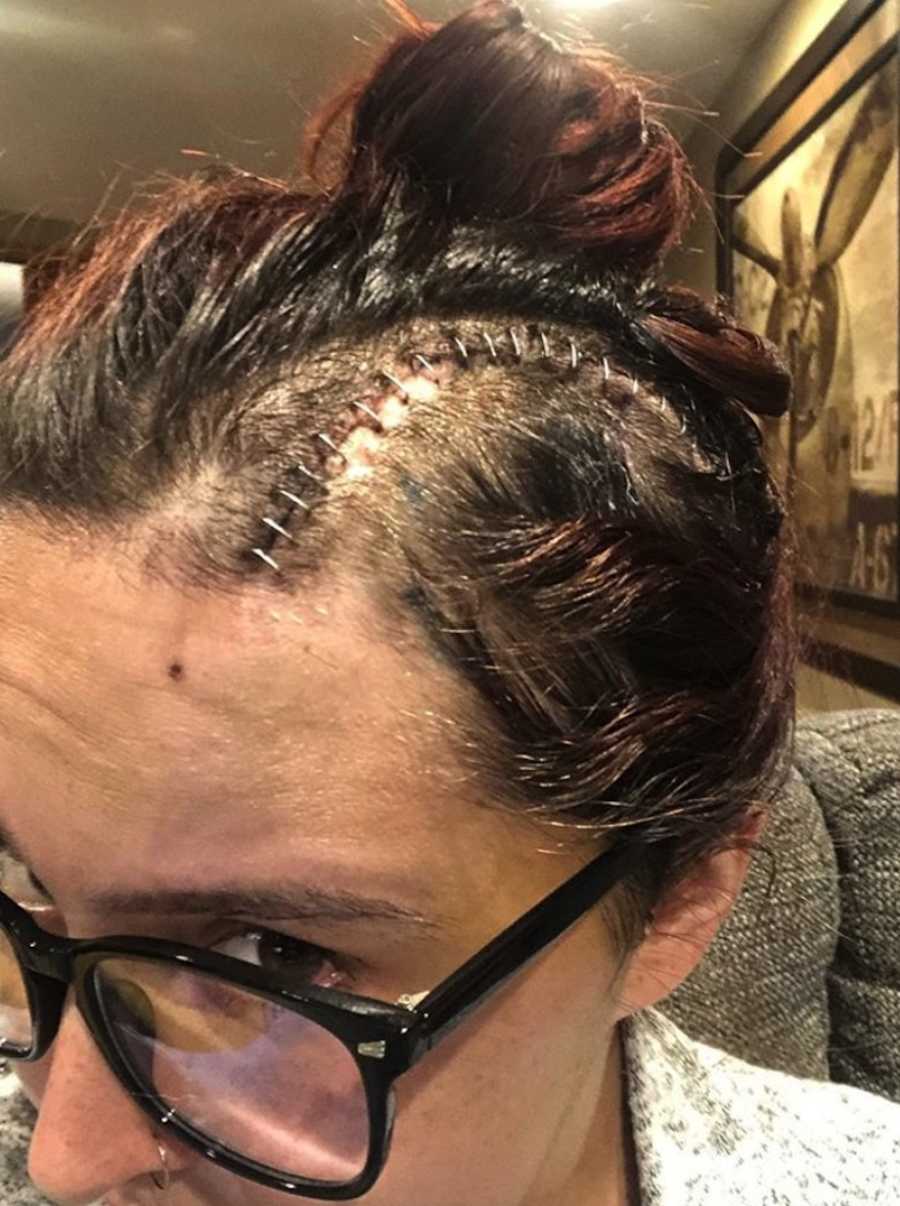 To be completely honest and open, my surgery was 'experimental.' That means it was not covered by insurance. It came with a huge bill. However, it was the safest and most accurate removal of a tumor possible in today's medicine. Dr. Parney successfully was able to remove 85% of my baseball-sized tumor by completing this medical advancing surgery.
Post-surgery, we were at Mayo Clinic for the next 7 days. I was recovering well!
Until two days after the surgery… I had the biggest seizure I had ever had. I don't remember much but apparently, it set me back quite a few steps on the road to recovery. Davis said it was one of the scariest moments of his life.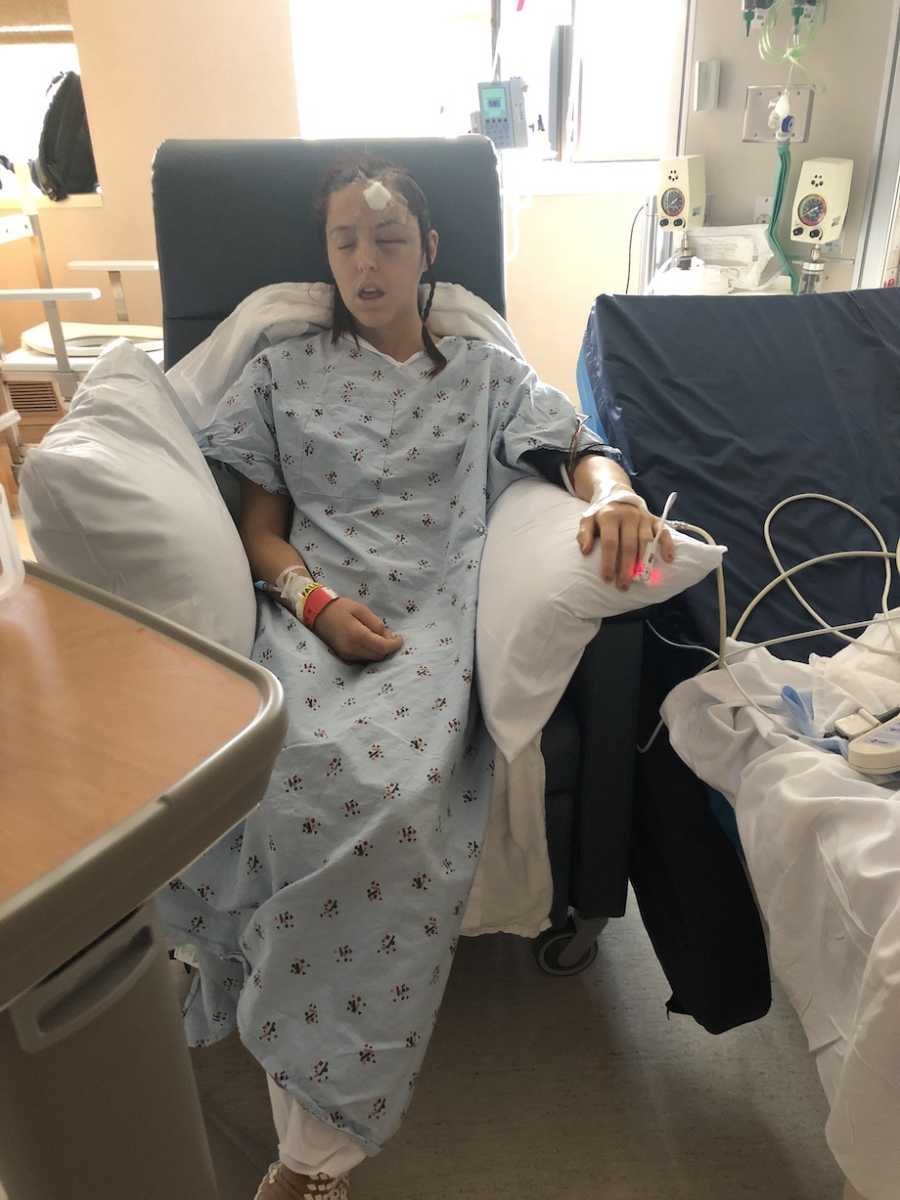 The next 5 days were spent slowly getting my ability to speak back. As I began to communicate better, I was then allowed to start eating normal food and work towards walking under my own strength. The whole experience there was a blur but I am so grateful I had such a great team helping me.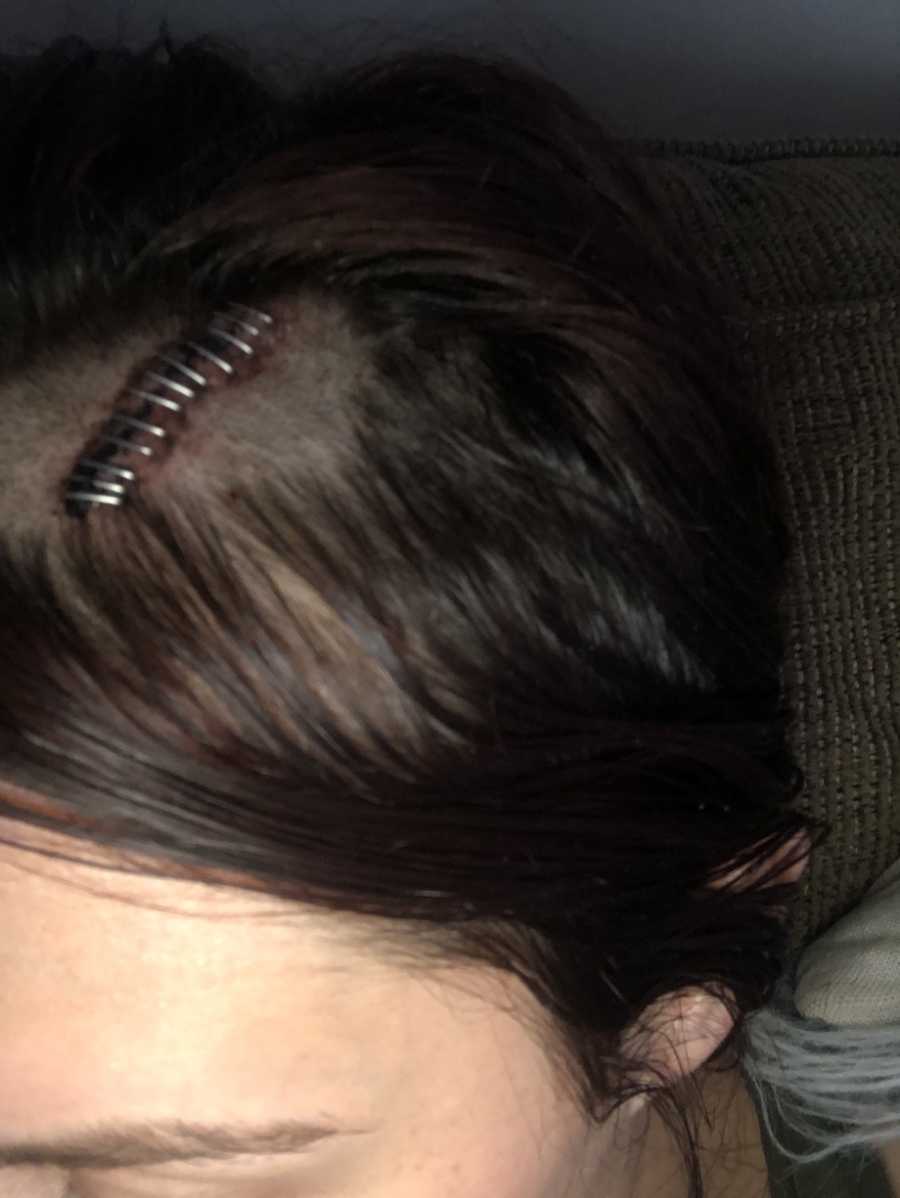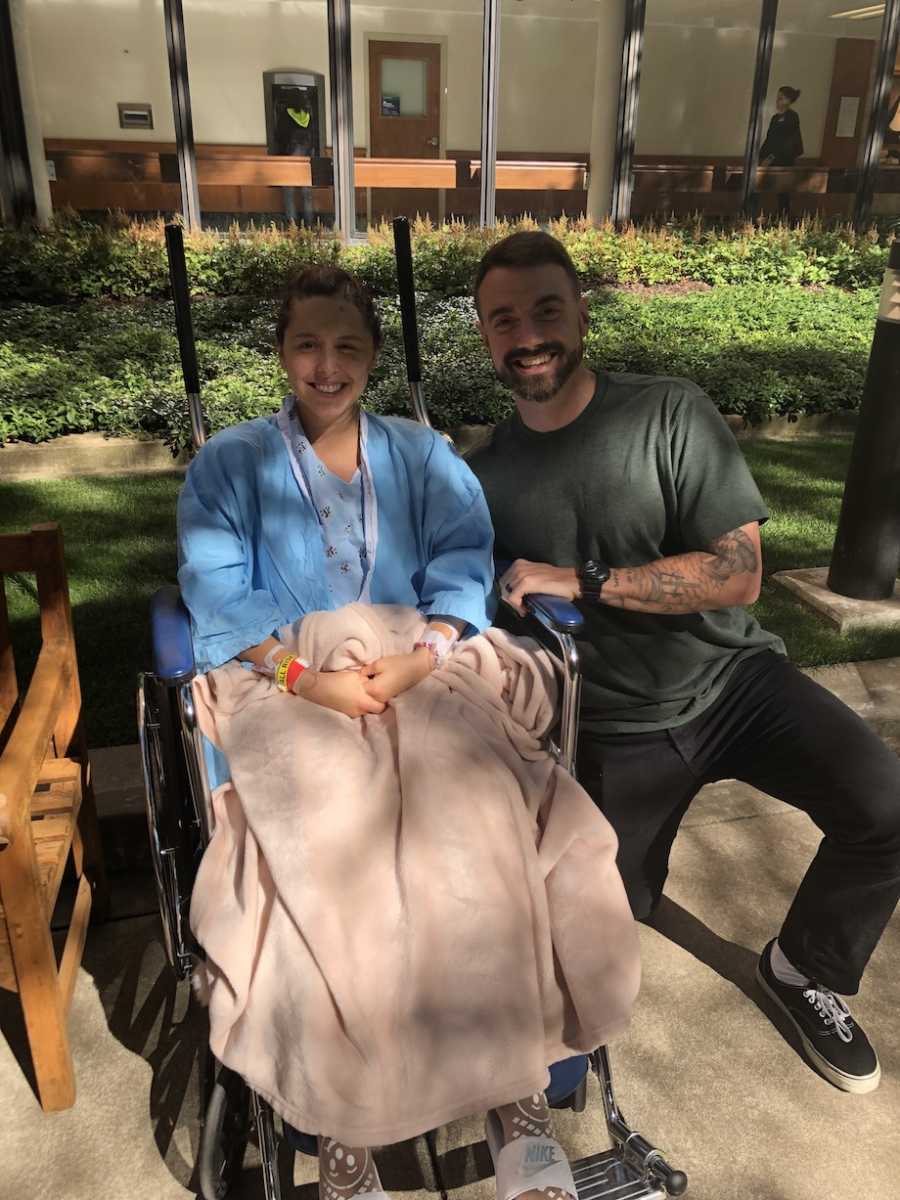 After having my staples removed, we started the 6.5 week process of radiation treatment and chemotherapy. I would make trips Monday through Friday with the help of my mother, Davis, or Davis' mother to complete the radiation impacting my remaining tumor and taking chemotherapy medication each night before bed for the full Sunday through Saturday for those 6.5 weeks. During this process, I felt fatigued and nauseous. I also lost hair and will never be happy about that. But I completed these 6.5 weeks as strong and hopeful for healing as possible.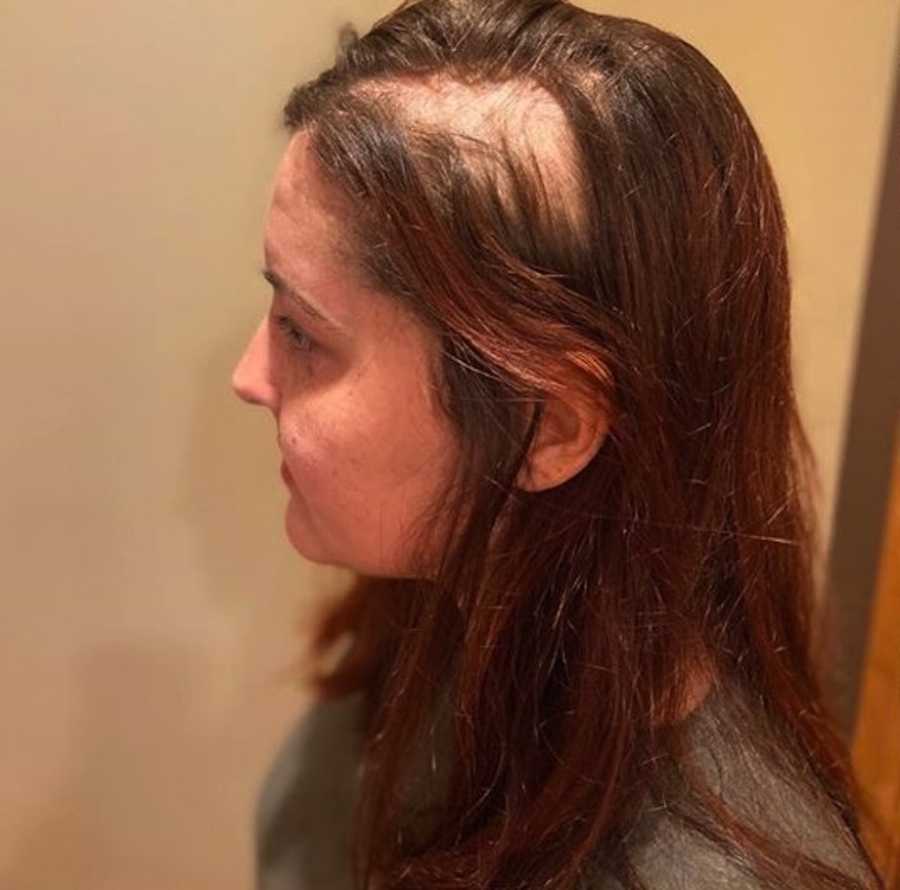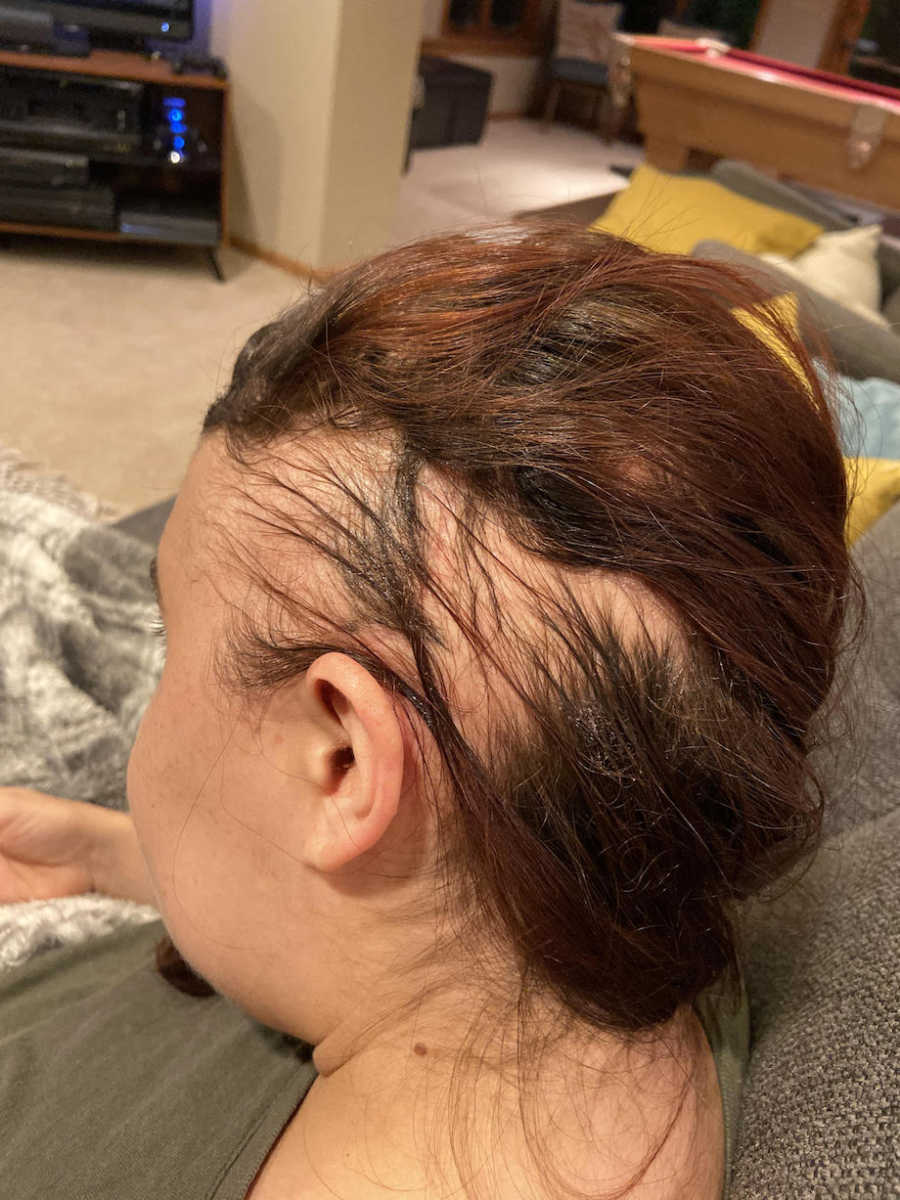 At this point, I am on my next steps part of the process. I had completed another MRI to get an update on my brain from the radiation and see my brain is looking healthy and my next steps are to continue to complete chemotherapy for a total of 12 months. I am VERY much looking forward to ending this in October 2020! I will plan to continue to complete MRI's for updates every 2 to 3 months and pray someday, we see this tumor no longer exists!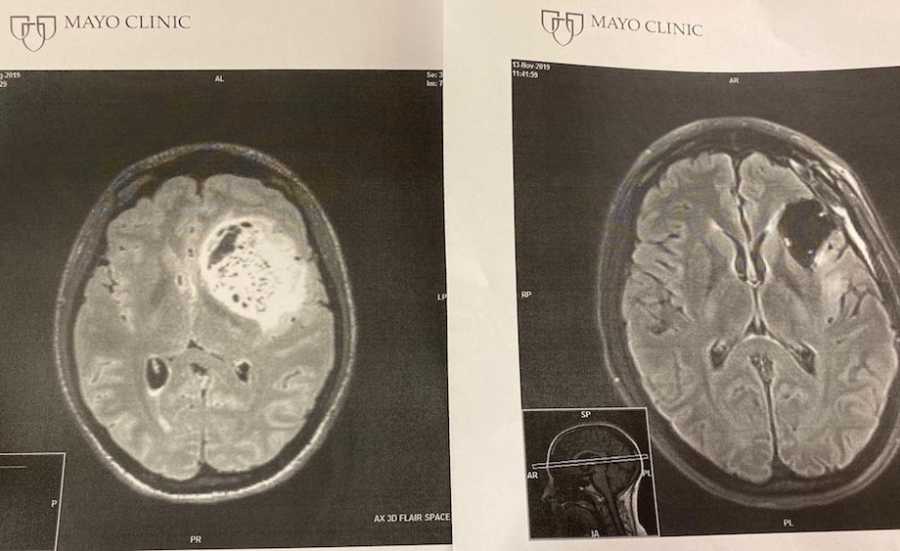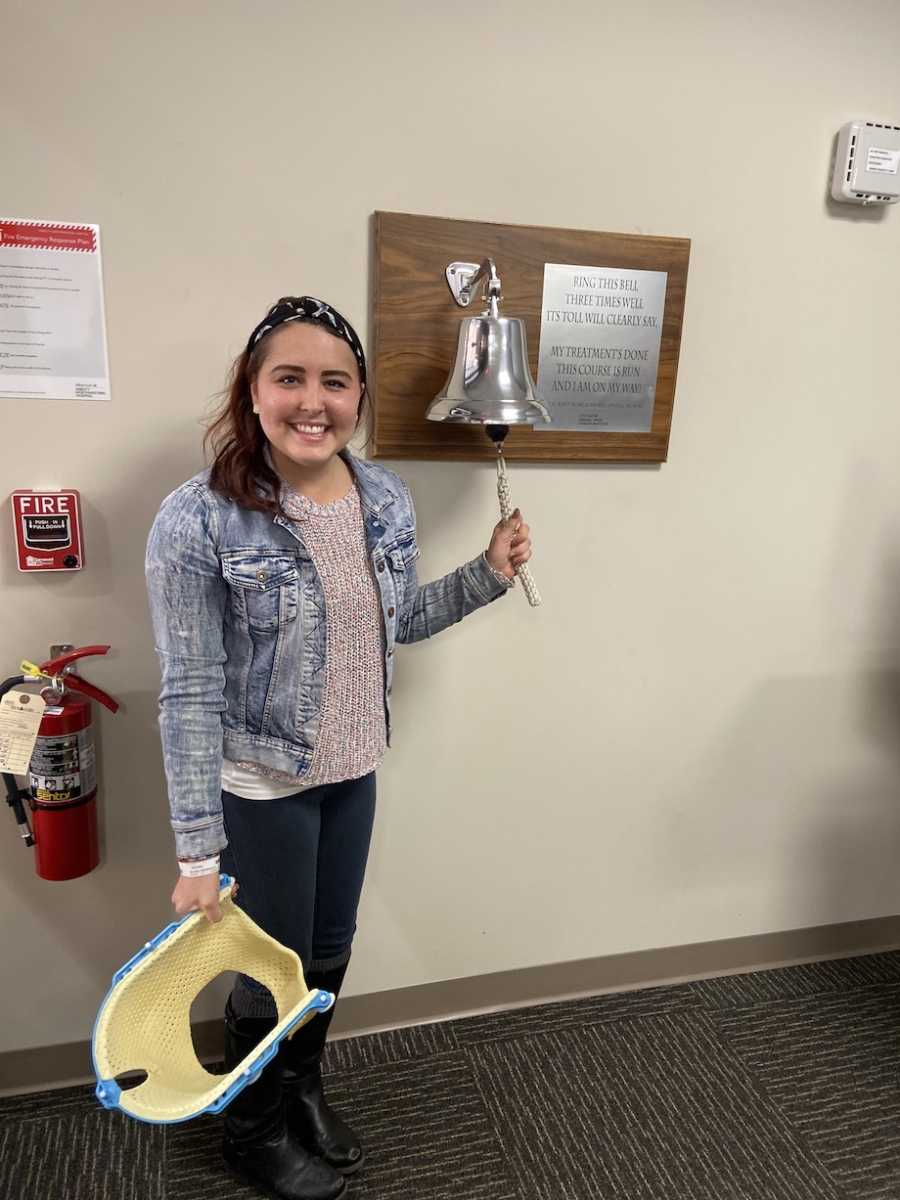 No matter what research says about Astrocytoma, I believe at my core even if currently I can't be healed, God will step up, teach me, and heal me. I believe our family has taken steps closer to God and love him even more for being there for me during this crazy-emotional-and challenging process. I believe this verse Proverbs chapter 31:25, 'She is clothed in strength and dignity and she laughs without fear of the future.'"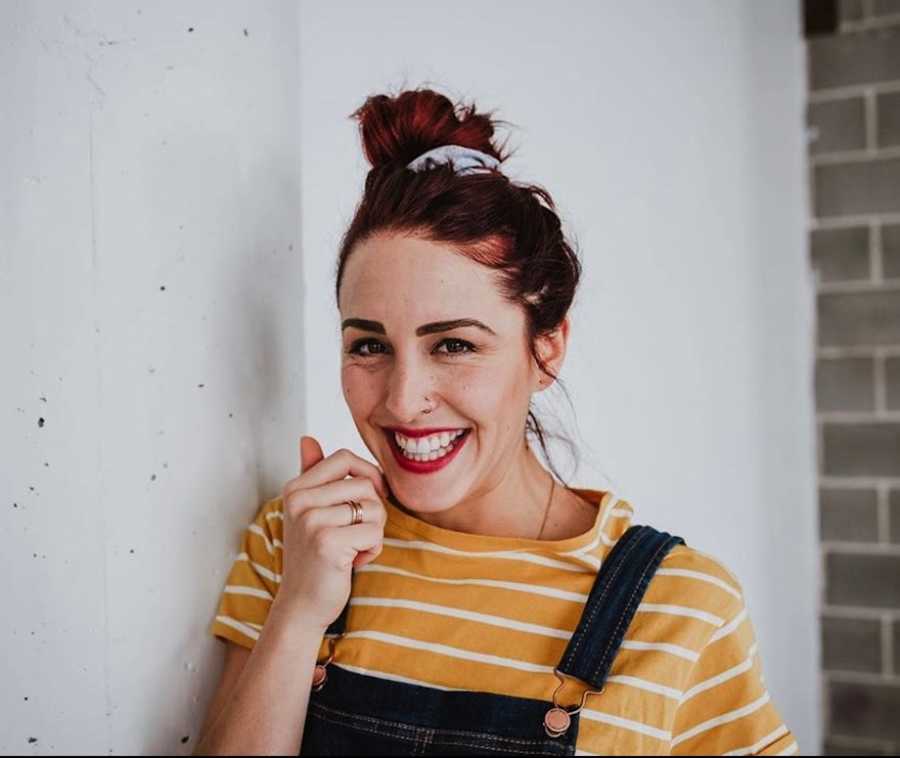 This story was submitted to Love What Matters by Nichole Bates from Minneapolis, Minnesota. You can follow their journey on Instagram. Do you have a similar experience? We'd like to hear your important journey. Submit your own story here. Be sure to subscribe to our free email newsletter for our best stories, and YouTube for our best videos.
Read more powerful stories like this: 
'I stepped onto the bus and felt a 'release.' A warm sensation and then a POP. I lost my balance, my eyes closed shut.': Woman beats breast cancer after losing her mother
'It was a glorious, sunny day at the pool. I scratched and felt the lumps.': Mom with terminal breast cancer afraid to miss the 'little moments' with daughter: 'Light-up shoes, ice skates, bra straps'
'I thought I had a clogged milk duct. 'Ash, go get it checked out. What will it hurt?': Mom receives cancer diagnosis after thinking she had a clogged milk duct
SHARE this story on Facebook to help spread hope and raise awareness for early detection of breast cancer.