"Before I had my first baby, I thought to myself, 'I know having a baby changes your life, but there's no way it can be THAT hard. I take care of babies for a living.' Plus, I'd always dreamed of being a mother, above any other job. 'As a nurse trained in labor and delivery, newborn, pediatrics, and postpartum–it won't be TOO hard,' I told myself.
For a few years now, I'd been caring for babies as a nurse. I would clock in to take care of a postpartum couplet, or just a baby, for 12-ish hours and clock out. But you know what I hadn't done?
I hadn't stayed up all night with a baby for days on end.
I hadn't tried to invent new ways to soothe a screaming baby on ZERO mental reserves.
I hadn't worked a 24-hour on-call shift, being called in for the whole 24 hours, hardly seeing my own baby, while taking care of someone else and their new baby. My heart physically ached being gone from her that long.
I had not yet done any of the above. And I had not yet fully understood the term 'working mother,' where your heart simultaneously swells with joy at the new life you've created and pain as you leave them with someone else.
The first few weeks of postpartum were a whirlwind, but I distinctly remember cracked and bleeding nipples. That, combined with surviving on 20-minute power-naps for days on end, with very few stretches of sleep. I had some incredible midwives supporting me through the challenges of breastfeeding–even though I, myself, helped moms with breastfeeding every other day.
I thought, 'Ok, another learning curve, but it won't be that difficult.' But it was difficult for me in the first few months. She was tongue-tied, my nipples were flat, and I wondered, 'Will it always be this hard?'
The 4th trimester was beyond what I expected. Much more sleep deprivation, much more hormonal shifts, but also much more love than I ever understood a heart could carry.
I really didn't know anyone (not yet, at least, as I was one of the few new moms in our circle of friends) whose baby didn't require much sleep. She just never needed much, and still doesn't. In fact, she only started sleeping through the night, half the time, at 18 months. If only I would've embraced her sleeping style so much sooner, I think I would've saved some sanity.
'Have a bedtime routine,' they said. 'Let her cry it out,' they said. 'Won't she sleep in the car?' they asked. No. Each solo car ride, in fact, gave me so much anxiety, She would lose her voice from screaming the whole ten-minute ride. Every. Single. Time. For months and months.
My seasoned midwives, who were also mothers, introduced me to Attachment Parenting and the entire concept of being OKAY with her waking every 1-3 hours. To be OKAY with just soaking up snuggles and nursing all day, and not expecting to get anything done around the house. To be gentle with not only my baby as they were growing but also myself. To just be intuitive to what felt right as a mother. To trust myself.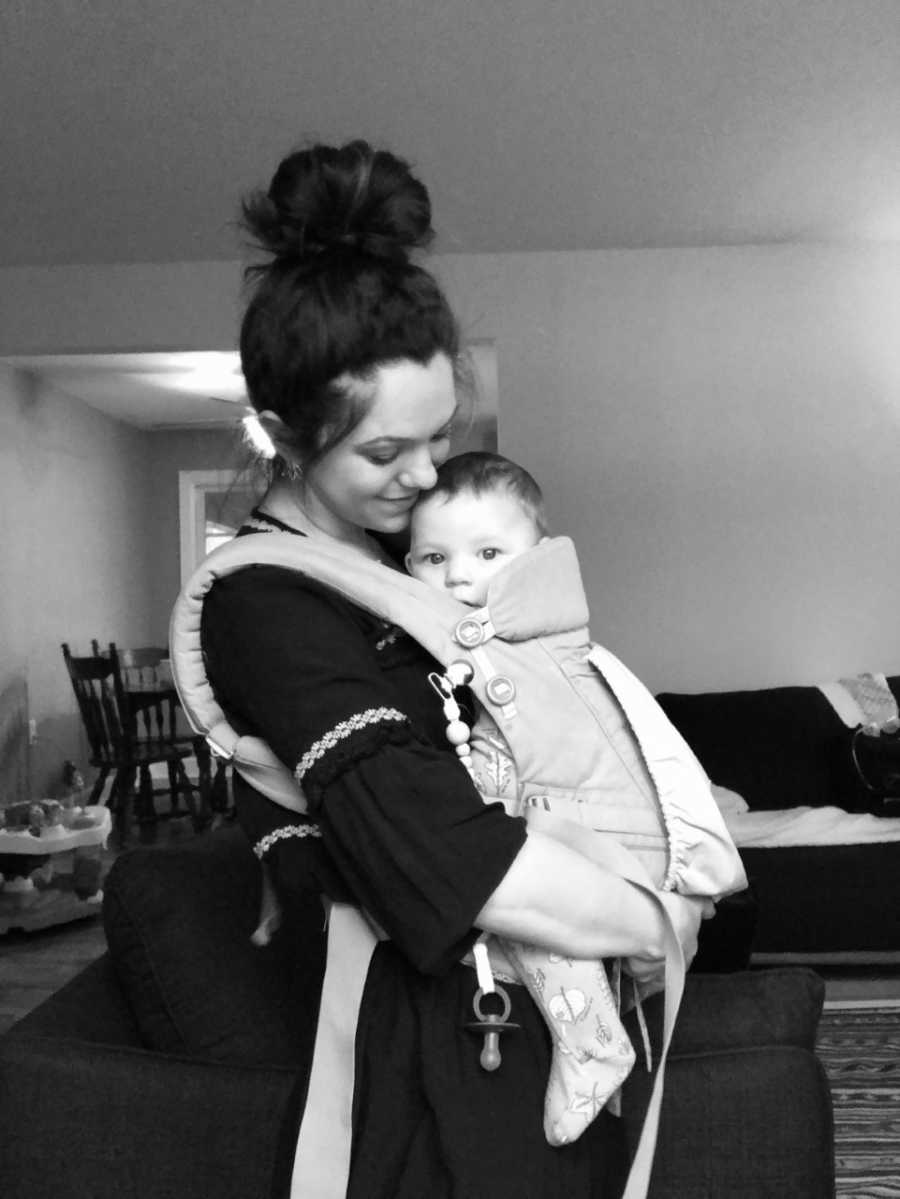 I went back to work once a week, with my baby, at six-weeks postpartum. Yep, my dream job allowed me to bring her to work with me to the birthing center I worked at! The best-case scenario, really. But I regretted it, looking back.
I was still trying to figure out how to be a mom while carrying my attached-to-the-boob baby in my Ergo, helping deliver babies on one hour of sleep, and calling in prescriptions to the pharmacy while handing my screaming baby off to the receptionist so I could care for the patients (even though I really did want to hold her all day).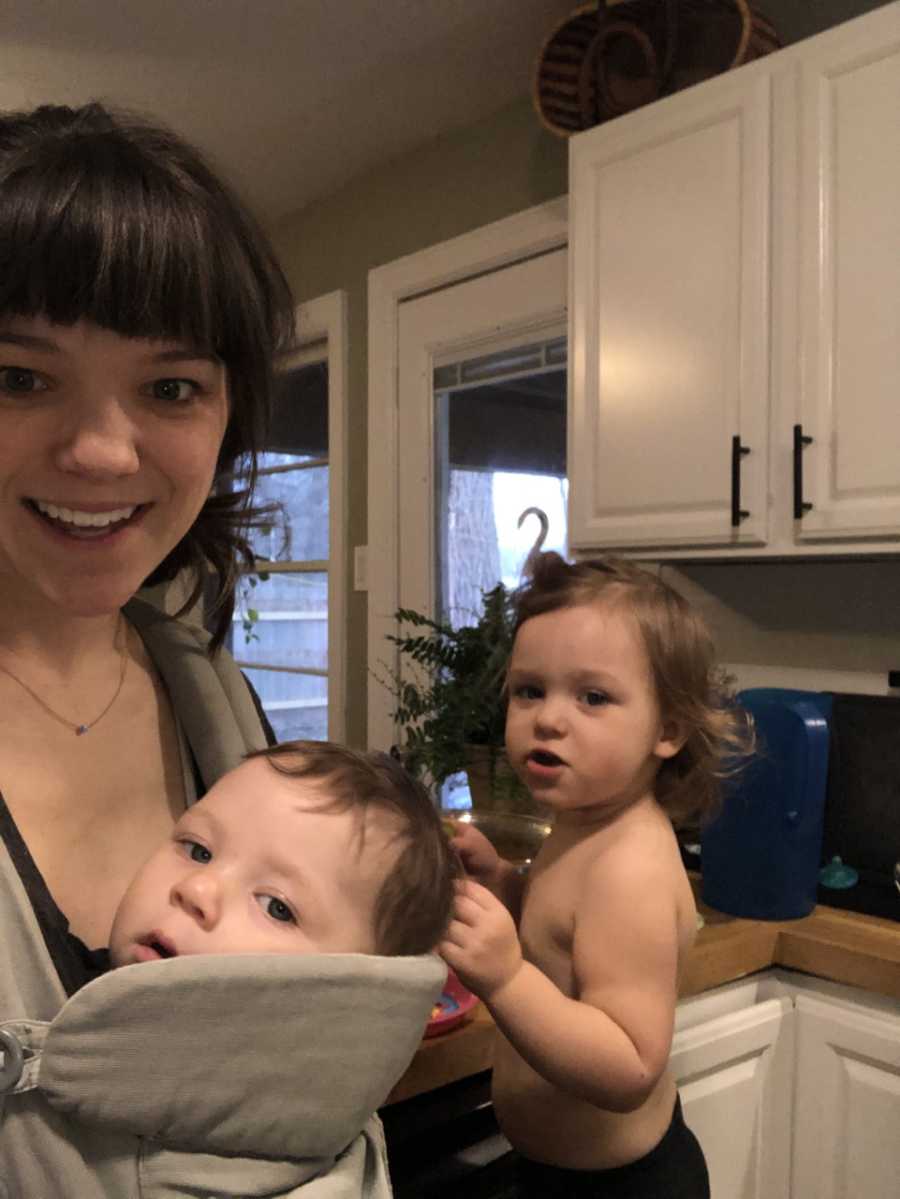 Once I learned how to adapt, and shower with a newborn, my early days of motherhood were spent outside on a blanket with my baby next to me. Outside, we'd read baby sleep books instead of all the other ones I'd saved to indulge in on maternity leave.
(Can we all just laugh at the fact that I thought POSTPARTUM was a time for new hobbies, leisure reading, and relaxing with my new peaceful baby?!) It was my happy place, though, just learning this new role and enjoying my chunky baby in the sun. I'd really just awoken to the world of other cultures and how they do sleep and life: next to their baby, wearing their baby, letting their baby BE dependent on them instead of forcing unnatural independence on them at such a young age. Coexisting.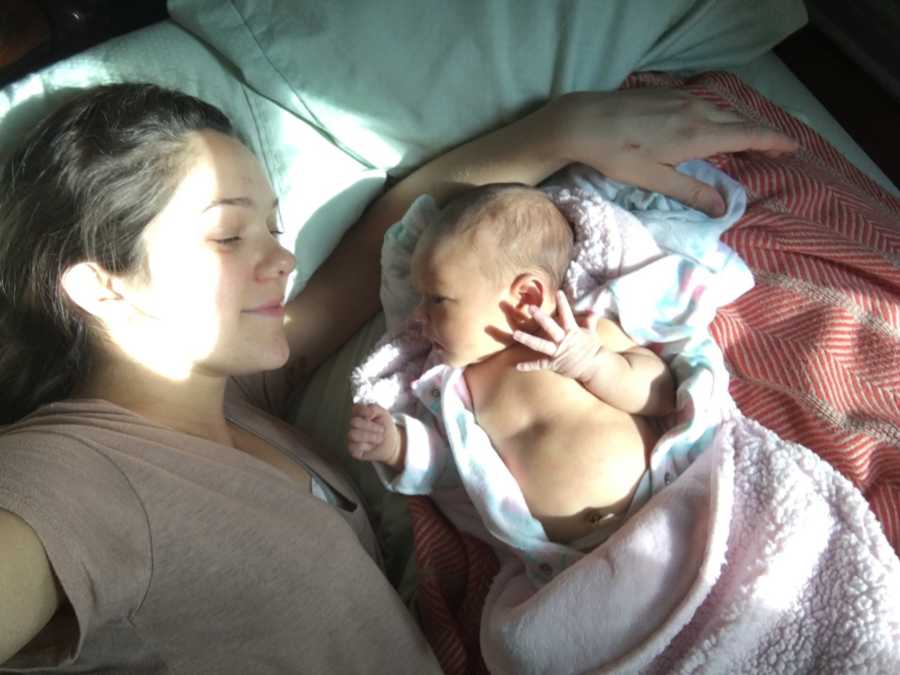 Motherhood opened a new door for me after I embraced this. I felt like I walked into a warm, sunny room. The glow, the warmth, the joy. It was all coming back to me. Learning to trust myself, my mothering, my intuition.
Flash forward to my second pregnancy, where I felt incredibly peaceful. That time around, I didn't work 50-60 hours/week until the day I went into labor. That time around, I had no expectations for an easier postpartum, just the strength to ask for help when I needed it. That time around, I recognized the signs of postpartum anxiety a little sooner and wasn't ashamed to talk about it. That time around, I didn't return to work at 6 weeks. I just basked in the glow of my newborn and being at home instead.
Postpartum, in general, was much smoother, and overall the temperament of my second is SO much more laid back (No surprise there! I myself was more laid back when carrying him!)
You can never be skilled enough for motherhood, even if you care for babies for a living. You can also never be too gentle or kind to yourself, as your children learn kindness through your own eyes.
Motherhood has forced me to pause more and become a child version of myself again, rediscovering what makes me feel alive. I breathe. I sing. I dance. More than ever now, with them."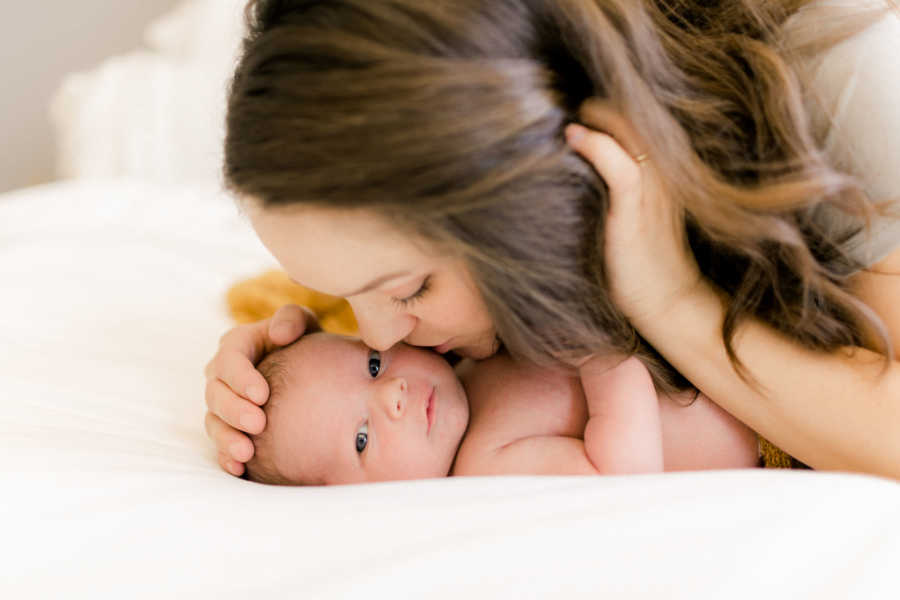 This story was submitted to Love What Matters by Leah Bodenbach of Springfield, MO. You can follow her journey on Instagram. Do you have a similar experience? We'd like to hear about your important journey. Submit your own story here. Be sure to subscribe to our free email newsletter for our best stories, and YouTube for our best videos.
Read more powerful stories like this:
'I can't decide if I want a baby! I'll ruin my career,' my friend messaged. I was brutally honest.': Woman 'mourns' loss of life pre-motherhood, 'I gave up a lot, but I gained so much more'
'I remember holding on to my growing belly, tears streaming as I wondered how I could possibly love this baby.': Mother of two doesn't think she has enough love to go around, later looks back on that 'ridiculous' thought.
'We keep pulling the sled, even when they don't need it. We carry them when they can't carry themselves.': Mom pens sweet analogy to motherhood, 'just keep pulling mama, even when the sled gets heavy'
Do you know someone who could benefit from this story? Please SHARE on Facebook to let them know a community of support is available.