This is a follow up story to Betsy's ongoing grief journey.  Read the full backstory here.
"March 6th never meant anything to me before this year.
It was a day on a calendar. It came. And it went.
March 6th was overdose awareness day. And I never knew because I didn't need to.
A lot of the time, I'm angry that I'm not still naive to all of these things. I spend a lot of time embarrassed. I've left widow groups because my loss doesn't deserve as much compassion as others because my loss was caused by an overdose. I spend a lot of time asking who is to blame.
Is it me for not knowing? Did I turn a blind eye or ignore signs? Is it Jamie? Was he being selfish? Why wasn't he thinking about me, or was he but he was just too naive to think anything bad could happen? Do I blame his family and friends? His ex? All the people in his life who might've seen some sort of sign but overlooked it?
The truth is, there's no one to blame.
People ask me all the time if I knew. Did I know he had the pills? Do I know where he got them? Do I know why?
And my answer, no matter the question, is always the same: I didn't know.
What I knew was that I loved him. And he loved me. That he missed his kids, but that he was exponentially grateful for the beautiful life that we made. I knew that he could eat more eggs in one day than anyone else I'd ever met. I knew that he thought my toes were the funniest thing he'd ever seen. I knew he thought it was inappropriate to wear Nike and adidas at the same time. I knew he took Tatum to get a cake pop every day he went to the gym even though he made her eat it before she got home so I wouldn't know. I knew his laugh was contagious because he laughed from his belly. I knew he hated sneezing. That his favorite color was blue. That he loved the Lakers. I knew every time he threw something in the trash he yelled 'KOBE' and rarely ever missed. I knew that he sang in the shower even though he's tone deaf. I knew he liked his coffee to have more creamer than coffee.
This list of things I knew about Jamie could go on forever. And I wish I had the opportunity to have learned more about him for the rest of our lives, but I didn't get that chance.
March 6th was overdose awareness day. It's a day some of us put aside to recognize all the loved ones that have lost their lives to this epidemic. It's was a day you probably don't even know exists unless you were somberly celebrating it too."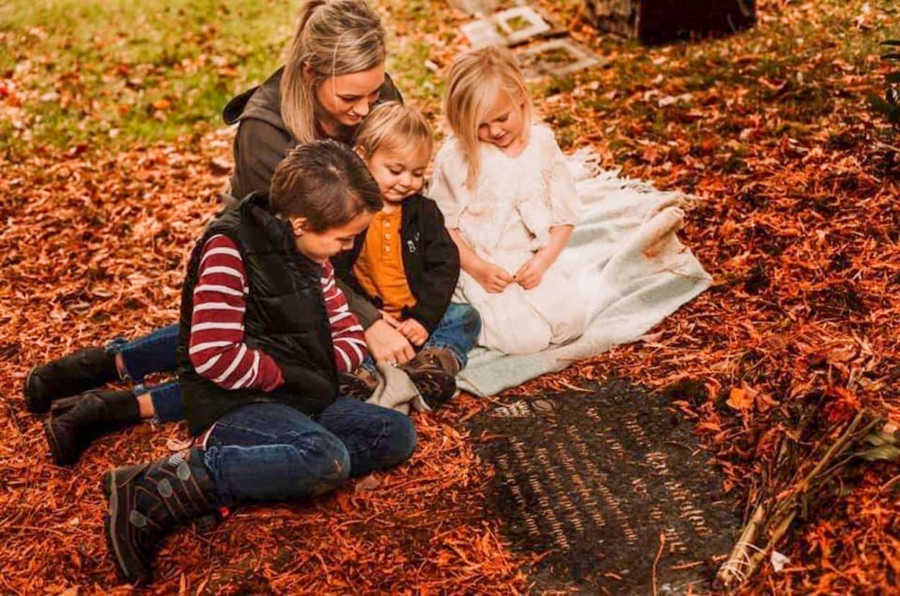 This story was submitted to Love What Matters by Betsy Hendrickson – Minton, 25, and a mother of 5. Follow her journey on Instagram here.  Do you have a similar experience? We'd like to hear your important journey. Submit your own story here. Be sure to subscribe to our free email newsletter for our best stories, and YouTube for our best videos.
Read more stories from Betsy here: 
'I used to tell people I didn't believe in abortions. 'It's a baby! Murder!' And then, my boyfriend died. You don't know until you know.': Woman struggling with grief says 'I was faced with an impossible choice only I could make'
'I cried in my car for an hour today. I think, 'I have NO idea why I became a nurse.' I am dispensable…just a number on payroll EASILY replaced.': Nurse says 'remember no one's out here taking care of me'
'When he died, everyone reminded me 'once an addict, always an addict.' After 5 years sober, he bought a pill he thought was Percocet. I'll never know why.': Mom of 5 says 'life after addiction can be so, so beautiful if you let it'
'It was a simple act of kindness she didn't have to offer, as I'd never even met her in person. But she did.': Act of kindness provides strength to let go and heal after loss of fiance
'Today I ran into an old acquaintance I haven't seen in years. She told me, 'You put on weight!' Her words still cut deep today.': Woman struggling with mental health says 'I am more than my physical appearance'
Do you know someone who could benefit from reading this? SHARE this story on Facebook with family and friends.