"I remember it was a typical Friday morning. My husband Tim and I were getting ready for work. We liked to carpool together during the week. We did this for a few reasons: it saved on gas, we lived in San Diego where the carpool lane was necessary, and we really did love the extra time together. On our morning drive, we would discuss the events of our lives, we would plan out our weekend, and we would discuss our trip to Kauai we had coming up in a couple of months. We had never been to Kauai and we were excited it was just around the corner. We pulled up to his work first, I moved into the driver's seat and laughed because he never let me drive (he hated my driving). I kissed him goodbye, said, 'See you later, I love you,' and made my way to work.
Tim was the Chief Technology Officer for a pharmaceutical company; I was a Marketing Coordinator for a commercial real estate company. I remember work was busy that day and I had my head buried in my computer. My phone rang sometime around 10:00 a.m. I saw it was Tim calling, I loved seeing his name pop up on my screen. I answered and he said, 'Hey, Bobbie, my doctor's office just called and my blood work from my physical came back abnormal, they want to check it again.' They told him mistakes happen, but they needed to do additional tests to confirm. After we hung up, I remember going to my boss and telling her about the call and asking if he was going to be alright. She assured me he would be fine. Of course, she was right, he was healthy, I told myself.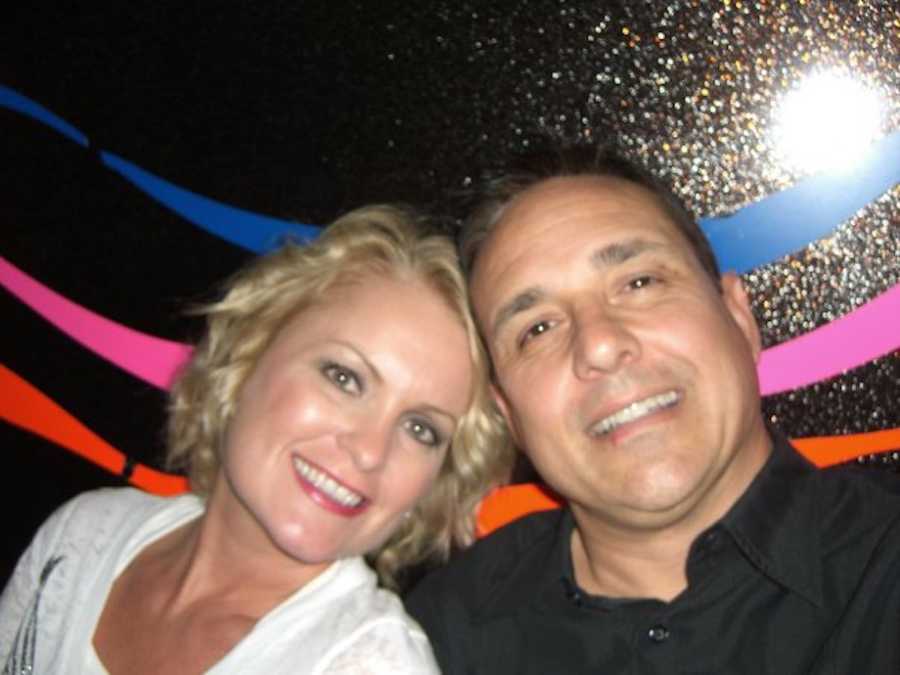 I did not think about it again until we were on our way Saturday morning. He got the blood work done and we went about our normal day. 4 weeks prior, we had moved into a house we built and needed several things. Target was our first stop. We had been shopping around for about an hour and our basket was quickly filling up when Tim's phone rang. When he answered, the nurse on the other end immediately asked where we were. When he said we were at Target she informed us he had zero white blood cells and we needed to drop everything, go directly home, and not leave the house until we hear from the doctor.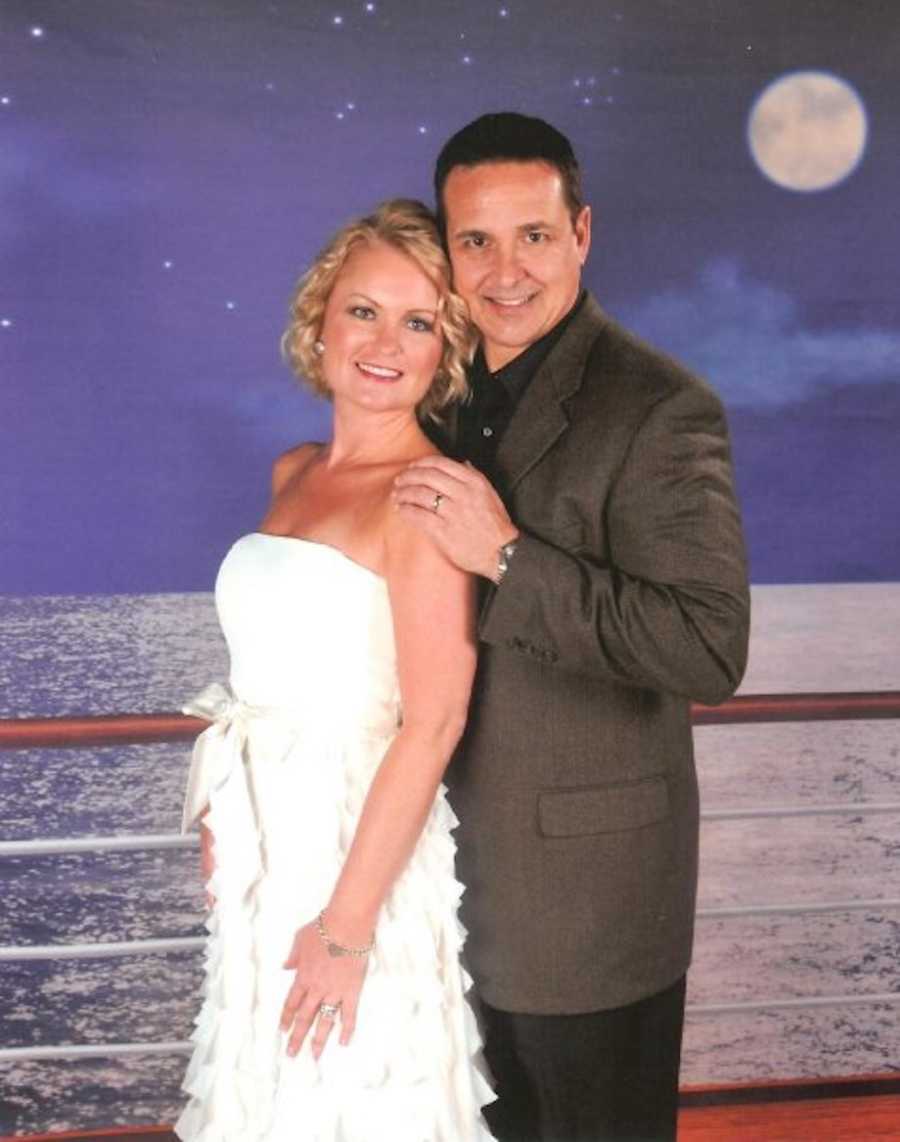 In a panic, we left the basket in the middle of the aisle, ran to the car, and drove home. The doctor called us when we got home and explained he needed more tests that Monday. By Wednesday, he was diagnosed with Acute Myeloid Leukemia. Thursday, we were on our way to UCLA Medical Center to start treatment. Tim battled Leukemia for a year and a half. I never left his side and lived in his hospital room, sleeping on a chair or a bench the entire time. Tim did several rounds of chemo, radiation, and a bone marrow transplant before eventually passing in March of 2015.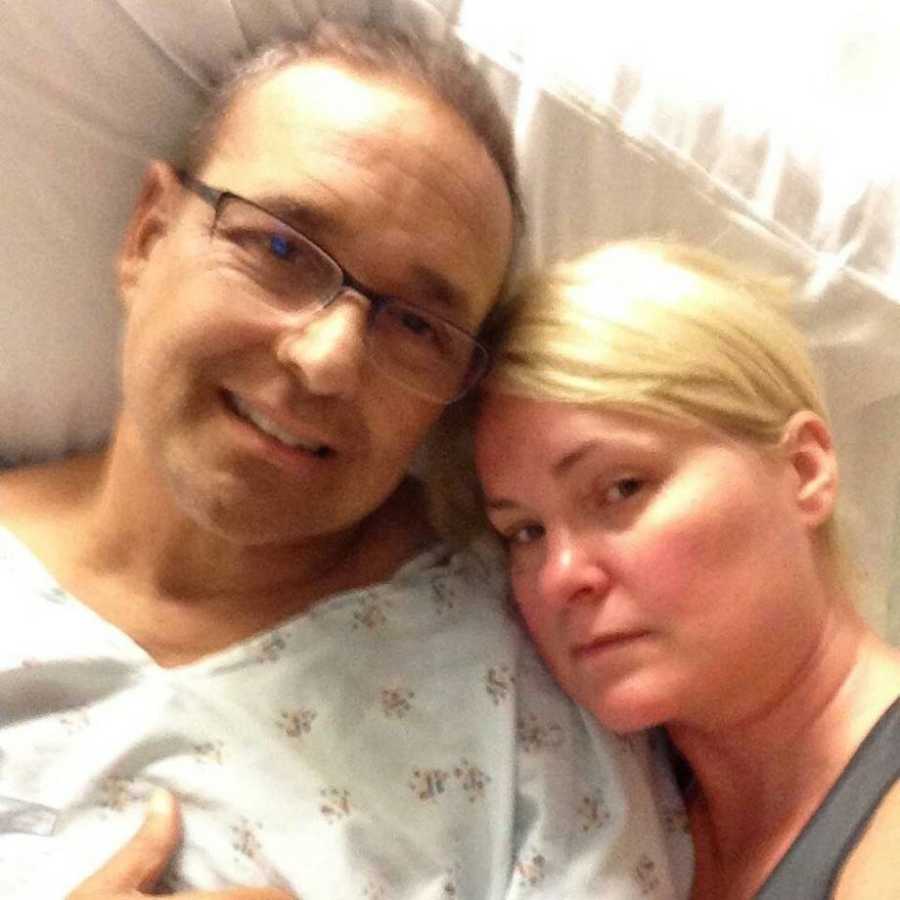 To say I was heartbroken would be a grave understatement. I was completely devastated. I did not know how or even care if my life went on. But I have two amazing children, so I knew I had to pull myself together for them. I told myself many things along the way but looking back, two things stand out to me: 1. God had just gotten me through the worst thing I would ever go through in my life (I was somehow under the impression I had met my quota and I would not have to endure something that painful ever again). 2. If I make it through 5 years, then I am in the clear and will not die of a broken heart.
I started keeping myself busy, too busy, so I would not have to stop and think about anything. I was having fun though. I spent a year in New York City living near my daughter. I took my two children on the vacation of a lifetime to Italy, Croatia, and Greece. I did not tie myself to anyone or anything. I moved to a few new states and was doing everything I could to get through life having fun instead of grieving. Fast forward about 4 and a half years, I had finally decided to settle down. I moved to Savannah, GA to open a laser hair removal franchise. I figured I needed to get serious about living life again.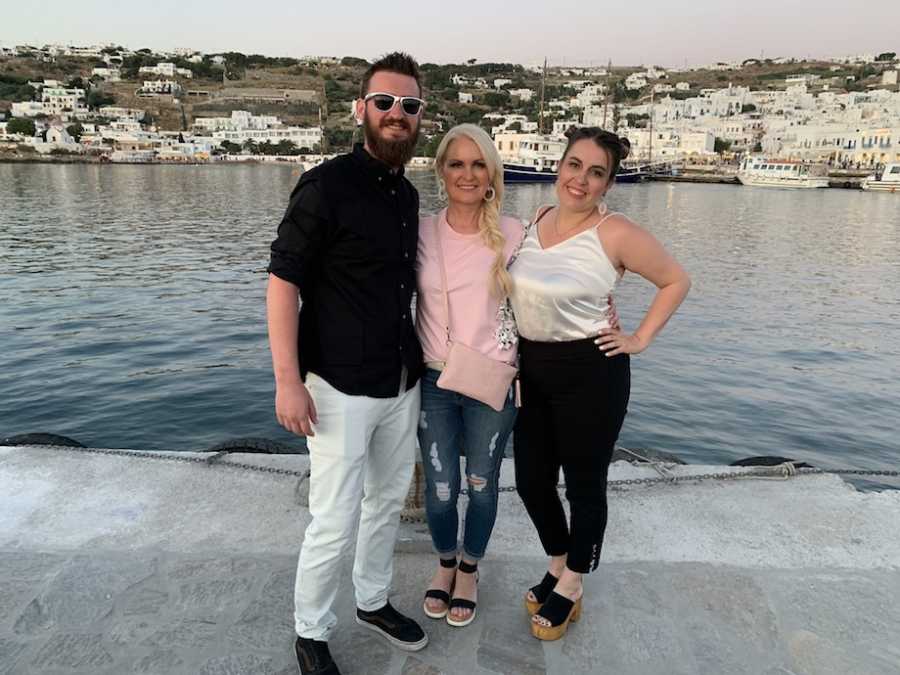 I worked hard on getting the salon ready for a grand opening dated Friday, September 13, 2019. It was a successful opening and the business got off to a great start. However, right before the opening, back in July 2019, I had been noticing my left hand was having a tough time gripping. I went to the doctor because it continued even after wearing a brace for a few weeks. It turned out I was having carpal tunnel issues and needed surgery. No big deal though because this would be an easy surgery and my staff at the salon had it covered if I needed to be out. I had carpal tunnel surgery about a month after the opening in October 2019. I was prescribed physical therapy for 6 weeks for recovery.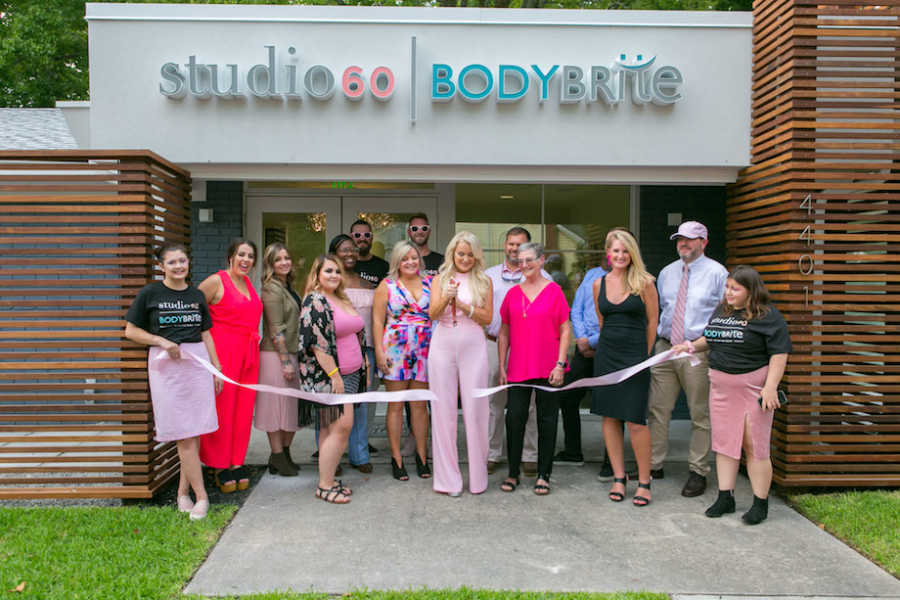 3 weeks into physical therapy, I went to my check-up and told the physician assistant I did not feel my hand was getting better. She pushed it off and encouraged me to finish out the 6 weeks of therapy. After 4 weeks of therapy, it was definitely getting worse, and I knew I needed a second opinion. I tried to find another hand doctor in Savannah, but being a small town, no other doctor would treat me until my 6 weeks were over with my original doctor. Something in me knew I could not wait the remaining 2 weeks.
I made an appointment with a hand specialist in Augusta, GA. At the appointment, I remember thinking their examination was much more thorough. I knew I was in good hands. They took several x-rays and scheduled an MRI. The MRI results came back and showed a disc was pressing on my spinal cord, more so on the left side but some on the right side as well. This made perfect sense and explained why I started to feel weakness in my right hand. The surgeon explained to me if I did not have surgery, it could spread to my legs as well. The clock was ticking.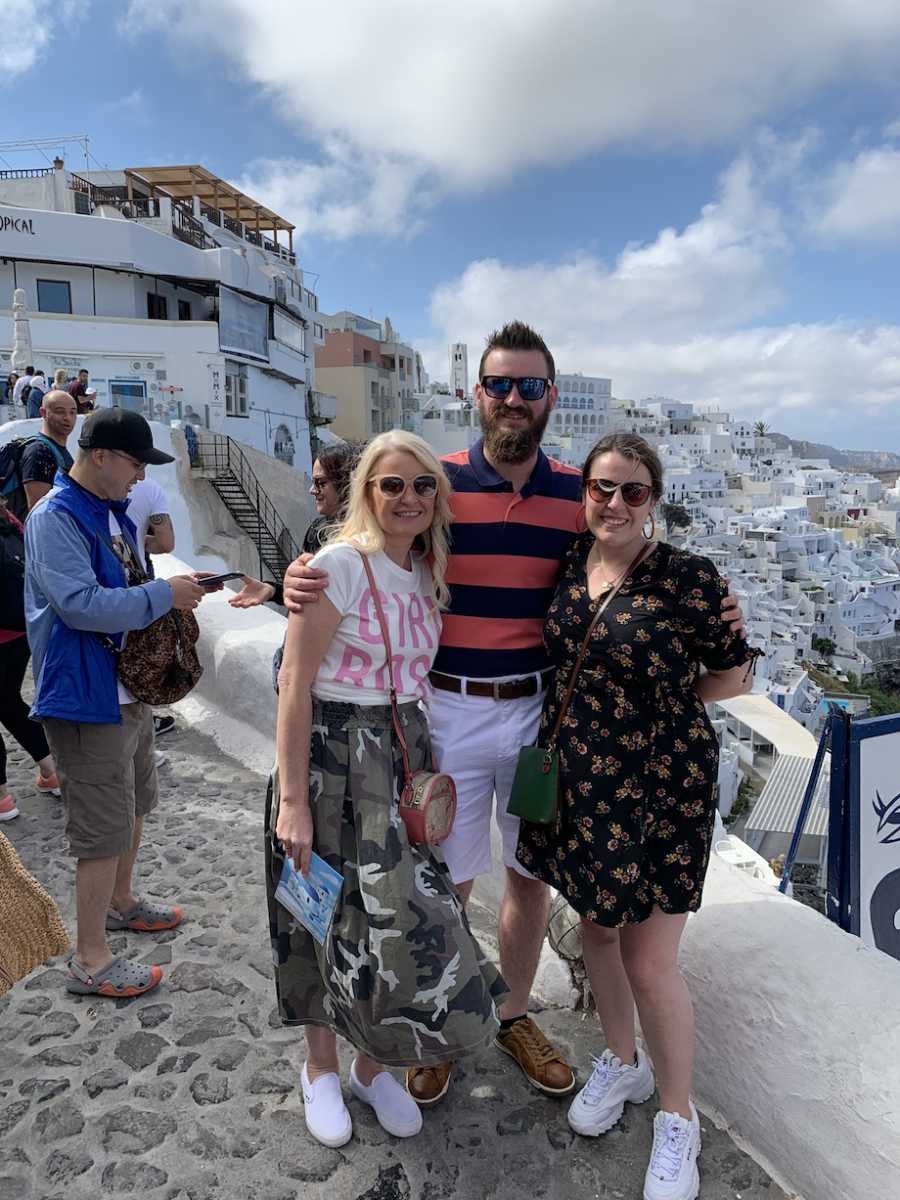 I started pressuring insurance for quick approval. I wanted a surgery date as soon as possible. I was fearful of experiencing weakness in my legs. I needed this surgery right away. I had a business to run and I was falling behind with everything. In January 2020, I had an ACDF surgery at level C4, 5, 6, and 7 with one overnight in the hospital. That night, I noticed my grip was stronger. All I could think was thank God this nightmare was ending.
After a few days of recovering in an Airbnb, I was released to go home and start 8 weeks of physical therapy. I began therapy in Savannah right away. I went 3 days a week and the improvement I felt in the hospital faded. The physical therapist told me to be patient, recovery takes time. I was frustrated because I did not have time. I just opened a business and I needed to run it. My son, Ross, was living in Austin, TX at the time, attending college and bartending. I asked him if he could come to help me run the salon until I recovered enough to get back to work. Within a week, he was living in Savannah and running my salon.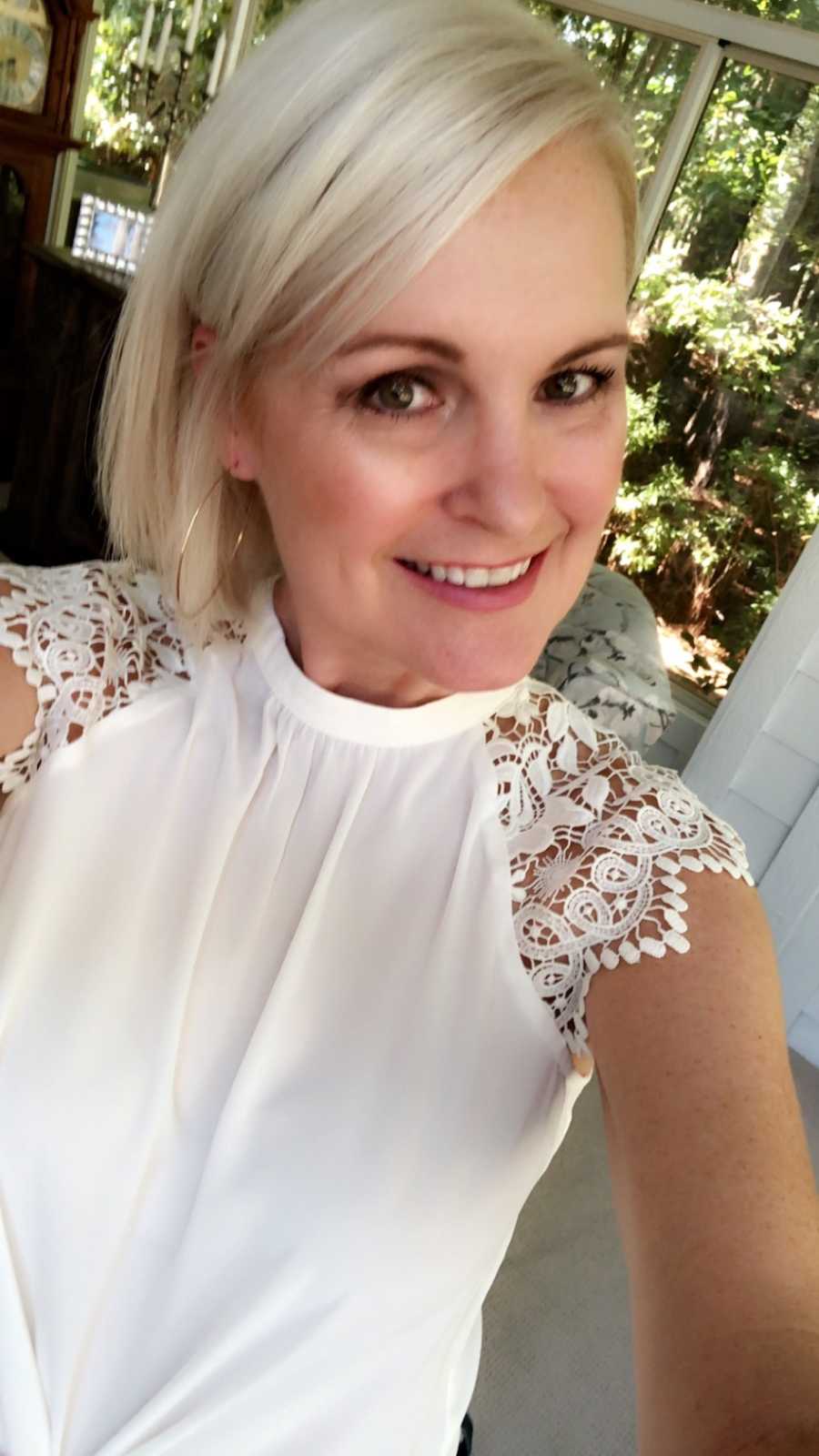 Right about then, the news of COVID-19 started spreading. I was getting nervous because of course, this was going to affect my salon. I decided to stop physical therapy because the last thing I needed was to catch this virus. A few days later, I had to close the doors to the salon. I was upset but secretly thought it would be good for me as it will give me time to fully recover from my spinal surgery. Unfortunately, recovery had not been going well. In fact, I was beginning to think I was feeling worse. I decided to take a few days and rest.
After a few days of trying to recover, I was mentally ready to hit the ground running and get my business organized for re-opening. I knew I was way too far behind and though I was mentally ready to start moving, my body did not want to keep up. Strangely enough, I could have sworn I felt something now, not only in both hands but also a tinge of something in my left leg. Of course, I convinced myself it was all in my head and I kept fighting to pick myself up again and again.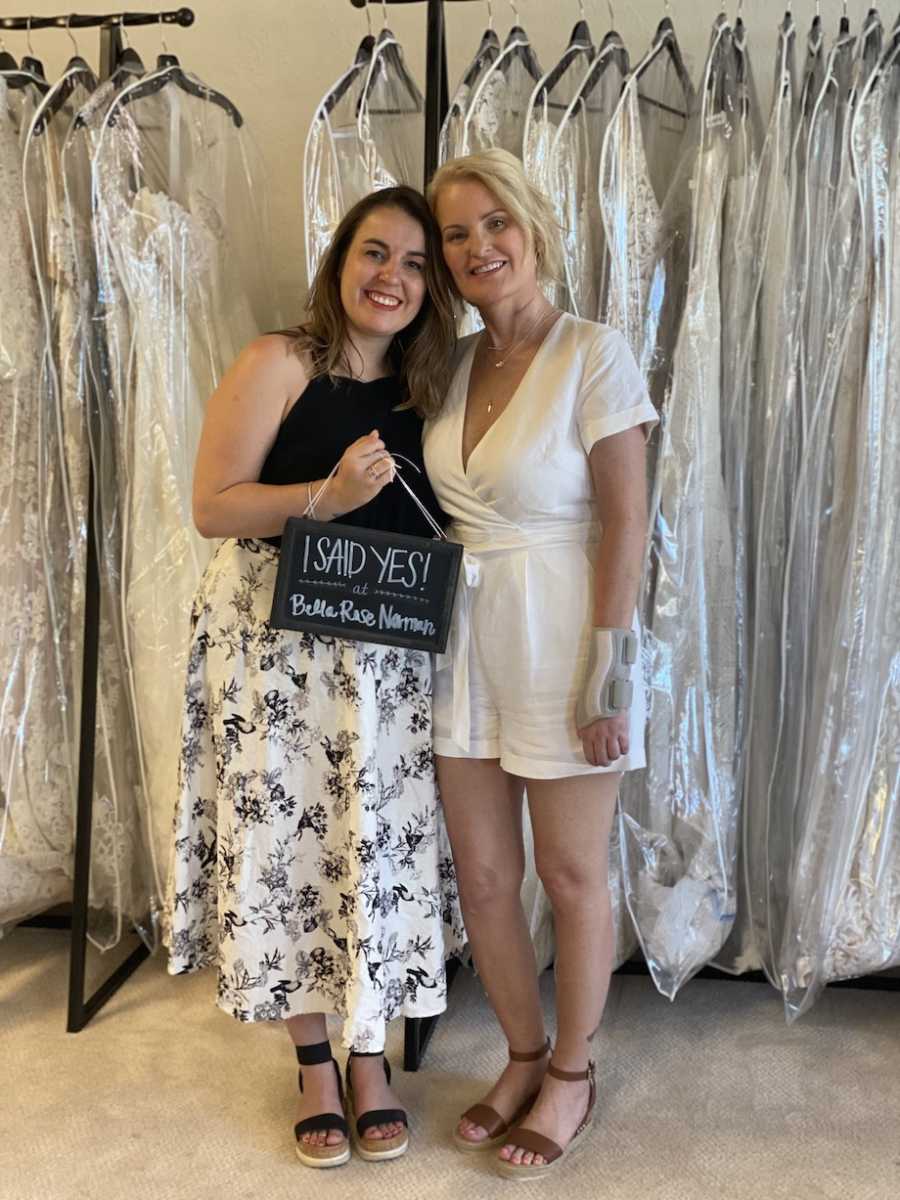 By now it was April 2020, and I was no further along to catching up on anything. At that time, my daughter, Madison, was still living in New York City. We made plans to get her to Savannah with us and escape ground zero of the Coronavirus. My two children and I were in the same place. I felt good about it because I knew they would help me. I woke up one morning and was making my way downstairs when halfway down the stairs, my left foot started dragging behind me. It scared me and I knew I needed to find the underlying cause of what was wrong with me.
I decided to go to the ER at the Mayo Clinic in Jacksonville, FL. It was full-blown COVID by this time, so I knew I would be doing this alone. On the way, I kept telling myself it was nothing. Remember, I had already been through the worst of the worst. I have already met my quota for terrible things in life. I was going to be fine.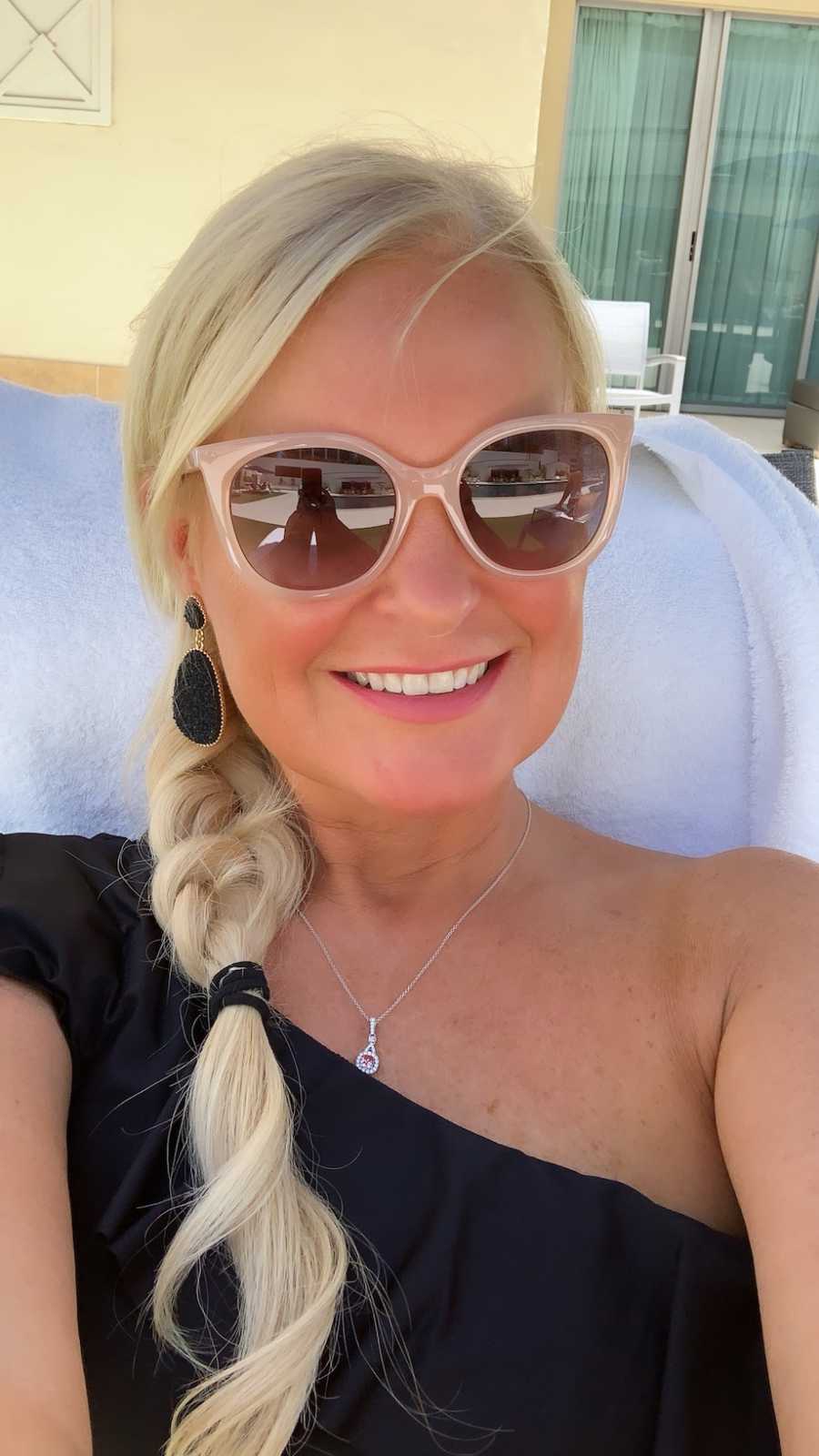 They brought me back to a room and the ER doctor examined me. He thought I might have Guillain-Barre syndrome but wanted a neurologist to examine me before being discharged. I took a big sigh of relief because I knew what other possible diagnoses were on the table. The neurologist did a brief examination and my relief was gone. He was admitting me into the hospital to rule out MS or ALS. I looked him in the eyes and said, 'If it is ALS, I will die a slow painful death.' He remained silent but nodded his head yes. I was admitted the next morning and began a series of tests. I was petrified every step of the way. Everything was starting to blur together and I did not know what to think. Later that afternoon, another neurologist came into my hospital room to let me know what the findings were. That day, almost 5 years exactly after Tim's death, I was diagnosed with Amyotrophic Lateral Sclerosis.
Boy, did I have it all wrong. I did not meet my quota and I had not yet gone through the worst thing in my life. If you want to know what I was thinking, I could not tell you. I was incapable of thinking for a few days. I went home and all I could do was cry with my children. We were in shock and had no idea where to go from here.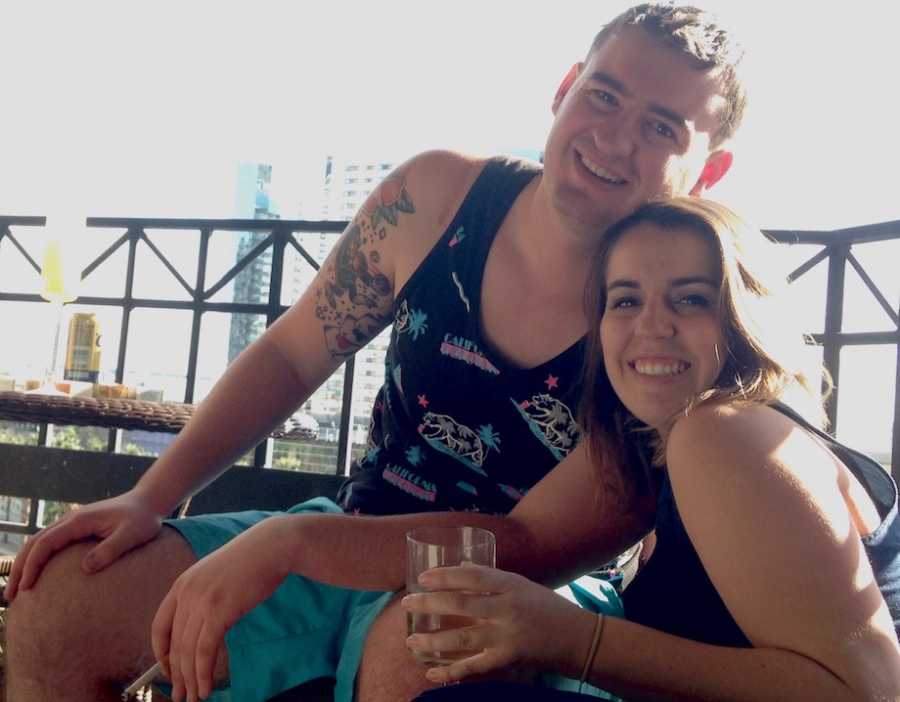 Though my children and I lived across multiple states, most of my family lived in Oklahoma. Oklahoma and I have a love-hate relationship so deciding to move there was wrong in every way. But my mom and sister convinced me to move there to be near them so they could help take care of me. Since I knew the pain of what it is to take care of someone, I did not want my children to have to take care of me. Moving to Oklahoma was the only logical decision. Within a week, we had packed up and moved to Oklahoma. As I suspected, it was a complete disaster. My family was not helping, I hated being there, and I was growing angrier by the minute. I had ALS, I was forced to sell my business and my home and my symptoms were progressing more rapidly than I anticipated. My neurologist kept telling me all I needed to do was live. Quite frankly, I did not want to live like this, I was miserable.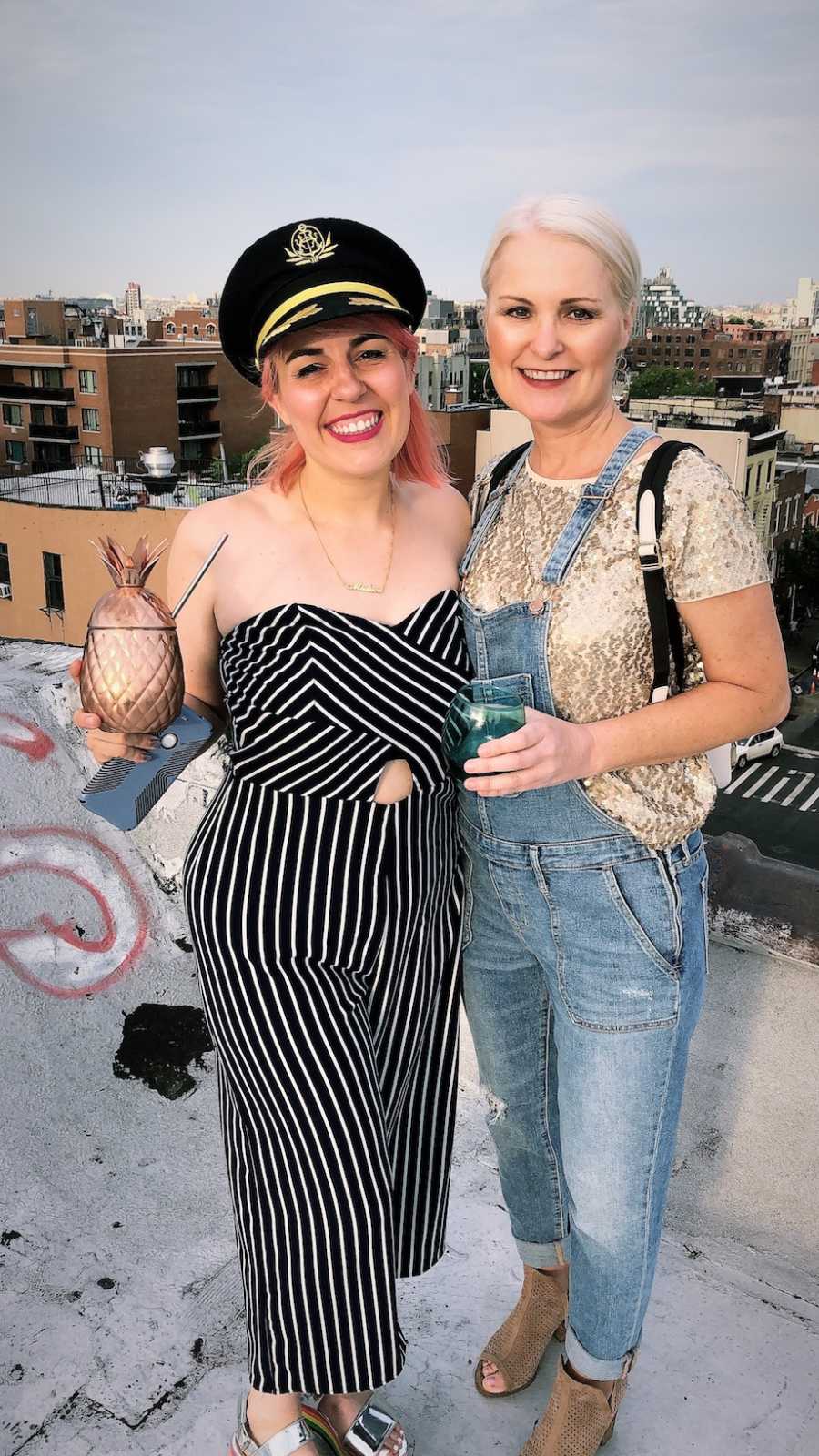 I had to make a change. I was not going to stay because the life I had in Oklahoma was not living. I began to start processing what I needed to do and one day I asked Madison and Ross where they wanted to move to. We started researching right away. The ALS clinic had to be excellent, the weather had to be nice, and I wanted something beautiful to look at. All roads led to Miami, FL. We packed up and moved out of Oklahoma just as fast as we moved in. In September 2020, we landed in Miami.
I was still incredibly angry and with that also came fear. I was afraid of dying. I could not shake the fear. Every time a friend came to visit, I would quiz them on their thoughts about dying. Do you think there really is a God? How do you know for sure? What if there is not a God? Through many discussions, lots of anger, and even more laughter, I concluded I am going to have faith. There will be a heaven and there I will know I have finally met my quota.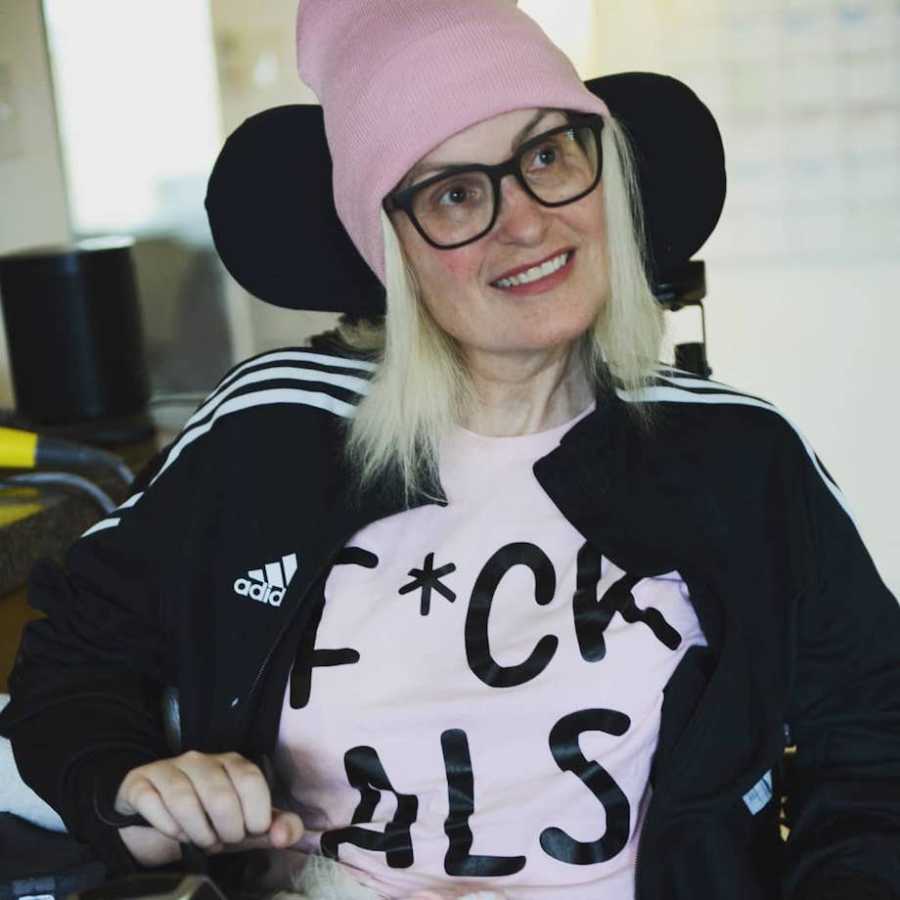 As of now, Madison and Ross are my full-time caregivers. We had one more move in us and bought a house in Fort Lauderdale along with purchasing a wheelchair-accessible van. My doctors are amazing, the weather is gorgeous, and the beaches are beautiful. I am watching my children take such diligent care of me day and night. Could it really be everything is falling into place? I slowly start to feel the anxiety, stress, anger, and fear subside a little. I know my children are responsible and capable of doing anything. I cannot fathom the thought of leaving them this early, but I am comforted because I see they will be okay.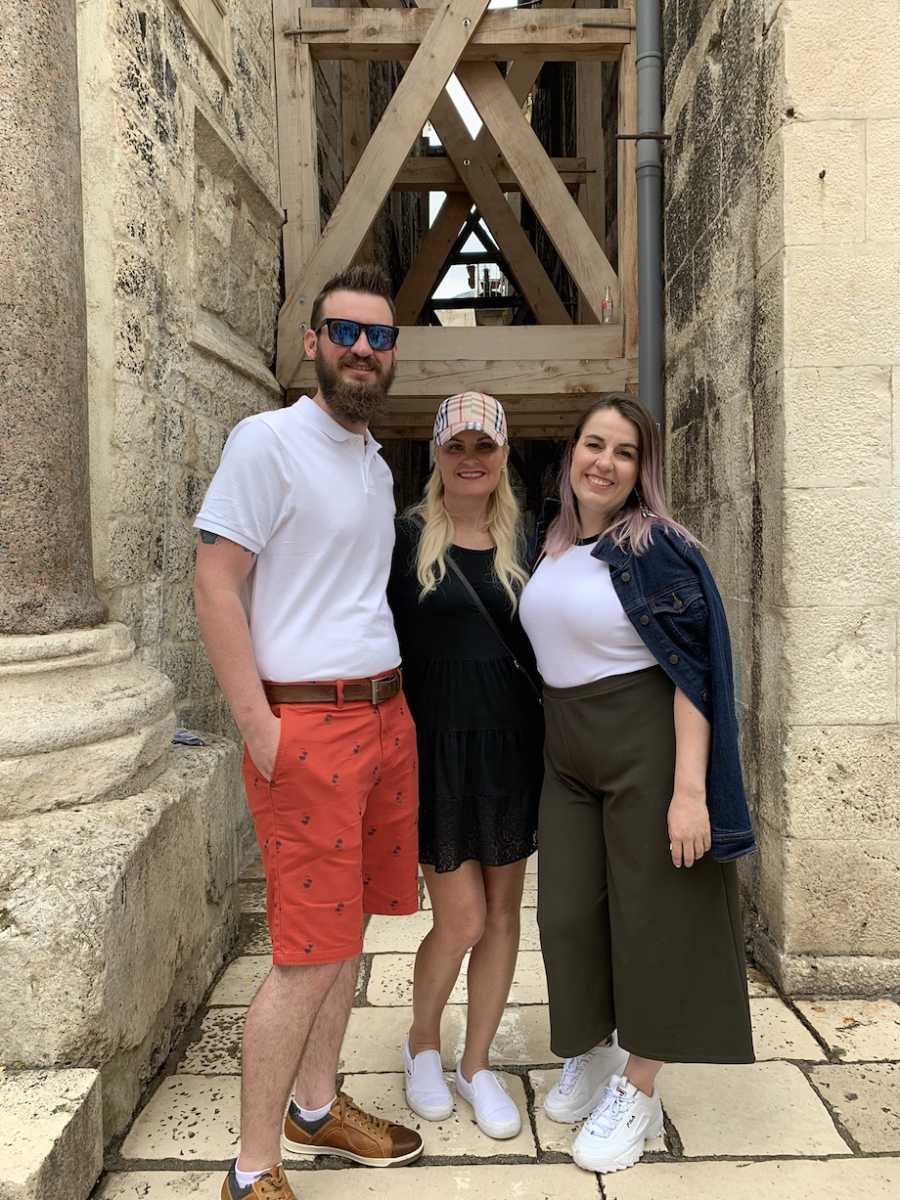 My ALS is still progressing rapidly. In one year, I went from only not being able to grip with my left hand to total loss of both my arms and legs. I cannot hold my head up on my own anymore, my speech is undetectable/slurred, and my breathing is at 30%. I get around in an electric wheelchair I am about to start driving with my chin. I sleep in a hospital bed and I am transferred with a Hoyer lift. Believe it or not, I actually typed this entire article with my eyes.
Am I still angry? How can I be when I am watching my children battle this disease with me with such strength and grace? I still cry a lot, but I can honestly say I laugh so much more. I am still making unforgettable memories with my children and friends. I wake up every day with a purpose, a purpose to be alive and show my children I am living. Every day, my attitude is shaping the future of my children, and eventually, their children. My legacy will not be based on anger and fear. Am I still afraid? Sure, I am afraid of the unknown, but going through this has given me my faith again. In due time, I will be sitting in heaven with my husband discussing the events of our lives once again."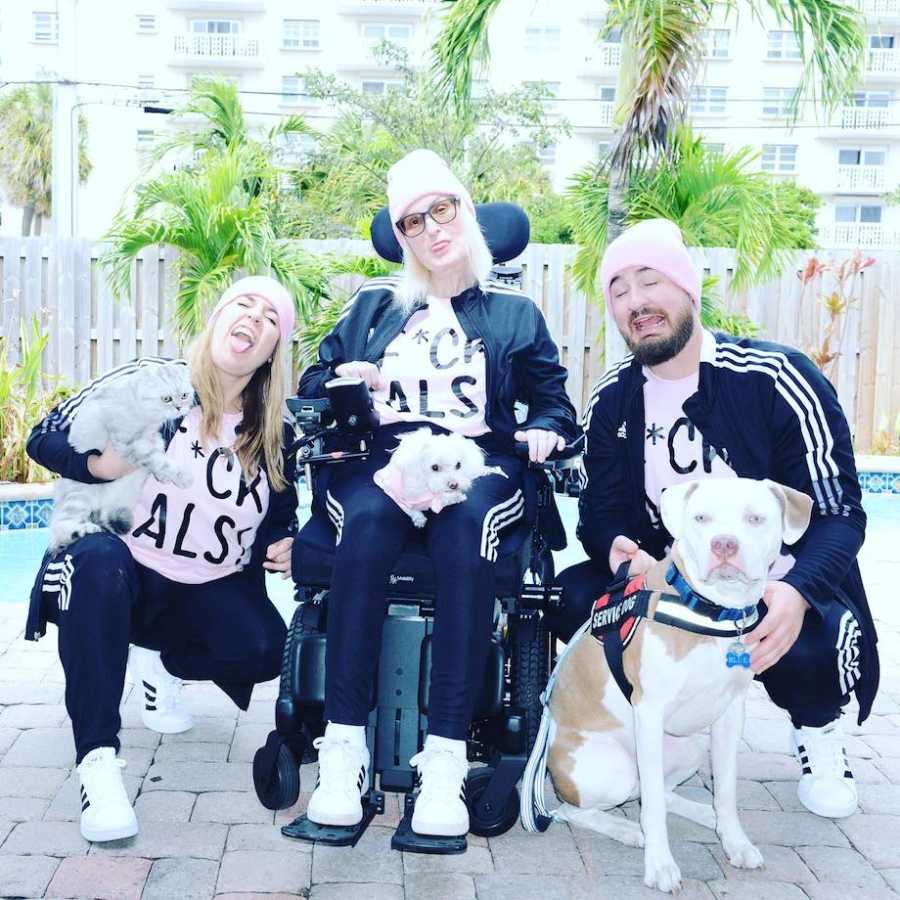 This story was submitted to Love What Matters by Bobbie Ciaccio from Fort Lauderdale, FL. You can follow their journey on Instagram and Facebook. Do you have a similar experience? We'd like to hear your important journey. Submit your own story here. Be sure to subscribe to our free email newsletter for our best stories, and YouTube for our best videos.
Read more stories like this:
'I gave an ultimatum. 'Get help or I need a divorce.' Something jolted me awake at 1 a.m. The door to the gun safe was open.': Widow finds forgiveness after husband's suicide, 'I meet his memory with sympathy'
'Have fun,' I whispered as he leaned in to kiss me. 'I will.' He quietly slipped out for a hike, and never came home.': Widow shares words of wisdom after late husband's hiking accident
'I received a call from my husband's co-worker. 'Brittany, hurry, run. Allen is hurt really bad.' My heart wasn't prepared for what I was about to witness.': Widow finds 'love after loss'
Have you or someone you know experienced the loss of a spouse or loved one? Please SHARE on Facebook to let them know there is a community of support available.