"Hello my name is Bridgett Kolls, I lived a healthy normal life up until 2017. In 2017, I found out my kidneys were failing. In the beginning of 2017 I was just a 20 year old,  serving at a restaurant and doing part time school at the College of Dupage. At the beginning of 2017, I started noticing my eyesight worsening. In my mind I thought I just had to get my eyes checked out. From the beginning of 2017 till March it just got worse, to the point my vision was very blurry and I couldn't read and shouldn't drive. I got them checked and it was being treated like a dry eye with eye drops. It was supposed to get better.
I got my eye drops started at the beginning of March 2017, I was not able to see any of the March Madness games that year, Literally!  I had a family vacation planned for April 2017 I was not going to miss! I was going to keep taking the eye drops and if it wasn't getting better when I got back from vacation, we had an appointment already scheduled for an official ophthalmologist at Advocate Good Samaritan Hospital in Downers Grove.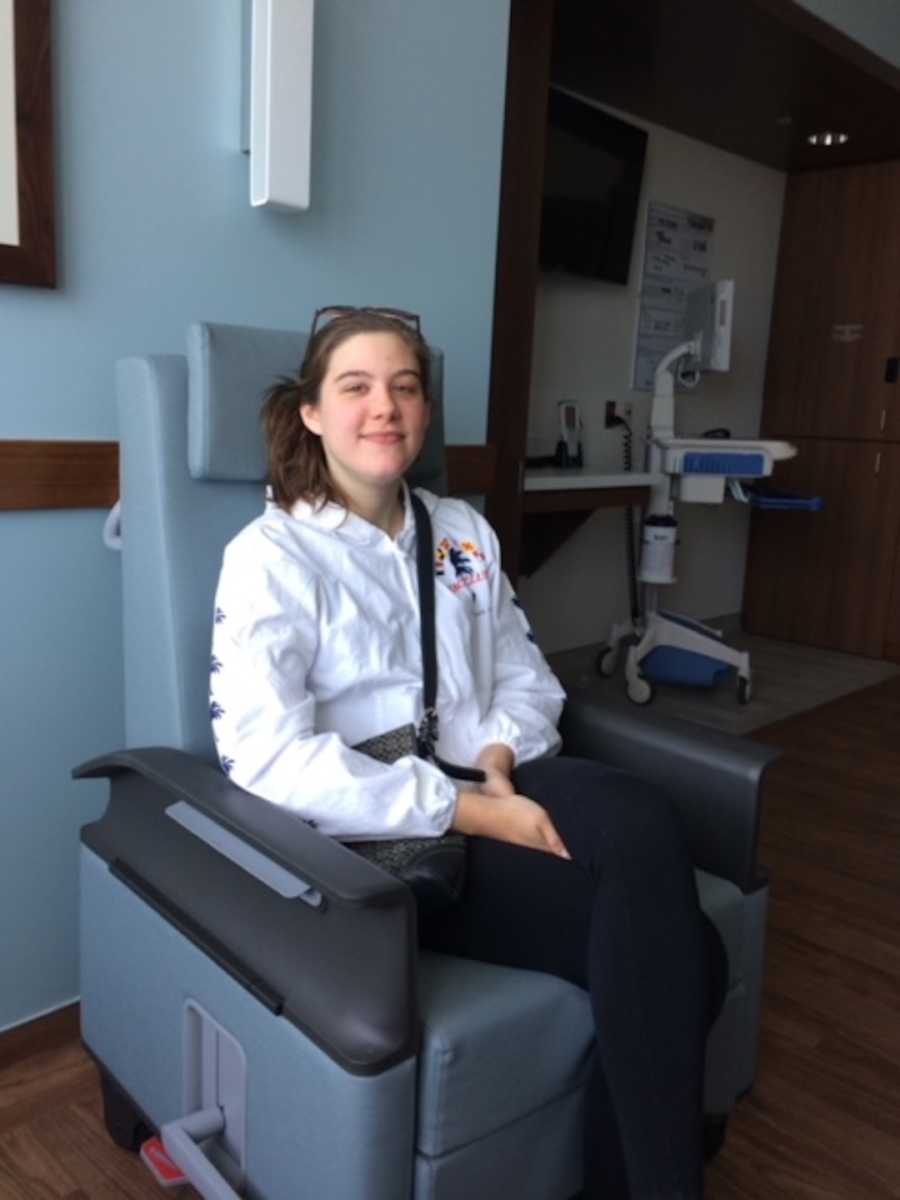 I am a person who likes to live and not miss out on anything! Life is too short! Even though I was blind at the time of our vacation in April 2017, it was very important to me to still go and spend time with my family. My parents and I were heading to Florida. We have family in Florida so we have been there before, but this time we were staying on the beach! No one will know I am blind when I'm sitting in a chair with sunglasses on! On this trip other than being blind, we did notice some bruises on me, and I also kept getting headaches and nosebleeds. Other than those annoying problems, I was still having the time of my life, I love the beach and the heat! Again, we had no idea what was ahead for us once we got back home. The trip was definitely worth it, but sadly, my eyes did not get better.
When we got back into town, I had to work, so I did one more blind day of work and the next day I would be getting my eyes checked more thoroughly by an ophthalmologist at the hospital. Side note, my job as a server was extremely tough when I was blind. I would have to memorize people's orders because I would not be able to see what I would usually write on my notepad, so thank goodness for good memory skills. My work is like my family, so they felt terrible I couldn't see, they just wanted to see me better. No one in my life had any idea what was going on. In my mind, I know my body, and I knew something wasn't good, hence why I wanted to go on the vacation. I had a strong feeling my eyesight was gonna lead to something more severe, and I was right.
The day of my eye doctor appointment was a little nerve wracking, my mom and brother came with me since I couldn't drive myself and we were hoping to find out answers. My doctor took pictures of my eyes and saw that retinas were completely detached. My doctor said 'This could be a case of hypertension or diabetes.' No one in my family has diabetes and so we decided to take my blood pressure, my blood pressure was through the roof, super high numbers! Everyone kept asking how I was feeling and I was telling them I felt fine other than being blind and now freaking out because everyone else is freaking out! I got admitted to the ER, and began doing a bunch of tests and scans to find out what was going on.
I ended up meeting with a nephrologist who is still my nephrologist to this day, he told me the bad news that he believed this is possibly renal failure. I ended up doing a kidney biopsy and it was indeed the case. I knew nothing about kidneys, definitely nothing about dialysis and everything was very overwhelming. My nephrologist explained dialysis to me more, and also told me to check out The National Kidney Foundation of Illinois website because they do a lot for kidney health awareness. He also helped set me up to get on a transplant list to wait for a kidney transplant while also spreading the word to possibly find a donor. After being told more news each day in the hospital (I was in the hospital for six days) I had quite a few breakdowns where it literally felt like the walls were caving in on me. They began dialysis right away, and eventually I would start going to a dialysis center which luckily was five minutes away from my house. This was a definite life changer my family and I did not see coming.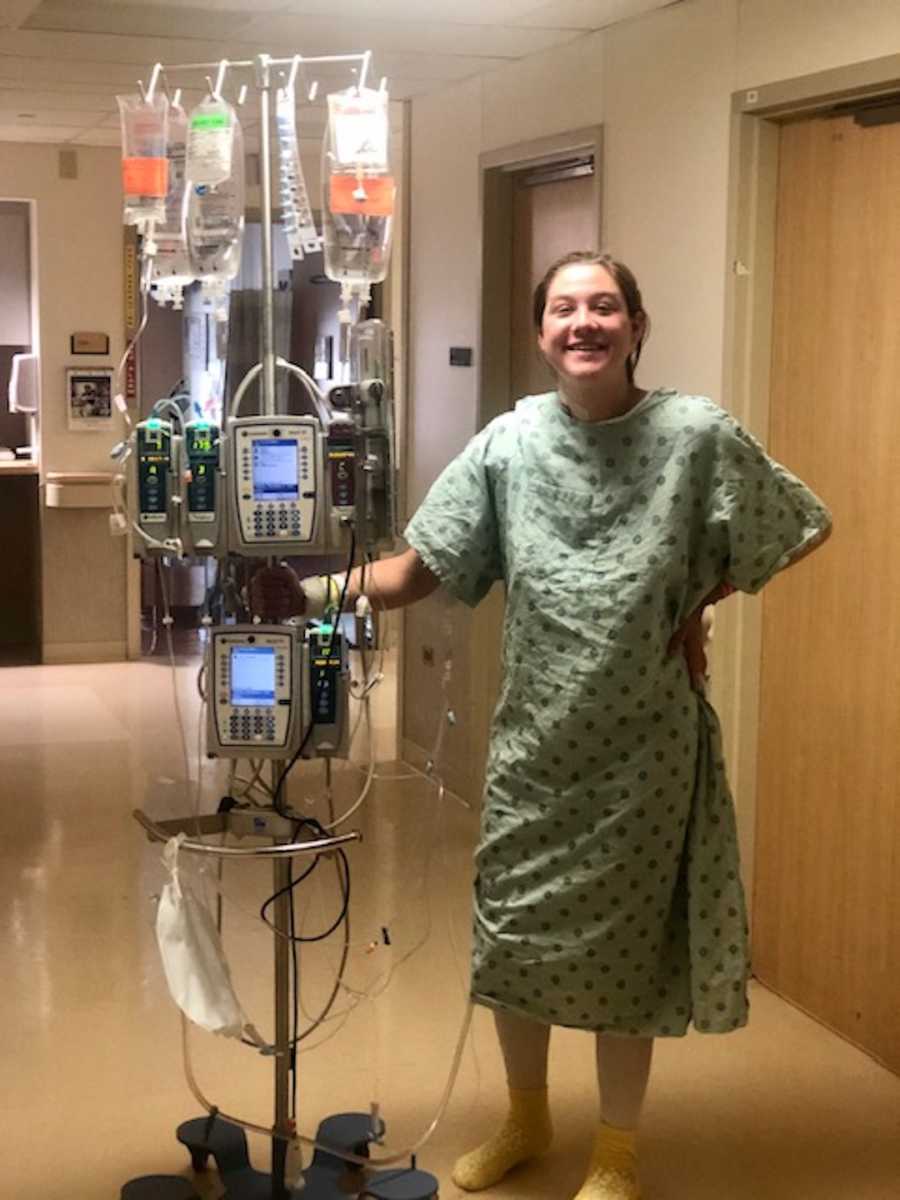 I began in-center hemodialysis at Fresenius Kidney Care in Lombard IL. The staff here is very nice and made it comfortable for me when I was nervous to be there and begin a new chapter in my life. I also met some wonderful people who also need dialysis, sadly some of my friends are still there and I think about them every day, sometimes I drop in to visit, and they appreciate that!
While I was undergoing dialysis three days a week for four hours, my doctors were trying to figure out exactly why my kidneys failed. At the end of 2017, the roughest year ever, I was experiencing chest pain and shortness of breath, pale, fever, and chills. We thought it was fluid retention at dialysis, but it didn't get better. My body was swollen. It was Christmas time and I felt like crap.
I believe it was a few days after Christmas 2017 in the middle of the night, I couldn't breathe and my mom took me to the ER. I don't get scared a lot, but this time got me nervous. I ended up having a liter and a half of fluid around my chest they had to drain, they call this a pericardial effusion. From labs taken when I was first diagnosed to this incident, there was potential talk of my kidney failure being from an auto-immune disease called Lupus. Lupus is an autoimmune disease where my own body and immune system attacks itself, even the healthy cells! This causes me joint pain and fatigue. Everyone has different symptoms with lupus, it's difficult to diagnose. By the time a lupus diagnosis is made, a lot of the time it's too late and the body is already affected. That was the case for me, I was diagnosed with lupus in February of 2018 a year after my kidney failure diagnosis. To this day we are trying to figure out what came first. Did hypertension bring this autoimmune disease, or did the untreated lupus cause me to have hypertension? Currently, there is no cure for lupus, only treatment, hopefully we find a cure soon.
I never wanted to deal with an autoimmune disease in my life, but at least I kind of had better answers to my kidneys failing. So now, I continue my dialysis journey, never missing a treatment ever, even on vacation. I was the first time slot at my center. I would be there at 430 a.m. In my mind, it made sense to get it done and out of the way. If I needed a nap after I would have time to do so. My work schedule dramatically changed when I began dialysis. Dialysis was exhausting, I only worked a day, maybe two at the restaurant because it would just take a toll on my body. Since I couldn't work at the restaurant as much, I wanted to find a more relaxed job and it just so happens a local gym was being built and was hiring for front desk workers, perfect! I applied and got the job! This was a big accomplishment for me; I was surviving in the situation I was in. My work family there is also so very nice and was understanding of my situation and understood how tired I can be sometimes! I felt very lucky to be part time at both jobs while I was on dialysis. I was researching more of what I am going through and learning. I was participating in events with the kidney foundation so I can learn more while also spreading awareness to others. I was taking my health under my wing.
Dialysis was starting to mess with my mental health, being there all the time. I was also waiting for the magic call that I might have a kidney. My transplant hospital is Advocate Christ Hospital in Oak Lawn Il. They helped me get on the transplant list. I would read articles online of all different types of ways people spread the word to let those around know that they are in need of a kidney. Holding a poster at a public event stuck out the most to me, it was something I should do, but where? I am big into music, I don't play an instrument or anything, but I do have a ukulele and I wanted to try to learn that! I love concerts and festivals and I feel music brings people together and lets people feel emotion better. I thought about bringing it to a concert, but I didn't, because my brother and I actually had really great seats at a Chicago Cubs game! A family member gave my brother tickets, and my brother invited me. I knew this called for my sign, this is it. I made a really pop out sign saying 'This little cubbie needs a kidney' and created a google voice temporary number for people to reach me on.  The game was May 7th, 2019 at Wrigley Field, Cubs vs. Miami Marlins. I emailed the Cubs media before attending to let them know I was bringing a sign and ask if they could help me spread the word.
It was the day of the game, I had my dialysis earlier and it was a night game, I was tired and nervous and excited. I was born into a Cubs family, we are big Cubs fans, my brother and I love attending games together and I myself love baseball and I used to play softball! It's just a sport I enjoy! So, we made it to our seats, and before the game started I got tapped on the shoulder. It was a nice lady from the Cubs social media team wanting to take my photograph with my sign so she could post it online. I was so happy, and she even gave me a goodie bag of stuff. They got my email! The game officially started, I had to gain my confidence, hold up my sign and hope for the best.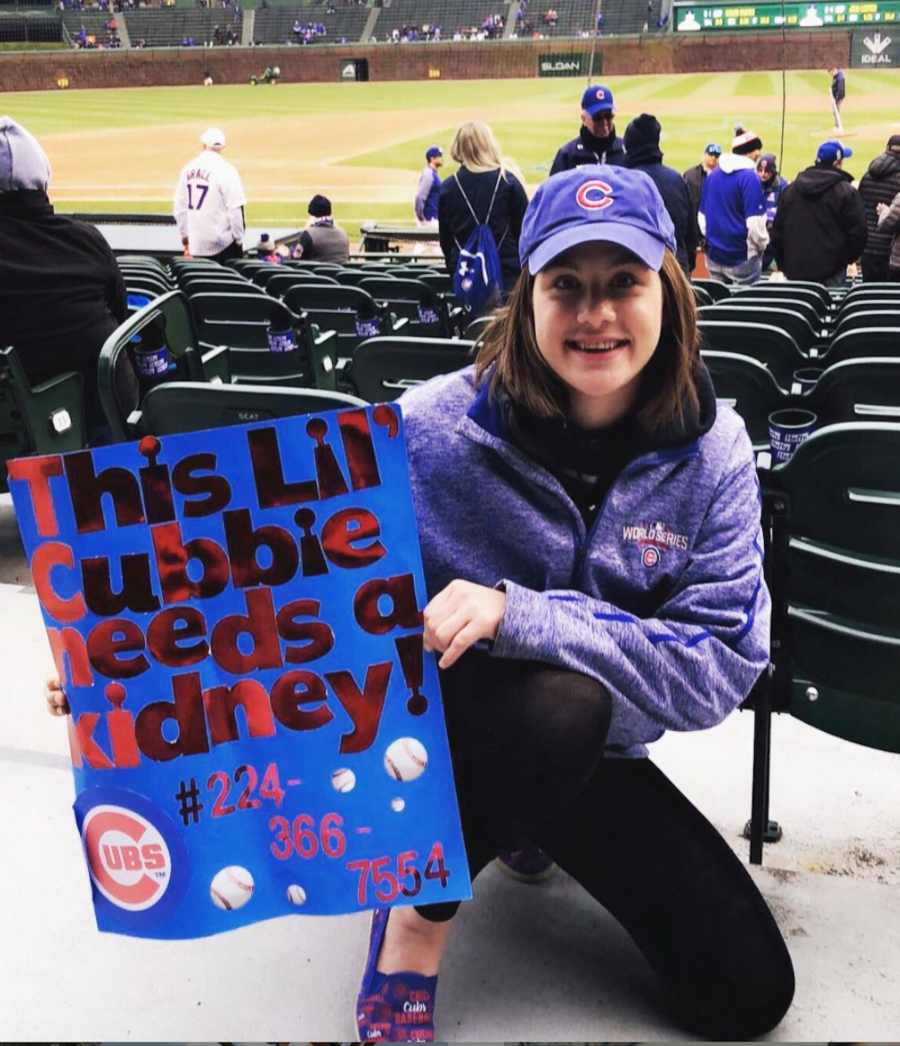 We then got on the jumbotron, so I flashed my sign up there, so proud. The Cubs ended up winning that night thanks to Christ Bryant's walk off home run. I ended up winning that night because my phone would not stop buzzing, a lot of people were interested in donating, a lot of people sending well wishes! I let everyone who was the right blood type know how to go about being tested to be a match and thanked every single person for trying to help. One of the messages sent a funny Captain America gif. Little did I know one of those messages was actually gonna be my donor!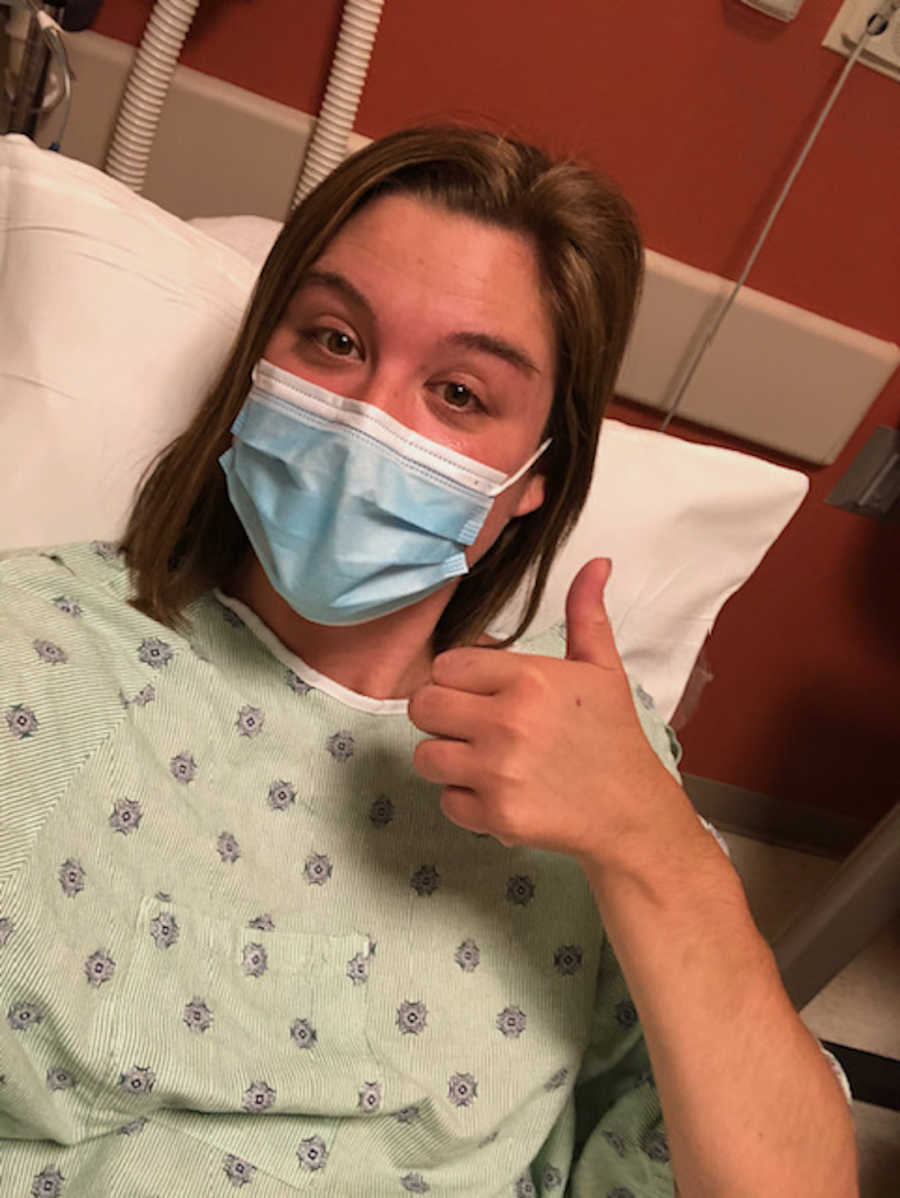 Summer of 2019 came and left, I was still on dialysis, still working and still waiting for news of a kidney. In November, on Thanksgiving I received a text from one of the numbers that reached out in May saying 'Only a few tests left till I find out if I can be your donor.' I was so shocked and excited, but still cautious and unsure. I didn't get my hopes too high, I told my family and my mom started crying, but it was still early in the process. For Thanksgiving I was actually at my family member's house who got me and my brother the tickets, so everyone was so happy.
I was so nervous to talk to this mysterious person because I didn't wanna ruin anything. This was the closest I've ever been to receiving a transplant, I was even too scared to ask for a name. Eventually, we did introduce ourselves. His name is Thomas Alessio, he is Chicago White Sox fan who happened to see my post of needing a kidney on twitter. He passed his testing process and had final meetings with doctors in January to get the final OK. I was due for my yearly evaluation to stay on the Illinois transplant list in February of 2020, so my brother and I went and thought they would let us know some good news, even though I kinda knew already that Thomas was a match from talking to him, but I wanted to hear it from the official doctors.
My brother and I heard nothing about a donor at my appointment and we went to grab lunch and my favorite lunch spot in my town, Jt's Porch. It was there that I received a special call. It was my nurse with my transplant team telling me that they had a willing donor for me! I was so happy everything was falling into place. My mom and I went back to my transplant hospital two weeks after that call to receive information on how surgery is gonna go, at this time I still had yet to meet Thomas but we wanted to try and meet before surgery. We had surgery all set for March 26th, 2020 which just so happened would have been the Cubs first game of the season. But then, COVID happened.
My donor, my family, my medical team and I had thoughts that the more severe the pandemic the surgery could be postponed, we were not blind to it but it was upsetting, not just for us, but for the world at this time. They began postponing surgeries and I felt bad for those who needed heart surgeries. At least for me I had temporary treatment with dialysis, Like Tom Petty said 'Waiting is the hardest part,' which in the three year time I learned patience is a virtue. Our surgery got postponed, til who knows. Restaurants closed and so did gyms, and I was home waiting while continuing dialysis. I felt bad for my donor too, because I didn't want to mess up his schedule at all. When restaurants reopened for outdoor seating only, after sitting at home for over a month, my donor and I made lunch plans while we awaited news about rescheduling of surgeries.
My brother and I met Thomas for lunch on June 12, 2020. Thomas is a super nice, down to earth guy just wanting to help. He loves Captain America and superheroes. He is a superhero to not only me, but to all my friends and family and everyone in my life. We are all so thankful for him. A week after meeting Thomas, our surgery got rescheduled to July 8th 2021. We had to take a COVID test beforehand which sucked, but after that, Thomas and I were both in the clear and ready.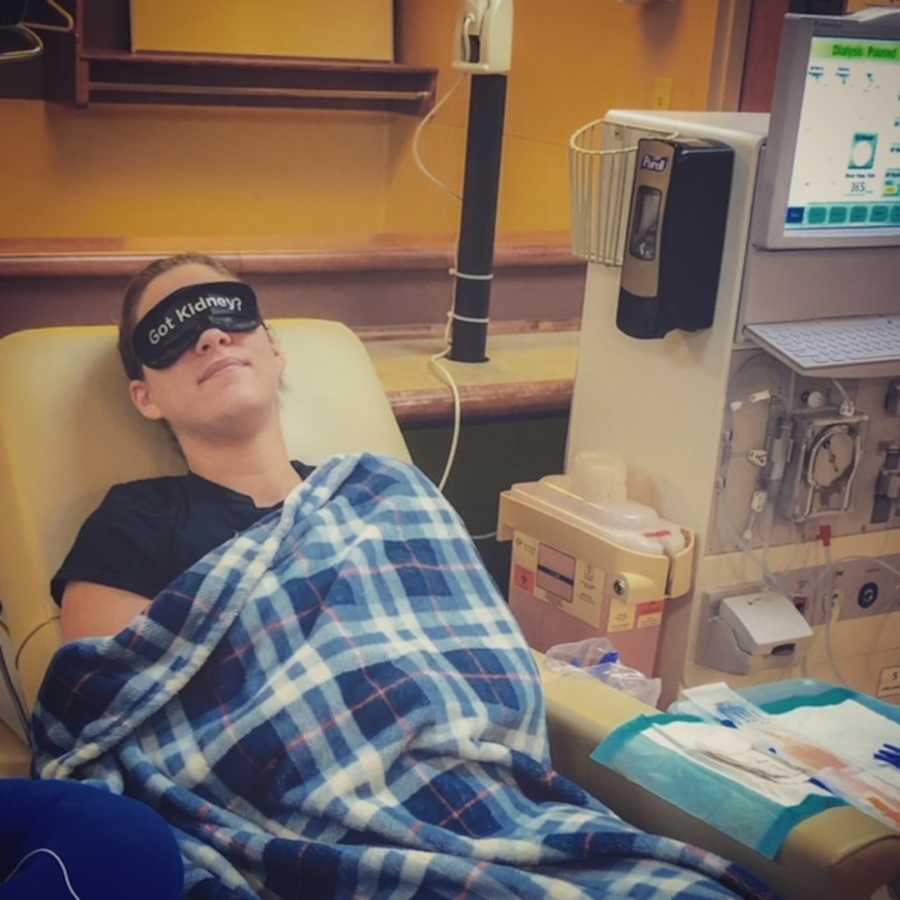 Tuesday July 7th, 2020 was my last dialysis treatment, and first thing on Wednesday July 8th, my mom and I headed to Advocate Christ to receive my kidney transplant! I could only bring one guest and my mom has been by my side throughout all my health setbacks I got hit with. My mom is my best friend, we had rough times growing up but we are definitely best friends now, and no matter what we always love each other and get each other's backs. She stayed with me until I got wheeled into surgery. Thomas went into surgery first and they wheeled him past my room (unintentionally) but he saw me and we both waved to each other right before surgery and that moment I will never forget. Surgery was a success, we both came out fine.
Thomas left the hospital the very next day and I stayed in for five days just to make sure my lupus was under control and my body was accepting the new organ. I was sore, but I felt so much better and I had so much color in my face compared to prior. I am thankful for Thomas everyday.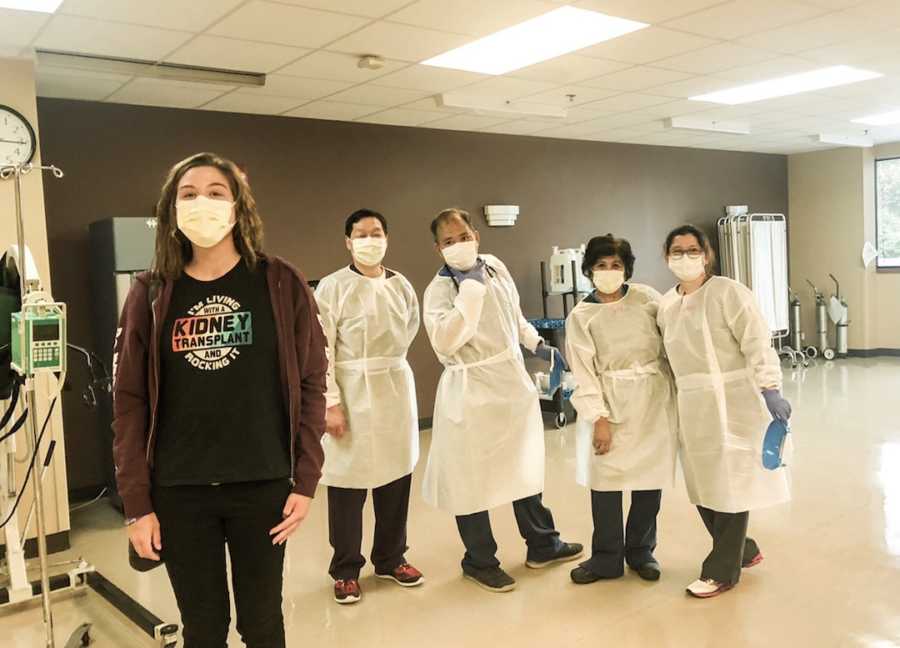 After returning home to heal after surgery, the Cubs and White Sox Cross cross town game was on and Thomas and I were actually invited by Advocate Hospital! Ian Happ from the Chicago Cubs sent me a video and everything! I am so happy I am healthy and alive. July 8, 2021 will be one year with my new kidney, many more years to come I hope. Life is so crazy, you never know what a day will bring so be thankful for everything around you today!"
This story was submitted to Love What Matters by Bridgett Kolls from Lombard, IL. Follow her on Instagram and Twitter. Submit your own story here and be sure to subscribe to our free email newsletter for our best stories.
Read more stories like this here:
'She just doesn't want to go to school.' At 18, I became a single mom living with undiagnosed pain.': Chronic illness warrior becomes advocate with son's help, 'I couldn't live without him'
'I'm in kidney failure.' He needed dialysis 4 hours a day, 3 days a week to keep him alive. I felt a tug at my heart.': Woman enters 'humbling' kidney donation program for friend
'What are you going to DO about it?' mom asked. I wasn't popular. But I DID know how kindness could look.': Young woman creates 'Let's Be Kind Day' for community
'What's this?' We were enjoying dinner when they handed me a card. It was nobody's birthday, there were no celebrations.': Expecting woman shares act of kindness for grieving sister-in-law
Provide hope for someone struggling. SHARE this story on Facebook and Instagram to let them know a community of support is available.