"It was a crisp fall morning when I loaded my two young boys, ages 3 years and 18 months, into the stroller to go for a walk. My boys and I love going on walks and try to get in as many as we can before the winter cold comes. I was also hoping the cool air would be good for my youngest son's airway (he was in the ER two days prior with croup). It was a beautiful morning. The sun was out, Griffin was babbling and telling me all about 'lion powers.' We had just turned around to head home.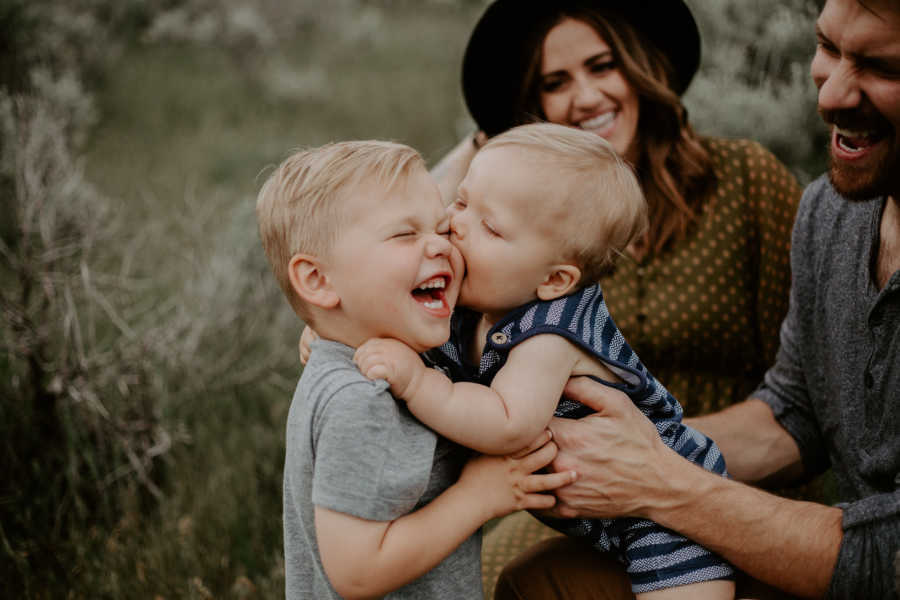 Although we were in a neighborhood, we still had to cross a big road to get home. I was going to just quickly cross when there were no cars before I saw a crosswalk down the road and figured I should utilize it since that would be safer. I walked down the hill to the crosswalk, looked each way, waited for a car to pass, pressed the crossing button, waited a few seconds for the lights to start flashing, checked again for cars, and stepped into the road, pushing my big red jogging stroller.
That is the moment that forever changed our lives. We had almost made it halfway when I saw the car. In a way, I am glad the sunshades on the stroller were down so the boys couldn't see it coming and be scared. I only had a split second and knew there wasn't enough time to get out of the way. I put one arm out to try and stop the car, gripping the stroller as tightly as I could with my other. I was white-knuckled, the foam grip squishing through my fingers when I felt the impact of the car. The sound of the car hitting the stroller is something I will never forget. That sound, along with those few seconds that followed, is something that has haunted my dreams ever since. The first few weeks after the accident, every time I closed my eyes, it would just replay over and over again in my mind. The stroller, in slow motion, being ripped from my hands and thrown through the air. I saw it tumble and come to a stop near the curb.
It took a second or two for my mind to register what had happened. I turned and ran to the stroller and saw Griffin, my oldest, laying in the road 15 feet or so past the stroller. He was ejected from the stroller on impact. When I reached him, he was crying, his little face covered in blood and panic. He was awake and crying though, which was a good sign. It completely broke my mama heart into pieces to leave him lying there but I knew I needed to check on my other child. I ran to the stroller and flipped it over, throwing back the sunshade, expecting to hear him cry at any moment. But my baby was laying there, gray and not moving. My world came crashing down.

My heart absolutely breaks and goes out to any parent who has ever lost a child. There is no worse feeling. I pulled his tiny limp body out of the stroller and held him in front of me and just screamed his name over and over again. A bystander said they'd called 911 and asked what I needed. The question was enough to bring me back to the moment, where my training kicked in and I knew what I needed to do to save my little boy. A little background information: I am trained as an Advanced EMT and have worked the last 5 years in the ER at a Level 1 Trauma Center. I am beyond grateful I had this emergency first responder training to know what to do to help my boys. Without it, Watson wouldn't have survived until the firefighters got there. But having to be the first responder for my boys was incredibly hard. I can handle anything in the ER, but it is completely different when it's your children.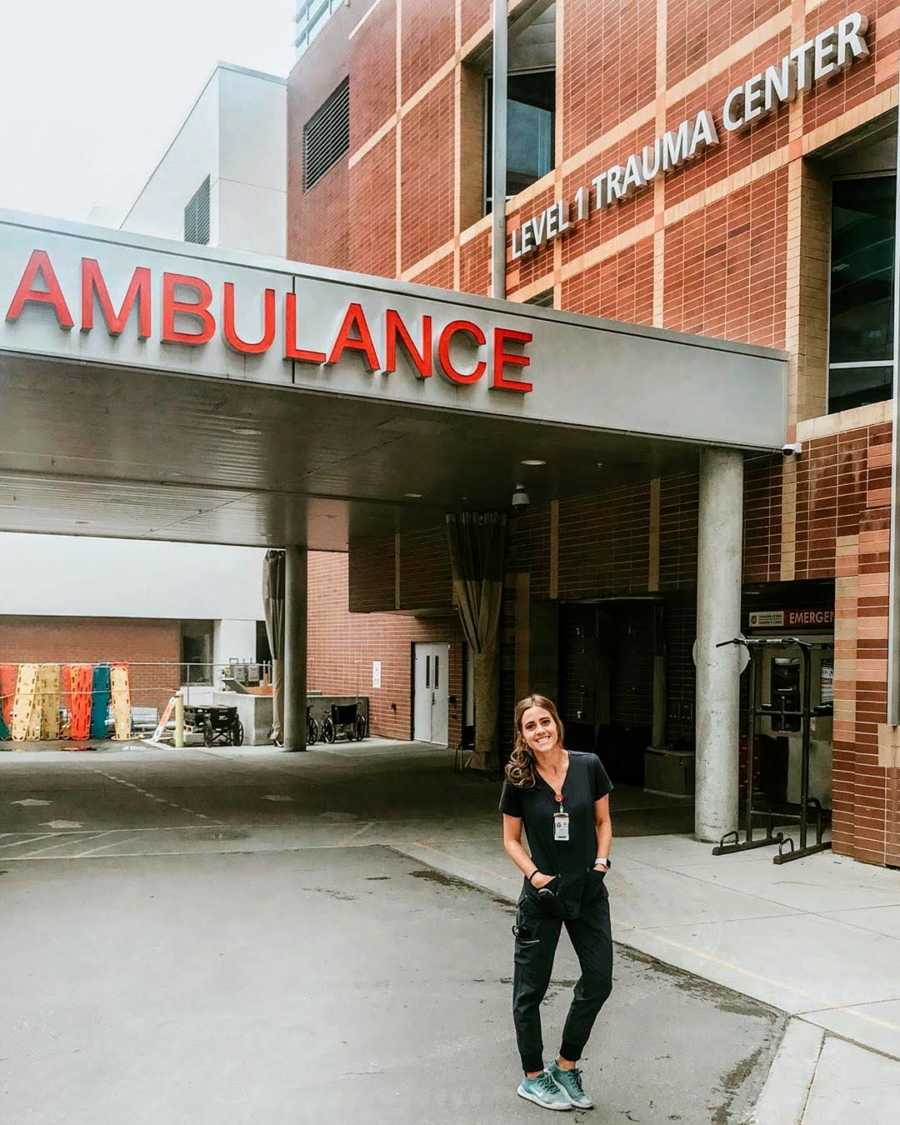 I began to work through the ABC's of EMT basics. Airway, Breathing, Circulation. I gently lay him down on the side of the road, careful to hold his head and neck in-line. I tilted his head back and opened his airway. Within seconds, I could see the color slowly returning, and his lips turning from blue to pale pink. A passerby came and asked what he could do to help, so I showed him how to hold my baby's head to stabilize and keep his airway open. I then checked his breathing. It was shallow and irregular. There were long pauses where he wouldn't breathe and then would take a gasping breath. As an EMT, I knew this was a bad sign, which made me worry even more. But I had to focus.
I opened his pajamas and felt for his pulse. I could barely feel it, but it was there. I could tell it was dropping so I put my fingers on his chest and was ready to begin CPR. Thankfully the firefighters were so quick to arrive on the scene and take over care of my boys. They were the absolute most wonderful. They helped my boys, and also helped comfort me. The fire captain gave me a hug and just let me cry on his shoulder. He went so above and beyond. I also need to express my gratitude for the lady that hit us, who stopped to help. She carried Griffin over to me and held him while I took care of his little brother. I will forever be grateful for her holding my boy when I couldn't. It was so heartbreaking to not be able to hold both my boys when they needed me. I felt like I had to choose between my boys, which is something no mother should have to do, especially when you are not sure if either of them will make it.
I had to choose between my boys again when it was time to transport them. This time I chose to stay with my oldest since he was still semi-awake and knew I was there. Life Flight flew both boys in critical condition to the children's hospital as Trauma 1's. They spent a couple of days in the ICU and then were transferred to the Neuro Trauma Unit once they were stable. I felt helpless watching my two sweet little boys laying there. We learned, in addition to lots of road rash, my oldest had a broken collar bone, a missing chunk of his ear, a large skull fracture, traumatic brain injury (TBI), and a brain bleed. It took a few days for him to wake up, and a few more for him to get out of bed. After that, he started recovering much quicker than we expected though. I was so happy and relieved to see him doing better, but on the flip side, the more I saw him improve, the more worried I got because his little brother wasn't making progress.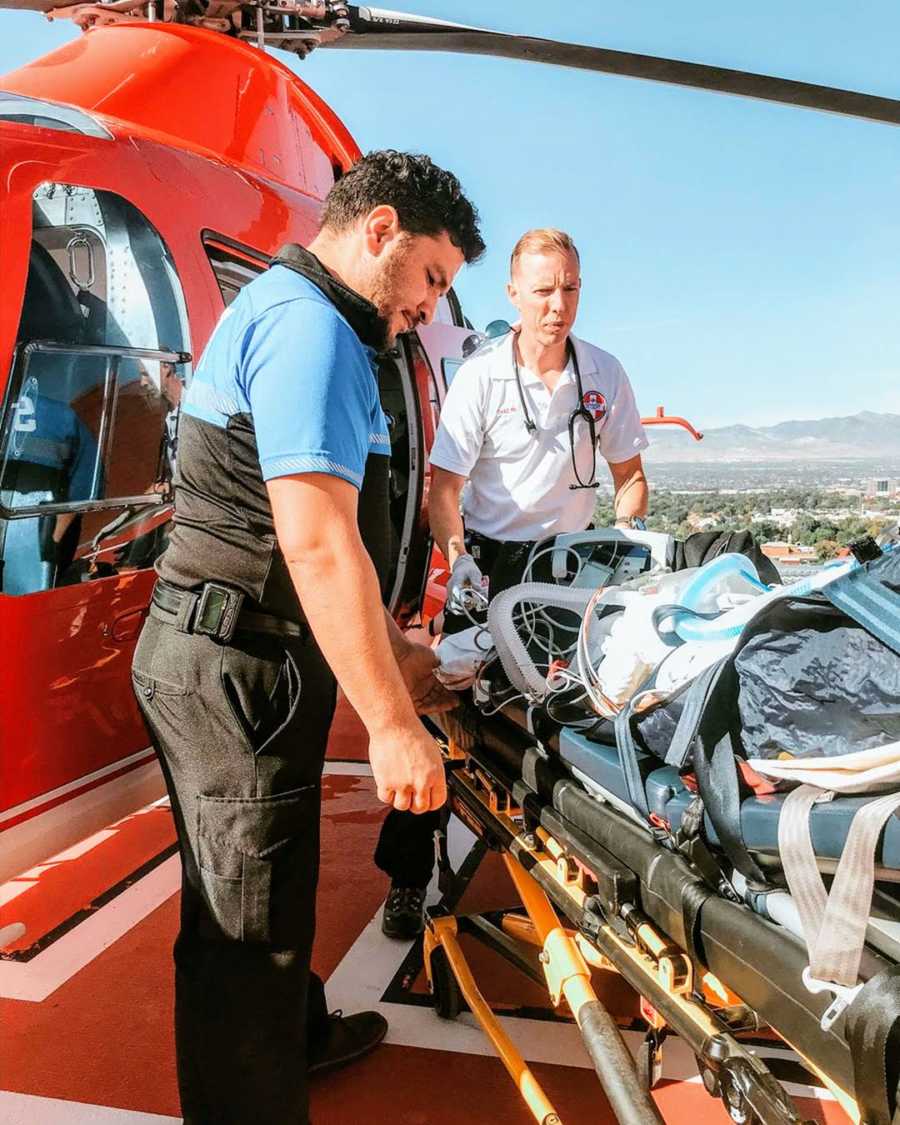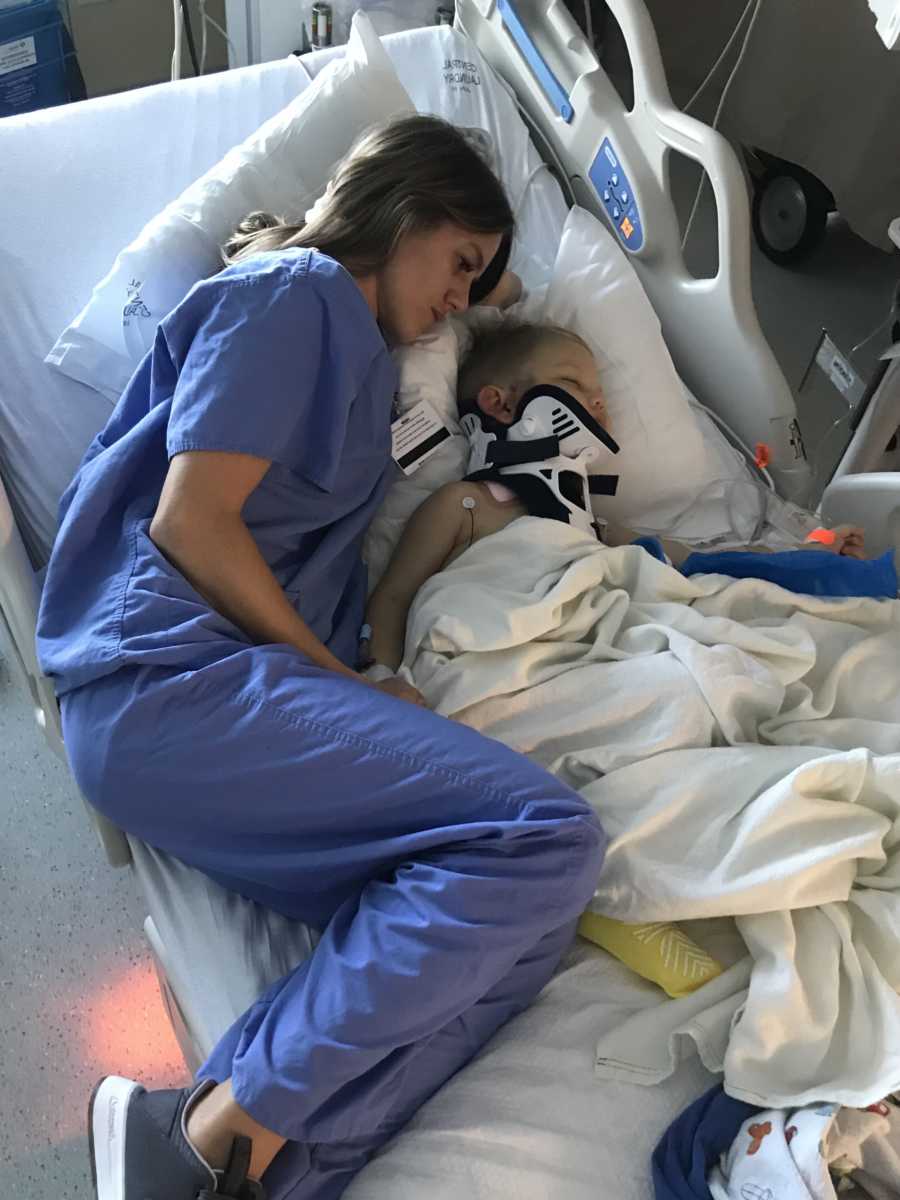 After a week or so of no progress, the doctors decided to do an MRI on my little 18-month-old. We learned his brain injury was much more severe than the doctors had first thought. He suffered a TBI with shearing and a Diffuse Axonal Injury (DAI), in addition to a broken neck, liver laceration, broken arm, and broken pelvis. I felt like my world came crashing down all over again.
Each day I would hold him, praying to just see his smile again. My husband and I took turns each being with one of the boys so that neither of them was alone. We were constantly running back and forth between their hospital rooms. I wanted nothing more than my family to be together again.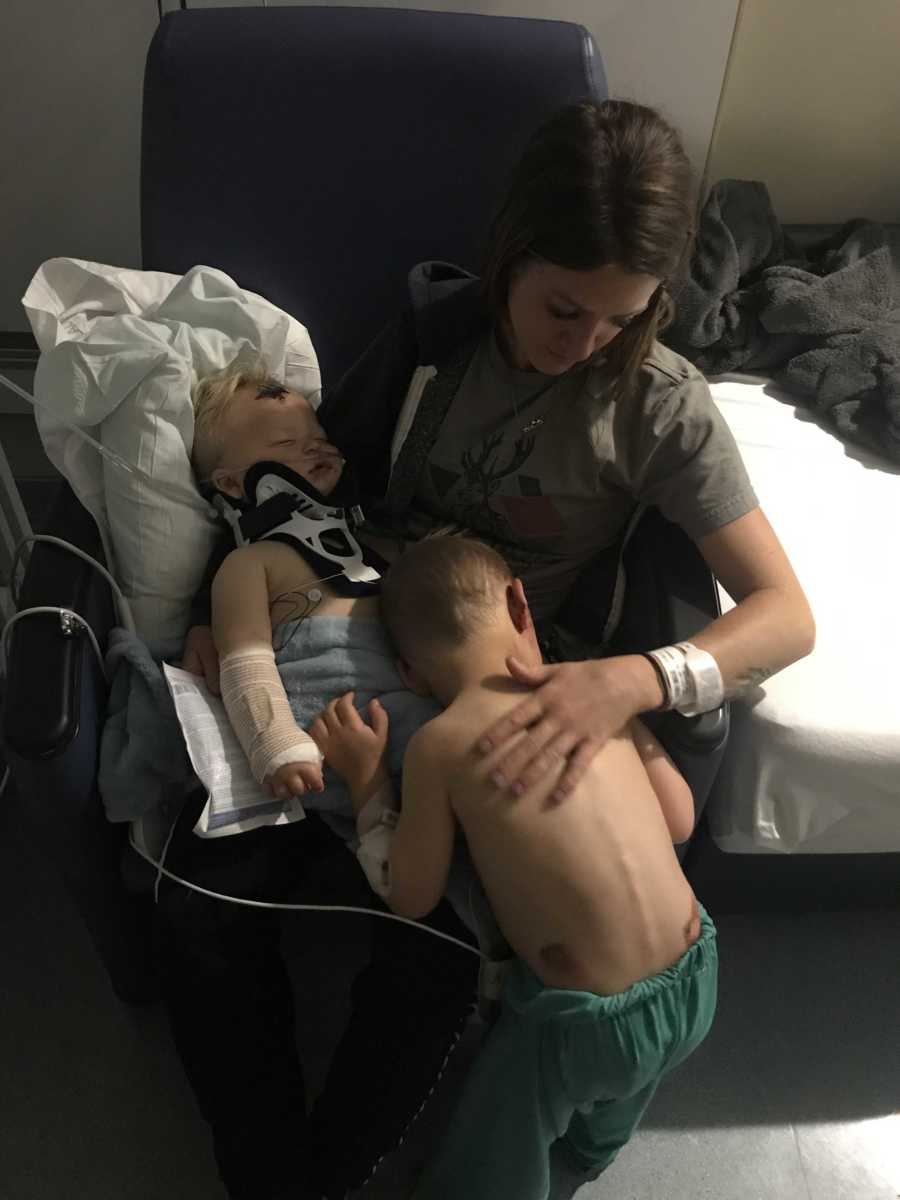 I was trying to stay positive but I was running out of strength. One night while sitting in my youngest's hospital room, with the rhythmic beeping of the monitors in the background, I began sobbing. Would I never see my little boy's blue eyes light up or hear his deep adorable chuckle again? I think he knew I couldn't take anymore and that I needed a little ray of hope. He gave that to me the next day. I was singing 'You Are My Sunshine' to him, the song I sing to my boys every night before bed when he smiled. It was a little smile, but the most amazing little smile. My heart swelled and I knew I could stay strong for my boys.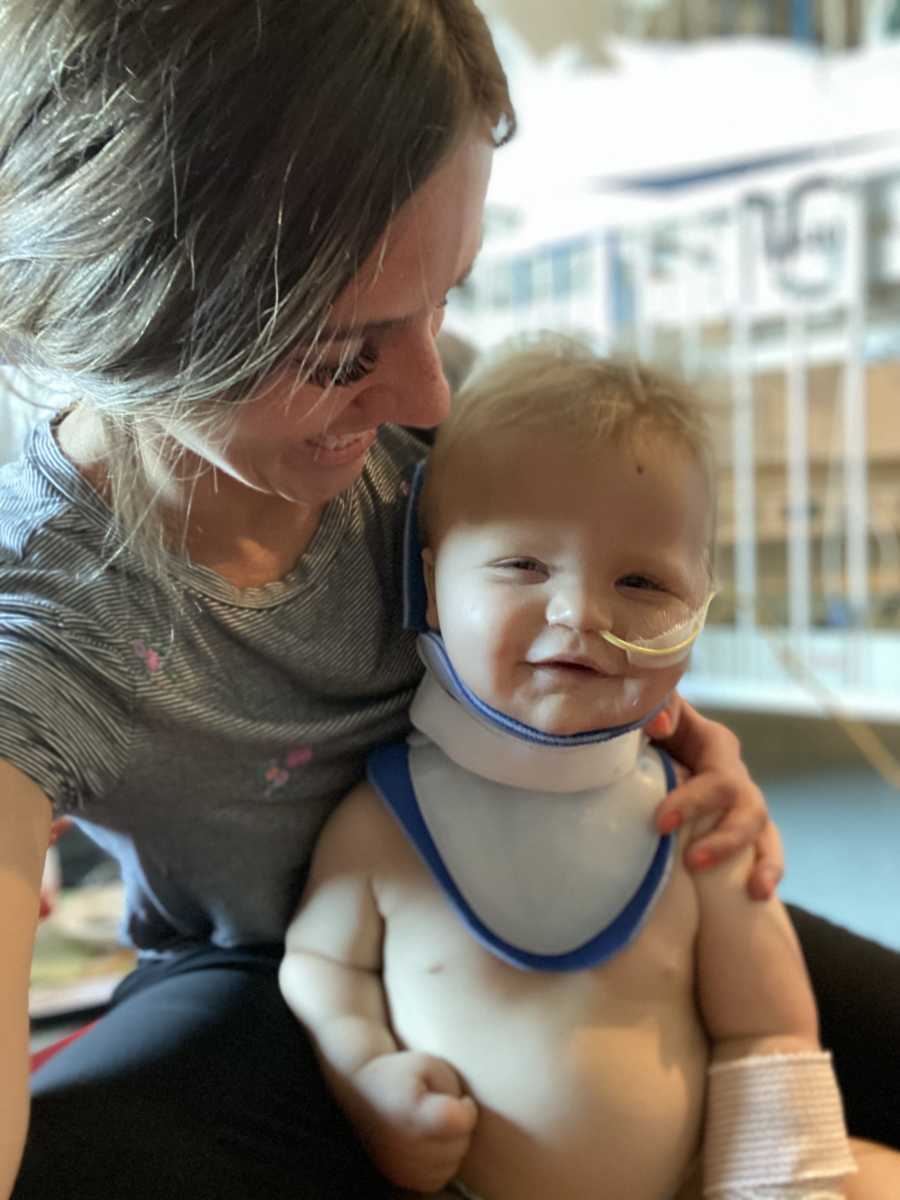 A few days later, he started waking up. He was paralyzed on the left side of his body, and they had to put a feeding tube in since he could not swallow. It was hard to see but I was just so grateful he and his brother were alive. It took me a while to realize and accept the fact that I could be endlessly grateful and sad it happened, all at the same time. The two opposite emotions can co-exist without diminishing the strength or validity of the other. When you are going through something hard, it is okay to be happy and sad, grateful and heartbroken. That is something I would tell anyone going through something hard like this. You can see the light, and still be sad for the darkness.
My oldest was discharged from the hospital first. Once again, I felt like I had to choose between my children. I stayed at the hospital with my youngest most of the time but when the family could come and swap me out, I would sneak away to spend some time with my oldest. It was heartbreaking. I wanted nothing more to have my family together and whole again. Luckily, a few weeks later, we all got to go home and be together. I will never again take for granted being able to fall asleep with both my boys under one roof.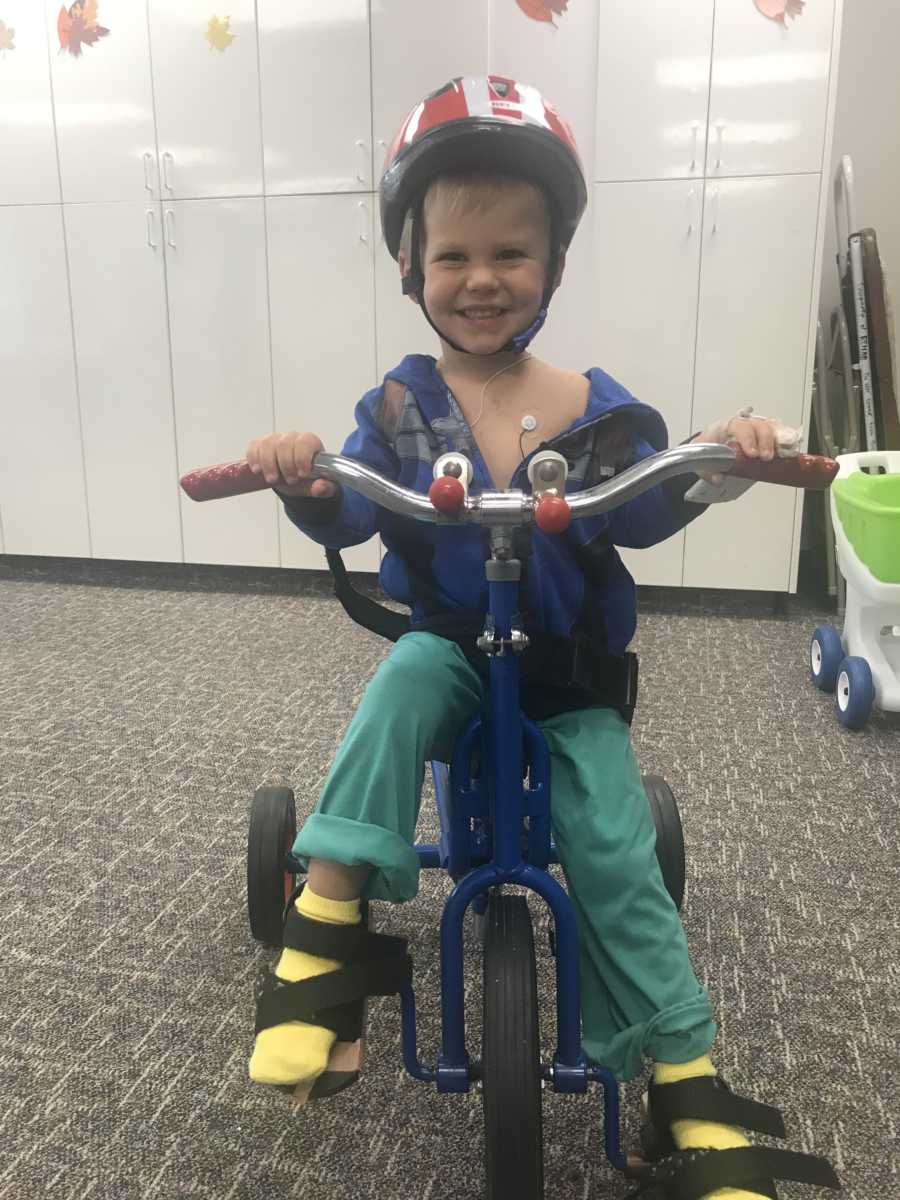 It's been a hard few months since then. We have doctors' appointments and therapy visits every day of the week. Sometimes multiple a day. I think the hardest part though is seeing the personality changes in my boys. The TBI's cause increased aggression, irritability, and fatigue. I miss who my boys were before the accident, the sweetest, most laid back kids ever.
Despite this being the hardest experience of my life, it has also had so many amazing parts. I have seen how much good there is in the world. There is so much good. So many kind people. We received hundreds of get well cards from people we did not even know. Complete strangers sent gifts to the boys. A lady I'd never met organized a huge welcome home (complete with a new jogging stroller). People brought us dinners every night for the first month we were home. I read messages from people all over the world that were praying for us. The list goes on and on. It showed me how deeply good people are. I was absolutely blown away by the amount of outpouring love, support, and prayers we have received. Especially from complete strangers. It has all been felt and I know it's a huge reason why my boys have made such amazing recoveries.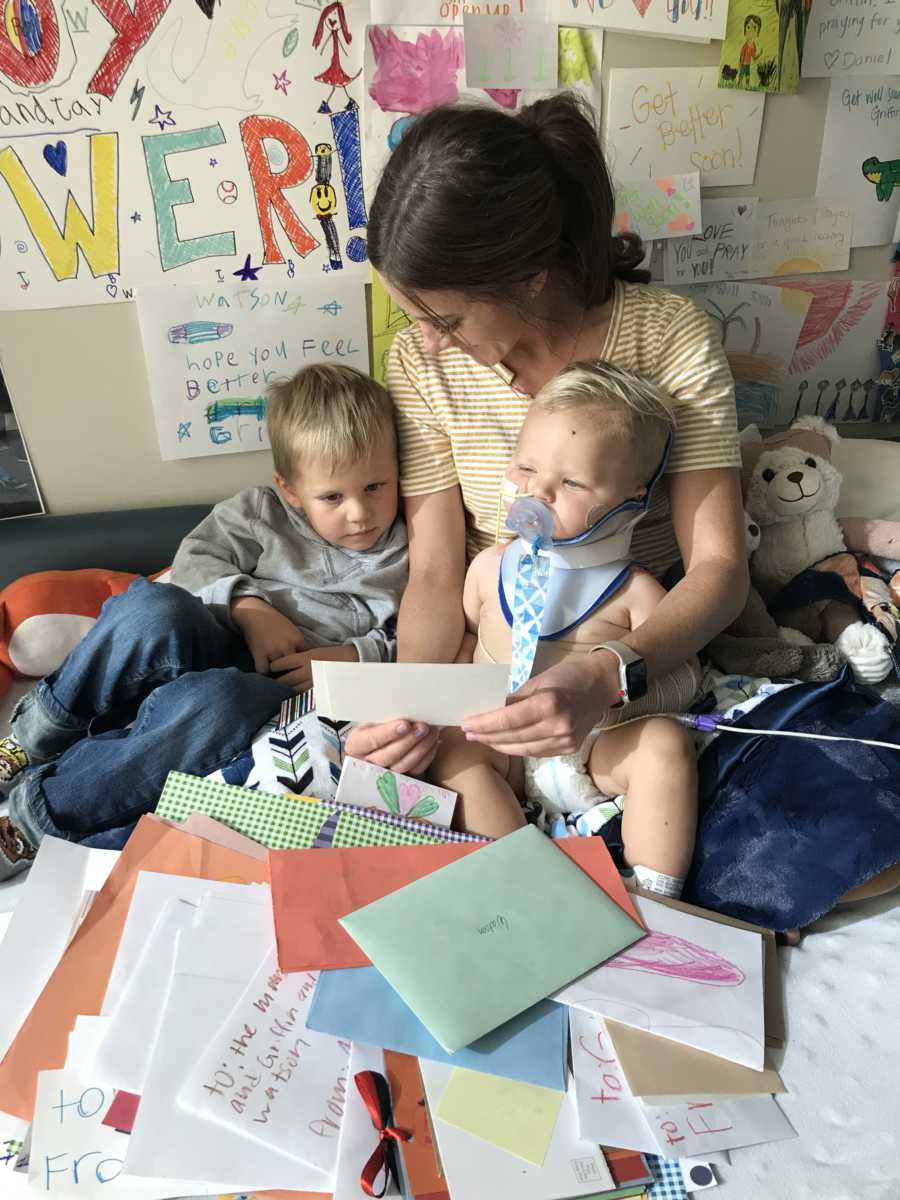 We have also seen so many miracles. The aluminum frame of the stroller had bent inward, pinning my youngest inside, and no doubt saving his life. But when the firefighters and police found it, the frame was bent back out the opposite way. They couldn't figure out how that possibly could be, and I know guardian angels helped me get him out. The boys were first taken to a small hospital around the corner to stabilize them until the helicopters could get there. The hospital doesn't get big traumas or kids, which made me very nervous. Both boys ended up having to be intubated there to stay alive. The ER doctor that performed the procedure was actually one of the top pediatric trauma doctors from the children's hospital. He had just happened to pick up that shift there that day. Miracle. And we obviously can't ignore the fact that both boys are alive it is a complete and utter miracle. The doctors said the injuries my youngest sustained would be fatal to adults and most children, but luckily he was little and baby's brains are very pliable. Their recoveries have perhaps been the biggest miracles of all though.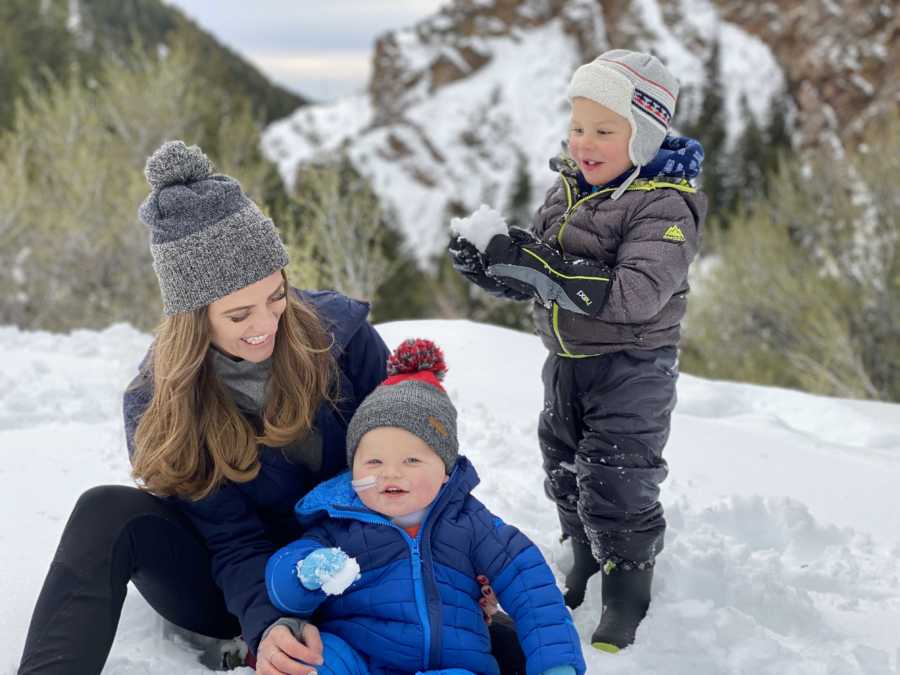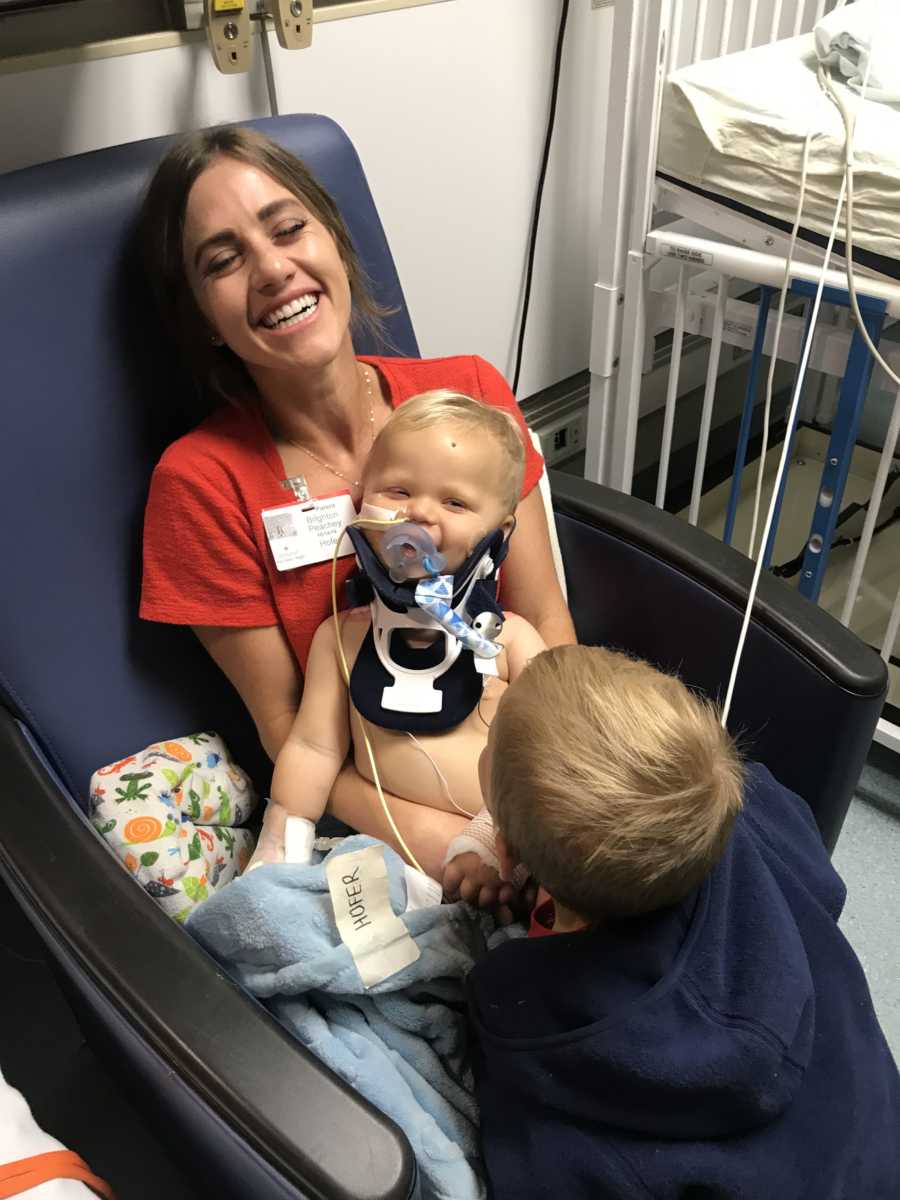 They have come so far and it's truly incredible. Today my oldest is back to his crazy toddler self, and besides a few scars and a bald patch on his head, you'd never know what had happened. He has had fun gathering toys, blankets, stuffed animals, and books to donate to the kids that are still at the children's hospital. My youngest still has a long road ahead of him. We aren't sure if he will ever fully recover or be the same, but he is such a tough kiddo and we are just so happy he survived.
I've learned we don't control our circumstances, only our attitude. Being upset about it won't change a thing, it only makes us more miserable, so we might as well try and stay positive. That and therapy would be my biggest pieces of advice for dealing with something difficult. EMDR and tapping have been extremely helpful to me."