"17 years ago, I was a cashier at a supermarket. I had this man who was a regular at the store and who always came through my line. This man (who happens to be my now father-in-law) initially stood out to me because he would never let the bag boys bag his groceries! He had to do it himself! He was very particular about how his groceries were bagged!
One day he came through my line and said, 'You know what? I've got a son about your age…he's in college, but he'll be on summer break soon. You should meet him.'
I laughed him off and kindly told him, 'No thanks.'
A couple of days later, he showed back up in my line. He mentioned this son of his again and this time he pulls a picture out of his wallet of his son to show me. I looked over the pic of his son who was wearing a bubble vest with no shirt underneath while my future father-in-law bagged his groceries. I told him his son was cute, but still, 'No thanks.'
The next day I saw the man walk through the entrance of the grocery store and at this point I'm slightly annoyed with this grocery-bagging man, his matchmaking attempts, and his bubble-vest-no-shirt-wearing son.
Sure enough, he comes through my line. I noticed he was on the phone, so I was hopeful we wouldn't be playing any matchmaking games today, since clearly, he was taking a phone call.
Wrong.
Any guesses who he had on the phone? That's right…his bubble-vest-no-shirt-wearing son. Not only does he have him on the phone, he hands me the phone WHILE I'm working and says, 'Here, talk to my son while I bag my groceries,' and then he places his phone in my hand…
So, there I am…on a cell phone standing behind a cash register while I'm supposed to be working, while my 'customer' is bagging his own groceries! I could feel the glares of the other employees and customers judging me as I took a personal call on the job. I kept thinking, 'WHAT IS EVEN HAPPENING RIGHT NOW?!'
I said, 'Hello,' into the tiny cell phone and the voice on the other end said, 'I think we better just meet…he's not going to stop until we do.' I was relieved this stranger on the other end seemed just as weirded out by this as I was. I gave the stranger my phone number and he said he would call me soon. I turned to the grocery-bagging man, who was trying his best to suppress a victory smile, and give him his phone back.
A couple of days later my phone rings. It's the bubble-vest stranger. He asks if now would be a good time for him to come over so we could meet and put an end to this debacle. I agreed for him to come over.
After we hung up, I called my best friend and said, 'Listen, this weirdo is coming over to my house. I need you to stay on the phone with me so I can have an excuse to make him leave.'
She pointed out he could just be a normal guy and I should give it a chance…especially if he's cute.
I agreed. I told her when he showed up I would start giggling to signal to her through the phone if he was hot or not. If he was a hideous disaster wearing a bubble vest, I would just pretend she had an emergency and I needed to leave right away to help her.
Agreed.
About that time, a baby-blue Cadillac pulled up in front of my house and out stepped the MOST GORGEOUS HUMAN I'd ever seen in my life!
I started giggling and giggling and giggling. My friend who was still on the phone was dying to know what's happening, 'WHAT? IS HE CUTE?! WHAT DOES HE LOOK LIKE? IS HE WEARING THE BUBBLE VEST?!'
All I could say to her was, 'I'm going to have to call you back.'
And that, folks, was all she wrote. From this day on, my now-husband and I spent every single day together that summer.
I'm so thankful for the persistent grocery-bagging matchmaking man who really was just using me to get his son home from college for the summer! Who would've known his annoying persistence would have led to me finding the love of my life and so many blessings!
Approximately 18 months later, we had our first child, a boy who we named after his grandpa.
19 years, three kids, three dogs, one duck later, and we are still going strong!
Happy Anniversary to my husband (who no longer owns a bubble vest)! I could not possibly love you more!"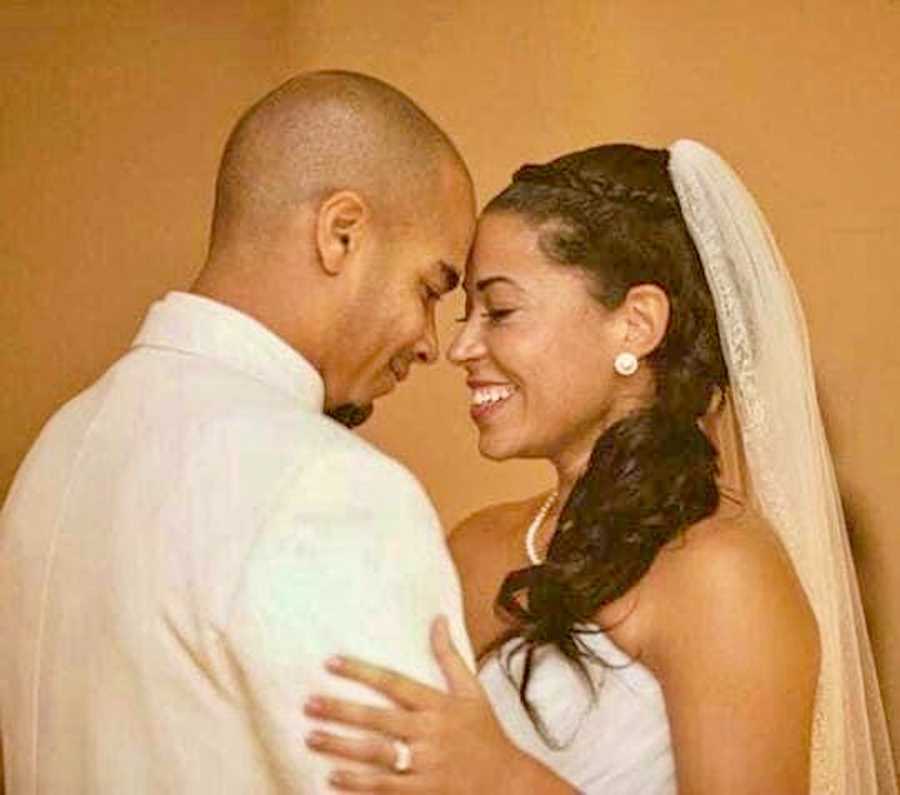 This story was submitted to Love What Matters by Adrienne King. Submit your own story here, and be sure to subscribe to our free email newsletter for our best stories, and YouTube for our best videos.
Read more stories like this:
'She's the kind of girl I would marry.' We were strangers in Vegas. He turned out to be my best gamble ever.': Military spouse urges 'let yourself fall in love' after long-distance relationship
'I stepped out for fresh air on the cruise ship. 'How're you doing tonight?' All I could see was a beautiful white smile.': Couple share long-distance love story, 'Love is stronger than distance'
'We had 90 days to get married. A man who's never met my family. We both questioned what we'd gotten into.': Woman takes leap of faith in marrying man who had never met her family
Provide beauty and strength for others.  SHARE this story on Facebook with friends and family.