"After nine months of our oldest daughter begging and praying for a baby sister, we finally got the great news we were pregnant. The stress of trying to conceive was overwhelming. We wanted another baby to complete our family.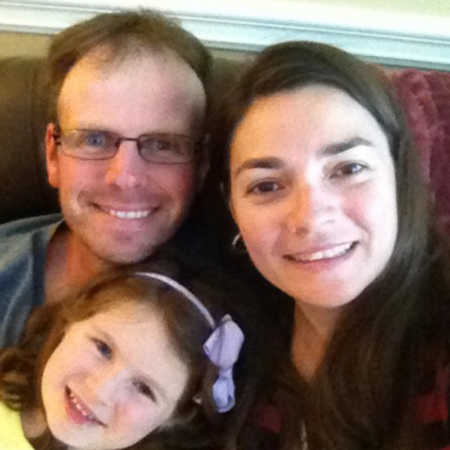 Driving to our 20-week ultrasound was the happiest morning of our lives, it felt like Christmas morning. We were about to see the baby we had been praying for in black and white, and would even be able to hear the heartbeat. We couldn't wait, we sang all the way to the lab, laughing and telling our daughter Ana Maria what to expect. We were giddy and excited, filled with so much hope.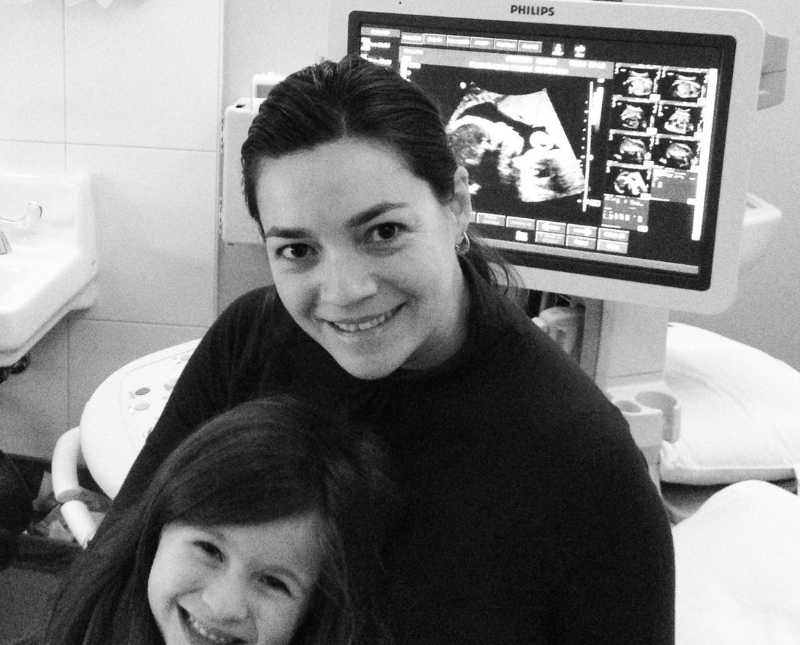 But our world was about to come crashing down in ways we couldn't imagine. The lab technician took what seemed like a million pictures and was very quiet when I tried to ask her questions. I just thought she was having a bad day and wasn't in the mood for small talk. She said the doctor might come in but that didn't mean anything was wrong with the baby. Greg, my sweet soulmate and Ana Maria came in to see the baby, and the doctor came in almost at the same time blurting out something about a heart defect.
I couldn't seem to listen, my mind went blank and I couldn't comprehend what he was trying to tell us. Tears immediately started to roll down my cheeks, all I knew was that my baby was broken, something was seriously wrong and I didn't understand what exactly would happen. Would she make it to birth? Would I be able to feel excited about the pregnancy again? I excused myself and ran to the nearest restroom, leaving my husband and daughter in the dark (in every sense of the word) room. I sobbed so loudly, I didn't care strangers could hear me. I yelled at the top of my lungs toward the sky 'why? Why me? Why us?'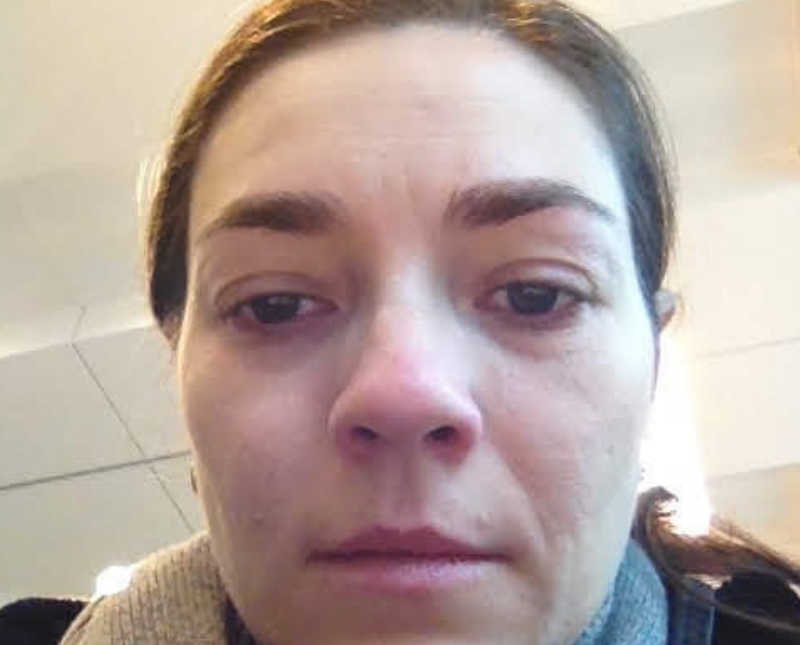 We had been trying so hard to get pregnant and now we were having a baby with conditions.
After I let it all out in the restroom, I knew I had to compose myself for Ana Maria's sake, I couldn't even imagine her fear, if I didn't understand as an adult, my poor baby girl was lost. We found out we were having a girl, and though Ana Maria's dreams and prayers were being answered our future seemed a bit foggy.
We were immediately sent to get a fetal echocardiogram to find out what kind of defect our baby, who we had named Jordan Grace had. And the next few visits would bring more pain and questions.
We were told she had complete Atrioventricular septal defect which is correlated with Down syndrome. And our world completely fell apart! I was devastated, I was so scared. The doctor who gave us the news was extremely negative, he said our daughter wouldn't be able to feed or dress herself, she would be a burden to society and she would most likely end up in an institution. I had never known anyone with Down syndrome so I believed him. He pushed for termination and never once told us anything positive about Down syndrome.
The next few weeks I was consumed with fear, darkness filled my days while Greg was at work and Ana Maria at school. I dug myself into a big dark hole, I cried so much I was sure our lives were over, we would now lead a life no one would ever want.
My friends and family were there for me, they were the ones who saved me from myself! They let me talk and scream, they let me be angry and upset, but they also told me no matter what, they would be there for us every step of the way. I needed that reassurance, I wanted to know my baby would be loved by the most important people in my life. The thought she wouldn't be loved were very irrational, but again, I was going by the words of the doctor, those ugly words filled with so much uncertainty of what our lives would look like. Words like 'institution' 'burden to society' 'would not be able to' were flying around my head most days, they were enough to rip my heart apart.
Greg had so much faith and always said everything would be ok. He was sure we would love our Jordan Grace the way God made her and he had no doubts about what our future would bring. Ana Maria made me smile and I could forget my troubles when she was around. I started to go to prayer groups and those were the only times during the week I could sleep through the night.
It took a lot of prayer, a lot of tears, a lot of falling to my knees and begging God to cure my baby before she was born, a lot of yelling and anger, a lot of talking about my fears. But never once did I want to read or google anything about Down syndrome. In fact I couldn't even say those two words, I would say Ds if I really had to. The negativity the doctor had carried on to me caused me for a second to go into deep darkness. I thought why not fall down the stairs and lose the baby, till this day that thought haunts me, the guilt won't leave me, and I have yet to forgive myself. It was that moment, when I finally realized where my fear was leading me, I was lifted into the light.
I had a vivid dream of my baby girl, I could see her beautiful face clearly, her perfect body, she was looking towards me not saying a word but communicating to me our family would be OK, that we would go on with life with another blessing. It was a short dream, but very clearly a message from God, I'm sure; which brought peace within me and all through me. The next couple of months my tears began to dry, I started to dream about the baby and decided to forget about her diagnosis. I wanted to focus on things I had control of like washing her baby clothes and getting ready for her arrival.
Three weeks before she was due, Jordan Grace surprised us with the most perfect labor and delivery, she was placed on my chest immediately after she was born, she looked up at me and in that moment I knew our world would be better than OK.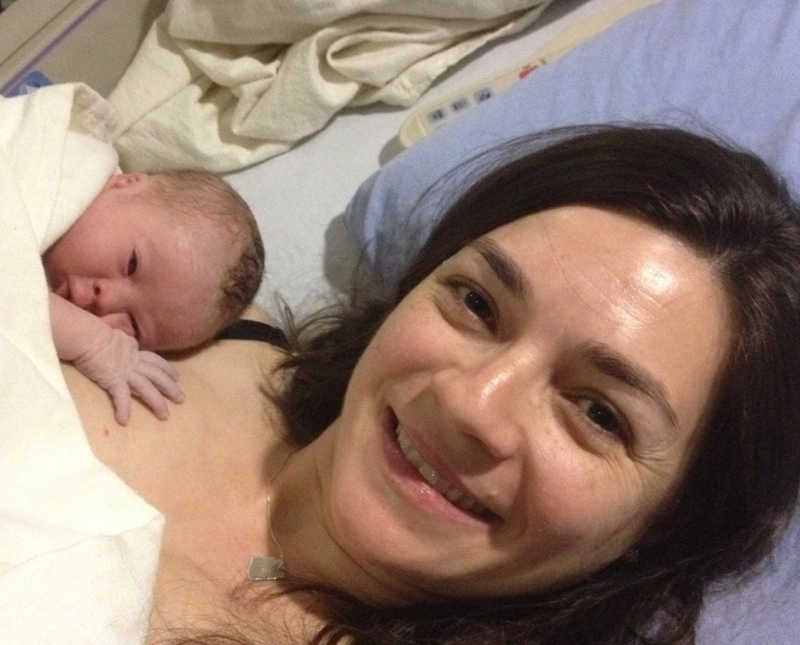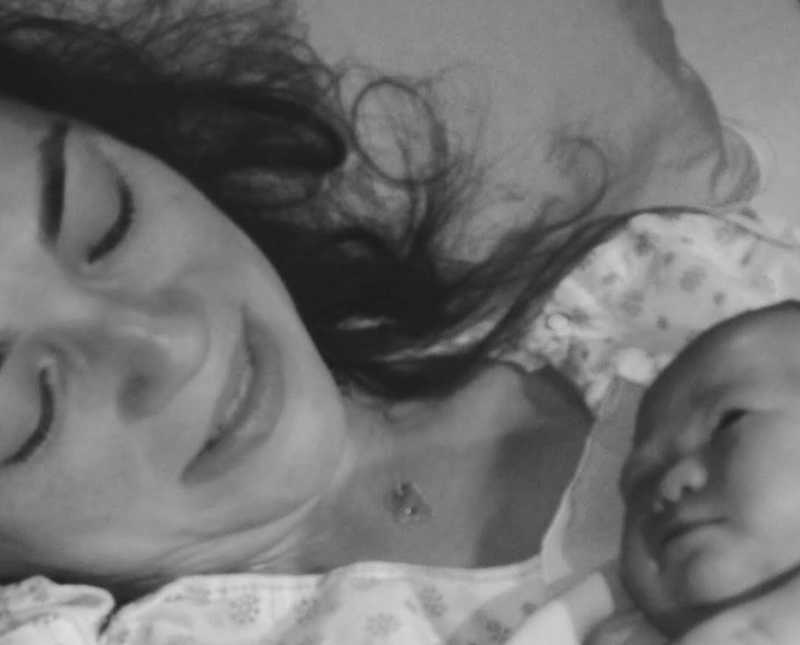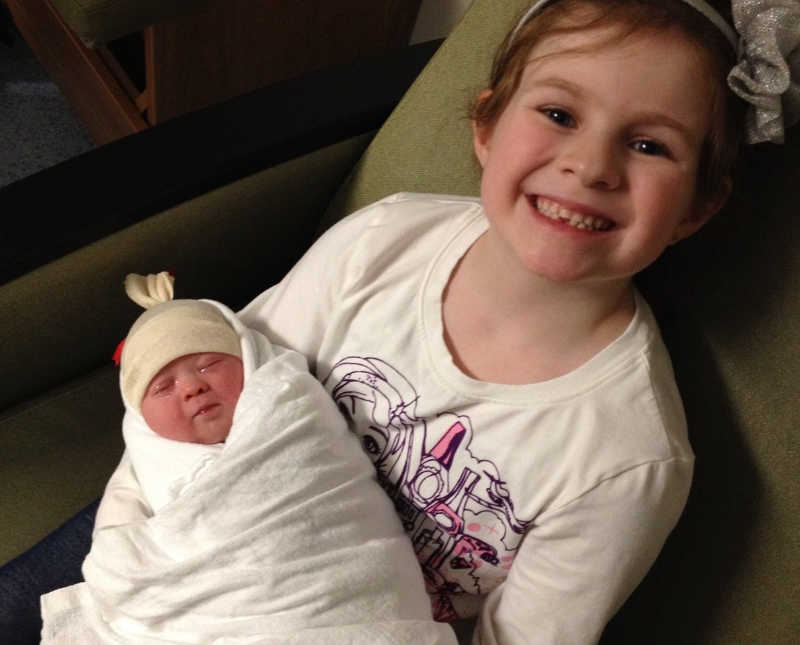 Our beautiful Jordan Grace will be 5 years old on February 18th and we couldn't be more proud of the little lady she is. She lives each moment to the fullest, loves with her entire heart, stops to smell the roses and appreciates the little things in life we take for granted. She shows us each day how to live life in the ways that are most important. Jordan Grace is in full inclusion Kindergarten. From the start we all treated her like her big sister, I taught her the same way I taught Ana Maria to read, she's excelling in reading, she speaks clearly, she communicates and sometimes speaks like a grown up, and I know for her, the sky is the limit. She's determined and ambitious. Our lives are so much better than we imagined, we live life like a 'normal' family.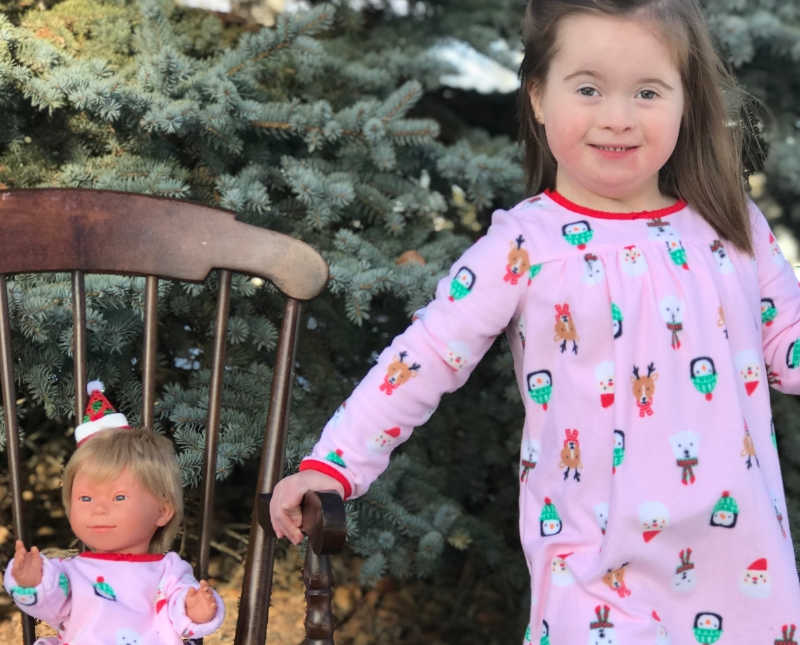 My only wish is that professionals would tell us the truth about Down syndrome. The truth is people with Down syndrome can do almost anything everyone can do, they might take longer to learn but they CAN learn. I know people with Down syndrome who are married, they have jobs, they own businesses, they can read and write, they are capable of anything, we just have to give them the support and encouragement they need.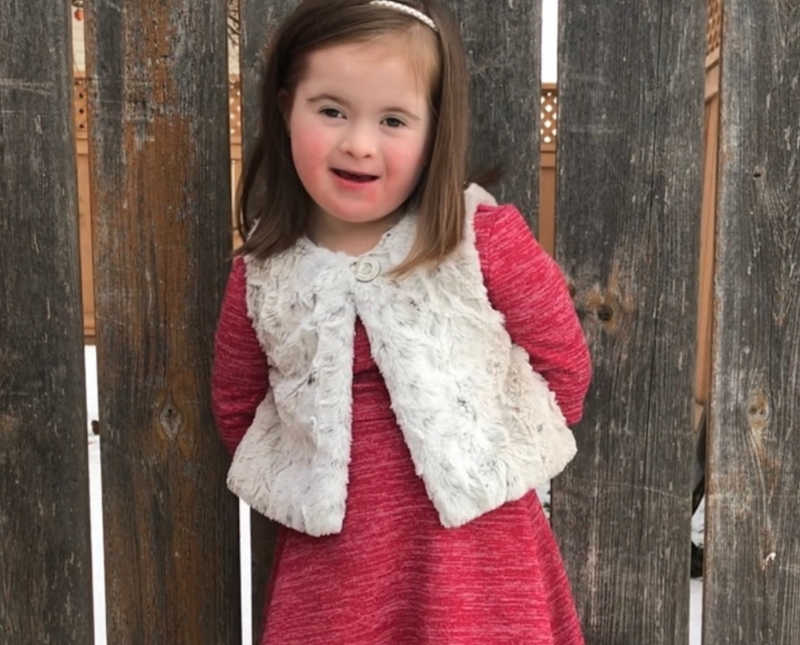 The fact is God didn't cure Jordan Grace, He in fact cured me, He opened my heart to understand this kind of love, the love that we don't often see in this world, unconditional and freely given."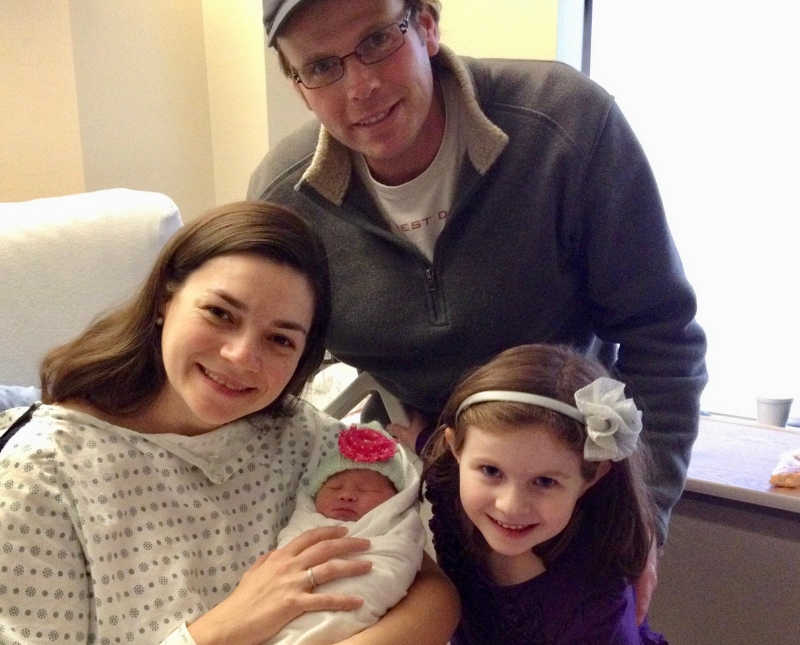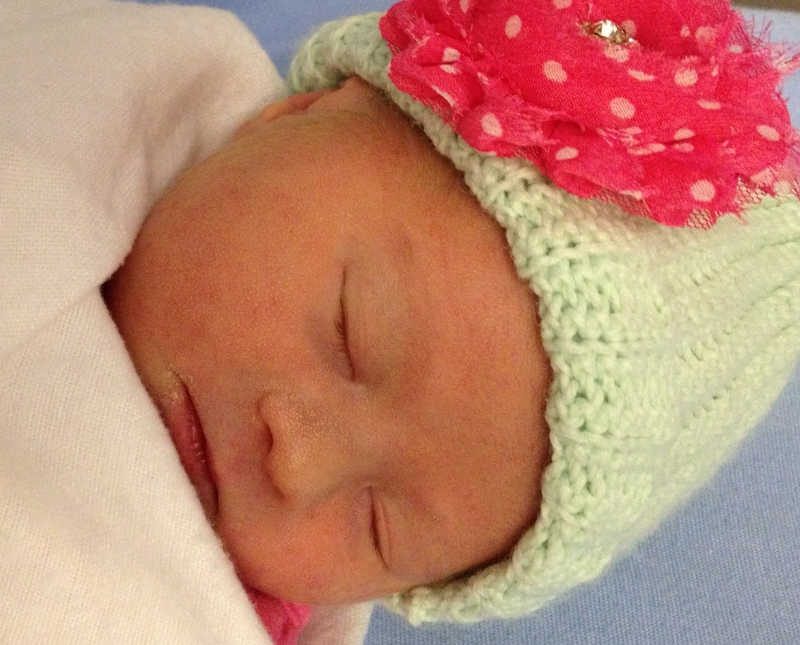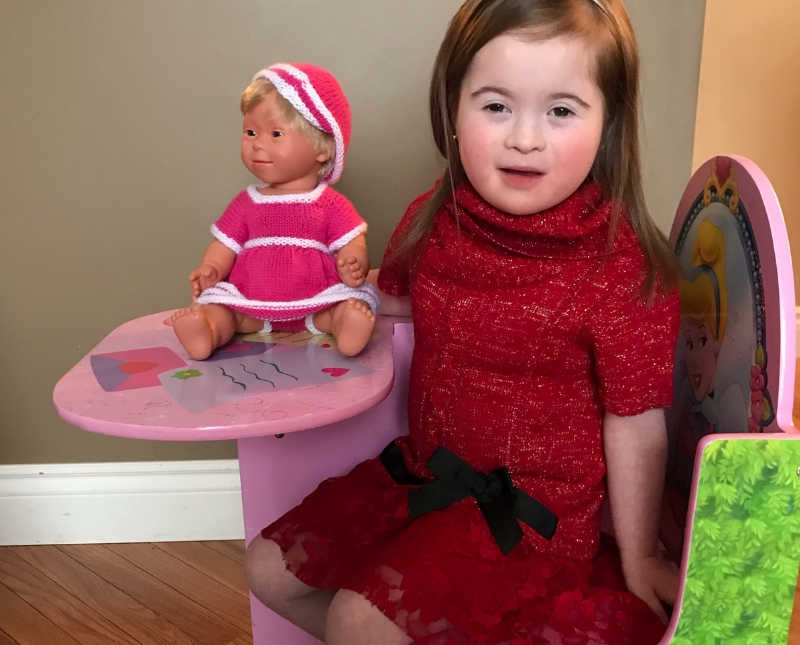 This story was submitted to Love What Matters by Maria Jordan MacKeigan. Follow her journey here. Submit your story here. For our best stories, subscribe to our free email newsletter.
SHARE this story on Facebook or Twitter to support inclusion and encourage understanding of Down syndrome.