"It was clear to me growing up I was fat. I had always been fat. For most of my high school and college experience, I was sure I was just always going to be the fat girl. I had tried and failed many times to lose weight. I was reminded of my size constantly, and eventually, I just decided to let it go, despite hearing from doctors I needed to lose weight from a very young age.
The day I graduated high school in 2015, I weighed 363 pounds. In college, I tried again a few times to lose weight. I would skip dessert or dinner altogether. I started walking every evening, but I was not able to find anything sustainable. I felt there had to be a way to change. I knew weight loss surgery was a possibility, but my insurance did not cover it. Every day, I just hoped the kick I needed to change my life would happen, and it did not happen for a while longer.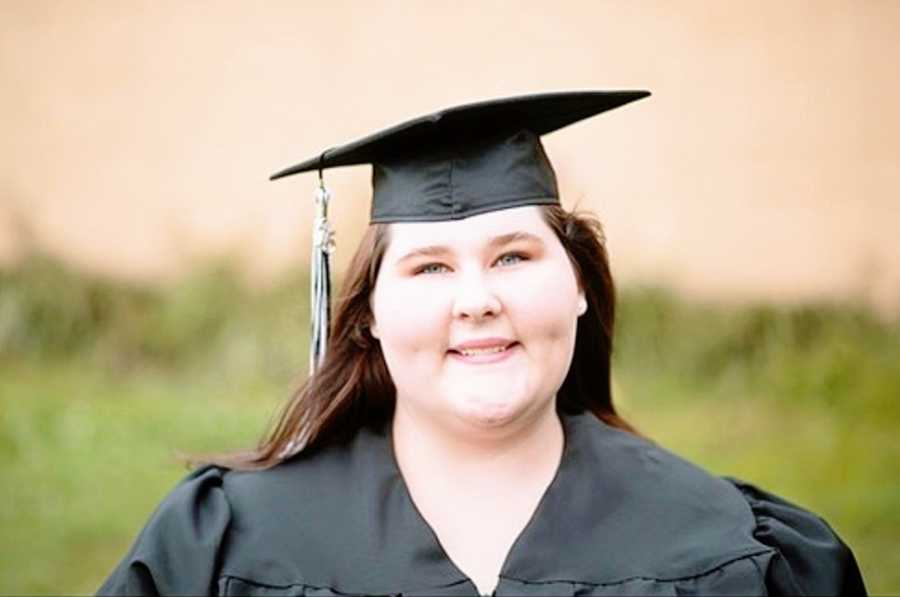 Then, I reconnected with my husband at my highest weight my sophomore year of college. We had met many years earlier when we attended the same school. He was supportive of me trying to lose weight one way or another every other week. Things were great, but I began to realize my weight was limiting my abilities physically and emotionally. It was taking a serious toll.
During our first family vacation, we went to a water park, but I was 20 pounds over the weight limit for any of the water slides. It was traumatic, and I felt a spark of change I had not felt before. After a long conversation with my doctor and my husband, I decided it was time to embark on a journey beyond being 'fat.' I was focused on losing weight so I was no longer restricted by weight limits. The idea of having a child seemed like a dream. I knew at 360 pounds it was not likely to happen any time soon. I was impatient for the days when I could do the things everyone gets to do without the worry of breaking something.
After three months of WW and just under 30 pounds of weight loss, I became pregnant. I was terrified. I trusted my body, but I also understood the risks to myself and the baby by becoming pregnant with my current lifestyle choices. My husband was so much more compassionate and encouraging than I ever expected.  He helped with my nutrition. At five weeks and five days pregnant, he began to prepare meals with more nutritious value than I had ever had, but I was still diagnosed with gestational diabetes. I remember thinking, 'This is it, Bekkah. You have to change for yourself and this life you are creating.'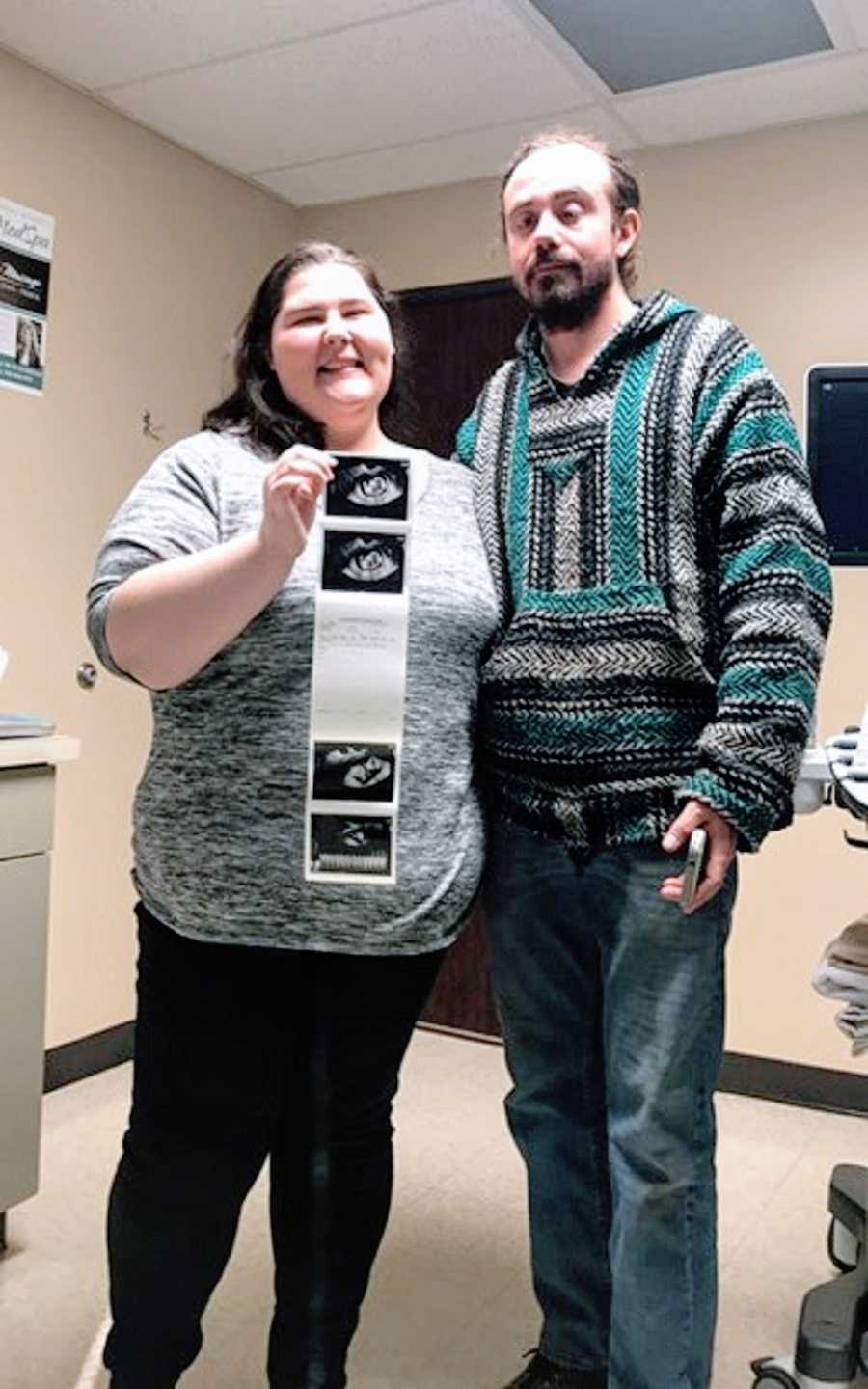 In June of 2018, while 30 weeks pregnant, I began to limit my sugar and starch intake. It was not enough to avoid insulin while pregnant, but my son was born healthy. I continued with a decreased sugar intake for the next six months. At six months postpartum, I reached a new low weight of 293 pounds. I had not been below 300 pounds in five years. I was 22 at the time. The idea of being below 300 pounds for the first time in my life filled me with so much joy and pride. That kick I had been looking for years earlier was starting.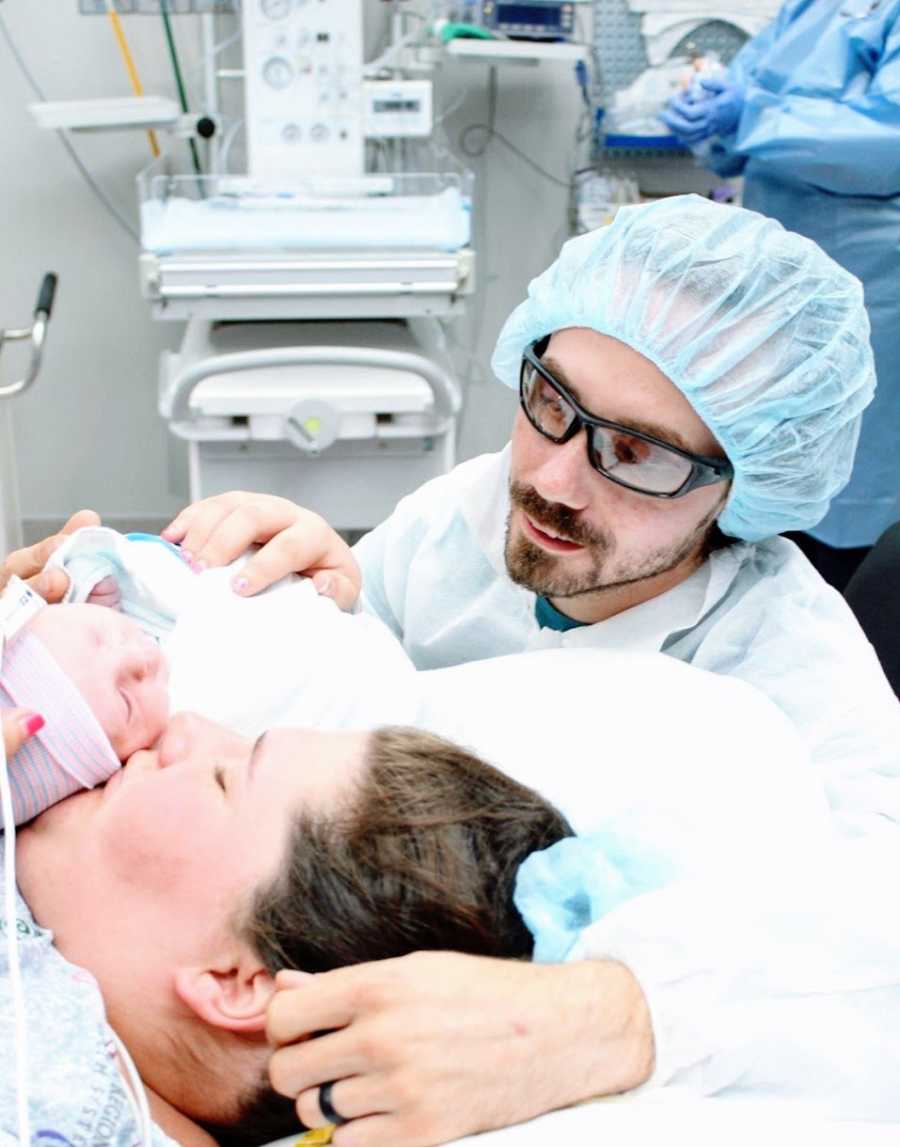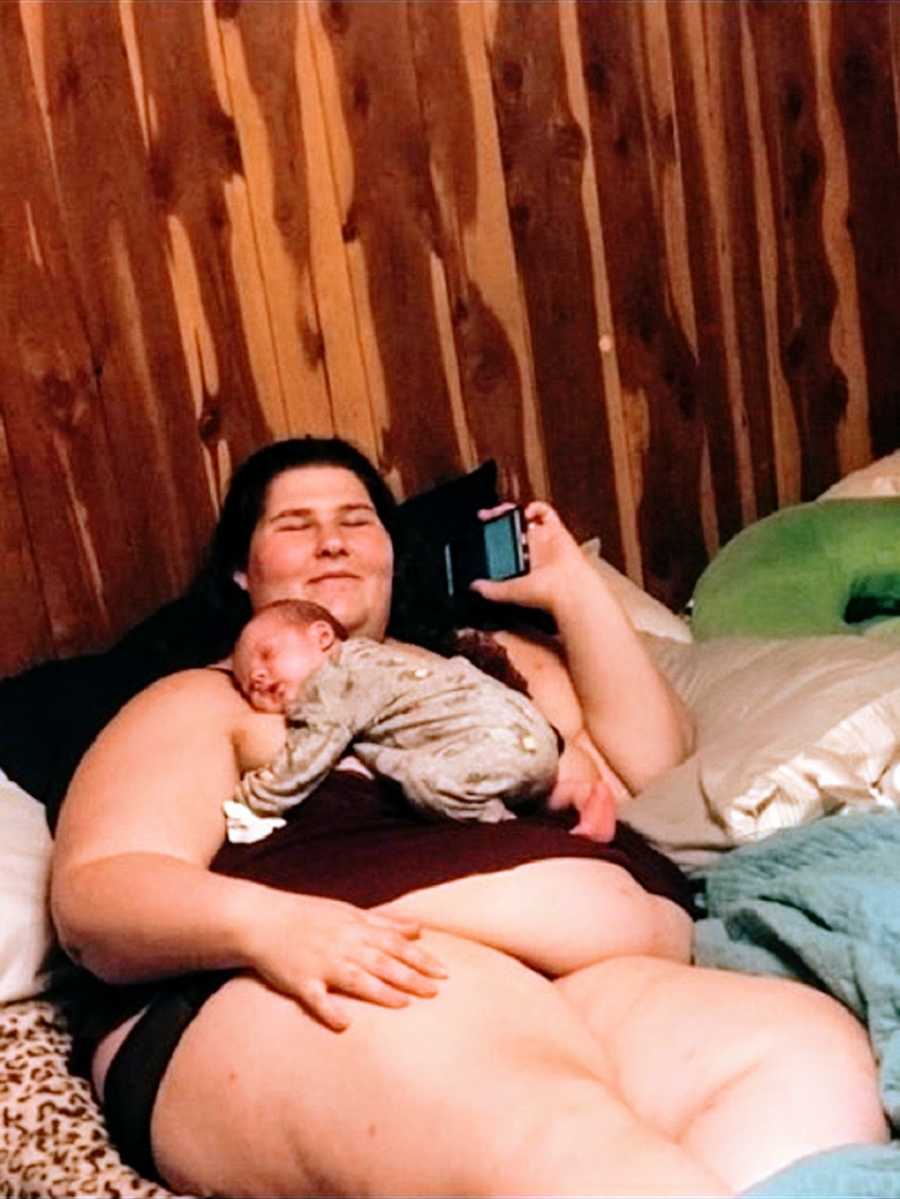 When my son began to walk, I was faced with another wake-up call. I needed to be able to keep up with him. I wanted to share a life with him that was healthy and active. I knew what I needed to do. After his first birthday party in 2019, I decided to recommit to a healthy lifestyle, and the best part was I had a little child to toddle along with me. Starting in September of 2019, I went on daily walks with Gabriel.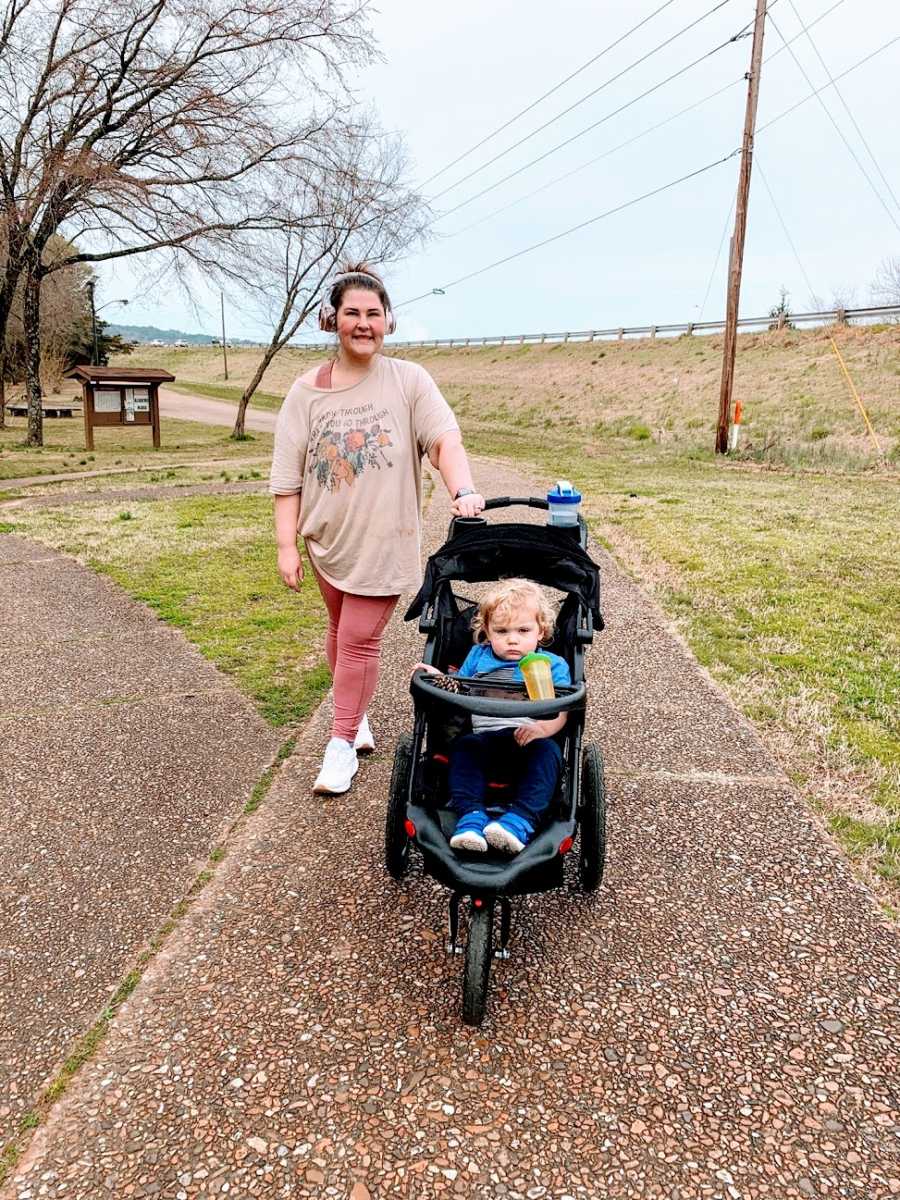 I was blessed enough to be able to be a stay-at-home mom while attending college courses to finish my bachelor's degree. Every day for months, my life consisted of being a mom, attending classes online, working out, and focusing on nutrition. The first month, I lost 18 pounds by limiting my sugar and starch intake along with my daily walk. The second month, I lost another 10 pounds. The weight loss kept going, and I felt myself become stronger and healthier. My endurance grew, and my passion for working out did too.
Gabriel picked up on my habits quickly. He would share my yoga mat with me while lifting weights. We would watch Team Body Project workout videos on YouTube every evening, and sometimes, he would even volunteer to be my weight during squats. Squatting with a 30-pound toddler in your arms is not for the faint of heart. There were days I did not want to work out, and there were days I made a daily task my workout, shout out to having to push mow an entire acre of land! Looking back, the day-to-day struggles of calorie counting and working out are nothing compared to the reward of newfound health and abilities.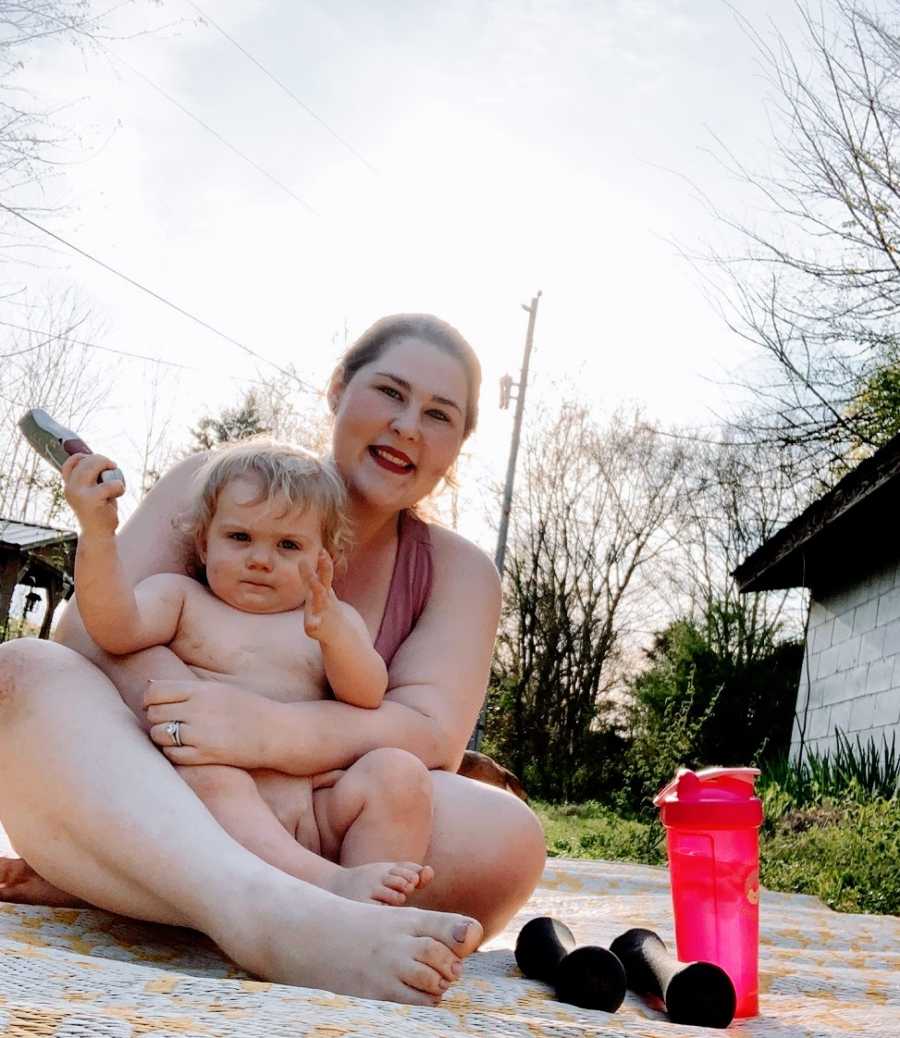 By learning to take care of myself physically, I was able to do some emotional healing as well. I would not say I was bullied too often about my weight, but some words stuck with me. It took some time, but I realized the people who discussed my weight did not know how I got there or why. I have since been able to forgive those who hurt me with their words. I have almost forgotten most of the words said to me. I also proved them all wrong. I have been able to lose weight. I have found a partner, had a child, learned to love myself, and started my career. The words I do remember do not define me.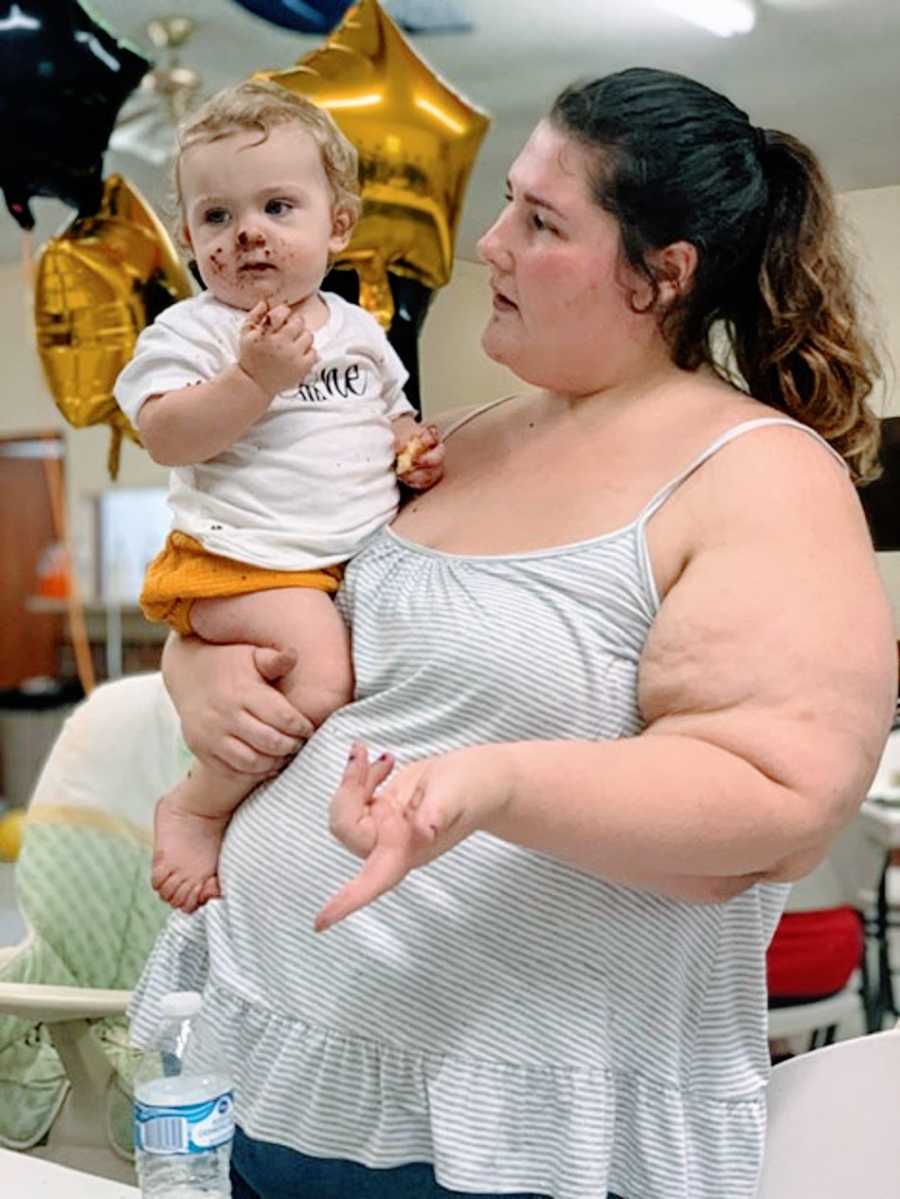 During this time of healing, I began to do things for the very first time in my life. I rode a bicycle for the first time since I was 12. I jumped on all the trampolines at the trampoline park. I volunteered to take my friends' children on playdates to the local jump palace because I knew I would be able to keep up with them the entire time.
I even picked up running. I began to run in February of 2020 at 250 pounds. I started out at a 16'16 mile with running and walking intervals. I ran my first 5k in October with a total time of 42 minutes and 53 seconds. Then, in November of 2020, I ran a 9'17 mile during an evening workout. Running continues to be a passion and an amazing way to remind myself of how far  I have come.
My personal experience followed me through my education as well. Growing up, we were in the working class and sometimes we fell below the poverty line. I can say this affected my weight and eating habits much more than the average person might realize. Some months, we relied on food banks to feed us. I used this experience as the basis of my senior thesis for my bachelor's degree. I decided to use public data and examine the link between poverty and obesity in Arkansas. I learned so much more about nutrition and how one's socioeconomic status changes their trajectory regarding eating and exercise habits. This shocked me to my core. The idea that the life path I was born into dictated a part of me such as how I process nutrition. This is something I plan to pursue through my master's degree as well.
In June of 2021, I went in for a consultation for skin removal surgery after losing 180 pounds naturally over two and a half years. While I plan to continue my healthy lifestyle, I feel I have come full circle, and skin removal surgery is how I close this chapter of my book. I am currently crowdfunding to be able to afford the surgery, so I do not have a set date for the surgery just yet!
Although I will no longer be working out for weight loss or staying in a calorie deficit for weight loss, I still plan to always share my story. I grew up limited in my physical abilities. I questioned my worth and place in the world. I did not know that I could change my life until I felt I had a reason.
I try not to focus too hard on how I got to my lowest point or my highest weight. I focus on how far I have come. I focus on those around me who have supported me and pushed me when I did not know where to go next. I owe so much to those who believed in me and watched me become someone I always wanted to be. I do not think I would be where I am now if it were not for Gabriel. I did not know the power of a mother's love until I loved a child so much I changed my life to better suit him.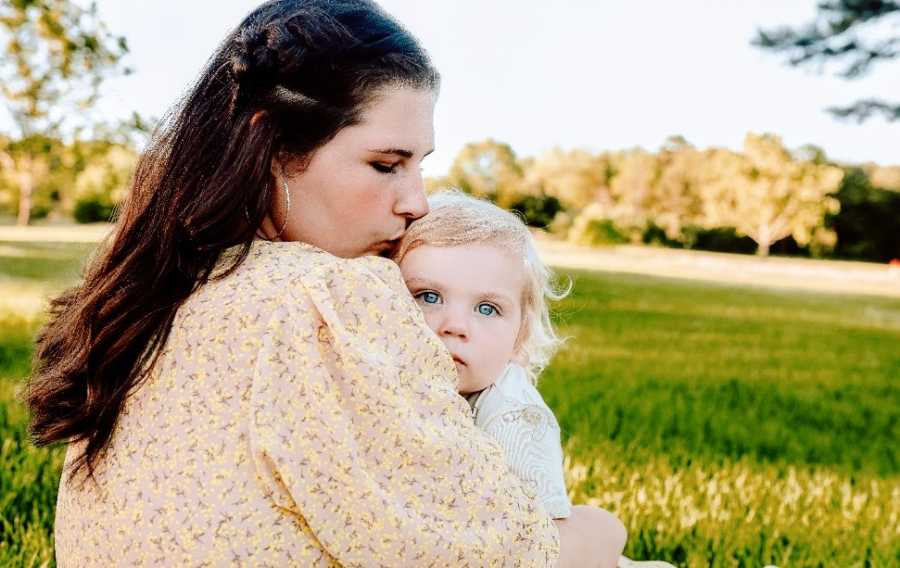 You set a timer and walk for 15 minutes. If your goal is weight-based, you set a small goal first. If we take things day by day, one day we can look back and see the weeks and months were composed of just one day at a time. There may be times when it seems impossible. Sometimes we are limited by time, space, money, or even the knowledge to help us, but trying makes all the difference. I spent a lot of time searching Google for what to eat and how to work out. I followed a ton of people on social media in hopes of being able to become like them one day. I followed recipe pages and spent a little bit too much money buying foods suggested to me. In the end and still to this day, I eat what I enjoy.
I did not do well every day. I did not work out every day. I did not stay in a calorie deficit every day, but every day I set a small goal, and I tried. Looking back, I am so proud of the person I was. The woman I was in 2017, 2018, and 2019 decided every day to get me where I am now.
My son will be three in August of 2021. I will be half the size I was when I was pregnant with him. We will celebrate with cake and ice cream. We will run and jump and skip out on his nap for the day. This year will mark three years of motherhood for me and the three-year mark of living a totally different life.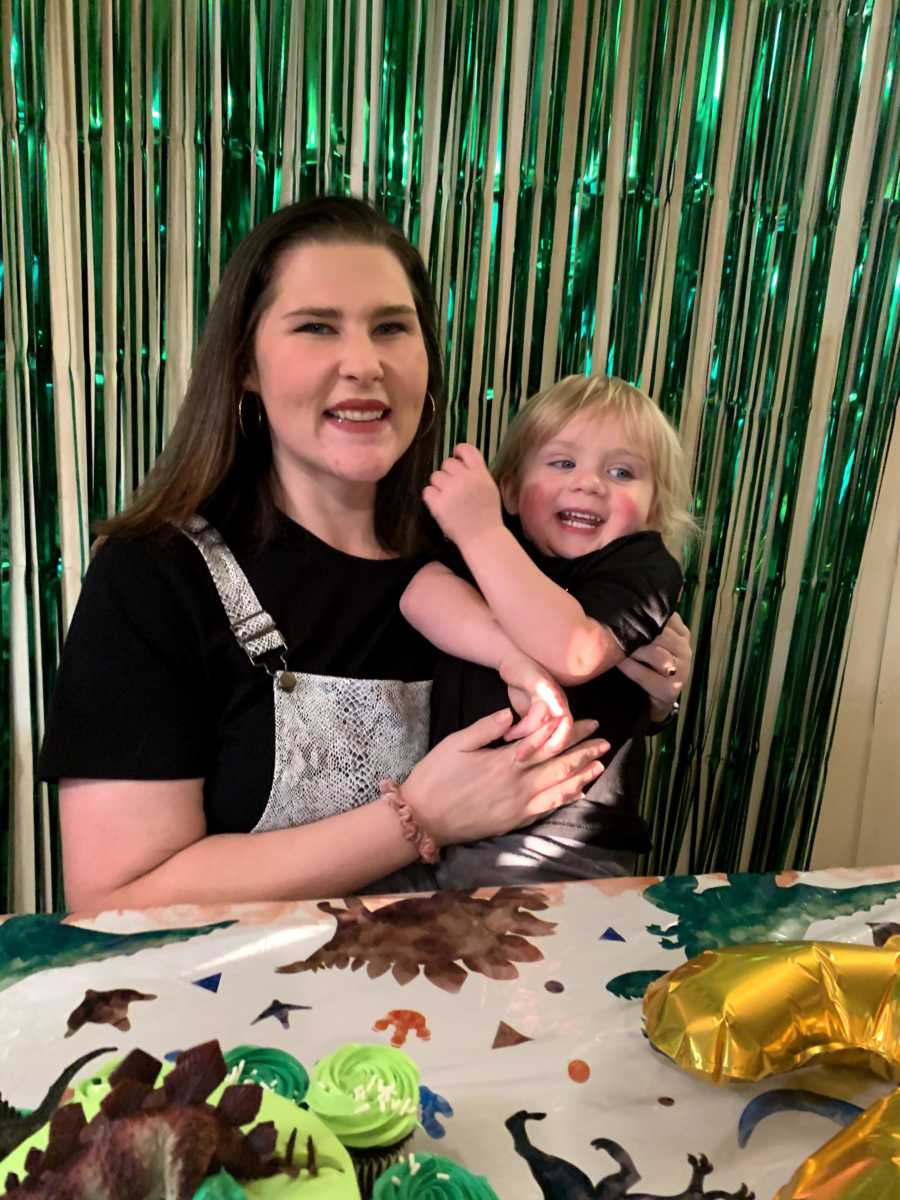 All of this is because one day and every day since, I have made the decision to better myself. What started as weight loss quickly turned into a lifestyle change I am proud to share with everyone and thankful to be able to share with my son.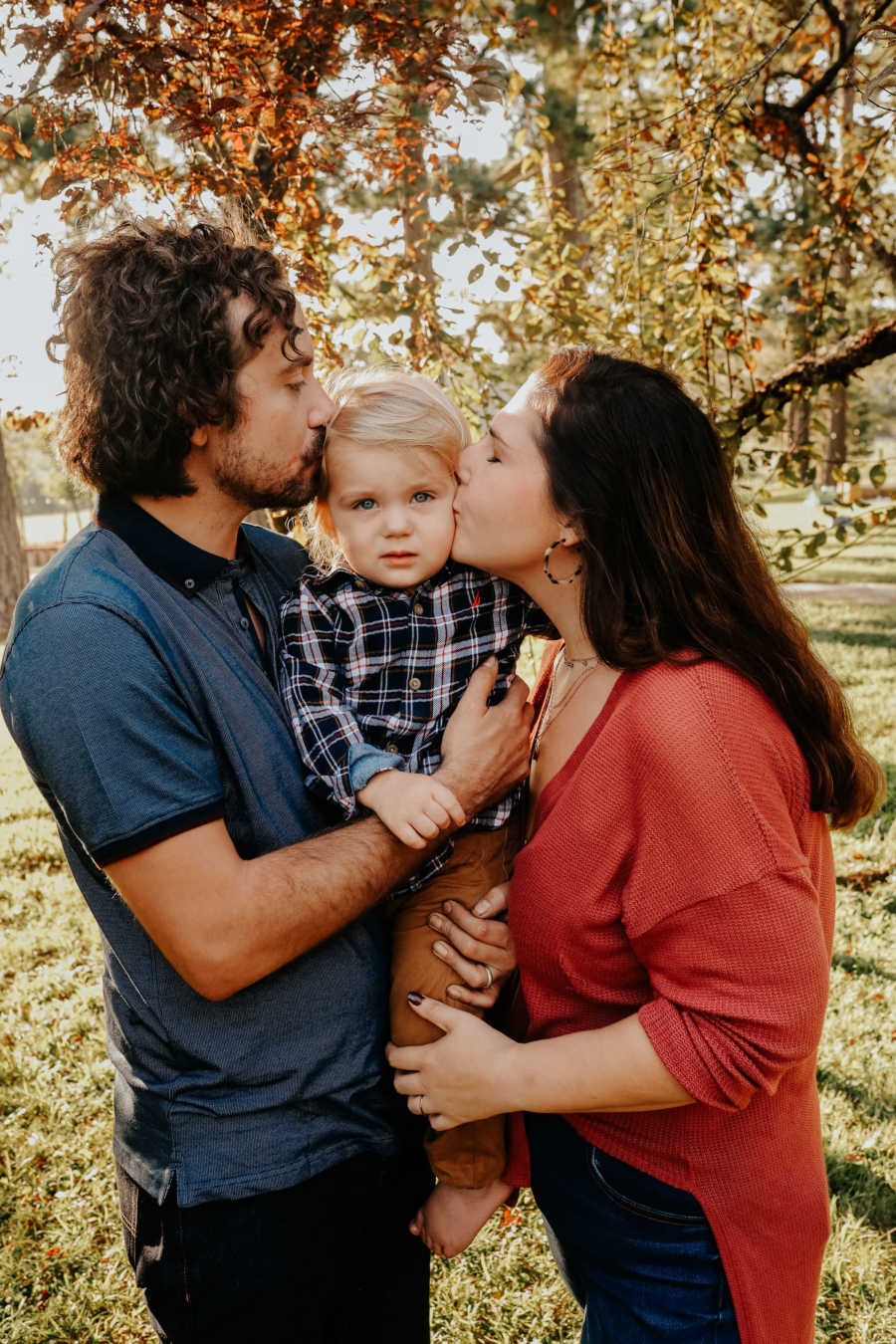 This story was submitted to Love What Matters by Rebekkah Hogan-Welsh from Little Rock, Arkansas. You can follow her journey on Instagram. Do you have a similar experience? We'd like to hear your important journey. Submit your own story here. Be sure to subscribe to our free email newsletter for our best stories, and YouTube for our best videos.
Read more stories like this:
'Oh my gosh I'm going to die': Woman saves her own life with stunning, 231 pound weight loss transformation
'Why are you so loud, Nicole?' a boy asked. 'You can't be fat AND loud.' That moment set something off in me.': Woman shares extreme weight loss journey, 'The joy I've felt is indescribable!'
'You're lucky I'm with you, because you're really fat.' I was always just the smart girl with a pretty face. I was never the total package.': Woman overcomes bullying, depression to carry out extreme weight loss, 'I transformed into a warrior'
'At 13, I was 300 lbs. My dad told me, 'If you want to kill yourself, I'll help you pull the trigger.': Woman undergoes weight loss surgery at husband's demand, 'My soul is healing with each bout of laughter'
Provide beauty and strength for others. SHARE this story on Facebook with your friends and family.