Trigger Warning: This story contains mention of miscarriage that may be triggering to some.
"When I was younger, I always dreamed of having children. I was so excited when I met my husband and we settled down, knowing he too wanted to start a family while young. A lot of people didn't expect us to move so fast. We bought our first home at 20 years old, got engaged in New York when we were 21, and in 2016, we welcomed our beautiful daughter into the world.
Things hadn't always been so easy. I had suffered two miscarriages prior to my daughter, which were often overlooked because we were so young and people always told us, 'You have plenty of time to try again.' Those two miscarriages changed me. I will never forget laying in the ultrasound room both times to be told by the sonographer, 'I'm sorry, but your baby has no heartbeat.' What followed was a blur of hospitals, needles, pain, and complete heartbreak. Nothing could heal me and the need to have a baby grew more and more.
After getting engaged in New York by the Rockefeller Christmas tree in December 2015, I fell pregnant with my daughter. Seeing two lines on a stick at home was exciting for a moment, but soon turned to complete terror. For 9 months, I was on edge, constantly panicking, and in fear of losing her. I detached from the pregnancy completely, not allowing myself to bond with her in case the pregnancy didn't go well.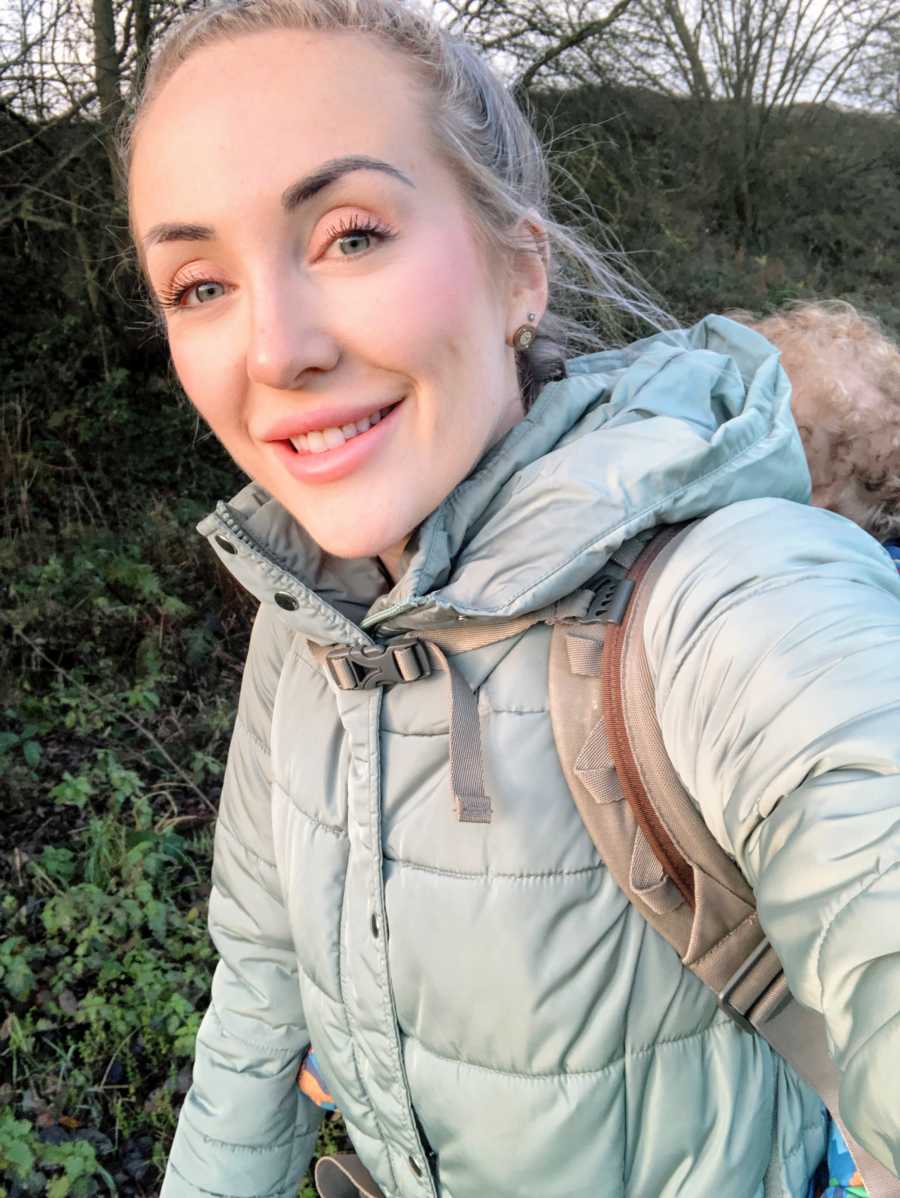 There were complications with my blood having conceived straight after losing our previous baby. I was rhesus negative blood type, so after my last miscarriage, I was given an injection to stop my body from trying to attack any future rhesus positive babies. As I fell pregnant straight after, the doctors struggled to identify if my body was producing these cells to attack my daughter or if they were identifying what was leftover from the injection. I was under consultant care and had to be monitored throughout my pregnancy, which made the anxiety ten times worse.
In September of 2016, my husband and I were at a family wedding outside of our local town. I remember going to the toilet with my sister-in-law and seeing blood. I remember my palms sweating, my heart racing, and the 'fight or flight' instinct washing over me. I ran to my husband and we drove to the nearest hospital, running through the corridors in my sparkly dress and high heels, trying to find the maternity ward. I was induced that night in a place I didn't know and what followed still traumatizes me to this day.
A very short labor led to an emergency C-section after the doctor told me, 'Your baby's heart rate has plummeted and we need to get her out now.' My mind just shut down. Everything I had been preparing for was happening and I remember thinking to myself, 'This is it, Molly, you can do this because you've been preparing to lose her for the last 9 months.' I was rushed into surgery without my husband, who luckily was able to join me just as they began emergency surgery.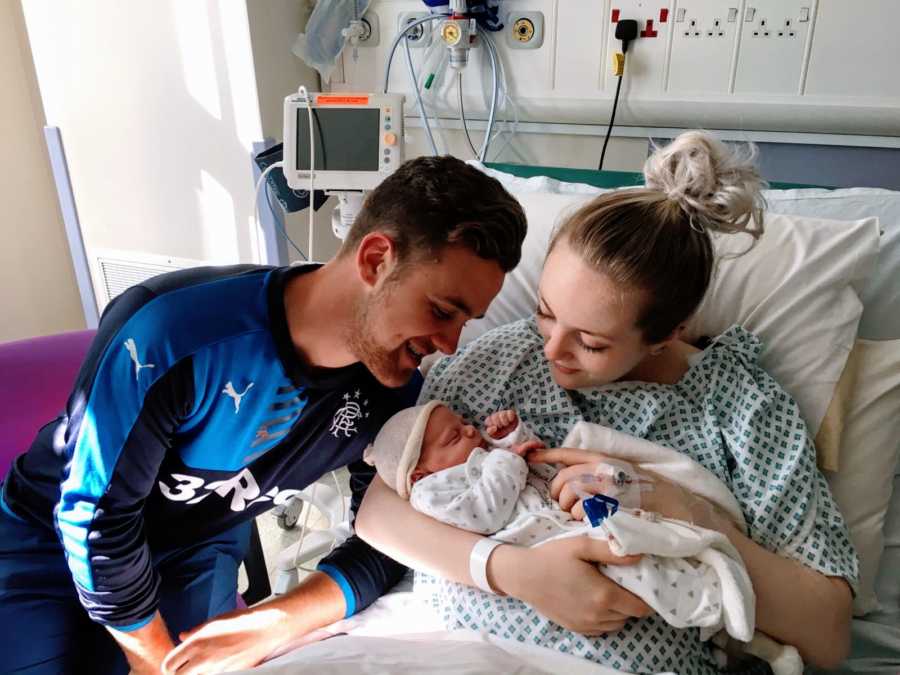 Fortunately, my daughter was born perfectly healthy, but the following year was a painful and emotionally distressing time trying to recover from this experience. I knew then and there I never ever wanted to go through that again and I swore to myself I would not let myself be pregnant to protect my own mental and emotional health. My husband said to me, 'I won't make you go through that again, there are always other options like adoption.'
The couple of years after my daughter was born was tough. Looking back, I suffered from quite bad 'baby blues.' I didn't feel attached to her because I'd spent so long refusing to bond with her while she was inside me. I found it easy to go and see my friends and leave her at home with my husband. I detached from myself completely and felt like I became a different person. I craved the escape out of my home because I felt so guilty not being so in love with my daughter and needed a distraction.
It wasn't until she was 18 months old I truly felt bonded with her and was insanely in love with her. It was a difficult time as I was dealing with my own personal issues, some from my childhood, emotional triggers, and problems in my relationship, which were brought on by myself. I got to a point where I thought, 'I need to fix this and I need to fix myself.' Fortunately, my employer was able to support me with some professional support through their healthcare program and I was able to repair myself, repair my relationship, and also the bond with my daughter.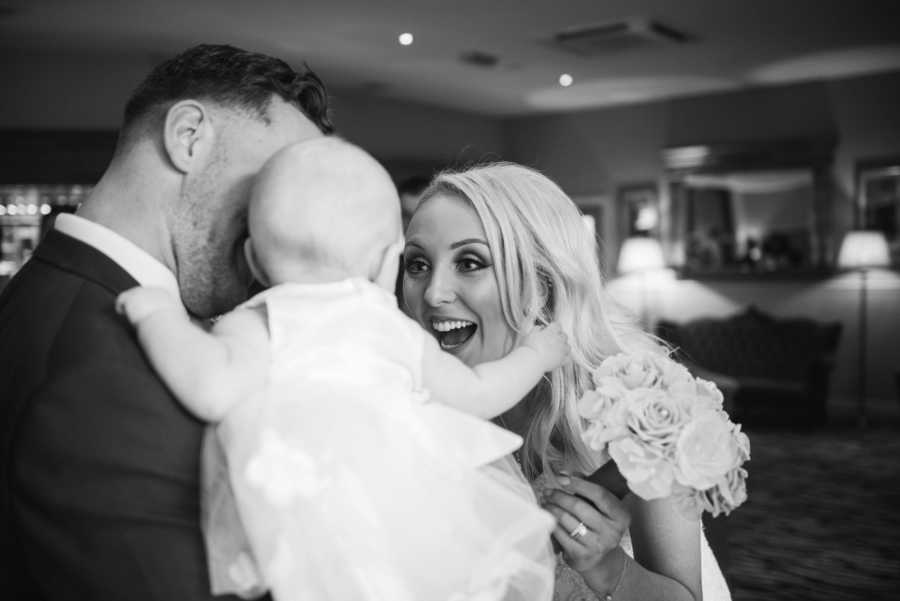 I had always known my husband wanted more than one child, but I had spent these couple of years getting used to the idea of my daughter being an only child and not having any siblings. However, when my daughter turned 3, she started to ask me about having a baby brother or a sister. She would often say, 'Mommy, when am I going to have a baby sister to play with?' Her friends at pre-school had baby siblings, so naturally, she was curious and the mom guilt really kicked in. I had grown up with a younger brother and my husband has many siblings. I decided to start researching adoption since my husband had mentioned it a few years ago.
I very quickly became attached to the idea, and the more I learned, the more I felt like we would be the ideal adopters to give a child a loving and safe home. I found a local adoption agency that was having an information evening and said to my husband, 'Should we just go and find out some initial information about it?' He agreed, but was still slightly reluctant as he had experience working with older children in the care system, so he had more of a realistic vision of some of the challenges our family could face if we adopted. We attended our first adoption information evening in November 2019.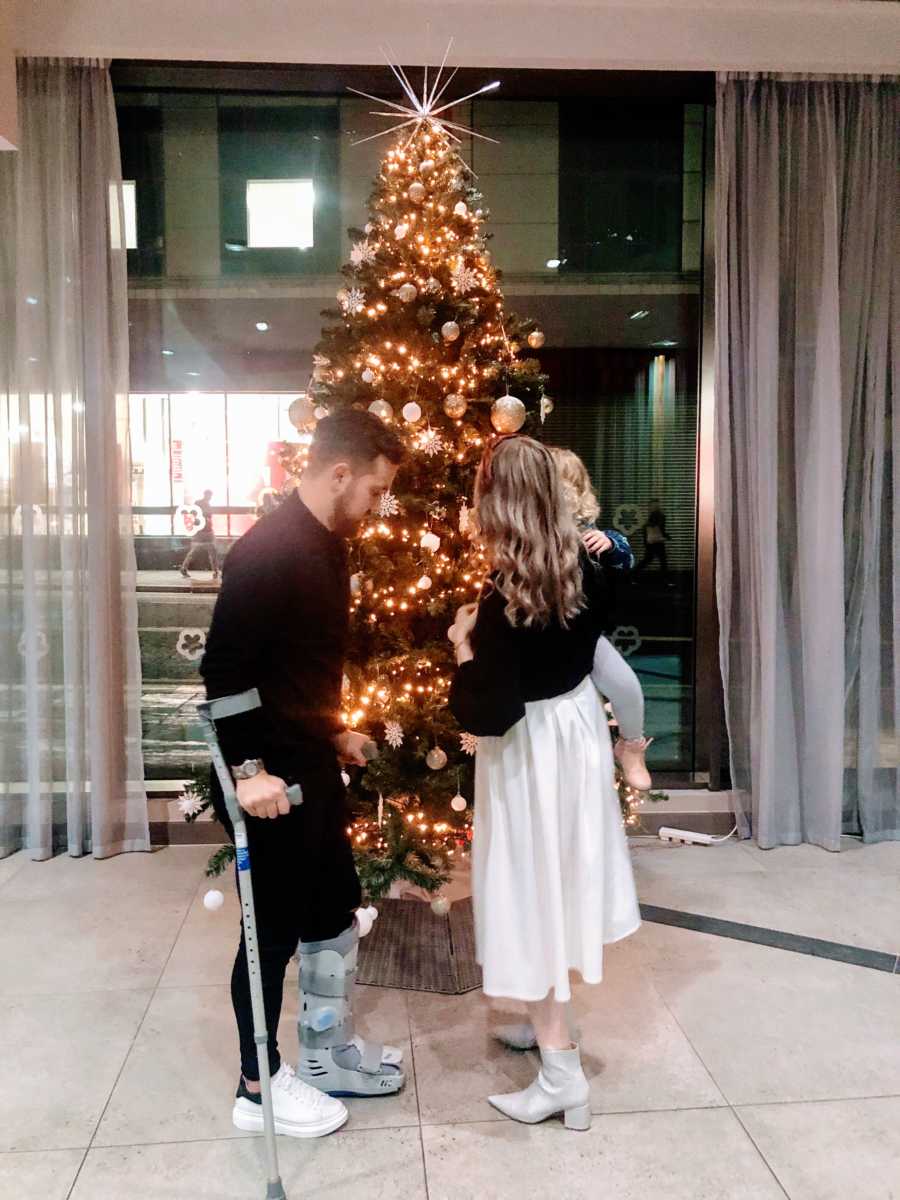 As soon as we walked into the adoption agency, we were welcomed with open arms and felt nothing but positivity and excitement – a completely different experience from how I felt with my pregnancies. We sat for 3 hours and listened to the social workers speak to us about the adoption process, the kinds of children in care, and some of the challenges we could face through adoption. I left the agency elated. I remember thinking, 'I know this is meant to be.'
We had a social worker visit our home a couple of weeks later. At this point, my husband was getting more excited and felt better having a lot of his concerns discussed openly with a professional who could reassure him. Our social worker said, 'I think you guys would be incredible adopters and I'm really excited to work with you.' Our adoption journey officially began here, when we signed up with our adoption agency to begin the assessment process.
December 2019 marked the beginning of our adoption assessment process and the next 6 months were intense, empowering, and stressful. The adoption assessment process can be brutally intrusive, as every detail of our lives were explored. It was difficult to discuss some of the tough times in our lives in extreme detail. Our social worker asked questions like, 'How did your miscarriages affect you?' and 'What did you do to repair your relationship?' I quickly realized this wasn't going to be plain sailing. However, I also quickly realized social workers didn't want the 'perfect' family to adopt. They wanted adopters who had suffered from difficult and challenging times in their lives because this meant we could relate to an adopted child who had felt loss.
We attended our adoption training in March 2020 and met lots of other wonderful adopters. The process was going amazingly well. Then the Coronavirus pandemic hit and we didn't know if we would be delayed and the process would have to stop. Fortunately for us, our agency adapted so quickly and we were able to continue the final parts of the assessment online. While we were adjusting to life in lockdown, thanks to the pandemic, the most amazing thing happened one April morning.
I was at the supermarket when my phone notification buzzed and I saw an email from our social worker with the subject line 'baby profile.' I dropped my bags and instantly opened it to see the most beautiful baby boy. I didn't even go to the supermarket. I got into my car, drove home, and shouted for my husband to come and read the profile with me. We read two sides of A4 about the little boy and felt butterflies. My husband said, 'Could our child really be the first profile we see?' I remember thinking, 'This is my little boy' while my heart was racing.
We emailed back our social worker, saying we wanted to know more. Later in the week, we received his full 90-page report and his medical notes. We read and reread them so many times and fell more in love with him. At this time, our social worker shared our report with the little boy's family finder and social worker and they agreed to set up a linking meeting with us to get to know us more.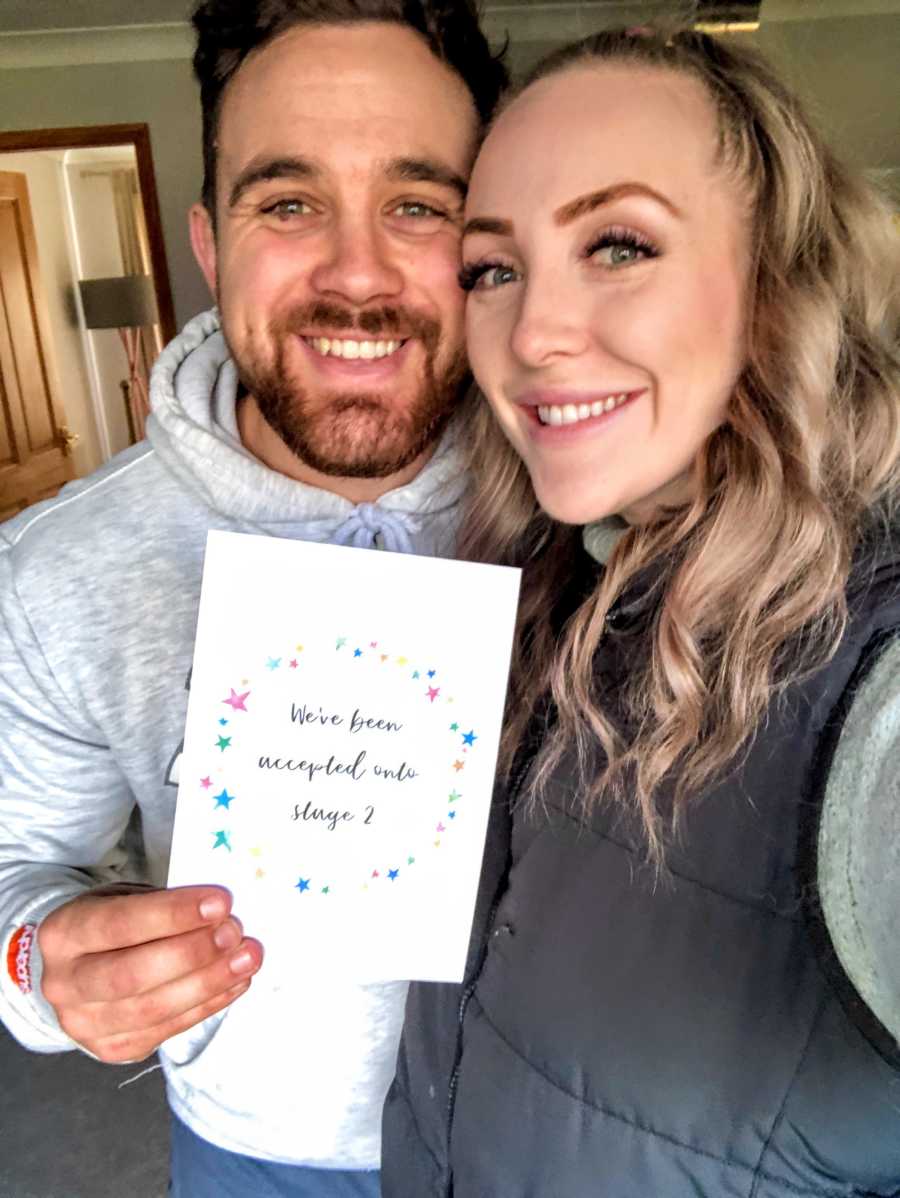 We attended our adoption approvals panel in May virtually from our dining room and were granted unanimous approval by the panel to become approved adopters. I will always remember the panel chair saying, 'You have both had more life experience than the average middle-aged couple, and although some of it has been tough for you, your strength and honesty has pulled you through and you'll make brilliant adoptive parents.' I was overjoyed knowing we had been granted approval and could then go on to be considered for the little boy's profile.
In May, we had a linking meeting with the little boy's social worker and family finder. We chatted for an hour, asking questions about him and them asking more questions about us, the challenges we envision raising him, and why we wanted to adopt him. 2 hours after the meeting ended, our social worker emailed to say they wanted to match him with us. My husband and I were on a walk trying to calm our excitement after the linking meeting. I remember shrieking, wanting to cry, and shouting, 'He's going to be ours!'
We went to the matching panel virtually in July and were interviewed by nine panel members. We were asked lots of questions and were challenged, so the professionals were confident we were the right parents for him. After an hour and a half, the Panel Chair said, 'Congratulations, Mom and Dad!' and we knew we had our boy. The day was full of celebrations and happy tears, phoning our families and letting them know they were having a grandson. Finally sharing his name and his photos with them. But most importantly, letting our daughter know she was finally going to be a big sister. We set balloons up around the fireplace, got her a 'big sis' t-shirt and lots of presents from 'little brother.' She came home from nursery and I told her, 'Our social worker has found you a baby brother,' and she jumped around the room, screaming with excitement.
2 weeks later, our nursery was built and we were ready to go to our little boy's foster carer's house to meet him for the first time. My husband and I were sweating with nerves parked outside their home. In the next 10 minutes, our little boy would become a reality and we would no longer have to watch videos or look at photos, dreaming of his cuddles.
We were welcomed into the foster carer's home and our little boy was asleep in another room. We sat on the sofa chatting to foster carer, finding out more and more about our little man. I remember hearing a small cry from the other room. He was awake. My husband and I looked at each other – terrified and excited. We were about to meet our little boy.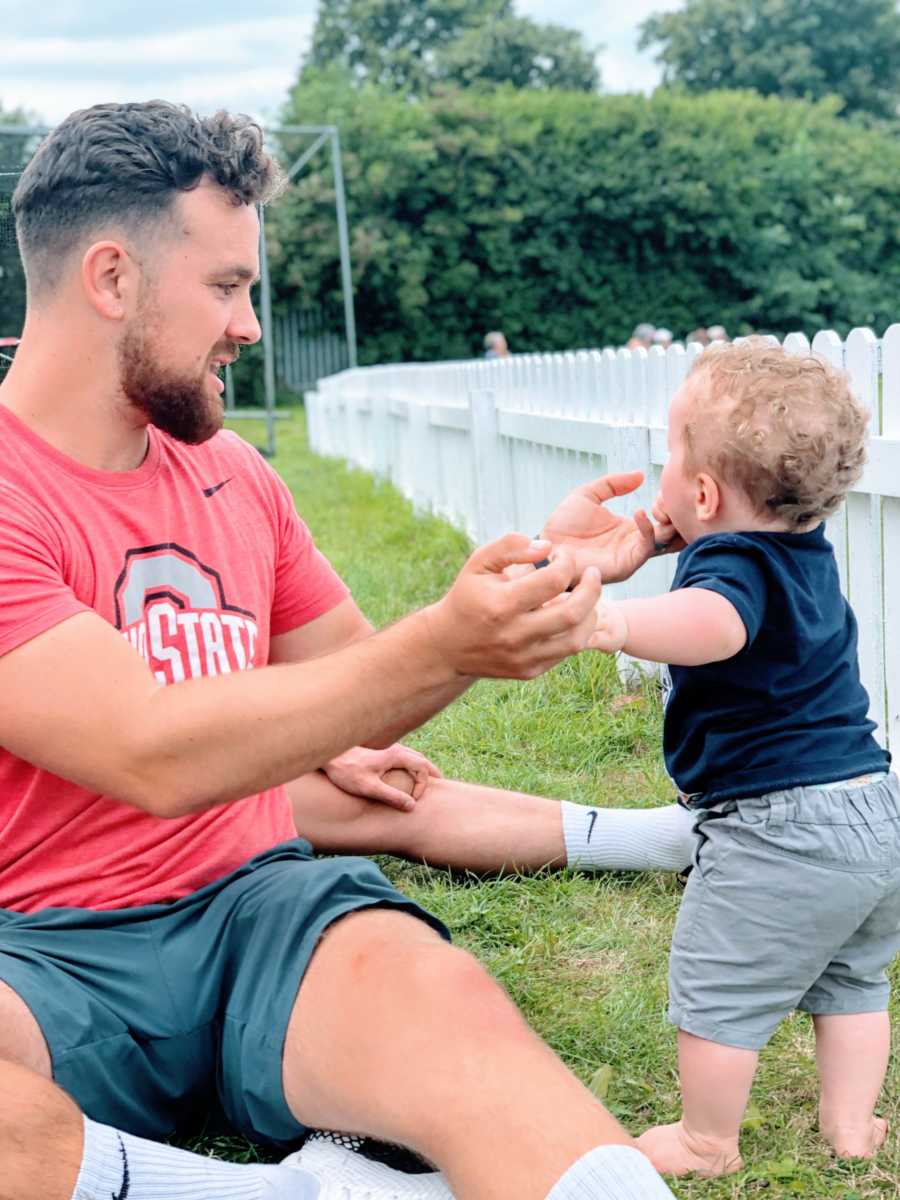 His foster carer came in the room with him in their arms and said, 'Look, it's your mommy and daddy.' The next hour was a blur. We cuddled, played, and could not stop smiling. We didn't want to leave him, but we knew the next day we would get more time with him. Our introductions were 2 weeks long and 13-hour days. We spent the time gradually getting to know our little boy, hoping he would feel more comfortable with us before placement day.
Our daughter met him halfway through introductions and it's a day I'll never forget. We pulled up to the foster carer's home and the foster carer was outside, holding our little boy waving at her. She leaped out of the car screaming his name and ran towards him with her arms open wide ready to give him the biggest cuddle. She was in love with him from the start.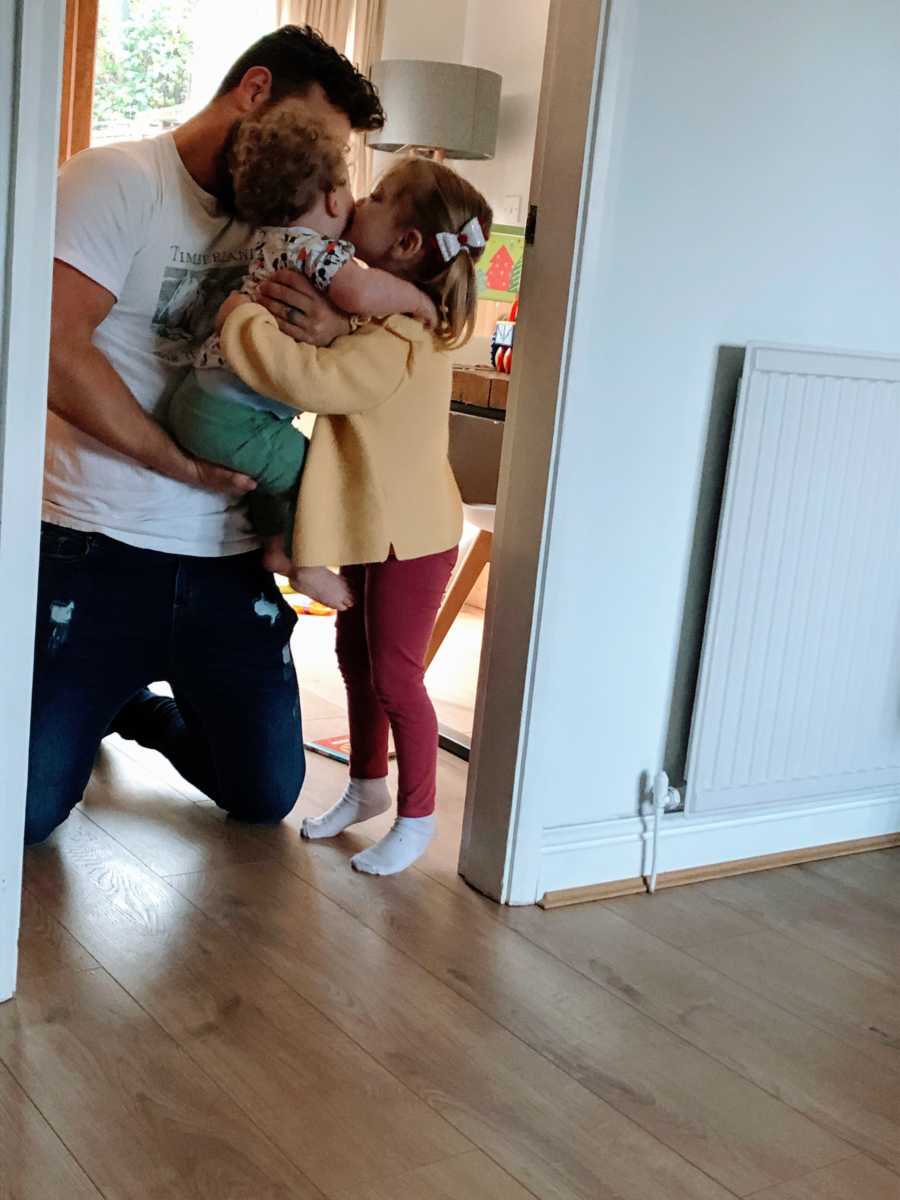 Placement day came around so fast. It was a day I was anxiously awaiting and also dreading. We were so excited to bring our little boy home, but I was hit by the amount of loss adoption comes with. We would be taking away our little boy from his foster carer. The person who he deems his safest person, who he trusted with his life. We knew the foster carer would be heartbroken and I couldn't help but think of the grief our little boy's birth family would be feeling. We arrived, and after 10 minutes, our little boy was in his car seat on his way to his forever home. I cried the whole way home, feeling a bizarre mix of emotions.
Since placement day, life has been bliss. The pandemic has meant we have been forced to spend time just as a family of four so our little boy has settled so well and his attachment to us has grown tremendously. He adores his big sister, his dog, and loves being in his home. Our families have fallen in love with him from the beginning and he has been welcomed by all of our support network with so much love.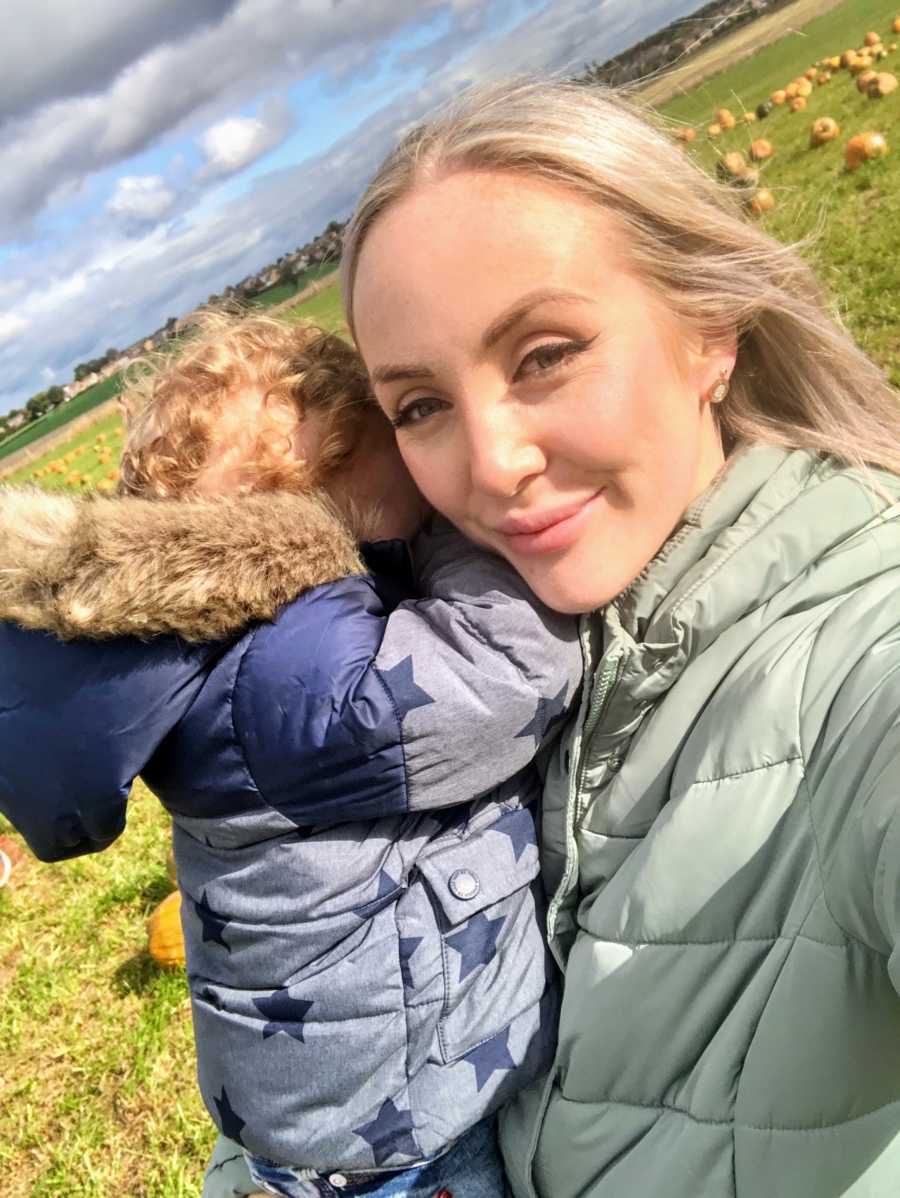 Adoption for us has been life-changing. I truly feel like it was meant to be and I was always meant to find my son. The journey has been different from what I expected. While there has been so much love and positivity that has come with the adoption of our son, I have felt an overwhelming amount of loss, guilt, and grief. We often get told how lucky our little boy is for being adopted into a wonderful family who will love him forever. This breaks my heart because all the trauma, pain, and loss my little boy has suffered are never acknowledged.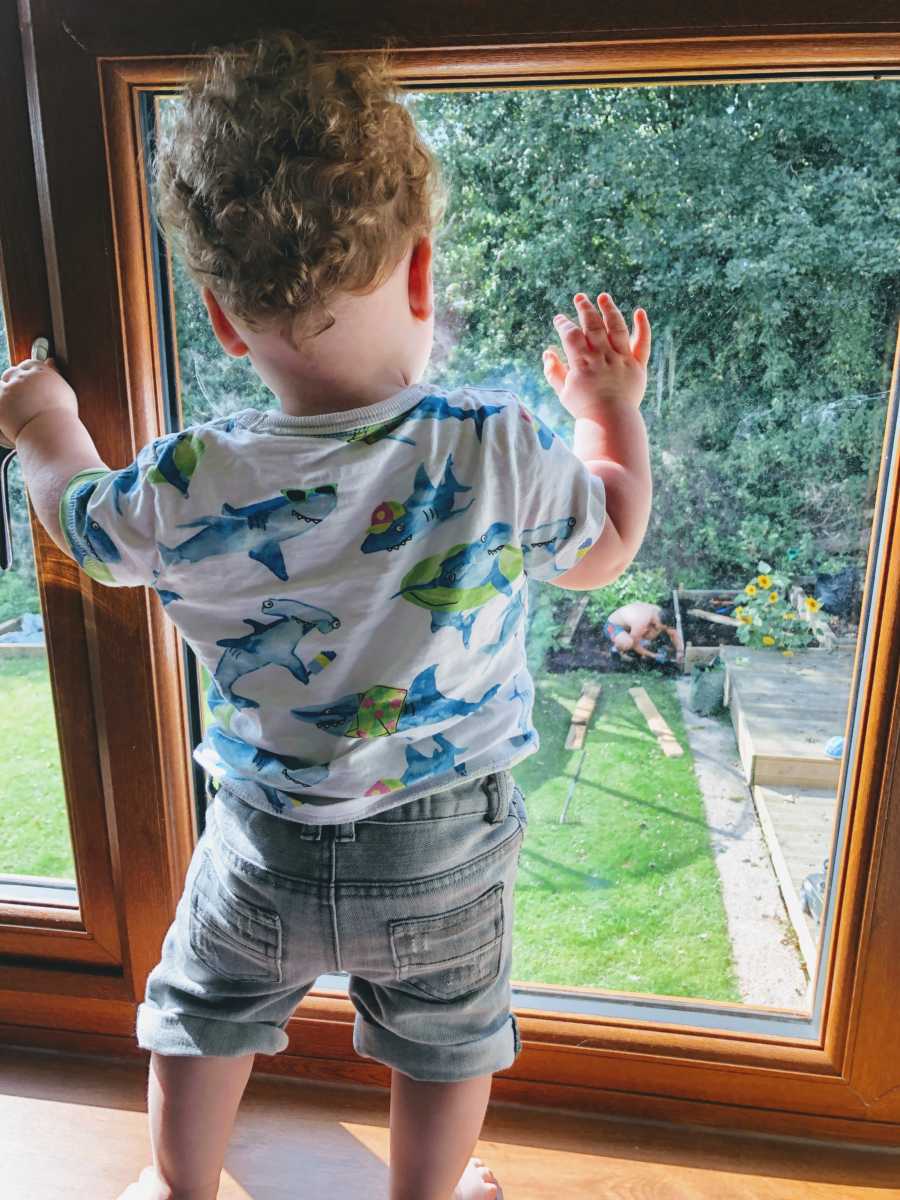 He isn't lucky to be adopted or to have spent time in foster care. He isn't lucky to have been separated involuntarily from his birth family, who I'm sure he will mourn at some point in his later life. His little self had no choice in the matter of being adopted, whereas we consciously chose to adopt him. While adoption was the best outcome for his circumstances, there is no luck about his journey. However, there is so much luck in ours. We get to be his parents, and this is the biggest gift of all."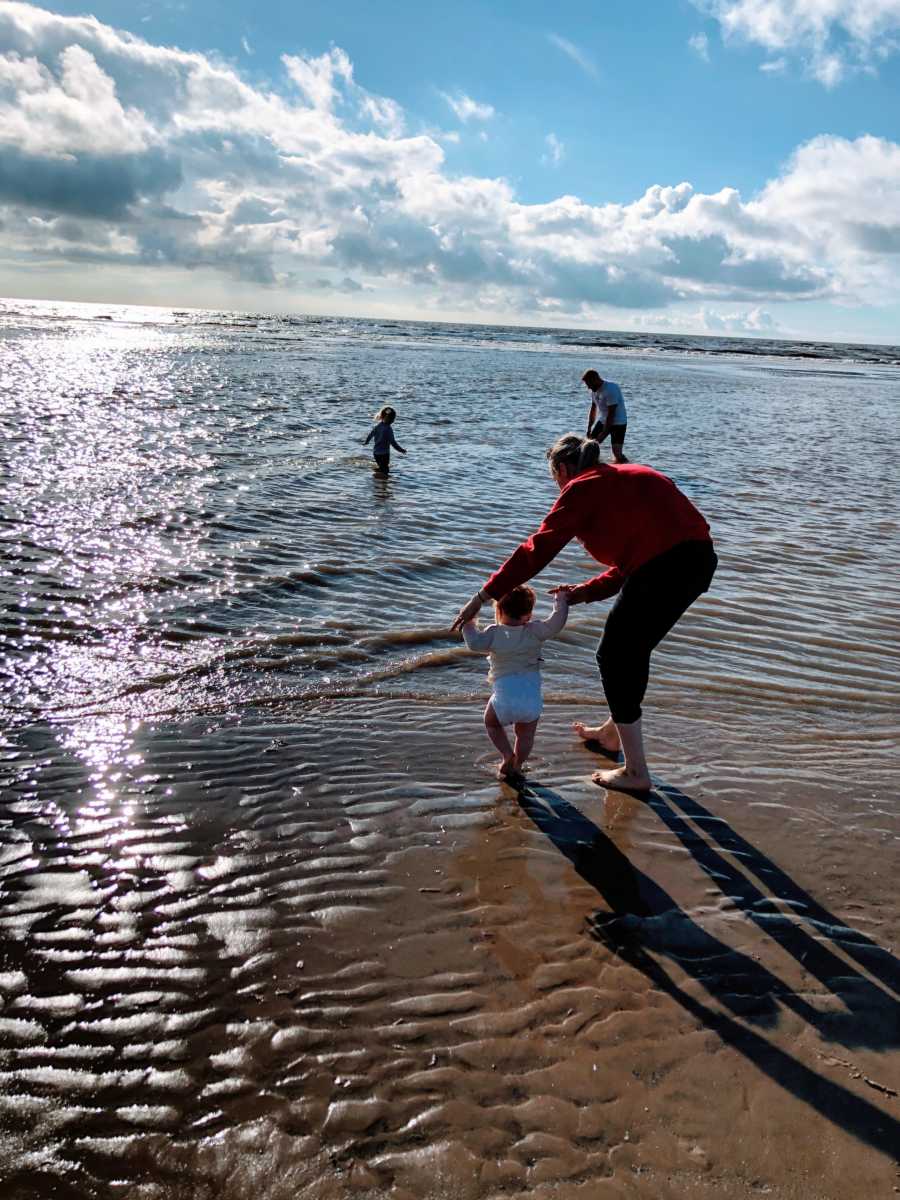 This story was submitted to Love What Matters by Molly of Northern England. You can follow her journey on Instagram, Twitter, and YouTube. Submit your own story here, and be sure to subscribe to our free email newsletter for our best stories, and YouTube for our best videos.
Read more stories like this here:
'Her birth parents wanted to spend time with her. I wasn't sure if I would see her again. All I could do was pray.': Mom describes emotional adoption, 'She is our greatest joy'
'My stomach was 'without signs of life.' I was uncontrollably weeping. The thing I was meant to do, I couldn't.': Woman recalls infertility and adoption journey, 'Our world changed forever'
'Look, it's your mom and dad!' Our hearts exploded. A wild and grand new adventure began.': Mom shares the 'unknowns' of adoption, 'I'd choose it all again'
Do you know someone who could benefit from reading this? SHARE this story on Facebook with family and friends.