"People often ask me if it was love at first sight. My answer to them is always 'absolutely.' You never know what is coming around the bend. Life can seem the bleakest you've ever experienced and then, when you least expect it, there is a break in the clouds. All of a sudden, on the dreariest of winter days the sun shines through.
Living in New Orleans, I often times talk about life before and after Hurricane Katrina. It is almost a starting point and ending point for many of us down here.
Our lives we knew up until that point stopped. And it didn't resume normally until years after. Before Katrina, I found myself. For years a battled internally about who I was and who I wanted to be. I longed to be in love. The love romance novels were made from. But there was one caveat. Gay romance novels really weren't a thing back then.
I found myself dreaming at night having a life which was acceptable, admired and respected. I grew up in the South and it was terribly hard at times. I had a disgusting, homophobic and abusive father, who did polar opposite of what loving dads are supposed to do.
I was raised in the church. I sang in the choir all of my childhood. I created friends and found some of my talents because of church. But unfortunately, I also found some of my deepest insecurities.
I remember hearing remarks growing up from family members about news stories regarding gay and lesbian issues. I was always left so uncomfortable by the backwoods and ignorant things they would say. It left me hopeless. So, I suppressed the feelings and kept moving on.
Years went by and I graduated high school and knew in my heart it was time to leave Mississippi. I loved my family, but I needed to find myself without the judgement of anyone else. I needed to leave the nest built in the 'Pine Belt' and either fly or fall.
As life would have it, I did fly. I soared. I became who I needed to be. Every day went by, I grew more confident in who I was and who I wanted to become. I created long lasting relationships which I still have to this day. Those friends allowed me to accept who I truly was, working my way from the inside out. I was making great headway- and then our whole world stopped in it's tracks.
Katrina ripped through all of our lives down here in the south. And it took years to recover. I finally was able to go back to New Orleans and find a new job. I found a job at a nigh club on Bourbon street and stepped into the back office. And there, in front of me he sat filling out a new hire work form. In the split second of time- it was like time had stopped. All of sudden the bass from the dance floor silenced. All I could hear and feel was the sound of my heart beating out of my chest. He looked up and in that very moment, our eyes met for the first time. I can still to this day smell the stale cigarette smoke from the office ashtray. I remember what the room looked like. I remember what we both were wearing. I absolutely couldn't look away. I was frozen in time. I know in this very situation this is what I had always prayed for. This was the boy who was going to save me. He was my white knight riding in to rescue me.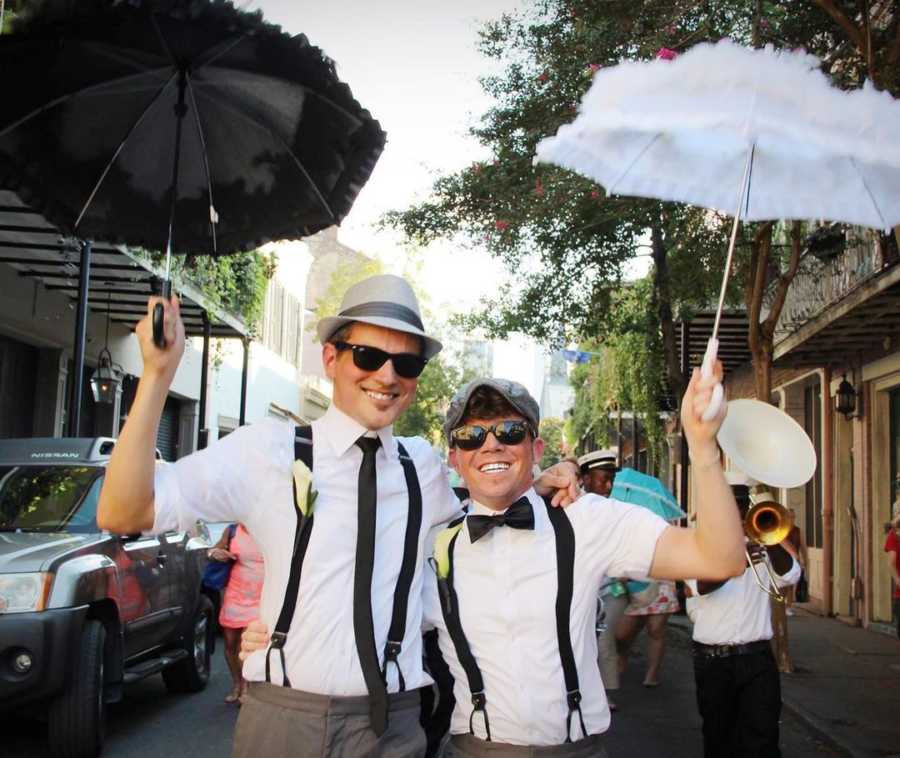 Love at first sight is absolutely real. It gives you the jitters and it is hard to do anything else but focus on the moment you are in, in the exact second. Our twenties were wild, to say the least. Some may know this already but, before Covid-19, New Orleans didn't sleep. The bars never closed.
So, spending so many nights in the club meant we also saw so many sunrises. Once the sun came up we would dart out of the bar and cover ourselves like a Bram Stoker character from 'Dracula.' We would run to his old Volvo wagon and quickly drive out of the French Quarter. He was so spontaneous and I loved it. Some mornings we'd walk to Audubon Park and climb trees. My favorite mornings were spent on the levee of the Mississippi river flying kites.
There were so many things he did in the beginning which made me melt where I stood. He would take me to the railroad tracks and smash pennies while reading 'The Little Prince,' one of his most favorite books.  As he read each line, I sank deeper into the grass as tear drops fell from my eyes. I would quickly wipe each of them in fear of scaring him off or freaking him out. I knew in those beginning moments this was the man I wanted to spend the rest of my life with. I wanted him to be with me forever, and I with him. As months went by, our bond quickly grew. We became inseparable. The hot New Orleans summer faded into the fall and quickly gave way to cold of winter.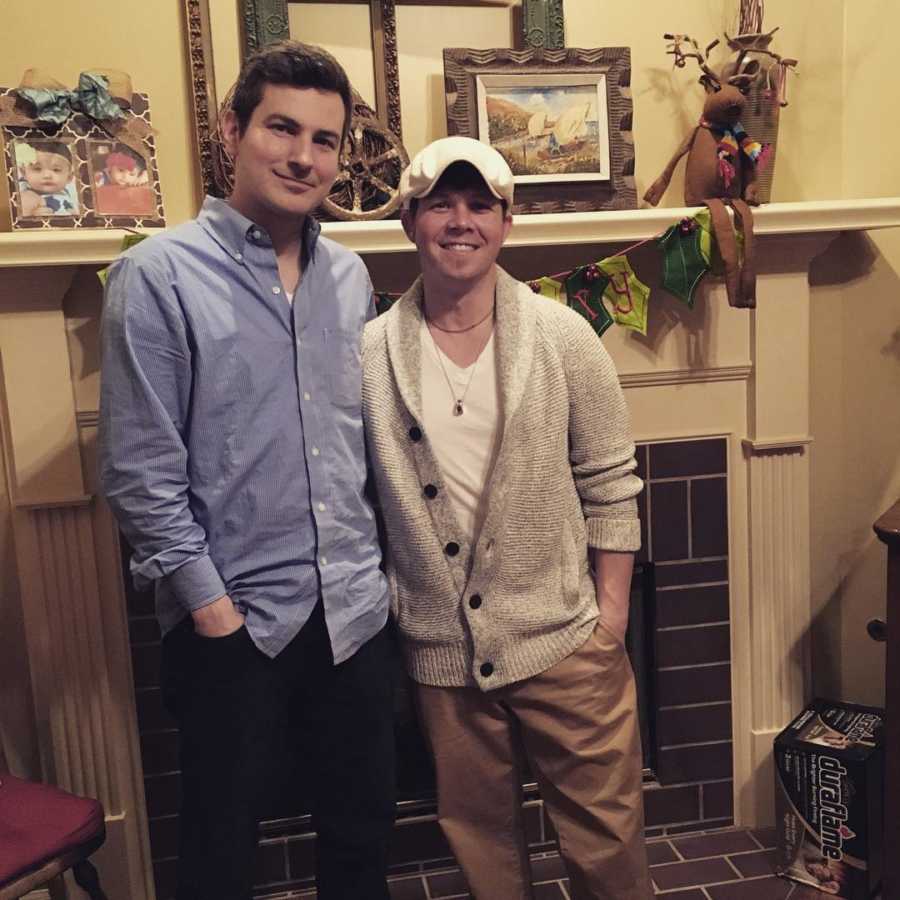 I so wanted him to come back to Mississippi with me so he could meet my family. As quickly as the happy notion was, it quickly turned to fear. What if my mom lost it? What if my family was rude to him? I would develop all of these extreme scenarios in my head and try to figure out how to damage control each one before they even happened. A bit much, I know. But it was my coping mechanism.
December quickly came and as excited as I was, I still was very nervous. We packed my car and put all of the gifts in the back. Off we went to my family's for a Mississippi Christmas.
My mom had been outspoken about my life in the beginning. When I came out, she didn't hesitate to bring out the Bible and plead for me to not be gay as her tears fell from her eyes. As months rolled into years, our relationship recovered. She had always been one of my best friends so the tension and havoc of my coming out had on our relationship was very hard to say the least.
It was the Christmas of 2006 and we pulled up to my childhood home in Oak Grove, Mississippi. She came out of the house with the biggest smile as she waved at us both.
She hugged me so tight. To this day, it is still so vivid. I was expecting her to wave and smile at Douglas. But, she walked over to him and gave him the tightest hug ever. I saw Douglas' face as she hugged and his eyes were squeezed so tight with the biggest smile on his face. My mom released her mama bear hug and wiped tears from her eyes and said, 'Alright, enough of this. Let's unload the car.'
I knew as we trekked back and forth unloading the car; this would truly be an unforgettable Christmas. All of the anxiety I had up until this moment was just hindering me to allow my self the opportunity to have personal life experiences and growth.
That first Christmas was so and will always be so special to me. Our family has had its share of painful times, so to have chance to create joyful and happy memories were so important; especially in the beginning. That night, as we were all around the Christmas tree I could see the gifts and stockings from me and my sister. I couldn't help but think of all the Christmases before growing up.
In that moment I was just so happy to be where I was, where I had been and to be surrounded by the love that was there. My mom came into the room and said, 'I know you may not like it, but I had to find something.' She pulled out a plastic Walgreen's bag with Douglas' name written at the top of it. She said, 'You cannot come into this house without having some sort of a stocking for Santa to fill.' I knew right then this was the beginning of the rest of our lives."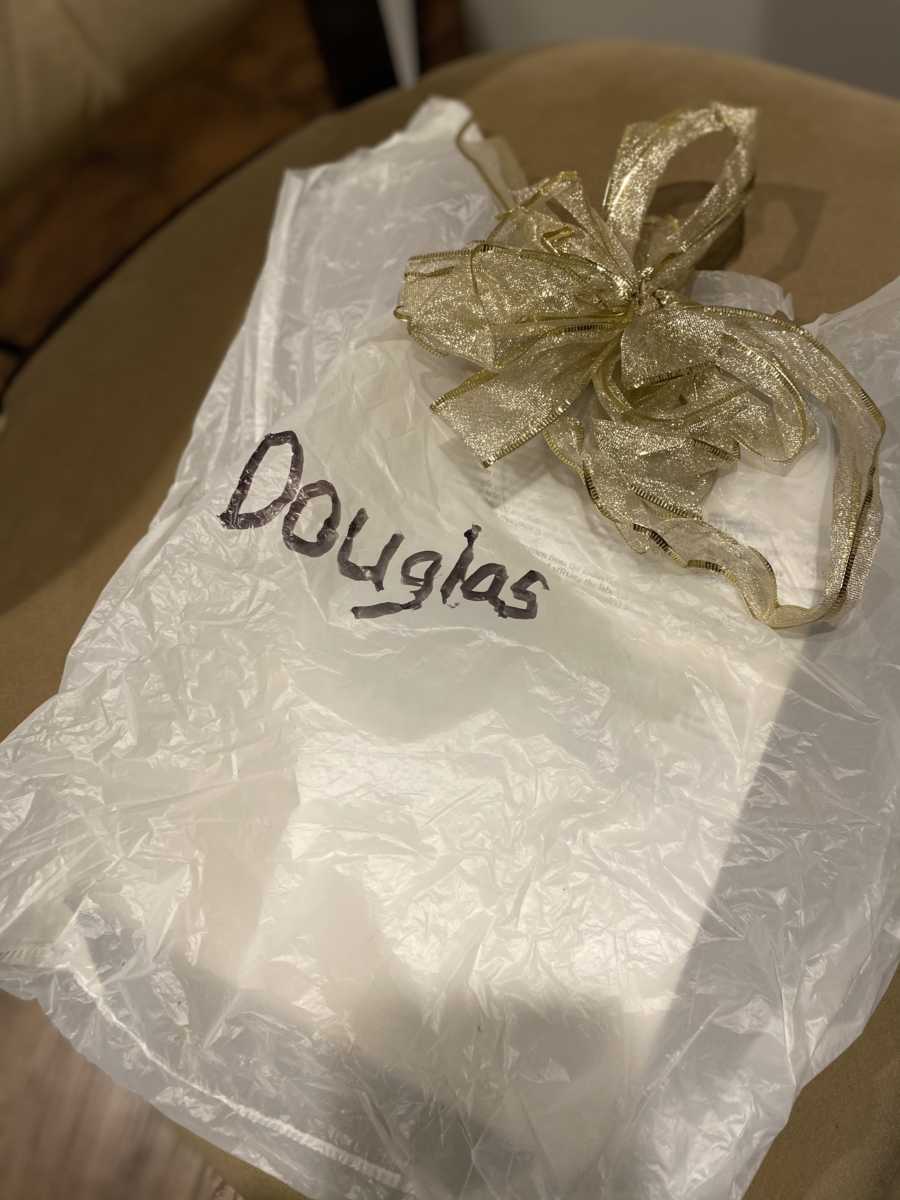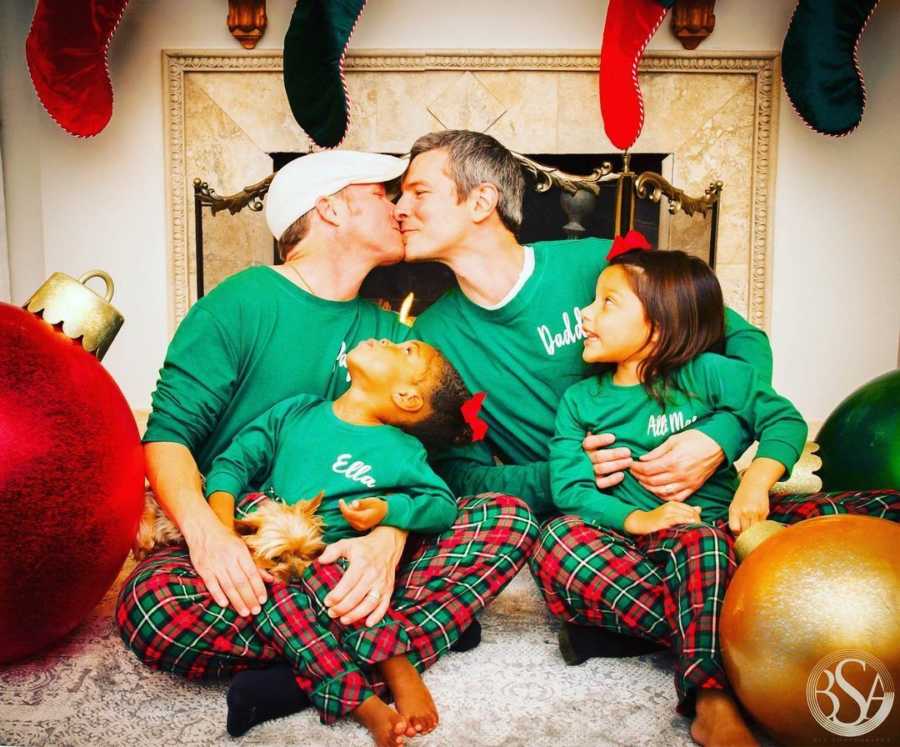 This story was submitted to Love What Matters by Erik Alexander. You can follow their journey on Instagram, Facebook, and their website. Submit your own story here, and be sure to subscribe to our free email newsletter for our best stories, and YouTube for our best videos.