The rainbow suits ringleader:
"The majority of us all went to Marist College together and have been fairly inseparable since the late 90's early 2000's. We have a long standing history of shenanigans, and matching outfits are part of our tradition. It started in the college days with setting up bar crawls and having custom t-shirts made for the group, then when everyone started getting married it changed to matching t-shirts for bachelor parties or bachelor party bar crawls.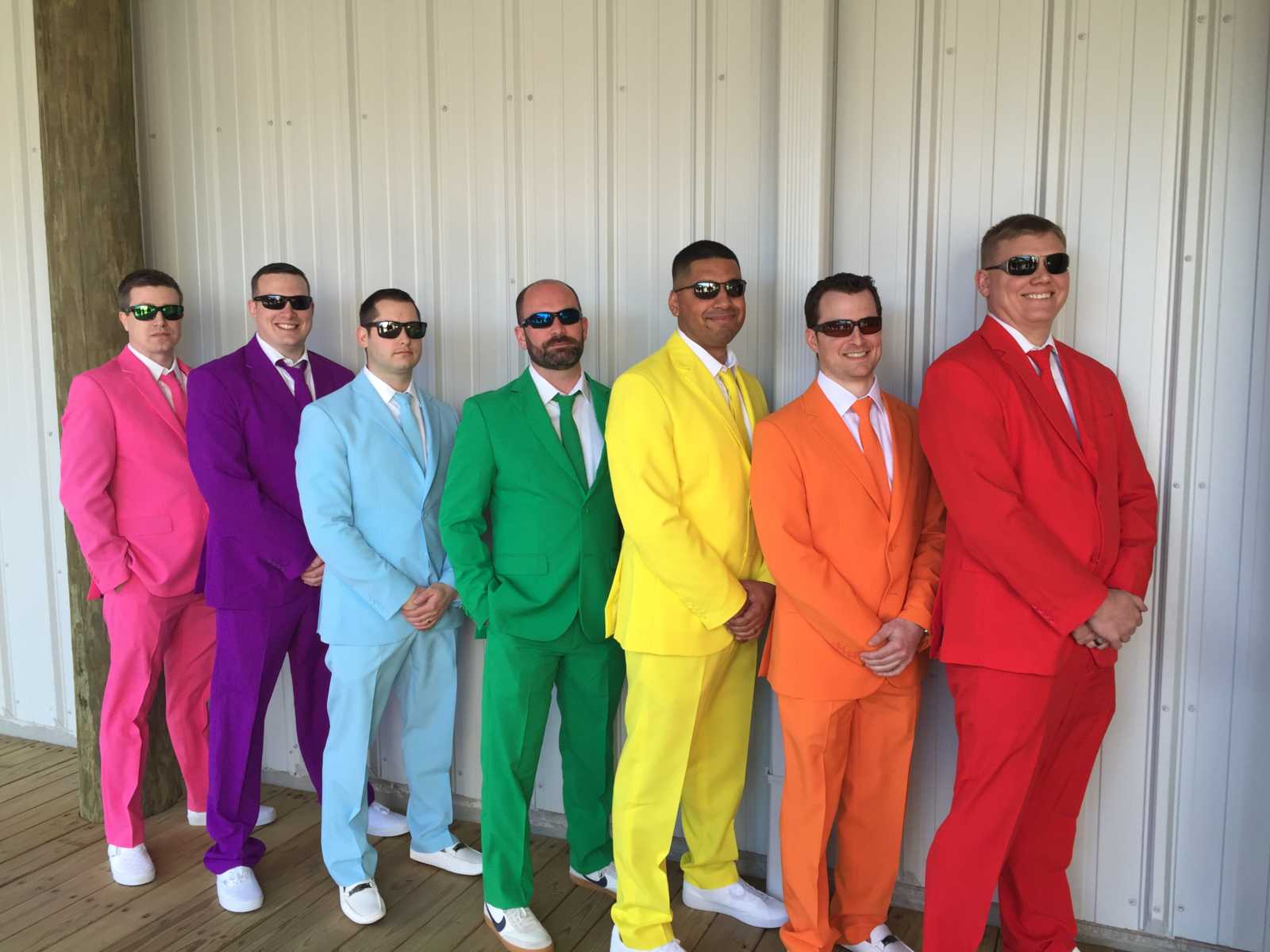 I believe for most of us, Ted and John's wedding was our first gay wedding and we knew we wanted to do something special for it. It was around that time I had discovered OppoSuit and their penchant for unique suits. I quickly went to their website and discovered they had eight brightly colored suits. Not quite all of the colors in the rainbow, but at that point the idea started brewing in my head and seemed perfect.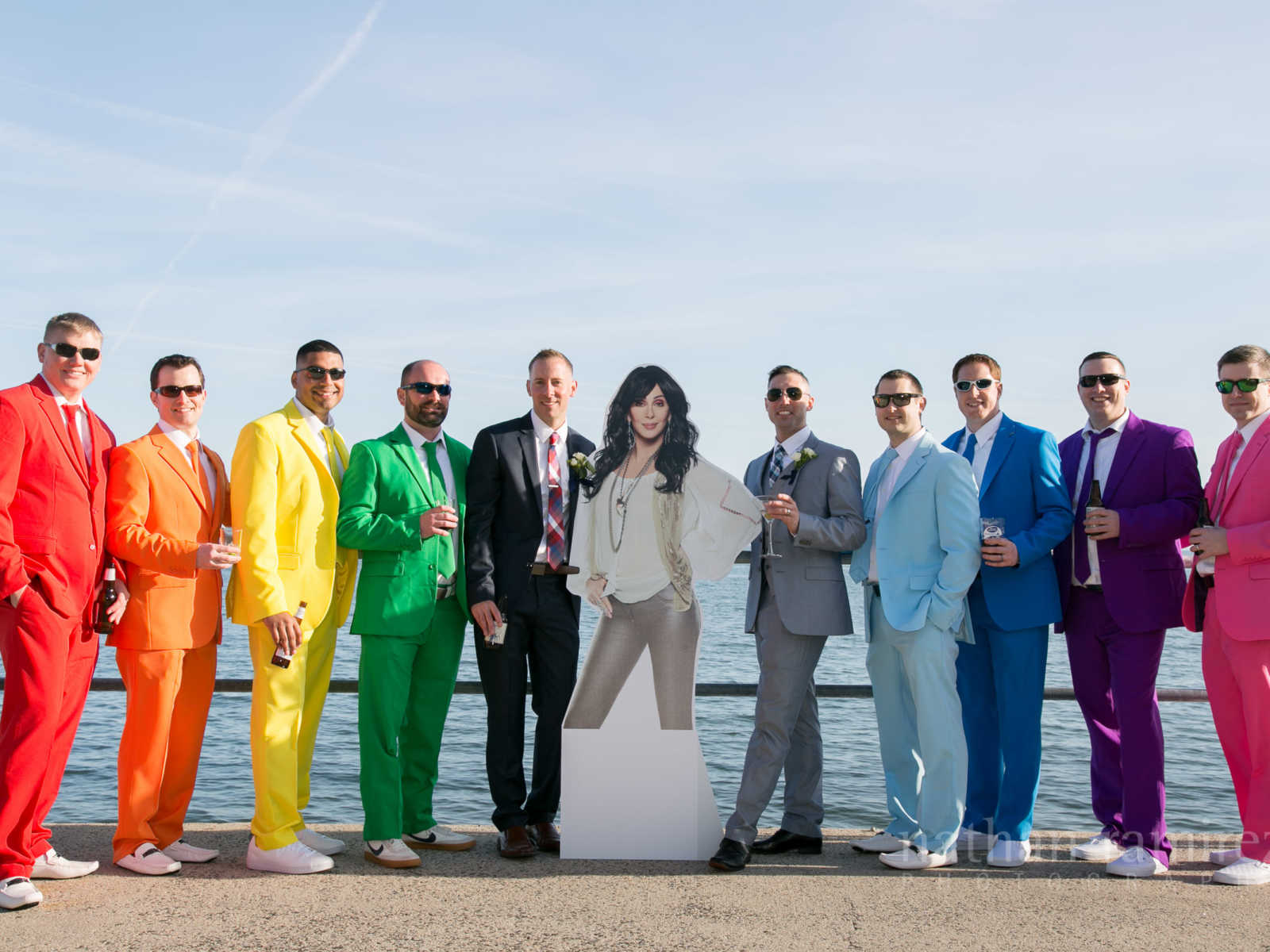 Admittedly when I emailed the group I thought I'd get a few on board and maybe have to negotiate with a few others or find alternates if someone said no. However, to my surprise everyone was immediately in. The only debate was over who got to wear which colors. As we drew nearer to their wedding date it became harder to keep it a secret but we really wanted it to be a surprise for the grooms, and if you knew our group keeping secrets is just about impossible. This became even more difficult once our suits began arriving in the mail and our wives saw them. But everyone was up to the task as we all wanted this to be an overwhelming success for Ted and John's wedding.
The day of the reception we coordinated to meet up at a local brewery near the wedding venue so that we could have a beer together and ensure we could all arrive at the wedding as a group. That was when we started to realize how special/ridiculous this was, as plenty of people tried taking pictures of us or with us. When we got to the wedding venue we assembled in the parking lot and wanted to walk in in full rainbow formation. ROYGBIV! (or as close as we could get without having all the rainbow colors).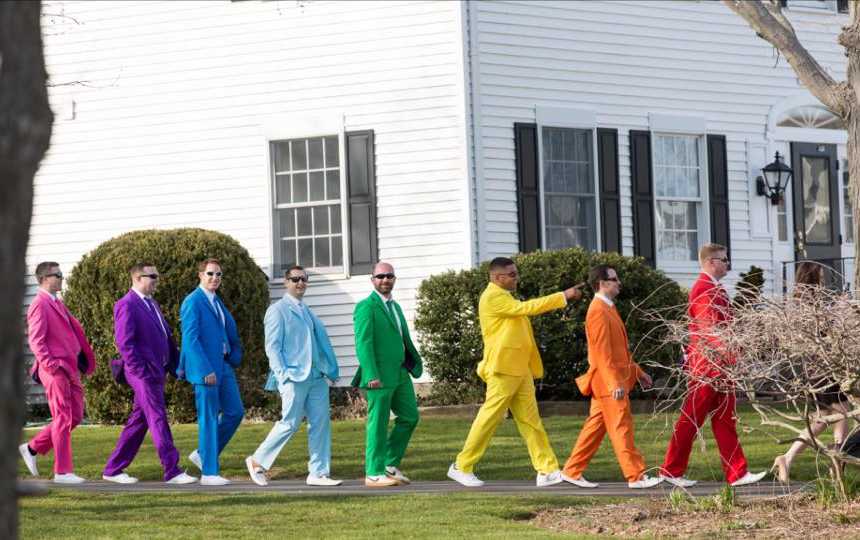 I will never forget the look of surprise, then confusion, then excitement when Ted and John first saw us.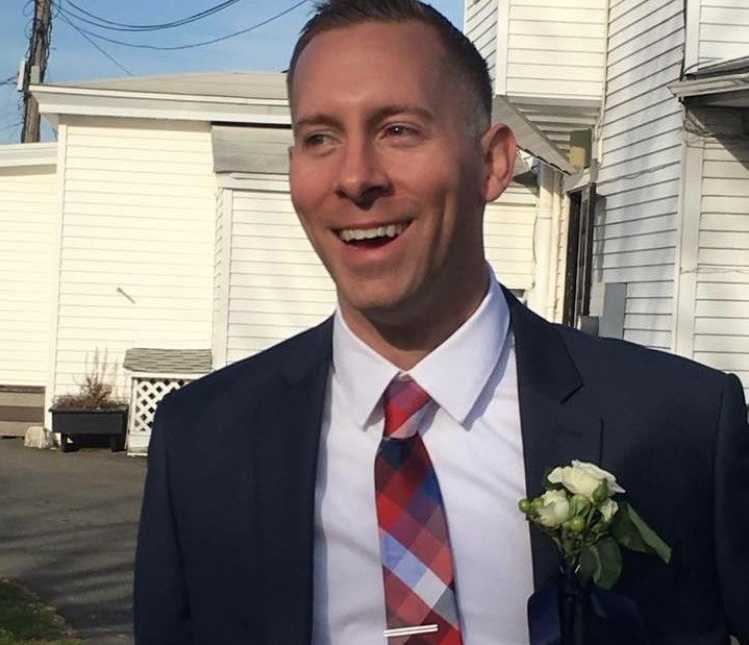 They came straight over and hugged each of us one at a time. I think my favorite part of the whole night was when John's mother Lucille came over to us and said, 'What a wonderful showing of love and support, and I can't believe not one of you is gay!' Then she hugged each one of us. It really made the moment come together. Our primary goal in all of this was to come up with a completely unique tribute to Ted and John whom we all love, while also not stealing all of the thunder of the wedding party which we were not a part of. I think we nailed the first half, not so sure about the second (sorry Ted and John's wedding party).
About a week after the wedding one of our friends uploaded the picture of us jumping in the air behind Ted and John and it got quite a bit of attention. This only solidified our belief that we had done something great, and the best part was it also helped spread the message of love and support for our LGBTQ friends. That picture also helped demonstrate that some of us in the group are better at jumping then others."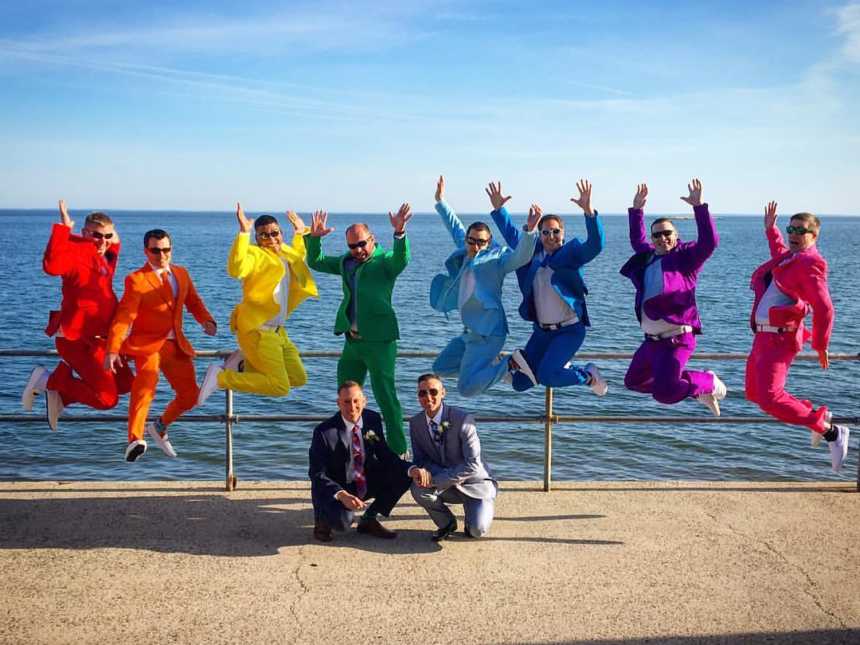 The surprised grooms:
"John and I have been together for 10 years and have been to over 50 weddings. We like to call ourselves professional wedding-goers. Of those almost 50 weddings, we have been a part of quite a number of them (groomsmen, bridesmen, bachelor party-goer, etc). We eloped for our wedding in Provincetown, Massachusetts, and held our reception in our hometown, Branford, Connecticut, four months later.
We showed up on our reception day very excited to have this awesome party with our family and friends. The weather was perfect and the venue was exactly what we wanted (service, food, attention to detail).  Little did we know that the day was going to get even more perfect!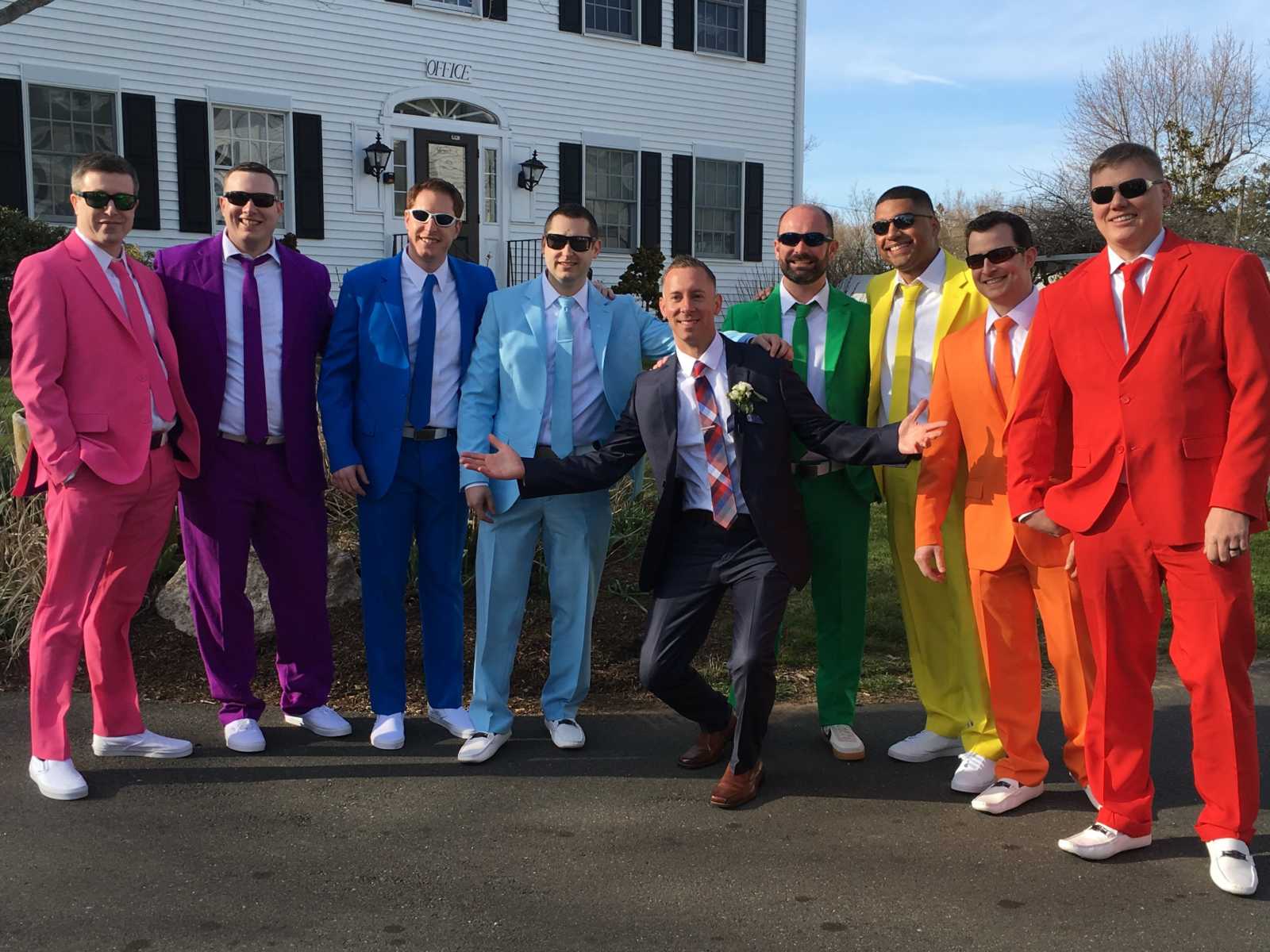 We were outside along the seawall taking family photos when our guests first began to arrive. I noticed that all the wives of the men came out first and were waiting by the entrance. I began to hear quite a commotion as the guys made their entrance to the property. Out walked eight of our closest guy friends in the brightest colored suits ever (whom are all straight). They even managed to be in perfect rainbow order (ROYGBV)!  People were laughing, cheering, and utterly surprised. John's mother initially thought this was some form of protest!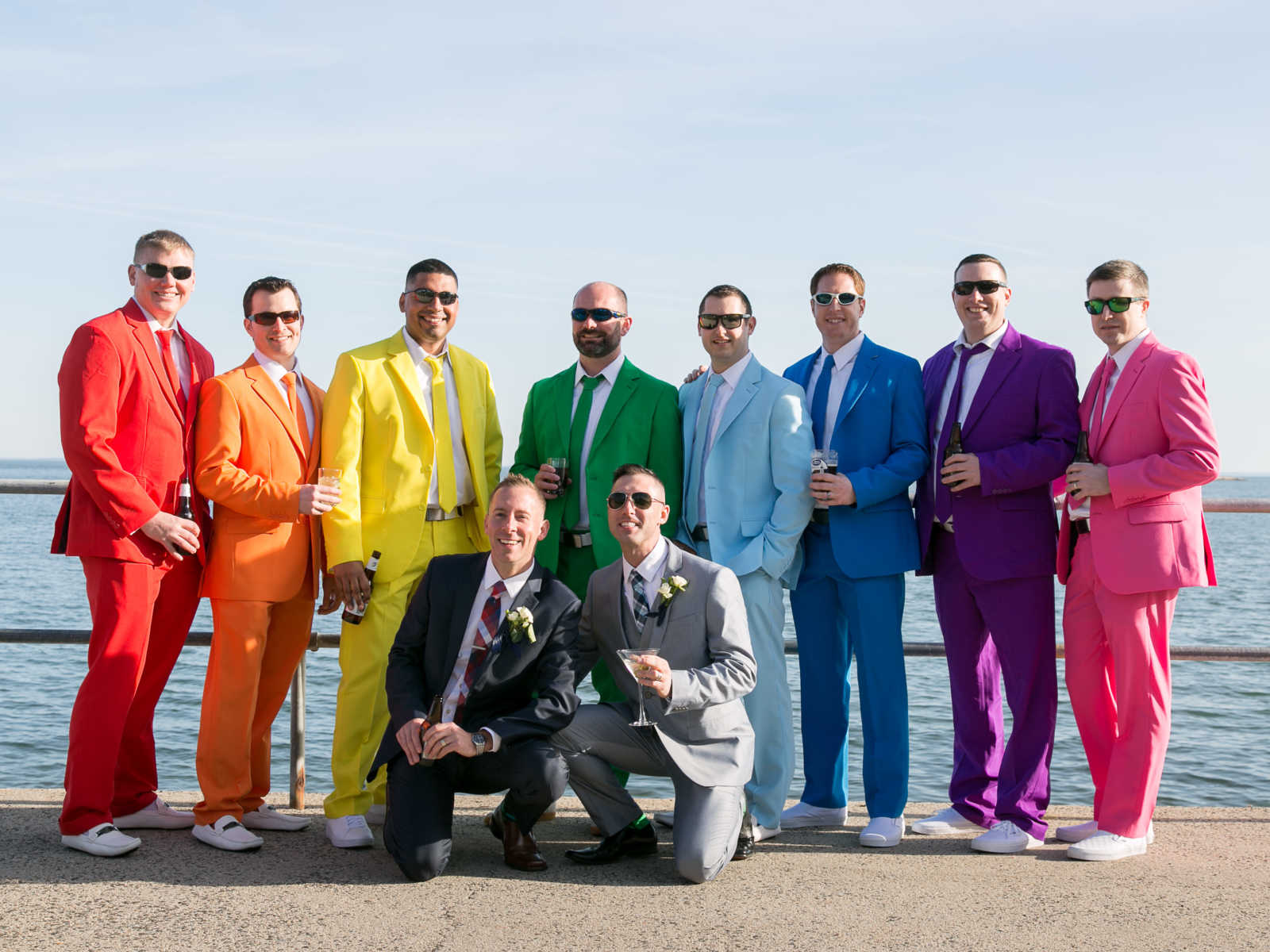 We had no knowledge of the prior planning. We were shocked, enamored, and just in awe of those guys. Whether they were getting back at us for not inviting them to our actual wedding, or they were just wanted to say thanks for all the weddings we had been a part of, it was truly a priceless gift for John and I.  Reliving it through this story even gets me emotional. We are very blessed to have such an amazing group of friends, guys who always by our side, and the women that support them."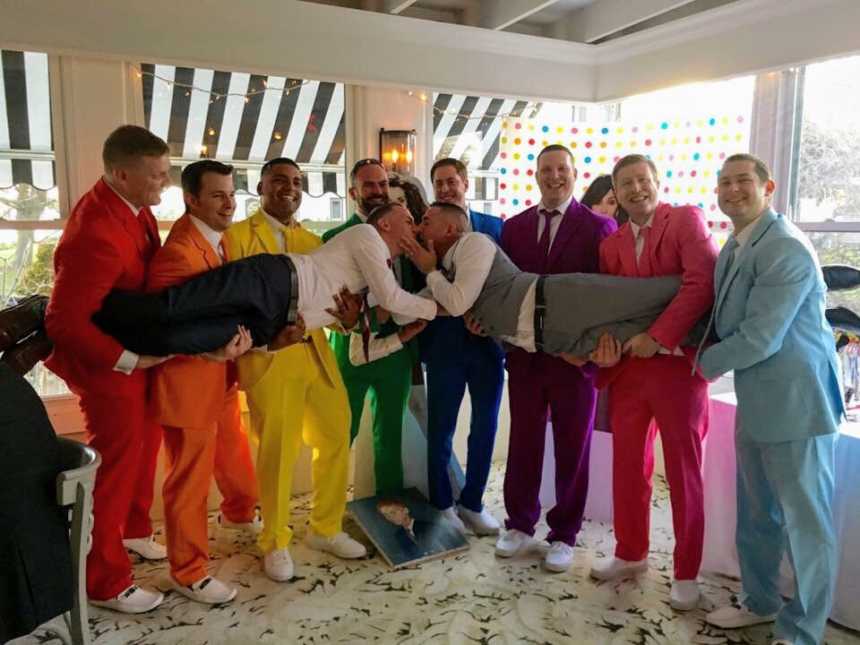 This story was submitted to Love What Matters by groom Ted Ebberts of Branford, Connecticut, and friend Chris Nelson of North Stonington, Connecticut. Submit your story here.
SHARE this story on Facebook if you believe that love is love.