"I married the love of my life, and my sister fainted.
It was a sweltering summer's day in Chicago, must have been 97-100 degrees. We'd been out on the lake in the sun all afternoon taking pictures and then the ceremony was at 6 p.m. in this converted loft with giant floor to ceiling windows. The venue looked incredible (and still was incredible to be fair) when we viewed it in October, but on a boiling summer's day in Chicago it had turned into a bit of a greenhouse.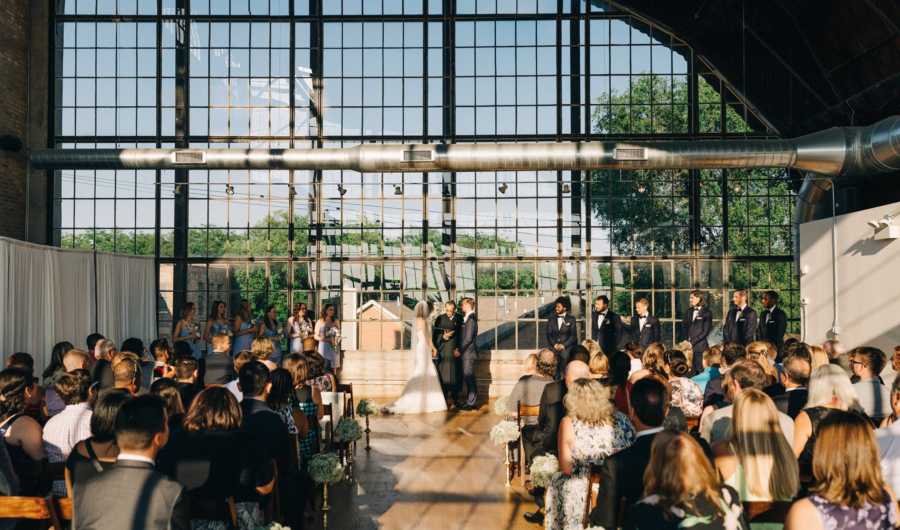 We were all running around so frantically that day that none of us had probably consumed enough food or water, so I think the heat ended up winning the day over my sister's ability to stay conscious through the ceremony. It was immediately after the judge said, 'You may now kiss the bride', we were making our first embrace as a married couple, and all of a sudden, heard a thud. It took a moment or two to clock what had happened — and then we looked down and saw my sister on the floor.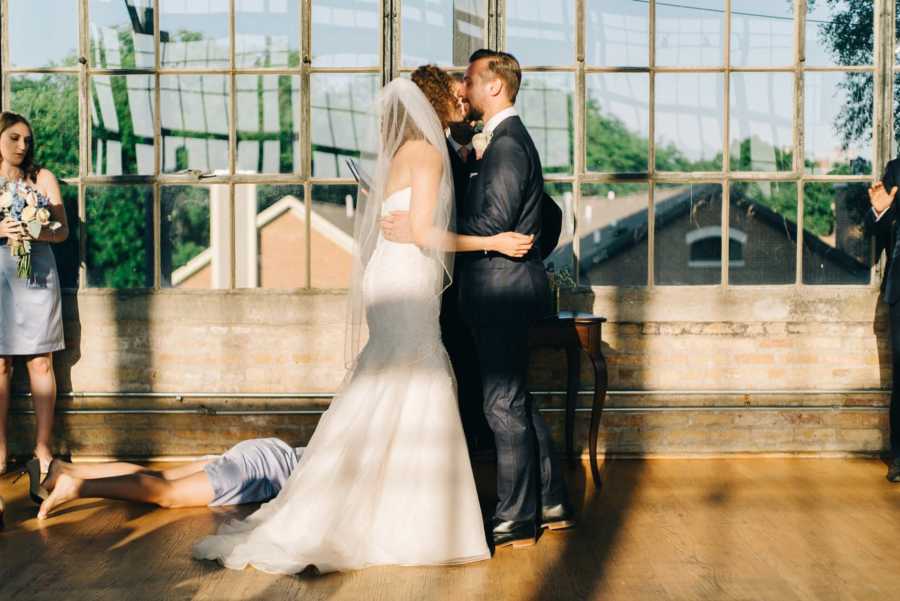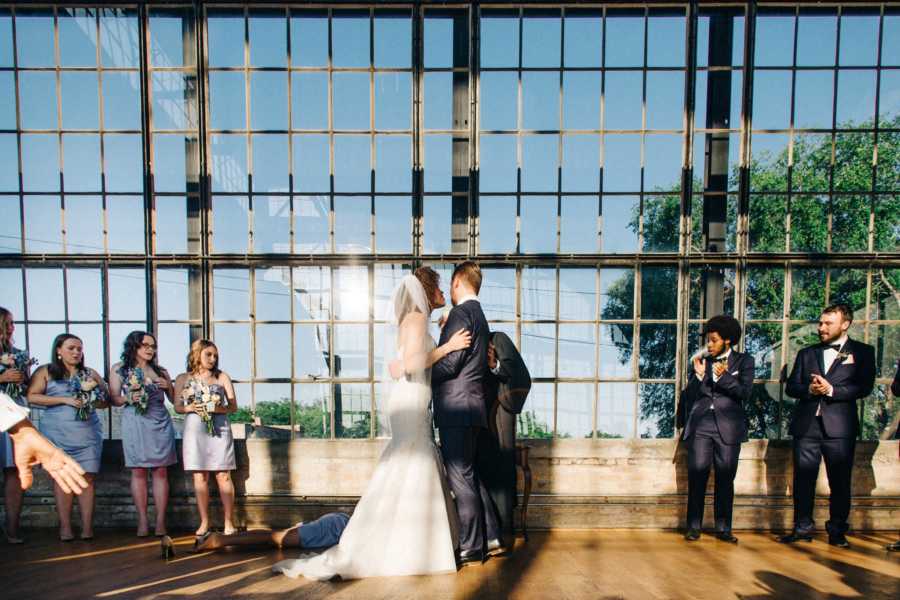 Everyone was stunned. Initially we were all scared for her thinking it could be more serious than just a quick fainting. My father in law (presumably with years of developing his dad instincts) was the first to rush in, lunging from the front row straight for her. We all gathered around her, she came back to consciousness within 30 seconds. We were all just glad she was ok. Grace (my sister) was a little flustered/embarrassed and kept screaming that she'd ruined our wedding – we assured her she hadn't, and we were all laughing about it ten minutes later.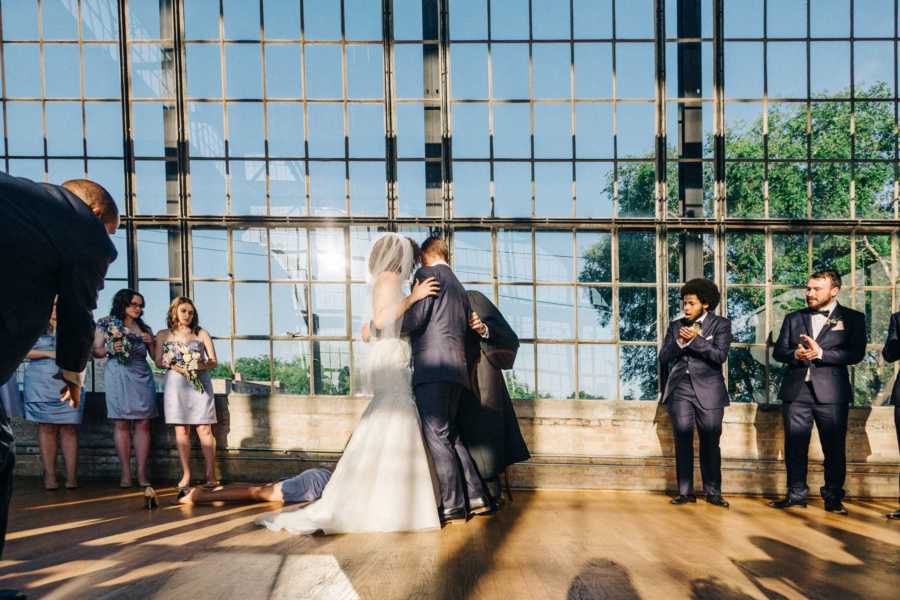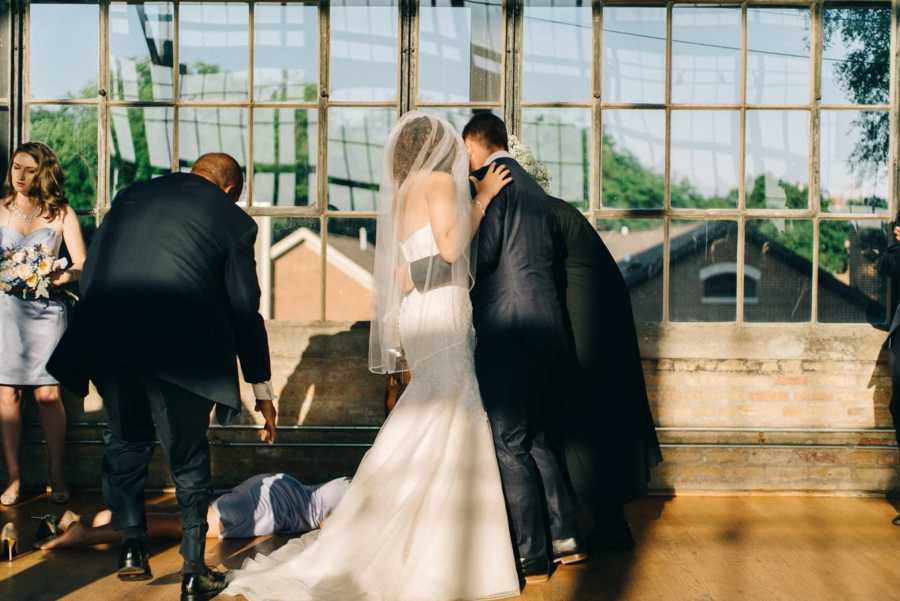 She was absolutely fine once she sat down and a glass of water. Having seen loads of comments online from folks with similar things that happened at their wedding, she got off pretty much unharmed, but I've read some real horror stories. We resumed the ceremony (with Grace sitting down this time), had our first kiss for the second time and then everyone enjoyed the rest of the night. The 'proper' first kiss photograph (second kiss) without my sister's butt and legs sticking out is kind of amusing in itself since there are a few flower petals still on the floor from where she'd knocked over flowers as she fell.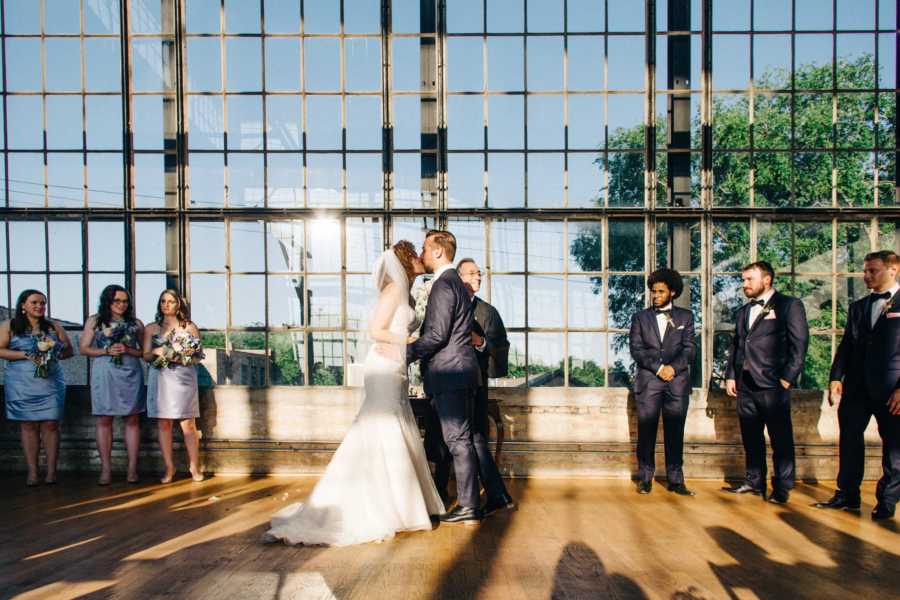 My sister is actually my half-sister. My parents separated just after I was born, and I stayed in America with my father while my mother went back to the UK. Eventually my dad was stationed overseas with the US Air Force and I came over to England and was raised by my grandparents. I had pretty fleeting contact with my dad up until the point he passed away in 2008 when I was 18, so I'd grown up having never spoken to my sister. Just after my father passed away I traveled over to the states where I met my sister and a whole side of the family I'd never met before. It was really special to be able to have my sister at the wedding after being apart for so many years, and eventually meeting under sad circumstances. We're close now and she's studying at the University of Savannah in Georgia."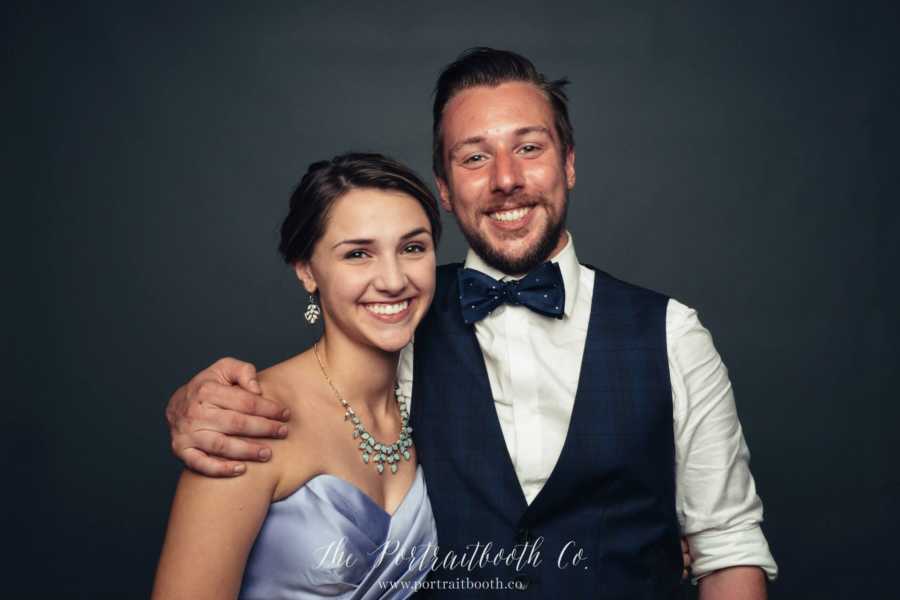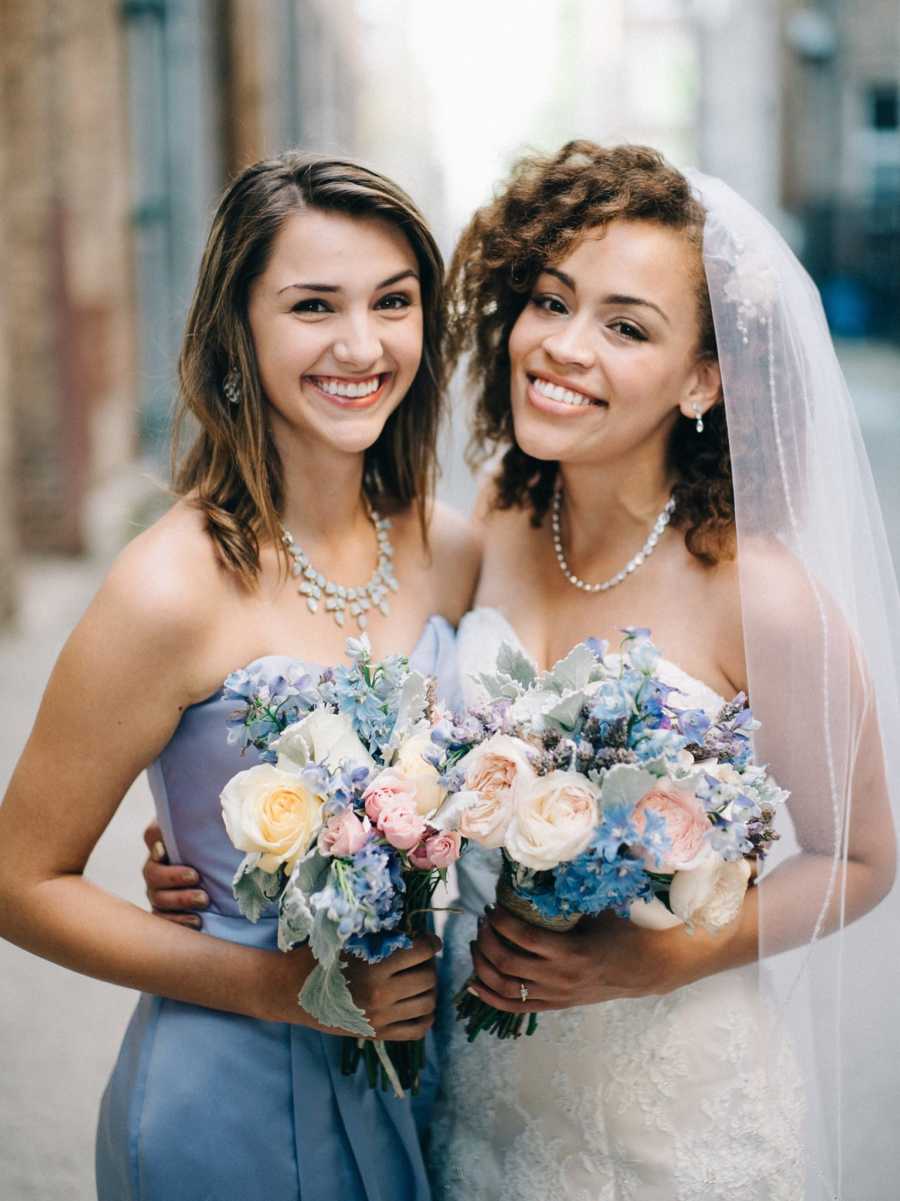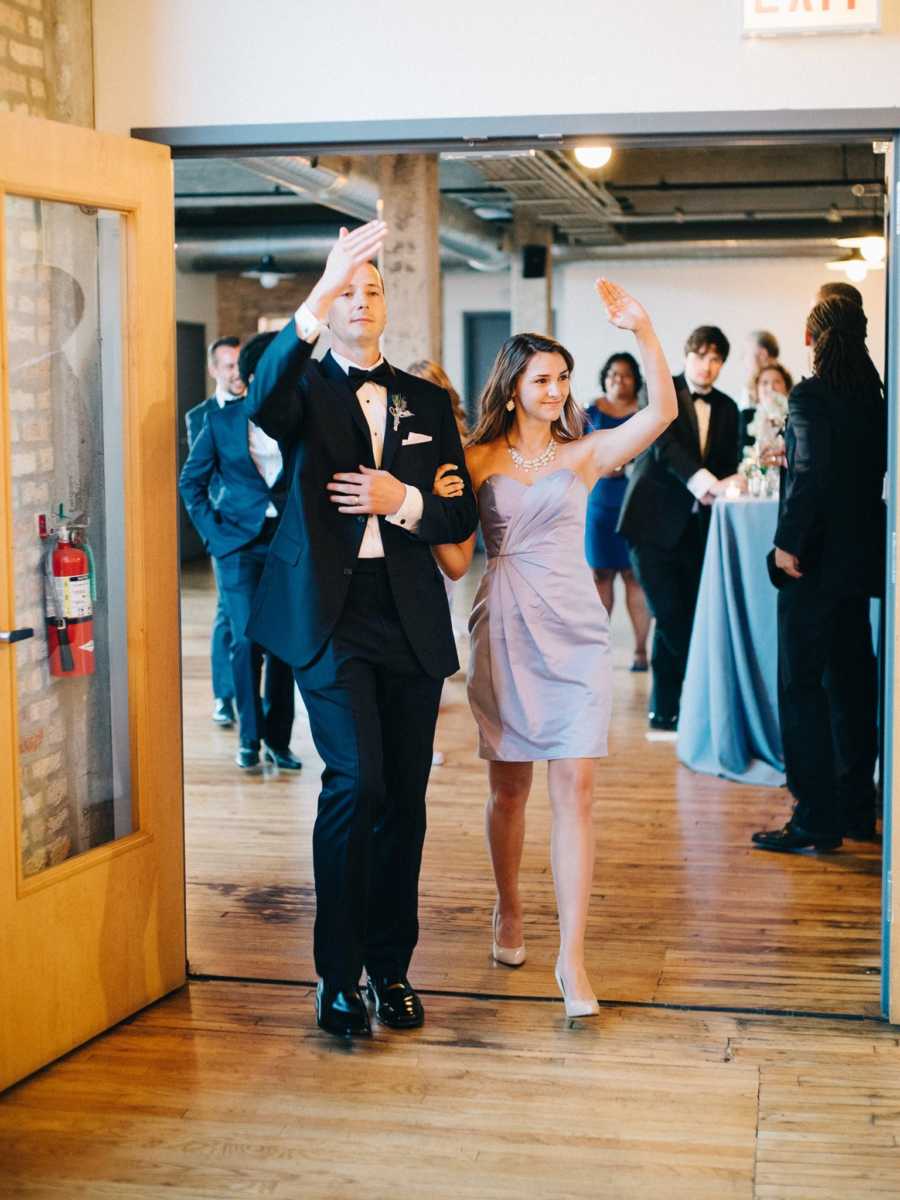 My wife's name is Jessica Ryan-Smith. She's a Chicago native who came to study in the UK after getting a taste for traveling from living in Beijing for a year. In my last year of University, one of my American professors invited me to a Thanksgiving dinner at his house. I wasn't too sure whether to go, but when all my friends were busy, I decided to bite the bullet and head along. I met my wife there and asked her out shortly after. She turned me down (on account of seeing someone at the time, but I've still never quite let her live that down). A few months later she messaged me on Facebook to say hey, and my first response was,'Are you going to go out with me yet?' – she said yes and we've been together ever since. That's six years ago now and I still love the fact I get to wake up next to my beautiful wife every day."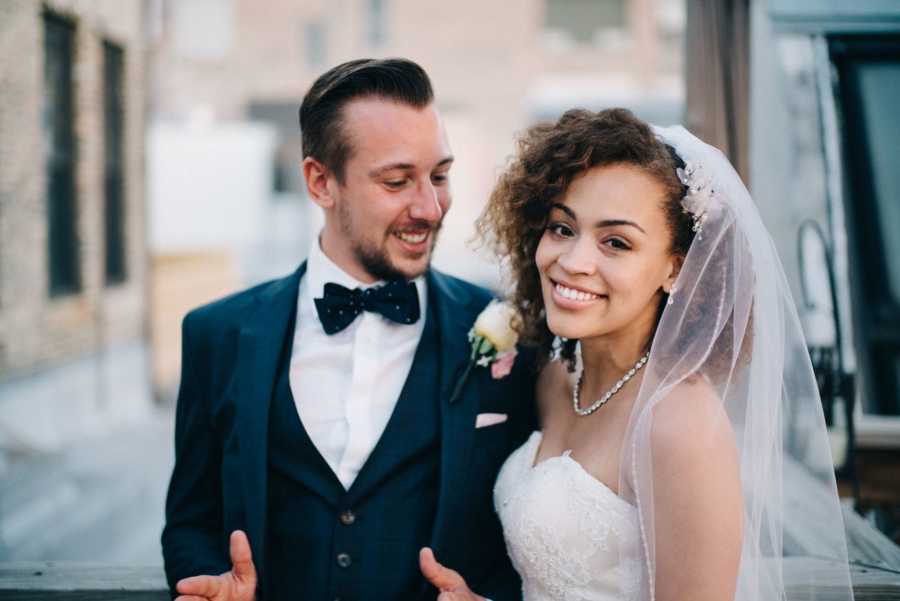 This story was submitted to Love What Matters by Kevin Kennedy Ryan, 28, of Sheffield, England. Do you have a hilarious wedding story to share? We'd love to hear from you. Submit your story here, and subscribe to our best stories in our free newsletter here.
SHARE this story on Facebook to encourage others to cherish every moment and love what matters most.