This is a follow-up story to Shannon's ongoing grief journey. To read the full back story please click here.
"On a much lighter note than my last post, I am writing about a damn bird. Anyone who knows me knows I hate birds. I find them incredibly annoying and I just don't like them. There was that one time when the ducks were chasing me at Gilbert Run Park, then the seagulls that forever attack my fries on the boardwalk, and let's not forget being chased by a chicken down Duval Street in Key West. I have a million bird stories that would only make you agree with my hatred of birds. Maybe it's from watching the Alfred Hitchcock movie as a kid, where all the birds peck out people's eyes and eat their flesh. Who knows?
Someone who has been down our same road of losing a child sent me a message and said, 'We believe our angel comes back as a dragonfly' and that she finds comfort in seeing ways her daughter is still present. So, it had me thinking about what Kinsley would come back as. A butterfly with beautiful colors, bouncing from flower to flower so carefree, just the way she bounced off the walls and couches in this house. Maybe a lightning bug because of the light she created in a room just by being herself. Or maybe a hummingbird. She always liked that my mom had a feeder on her deck and of course, they are super tiny, sweet, and attract attention just the way she did. Never in a million years would I have thought a damn bird.
We have been in this house for almost 2 months now. My spot in this house is right next to the fireplace on my cozy couch. This is where I sit in the mornings to enjoy my coffee and quiet (quiet I used to long for and now I long for her noise) before the chaos of the day.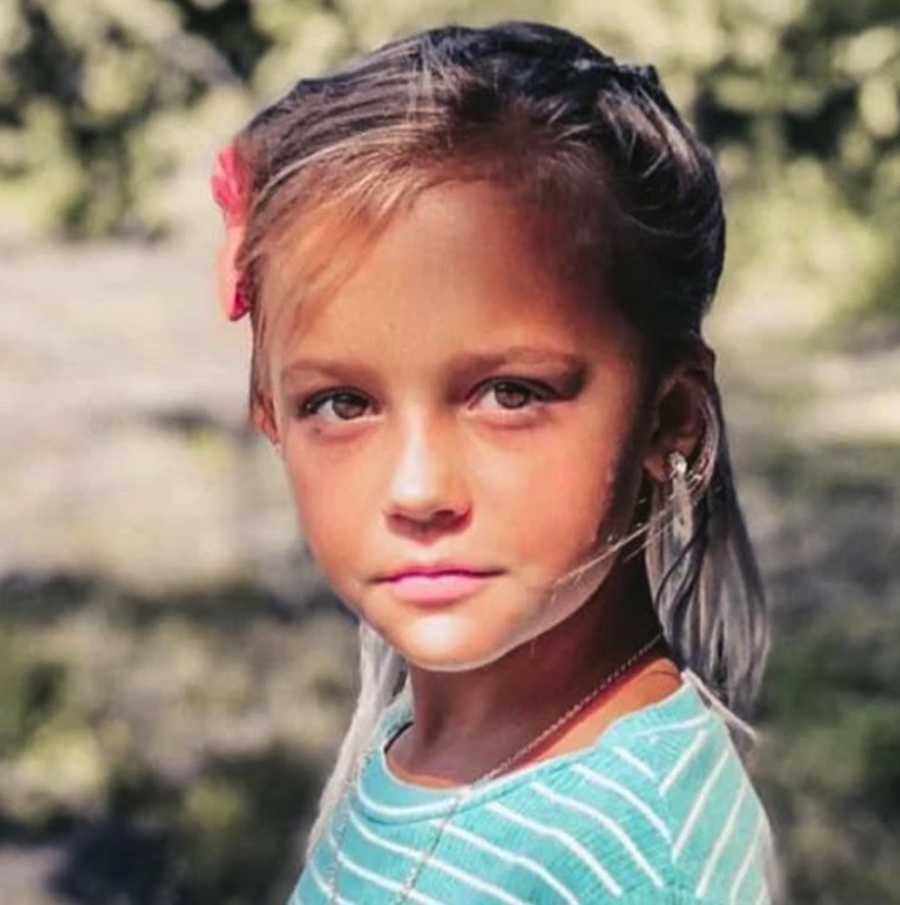 My husband and I avoided coming back to this house after her death. Everything was just as she left it when she was so sick: her cup of Gatorade with a straw that her lips last touched sitting on the counter, her shitty pants laying outside of the dryer, her puke cover clothes and blanket, her bed in disarray with her soft blanket balled up, her glasses on her desk, everything was sitting exactly the way she had left them.
Even though I didn't want to be in the house, there was something in me that needed to come back here. I walked in this house, straight down the stairs, laid in her bed, and cried until I was physically weak, my eyes so swollen they could barely open and this awful pain in my chest felt like my heart was actually broken. Waking up the next day to what I had hoped was just a nightmare was real life. She wasn't here and would never be here again.
I drank my coffee as I sat in my spot on the couch by the fireplace. With tears in my eyes, I sat in silence as I prepared myself for the second hardest day of my life, telling her sisters she was no longer with us. Trying to be strong, compose myself, and pull my sh*t together, I heard a bird chirping. What the f@%*? This bird sounded like it was practically in my house. It almost seemed as if it was yelling at me or trying to get my attention. Of course, telling Jordan we have a bird in the house, he officially thought I'd lost my mind. Crazy or not, I have heard this bird every day since her death and all I keep thinking is, it would make sense that she would come back as a damn bird. Loud and incredibly annoying, just as she was here at the house most of the time, ha!
Who knows if she will continue to come back as a bird. I would certainly hope not but I find comfort in knowing and feeling her presence here in this house. So, I guess for the time being I'm okay with the damn bird!"
This story was submitted to Love What Matters by Shannon Sandvik. Follow her journey on her website here and Instagram here. Do you have a similar experience? We'd like to hear your important journey. Submit your own story here. Be sure to subscribe to our free email newsletter for our best stories, and YouTube for our best videos.
Read more stories from Shannon here: 
'Her eyes looked up at me in panic. 'Mommy, it's blood.' We were just in the ER and everything said she was fine. My stomach about hit the floor.': Family says goodbye to their 'forever Valentine' after battle with flu
'We were at dinner when I said, 'Hell, give me another drink. I may take up smoking too.' Kinsley was as healthy as a horse and in a week span, she was dead.': Mom loses daughter unexpectedly to flu
'She constantly pissed us off. Lord, did she stir up drama. Now, I'm pissed there will always be an empty seat. The family dynamic has been rocked.': Mom continues to make memories after daughter's passing, 'We are going to find something to smile about'
'Be grateful all of them are in one house alive and healthy, because mine aren't. The fighting used to annoy me. Now, I'm glad they're even here to fight.': Mom says 'they will remember what you do during this quarantine'
'We won't get to take fireball shots together when she turns 21. She'll never get to drive the red jeep with no doors that she wanted. We were robbed.': After losing daughter to flu, mom is reminded that 'love is permanent'
'Ms. Kinsley, we're gonna get you cleaned up now.' It was time to turn off her machine. My husband leaned in to hug them, tears streaming down his face.' Woman thanks nurses and doctors for their 'selflessness' during daughter's final moments
Do you know someone who could benefit from reading this? SHARE this story on Facebook with family and friends.