I am building an army of kind people in Charleston, South Carolina. In 2017, with local tragedies compounded by the ongoing divisive political climate all over the country, I was searching for something that could bring everyone together. Something upon which everyone can agree. Eventually, it occurred to me that we can all afford to be kinder to one another. Kinder in our words, thoughts, and deeds – and that anonymous giving is the perfect vessel for slow but impactful change.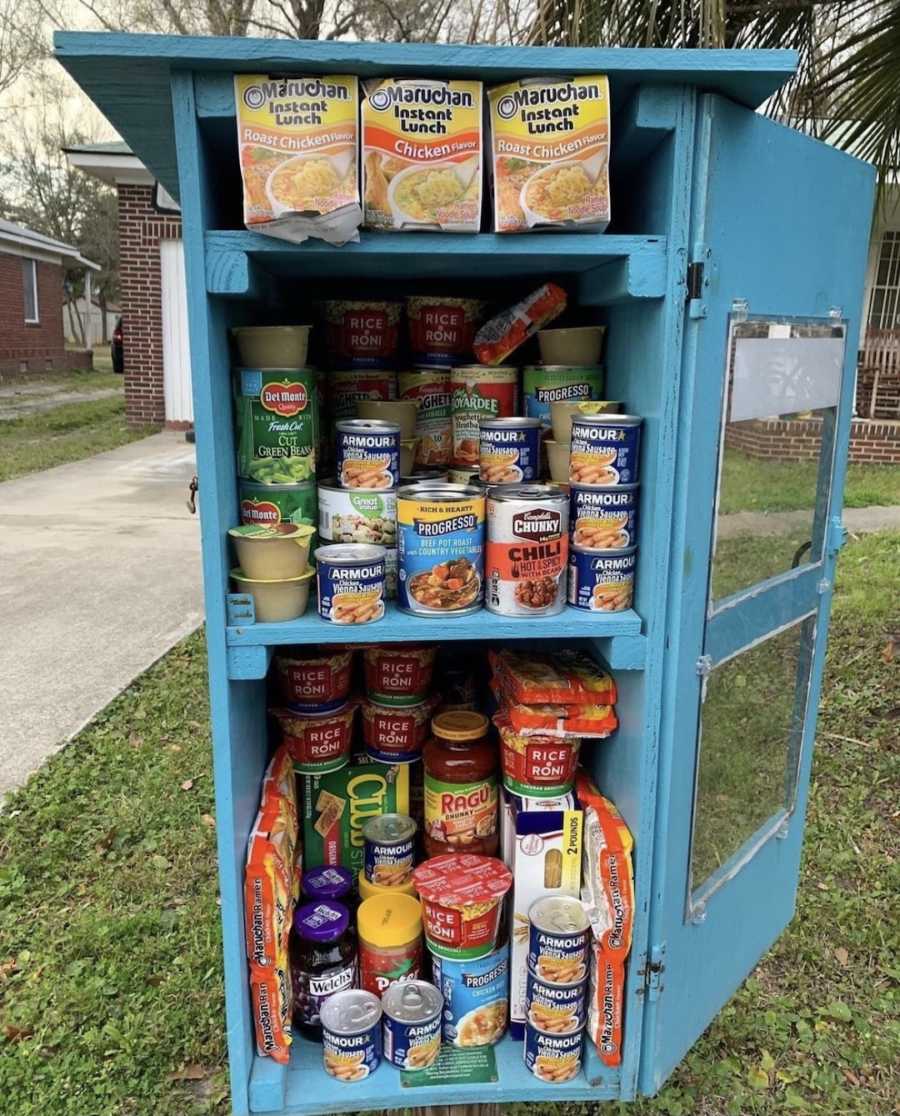 I created the Lowcountry Blessing Box Project after reading about the first Little Free Pantry in Arkansas, and the rapid growth and popularity of my Project has inspired others not only to participate by anonymously donating food, but also in many other ways. My Project is now a network of more than 175 anonymous food donation sites for non-perishable foods and toiletries with one guideline: Leave what you can, take what you need.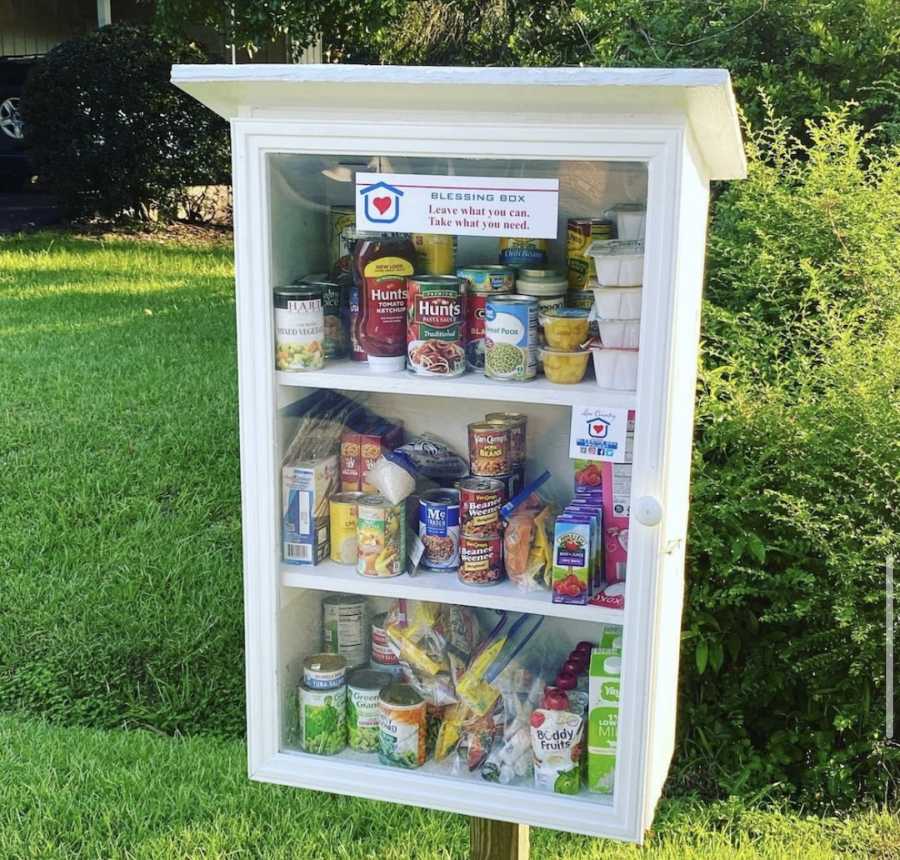 I set out to build the first four pantries in my garage with the intention of giving them away to people who worked, lived, or worshiped in high traffic and/or underserved areas. By the end of March 2017, I had obtained three old kitchen cabinets from a second-hand store and another from my friend's barn. It was imperative that they had plexiglass fronts so people could see that there was food inside, and I decided that no one ever disliked a matching color scheme, so I painted them all shades of red and blue. Was that subconsciously patriotic? Maybe. It could also be that the only exterior paint in stock at my local store that day was the 'Barnhouse Red,' and we happened to have some blue in the garage. Our budget at this point was zero and my husband may or may not have been questioning my sanity.  After the first Blessing Boxes were up and running, the news about this method of fighting food insecurity began getting attention in the local media and online.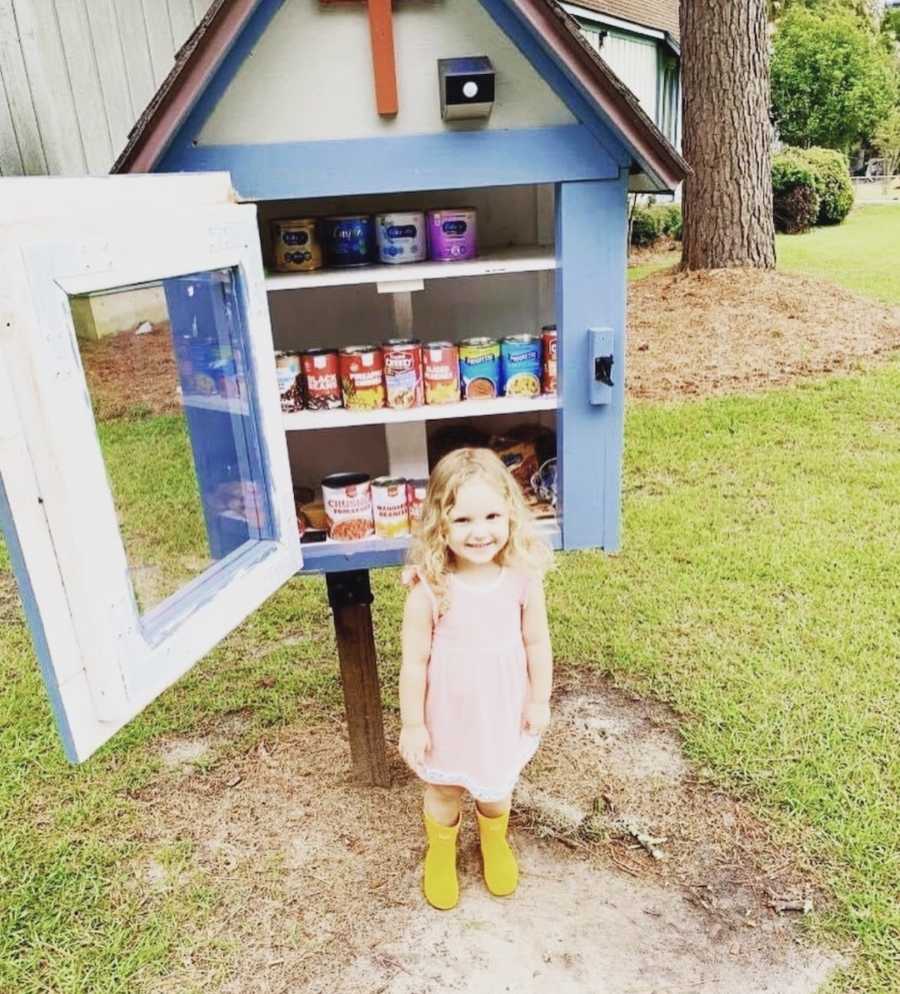 In the heat of the summer of 2017, a plumber reached out to say he loved what I had created, and he wanted to make a donation to create more Boxes. I told him that it was not an official organization and that he'd have to just write the check to me personally. He did not hesitate. He donated $500 by dropping it off at my office – we never even met in person. We used that money to host a Construction Day, where we built eight more Blessing Boxes. I think about him often, the plumber who did not want his name to be known but I will never forget. He changed my life. He took my project from a little idea to a big deal. I have never heard from him again, but I hope he has followed our growth. I hope he knows the fire he lit and the development he spurred.
Following Construction Day, strangers routinely started contacting me about building their own Boxes, and churches with existing pantries reached out to be added to our list. The Mayor's office ran a summer camp for area youth to do service projects, and they built a Blessing Box out of an old DVD stand. It was covered in the kids' handprints and quotes about kindness. They placed it inside of a laundromat. The Blessing Box at the laundromat is still one of my favorites because it was created by kids, and those kids now know that they can change our city – their city – by their small act of kindness. Also, that particular Blessing Box has led to an ongoing partnership with the laundromat that evolved into us hosting Free Laundry events at their site. Paying for people's laundry is one of many ways that our Project has evolved from a network of food donation sites into an army of kind people in action.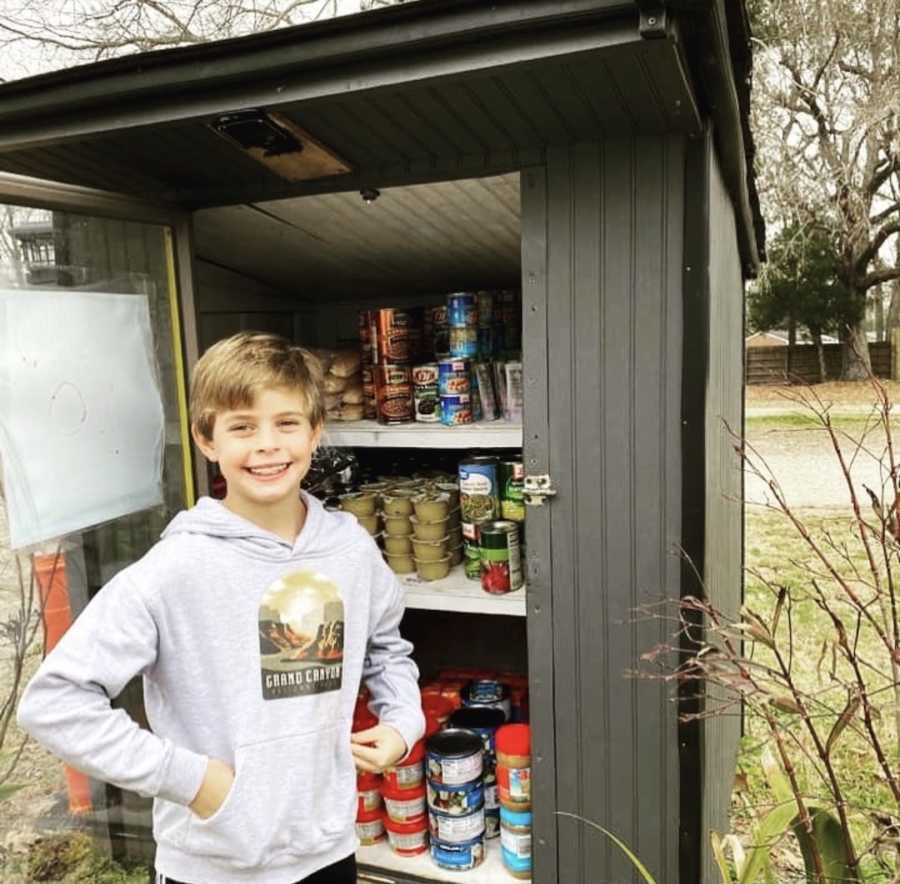 As the Project grew, several of our pantries were made from newspaper dispensers that our local paper donated. The volunteer who secured the donation of the newspaper boxes for us passed away during the Coronavirus pandemic, and his daughter called me to tell me the news. She said that her mother mentioned that they should break the news to me – on the same day that he passed, just like I was family. My heart melted. It told me what the Project meant to him – that he talked about it at home with his loved ones often and that they had embraced it too. He was of a different generation from me, had a different upbringing and had a different political perspective, but this simple idea that we should be kinder to one another united us.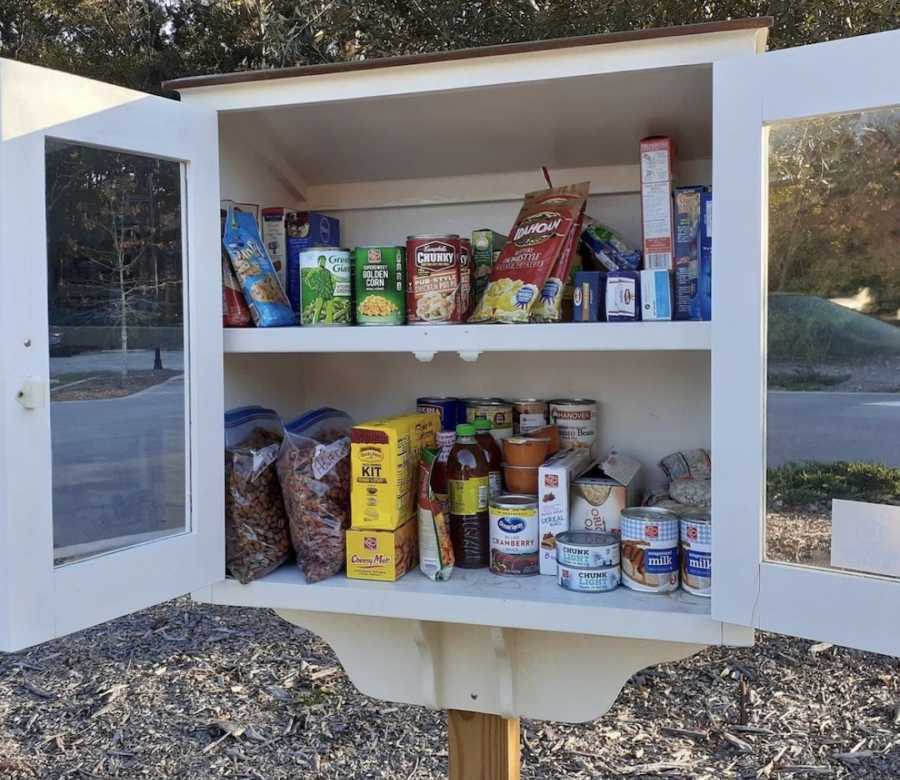 The explosion of interest in my Project forced me to give up my tightly held plan regarding the placement of the Boxes. After the initial Boxes I made, the others have all been built and placed by people who read about what I'm doing.  This has been a challenge because I hate the idea of someone using the last bit of gas in their car or the last bit of energy in their legs to pedal a bike to a Blessing Box only to find it empty. I encourage anyone who asks – and they don't all ask – to check our constantly-changing Google map of locations to make sure that they are not about to place a Box right next to an existing one.  If there is more than one pantry in the area, then the donations will be spread out over the two locations instead of centralized in one place. Someone would have to drive by both of them to check for food. This is a challenge of anonymous giving. I have not always been successful in convincing someone who has set their mind upon a plan to move it elsewhere or to just contribute to the existing Box already in place nearby. Who knew there could be rival churches on the same block each wanting to have possession of their own Blessing Box?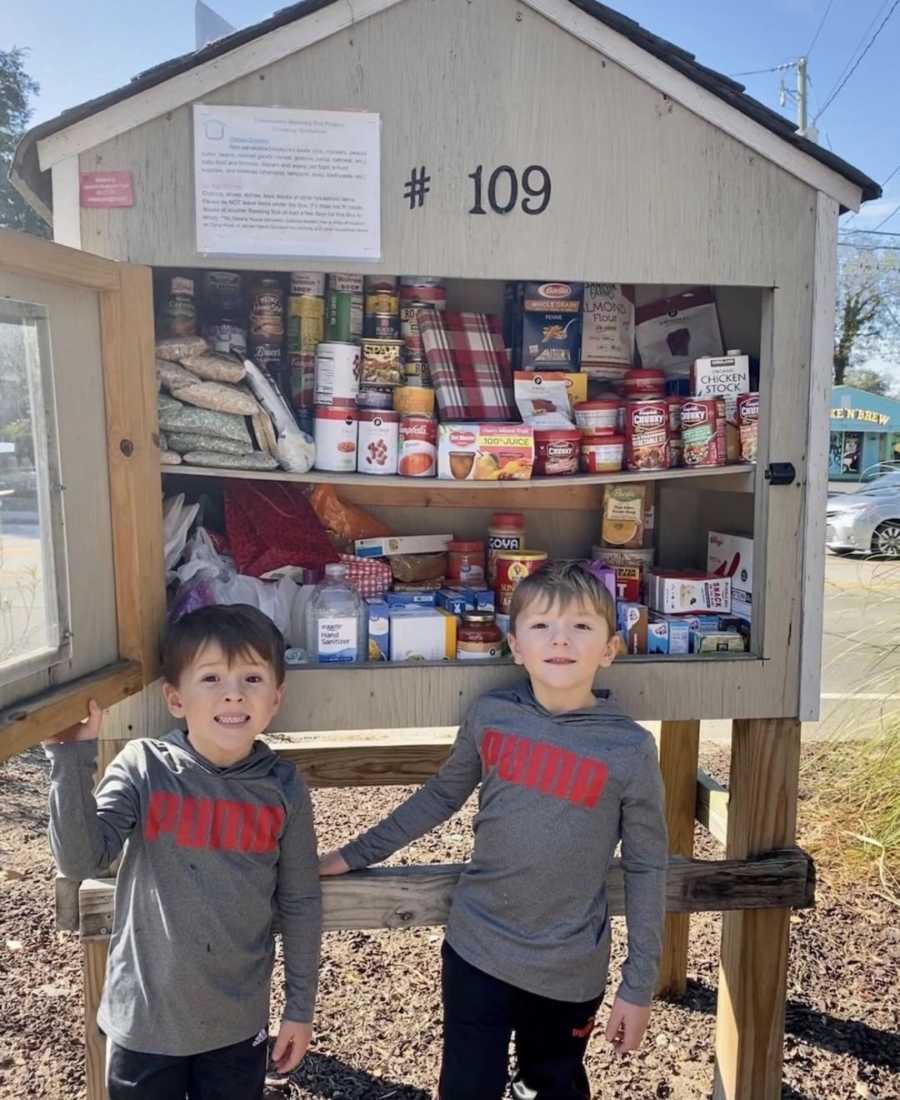 I have helped start both the Midlands Blessing Box Project and the Upstate Blessing Box Project here in South Carolina. Each has its own unique story of how it came to be – but now, along with a group which operates in the Pee Dee region, we are covering the entire state in opportunities for anonymous giving! I also inspired my sister to begin a Blessing Box Project in her city when she was unable to find volunteer opportunities for her young children. There are now about 75 pantries in the Columbus Blessing Box Project thanks to my sister.
Despite the possible geographic and cultural differences, I believe that anonymous giving crosses into nearly all religions, and that our success is largely based on the idea that no matter what ideological beliefs we hold, helping others should be universal.  Our Blessing Boxes are at Baptist churches, Catholic churches, AME churches, and mosques. We had a young man who used his Bar Mitzvah as a way to create bags full of food to donate in our Boxes. One of the hosts in my sister's Project is a self-described Satanist. Kindness is for everyone.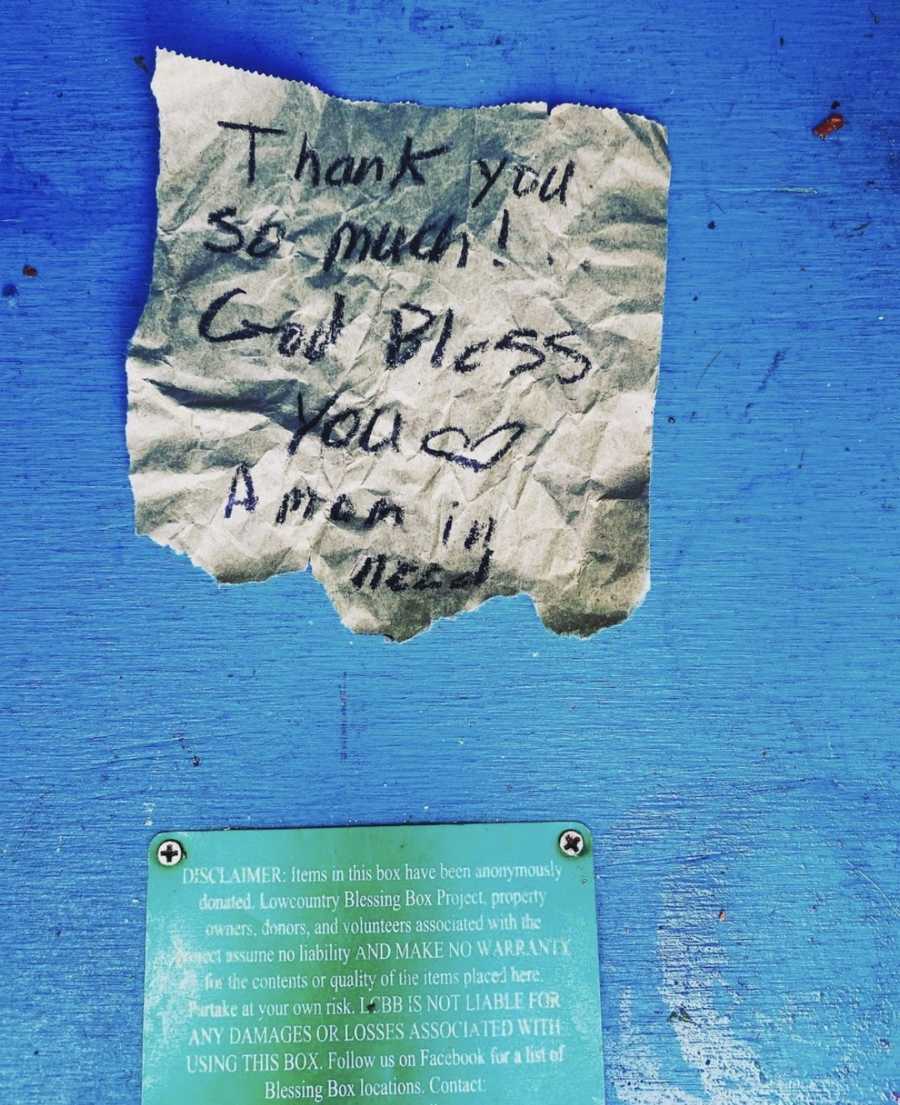 Since I started the Blessing Box Project, one of the most unexpected things I have discovered is that people who have the least to give, often are giving the most and the people with the least resources are usually the ones who are taking exactly what they need to get by and not a bit more.  I also have found that those living on the margins, often living transiently or in groups in wooded areas or under overpasses will come to the Blessing Boxes to collect food, not just for themselves, but for their group. I often ask our supporters to recognize the possibility that just because one person empties an entire Box does not mean they are being selfish. The likelihood is high that they are taking the items to feed not just themselves or their families, but an entire group of similarly situated people.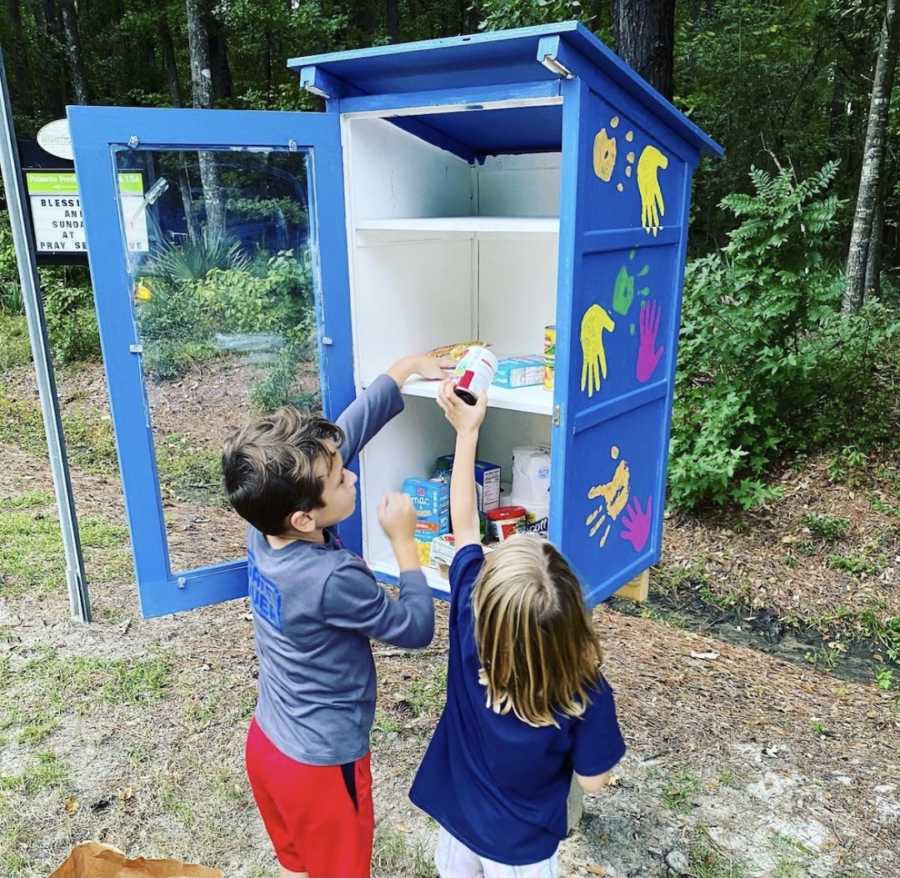 At one of our last community events before the COVID-19 shut-downs started, I met a young man. He had recently undergone a very serious medical procedure and had a long recovery ahead of him. He lived near the laundromat where we were helping people, and he spent most of the day with us. Throughout the day he thanked all the volunteers.  Once he and I spoke one-on-one he explained that he was so glad we were there but not for him – for the elderly people of that community. He told me about going to an older woman's home where she had laundry piled up but was physically unable to get it to us to wash. He told me how her house smelled and how he had helped her load it in the car and stayed with her until she was done so he could help her get home. She's on a fixed income and since laundry is sometimes a luxury she cannot afford, she hadn't washed clothes or linens in a long time. He told me that we gave his elderly friend a clean slate – a reset. He was emotional as he spoke about what it meant for people to give up their time and money to do the seemingly small act of laundry for others. He asked me to tell everyone how much it means to his neighborhood that a tiny bit of the burden of daily life could be lifted.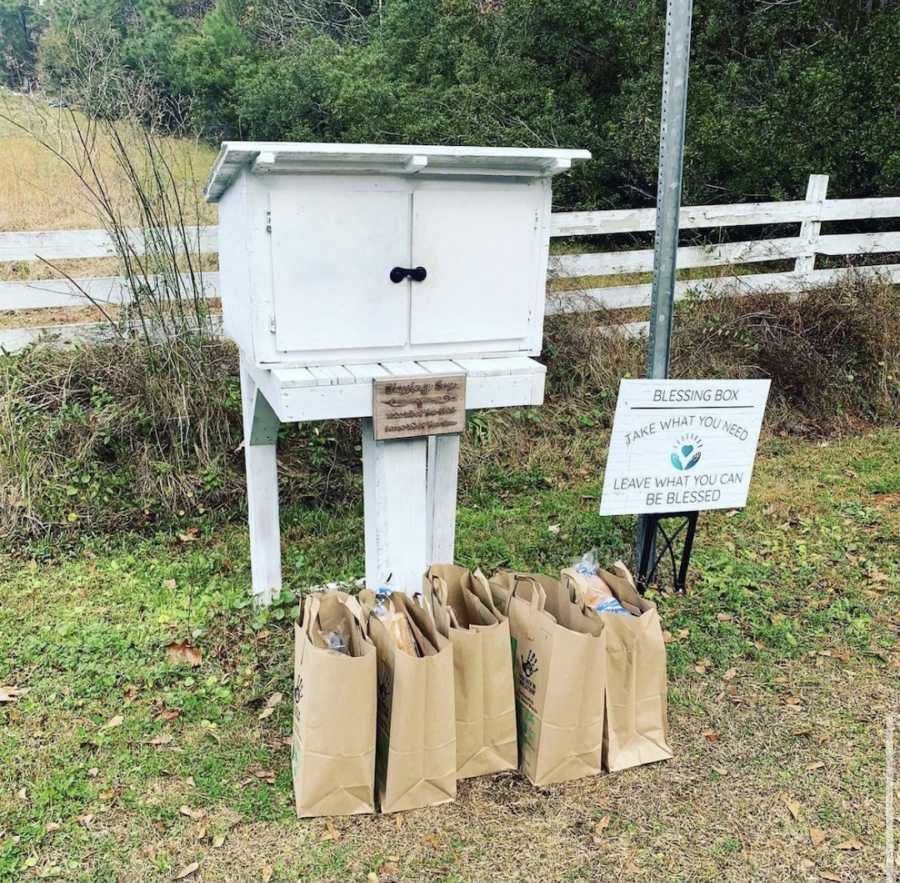 The Lowcountry Blessing Box Project is and always has been about more than just food. It is about building community, encouraging kindness, and teaching each other about empathy. Blessing Boxes, Little Free Pantries, and Free Fridges are very popular now and are located all across the country and the world.  I hope that every time you see a Blessing Box in your neighborhood, you will know that no matter how terrible the world gets, how bleak your situation seems, or how lonely the days are right now – someone out there cares about you and believes that we will get through things together.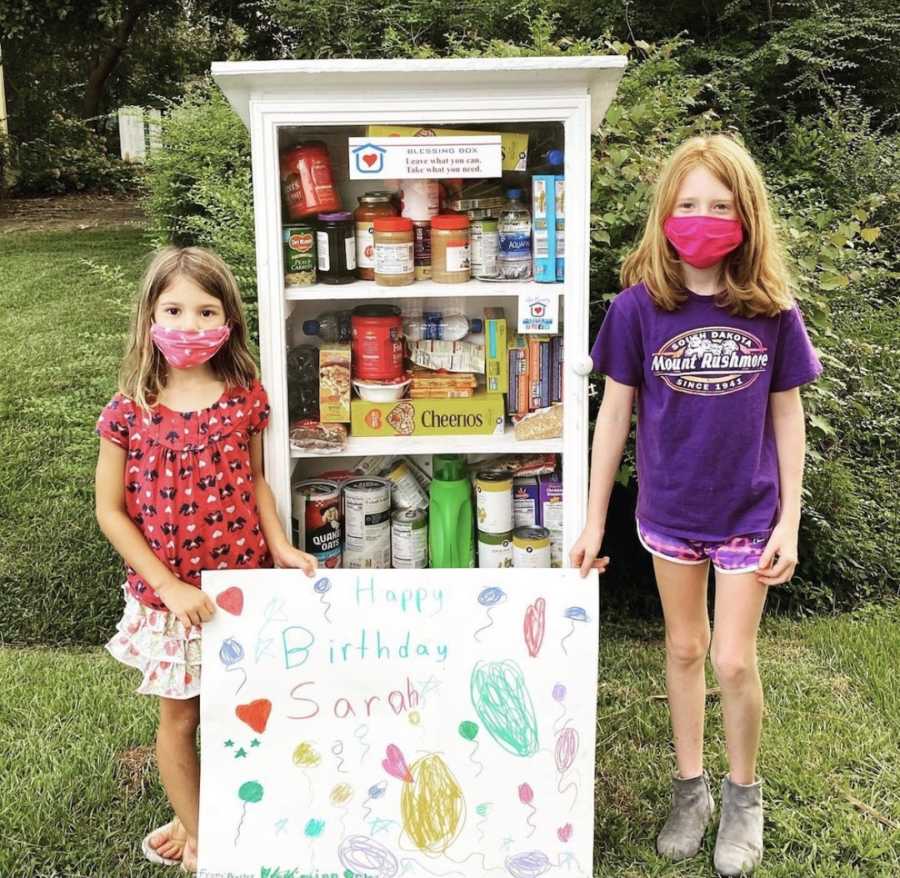 This story was submitted to Love What Matters by Katie Dahlheim of Charleston, South Carolina. You can follow their journey on Instagram.Submit your own story here and be sure to subscribe to our free email newsletter for our best stories, and YouTube for our best videos.
Read more stories from Shelby:
'His sign caught my attention. 'I don't care who you are, I love you…' I stood there reading it, until he finally said, 'Hi.' I cocked my head to the side.'
'I prayed every night for years God would change me.' The loving environment I created for my kids was now in full question.': Christian mom to LGBT daughter urges 'LOVE is the answer'
'26 years ago, he was laid into my arms for the first time. Love settled on me like a weighted blanket. I prayed for his health and happiness with every inch of my heart space.': Mom says 'the dreams we dare to dream for our children really do come true'
'I've been a mom for 27 years. I still have no idea what I'm doing, but God does.': Mom says 'a family that prays together, stays together'
Do you know someone who can benefit from reading this? SHARE this story on Facebook with family and friends.