"Our story began on January 15, 2014, when my cousin, Michael, was Bryon's fire chief at Springfield Fire Dept. Michael told Bryon he thought we needed to meet because we both had jeeps and loved dogs. I'm a detective for Panama City Police Department and he's a firefighter for Mexico Beach. On that day he sent me a Facebook message and we became inseparable once we started hanging out.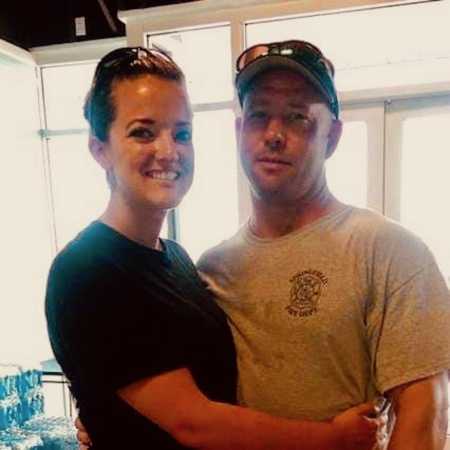 On July 14, 2015, he told me I was going to be his wife one day. I laughed it off and thought he was just talking crazy, but deep down I knew it was true. We got engaged that August, and he soon started nursing school, and I was promoted to a detective position.
Last year we picked the wedding date of October 21, 2018. I planned the whole year and collected decor along the way. Our colors were rose gold and dark blue. The dress I was supposed to wear was handmade by my great grandmother. My grandmother and my aunt wore it for their weddings. I was supposed to pick up the dress from the dress shop the week of the storm. My beautiful rose gold rings were supposed to be picked up on the 12th. Both shops are closed now, but the dress is safe and undamaged. Right after the storm we decided to call off the wedding after seeing the destruction of Mexico Beach, and seeing the beach house we rented was no longer there. There were also no days off in sight for either of us, as it was our duty as first responders to help clean up and assist.
On October 18th we were talking about everything the storm has taken from us. Bryon looked at me and said, 'Let's get married. Hurricane Michael has taken enough from us, we can't let it take this.' So, the wedding was back on! We were so excited, until later that night one of our sweet dogs passed away unexpectedly. We are still heartbroken over it.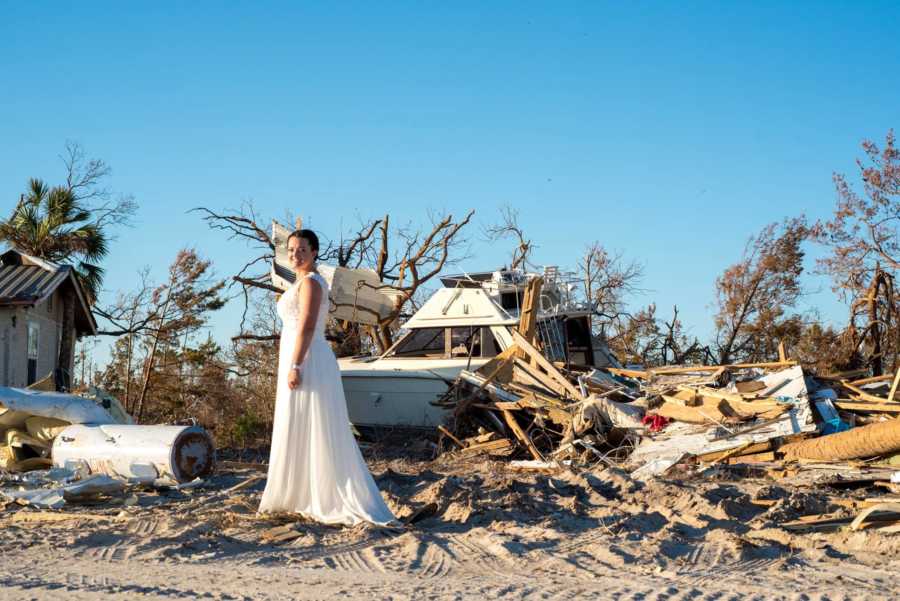 The dress I wore for the wedding was a $90 dress I got from Amazon. I told Bryon I was going to wear my police uniform but surprised him with the dress. My cousin did my hair, and I did my makeup the best that I could remember from the makeup trial I had a few weeks ago. My dad flew in from Colorado, and his brother was there, but the rest of our family was unable to make it. Most of our friends who came are first responders. We invited the local first responders, because they're our family too.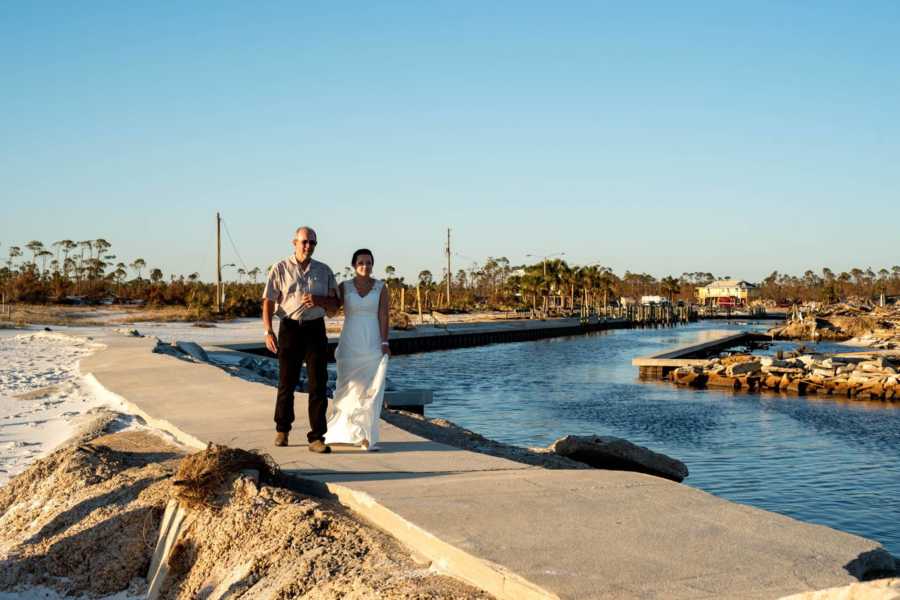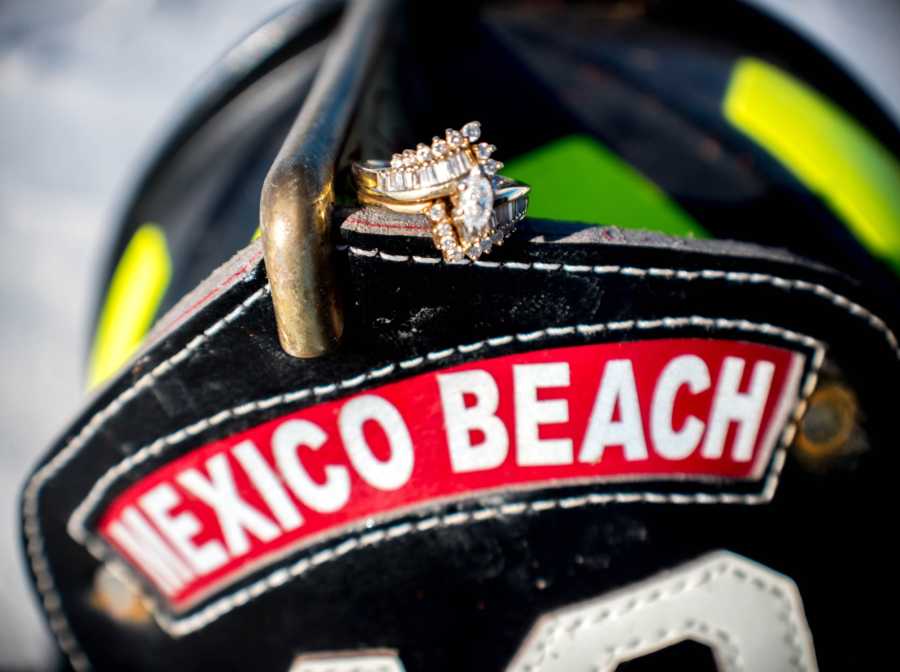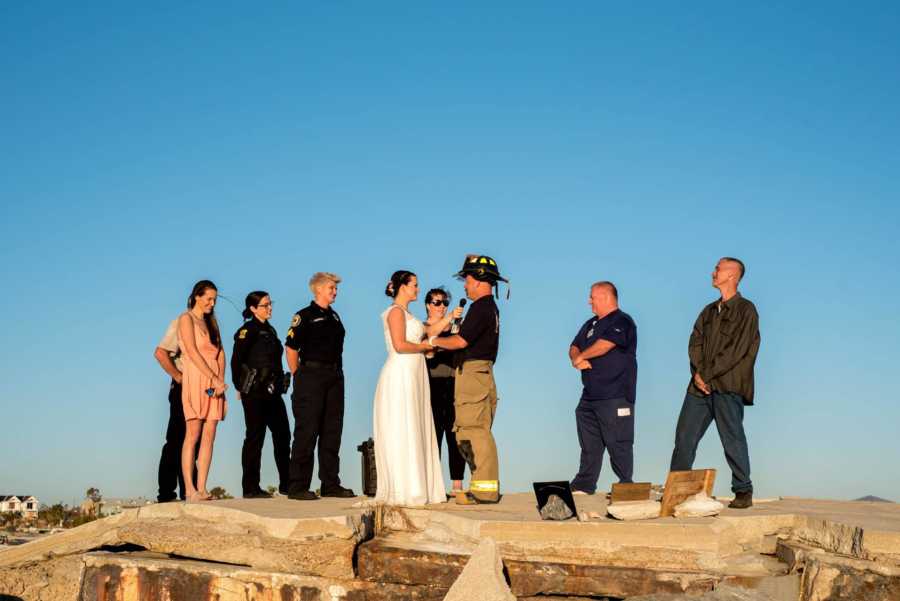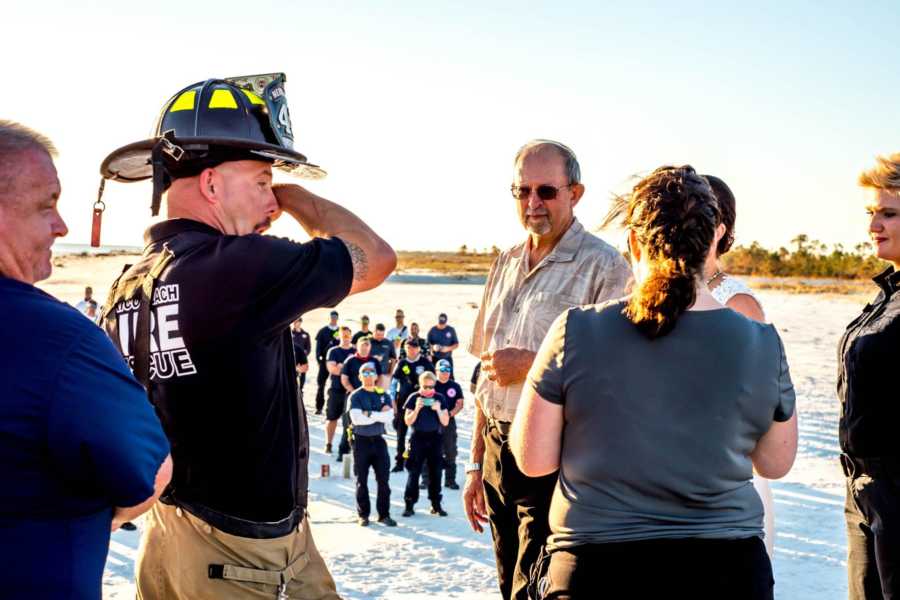 The photographer, Sara Lyndsey, is married to one of my coworkers/friends, so she didn't evacuate and was able to come. Everything fell into place. We had our first dance under a big full moon and only the sound of the waves.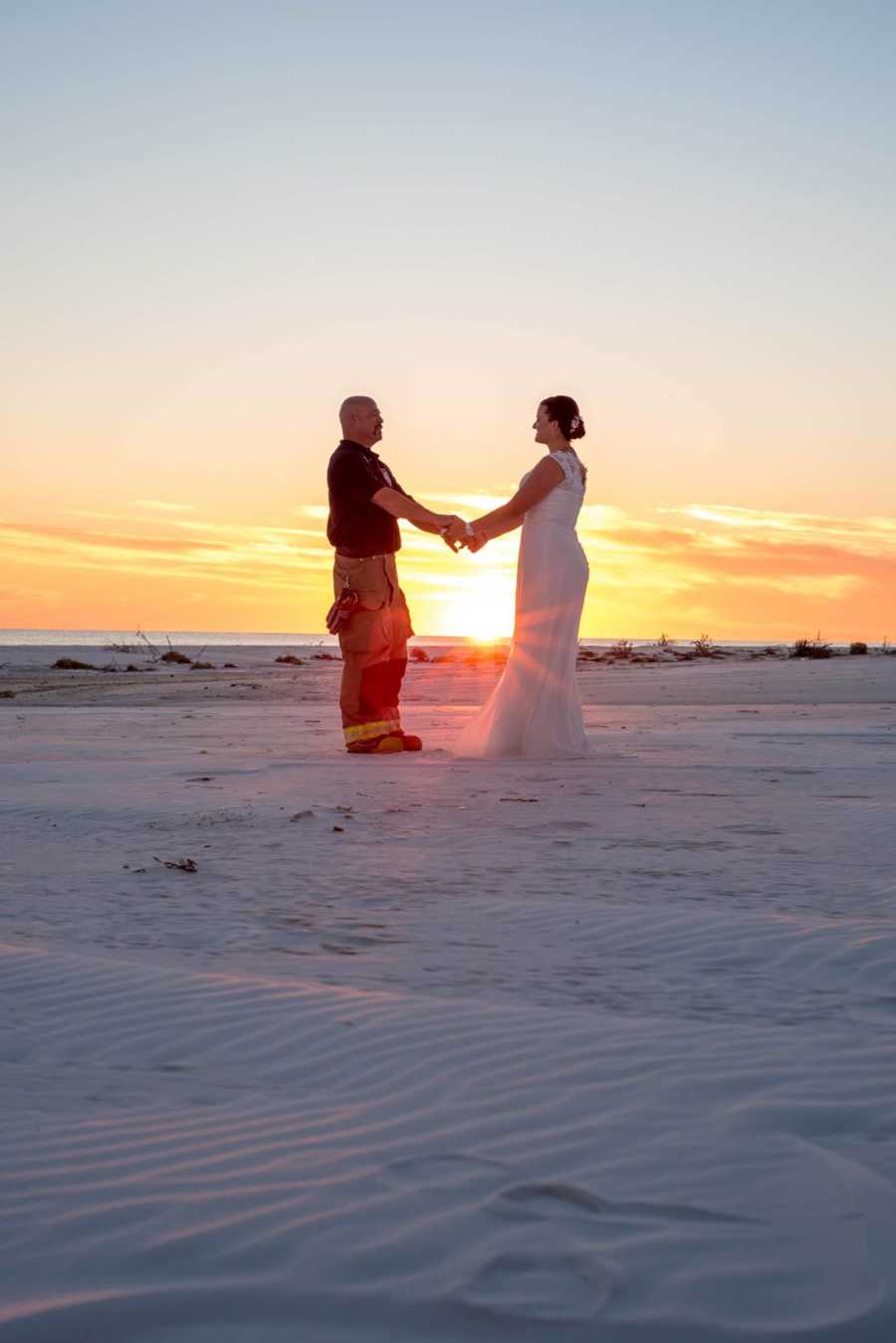 There was the prettiest and longest sunset we have ever seen. We took an extra day off and went to Destin for the day instead of flying to Cancun as originally planned, but we still had so much fun. It had been almost 2 weeks since we've had a hot shower, so we were pretty excited about that.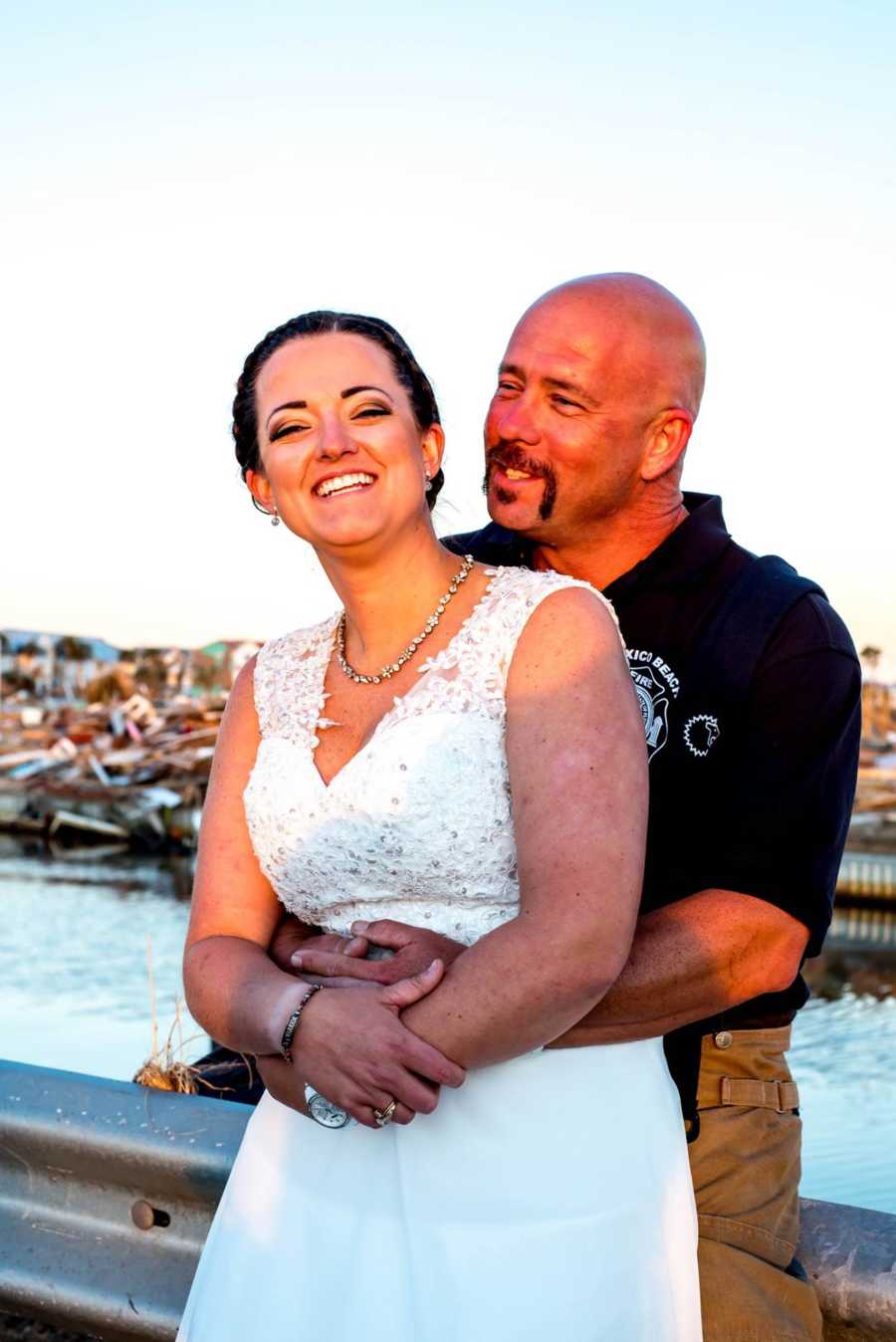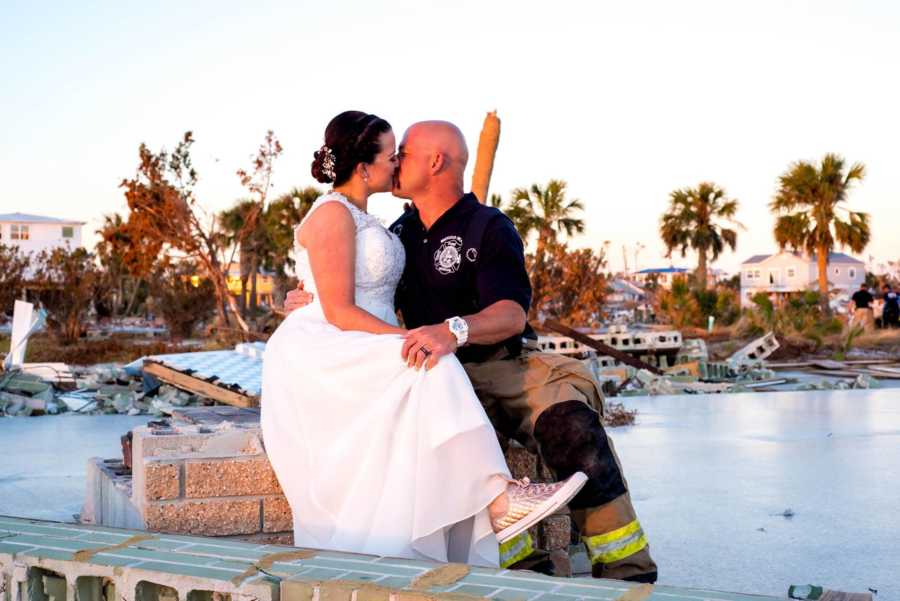 I'm glad we stuck to our date. Like Bryon said, we have lost enough, and couldn't lose this too. Wedding planning is so stressful, and literally everything went wrong for ours. Most people would think that it's a 'sign.' I think it is. It's a sign that our love is stronger than a Category 5 hurricane. To the other brides out there, don't stress the material things, and don't let anything stop you from doing what you want to do. I had the time of my life. Although I do wish I could have had my nails done, haha."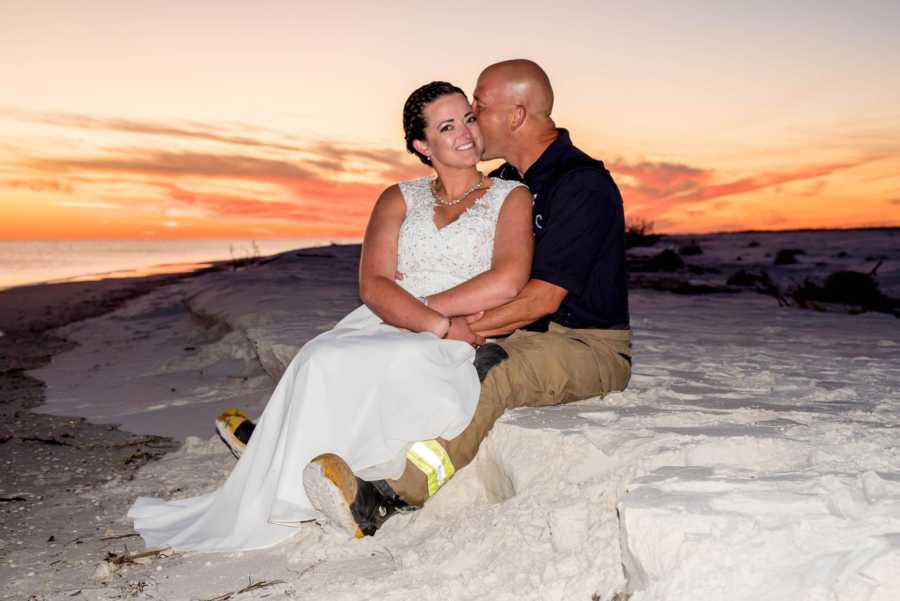 This story was submitted to Love What Matters by Cori Clark, 30, of Panama City, Florida. Submit your own story here, and subscribe to our best stories in our free newsletter here. 
Please SHARE this story on Facebook to encourage others to cherish every moment and love what matters most.