Disclaimer: This story contains details of child loss which may be triggering for some. 
"I am truly not sure where to start… I will start by saying we are so blessed and God is so good. My husband, Clint, and I started dating on November 13, 2005 and we got married less than two years later on October 27, 2007. It's like they say, 'When you know, you know.' We knew and we were so in love. I think like most couples do, we had our '5 year plan'… which I have come to realize over the years that our plans don't matter.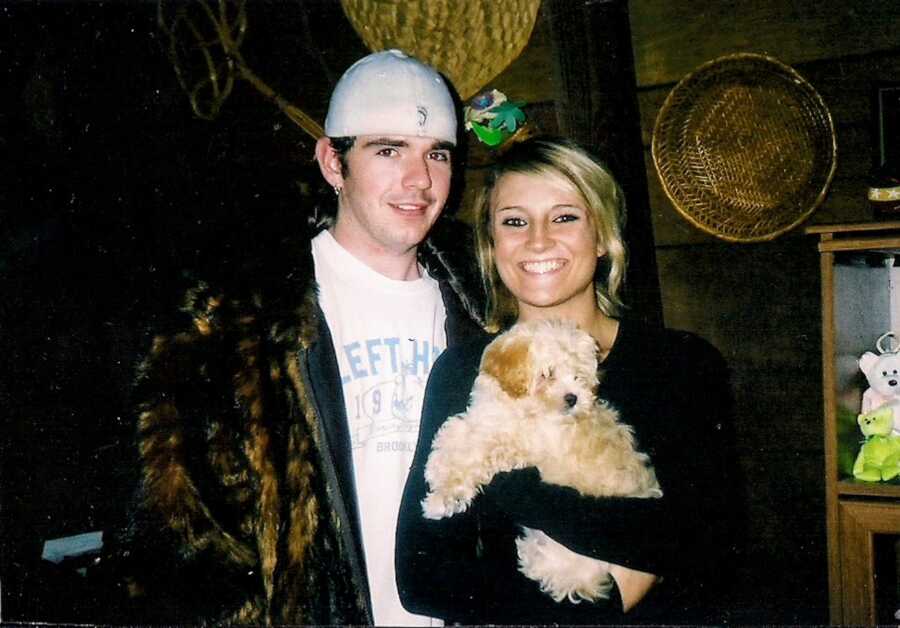 Our plans are not our own; God's plan is the only plan. Trusting His plan can be a difficult thing to do because we are human. The journey of trusting His plan for our life is more often than not filled with a mixture of things like doubt, trust, fear, joy, anger, loss, blessings, grief, and more love than you could have ever imagined your heart would hold in this life. Regardless, our 'job' is just that. To trust in His plan for our lives no matter how hard it is and to tell the world about His love.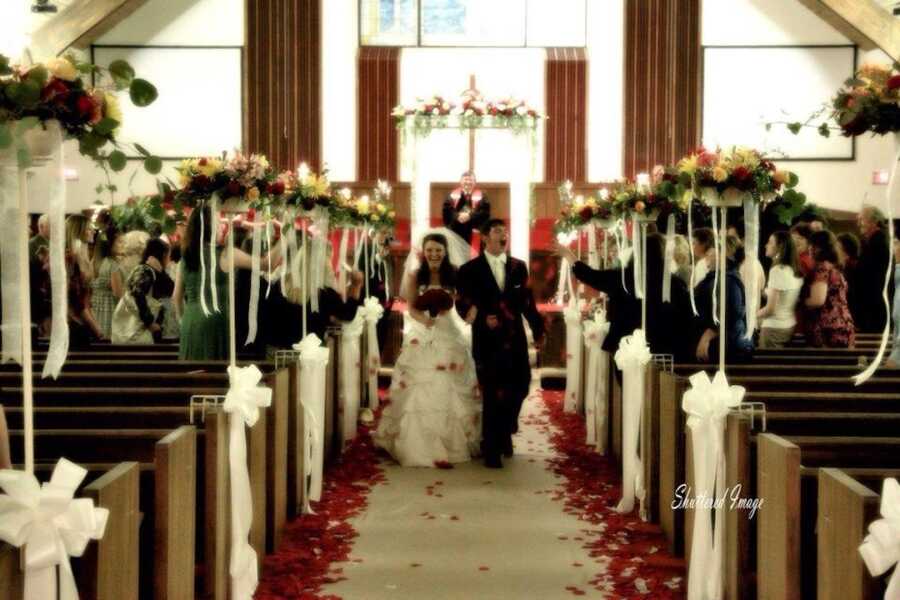 In February of 2008, after Clint and I got married, we decided to move from our home state of Arkansas to Texas for a fresh start. We were going to be away from all of our family, but it was just something we felt like we needed to do. We both started new jobs and our new life together. We planned on maybe trying to have our first child in five years or so.
Well, that plan was quickly changed in June of 2008, when I found out I was pregnant! I remember I called my mom completely shocked, panicked, and crying. 'Mom, what am I going to do?!' I laugh now when I think about it.
Clint was out of town working in Louisiana at the time and I knew I couldn't wait until he got home from his hitch to tell him. (I say hitch because he's in the oilfield.) So after hanging up with my mom, I called Clint. I was so nervous to tell him. I mean, you know, we had that five year plan and all. He answered the phone, and I told him I was pregnant.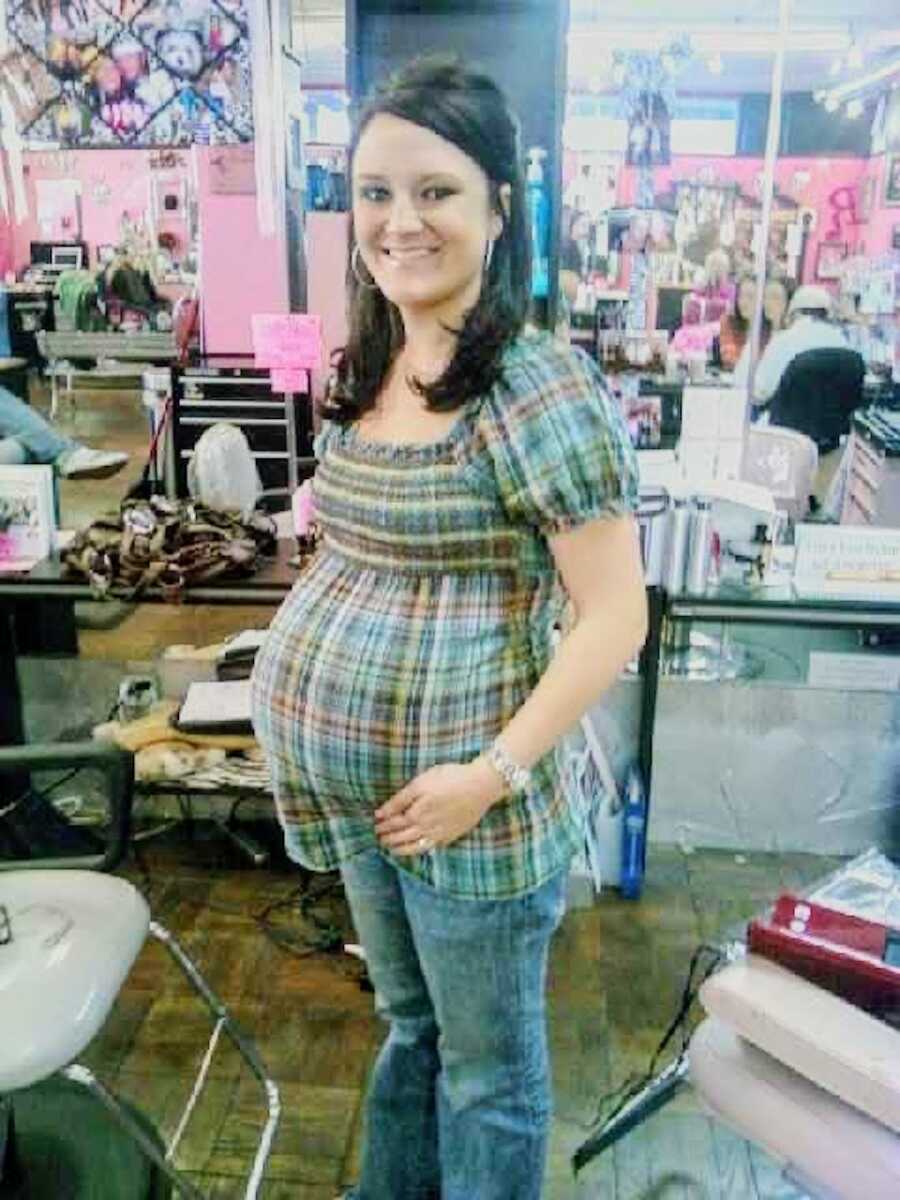 After what seemed like silence forever, which was probably only a few seconds in reality, he said 'I'm gonna be a DAD?!' with pure joy and happiness in his voice! I called the doctor and they set me up for my blood test a few weeks out. Once they had confirmed I was in fact pregnant, they set me up for my first sonogram. Clint and I went in together for my first appointment with my doctor in July of 2008. At my very first appointment, we found out I was 5 months pregnant, due in November, we were having a boy, and he had a cleft lip. All in one day! We were in shock; that was a lot to absorb in one day to say the least! We were excited and scared.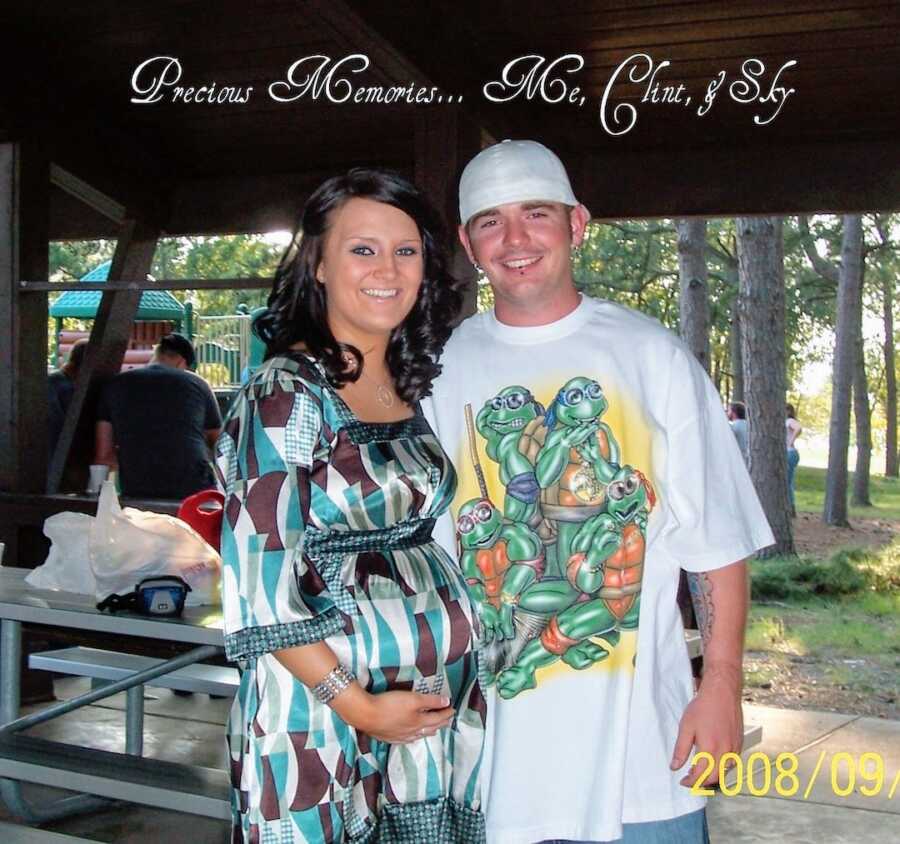 Our first child and only son, Sky Charles Hipp, was born on November 24, 2008 at 4:17 a.m. He weighed 7 pounds exactly and was 18.5 inches long. Absolutely perfect in every way and the greatest blessing to our lives! He had his daddy's big, beautiful blue eyes and my long fingers and toes. He was the light of our life and such a blessing to both our families. We were the most proud parents and truly the happiest people in the world. Sky was perfect and we felt like nothing could stop us; we had it all.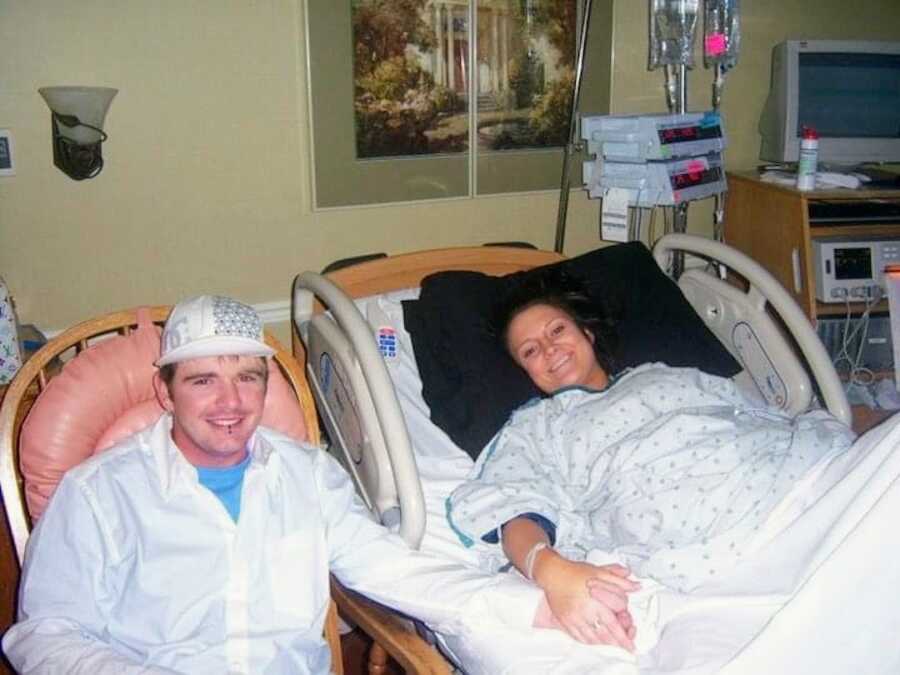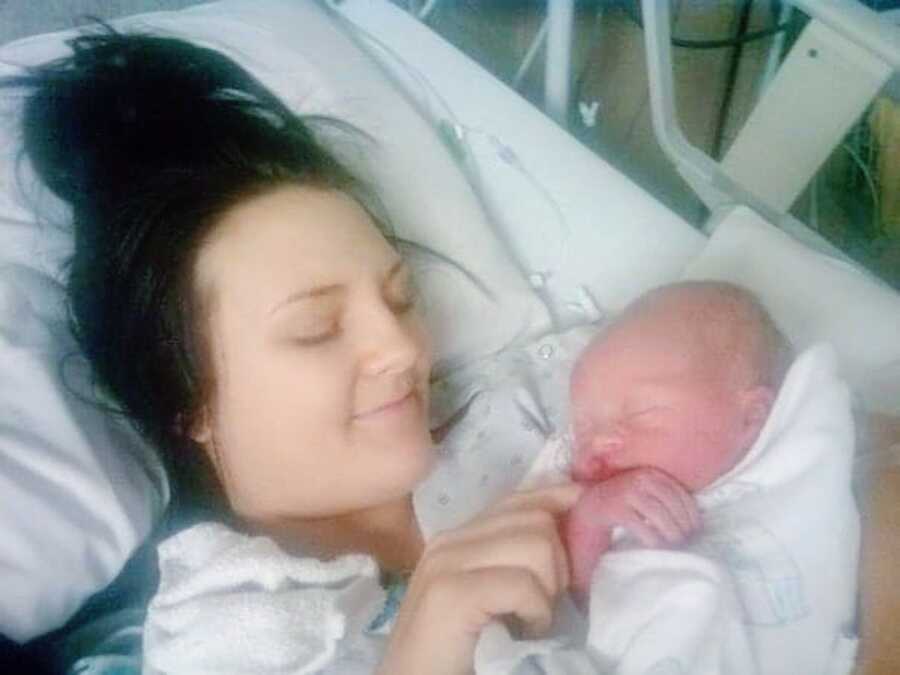 On March 17, 2009, that was all taken away and Sky became our angel. I went into Sky's room that morning to check on him to find him not breathing. I picked him up knowing he was gone but still I remember calling, screaming his name over and over believing it was a dream and believing he would wake up or I would wake up. I remember calling my husband, but I don't remember what I said. He says all he can remember from that day was hearing my scream when he answered the phone.
I remember our yard being full of people, some I knew and some I didn't. The last thing I remember is my husband holding me with my face buried in his chest as they carried our precious little boy out of our home forever. In the blink of an eye, our world changed forever. Life as we knew it was over, and our healthy three month and three week old baby boy was gone. Sky had passed away from S.I.D.S., Sudden Infant Death Syndrome.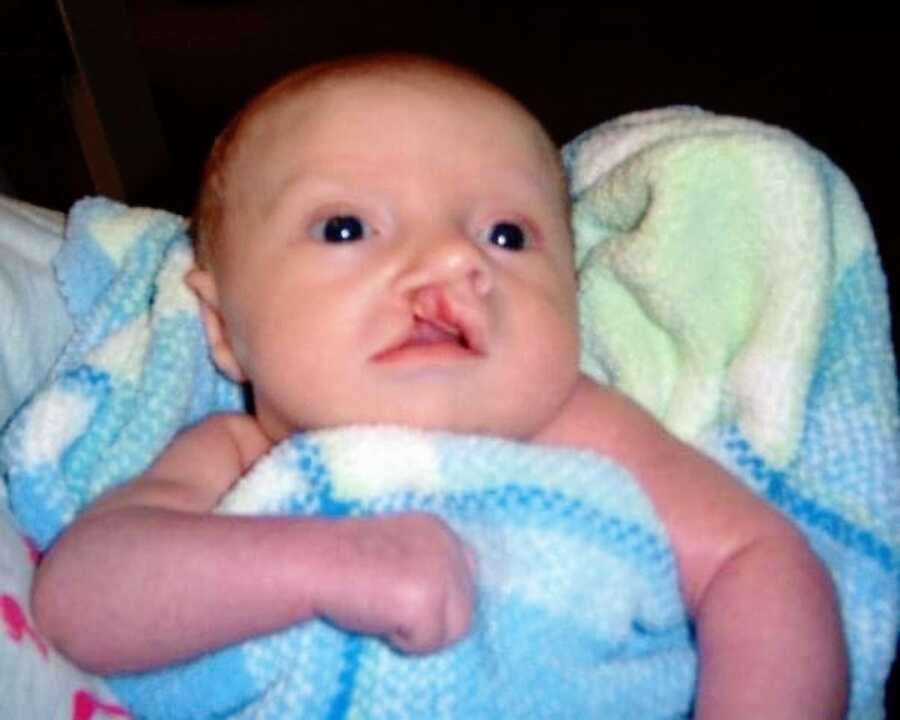 I vaguely remember bits and pieces from those few days of our life. It has always been kind of a blur to me. I remember being driven from our home to a nearby hotel in town. I remember when we pulled up, looking out in front of me at all the traffic on the highway, thinking to myself, 'Why not?' What was the point in living? I remember feeling like I had already died.
This wasn't real life. This couldn't possibly be real. I was going to wake up and it would all go away. I remember sitting around a table in the hotel lobby with all of our family and the investigators talking and asking questions. I just stared off into space as conversations took place all around me. Have you ever felt like you know you're somewhere, but you're not there at all? Like you're watching everything happen from outside of your body? That's exactly how I felt. More importantly though, I will always remember the very moment when God showed up.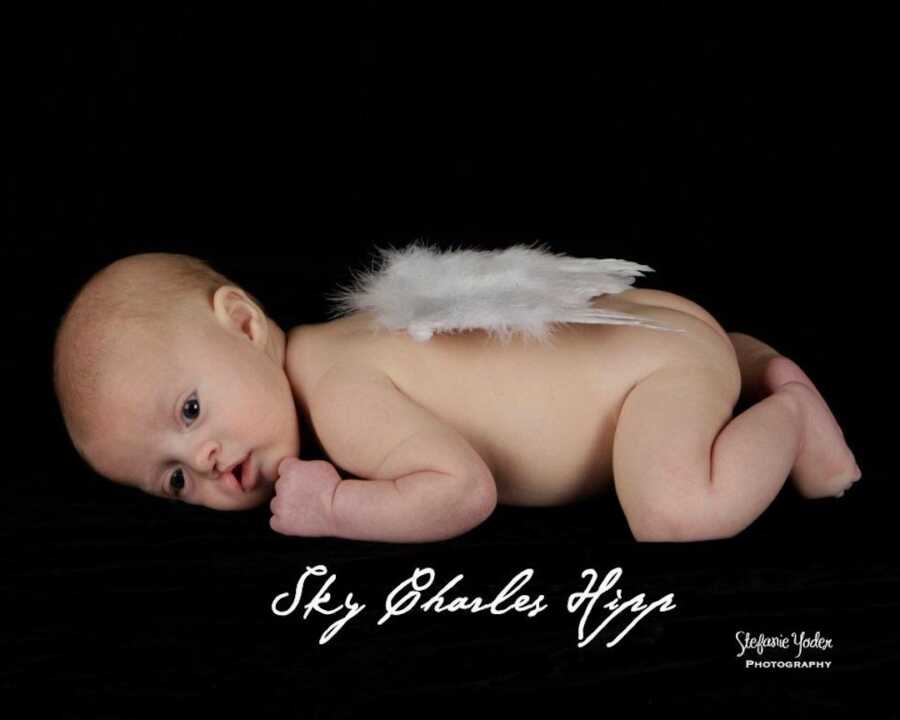 We went up to our room, and there it was, our room number. Room 316. John 3:16- 'For God so loved the world, that He gave His only begotten Son, that whoever believes in Him shall not perish, but have everlasting life.' Just let that sink in. I remember being in the room and a preacher coming to pray with us, to pray for us. A preacher who didn't even know us, but he showed up.
I remember the moment my dad showed up and walked into the room. For some reason, he was exactly who I needed the most then. I remember feeling myself crumble into a million pieces as soon as he wrapped his arms around me and we both just sobbed. I remember my dad saying he would take Sky home, that Sky wasn't going to travel all the way home with a stranger, so he did.
My dad drove five hours from East Texas to central Arkansas where Sky would be laid to rest, with our little boy in the back seat of his car. I'll never be able to thank my dad for what he did that day. I can't imagine how he did what he did, but that day Sky took a road trip with his PaPaw.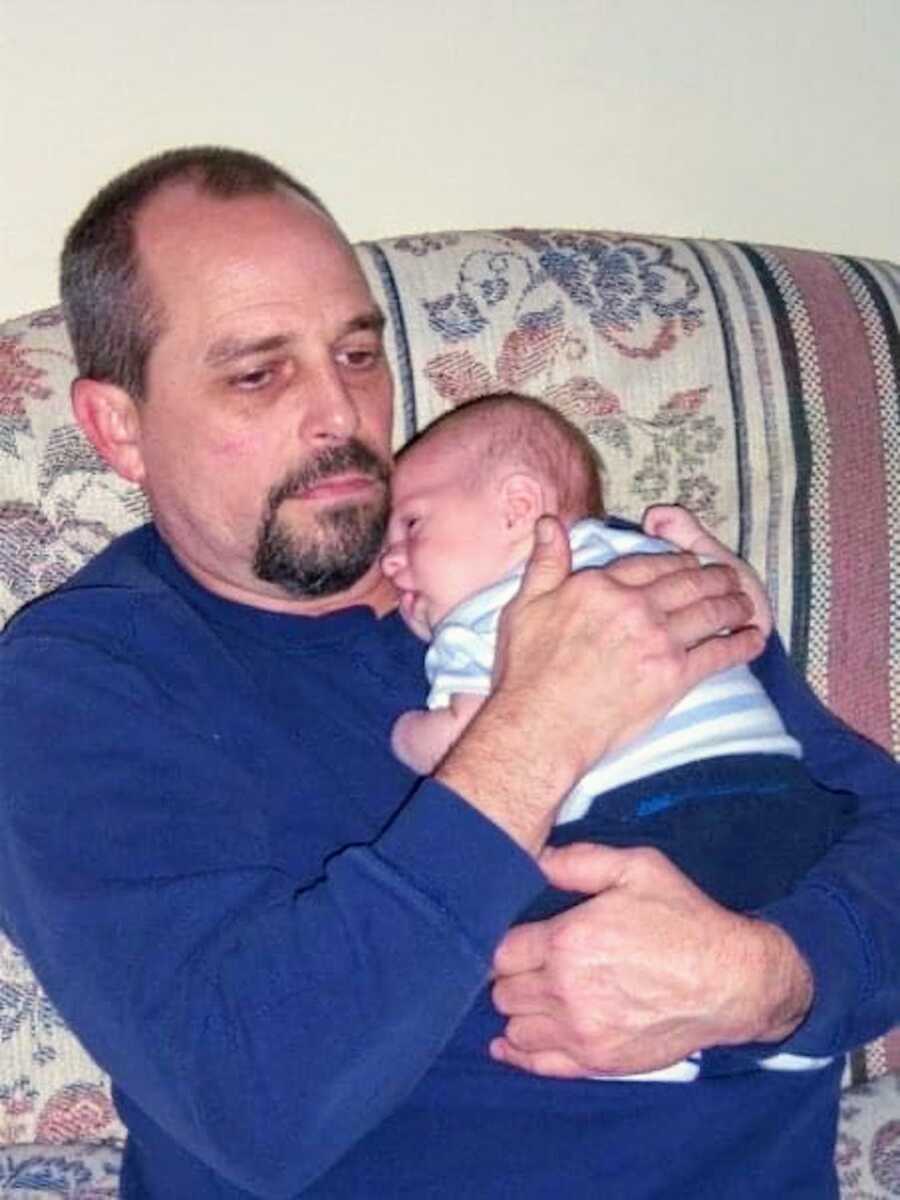 I know some people might not understand and that's okay, they don't have to. I hope you don't understand, because then maybe you haven't experienced the pain of losing a child or grandchild. I pray you haven't. I wish so badly that no one knew that pain. I rode with my sister back home to Arkansas, a five hour trip, and all I remember from that trip was picking out songs for Sky's funeral.
I remember not wanting anyone to wear black, only blue. I remember sitting in the downstairs part of the church as we waited for the funeral to start. I remember staring off into space as conversations went on around me. This was a place where I had been to different church functions, girl scout meetings, and even father daughter dances, but it would no longer be that place. It would forever be the place where I waited until I was told 'it's time' for our son's funeral to start. I just remember that moment and saying, 'I can't,' and then the panic setting in, the weight on my chest getting heavier and heavier, feeling like I couldn't breathe. I wasn't ready. How could I say goodbye? So many people told me all they remember from Sky's funeral was hearing me cry.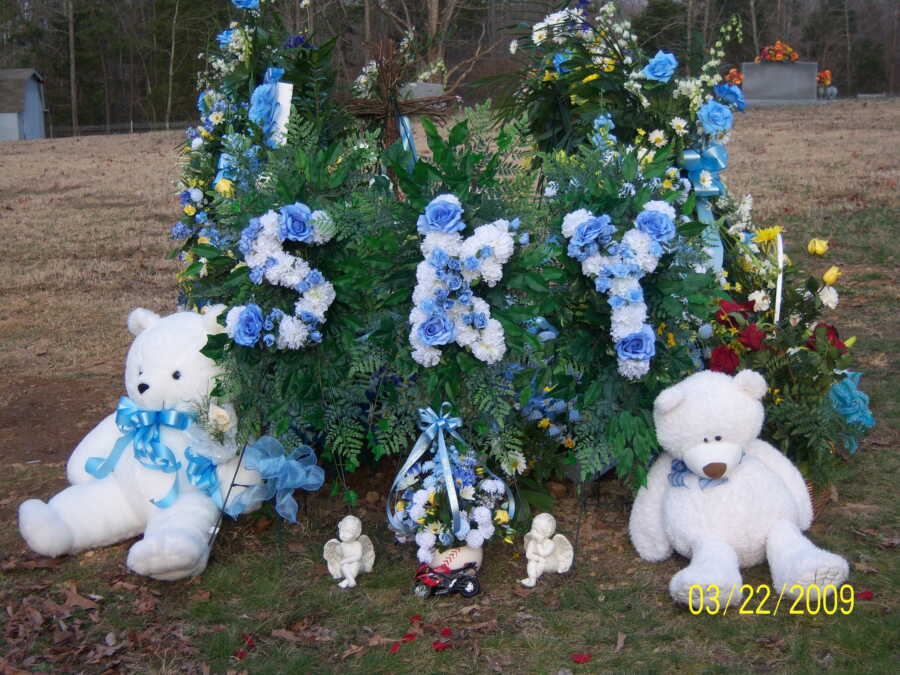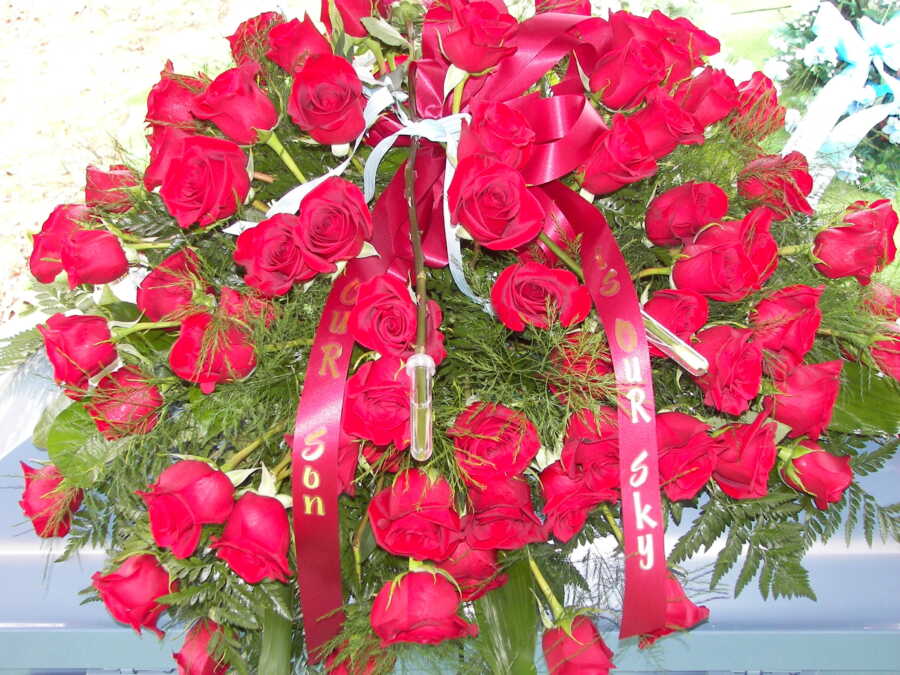 My husband and I grieved so differently after we lost Sky. I remember I carried his blue and white knitted baby blanket with me everywhere I went for a year, maybe longer than that. I still, to this day, have a piece of it that came off that I carry with me always everywhere I go. His blanket is in a shadow box in my office.
I lived in a hole for about six months after Sky passed away, but my husband was my rock. He held me on that day when they carried our son out of our home, he held me knowing he would never get to hold him again. He could have blamed me, God knows I blamed myself. They say S.I.D.S. can't be detected, that there's nothing I could have done. Sky was perfectly healthy. But still, I am his mom. It was my job to protect him.
But again, he never blamed me. He could have pushed me away. He could have said this is too much. He never did, not for one second. Not for one. He HELD me. He held my hand. He wiped my tears. He physically carried me when I was so pained and overcome with grief that I couldn't walk. I know he was walking through that same grief, but he was so strong, for Sky and for me.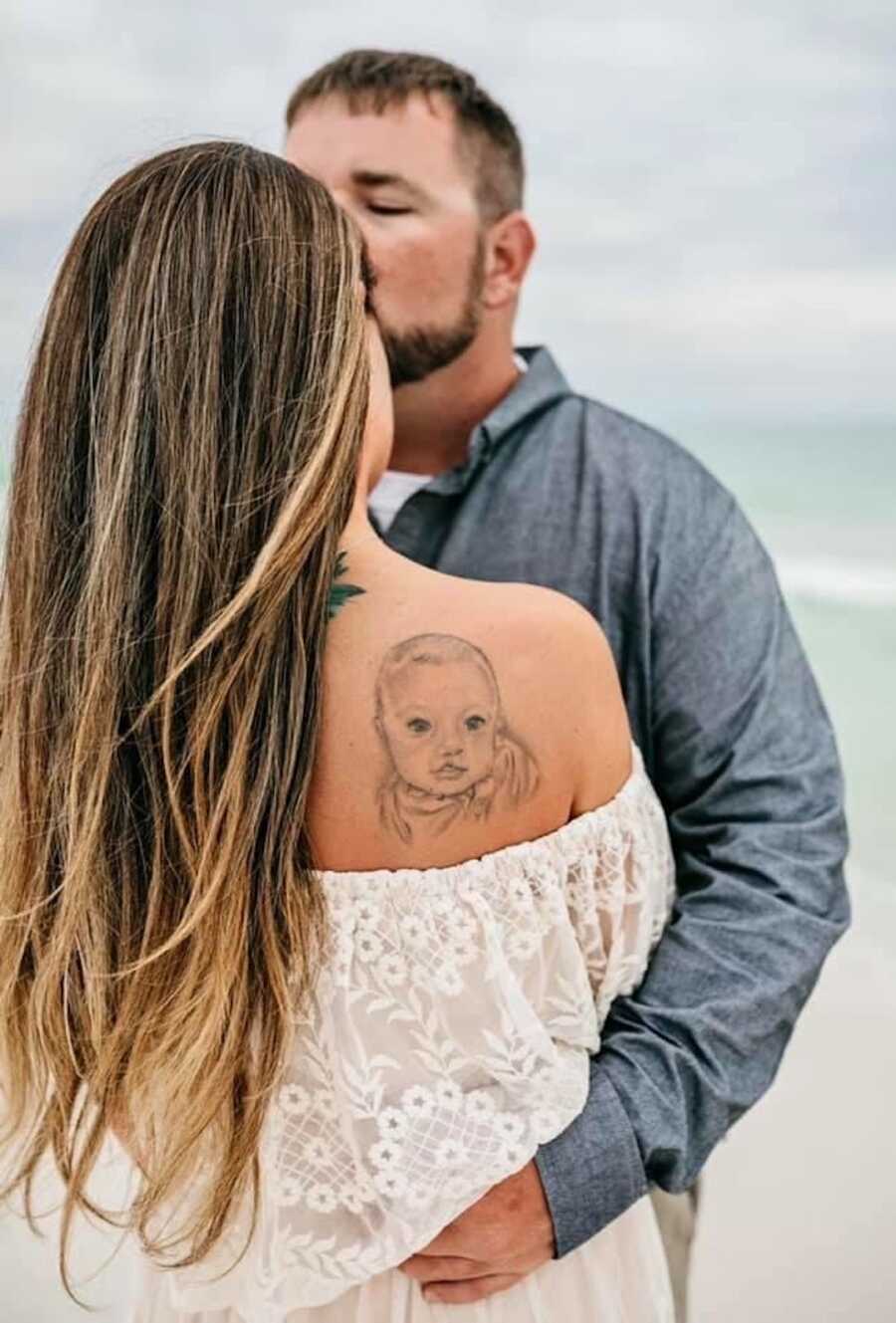 We were both so broken, but he stayed right by my side, holding all of the millions of crumbling pieces of myself together. He was my glue. He was my rock. He is my rock. I don't think my husband will truly ever know how much I love him no matter how much I tell him. The love I had for him before Sky pales in comparison to the love I have for him after. My husband is a hero, my hero. I know he is Sky's hero too.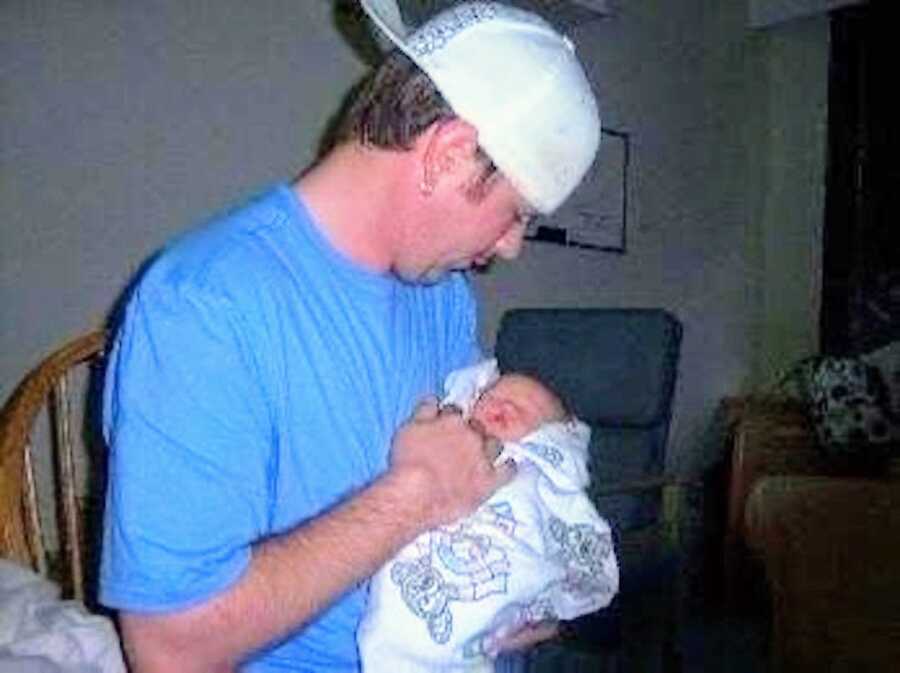 I share all of these very real and raw, personal things to say the journey of grief looks different for everyone. Every loss is different, just as we are all so different. There is no right or wrong way to grieve. There is no certain time period of when it stops or gets easier, not for me anyway.
Some days are much harder for me than others. Sometimes I feel exactly like the song says that we played at Sky's funeral, 'Tell me how I'm supposed to breathe with no air,' and then another part of the song goes on to say, 'but somehow I'm still alive inside, you took my breath but I survived.' Clint and I have had unimaginable tragedy in our life, but I know God had a plan for us. We made it out of the darkness because God showed up and loved us at the darkest time in our life. God gave us purpose after the storm, after our tragedy.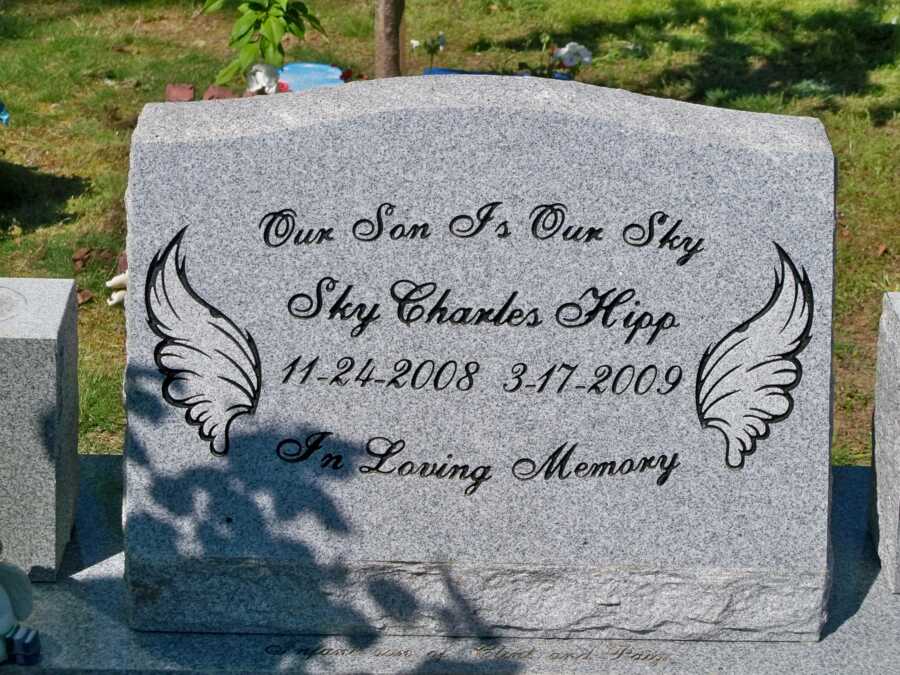 After Sky passed away, I wasn't sure if I wanted any more children. I couldn't imagine having another with the possibility of losing another. On November 18, 2009, I found out I was pregnant, which was one week to the date before Sky's first birthday. It was like God and Sky had sent this blessing, this joy, this love back into our lives, right before, what He knew, was going to be one of the hardest days for us.
They brought light to our darkness and joy to the sadness. So instead of being sad on his first birthday, sad that he had passed away, and sad that he wasn't with us to blow out his candles, play and open gifts, or eat his birthday cake, we were able to celebrate that he LIVED and celebrate that he was going to be a big brother.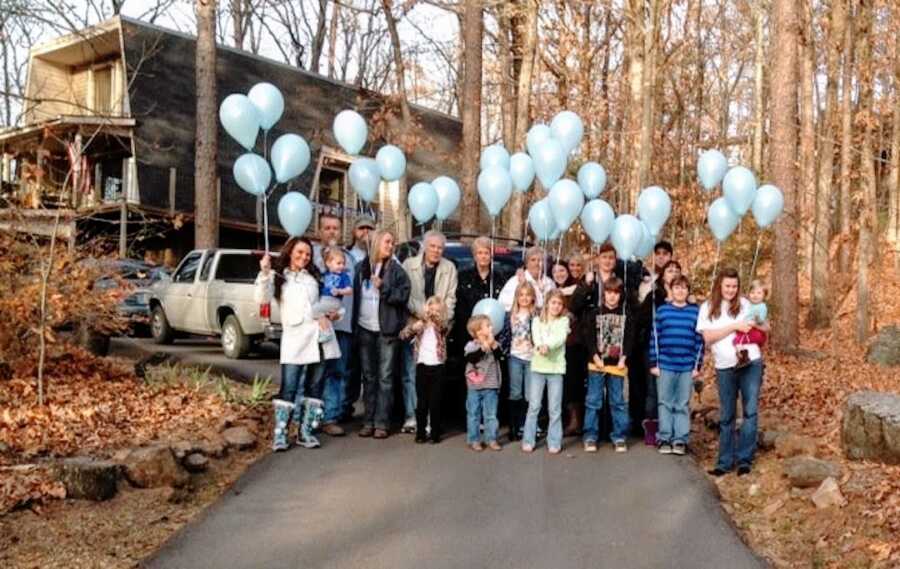 I know that when things like this happen, a loss so great you can't begin to imagine making it through it to the other side, you can go one of two ways. You can get lost in the darkness or you can somehow manage to find the light. I am so thankful we were able to still see the light because of God's love after walking through so much darkness.
There truly could not have been any greater blessing, at a more perfect time. God blessed our lives at just the right moment with another child. God works in amazing ways, and it is in times like these, when His unconditional love is evident and loud! We could see His love so clearly.
Our first daughter, Lura Lakyn Hipp, was born on July 19, 2010, our rainbow baby, and she is our sunshine. Our second daughter, Willow Marie Hipp, was born on December 31, 2016. We call her our Texas tornado, she's our wild one! Our sweet girls, that wouldn't be here had it not been for God's love. They have brought immeasurable joy and love to our life.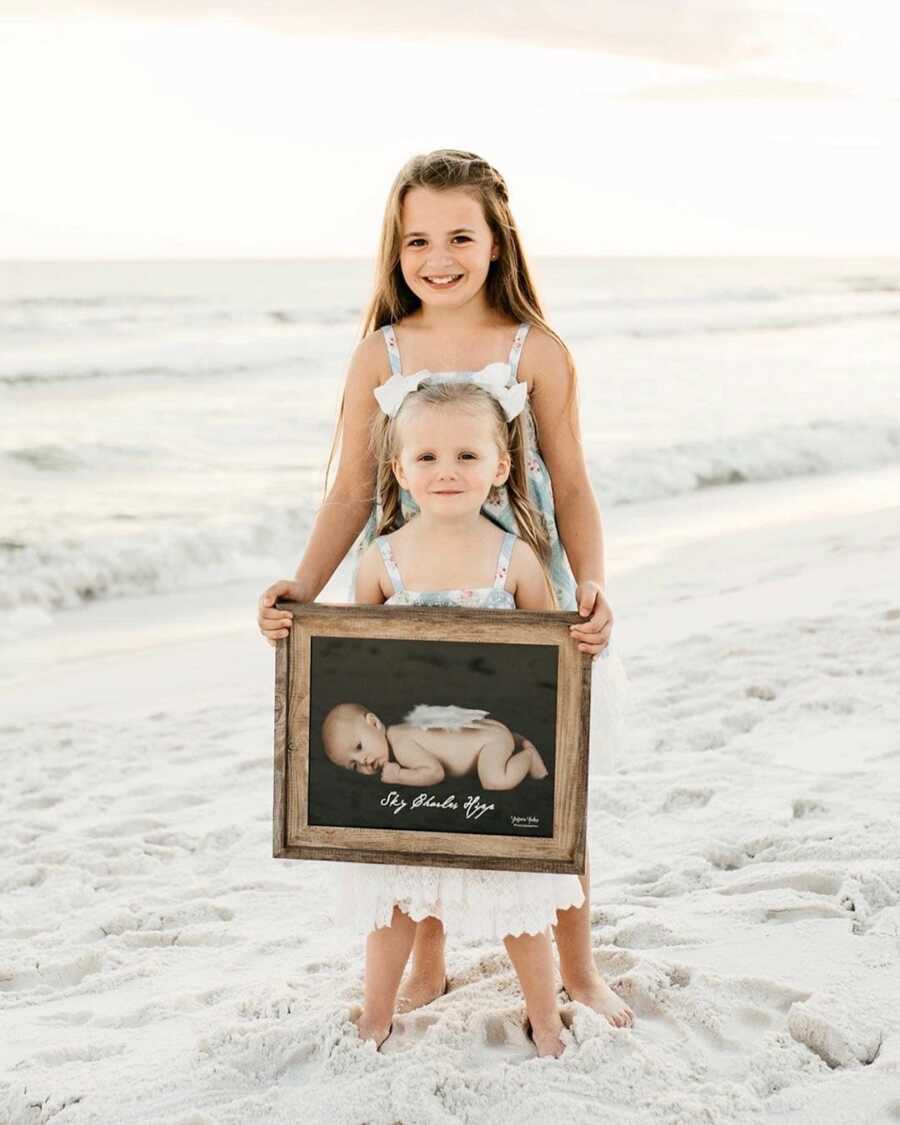 We dreamed of having a little girl later in life so Sky could be a big brother, but we dreamed that thinking he would be here to do so. There are no words that can explain how it feels to live this life without him every single day. We hold on so tightly to all of our memories of Sky, but Heaven definitely holds so many of our dreams, including their big brother and all the memories they would have made together.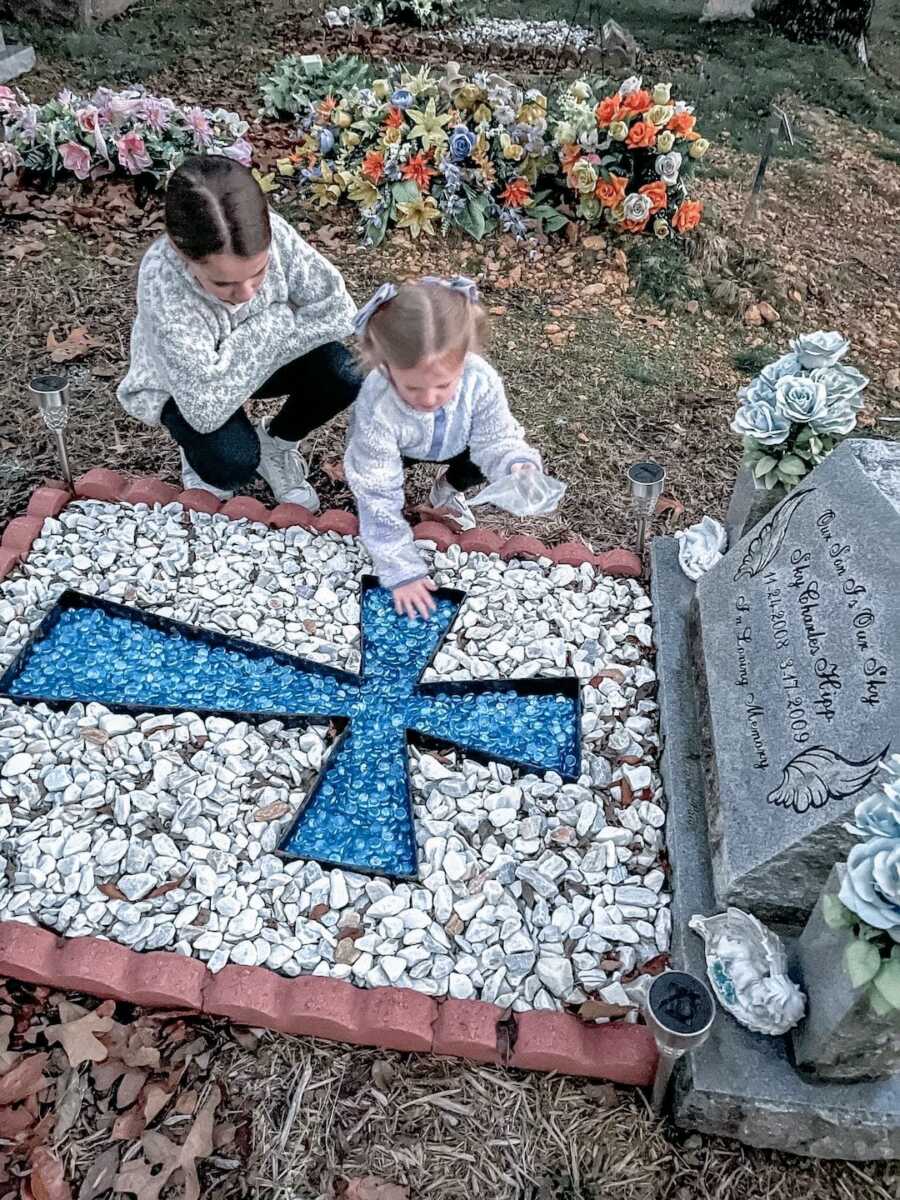 I got past the point of having only emotions of anger and hurt when we lost Sky. We knew nothing we could do would bring him back. We knew all we could do was channel all of our hurt and the unconditional love we have for him into helping other families. For families that were already unfortunately walking through a journey of loss like ours, and to try to raise awareness for S.I.D.S., to try to find answers, to help prevent families from going through the pain that my husband and I as well as our families have endured, if at all possible.
So for 10 years, from 2010-2020, we made it our mission to fight back against the horrible tragedy of Sudden Infant Death Syndrome. We held our SIDS.Causes.Heartache., or S.C.H. which is also Sky's initials, fundraiser events in loving memory of Sky to raise awareness and tell anyone who would listen that S.I.D.S. is a very real thing. We also did this to raise funds to help the American S.I.D.S. Institute continue their research, and were able to raise over $100,000 that was donated to them in the process.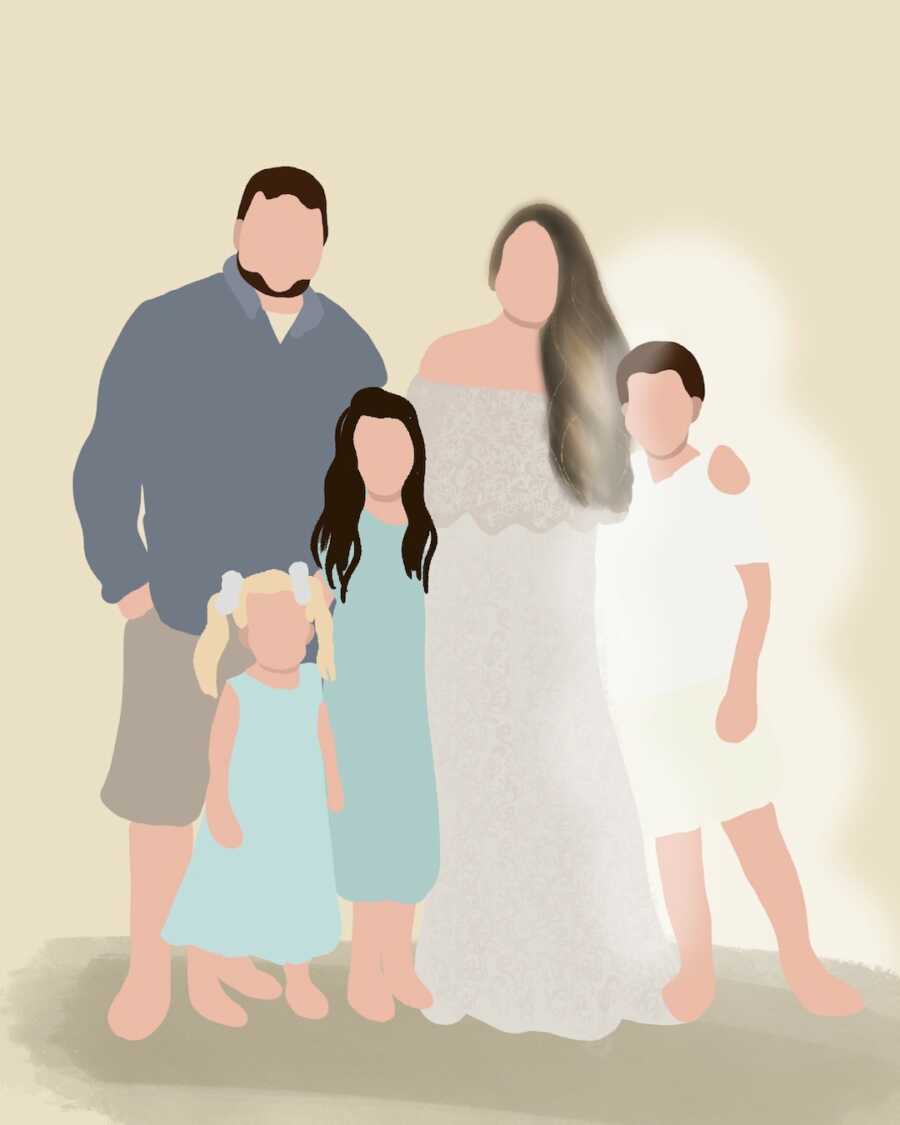 One of my biggest fears was that people would forget Sky. I didn't want anyone to ever forget him. I didn't want anyone to forget we had a precious, sweet, perfect baby boy named Sky Charles Hipp who was/is our whole world, along with his baby sisters. So we also did this in his honor and to keep his memory alive. We always say, 'As long as we live… Sky will live!' So fighting back through our fundraisers was one of many ways that we coped with losing him.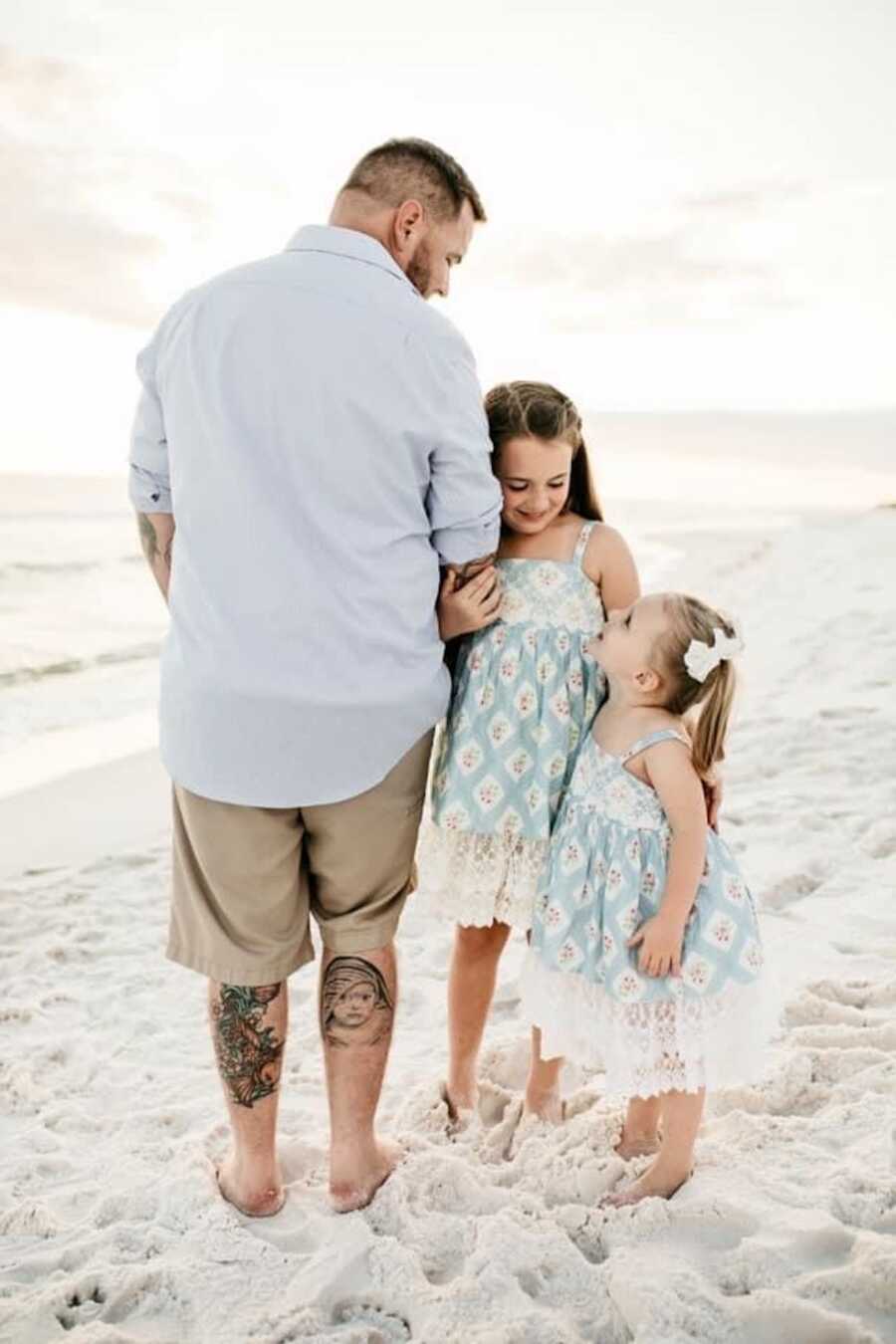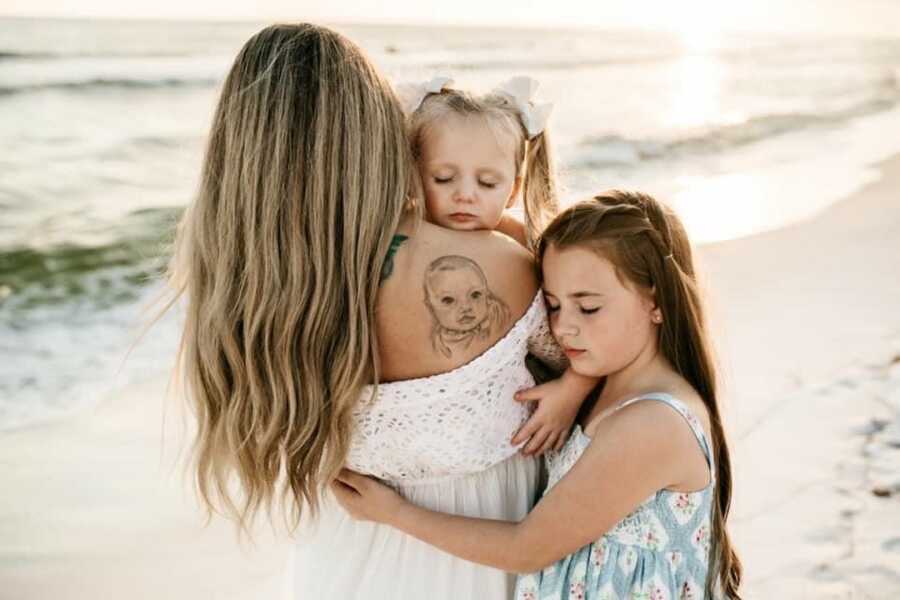 In a perfect world, no parent should ever have to bury their child. As crazy as it might sound to someone who's never walked in grief so deep you couldn't even begin to crawl through it, and I pray you haven't, I'm thankful for the pain and the heartache I carry in my heart. It just means I carry Sky with me all the time.
He was such a happy baby, he was so full of life, and he changed more lives in his three months and three weeks here on earth than some do in an entire lifetime. So yes, we have happy, wonderful memories of him that we are so thankful for, but honestly, for me the sad ones just overtake the happy ones more often than not. I don't say this to make anyone sad or make anyone less hopeful of their grief becoming less overwhelming. I say this because I'm so thankful for both the happy and the sad, because it's all I have of him and I'll take every single moment, every priceless memory of Sky I can get, even if it hurts or breaks my heart to remember.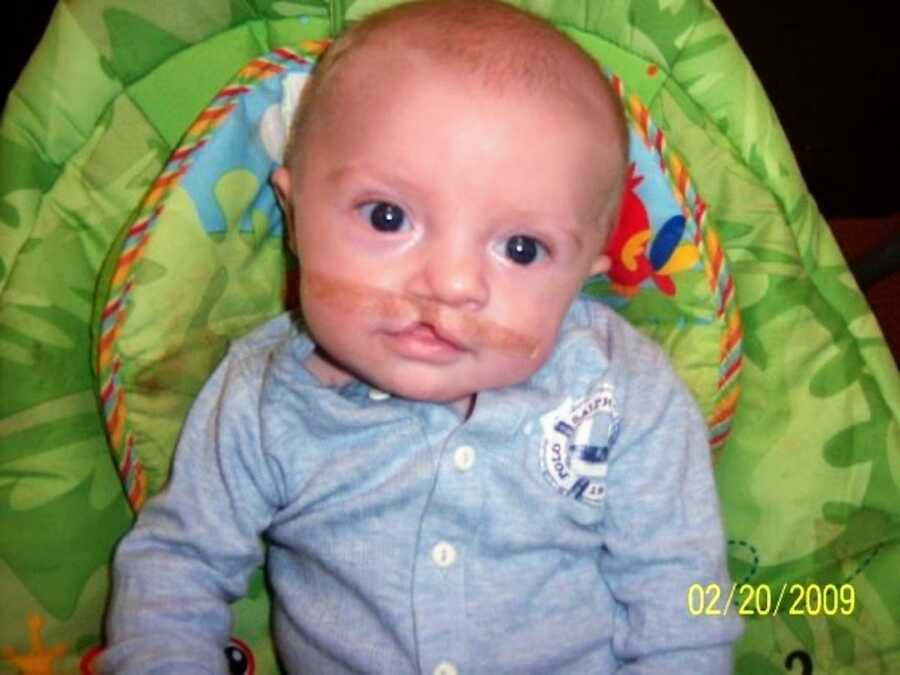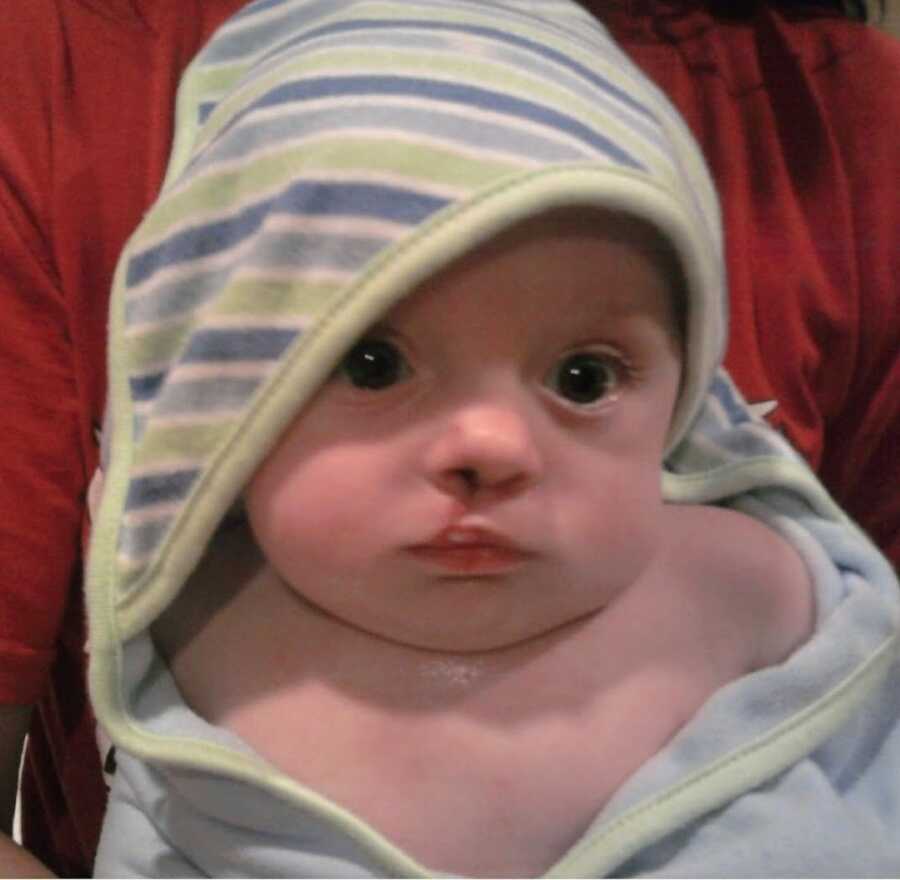 I know not everyone deals with losing a child in the way we have, but this is how I cope. This is how I didn't go completely insane, which would be so very easy to do. Losing a child is the absolute worst, it can rip you apart, and it did us for a while. But we were able to put it back together, and I am so very thankful and blessed for that.
'The SKY isn't the limit, it's just the view.' Life is short and losing Sky could have been my limit, it could have been our limit. Losing him very well could have been the end of me, the end of Clint, the end of our marriage, my story as a mom, Clint's story as a dad, my walk with God, my life. But God said no. God said, 'You have more to do, I'm not finished with you.' So instead of it being my limit, losing Sky became my view. I now have a very different perspective on every single thing in my life and I will keep that view forever.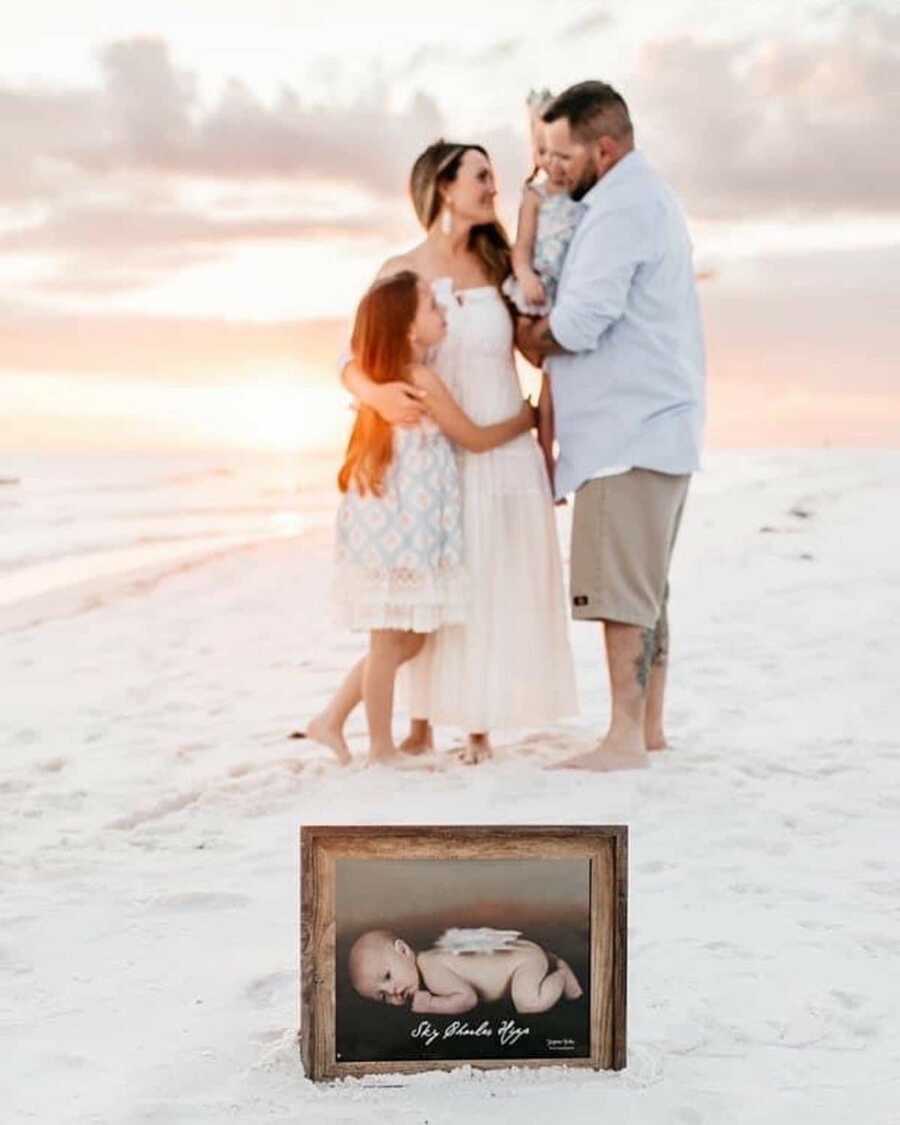 I encourage you today to find the faith to look past whatever tragedy, loss, or dark time you are walking through in your journey right now because the SKY is not the limit for you. If you don't have that faith right now, just like I didn't have it back when we lost Sky, I encourage you to ASK GOD for it! PRAY for the faith to change your view, to see what HE has in store for your life. To gain a new perspective that will forever change how you see the world and what purpose He has for you in it.
I'm so thankful for all the prayers that were prayed for Clint and I back when we lost Sky. While we were crawling through the darkest time in our life and couldn't even begin to see light. We had hundreds, maybe even thousands, of people LIFTING US UP in prayer. I truly don't know where I would be or what would have happened to me, to us, had those prayers not been said. If you are walking through something where your view is skewed by the darkness of this world, by grief, by loss, please know this is NOT our home, please know you are so loved, and please know I am always, always here to pray for you.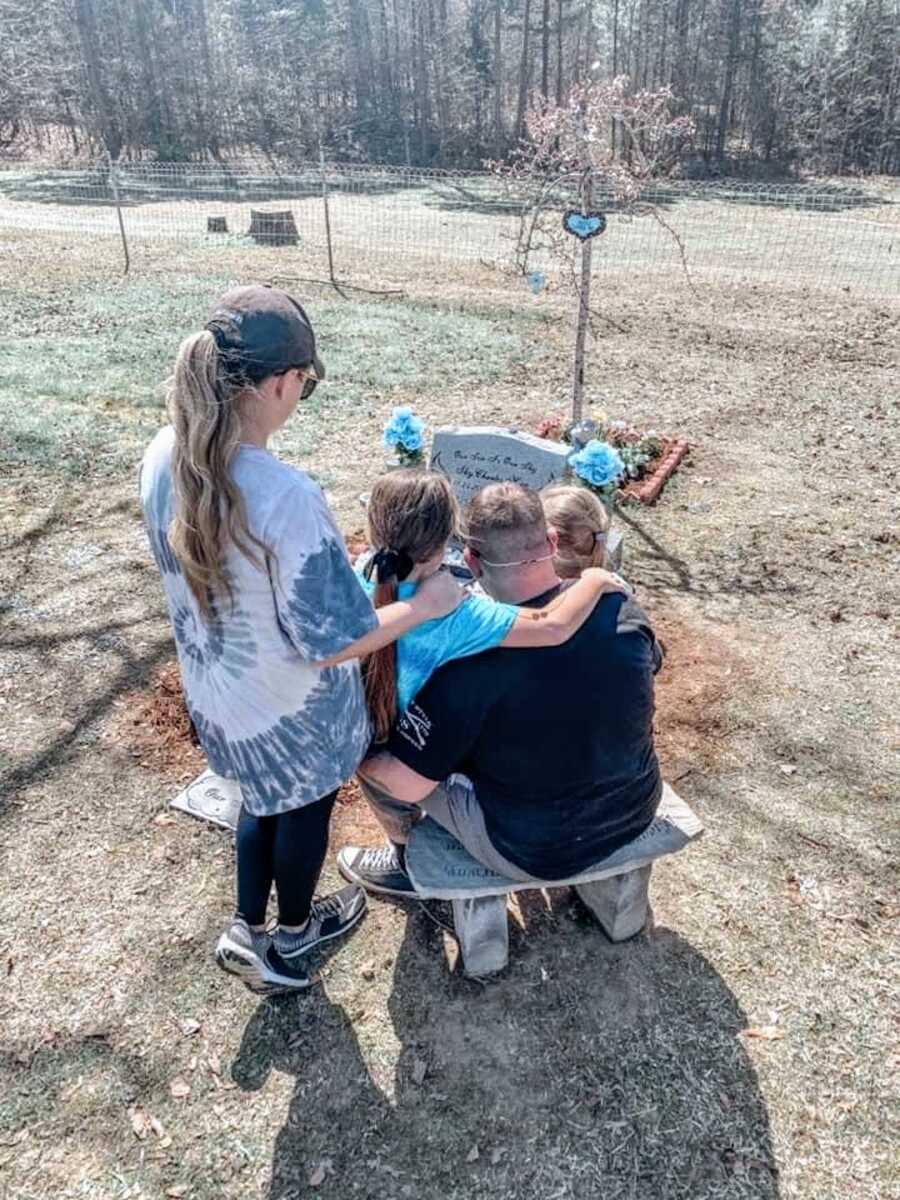 How very blessed we are that God gave us these gifts: The gift of unshakable faith, 'I loved you at your darkest.' (Romans 5:8.) Which in turn gave us the gift of knowing 'Love is enough.' His love for us and our love for each other was enough to get us through the darkest time in our lives. The gift of a second chance to be parents and to have a family, even though we would of course always be Sky's parents. The gift of being called 'mommy' and 'daddy' because after going through a time of not knowing if we would ever hear those words, that is one of the greatest gifts. The gift of letting us live this life, because HE knew we were strong enough to live it. Which in turn gave us the gift to share our story and try to help others as best we can.
After going through something so dark, tragic, and unimaginably heart wrenching, it would be easy to say, 'I count my blessings every day and never take one moment for granted,' but I can be honest in saying it just isn't true. Even after everything we went through in losing our angel Sky, I can be honest and say there are still times when I get caught up in the everyday, unimportant things in life and sometimes need a reminder. Something to shake me and wake me up. Something to remind me of how very blessed and loved we are. So I pray that if nothing else, our story, our testimony, and the story of our sweet Sky, makes you look at your life and count your blessings even more today. I hope it reminds you to be so very thankful for all of the wonderful things God has blessed you with in this life, and to do your absolute best not to take one moment for granted."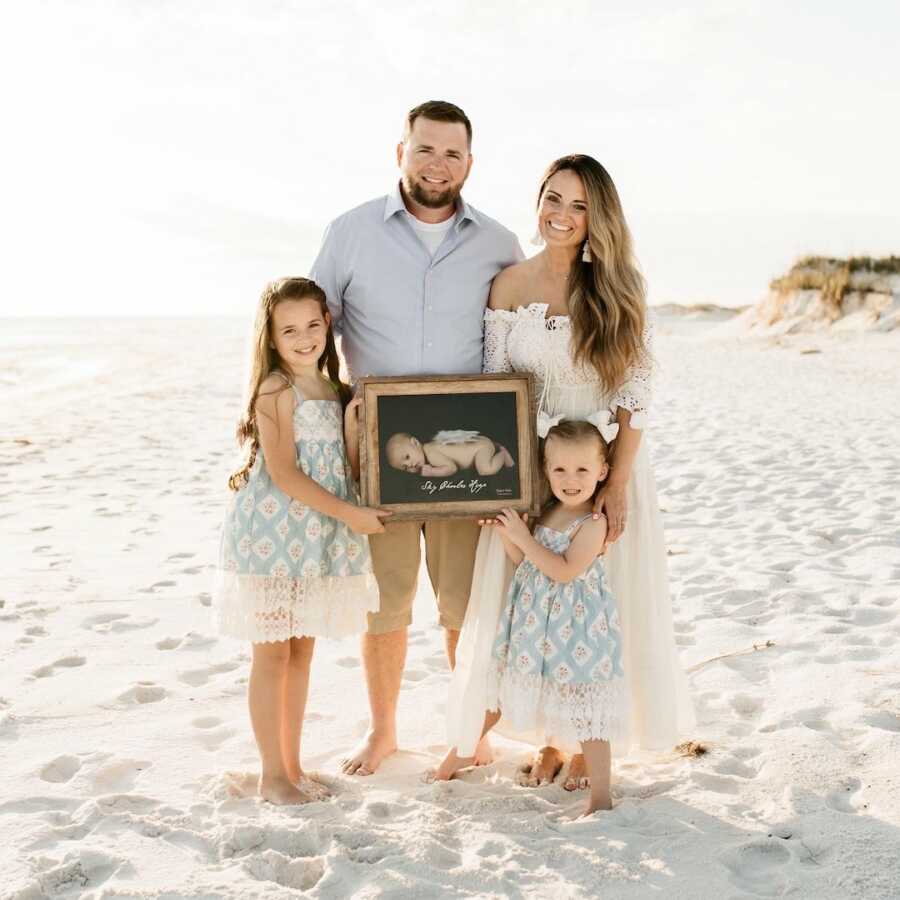 This story was submitted to Love What Matters by Paige Hipp (Sky's Mommy) of Central Arkansas. You can follow her journey on Tik Tok and Instagram. Submit your own story here, and be sure to subscribe to our free email newsletter for our best stories, and YouTube for our best videos.
Read more stories like this:
'I received a missed call from daycare. 'Declan was taking a nap and never woke up.' I remember thinking it was a silly bump or runny nose.': Woman says 'I will always be Declan's momma' after SIDS loss
'His brother said, 'I didn't get to tell him goodbye today.' All I could see were his little bare legs, dangling.': Woman loses infant to SIDS, starts foundation in his honor, 'Love pushes you to go on'
'Blake's not breathing!' The daycare called. He was laid on his back, and found face down in the pack n' play.': Mom sees 'signs from heaven' after losing son to SIDS, delivering 2 rainbow babies'
'She's not breathing!' I woke to my husband violently shaking, holding our lifeless baby. I call the coroner for answers every day. It's a ritual.': Mom loses daughter to SIDS, says she was 'ripped away with zero explanation'
SHARE this story on Facebook to remind others to love what matters most.