"I am Chloe. I am a mixed-race woman. I am a wife. I am a mom. I am strong. I recently relocated to America with my American husband, Terrence. I am British Trinidadian, and my experience of America pre-Terrence was one trip to Disney World in Florida. So this is big! We met while living in Spain, moved to Germany, and then to the Middle East. During our time in Dubai, we got married and found out we had to have IVF. I have severe endometriosis and had to have my Fallopian tubes removed as a result of this horrible illness. We found the most incredible doctor out there; he was our savior. He guided us through this totally unknown journey with detailed explanations, support, and love. We were very fortunate I responded very well to the treatment and we ended up with seven perfect little embryos. One of those embryos became our daughter Araminta—Minty for short!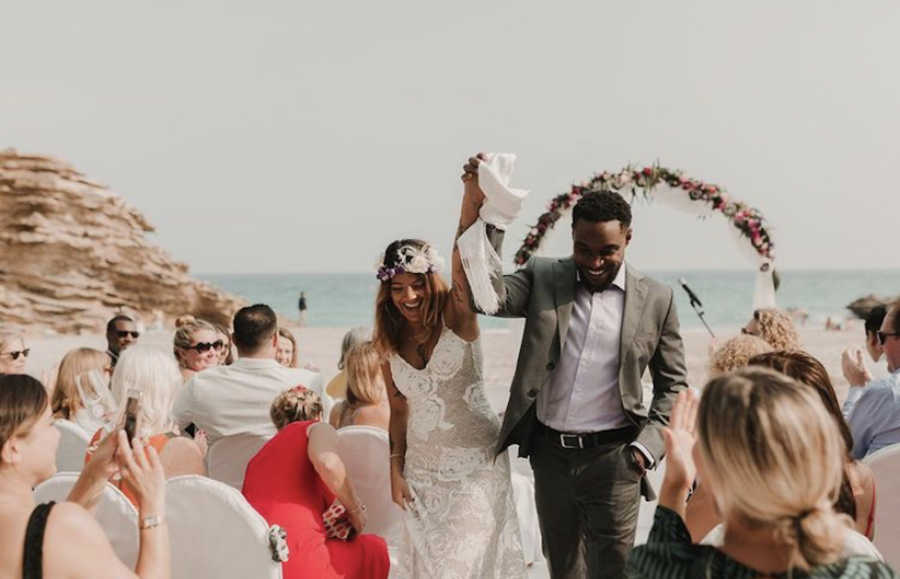 She was conceived from our first implantation procedure. I spent hours talking to her when she was implanted: I meditated while focusing all my love and energy on growing her inside me, I did daily affirmations in the morning and evening, creating my new world with our little babe. Confession—I did think she was a boy, convinced in fact, so the entire time I was doing all of this, I was talking to a 'him,' not a 'her!' Whatever caused her to stick around and choose me as her mom, I don't know but I knew as soon as she was inside me, I loved her more than I could ever have loved anything else. I had the most enjoyable pregnancy. I never understood women who said they liked being pregnant, yet here I was, loving it. Even with the terrible all-day sickness and searing heartburn from the second week, I loved it.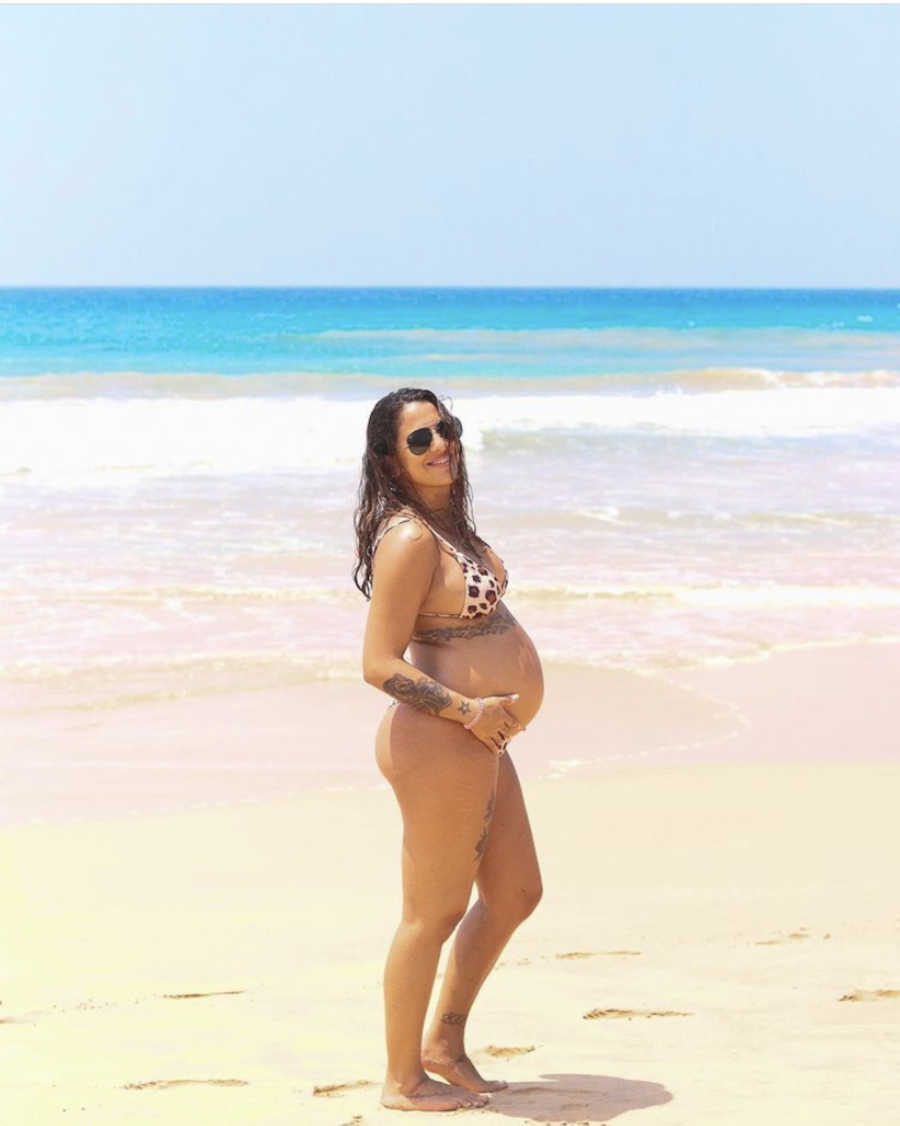 I wanted this little babe so much nothing dampened the excitement and joy I felt. Well, one thing did, momentarily. When we had our NIPT results back, we found out our baby was a girl. I was so upset. I had desperately wanted a boy because I lost my brother when I was 21 and he was my soulmate. I think I was looking for some sort of replacement in a strange way. It took me a couple of days to come to terms with our baby girl news until I realized it was a blessing. I didn't want any baby to live in anyone's shadow or have comparisons, which naturally would have come. No one can replace Edward, nor do I want them to. Having a girl was a fresh start, a new chapter, and I was so excited. My mom is my best friend, and now I got to have a relationship like this with my own daughter—how lucky was I?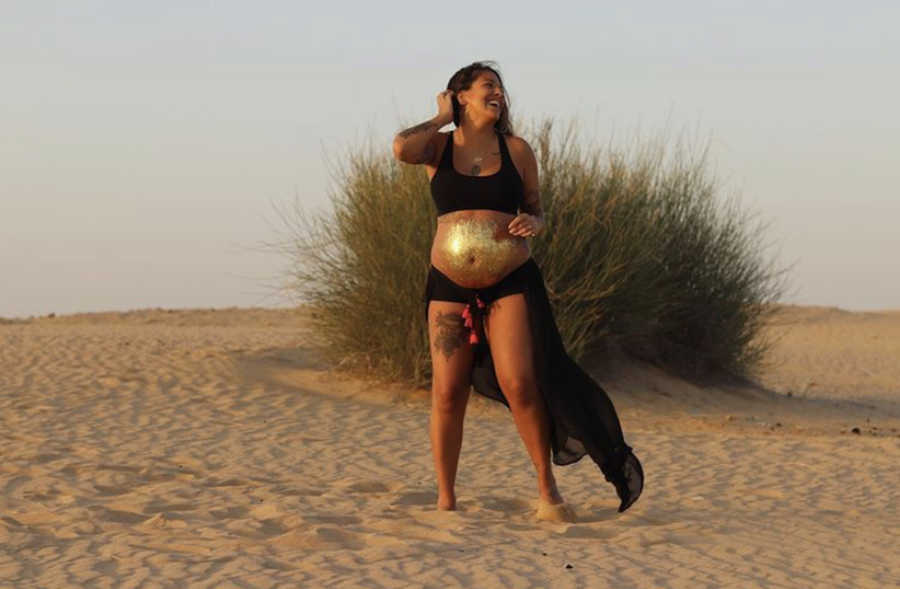 Minty was born in the middle of a lockdown in Dubai. We had to apply for a police permit to leave our house to give birth. She came 23 hours later. We were sent back home with no family or friends around to support us because of the strict measures in place in Dubai. Minty didn't see another face but Terrence and me for the first month of her life. During this time, the three of us bonded, we created routines of care for all of us, and we got to know our lovely new baby and ourselves again as parents. T had 4 months of paternity leave, which was incredible, as we were able to support each other totally and create our new family unit as equals—Mom and Dad together sharing everything—except for the breastfeeding, of course!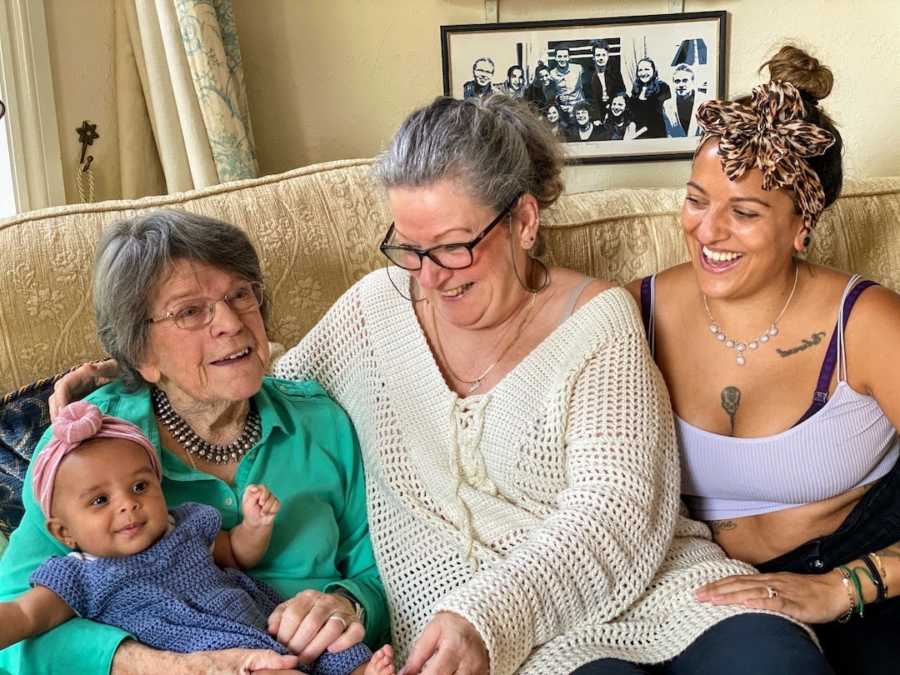 My breastfeeding journey was long and tough. Minty had an undiagnosed tongue-tie for a month, so she was not an effective feeder, and I would feed her for hours. My breasts were severely engorged with constantly blocked ducts. I ended up with infected nipples and had to go on antibiotics, then these gave me thrush of the milk ducts, which I then passed on to Minty. The pain was excruciating and I was crying every time I fed her. My mental health took a tumble during those first weeks of breastfeeding, purely because I was in constant pain, feeling like I could not provide for my child and it was so unnatural for me. Terrence sat me down one afternoon and suggested I stopped to protect my wellbeing: 'I hate seeing you in constant pain and so upset with yourself. You are good enough if you don't breastfeed. You are the most wonderful mother who deserves to feel happy and okay.'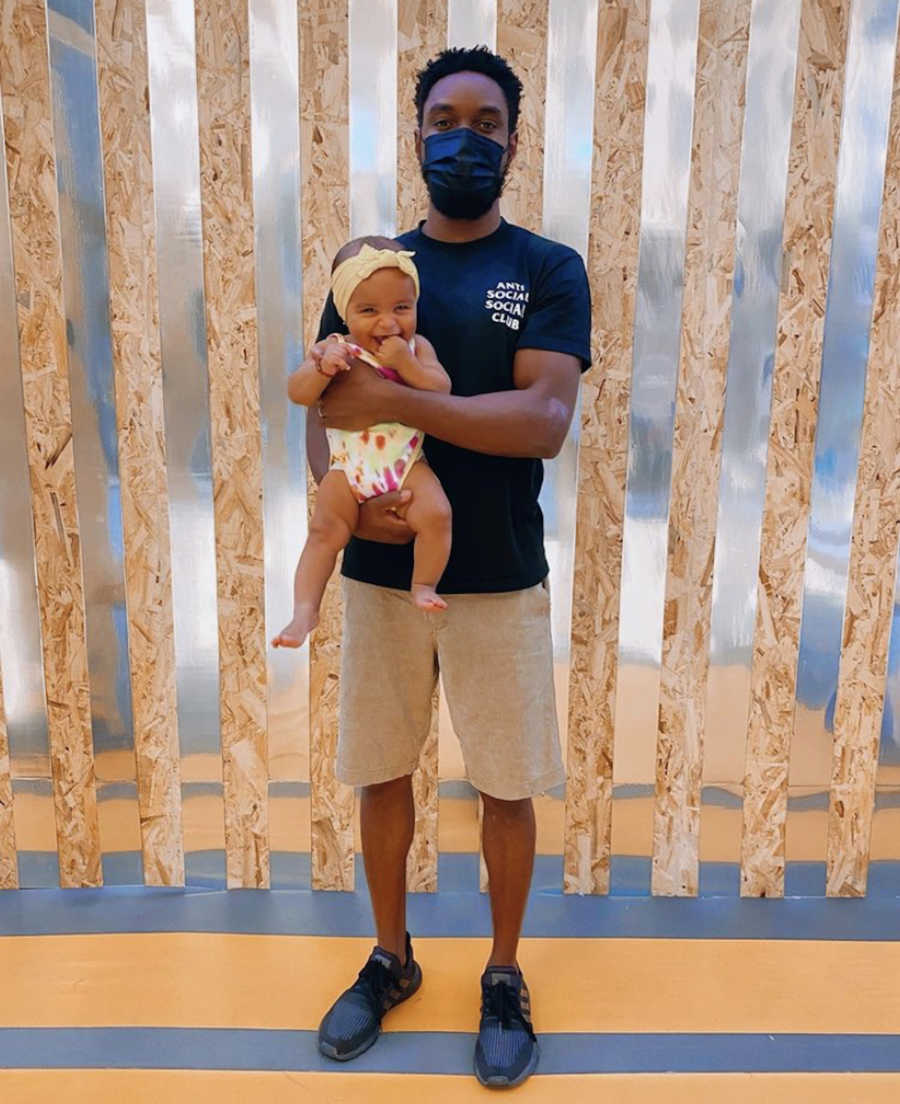 I was so grateful to him for recognizing my pain and being supportive as always, but I just knew I had to carry on. Having gone through IVF and an emergency C-section, I wanted to have control over this, and do this one thing the way I wanted, and it was the hardest thing I've ever had to do, but I'm so glad I persevered. The three of us grew together. As hard as it was without my parents (the UAE shut its borders very early), it meant we created our own norms and new family dynamic, which was incredibly special and very lucky. After Minty was a few months old, T was offered a new job in America. It was a life-changing role, and even though we had a 3-month-old and the idea of moving across three continents was awful, I encouraged him to take it.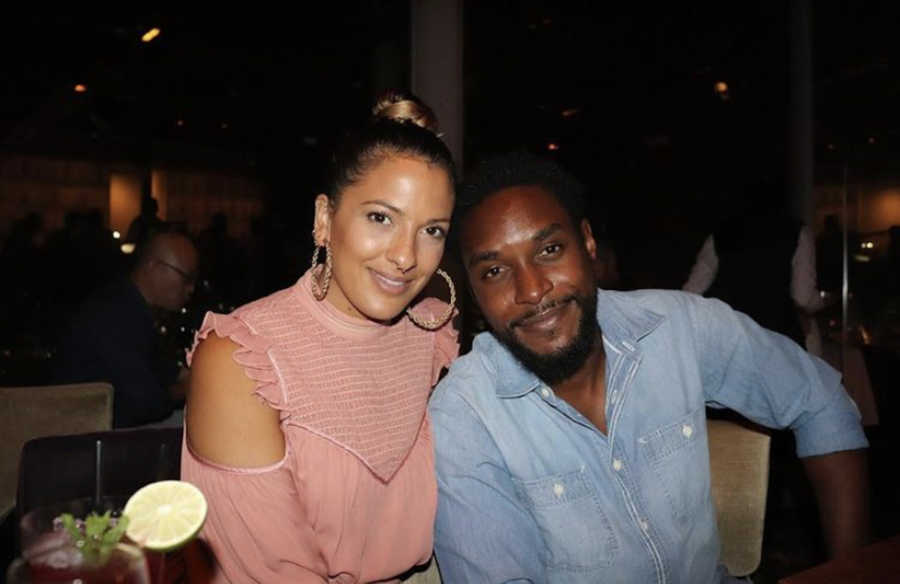 I knew this was the most incredible opportunity for him, and I wanted to support him the way he had supported me throughout our IVF journey, my pregnancy, labor, and the fourth trimester. He was selfless and kind every single day. I wanted to be the same. We left Dubai in September with a pitstop in the UK to sort out my visa for the States. When we arrived in England, we had the most wonderful time visiting family and friends, introducing Minty to all her important people. As we waited for our visa appointment to be called for the London Embassy, we were offered one in Abu Dhabi, but it would have involved flying back to the UAE, which we didn't want to do with Minty. She was only 4 months old when we left Dubai—it would be a lot for a small baby to deal with. So, we continued waiting and carried on enjoying our time with our loved ones.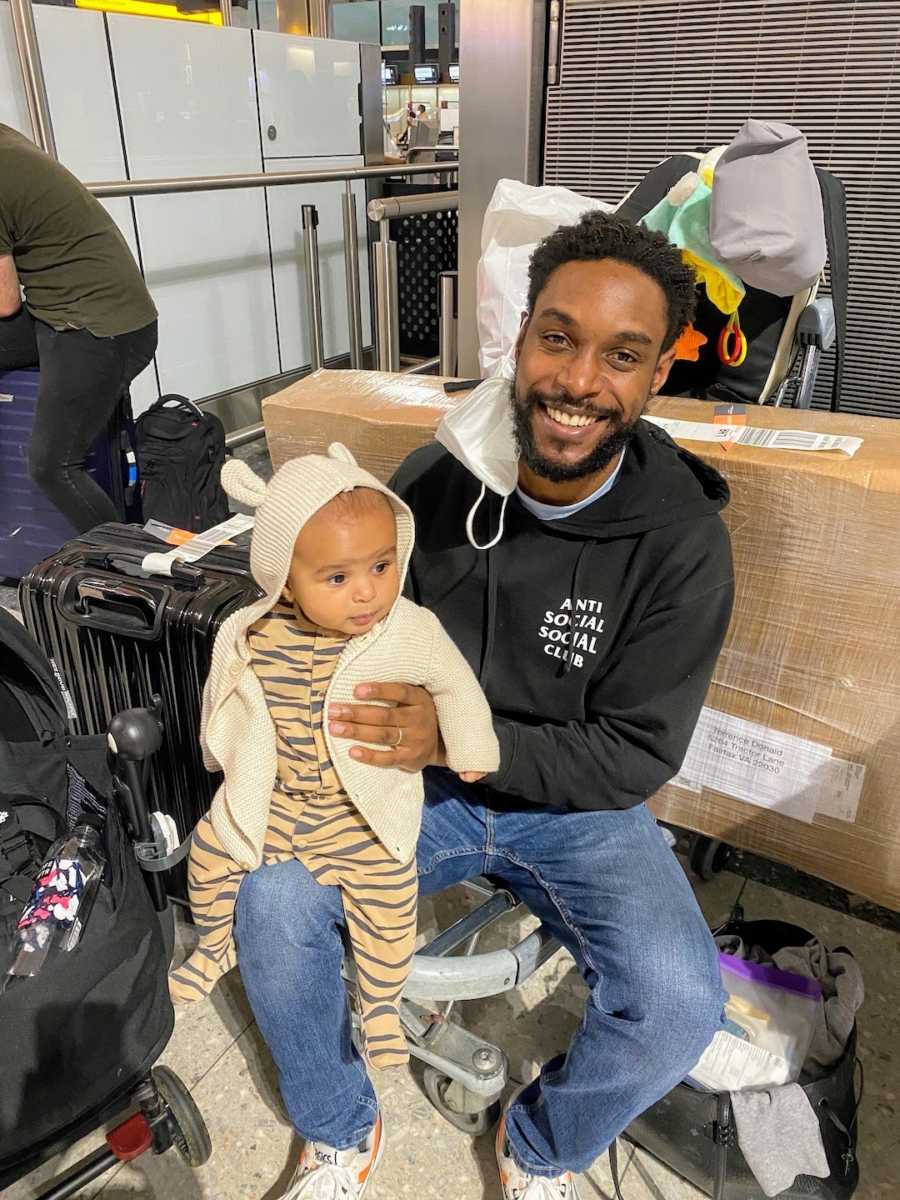 T's start date approached and we had to make a decision—did he delay it or did he go to the States without us and start? I was not allowed into America at the time, due to COVID laws and border closures. This was a heavy decision because even though I was with my parents, we have never been without T and I was scared. He was my constant, the person who always supported Minty and me I. Would I be able to cope? In the end, we decided T going would be the best course, so off he went and we stayed, still waiting for my visa appointment. We were offered another visa appointment in Abu Dhabi for November, so we waited out some more for London to come through. It never did. So, now we had to organize our lives and get back to the Middle East. It was a huge deal for me, having just supported Minty through a horrendous sleep regression (she woke up every 2 hours for 4 weeks).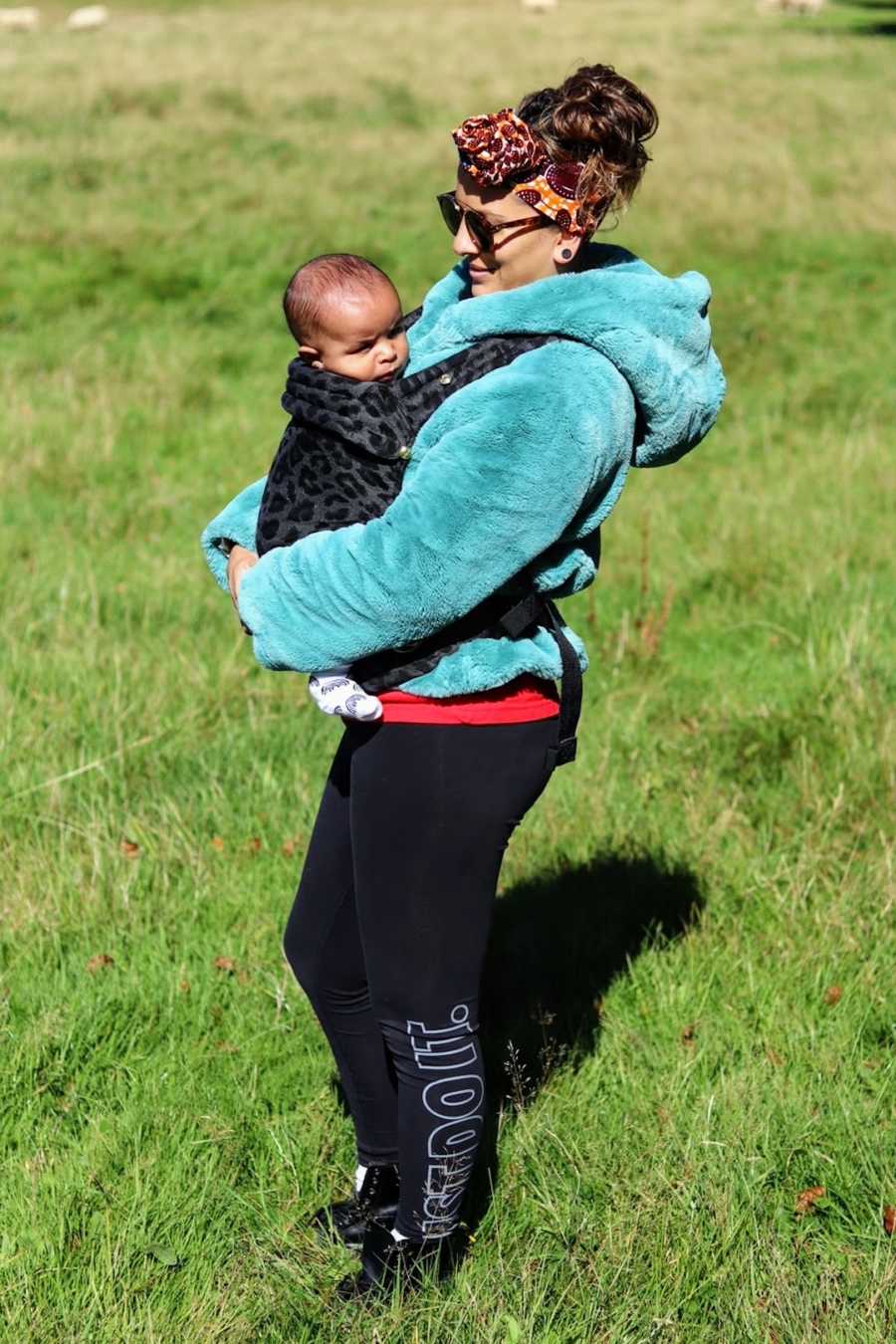 I was exhausted. I missed T so badly, too. I was so anxious about taking minty on a 7-hour flight alone. Before I even got to the worst point, T had already booked his flight to come to London instead of flying directly to the UAE, so he could do the flight with us. He is genuinely the most selfless human I know, and I could not be more grateful to him. Meeting T in Heathrow was incredible. I will hold that moment forever. I felt safe and secure again, although my heart broke to say bye to my parents. It was the hardest goodbye of my life, after losing my brother, of course. But at least we were reunited and we were heading back to the sunshine for a little holiday to start the beginning of the new part of our lives.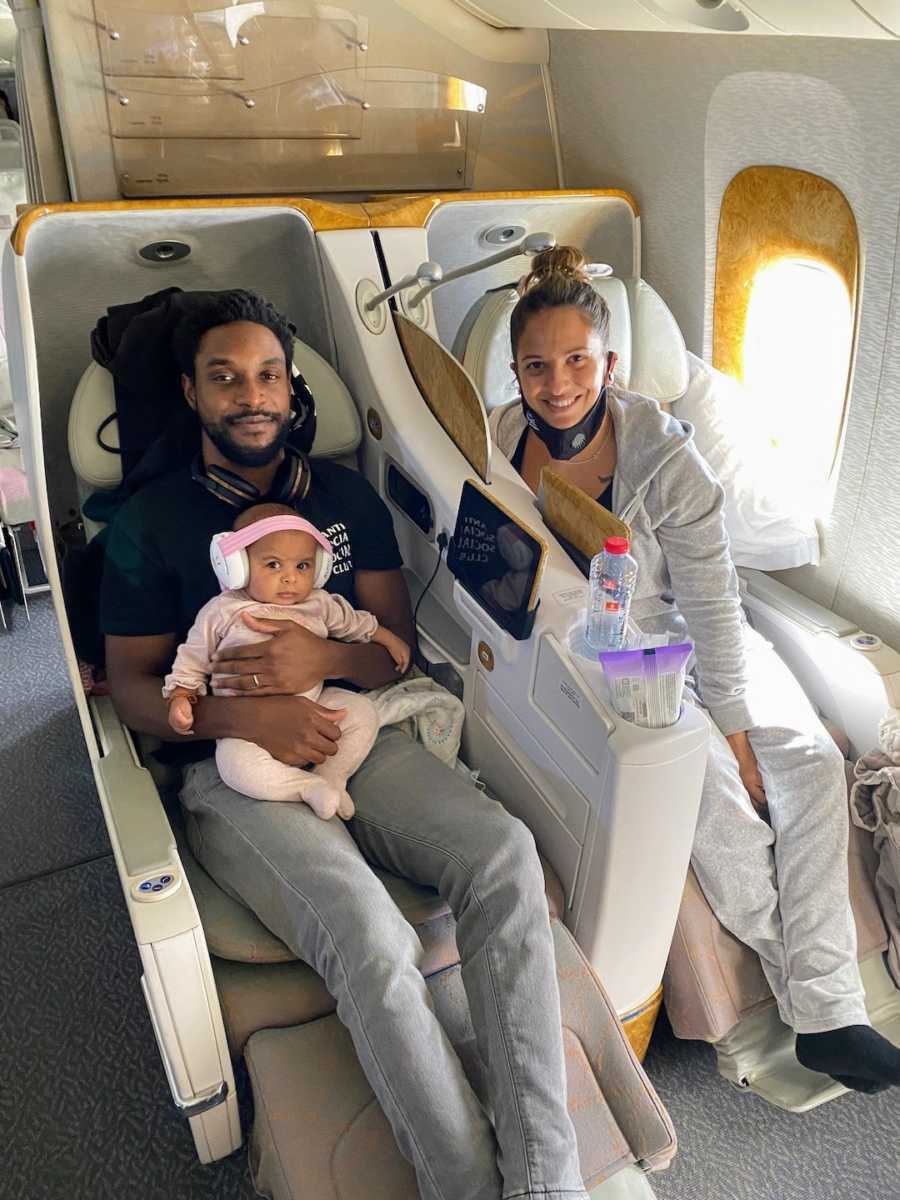 We spent time reconnecting with friends while we were in Dubai and Abu Dhabi and it was wonderful. The sun was shining every day and we had a great holiday. The first appointment came and we waited patiently for the next one to come, which we were told would be a maximum of two weeks later. Each day that passed made me more anxious—we were getting closer to Christmas, Minty was living in hotels for a month of her life, we were living out of suitcases feeling totally unsettled. The weeks went on. I began daily yoga and mindfulness practice to ease the anxiety I was feeling. T ensured he gave me breaks so I could begin to feel better. He was working with a 12-hour time difference and supporting me and helping to take care of Minty. I have never known anyone work so hard. Not just that he never got overwhelmed or frustrated, he just handled everything with patience, calm, and a smile.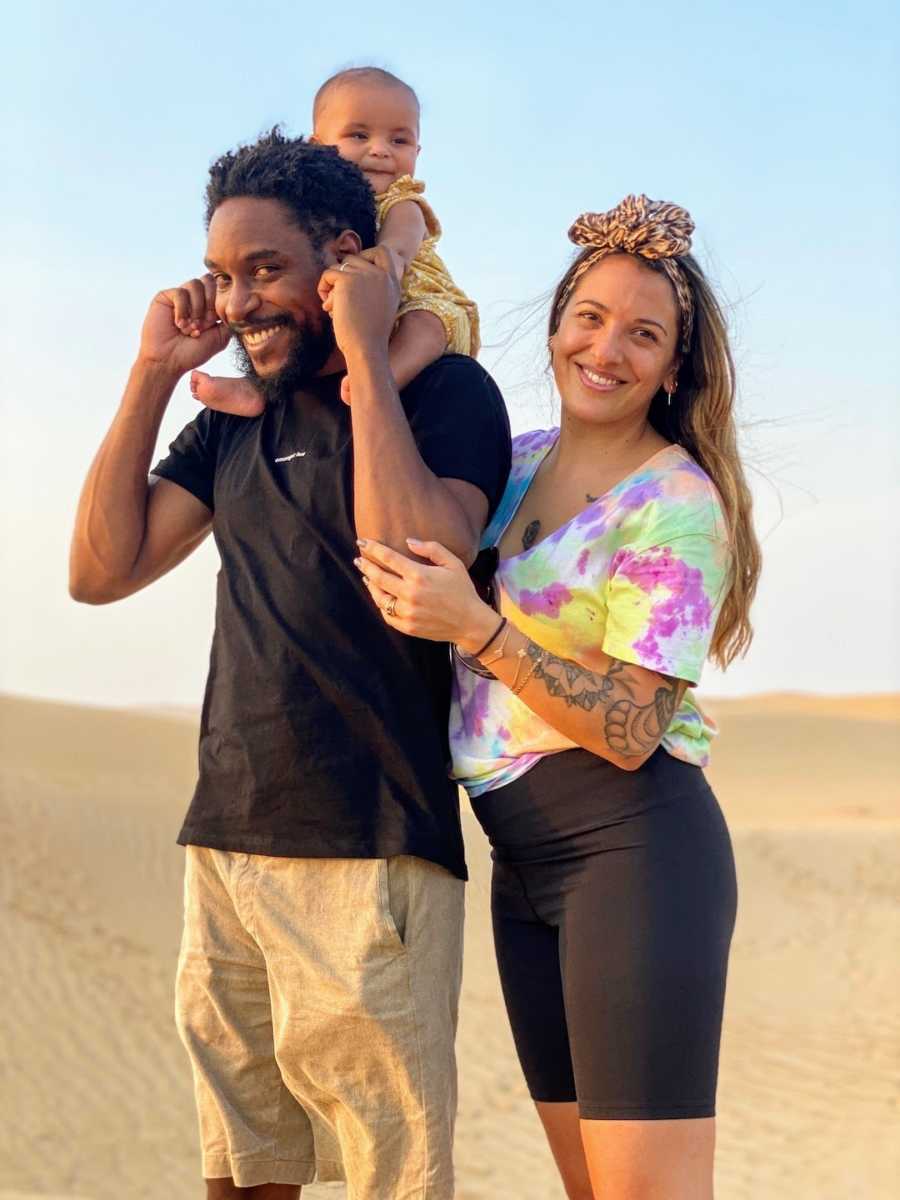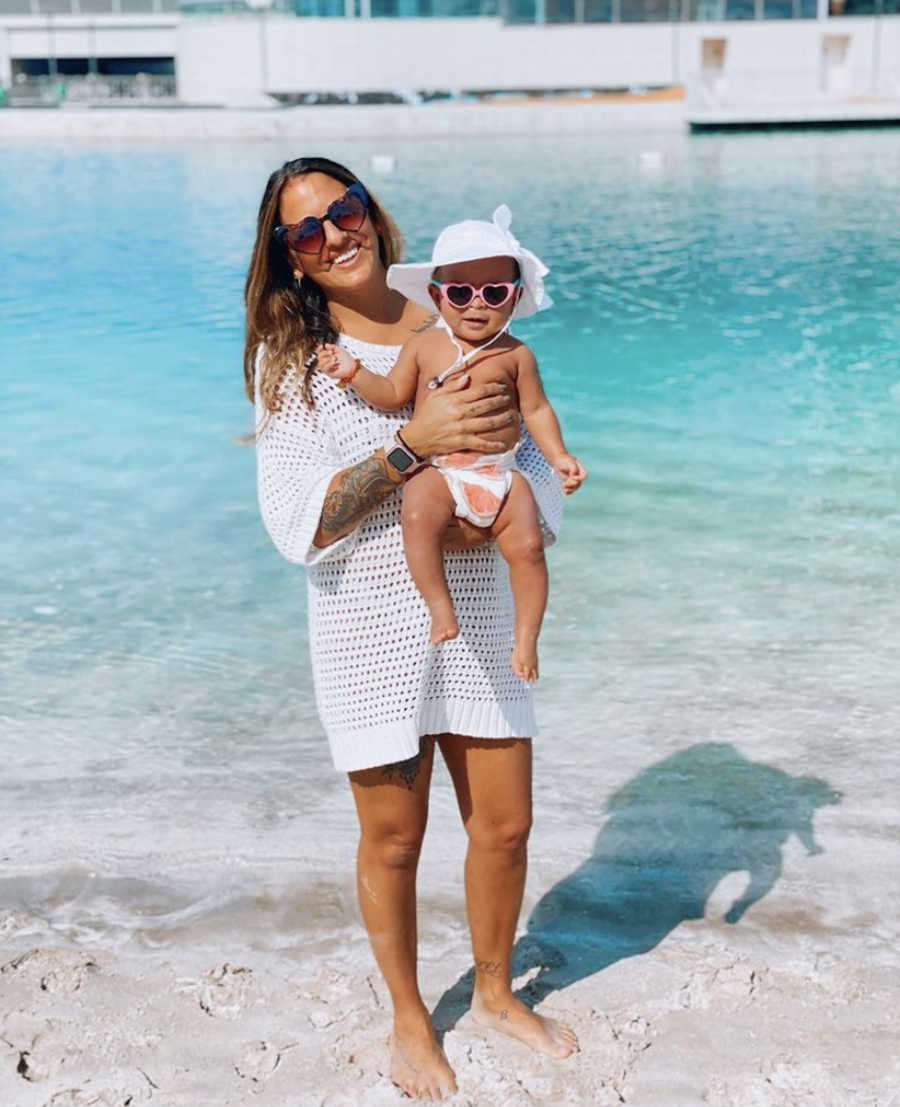 Our second appointment was issued a month after the first, for December 21st. At this point, I had given in to us spending Minty's first Christmas in Dubai, away from family, nothing like we had planned. It didn't matter, we had each other and genuinely it was all that mattered. My love for Minty was the strongest bond I had, but my love for Terrence had grown and developed into something deeper I had ever imagined. His demeanor and chill throughout this entire 3-month period were incredible. I was amazed I had been lucky enough to marry the kindest human in the world. I went to the second appointment, I was at peace with the process and the timings of things now. While I was there, I was told they were going to expedite my visa process and I would have it in 2 days. It really was a Christmas miracle.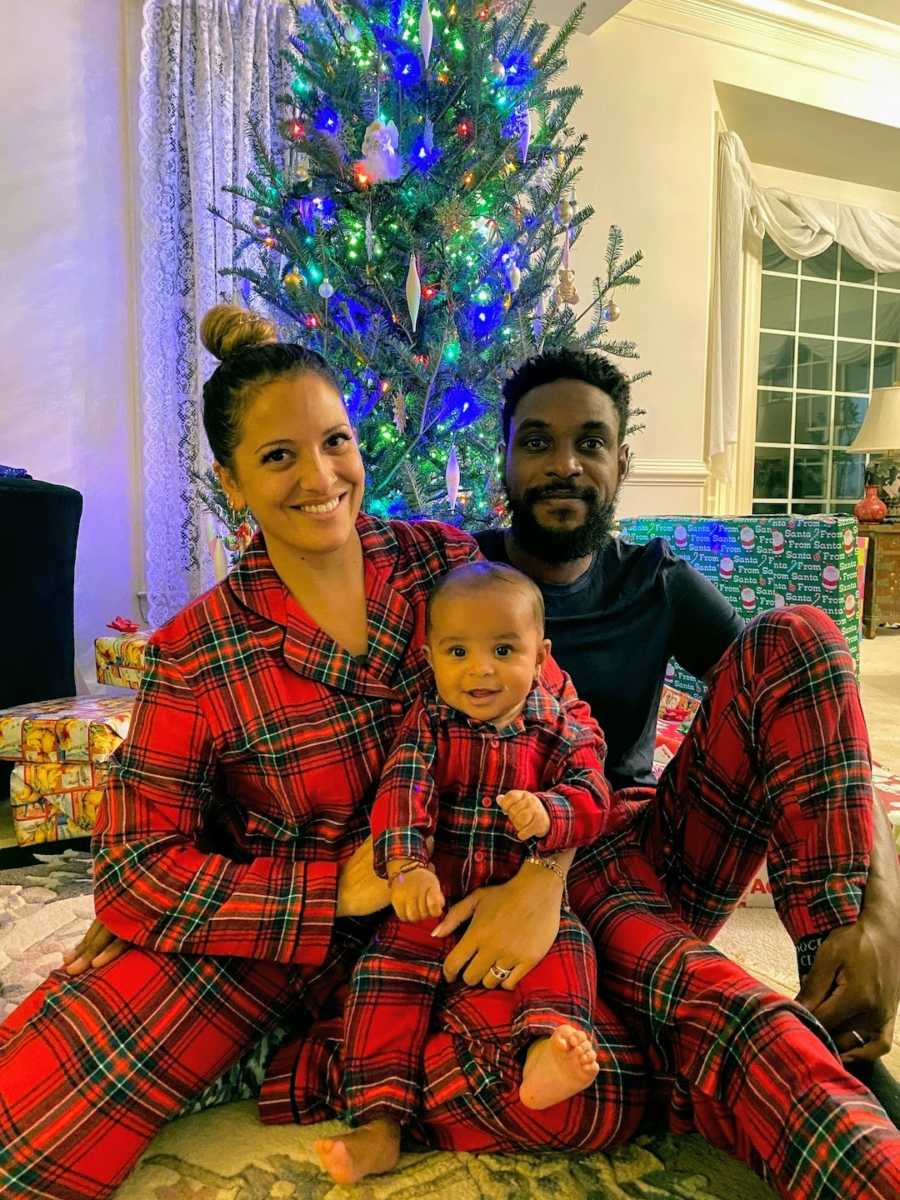 We booked flights back to Washington DC for Christmas Eve. We made our flights and finally landed on American soil, 3 and a half months after starting the whole immigration process. It was a long journey to embark upon with a 4-month-old. Minty has now spent more of her life living in strange places than being settled in our family home. The three of us have lived out of suitcases since mid-August of last year, but we are together and it is all that matters. I have been the most fortunate human to have been able to spend every day with Minty and watch her grow up.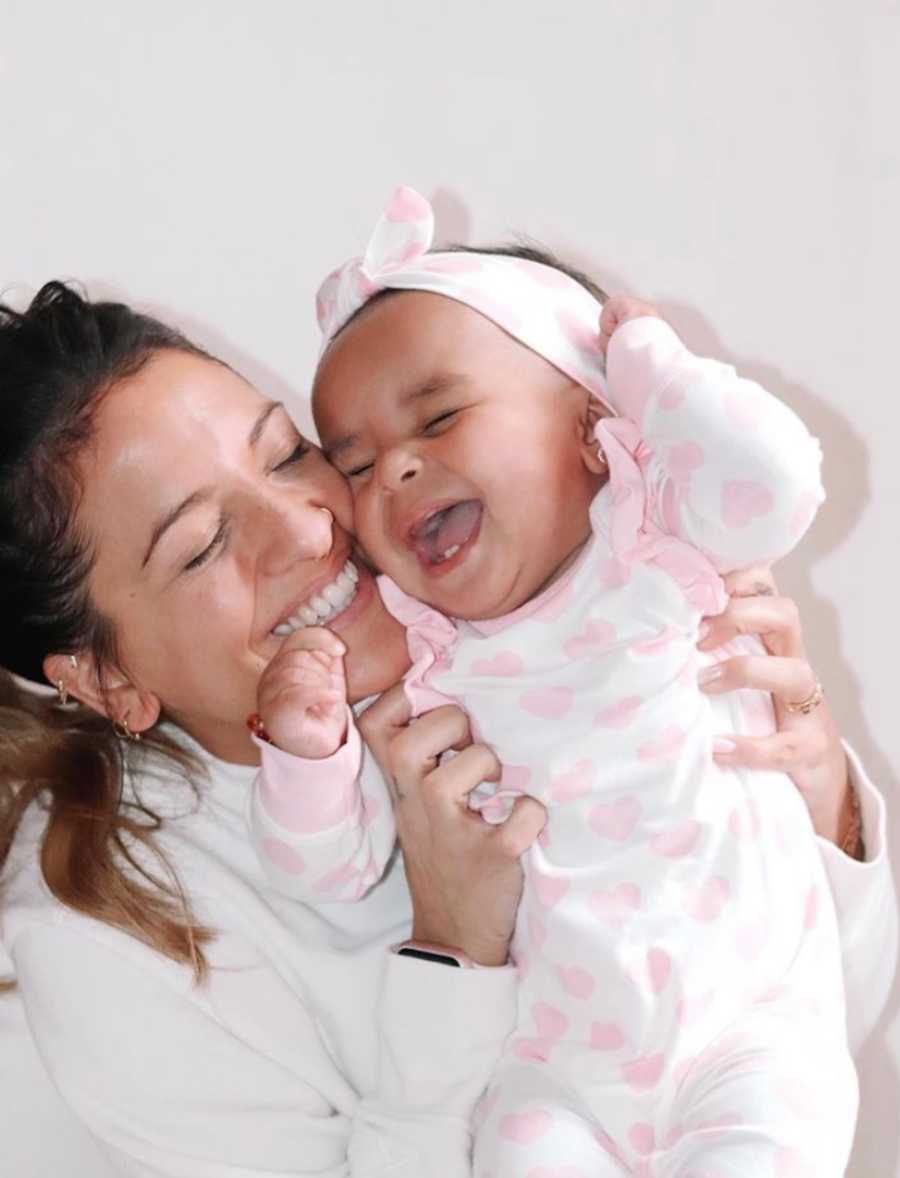 We have an incredibly close bond and created our own daily rituals, such as beginning each day with a special song and giggles and ending each day with a little disco. Motherhood is the best and most rewarding thing I have ever done, and I just feel like it fits. None of this would have been possible without T. The most incredible human. The most selfless individual. The most unphasable man."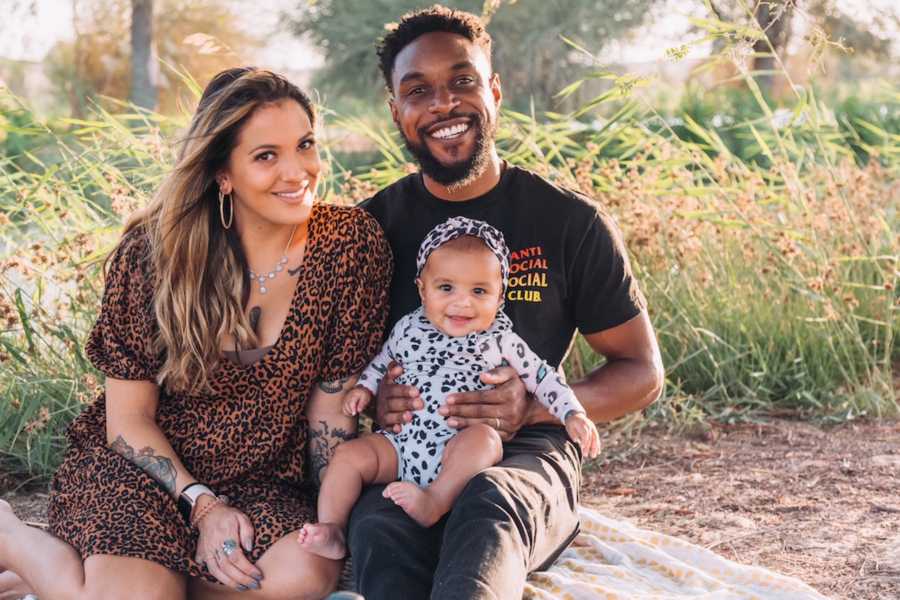 This story was submitted to Love What Matters by Chloe Kangalee. You can follow their journey on Instagram. Submit your own story here, and be sure to subscribe to our free email newsletter for our best stories, and YouTube for our best videos.
Read more stories about motherhood:
'This isn't the introduction to motherhood you expected. Even though I have not been able to see you, I see you.': Woman urges 'you are loved, you are enough' to new moms during pandemic
'As soon as you birth your baby, you're a different person. Take it and run. You're now a mama before anything else. There is no higher title than that.': New mom shares candid reality of first-time motherhood, 'You're doing an amazing job'
'Throw in your 'perfect' towel. Wave the flag of your motherhood style proudly. To them, you hung the moon. They couldn't do life without you.': Mom says 'no amount of mom guilt can take away the glory you are in your child's eyes'
'We're tired. We cannot relax. Our bodies are battle-scarred. Truth is, we thirtysomethings have let ourselves go. No. We have let our SELVES go.': Mom finds 'bliss' in the chaos of 30s motherhood
Provide beauty and strength for others. SHARE this story on Facebook with friends and family.