"I'm only four months into this motherhood thing… and while every piece of advice I got while pregnant was great, no one tells you about this. So I will.
They do not tell you you'll miss pregnancy. Okay, some. I miss my little kicks in the mornings, and him moving to certain music and to his daddy's voice. I also miss him being safe and unknowing to such a crazy, cruel world. You'll worry. You got this.
They do not tell you about the healing process. No, I'm not talking about the stretch marks, tears, or cesarean scars. I'm talking about healing from being one for 10 months, then becoming two. It hurts. Your body literally YEARNS for you to be one again.
They do not tell you you'll miss the newborn stage. The sleepless nights and the little cries that hurt your soul. Crazy right? I know. But it's true.
They do not tell you you're going to cry. A lot. About everything. You dropped that pacifier on the floor? You might as well throw in the towel. Because you're going to cry about it. And the fact your baby hasn't pooped today, or he's ill, or he doesn't want to be put down. But then you will cry because he's asleep, and you want him to wake up so you can spend time with him. It'll hurt. And you'll cry. It's normal. And honestly, it sucks.
They do not tell you your partner will NEVER do it right or be good enough. You heard me. You will feel alone. Although they will be trying their best to help any way they can, your brain will tell you it isn't good enough. They won't understand. It'll hurt. Remember, what comes naturally to us mamas does NOT come naturally to them. Give them credit, and try to be lenient. They're doing their best, which is way better than what your postpartum brain is telling you.
They do not tell you your 100 pennies are going to turn into 4 quarters, FAST. Your 'friends' are going to drop you like it doesn't even phase them. And it won't. If you're lucky, you'll have a select few who stay around. And once you're a mama, you will make more mom friends. Which is hard, when you were dropped so suddenly. It's going to hurt. But it's going to be okay. You have all you need now.
They do not tell you how bad postpartum depression/anxiety is. It's scary, hard, and you will feel worthless. Some is worse than others. You will check your baby's breathing every few minutes. That's okay. If you ever feel like mentally it is all too much, SEEK HELP. Postpartum depression/anxiety is NOT frowned upon, and you WILL need help out of it. Do not be ashamed. It happens to 90% of women. Including me. And it's scary.
They do not tell you, whether you breastfeed or formula feed, it hurts. Cracked nipples, engorgement, and the most hurtful thing of all…JUDGEMENT. Someone will always have something to say, whether you breastfeed or formula feed, and it'll hurt. Do what you want. This is YOUR baby.
They do not tell you that little baby, who once fit inside you, grows like a weed. You don't notice until the clothes get more snug and he is stretched out across you. It'll hurt. That's a pain that doesn't go away.
They do not tell you, when it's time for you to go back to work, it's so hard for you to enjoy the time you have left. Because you're too busy crying for the moments you won't ever get to experience with your baby. No matter who it is keeping him, it isn't you. And it hurts.
They do not tell you, mentally, you will never be the same. As soon as you birth your baby, you become a person no one else has ever met before. Take it and run. You're now a mama before anything else. There is no higher title than that.
They do not tell you, when you come home from work, you have an urgency to soak in every little moment with your baby. Do it. The laundry, dishes… all of it can wait. You'll look back and regret washing that load of clothes instead of cuddling with your baby. And it'll hurt. Put the clothes down.
They do not tell you about the death grip and stare. When your baby has missed you all day, as soon as you lay down, he puts that death grip on your shirt. And his heavy eyes steadily open for reassurance Mama is still there. It's going to hurt your heart. But you're there. You're Mama, and he is your baby. He is safe and happy, and so are you.
And while no one will tell you these things, you will learn day by day. You're doing an amazing job and some days that's all you need to hear."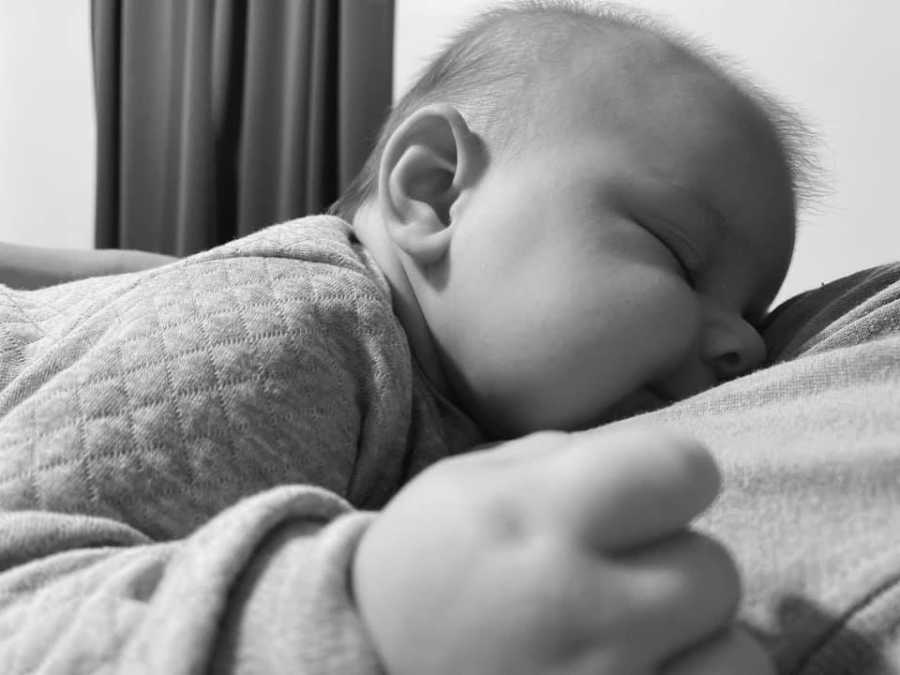 This story was submitted to Love What Matters by Brianna M. Submit your own story here. Be sure to subscribe to our free email newsletter for our best stories, and YouTube for our best videos.
Read more stories like this:
'I'll hold you tight, but I'll hold your mother tighter. My love for you grows the more I understand the measure of a mother's love.': Dad pens appreciation letter to wife for birthing son, 'I will never be able to repay you'
'You hold on tight. Somehow 20 years isn't enough. When it's time for them to go, it all hits you like a ton of bricks.': Mom of teens urges us to 'soak it all in' during younger parenting years
Show some love and support for the wonderful mamas out there. SHARE this story on Facebook with family and friends.