"My journey to motherhood was intense. I was 21 when I found myself pregnant, only months away from graduating from college while working full time. My boyfriend worked long hours at a few different jobs and we lived a one-bedroom apartment in the heart of Burlington, Vermont. We were the quintessential young couple, just starting out. Everything seemed to be moving fast. We were nervous but excited none the less.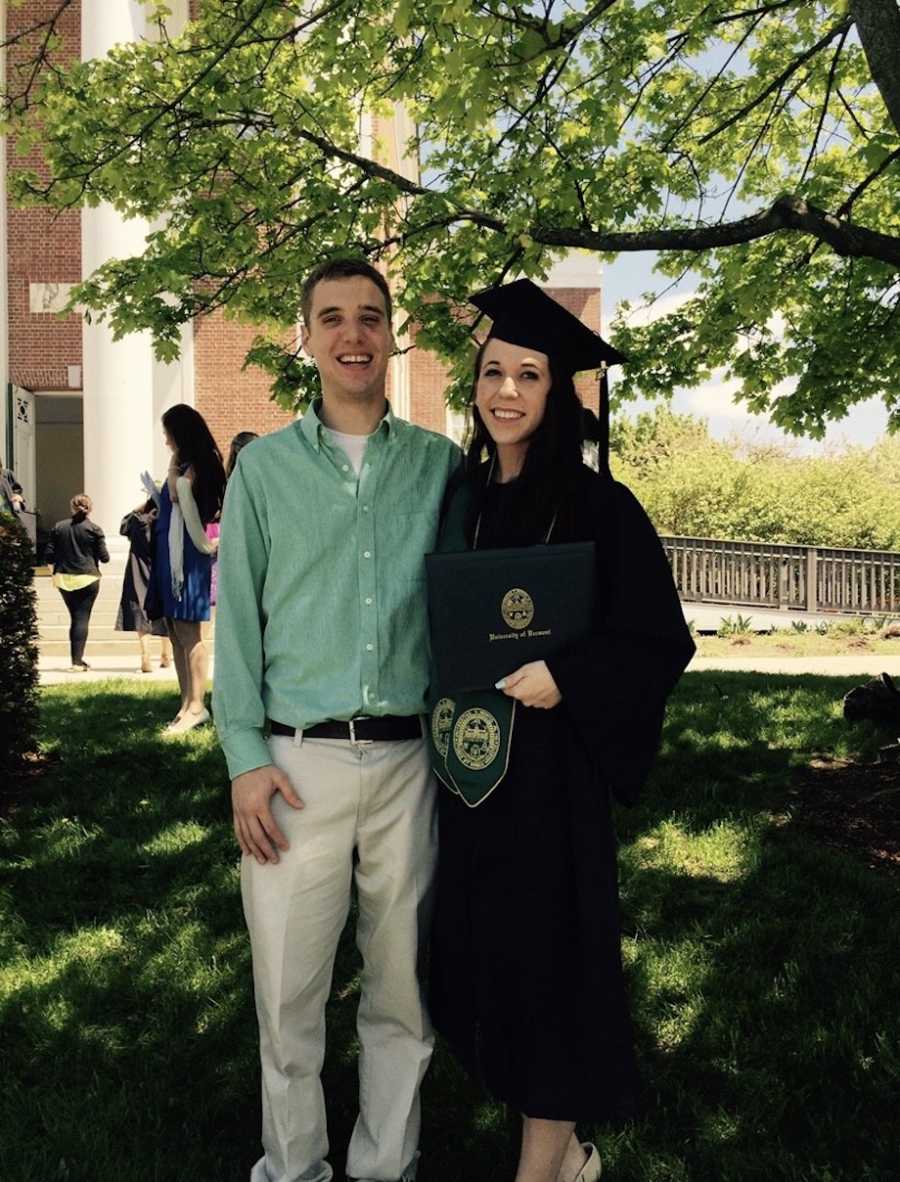 Our excitement soon turned to fear as we learned our unborn daughter was affected with a severe case of Autosomal Recessive Polycystic Disease and had a 50% chance of surviving. When you think of a 50/50 chance, what comes to mind? A coin flip. You know, heads or tails. But can someone's life be summed up in a coin flip? Certainly, my daughter's life was worth more than that. I was in complete shock and delved into a pit of denial. My baby couldn't possibly die.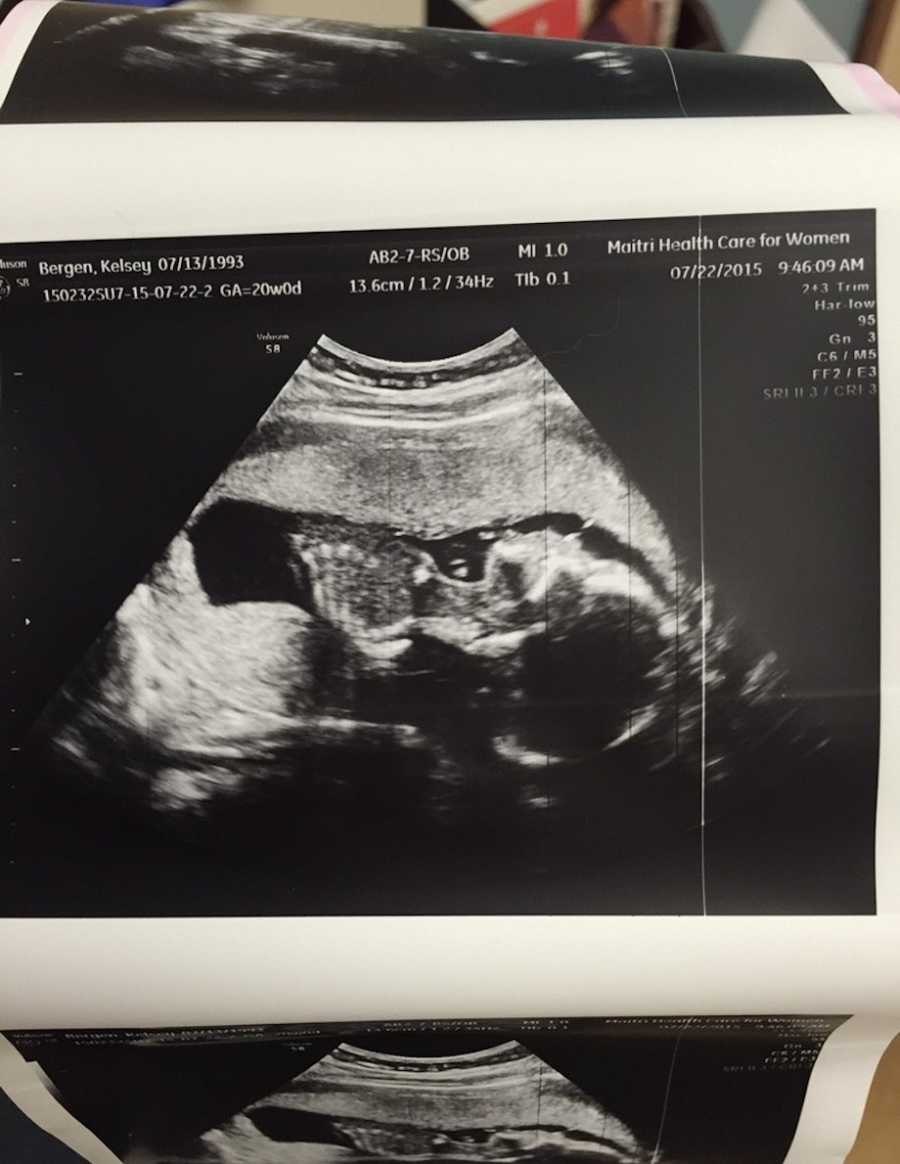 Months of appointments and traveling to see specialists in Boston weighed heavily on my soul. As each week passed, I grew more exhausted. Each appointment brought more bad news than the last. Our baby girl was sick. She had zero amniotic fluid and it wasn't likely her lungs were developed enough to sustain life. Her little kidneys grew bigger and bigger, measuring weeks beyond her gestation. After each appointment, I would lay in bed and hug my belly and pray I got a chance to become a mother and my baby would live. I would plead and cry with a God I wasn't sure was there to please let my child live.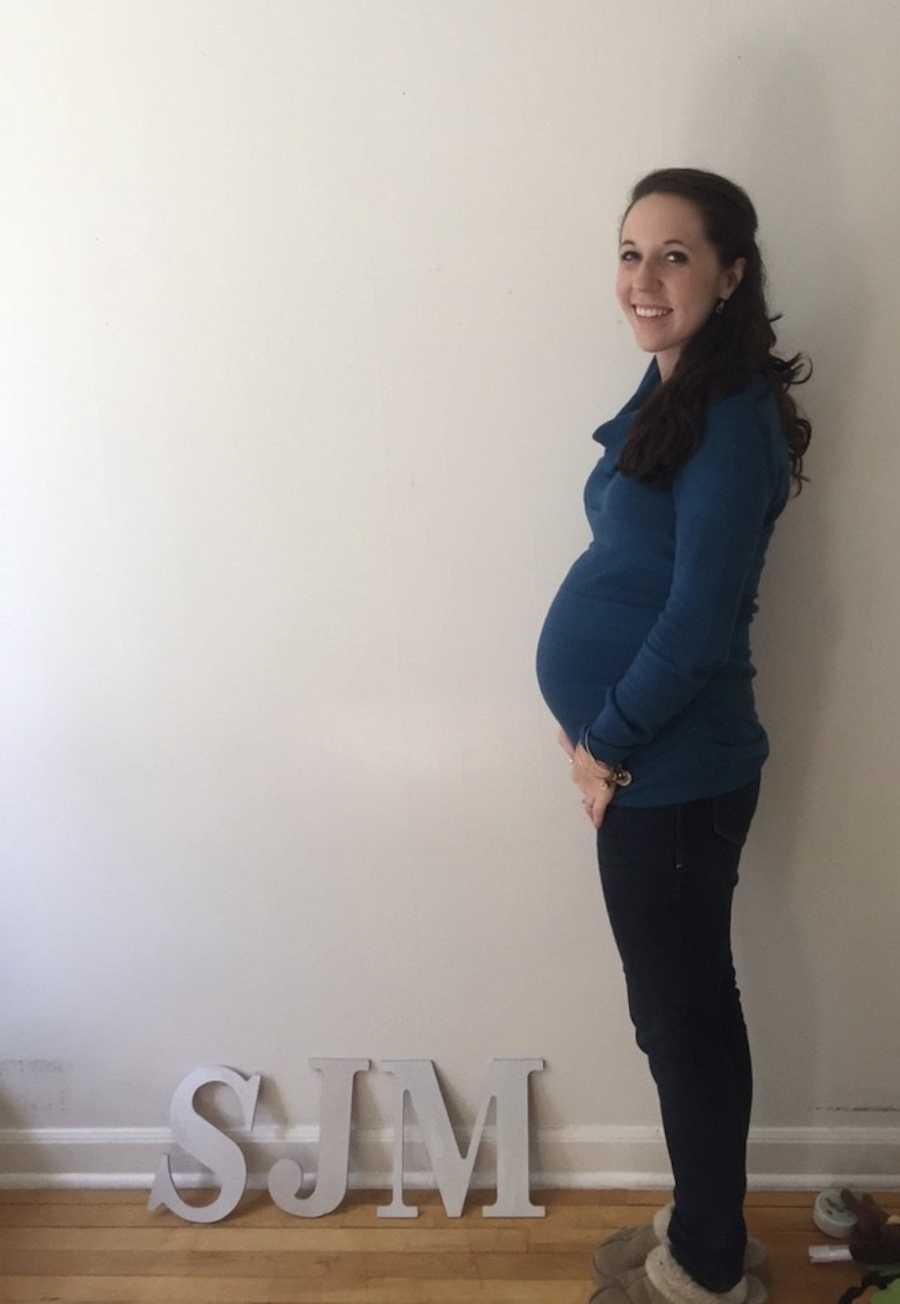 The last two and a half months of my pregnancy felt like years. I woke up, every day, unsure how our future would look. Instead of preparing a nursery, we prepared our stay at the Ronald McDonald house in an unfamiliar city. It hurt too much to purchase a crib or a car seat so we went without. Knowing our baby would be in the NICU for months getting her kidneys removed and adjusting to life on dialysis before coming home, we figured we would have time. I read anything I could get my hands on about kidney transplants in children. I prepared for the life of a medically complex mama. Three days before my scheduled c-section at Boston Children's Hospital, I went into spontaneous labor. In complete denial, I thoroughly believed my contractions would stop. I labored in our apartment all day but after 12 hours, I was admitted to the hospital and considered in active labor.
Our time with our daughter, Scarlett, was far less than we had hoped. She arrived a few hours after being admitted to the hospital. Immediately as she was born she let out one big, beautiful cry. One cry. Her lungs collapsed from the respiratory effort and she was intubated. I was able to see her for a few seconds before she was whisked off to the NICU. Her eyelids had just opened for the first time and we locked gazes. That moment was when the world stood still. In the midst of panic, there was a moment of peace. My past, present, and future was so clear yet still such a mystery.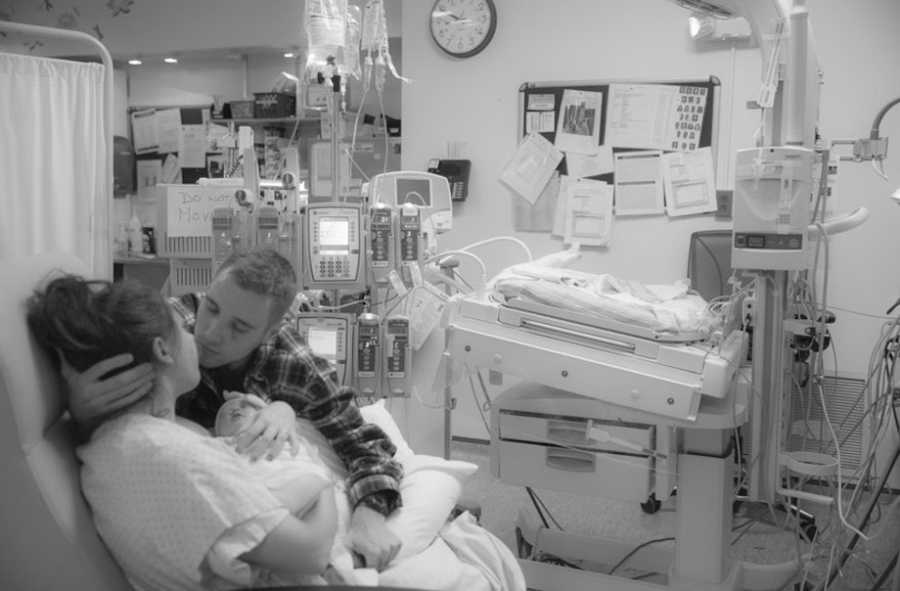 As the hours ticked by, her diagnosis became worse. She suffered at least two seizures and her oxygenation levels never recovered. Her porcelain pink skin became a deep purple-ish red. My little girl looked so, so sick. Every single fiber of my being wanted to reject the idea this was the end. After months of being unsure and hoping the doctors would be wrong, Scarlett was telling us she was weak and her time was coming to an end. None of my prayers worked. My daughter was dying. Nurses kept asking me if I was ready to take her off life support. 'No, I'm not ready for any of this,' I remember saying. 'I'm not ready to say goodbye.'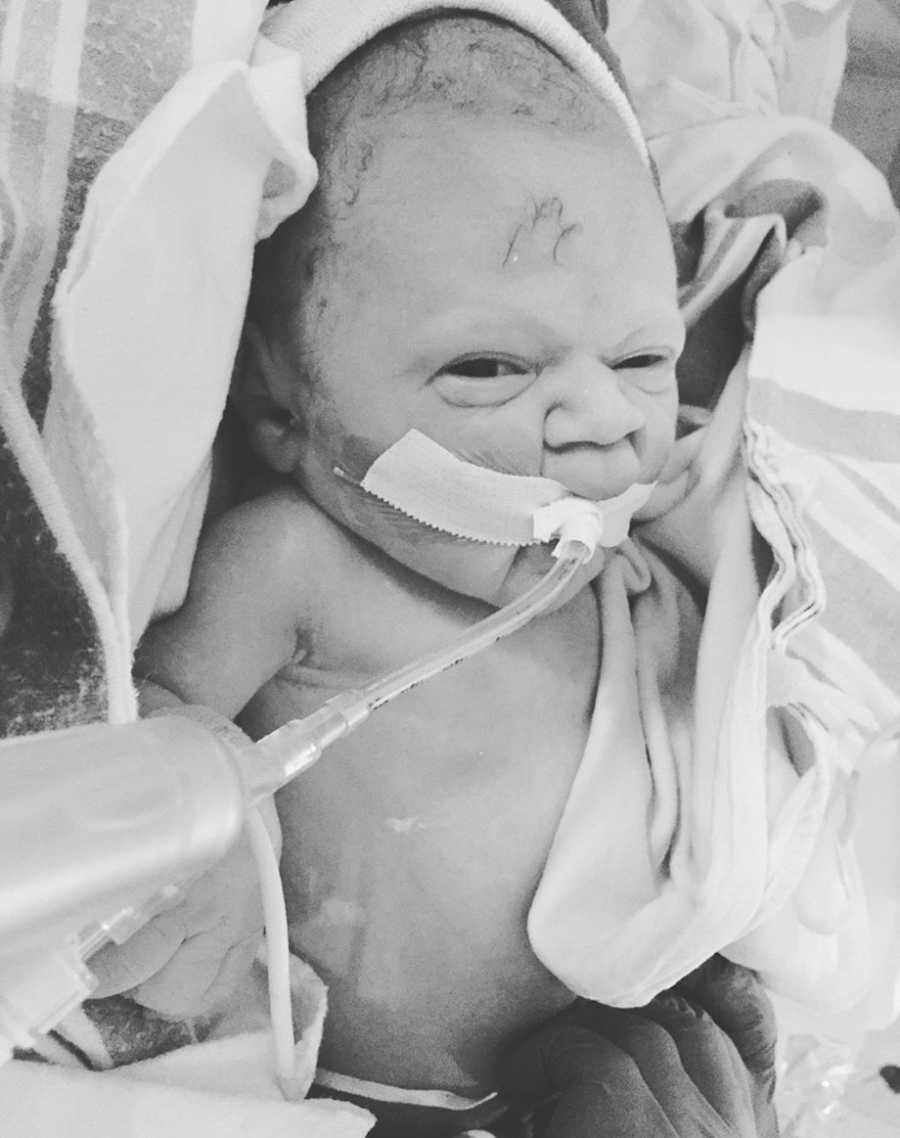 Eventually, through soul-crushing despair, we removed Scarlett from the machines that were keeping her alive. Machines and monitors turned black and silent when her heart stopped. They tried to move her with all of her wires and tubes so we could have as much time with her alive as possible, but the neonatologist observed she was showing signs of not having much time left. We sat in a big, beige recliner and rocked. My husband and I cradled her small frame loosely wrapped in a swaddle during her last moments. I traced her swollen eyes and dry cracked lips with my finger. The doctor knelt down next to our chair with her stethoscope and confirmed she was gone. My heart must've weighed one thousand pounds. My body was heavy. My mind went blank. My entire future was dark. How was I going to keep living when my baby died?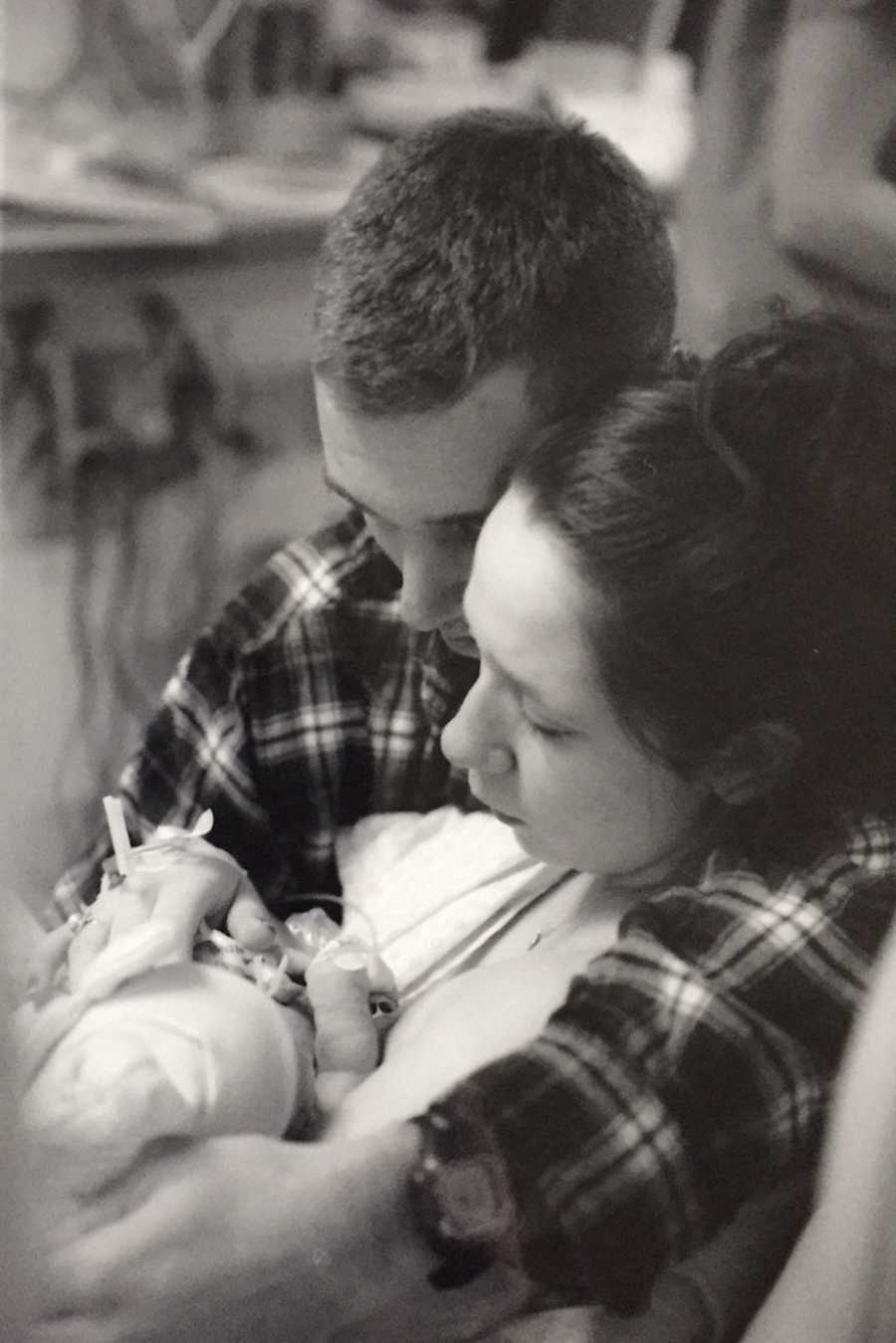 Physically, I had given birth, but no longer had my baby with me. My milk came in and I spent days in excruciating pain. It was just the beginning of my difficult postpartum journey. Scarlett dying was my life's defining moment. It was an experience that completely changed who I was and now the next chapter in my life had just begun.
Motherhood became something I protected with my whole heart. To the world, I wasn't a mother since I didn't have a child with me. But my body housed another human. I birthed her, and she died. I felt as much a mother as someone who was in the midst of nighttime nursing sessions and elbow deep in dirty diapers. I was angry I was in this position and I felt deep envy for those who were living my alternate life – or the life I was 'supposed to' be living.
All my husband and I wanted was a family. We had a taste of this beautiful relationship a parent shares with a child. It was something we desperately craved after we lost Scarlett… We had so much more love to give and no place to put it.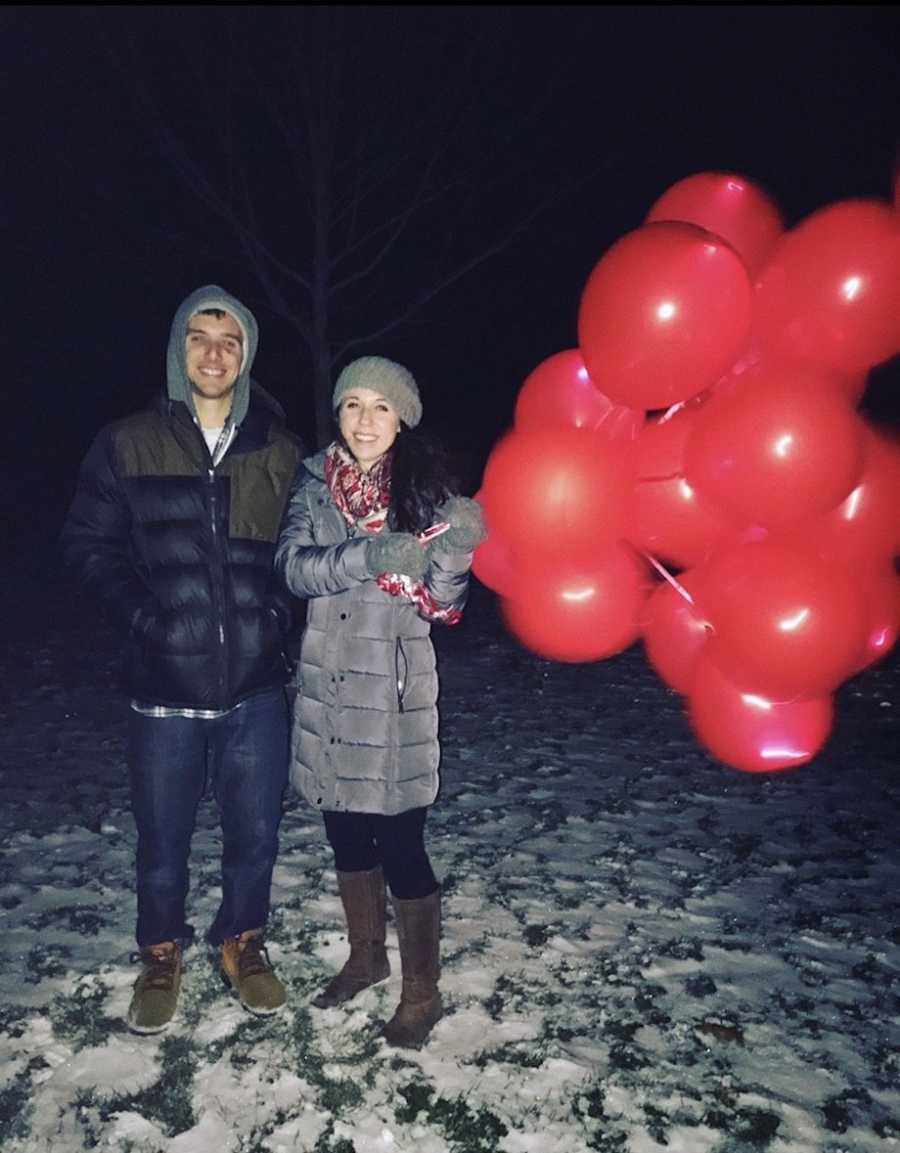 In the following two years, we found ourselves pregnant twice. Both of those pregnancies were affected with ARPKD. The inheritance rate is 1:4 so each of our pregnancies had a 25% chance of being affected, yet somehow we had three out of three. A 100% inheritance rate. After finding out about our third baby would suffer from the same disease that took their older sister, we found ourselves at our all-time low. Both pregnancies were terminated because we could not even begin to imagine going through reliving the day we had with Scarlett again and again. I was defeated. Not only were we still grieving Scarlett and our two most recent pregnancies but also grieving closing the door on never having children naturally. We were carriers of a recessive disease that has a 25% inheritance rate but we have had three pregnancies all affected. We couldn't put ourselves or any future pregnancies through the continued turmoil.
Through some good luck, generosity, and persistence we were able to go through with In-Vitro Fertilization with Preimplantation Genetic Diagnosis in the spring of 2017. Even through the shots, bloodwork, medication, and appointments, I was so happy because I knew this would be our chance to finally grow our family.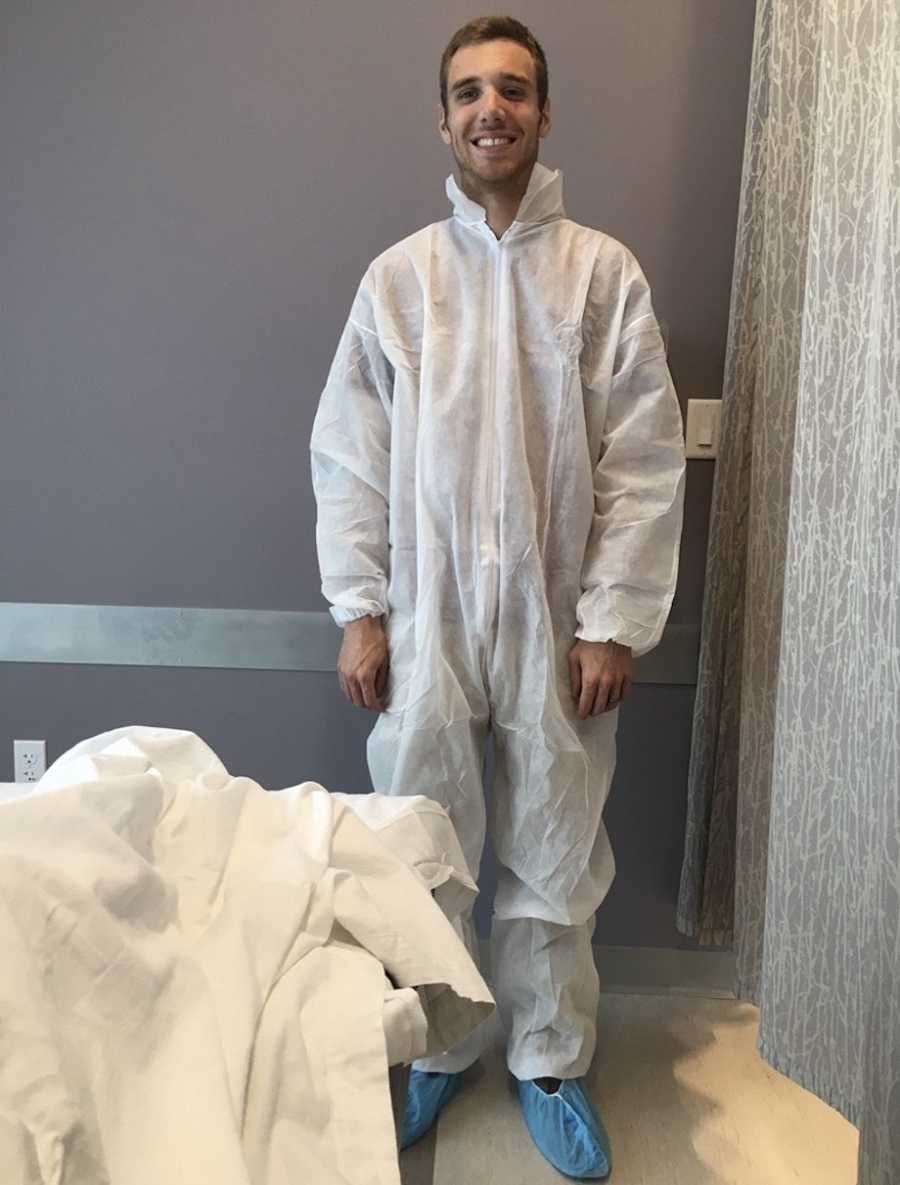 After everything we had been through, it was finally a hopeful season of waiting. We were always waiting to find out if our baby would die and now we were waiting to find out if we'd have a baby that would live.
Two rounds of IVF created 13 embryos. Out of those 13 embryos, SIX were healthy! This was beyond my wildest dreams. We went from not being able to have a healthy child to having six potential children waiting for us. A month later, we transferred one perfect embryo and were pregnant for the fourth time, but the first time ARPKD-free. It was an incredible gift made possible only through medicine and science.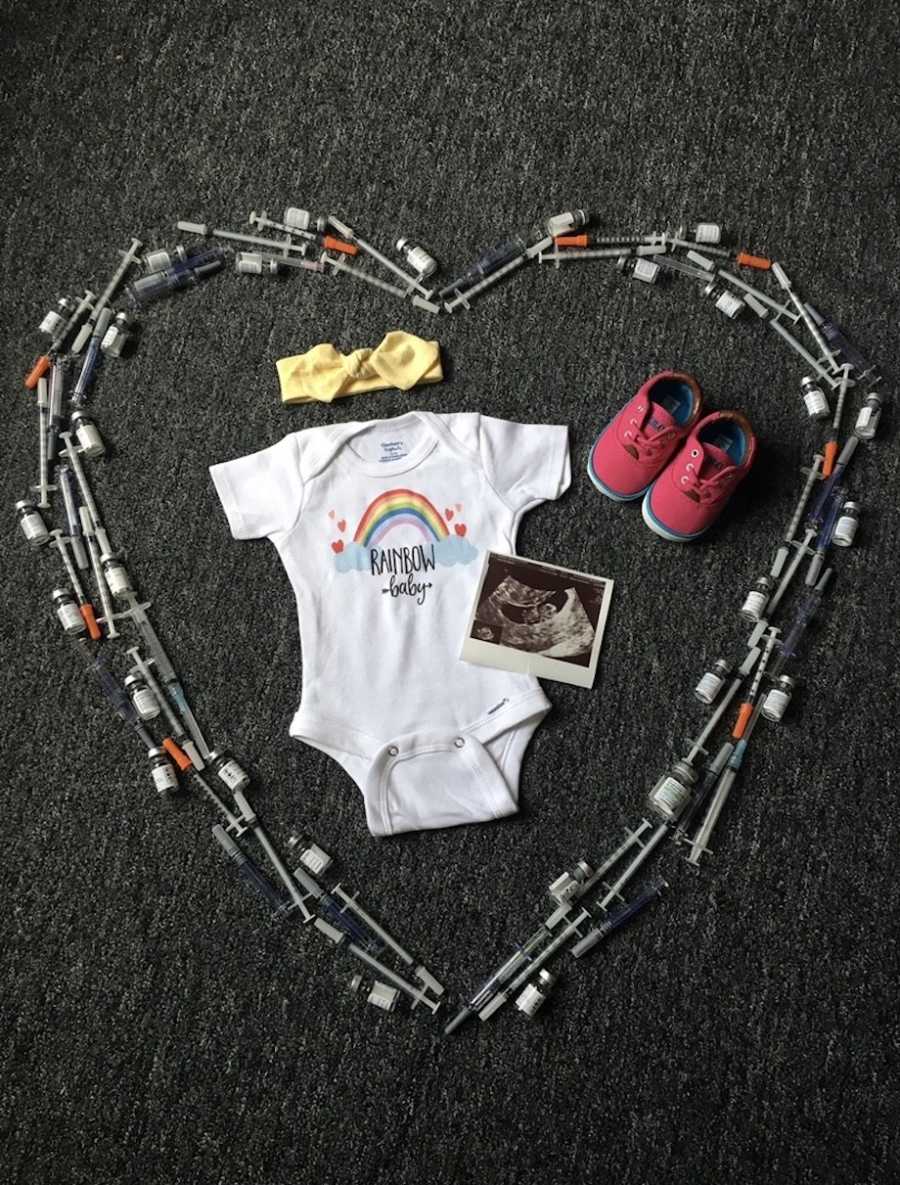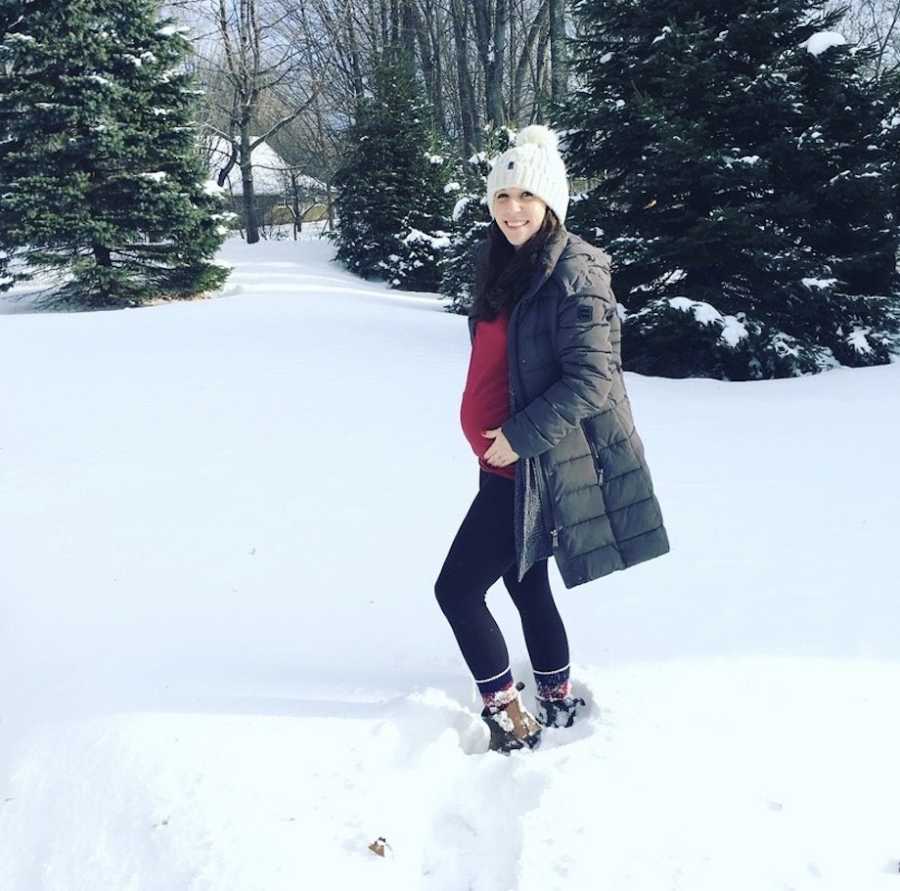 Nine months later, we welcomed our completely healthy, second baby girl named Iris. My birth with her was completely opposite to what I experienced with Scarlett. It was long and grueling. It was not an empowering experience at all. In my mind I clung onto, 'All that matters is she's alive and healthy.' I was willing to go through anything to make sure that happened.
I was induced at 39 weeks and in every single way, it was more intense than my first delivery. I pushed for over 3 hours. Our daughter, Iris, was brought into this world via assisted delivery.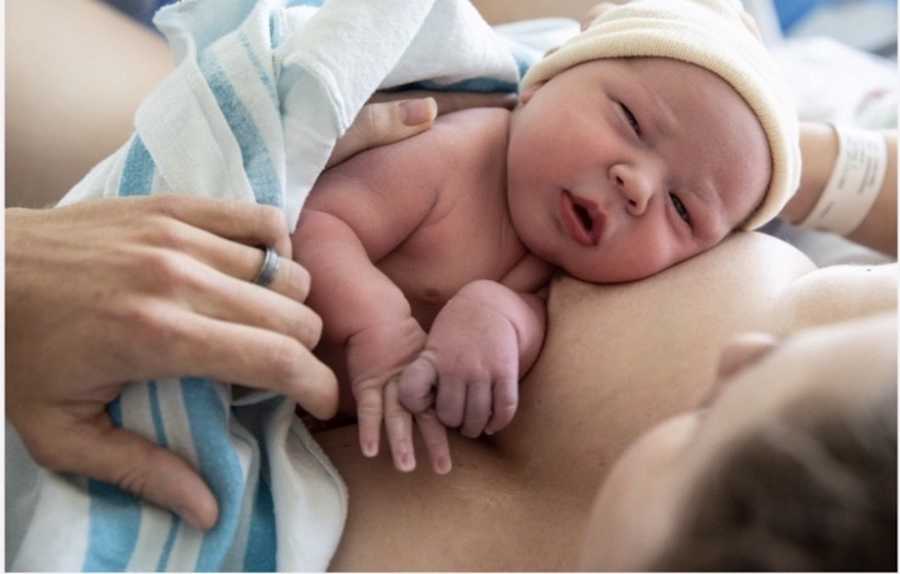 Weighing 8 pounds 3 ounces, she had a large hematoma on top of her head that looked like a pocket of blood. She cried constantly. During my first days as a mother of a living child, I spent sad and unsure of myself. We tried so hard to have this life with a healthy baby in our arms, and this was not what I thought being a mother to a living child would be like.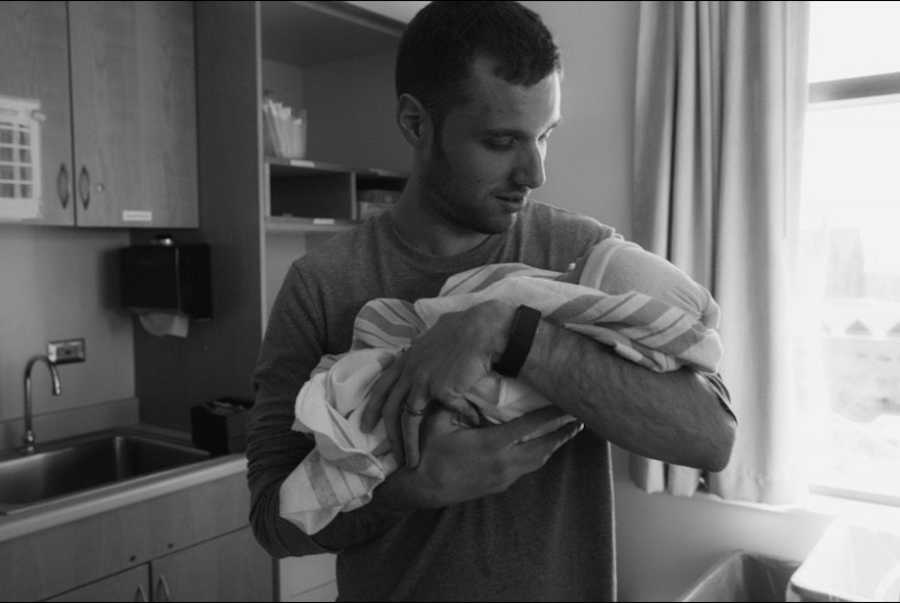 I really struggled to find my identity with this version of motherhood. I had to break down and reconstruct everything I knew about being a mother to a child. I no longer had to prove my place in this world. My reason for being was sleeping in my arms. I held on to every speck of reality my first daughter existed. Only a few days in and we had already experienced tenfold of what we got to with Scarlett. It was amazing and terrifying at the same time.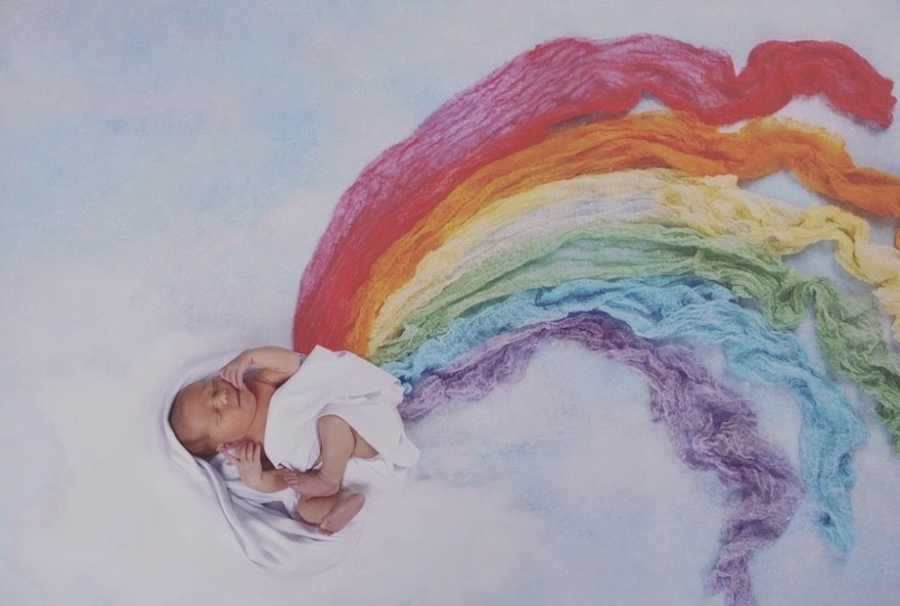 Instantly, I became the nurturer I longed to be but it was filled with so much uncertainty. Was I doing this right? Am I making the best decisions I can for her? Breastfeeding? Formula? Co-sleeping? Sleep training? Is she going to grow up thinking she is a replacement? It was all so overwhelming. I was finally getting to start in the game I had spent years being a spectator for and I felt like I was completely failing.
Slowly, I found my footing being Iris's mom. Therapy saved my mental health. The negative feelings about myself I internalized for years were picked apart one by one. This disease controlled our lives for so long and we slowly reshaped our story. Each of our babies changed who we are, and losing them nearly crushed us. What I've learned from my loss has built me into a stronger and more resilient and tolerant human being. Most days, I don't know what I am doing, but I am doing my absolute best.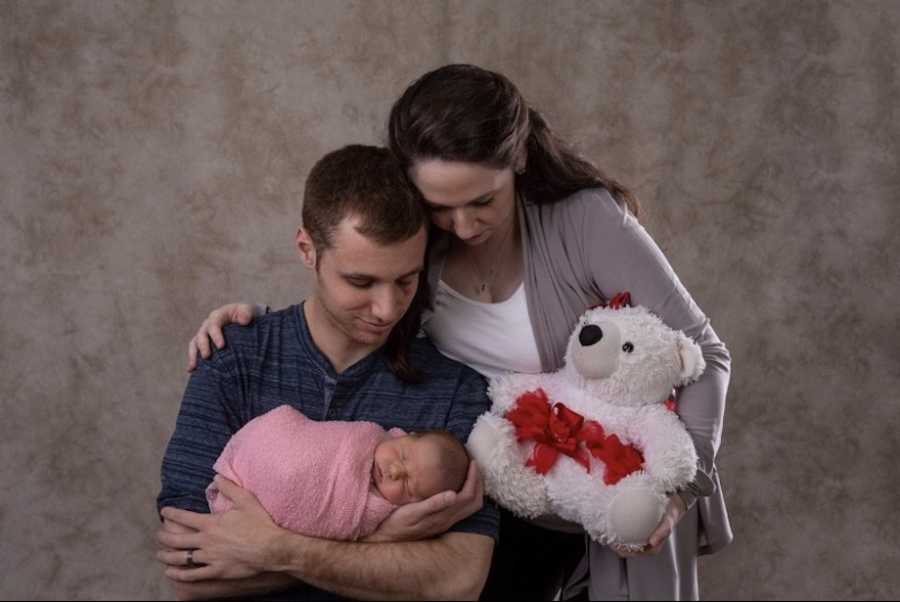 Being 24 and having had one infant loss, two TMFRs, a carrier for a single gene disease, gone through IVF with PGD, and giving birth to a healthy baby was a heavy load to carry. Two years later, my husband and I joke we have lived a full life in the last four years together. But in reality, we have. With lots of surrendering and some therapy, we love harder and hug tighter. All we want in life is to live a relatively simple life, raise our children, and inspire others.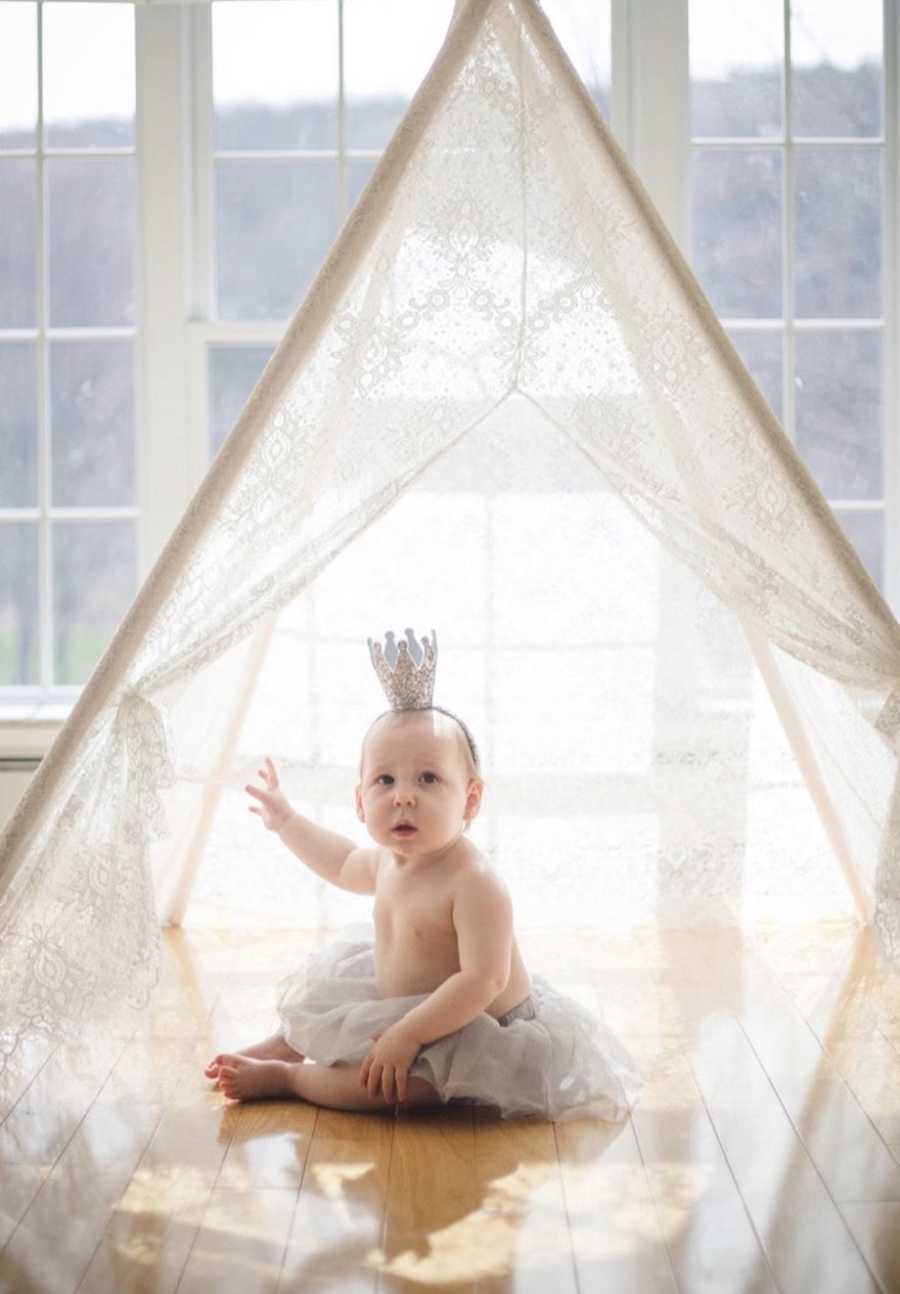 If we weathered this storm of loss and life, there is hope for everyone. I don't believe everything happens for a reason but I believe we can grow from the challenges we face and have a deeper appreciation for the good in our life."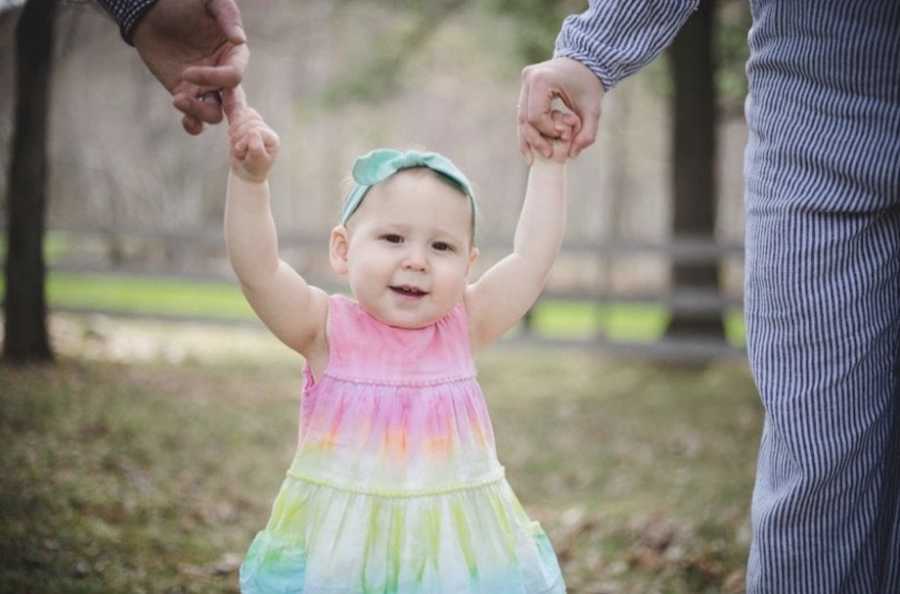 This story was submitted to Love What Matters by Kelsey Mallabar from Vermont. You can follow their journey on Instagram. Do you have a similar experience? We'd like to hear your important journey. Submit your own story here. Be sure to subscribe to our free email newsletter for our best stories, and YouTube for our best videos.
Read more touching stories like this:
'I was sobbing. Pregnant at 40 was the furthest thing from my mind. I was scared. 2 of my babies died within 2 months of birth.': Mother of child loss says 'bonus baby' was 'biggest surprise,' now thrilled for surviving triplet to have a sister
'My leg is tingling!' The morphine wore off. My heartbeat stopped, then my baby's. I blacked out.': Mom suffers from PTSD after child loss, now pregnant with rainbow baby, 'I will always love her'
Provide beauty and strength for others. SHARE this story on Facebook with your friends and family.