"Exactly one year ago today, our lives changed forever. I had just gotten home from running errands and opened up the fridge to pour a glass of wine. But before I opened the bottle, I ran upstairs to take a pregnancy test. My husband and I could never have kids on our own, but for some reason, I felt the need to just make sure.
Within minutes, I had the answer. Tears poured down my face as I called for my husband. Eight years after we first started fertility treatments, and five and a half years after we gave birth to our triplets, we were pregnant again.
But here's the honest truth. I didn't want another child. Just six months earlier, we had signed off with our fertility clinic, deciding that more children were not in our future. We were content and felt like our family was complete with one surviving triplet and two children in heaven. Life wasn't perfect, but after years of grief and heartache, we were happy with our little family.
My husband hugged me as he looked at the positive pregnancy test. I was sobbing, my body felt as if I was in a dream. No longer were we filled with hopes and dreams of having more children. I was older, more jaded and being pregnant at close to 40-years-old was the furthest thing from my mind.
But after shutting the door to more children, I was suddenly pregnant. It wasn't as if we had 'unexplained infertility'; we knew that my health meant we could never have children on our own. But something happened to my body. Maybe it was the stress lifting after we decided our family was complete. Maybe it was changes I made in my diet. We'll never know.
One year ago today, we found out we were pregnant with our rainbow baby. And what I soon found out is that life's biggest surprise can turn into a beautiful blessing.
The thought of more children was always tucked in the back of my mind. But, as a parent of child loss, I was too scared to bring another child into this world. I almost died the day I gave birth to our triplets, and two of my babies died within two months of birth. The fear of pregnancy after loss was too much for me to ever consider more children, and my husband was always supportive.
As I look at my sweet baby today, I can't help but chuckle as I think back to one year ago. We went through shock, hope, and plenty of pregnancy scares, but in the end, our baby Piper has been the biggest blessing in our lives. She has brought us so much happiness, that beautiful rainbow at the end of the storm of child loss. Piper will never replace our two children we lost, but she has given us new life when we didn't realize we needed it.
As I watching our lone surviving triplet play with her little sister, I can't help but tear up with happiness. Peyton is such a proud big sister. She loves to cuddle baby Piper and read her books, even offering to help change dirty diapers. Our sweet 6-year-old was destined to be a big sister.
We may have more wrinkles, no sleep and a few more gray hairs, but watching our surviving triplet with her baby sister makes us realize that God had amazing plans for our family. This bonus baby was the biggest surprise of our lives, and we couldn't imagine life without her."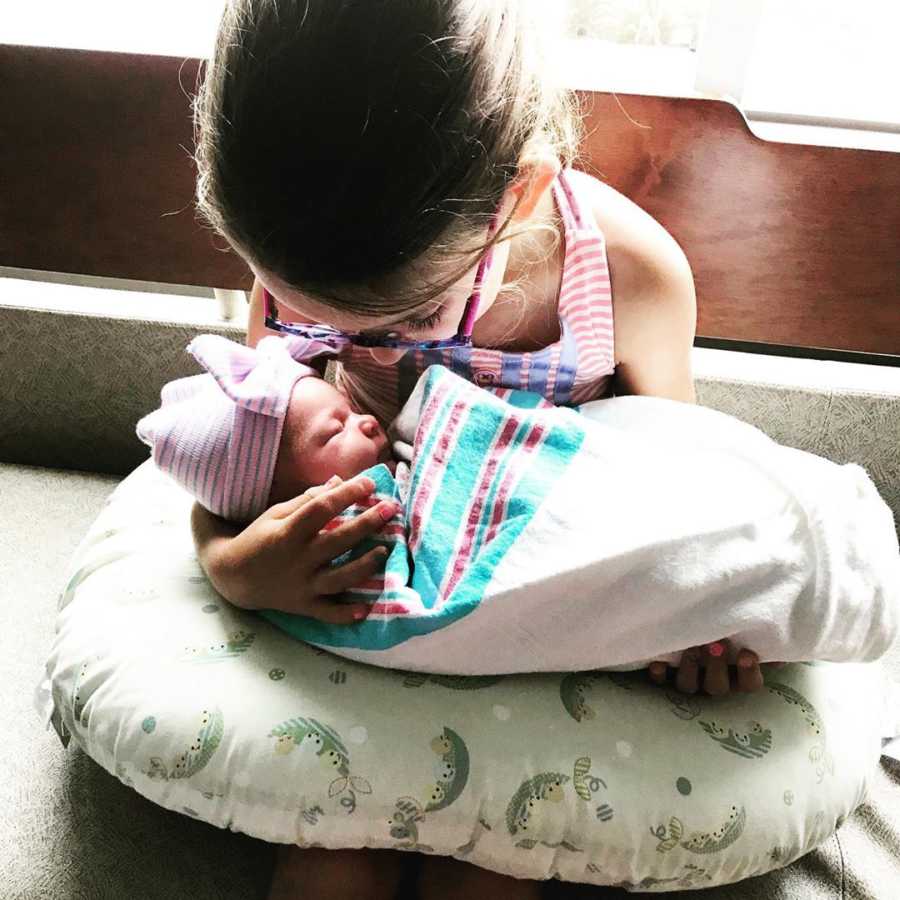 This story was written by Stacey Skrysak, an award winning television journalist based in Illinois. You can follow her on Facebook, Instagram and Twitter. Do you have a similar experience? We'd like to hear your important journey. Submit your own story here. Be sure to subscribe to our free email newsletter for our best stories, and YouTube for our best videos.
Read more powerful stories from Stacey:
'To the parents of Abigail.' I was shuffling through the junk mail, before tossing it in the trash. But the last letter left me frozen. My heart began racing. I gasped as I read the name.'
'I walked into my daughter's room and instantly spotted that paper from the past. Seeing the 7 digits and extension took my breath away.'
Provide beauty and strength for others. SHARE this story on Facebook with your friends and family.