"School was coming to an end and summer was beginning. It was an exciting time. I was getting to be a full-time mom and starting a new chapter in my life with a new career. I was excited to get to spend the whole summer with all my kids. Liam, our oldest son, was also turning 6. His birthday was the last day of school on May 25th. We had just celebrated his birthday the day before. The next day, May 26th, we decided to celebrate by going to the lake to my in-law's house for the weekend.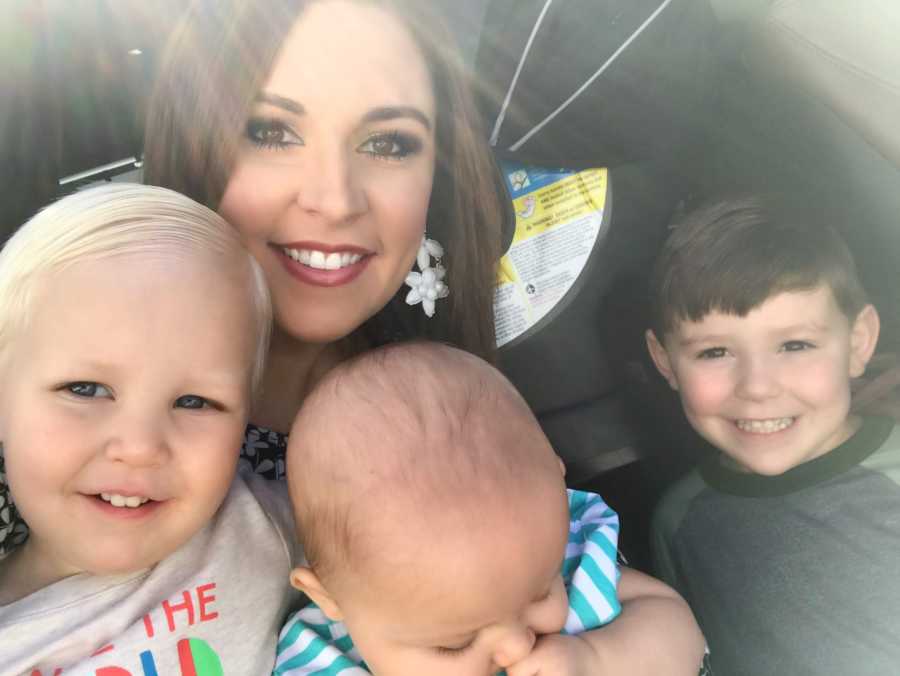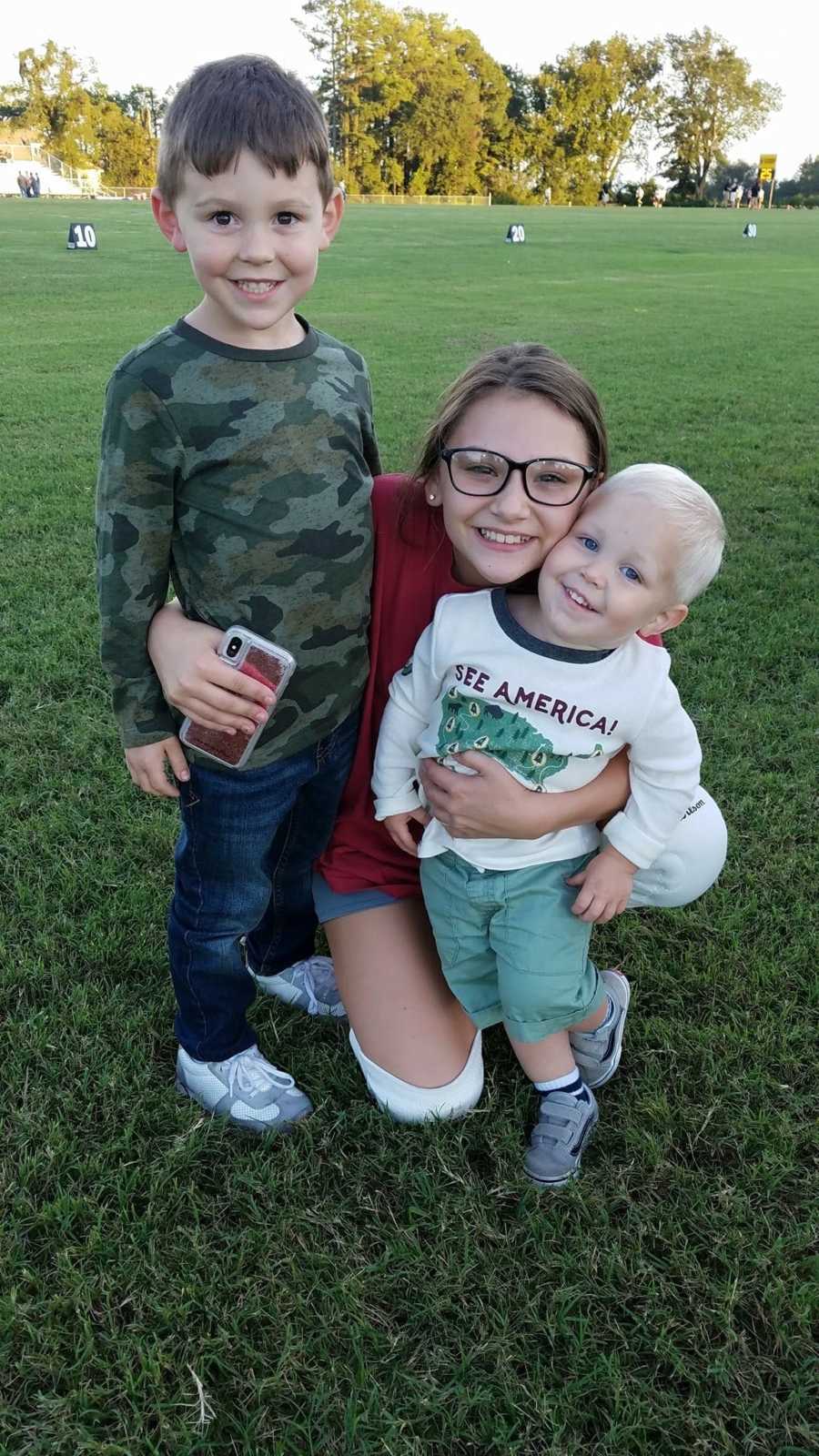 It was Memorial Day and I remember going to Target and getting the kiddos all matching outfits so I could take a cute picture by the lake. I loved taking their picture! It was just like any other day. We got up and packed. Decided to grab lunch at KFC before we got on the road – never knowing that it would be our last meal together. The kids were so excited to see grandma! I remember looking back at Levi in the car seat on the way and thinking, 'Gosh I love him so much!' He always smiled back at me in the sweetest way. He pointed out every train we saw on the way. He loved trains like his big brother!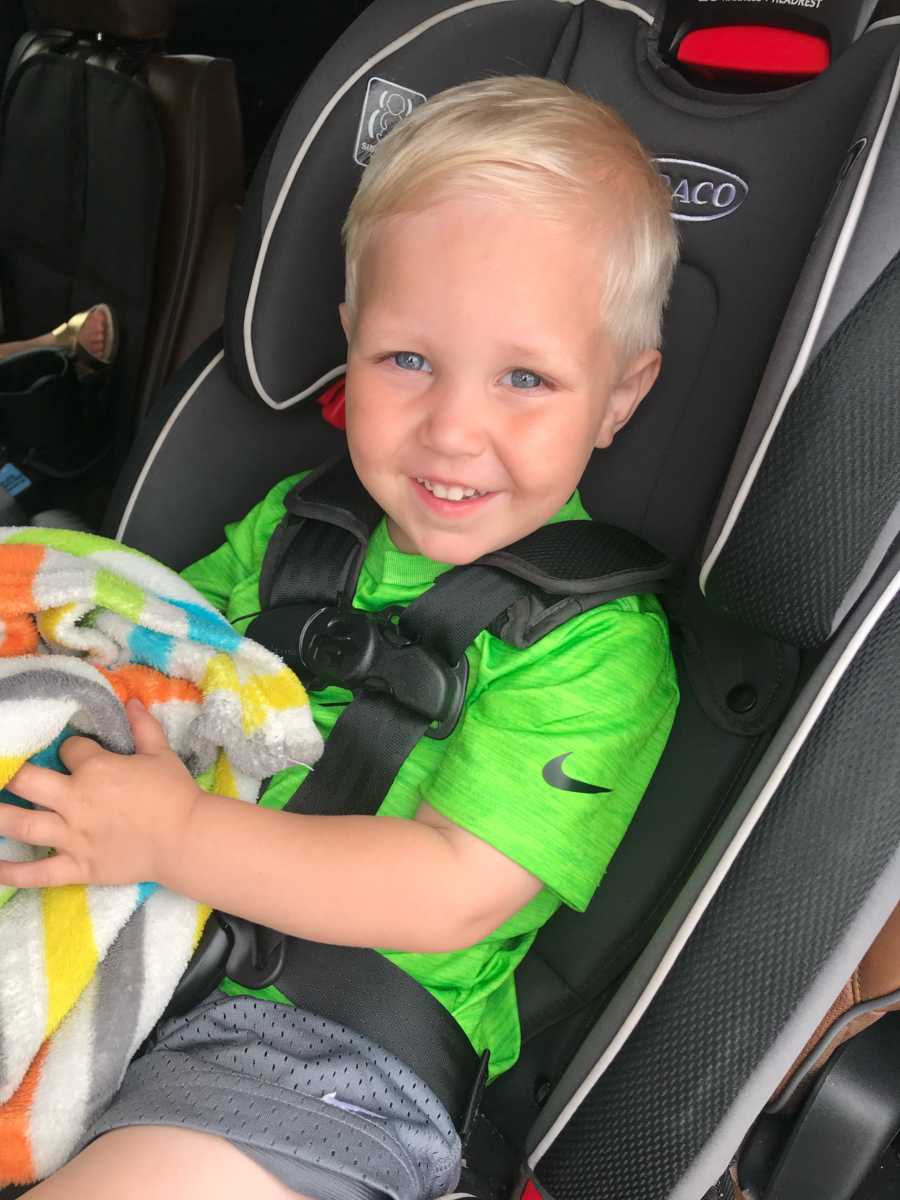 When we arrived at my in-law's, we sat out front and played. The kids all had popsicles and played like they always did when we were there. We had food on the grill cooking for lunch. Once it was done we took it off and we were going to eat shortly but decided to put the boys' new tree swing together and their stand. They got it for their birthdays, and they were excited to play on it. Levi had just turned 3 on April 22nd so their birthdays were close.
Once we got it out together, we decided to go set it up in the backyard so they could try it out. We walked downstairs while my husband took the swing around the side of the house. The boys were running around, playing and being wild. They were being normal boys! They always ran around when we were there. When we played in the water, we were always right beside them and they wore life jackets. We weren't playing in the water that day and I was right there with them.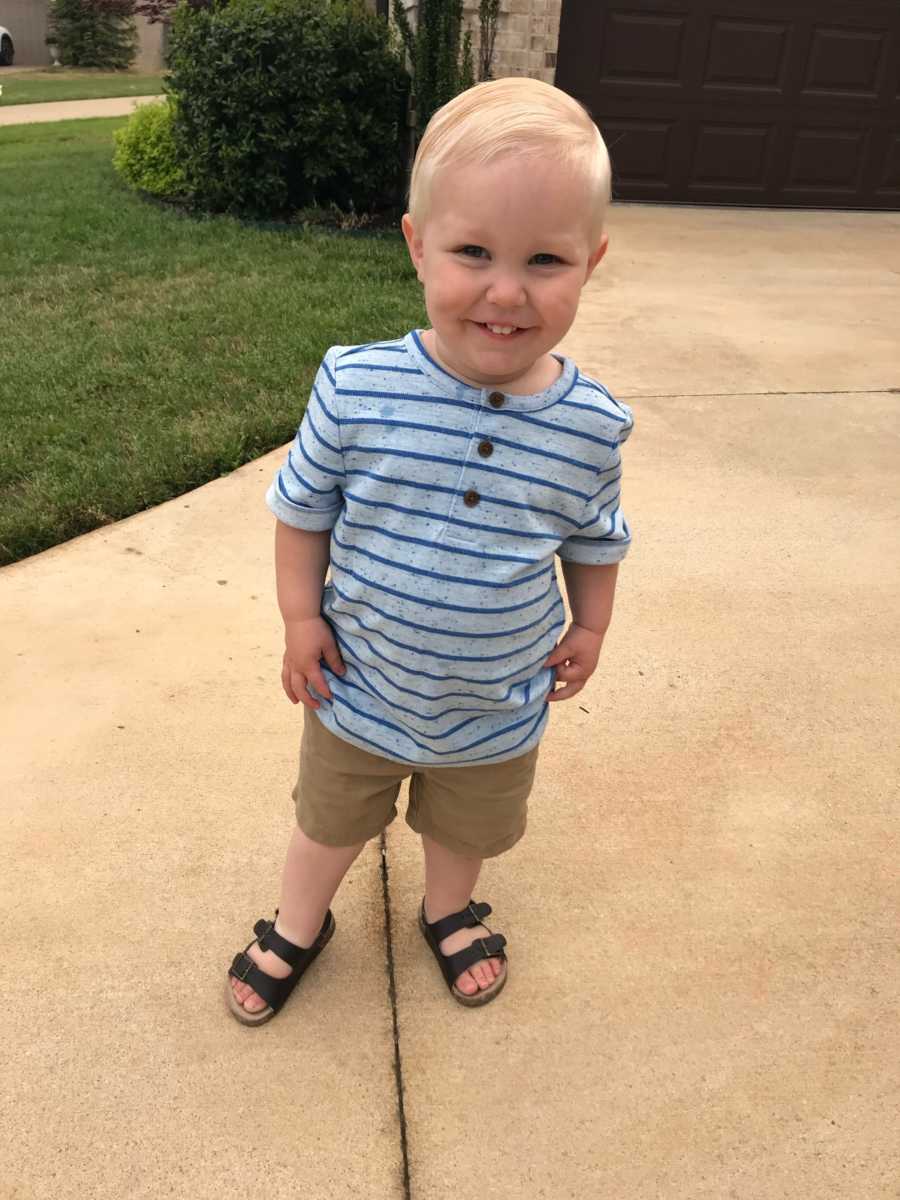 Levi always LOVED sticks. I remember him playing with a stick and swinging it and acting like he was shooting bad guys and just making noises like a boy would. I was worried he was going to hit his sister in the face, so I remember telling him, 'Please put the stick down.' Right after I told him to put the stick down, I turn to see where they had sat the swing. Their yard sloped down and it was hard to find a level spot for the swing so it wouldn't flip over when they would swing on it. I remember saying, 'That's a good spot!,' where they put it, and my husband and mother-in-law went to get something to stake it in the ground. Just that fast, it was too late.
I literally turned and said that, and then my oldest son Liam said, 'Momma, Levi fell in the water.' Those are words I'll never forget. My first thought was he had just fallen in and I would be able to grab him and save him. I expected to turn and see him splashing. He wasn't. I knew when I saw him, it was bad. I turned, sat my little girl Olivia down, ran and jumped in the water as fast as lightning, pulling Levi up out of the water with a pale face and blue lips. The minute I saw his face, my heart sank to the pit of my stomach.
'This can't be happening. This isn't happening,' I remember thinking.
I just knew I couldn't give up. I couldn't just give up on my baby. I had to fight even if I knew it was too late. I remember jumping in, grabbing him, then laying him on ground by the water.
The next day I had bruises and my whole left side was so sore. It's amazing the strength you get when going through something so tragic. I yelled as loudly as I possibly could, 'HELP!!!!,' as I laid him on the grass. My husband and mother-in-law were in the backyard and ran to us. I freaked out, not knowing how help him or how to perform CPR. I knew to give him air, but I didn't want to hurt him either. Water was coming out and his belly was full. I did what I thought was best at the time and I remember breathing in his mouth. I heard a voice from a man off the water say not to blow too hard or something because it could hurt him, so I turned him on his side. Several men showed up in seconds on the lake to help. I let them take over while I prayed and cried out to God to save him even though I knew it was too late.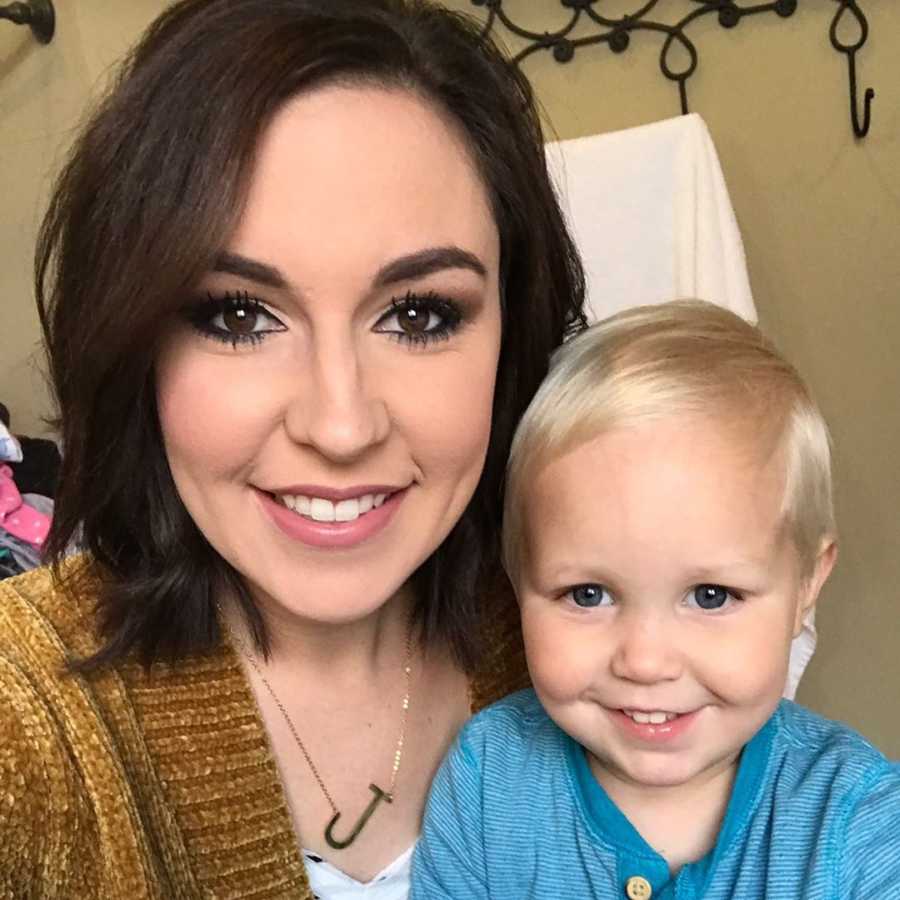 I remember being in such shock as I sat there watching people perform CPR on my boy. It felt like time was passing so slowly and the ambulance was taking forever to get there. Everything seemed to be happening in slow motion. His body was so limp. The whole time I just knew he was gone but I still had to pray for a chance that he would just cough and water would come out and he would be ok. I mean isn't that what you see in movies? Except this was real life. I remember just saying to myself over and over… 'what was I thinking? Why did I take my eyes off him?' I had just seen him run by me playing with a stick! How could he be gone so fast? He couldn't had been in the water long. I was JUST right there. We never left the backyard and I wasn't far.
I never dreamed my child would drown with me less than 40 feet away or during a time that we weren't even swimming or playing in the water. I never knew that drowning only takes seconds. Drowning is not like you see in movies. You don't splash and cry out for help! We were right beside him and we never heard a sound. Never heard a splash. I literally turned my head for maybe a minute and he was gone. He wasn't even near the water. After several minutes passed and we still had no pulse, I remember thinking, 'If he started breathing now, he may be brain dead.' What life would that be? But I still had hope.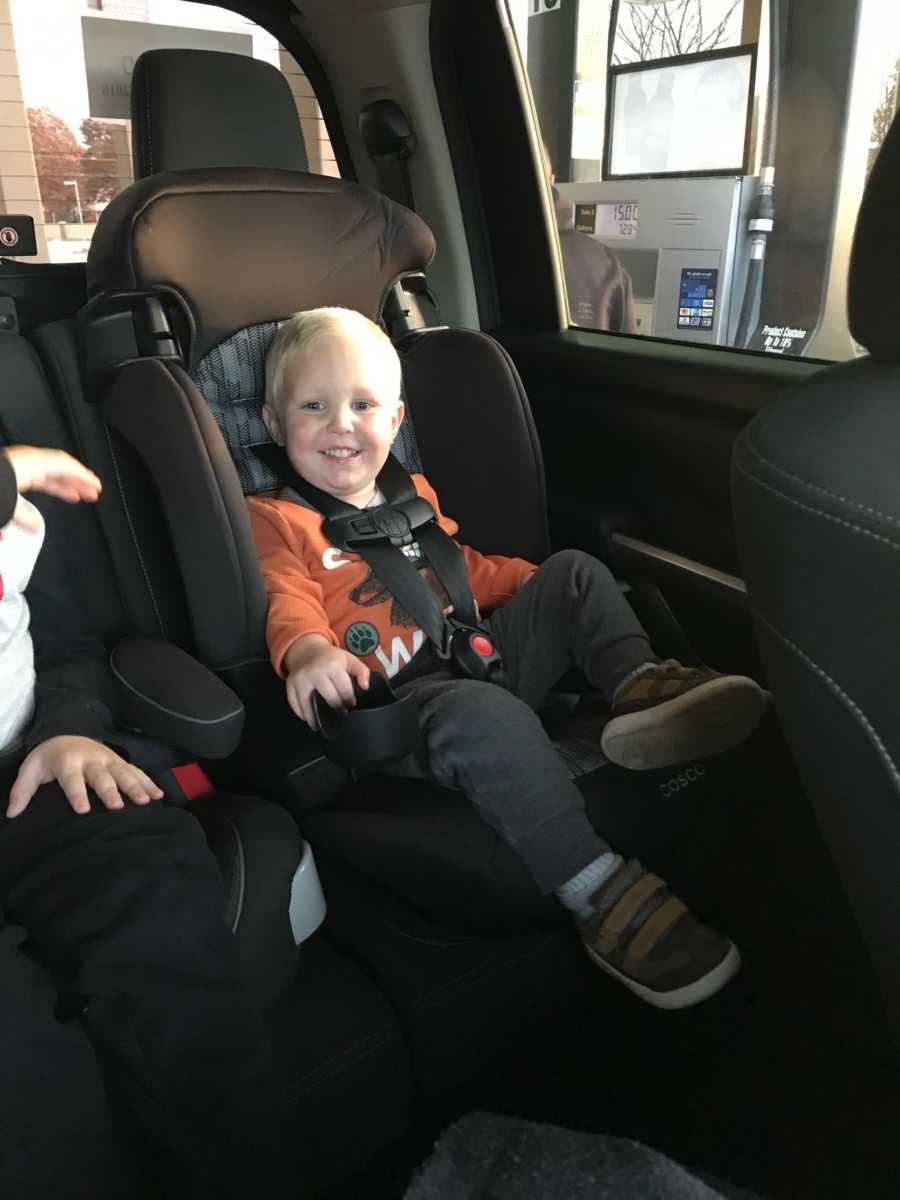 Once the ambulance arrived, we had to answer questions. Still to this day I couldn't hardly answer any of them. I felt like I was in trouble, like I had neglected my child. It was the worst feeling in the world. I don't know why but the ambulance didn't drive off right away. They wouldn't let us ride with him. So we still weren't sure if he had a chance or not. I had nothing but my wet clothes on still and I had no shoes. We jumped in the car and headed to the hospital. I will never forever that drive. It was the LONGEST drive ever. Still in shock, we finally arrived to the ER. Still waiting and hoping they got vitals on Levi. We sat and sat and sat in the waiting room. At this point I didn't even know what to think. Was it just a dream? It all happened so fast that my brain couldn't honestly process it all. I remember thinking at one point, 'why aren't you crying? Why aren't you screaming for your baby?' I guess I expected to be called back from the waiting room to see him in a bed breathing and it all be over and ok. But that wasn't the case. They called us back. Asked us a few questions, but we couldn't answer until we knew.
'Did he make it?,' my husband asked them.
All I remember is them saying, 'No sir, he did not.'
Again, my brain couldn't fully process those words.
'Can we see him?,' we asked.
He looked as if he was just taking a nap. They had already removed his clothing and shoes and had him wrapped in a blanket.
'May I hold him?'
Those moments I will never forget. His body had already begun to get colder. His face was sweet like an angel. I remember crying and telling him how sorry I was. I would had given anything to take his place that day. We held him for several hours. It still was hard to process. It just felt like we were holding him while he took a nap. It didn't become real until I had to make a phone call to my mom and say the words, 'Levi is gone.' I felt like I had failed everyone, especially Levi. I was worried about judgement. I know how people think. I used to be one of those people. Drowning happens faster than anyone can even imagine.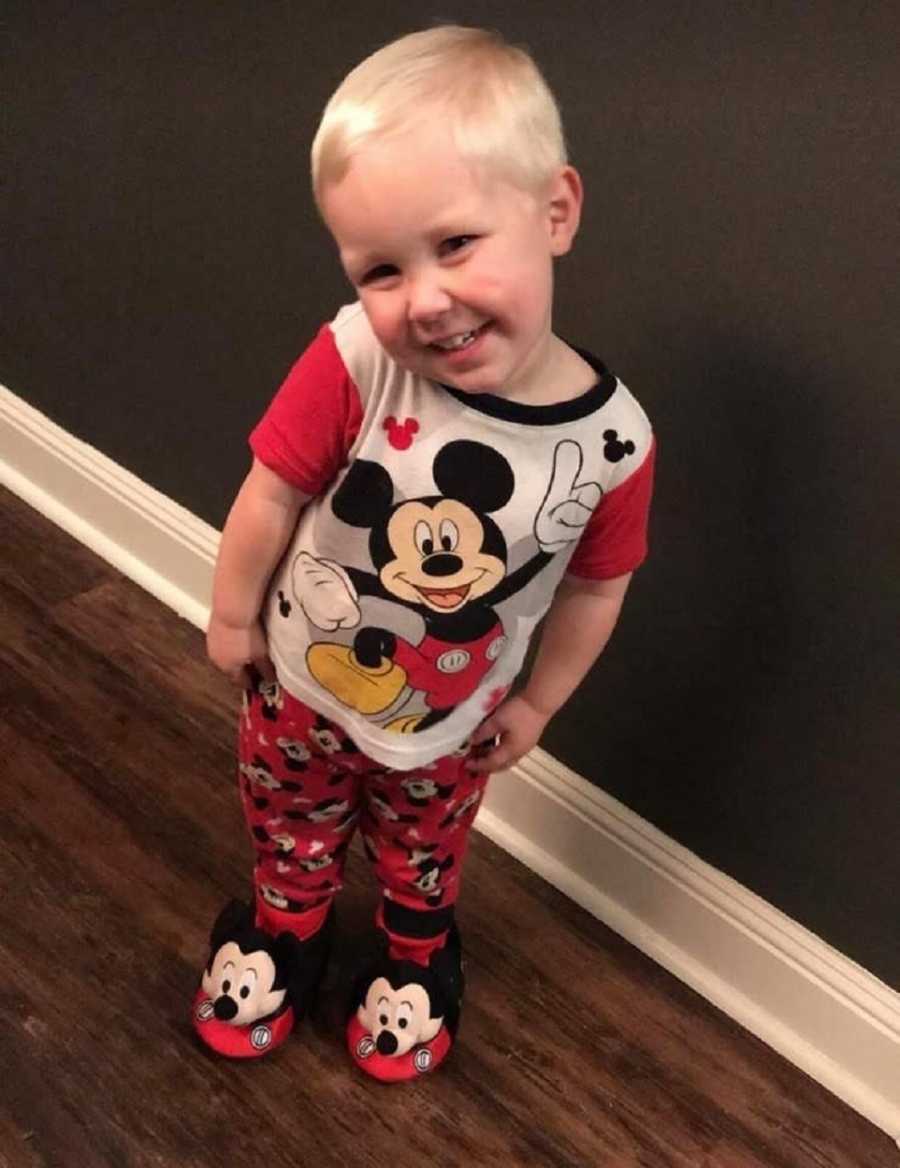 After Levi drowned, I started researching more about drowning because I couldn't believe it happened so fast. I was shocked that drowning can happen in 30 seconds. Levi didn't know how to hold his breath. He probably gulped one time in panic. It's the number 1 cause of death in ages 1-4.
69% of drownings happen when children aren't expected to be swimming.
I never put my kids in swimming lessons because I always thought we weren't around water much. Maybe a few times a year, and if we were, we were in the water with them. Since Levi's accident my other kids have taken survival swimming lessons which teaches them survival skills. They know how to roll over and float. If Levi had just that one skill of sink and float, he would still be with us today. Do not put lessons off. Don't think, 'I'll do them next year,' or 'we are never around water.' Don't put it off like I did because now it's too late. Don't make that same mistake.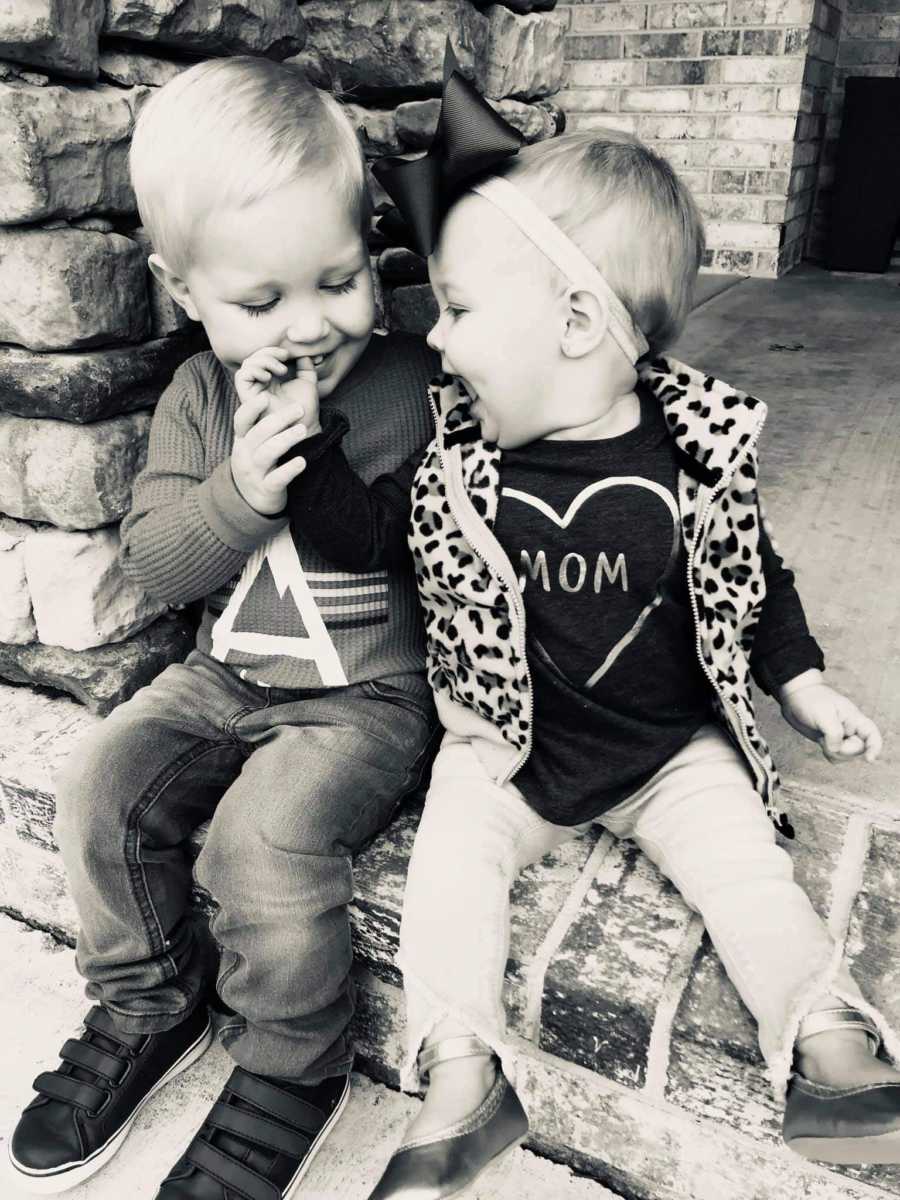 I never dreamed I would ever bury a child, or my other children would have to grow up without their brother. You read these stories and think, 'it won't happen to me,' but it can. I've learned to love each day like it's my last. There was no tomorrow for Levi. I never got closure with him. I struggle with that. But I'm learning that things can change in a second. I never got my picture in their matching outfits. I ended up returning their outfits. It's so weird seeing pictures that I took before the accident. Not knowing what was coming in the days ahead. Things that used to matter now seem so little. I'd give anything to have Levi back."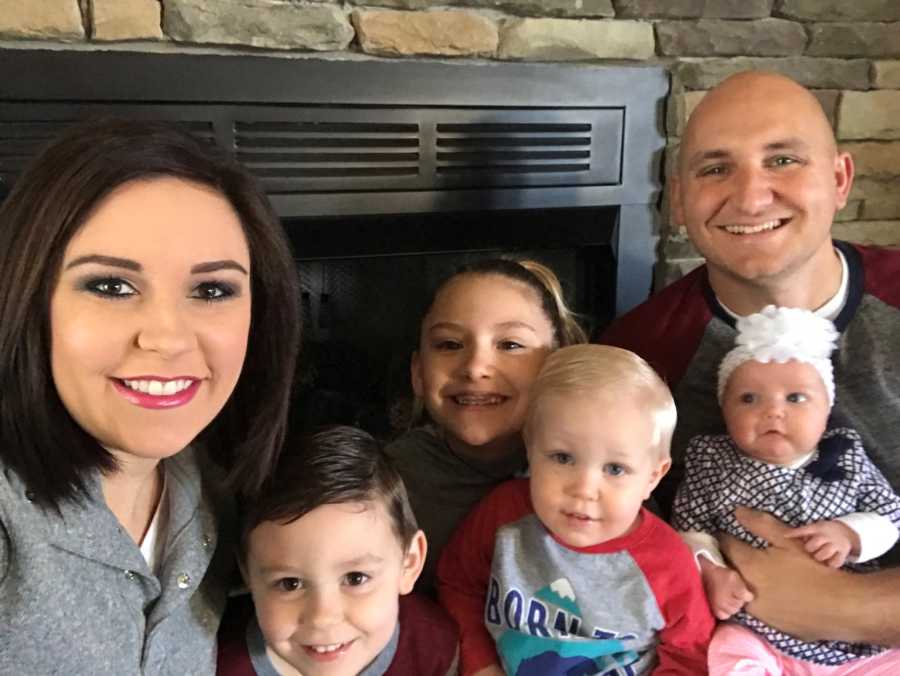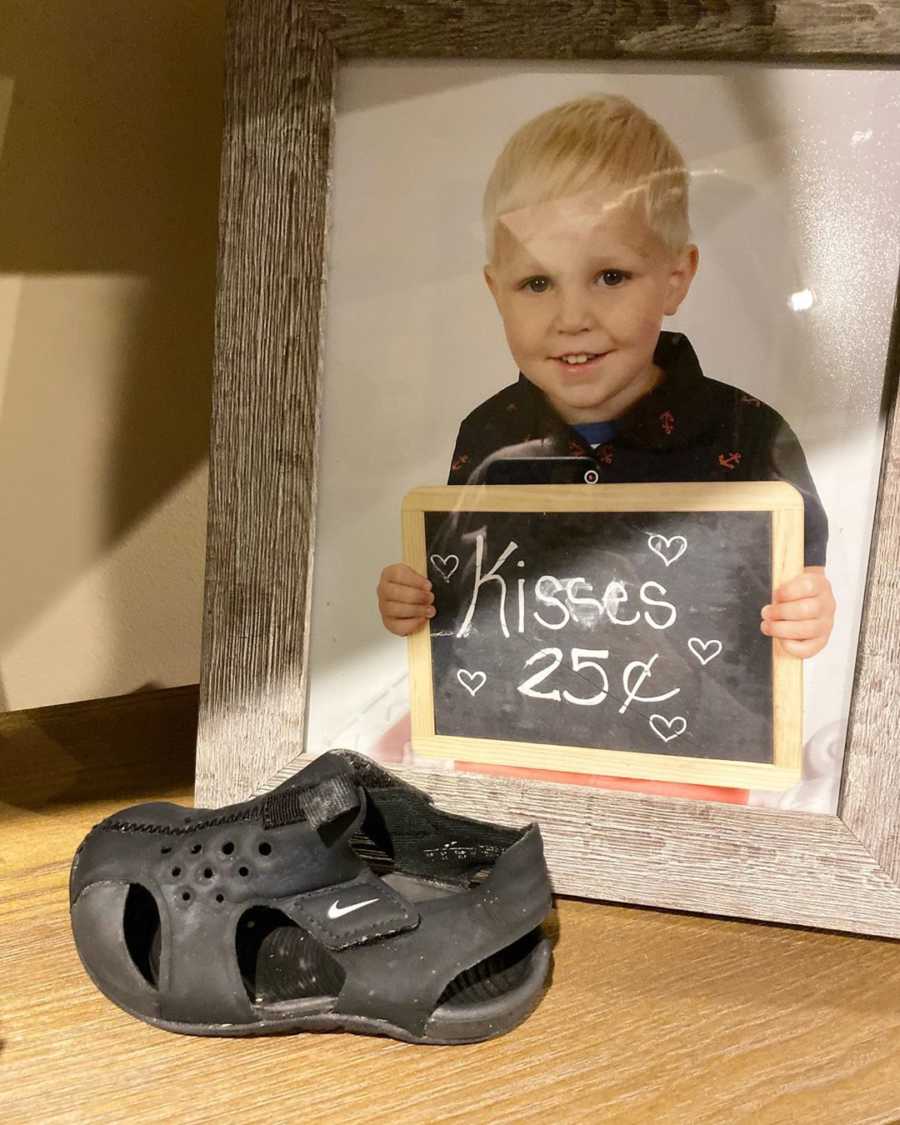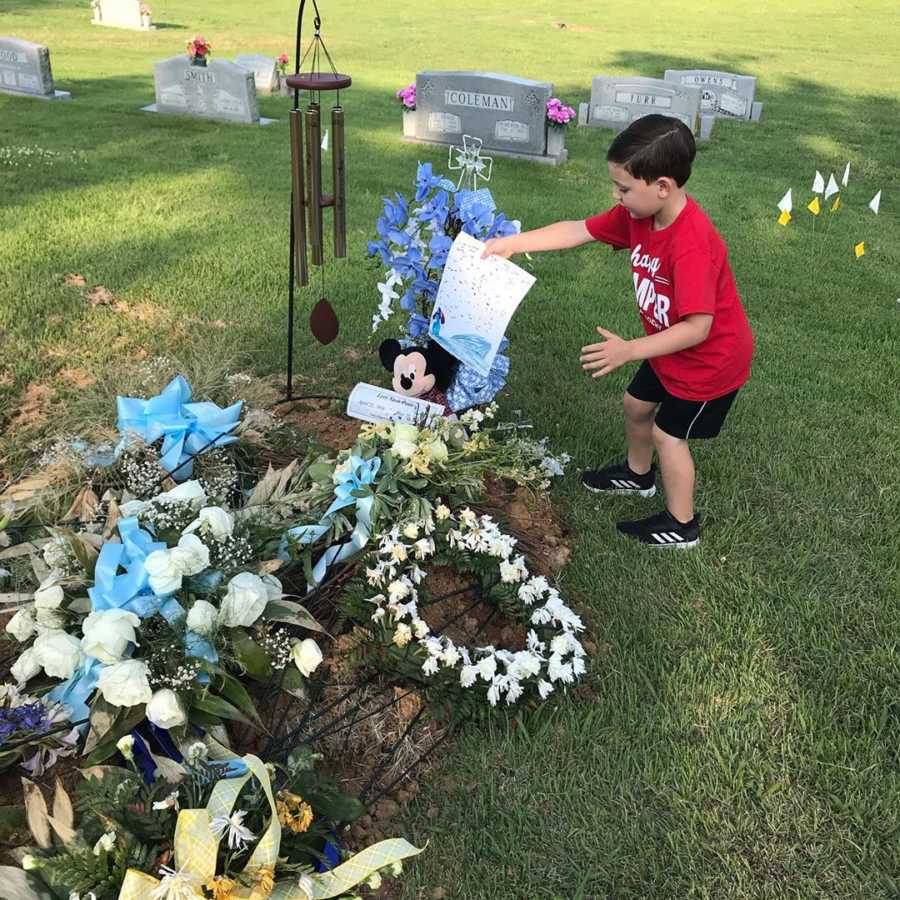 This story was submitted to Love What Matters by Jennifer Potts of Jonesboro, Arkansas. You can follow her journey on Instagram and her blog. Do you have a similar experience? We'd like to hear your important journey. Submit your own story here. Be sure to subscribe to our free email newsletter for our best stories, and YouTube for our best videos.
Read more powerful stories about drowning safety:
'I ran to the laundry room. Something told me to put my hands in the washing machine. I resisted. No way. Are you kidding me? Of course he is not in the washing machine.'
'I'm so sorry. He fell into the swimming pool.' He was found with a blanket he would put over his head, and his little bicycle.': Mom's heartbreaking plea to use pool nets because 'freak accidents happen'
SHARE this important story to help spread drowning awareness.