"Proud #BoyMom over here, but I can't tell you I haven't felt the down side society has imposed on me. My last pregnancy was planned from the start. My husband and I share two boys from previous relationships. This was our 'ours' baby. I stopped drinking alcohol, coffee, and anything with caffeine months before conceiving with the intention of being pure to carry a baby. We did everything right. We had a perfect timeline and got pregnant within three months. My first doctor's appointment went great, and I was filled with joy every waking second.
The perfect IG story would have been: Boy mom becomes pregnant with baby girl! Maybe you've never felt this kind of pressure, but it is real. There's this hype around the third baby of a same sex sibling squad being the opposite gender. For many people, baby #3 is like the last call for their family. Another factor adding to this pressure can be the spoken/unspoken pressure of family and friends 'wishing' it was a girl. I know the intentions are good behind those comments, but they just added to the anxiety of hoping our baby would be a girl. Sometimes, it's even not just family & friends, that pressure can also be built within your own home.
My husband and I often fantasized about the possibility of a baby girl. What would it be like to have a baby we could dress in bows & pink?! We talked about how we were so excited to possibly add a baby girl to the mix considering our house has always been Star Wars, Sports, and farts. I created a narrative of this perfect sweet little girl who would steal all our hearts. She would be wearing the perfect Zara outfits and would balance out the energy in our home. We needed her! Fast forward to my 12 week gender blood test…(I'll be honest, I always knew I was having a boy. I just felt it in my bones. I loved the thought of a baby girl, but I just had a feeling it was a baby boy.)
My husband and I gathered around the phone for one of the nurses at the doctors office to read us the gender results. She said something like, 'Bows or Bow Ties?!' I honestly wanted to throw my phone. Like, 'LADY WHAT ARE THE RESULTS!!!' She then said with an annoyingly excited tone: 'It's a boy!' I looked at my husband and he looked at me, and we hugged. It wasn't like a moment of celebration, but more like a moment of comfort and acceptance. We both are pros at boys, and in that moment we realized the baby we had been speaking to in my belly was a boy after all.
Shortly after—it's not something I'm proud of—but I definitely felt some disappointment. Honestly, I was triggered when I started to think about our family's reaction. We had planned to get a balloon filled with blue or pink to reveal the baby's gender to them that night. I instantly wanted to cancel. I wasn't ready for the comments. The 'OMG ANOTHER BOY?!' comments. The 'wow looks like you're outnumbered' comments. The 'maybe next time' comments. I even strategically waited to announce my pregnancy plus the gender on social media until after I knew if it would be a boy or girl to avoid any triggering comments.
The timeline of gender disappointment started when I thought about what other people would say. It's weird. I almost felt a sense of shame. Like we would let people down. Like we let ourselves down. I have no idea where this shame stems from. But it's real. I want to share this incredibly vulnerable story to hopefully connect with some moms that have felt the same.
Once the news was out into the world that we were in fact having another boy, the gender disappointment battle continued to live in my head. I started to think more and more why I felt this overwhelming sense of sadness about the gender, when I was actually so happy to be pregnant. My baby was healthy—that's what I wanted more than anything. So why couldn't I shake that 'he' wasn't a 'she?' After all, I have never wished my kids were girls—I love them, and I love that they're boys. I love that they're themselves. Period.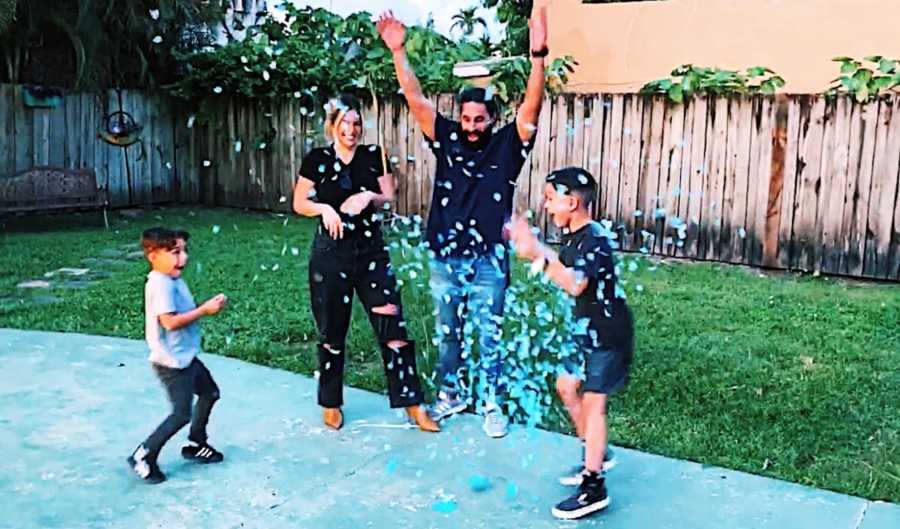 The gender disappointment would come and go in waves during my pregnancy. I would forget about it, and then it would overwhelm me and consume my mind. I got so exhausted with these thoughts, and not having anyone to talk to about them because they sounded ridiculous and I didn't want to be perceived as ungrateful. I started to Google articles about gender disappointment and it turns out it's really a thing. There are many women who experience these kind of emotions for different reasons & circumstances. I decided to intentionally start working on these gender disappointment thoughts, and hopefully get rid of them. I was so happy my baby was a boy, and was healthy, and was perfect, but I still kept dwelling on the thought that it wasn't right because I was supposed to have a girl. HOW does that even make sense?!
Here is how I categorized my emotions and started to heal myself from these unhealthy and repetitive thoughts: One of the biggest full circle moments for me was when I looked at a picture of my husband, one of our boys, and I at the last school Christmas show. I looked at the picture and realized I loved that little boy so much. I then imagined the boy in the picture with us—as our new baby boy one day in the future when he's in school. There wasn't a part of me that felt sadness. I was totally hyped and excited to experience future Christmas shows, birthdays, and holidays with our soon-to-be-born baby, regardless of his d*mn gender.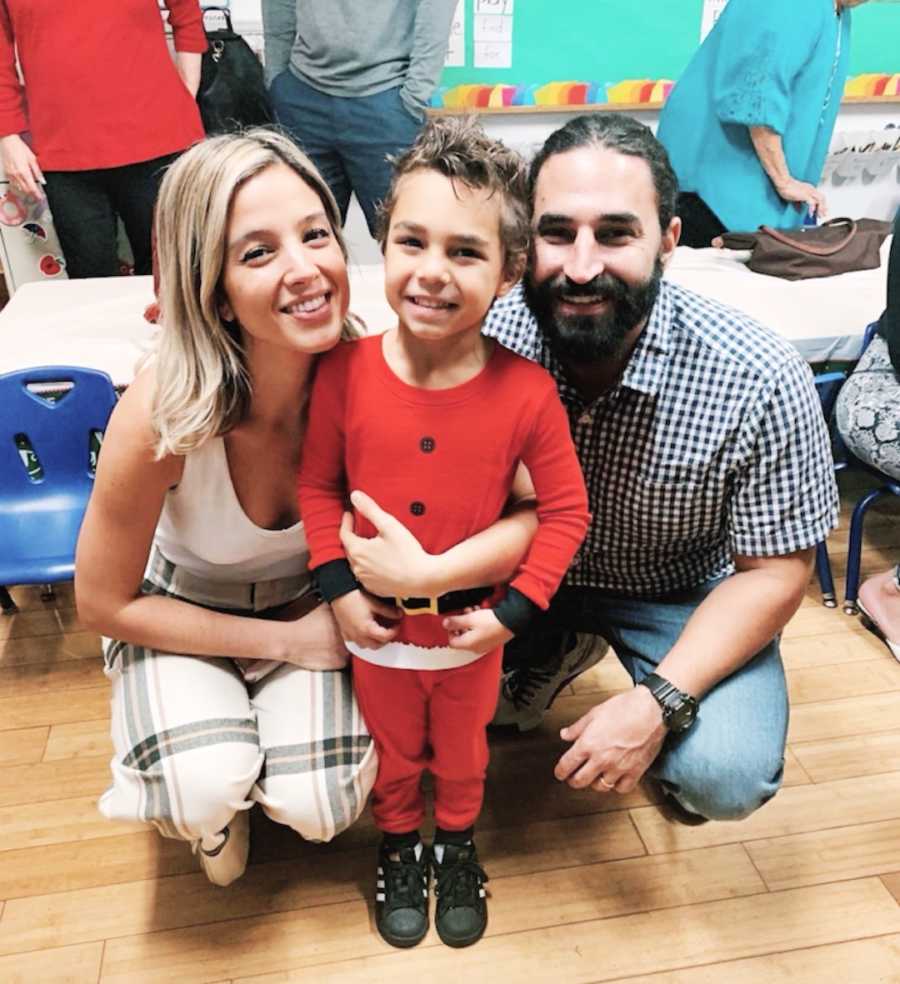 It was in that moment I realized I had been daydreaming about this girl that was never real. I had been playing this mental Lifetime channel style movie about a baby girl in my husbands arms. I had been imagining a baby girl in my home with a pink huge bow and a little perfect sweet smile. I saw our family portrait and imagined it to be more balanced now that a baby girl would be in my arms alongside her big brothers, and bearded dad.
Why was this full circle? Because I realized this baby girl fantasy that made me so excited wasn't real. At the same time, I also realized the fantasy about my future with a baby boy made me just as excited. I realized it wasn't about the gender of the baby, I was excited to have a child. I didn't get pregnant to have a girl. I got pregnant because I wanted to bring new life into this world with my husband. Thinking about the future with either possibility made me happy.
The next step: Shed the fantasy of a baby girl. I then decided to allow myself to mourn. I mourned this narrative of having a baby girl. I allowed myself to let go of that story line, of those visuals I had crowded my imagination with—the idea of those pink bows and ruffle dresses. It was OKAY that I had thought about having a girl. When you're pregnant, there is so much time to fantasize for those long nine months. Pretty much the baby you're creating lives in your body and your mind only. This leaves you with A LOT of time overthinking until they reach Earth's side. Up until the gender was actually confirmed, a lot of my thoughts revolved around if I'd have boy or a girl. After all, gender is literally one of the only clues you get to reveal about the human you are eventually going to birth—maybe that's why we obsess over it. But the truth was, it was time to start placing the actual baby in my belly in those imaginative thoughts. It was time to get excited for what was coming… my baby boy.
Don't get me wrong, I LOVE the idea of eventually having a daughter. I would love to have a daughter! BUT, I'm so happy with my boys. I'm so lucky to have them, and I wouldn't change anything about it. Having a child is a blessing regardless of gender. Try to dive into those thoughts. Dive into the miracle of a baby, and let go of your old narratives. Let go of the imaginary scenarios you created. Let go of what you thought was for you and accept what your reality is. Reimagine your future life for what it is. Romanticize what is to come, and get excited for the little and big things ahead. Now that you know what gender your baby is, visualize what they will look like, smell like, be like. Dive into love and thankfulness for the baby you're soon to meet. Think about the bigger things like their health, how much they will be loved, how much they will teach you. Those are all things far more valuable than what gender they are.
There's a lot of talk around the topic of gender identity and non-binary people, etc. This is not a post that is going to explore those topics. This is a post about pregnant women who are experiencing emotional stress because of the 'boy/girl' culture and the history of finding out if you're having a girl or boy.
You can't and won't know much about your baby except for if they will be a boy or a girl at birth. The truth is, kids are humans and they develop into who they want to be. You can't possibly measure your love or admiration for a child on pink bows or blue bow ties. They are SO MUCH more complex than that. They are complicated and have a range of feminine and masculine qualities regardless of their gender. Their mere existence and process of self-discovery is fascinating regardless of their gender. Their need of your support is everlasting regardless of their gender.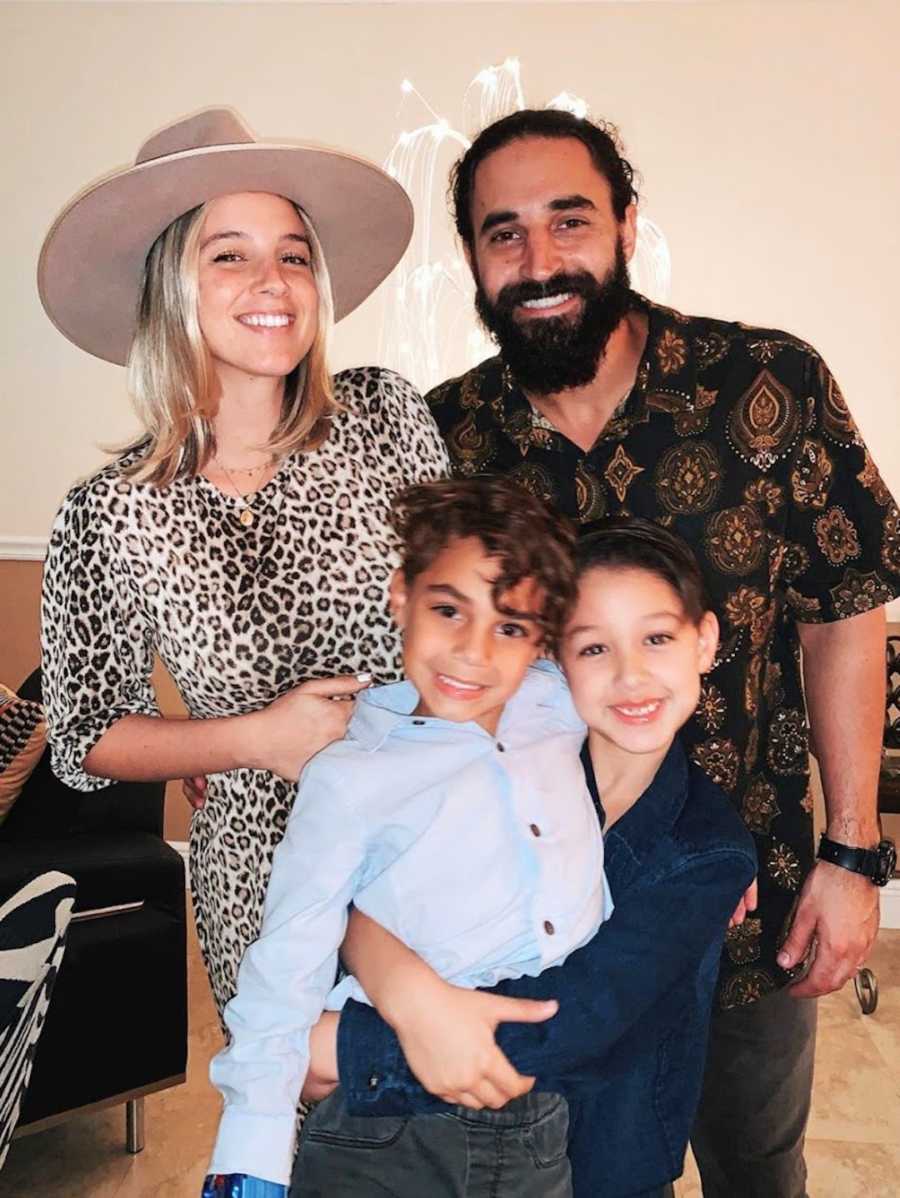 Get excited. Your baby needs you! Boy or girl. Third boy in a row, fourth boy in a row, third girl in a row, fourth girl in a row—it's irrelevant. Your child is a whole universe of possibilities. Don't let their gender be a reason to undermine their power. Again, I understand sometimes you may have a narrative that's lived in your mind for years about having a daughter one day, or a son one day. I get it!!!! BUT, treat those thoughts with a grain of salt the same way you fantasize about other things in life that may not come your way. Honor your reality and hopes for the future, but make sure you're in control and not drowning in what you think should be.
When I started to accept that my baby was indeed another boy, I wanted to find support and fuel my excitement. I am a visual person so I searched hashtags on IG like 'Boy Mom.' Some of them had six boys in a row, four boys in a row, etc. For some reason I found comfort in seeing their pictures and reading their stories. They all had one thing in common—happiness! Their kids looked happy and fulfilled. There was nothing about them that I thought was 'missing' or incomplete.
Following their stories made me excited to build my own stories. I developed a sense of pride in knowing I was going to lead a pack of all boys. I started to think about all of the wonderful things I could teach them about the world and how to treat girls/women. I imagined all of the ways they'd grow up to fight against gender standards. I want to teach them more about connecting to their emotions, being sensitive, understanding, and respecting boundaries. I want them to know being a woman is not a weakness, but a super power. I want them to know a man with sensitivity is still powerful. I want them to find comfort in knowing emotions are OK, and they are not weak when they feel them and work through them. I want them to experience life fully and have access to everything that brings them happiness, regardless of what gender those things are tied to.
Following other boy moms helped me step into an empowered state of mind. It helped me normalize the concept of same gender siblings, and helped me shed the pressure society puts on me have both gender kids. It is not shameful that I have only boys—it's a blessing.
'Trust in the Lord with all your heart, and do not lean on your own understanding.' Proverbs 3:5
'Delight yourself in the Lord, and he will give you the desires of your heart.'
Psalm 37:4
THIS really changed my state of mind. SO…if God knows the true desires of my heart—which at one point was to have a baby girl—but he didn't give me that…Could it be because I was not meant to have a girl? Could it be because a baby boy was sent to me for a specific reason that I cannot identify yet? 'Do not lean on your own understanding…' This one also hits home. My understanding is irrelevant. God is in control and He sent me my baby boy. I have to surrender to MY plan and accept HIS plan. There is comfort in knowing what is yours will come to you. There is freedom in trusting God is going to give you what is meant for you. Whenever I feel any kind of doubt, I revisit those verses.
If you are not a believer, you surely must believe in something. Your life is unraveling the way it was meant to. As humans, there are things simply beyond our understanding. The miracle of creating life is one of those things. We know the facts, but do we really understand the magic behind birthing a human? The magic behind what makes a person who they are? If you're feeling thoughts of gender disappointment, just focus on the BIGGER things in life. Focus on humanity as a whole, and how much good you can bring to the world by raising a powerful little human. That human will someday impact both genders if you do it right. Look forward to the greatness they will become regardless of that balloon filled with pink or blue.
The final verdict: I'm SO IN LOVE WITH MY BABY BOY! Wow! Thank you GOD for my perfect angel baby. There is not a day that I look at him and wish he was a girl. There is not a day I look at him and wish he was anything except himself. His smell intoxicates me with love, his smile melts me, his eyes are infinite with wonder and awe. I don't feel emptiness or anything missing from my life. I'm embracing my 'boy mom' title, and working everyday to teach my boys to be well rounded humans.
I do hope to one day have a daughter! But I'll be okay if that never happens. That is the key to overcoming gender disappointment. Knowing and accepting that you'd love to possibly have a baby from the opposite gender one day—but being grateful and fulfilled by what you already have been blessed with.
I hope this helps you, mama."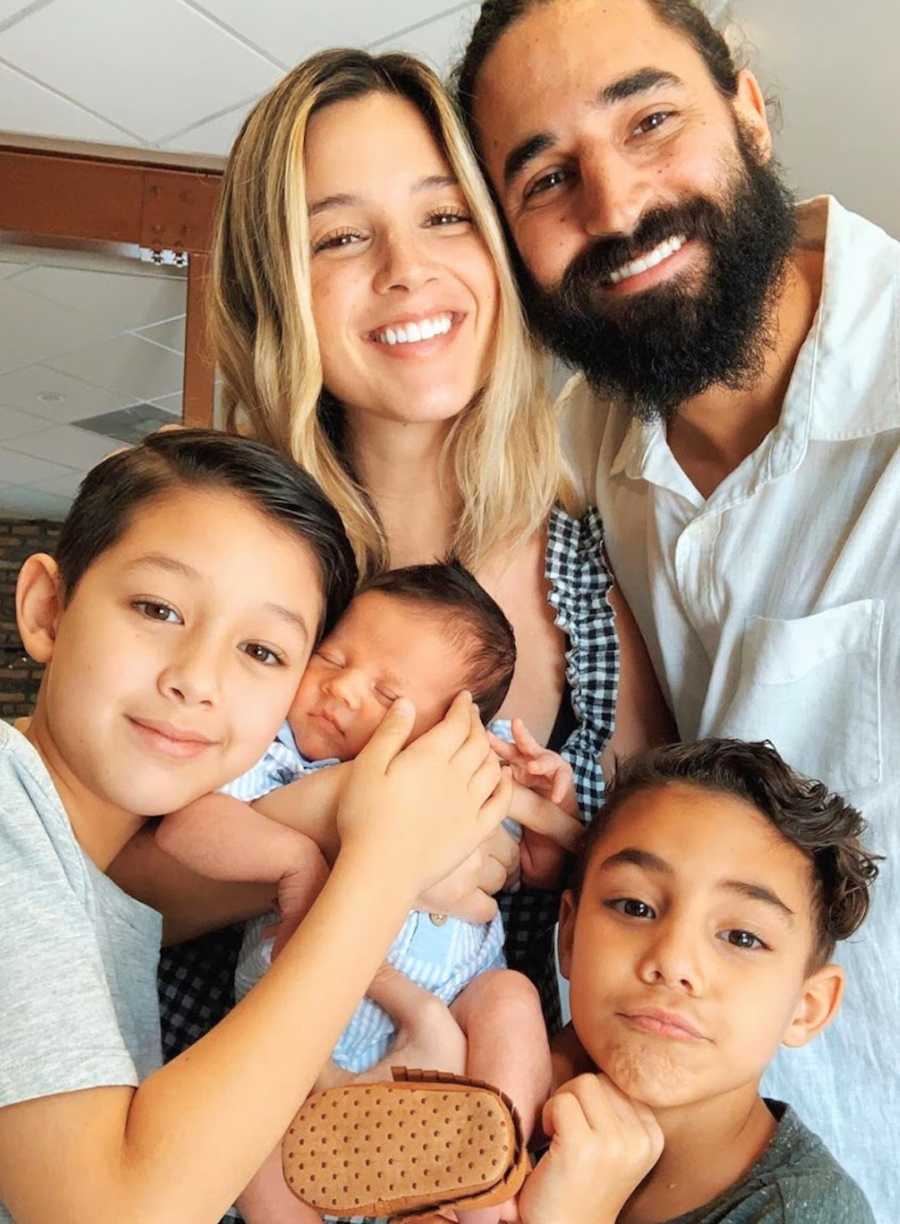 This story was submitted to Love What Matters by Elisa Gonzalez-Lara of ElisaFace. You can follow their journey on Instagram. Submit your own story here, and be sure to subscribe to our free email newsletter for our best stories, and YouTube for our best videos.
Read more inspiring stories from moms:
'It's a girl!' My heart sank. On the way home from my gender reveal, I cried. Hard. I was hoping it was some mistake.': Woman candidly shares reality of 'gender disappointment' after years of mother's abuse
'I was holding this huge secret. My husband yelled, 'IT'S A BOY!' He got to know first. The waiting was killing them!': Mom stresses why she waited to find out the gender of her babies, 'It drives everyone else INSANE!'
Help show it's the depth of the love that matters. SHARE this beautiful story on Facebook with your friends and family.