"When you find out you're pregnant, one of the first decisions you make is whether or not you are going to find out the gender of your baby. In our social media society, gender reveals are bigger and better with every single year it seems. Who can be the most creative? Who can find out the sex of their baby the soonest? Who can decorate their nursery the quickest? It seems like the trendy decision, by far, is to find out.
But what about waiting until birth? It's certainly not the popular choice, but I believe it's one of the most amazing experiences you could have in life. Truly.
We currently live in a time where we need as much information as possible at all times. Google is at our fingertips with the world's knowledge available 24/7. We can find the answers to every single question we have. We plan out every single thing we can from the second we know it's a thing in our lives. We are total control freaks. Letting go and letting life unfold as it's planned is almost unfathomable. We crave the ability to control every single thing. The unknown is not worth it to us when we can have all of the answers.
I have five biological children. We found out what we were having with our first. We were young, I was 21 and he was 23, so we felt that we needed to prepare for our baby girl a little better. We didn't do any gender reveal parties, we just called our families and told them over the phone. It was pretty anticlimactic. She had a name from about 22 weeks pregnant. We knew 'who' she was for months and months as we called her by her name. But we just didn't know what she would look like.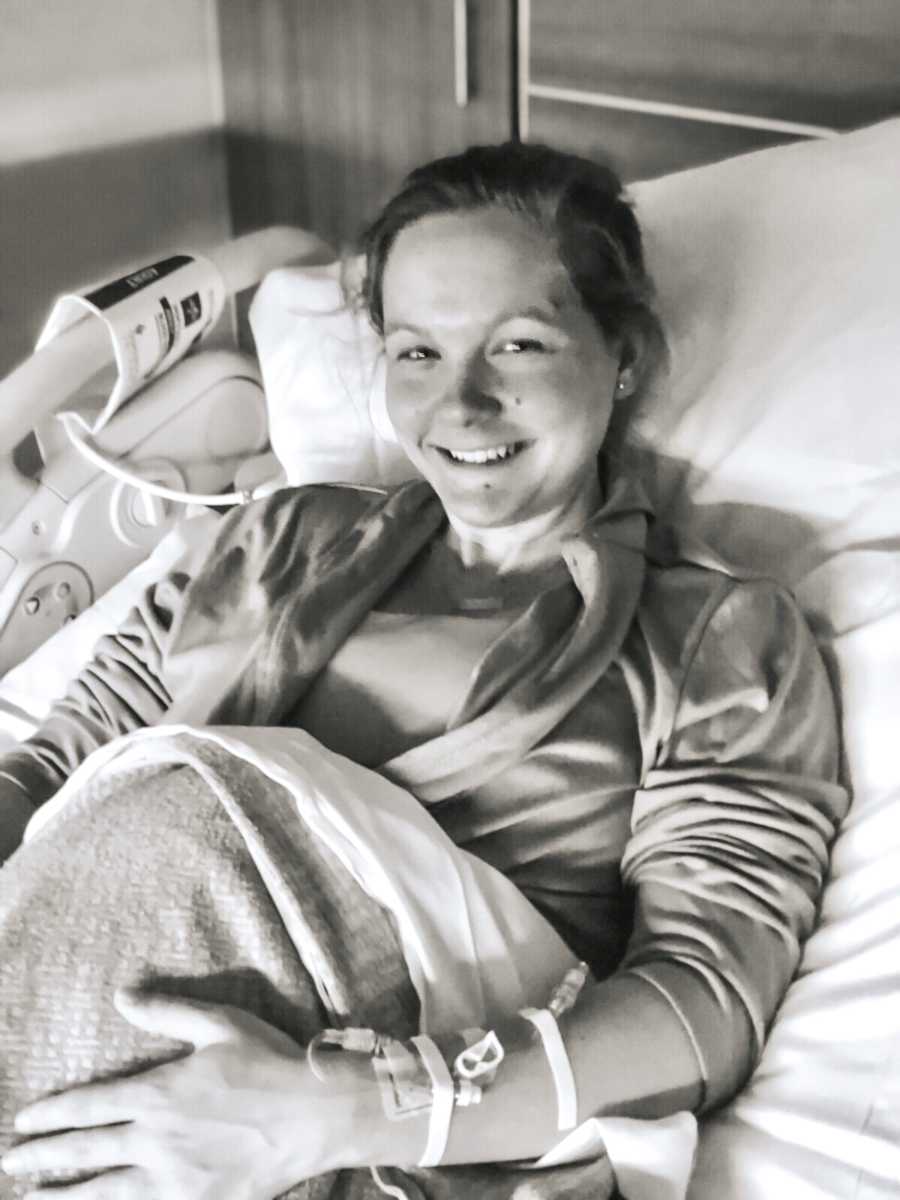 With our second, we were still really young but ultimately decided to see what all the hoop-la was about with waiting. She would be born just 16 months after her older sister, so waiting to find out her gender was easier since I was so busy with our oldest. When she came out a girl, her daddy got to announce the gender and I was a little bit shocked! I spent 36 weeks of her pregnancy thinking she was a boy. Then I had a dream a week before her birth that I delivered a girl in the back of an ambulance and that she had a head full of hair. The funny thing about that is that she was born at the hospital and she also didn't get hair until she was 3 years old. But the gender of it was right!
We had identical twins next and at first decided that we would wait again. But curiosity got the best of me since it was two, so we ended up finding out. It was more of a 'what if they are boys? We don't have any boy clothes!' type of dilemma in my mind. I was pretty sad I wouldn't get that surprise again but knew it was the best decision for us at the time, considering we were about to have 4 under 3. Honestly, Tim wanted to wait even despite the concerns I had. He really enjoys waiting and being surprised.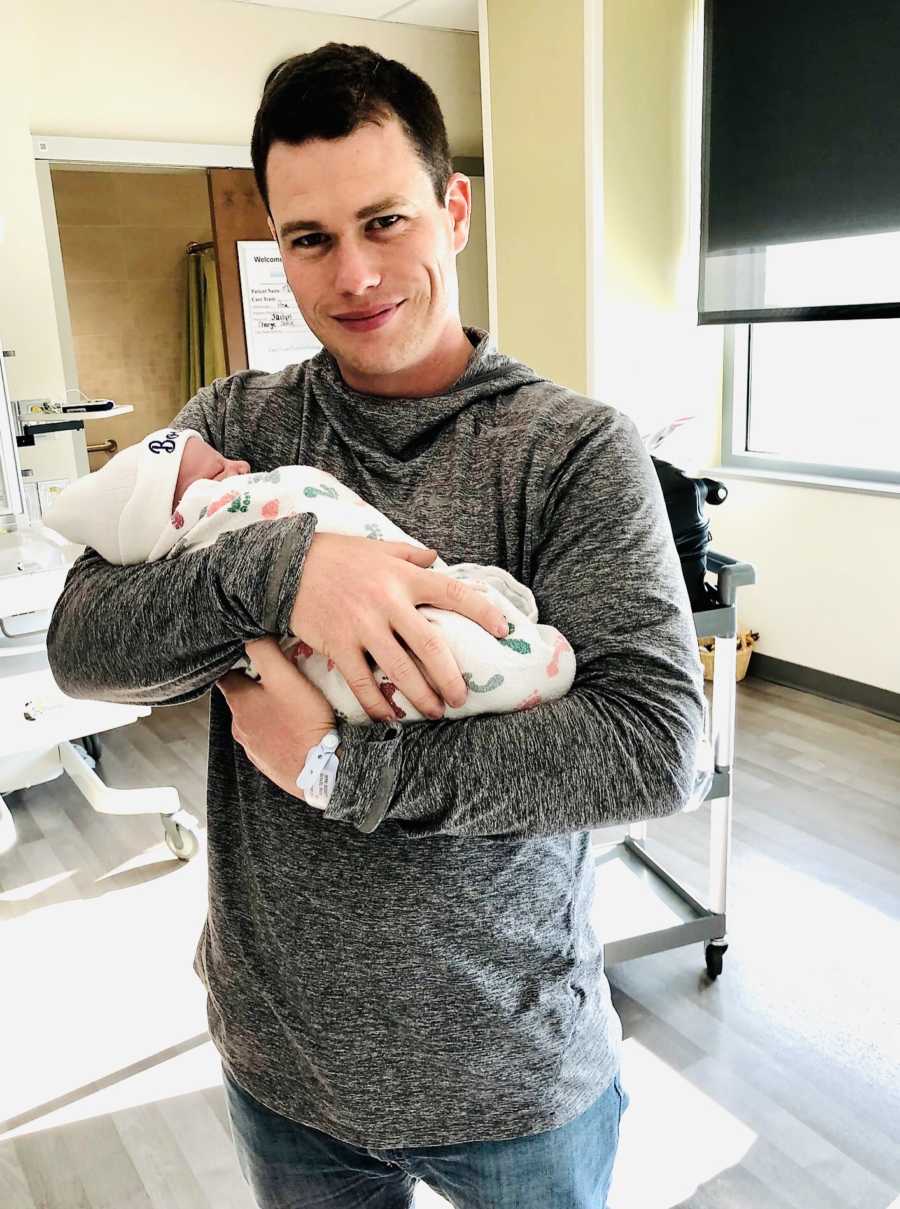 When we found out we'd be adding two more girls to our family, I had them double check every single ultrasound because I couldn't believe we were about to have two more girls! We ended up doing a gender reveal party and it was fun watching the shocked look on everyone else's faces.
When we adopted my brother Easton after our father died, something we never expected to do, it was sort of its own form of being-surprised-by-gender. We went from having our four girls, to wanting to raise this little boy…in the matter of a few days. We didn't go into our father's death with the idea that we were going to adopt Easton, but he was always meant to be ours. We weren't necessarily 'prepared' in the sense that we had everything he needed or even the time to plan for his arrival in our home, but we figured it out over the next few weeks. We adapted to the situation even though he had already settled into our hearts immediately.
He became our little 'surprise' in his own way.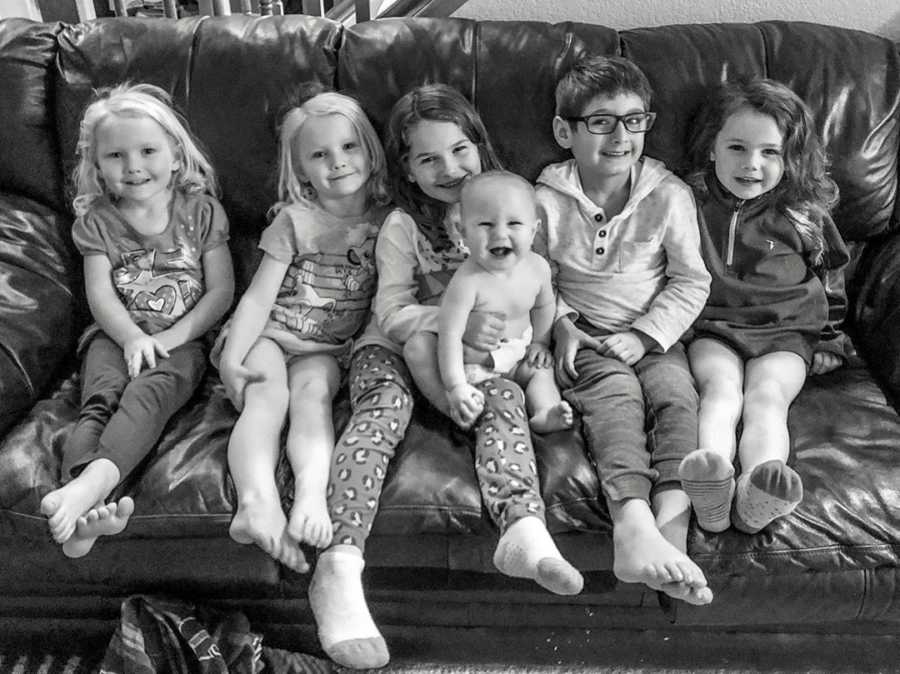 When we got pregnant with number six, we immediately knew we would wait until birth to find out the gender again. It just made sense that we would 'go out with a bang.' I bought a bunch of gender-neutral things (car seat, stroller, swing, etc.) and we picked out a name that would be used regardless if the baby was a boy or girl. I went back and forth, almost hourly on what I thought this baby would be.
'There's only so few surprises in life,' is typically what people use when trying to convince others to wait until birth. There's a lot of truth to that. It really is one of the only things that surprises the heck out of you. But for me, I waited until birth for two of my children because I liked the motivation it gave me during labor.
When you don't know which child you're about to meet, it gives you an unmatched energy and grit to get through the pains. I've birthed knowing which gender was meeting me on the other side and I've birthed not knowing. There's just no comparison to the emotion you experience in those last few moments before your baby comes out. When you don't know their gender though, it gives you an added layer of excitement and euphoria.
Pushing, for me, was so much easier when I knew I was about to get the biggest surprise of my life.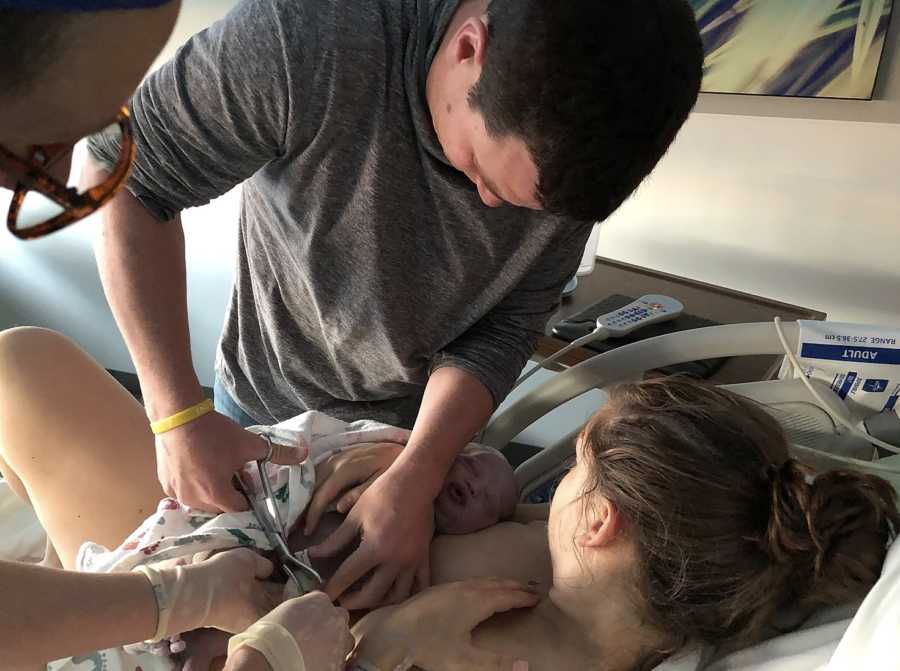 More than that, it gave my husband the opportunity to partake in the action in his own unique way. He got to be the one to announce it to everyone! He was the one who yelled 'IT'S A BOY!' or 'IT'S A GIRL!' He was the one who knew for a second before I did. I got to have the pregnancy experience and feeling the baby kick inside of me. But he got to know first.
He was the one who got to walk out to the waiting room and announce what just happened. He was the one who got to call and let everyone know whether they were getting a new little boy or girl in the family.
It was his little piece of the cake that he got to have all to himself. It was honestly the greatest feeling knowing he had just as important of a role in all of this as I did.
Another interesting component to waiting is that it drives everyone else iNsAnE! People get so frustrated that you chose to wait. 'How could you possibly not know!?' Some people cannot fathom it at all and it slowly eats away at them. For me, I found this so amusing! It's like I was holding this huge secret that everyone had to wait nine months for. I had this power that nobody else could have. People would ask me to have the ultrasound tech write it down so that I could send them the gender. Some would ask me if they could just call my doctor and get it over the phone really quick. The waiting was killing them! I loved making people have patience.
Our nurses and doctors loved being able to experience this moment with us. There's just something about not knowing that has so much enjoyment wrapped around it. Everyone wants to experience it with you. I think it's fun for them to change things up every once in awhile and welcome a baby that is a total surprise! Curiosity is one of the most entertaining traits us humans have.
But how do you prepare for a baby when you can't buy that many gender related things?
Great question!
The short answer: You don't buy a ton of stuff.
Some people prefer to buy one very girly going home outfit and one really masculine going home outfit. Some people just buy one that's gender-neutral.
Now, gender neutral doesn't have to mean green and yellow. You can find a lot of solid any-colored baby gowns, onesies, and baby jammies. Just add a bow if it's a girl! For me personally, I stocked up on a lot of grey, blue, and black. Then I found a few cute bows in case baby was a girl to have on hand right away.
You can't buy a ton of baby items since you don't know the gender, but you can stock up on gift cards! I bought a gift card from TJ MAXX, Target, Walmart, Carters, Resale stores, etc with every paycheck. When my babies were born, I got to go on one big shopping spree to buy things for the specific baby. Just as I would have gradually bought baby clothes and baby items, I just threw money on a gift card instead. It was fun having all of this 'extra' money to shop around with once I knew it was a boy or girl. I think that money actually went further too since I didn't have all of these extra outfits on hand that baby barely got to wear. I was able to buy what baby needed and in a wider variety of sizes.
Family members mostly waited until birth to send gifts, which was nice since I didn't have to hold onto many things. I'm notorious for getting overwhelmed by 'stuff' so it was really awesome not worrying about all of that until the end. It's also easy for the newborn sizes to stack up quick when so many people are contributing. I liked having the ability to have less newborn outfits.
It's always so funny to me how passionate people get about this topic. Some people are so set on finding out and others are so set on not finding out. I've done two births both ways. I understand where everyone is coming from. I do believe that everyone should at least try to wait once. It really is an unexplainable adventure.
At the end of the day we all do what we want to do. But if you're on the fence at all, just try it out! See what this spectacle is all about! I promise it's an unforgettable, life-changing moment that you'll cherish forever."
From podcasts to video shows, parenting resources to happy tears – join the Love What Matters community and subscribe on YouTube.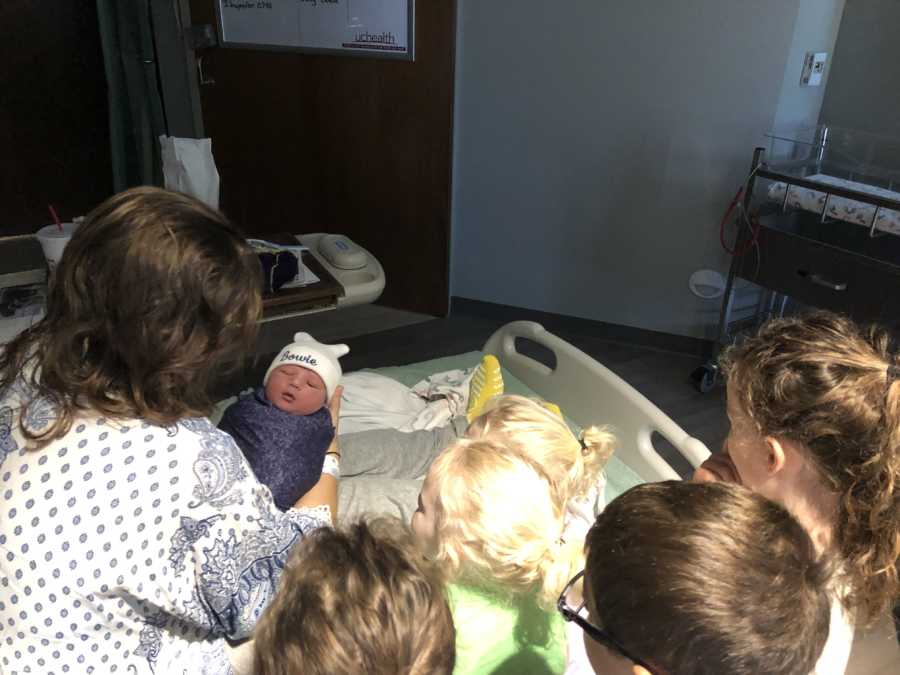 This story was submitted to Love What Matters by Molly Schultz of Tried and True Mama. You can follow her on Instagram. Do you have a similar experience? We'd like to hear your important journey. Submit your own story here. Be sure to subscribe to our free email newsletter for our best stories, and YouTube for our best videos.
Read more powerful stories of mom life:
'I'm so sorry. My wife died in a car accident. She wanted to hang out with you guys.' He had tears in his eyes as he grabbed his daughter's hand.': Mom 'forever changed' by chance encounter with stranger, 'You never know what someone is going through'
'Your kids played hooky from school today? Wow. Mother of the year.' What? I was laughing out loud in the hotel.': Mom responds to 'rude' person who called her out for taking kids skiing, 'School can teach a lot of things. But it can't teach adventure.'
'MA'AM!!! Ma'am stop! Please stop! You forgot your baby in the car!' I didn't even realize she was talking me.': Mom caught off guard when stranger 'causes a scene' in grocery store parking lot
'I stood up. 'Screw this, I'm done! Get upstairs! You're taking a bath!': Mom credits 'random post' for reminding her water is the cure-all for her kids' epic tantrums
'This is crazy! We don't have any pink hats left. This has NEVER happened before.': Mom realizes signs from her dad in heaven were 'loud' throughout pregnancy with son
Provide strength and encouragement for other mamas. SHARE this story on Facebook with your friends and family.