"In my third pregnancy, I carried identical twins. If you've never had twins, you probably don't know how terrifying it is to go through that entire process. The entire pregnancy is filled with countless doctor appointments and ultrasounds. The doctors give you the worst-case scenario every time they see you. The ultrasound techs hold their breath before every ultrasound, hoping there will still be 2 heartbeats. Everyone is always trying to 'prepare' you for a disaster, that you don't ever have the time to enjoy carrying two babies. At least, not in its entirety. The birth is equally as scary as you deliver in an operating room, surrounded by 20 people. Everything about the twin experience feels as though everyone is tip-toeing around an inevitable emergency.
Newborn twins are in a league of their own. A lot of people ask me what it's like to have twins. I usually say, 'think about the worst nights you've ever had where your baby was crying nonstop and now imagine there was another baby doing the exact same thing.' It wasn't always bad, but it certainly wasn't easy. I love the heck out of those cute girls! It's just that the first year of their lives was complete survival. I wouldn't change it. But I think doing it once is definitely enough!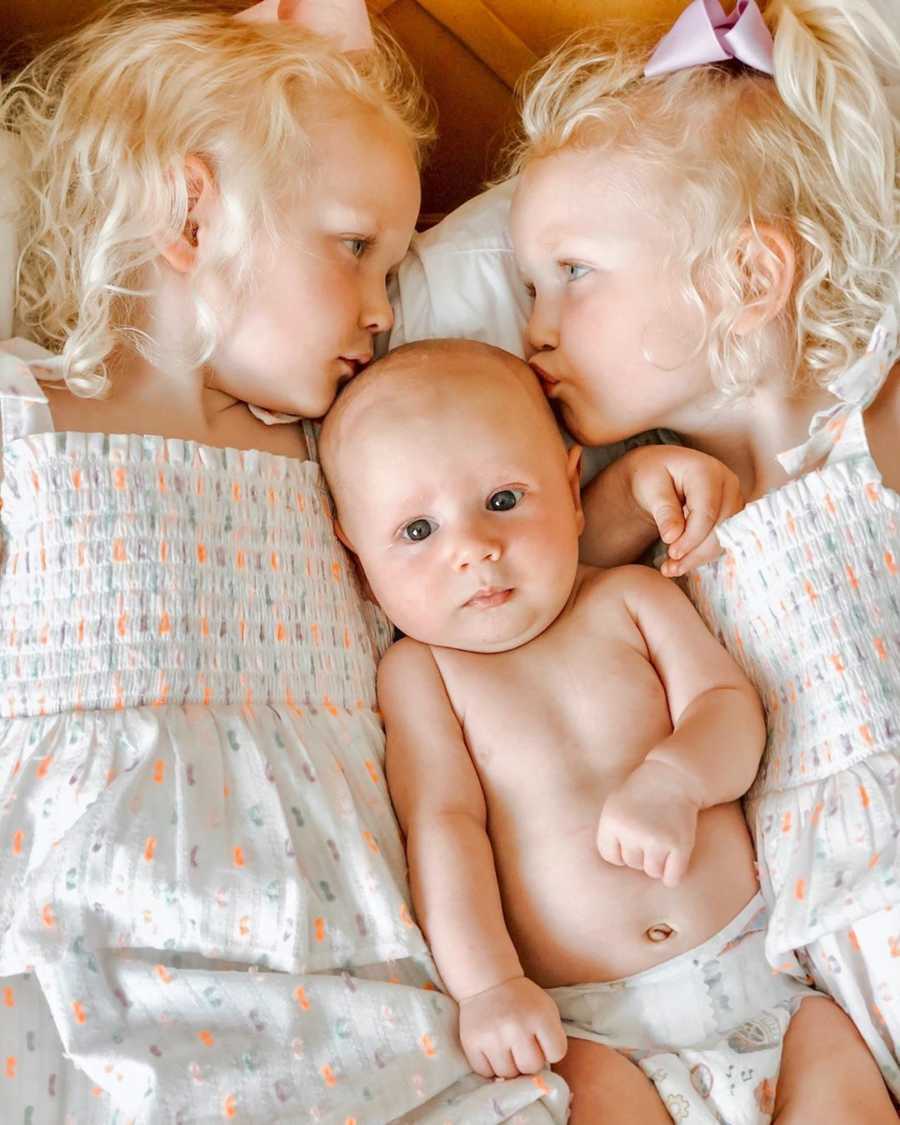 When I first got pregnant with our sixth, I was petrified of it being twins again. I knew it was a possibility when we first started talking about it. We knew it could happen again. We Googled the odds of having twins again. Since we had identical twins, our chances of having another set of identical twins was 1 in 70,000. Our chance of having fraternal twins was 1 in 90. Not fantastic odds, but we already had two singletons, so we decided to just take a chance.
But there it was, a positive pregnancy test. Oh no. The fear of it being twins again completely consumed me. Flashbacks to those really bad nights with our twins and I was petrified. What have we done? Obviously, I would be infatuated with two more babies. Obviously having two sets of twins would be awesome in the long run. But my immediate reaction was complete and total fear.
I can't even begin to tell you how much that fear consumed me… for hours and hours every day in the beginning. My OB wouldn't see me until 10 weeks but there was no way I could wait that long. So I turned to Google. 'Private pregnancy ultrasounds.' After calling a few places, I landed on one that got me in at 6 weeks. It was the earliest they felt confident that they could 'count embryos.' Even them saying that sent me into a tailspin of emotions.
Before that appointment, I asked all of my twin mom friends who have had babies after having twins if they ever were panicked about it being twins again. All of them had the exact same emotions. I felt a lot better knowing I wasn't alone. It's crazy how that fear is such a real thing. Maybe it's dramatic. But I think you have to go through it first to understand it.
During that first appointment, the techs were about 80% sure it was just one. A huge sigh of relief. At the end of the appointment the tech explained that the owner has volunteers make little hats for all of the patients. Each patient gets a blue and a pink one. She opened up the cabinet in the room and pulled out a little blue one to hand to me. She said, 'I'll be right back so I can go grab a pink one from the other room.'
She came back just a minute later and said, 'it's so strange – there weren't any pink ones in there either. I have to run to the back to grab a box of pink so I can restock these rooms. Give me about five minutes.' I think I sat there for longer than five minutes before she finally came back.
She walked in and said, 'this is crazy! We don't have any pink hats left. This has NEVER happened before! I don't know if you believe in signs or not, but there's no way the baby you're carrying is a girl. Absolutely no way!'
We joked about it for a few minutes. I've only carried girls, four of them actually! To me, there was no way this baby could be a boy. My track record just wouldn't allow me to believe it. I would love to give Easton, my little brother that we adopted, a brother. I wanted nothing more than to give him that. But was it really a boy? Could I really believe it? We wouldn't know until April if this was actually a sign from Heaven, as we chose to wait to have the gender be a surprise. We wouldn't know for a long time if my dad in Heaven was being as loud as he could be, trying to tell me about the little baby I was carrying. I tried to believe in it. I did. But somehow, I still just thought it was a coincidence…and I don't even believe in coincidences! It almost felt way too good to be true. I didn't want to get super excited about something that may not happen. I didn't tell anyone about the blue hat, thinking I'd look silly in the event the baby is actually a girl.
I grabbed the little blue hat and took it home, returning to the clinic a week later so they could double check if it was still just one baby. It's funny because at every ultrasound I was always making the techs make sure it was still just one. Everyone was always searching for a nonexistent baby.
I kept the hat with all of the baby toys, completely forgetting about this little experience. When Bowie was born, the hat wasn't with all of his other newborn things. I didn't even remember that the hat was such a powerful prediction. When I went to pull out those toys a week ago, there it was. Sitting there right on top. I smiled so big as I remembered that little event. The tech was absolutely right all along. She knew! She totally knew and she trusted in the timing of them running out of pink hats.
Sometimes the signs are LOUD and sometimes they're whispered. What else could Heaven have done to prove to me it was a baby boy? They made it really stinking obvious, yet I still questioned it. There are no such thing as coincidences. I'm still learning to trust that there's people I love all around me at all times, even though I can't see them. I'm still learning to trust that the signs they send are really there and are very real.
But they are. They totally are."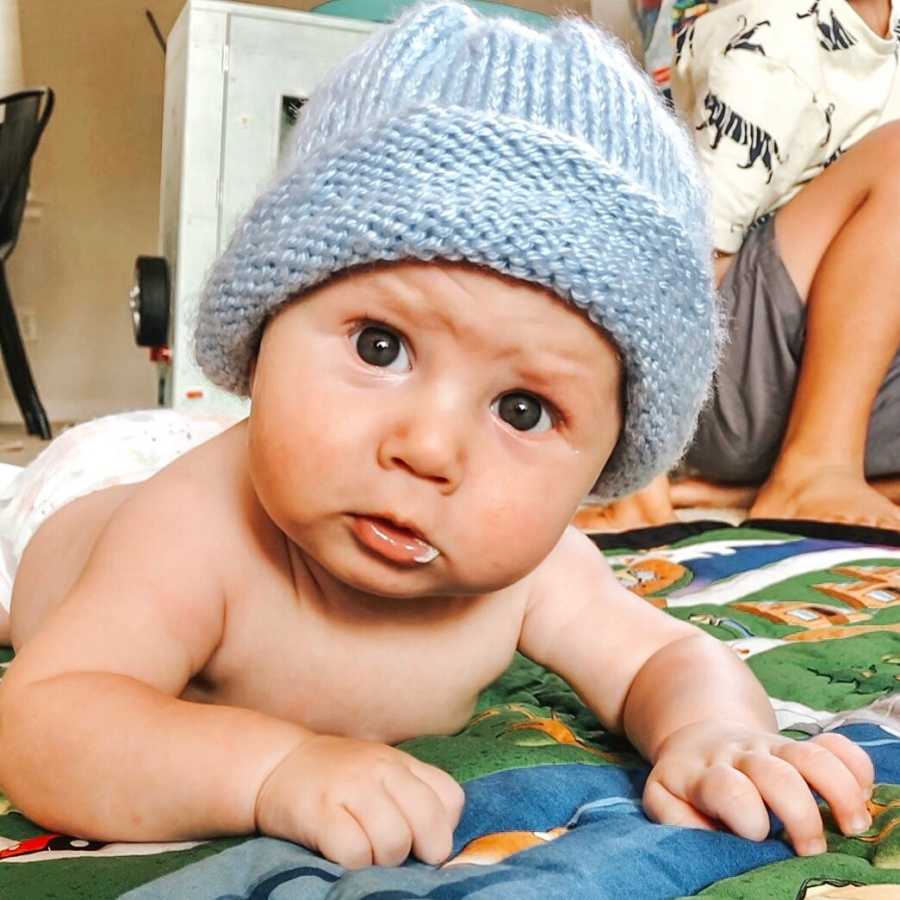 This story was submitted to Love What Matters by Molly Schultz of Tried and True Mama. You can follow her on Instagram. Submit your own story here, and subscribe to our best stories in our free newsletter here.
Read more from Molly here:
'You got a baby BROTHER!' He jumped up. 'YES! I knew it was a brother! Now I get to share a room!': After 4 sisters, adopted son finally gets a brother 'handpicked' for him by his 'dad in heaven'
'Hey Dad, I want to raise your son. I want him as my own,' I insanely told my dying father. 'I didn't want to put that burden on you,' he said. He died just 18 hours later.'
Provide beauty and strength for others. SHARE this story on Facebook with your friends and family.