"My daughter is 4 and a half, and she's never called me mom. She's never said her own name.
My heart breaks when I see what other kids her age can do. I'm crushed when other children ask her to play and she just turns her back without a word. She doesn't talk other than to say hi and bye, and I'm not entirely sure what she understands. I've been fearful for her future and what her life will be like.
Will she be happy? Will she be fulfilled? Will she find joy?
YES. I'm certain of that now.
Looking back, I was over the moon to be pregnant with her – my first child. I was so proud, and I did everything 'right.' Motherhood was going to be easy for me. It's all I'd ever wanted. It was my calling. Everything would be perfect. But then it wasn't.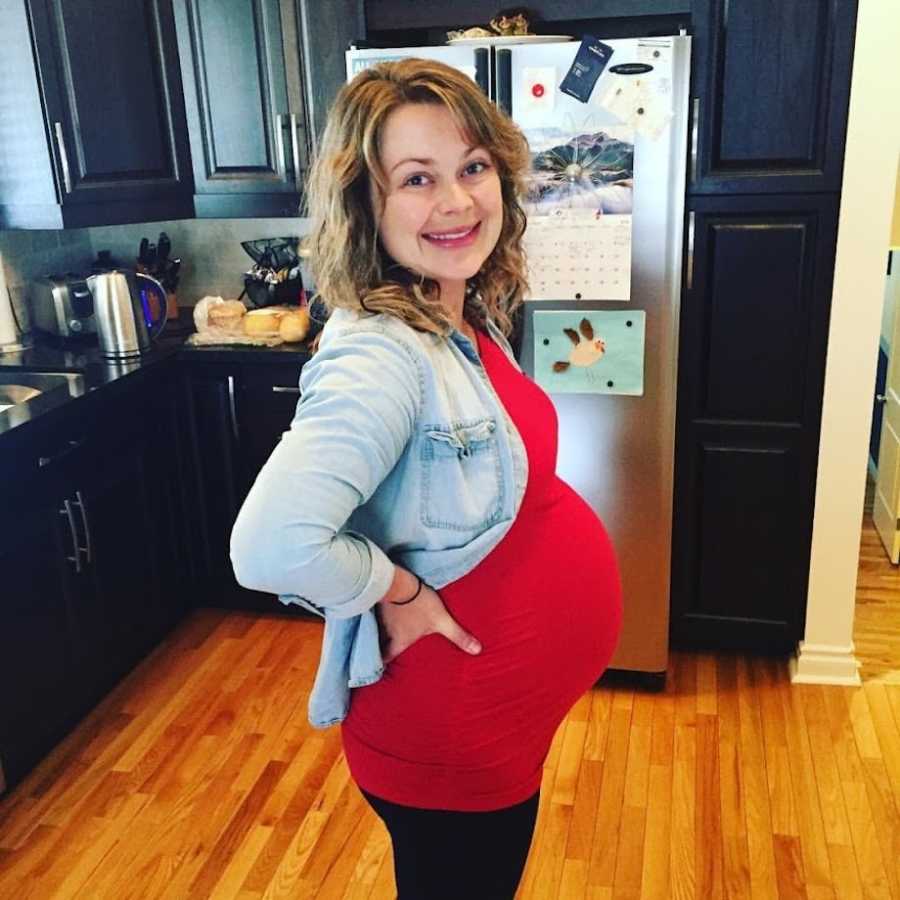 From the day she was born, I've been shocked to the core. Nothing has gone according to plan. She was an angry and challenging newborn baby, and everything felt like a struggle. I was forever changed. The difficulties didn't end, and I just couldn't figure her out. She didn't sleep and seemed very rebellious in every way. I just chalked it up to a strong-willed personality, until the day came when we first heard the words whispered in our ear from a well-meaning and extremely nervous family member:
Autism Spectrum Disorder.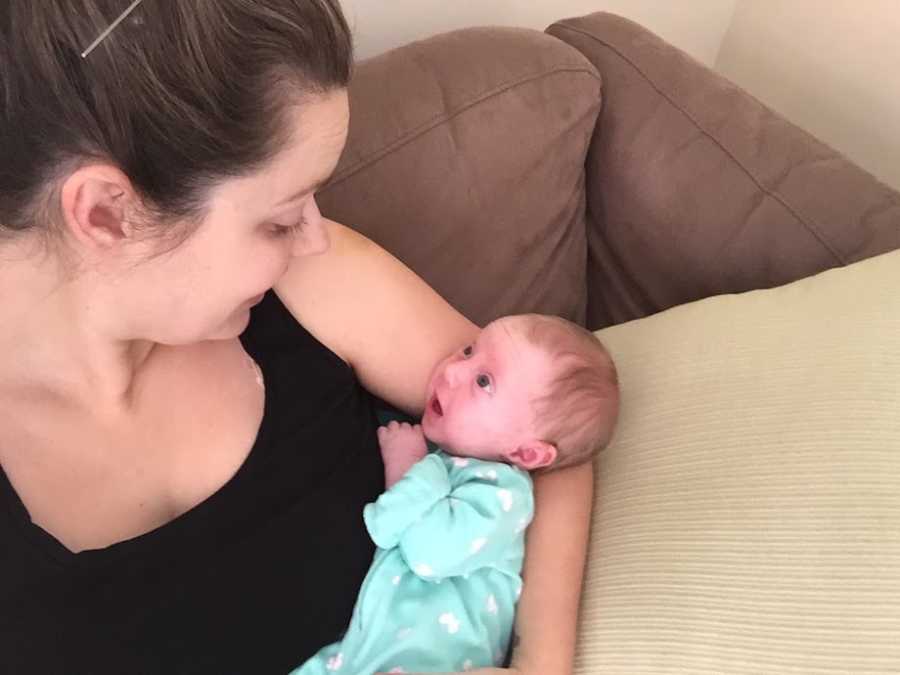 Our daughter was 2 years old and I was also pregnant with my second baby at the time. I didn't know what autism meant, and I cried all night. Will she ever talk? Did we do something wrong? What do we do now?
It is difficult to admit, but there is a period of grieving I believe most parents of autistic children experience in the very beginning. You are hit with delay after delay after delay. All of sudden, your child appears stopped in their tracks while others progress with ease – engaging, communicating, and learning new skills. What comes to them so naturally, we've always had to work so hard for.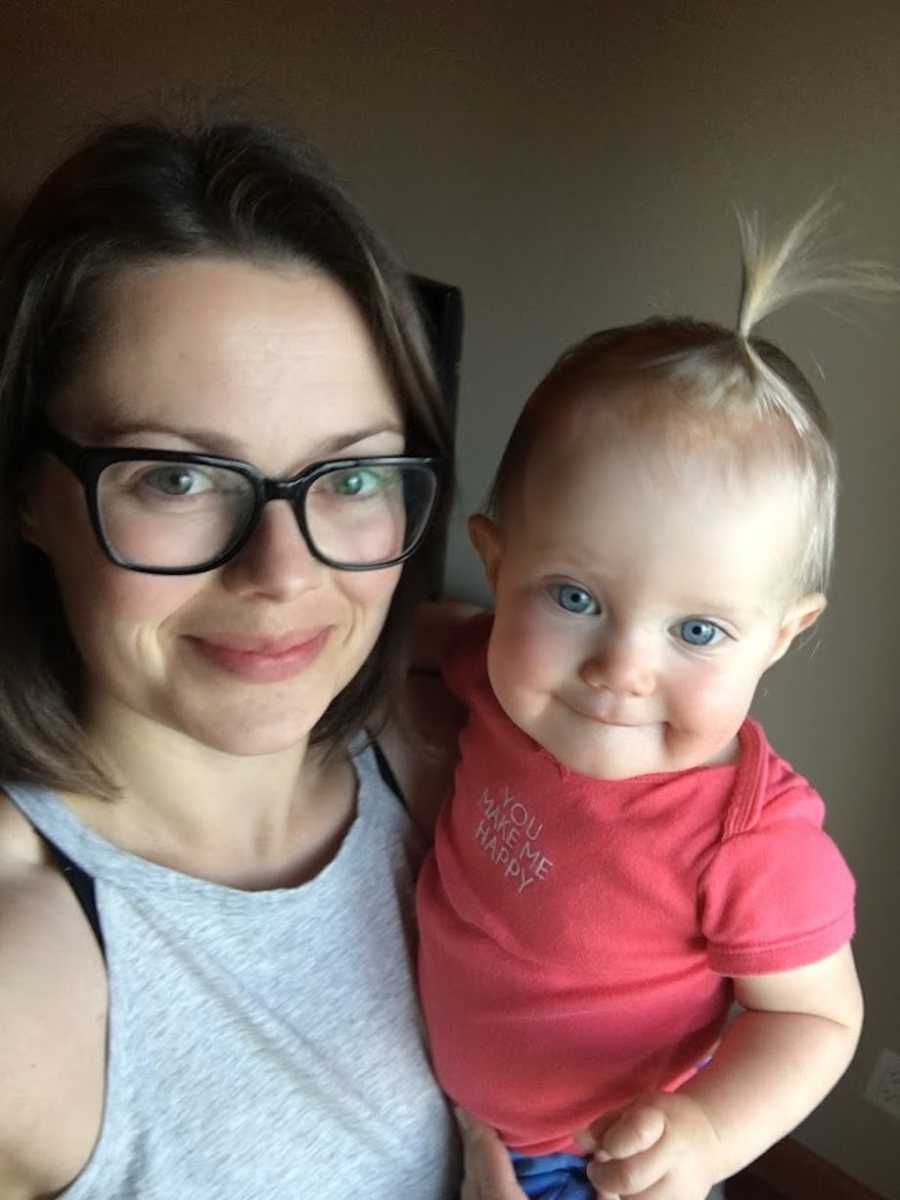 I would hold a book up right beside my face to read the story so she would remember I was even there. Her daycare told me she didn't participate in group activities. I learned to anticipate every corner of our neighborhood so I could block her on the sidewalk before she bolted into the street without consequence or ever responding to her name. I mustered up every ounce of patience and conviction to go anywhere that involved a lineup, as trying to explain waiting was just not a possibility and would always result in a public meltdown.
While it is called a spectrum for a reason, what I know now is autism is generally defined by challenges with social skills, repetitive behaviors, speech, and general communication. It's different for everyone and it's less common in girls.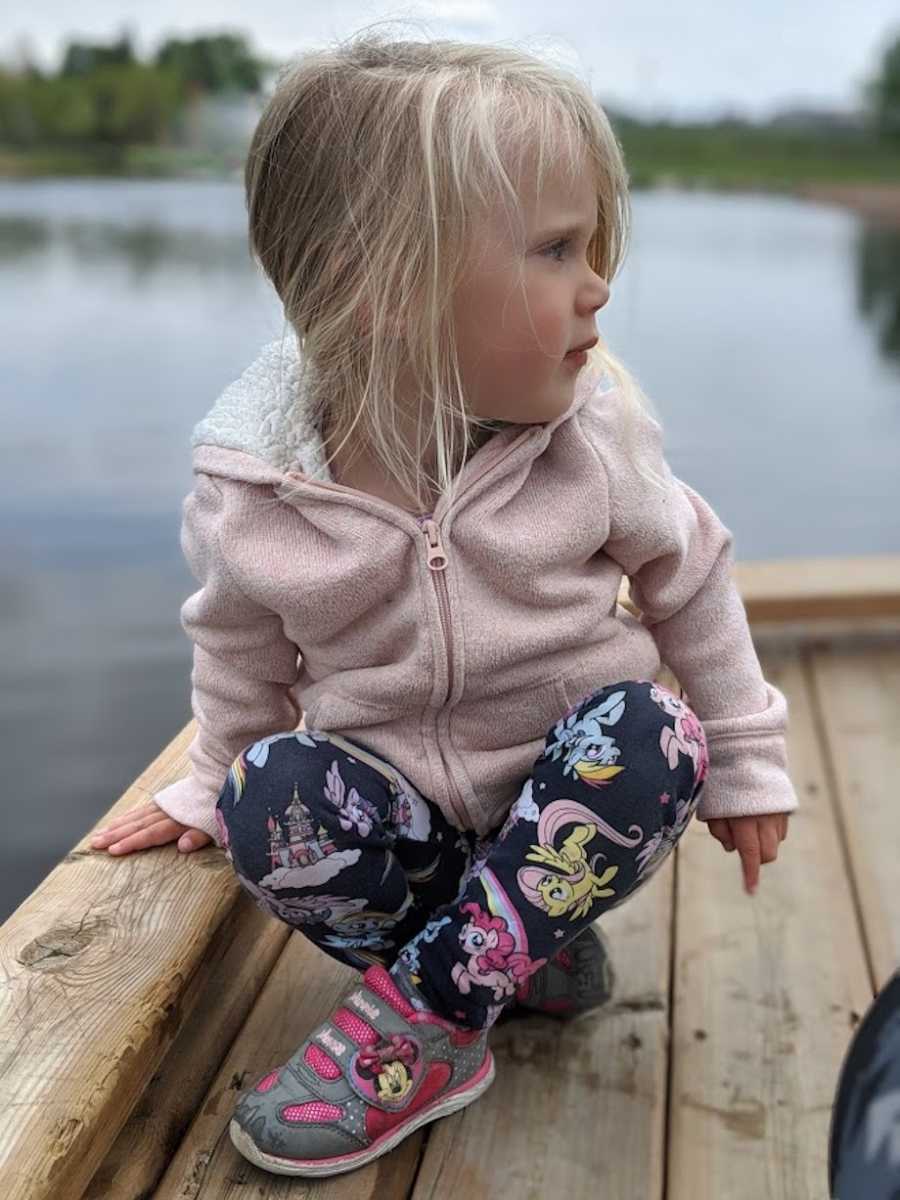 For us and so many other families, there have been too many days to count where my daughter would scream in frustration and struggle with everyday tasks, and nothing seemed common sense to me. It felt so wrong to discipline the way I thought I would as a parent, because wouldn't you act out if you felt misunderstood and couldn't ask for what you need? People would compare her behavior to tantrums but deep down, I knew it was different.
As a mother, you spend hours upon hours searching for answers, and you search for experts – all while being stretched to your limits of exhaustion – emotionally, mentally, and physically. Without even realizing it, piece by piece, you also begin to lose all trust in yourself. You willingly hand over the reins to a professional who must know better than you.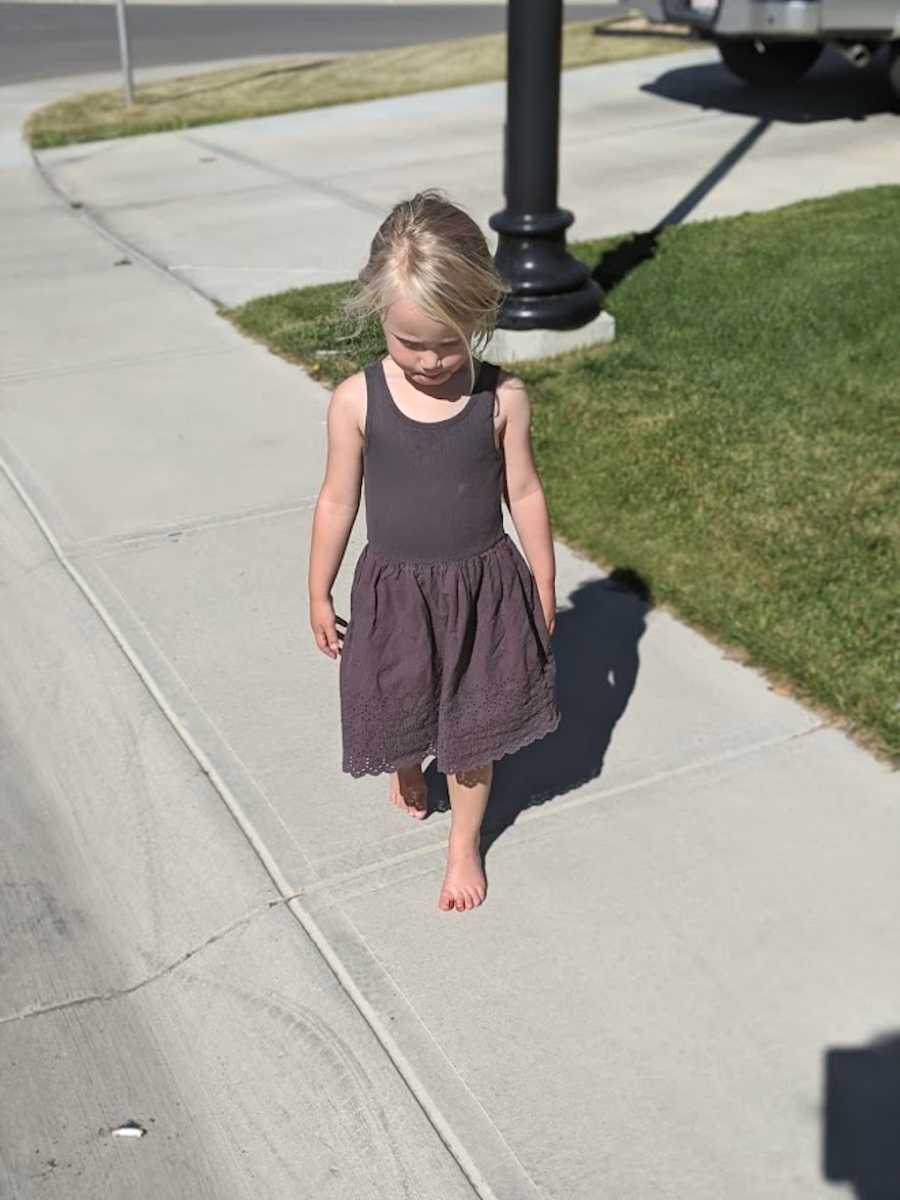 That was the beginning. Now, fast forward just 2 years from my daughter's diagnosis, and I can say I am completely transformed from who I was then. I can now see the truth. Not only has this little girl opened my eyes, but she's awakened my soul. It turns out, as her mother, I am the expert after all.
I know her better than anyone else in the world.
While I am wholeheartedly appreciative of all the strategies we have learned thus far from speech pathologists and behavioral aides and occupational therapists – and we still have a lifetime ahead of us to go – one of the greatest lessons my daughter's autism has given me is the ability and confidence to tune into my own intuition.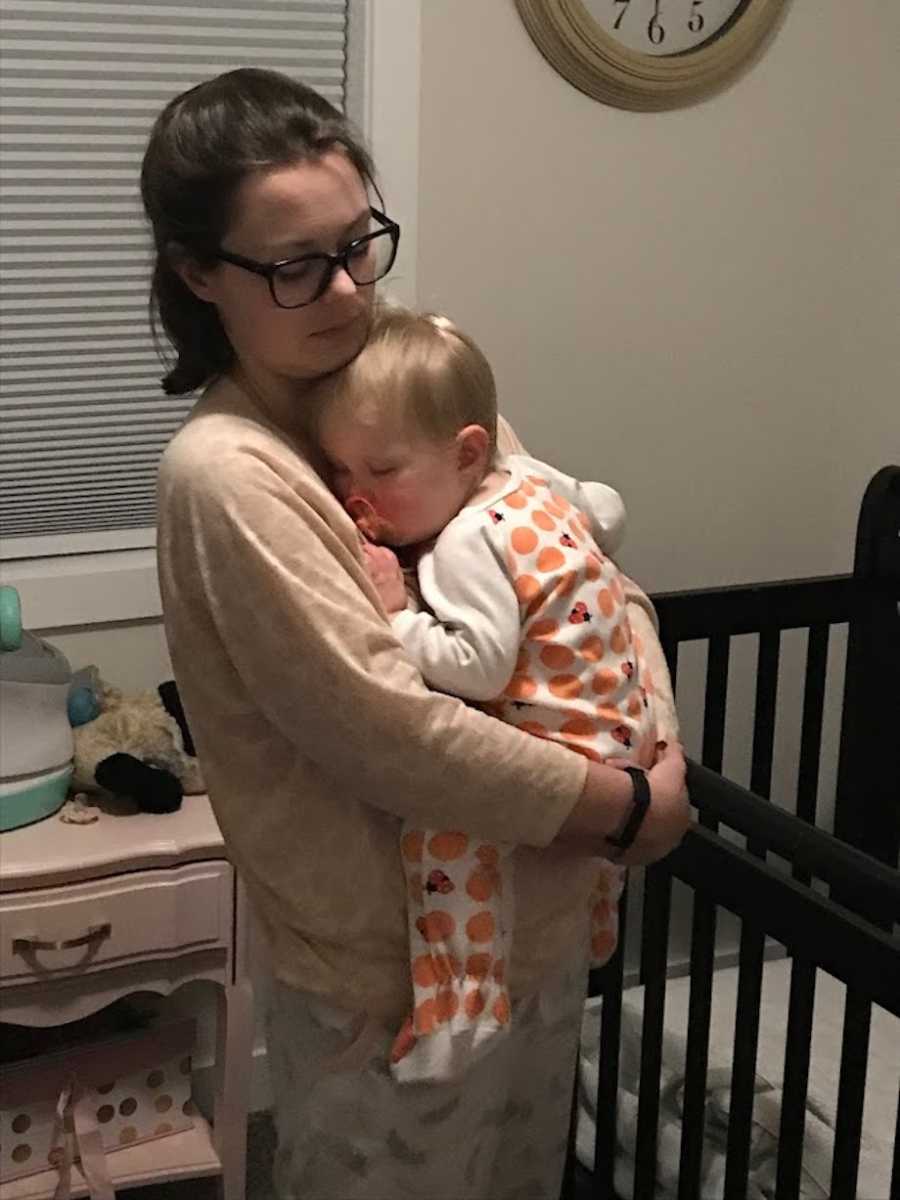 A mother's intuition is like nothing else. When you learn that truth, I believe you will never go back, even if you had the choice.
My daughter is a mirror showing me the change I've always wanted to see in the world. She is a messenger who's come to force me out of my complacency with how things are, my expectations of life, and my futile sense of control. I began this transformation the very first day I decided to change my focus and look inward – empowering myself to make conscious choices in my own family and community, with the hope of even the slightest ripple effect to others.
These changes involve our environment: our food and water, our home, and most importantly, our connection to nature. Modern life wreaks havoc on the body and the brain, and I want better for all of us. As best we can, we are cleaning up our exposures and kicking our shoes off to ground into the earth.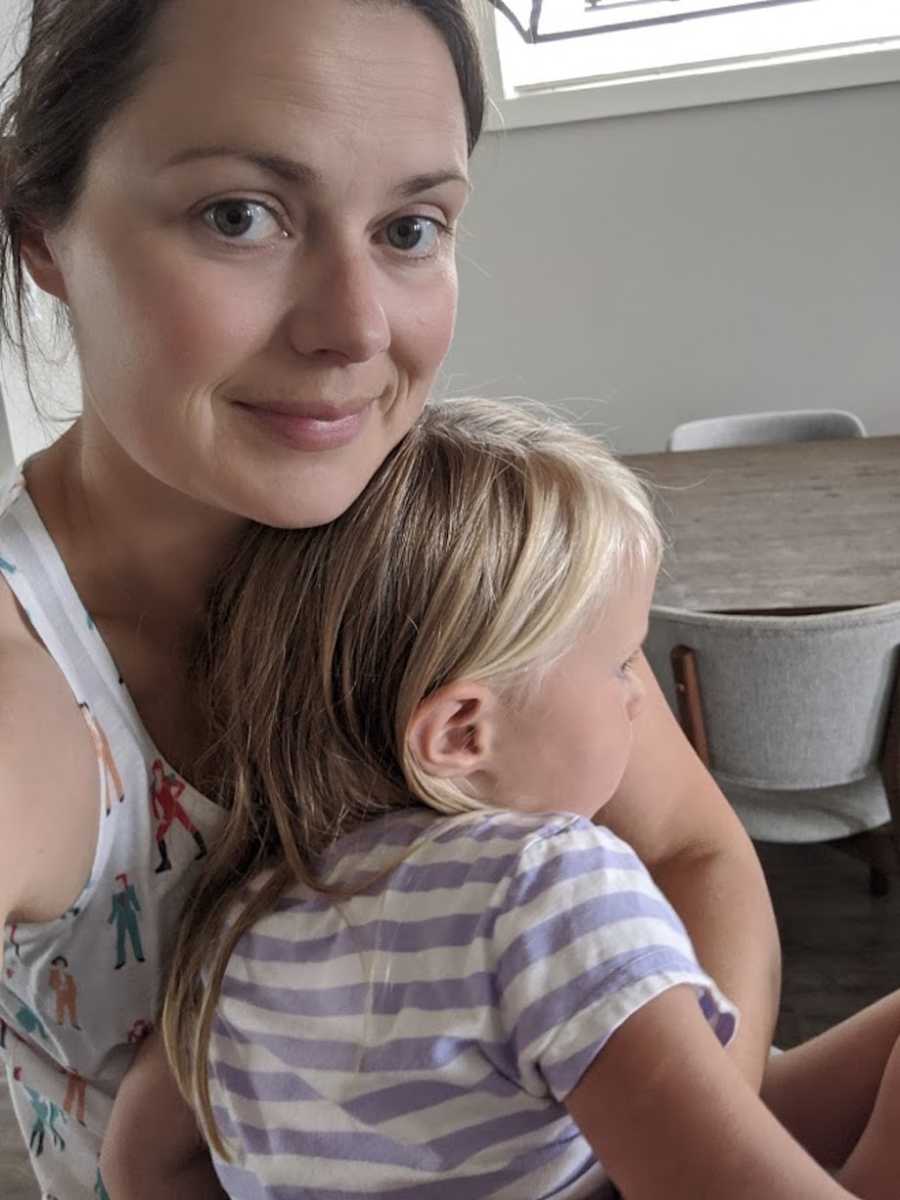 I have learned the most from other mothers I have found in online communities, and I could not be more grateful and inspired. Experts have a place, but there is nothing like a mother's love for her child and her quest for the truth. When a mother trusts herself and holds peace in her heart for her choices, her child responds and develops.
And it's working wonders for us.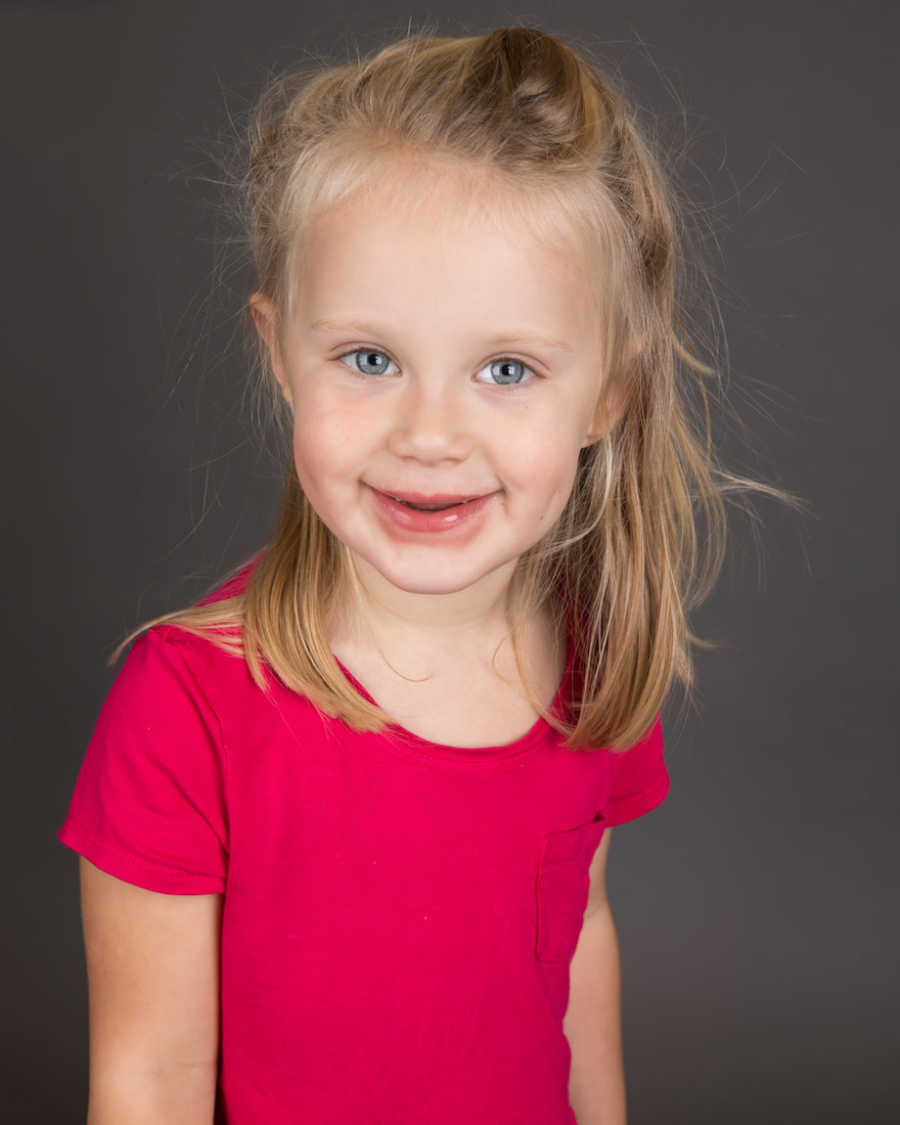 My daughter has become more clear, present, and engaged within our family. There's a bright light in her eyes and she's struggling less and less. She may never hit the same developmental milestones as other children her age, but that's no longer my measure of success.
Is she joyful?
Does she love herself deeply?
Does she have a sense of purpose in her life?
This will be what matters. I am here to guide her and allow her to become who she was meant to be.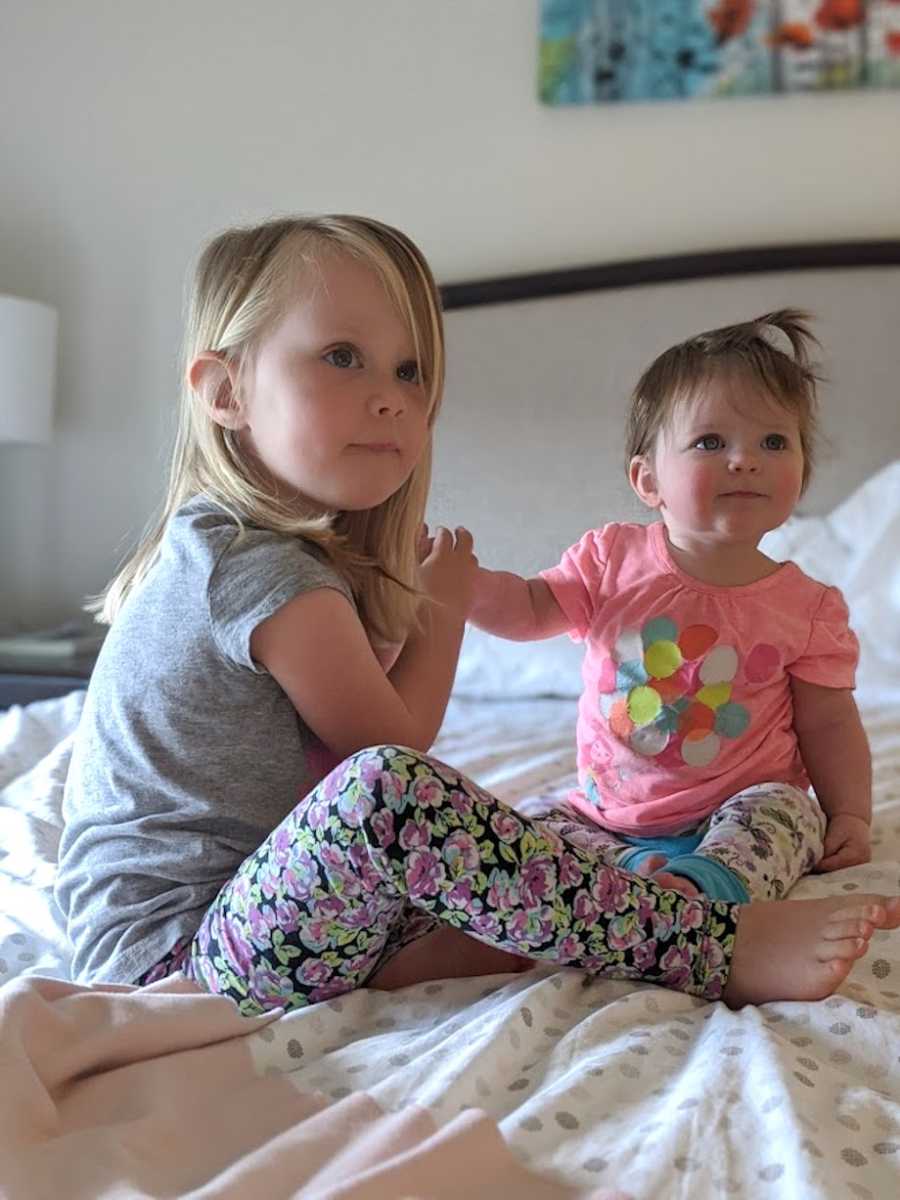 Reflecting back is difficult. This early journey supporting a child with special needs has not been an easy one and I know others have been living this reality for much longer than me. Raising my two girls at home – a toddler with a fresh diagnosis and a newborn baby, during a global public health crisis no less – tested me to my limits and I felt so alone. The constant needs and demands. The mess. The painful lack of sleep and the limited ability to communicate. No amount of positive thinking or gratitude was going to help – so we cried, picked ourselves up, and started over.
And I want you to remember it's okay. There will continue to be highs and lows and ebbs and flows – that's the way of life. You must trust and have faith in your journey. It doesn't mean you give up. It means always believe no feeling is final. Everything is temporary, and the bad makes us appreciate the good.
To know that is to know freedom.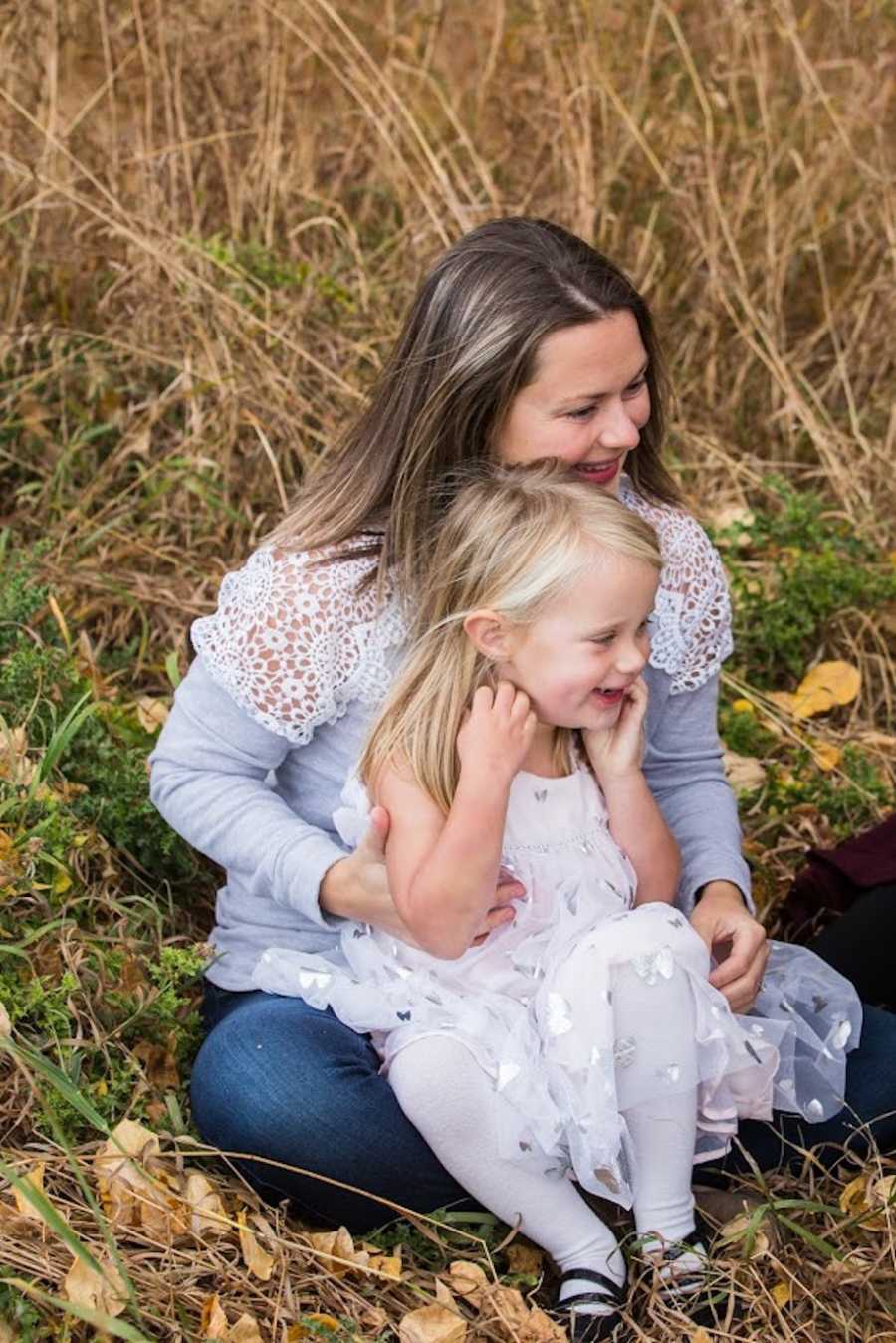 Although she doesn't tell me anything with words, I believe her soul was given to me for a time and for a reason. And life is so much easier when you live it through that lens. She may be a non-speaker, but she gives the tightest hugs and the biggest belly laughs. She climbs in my lap, takes my face in her hands, leans in for a kiss – and I can feel her love. However brief these encounters are – I know she's there, I know she's listening and I know how smart and capable she is. Her presence has broken us open and rebuilt the pieces, and I've never felt more whole. I have my daughter to thank for that."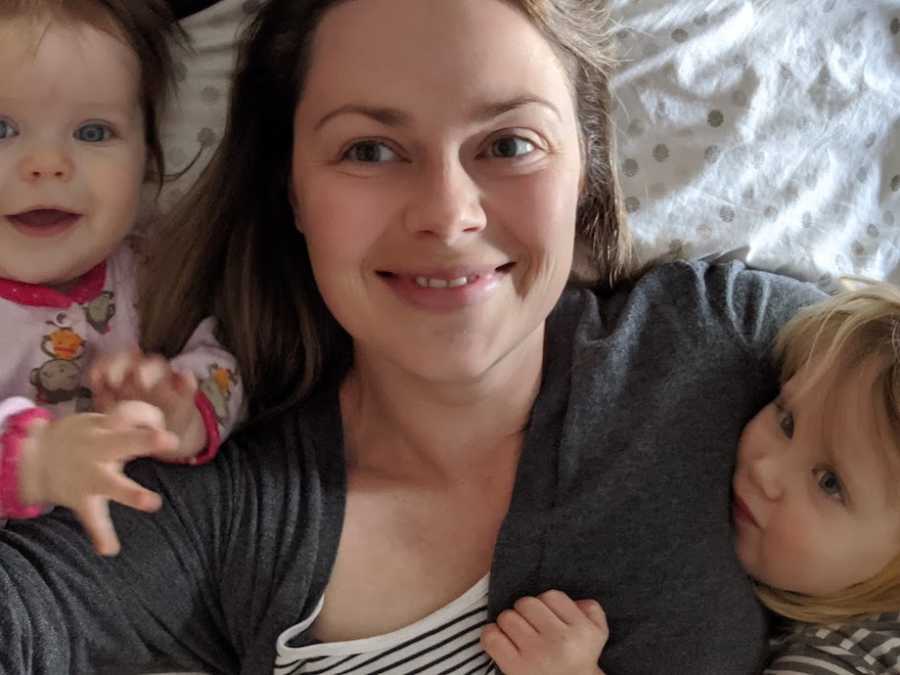 This story was submitted to Love What Matters by Jill Verboven from Airdrie, Alberta, CA. You can follow their journey on Instagram. Do you have a similar experience? We'd like to hear your important journey. Submit your own story here. Be sure to subscribe to our free email newsletter for our best stories, and YouTube for our best videos.
Read more powerful perspectives from special needs moms:
'Of course he doesn't, he's absolutely fine!' Everyone laughed it off. My little boy wasn't going to talk, EVER.': Mom to son with autism urges 'acceptance starts in the home'
'What happens to my girl when society realizes it's not 'cute' anymore? How do I make people see the beauty I see?': Mom to daughter with autism urges us to challenge our idea of beauty
'They whispered to each other. 'How can that be?' My heart sank. 'He doesn't seem THAT different. It must be a mistake.': Mom surprised by son's autism diagnosis, 'We just chalked it up to 'every kid is different and learns at their own pace.'
'My husband took the diagnosis as an insult. 'What is your problem?' He began to cry, 'I just don't want anyone to hurt him.': Parents to son with autism say 'he is meant to be exactly who he is'
Give other parents strength and courage who are continuing to learn about their children with autism. SHARE this story on Facebook or Twitter.