"Unlike most, I was never the little girl that dreamed of her wedding day; the decorations, who I would marry and what my dress would look like. I was too caught up playing with our family's farm animals, following my dad's shadow around outside, and learning everything I could from him.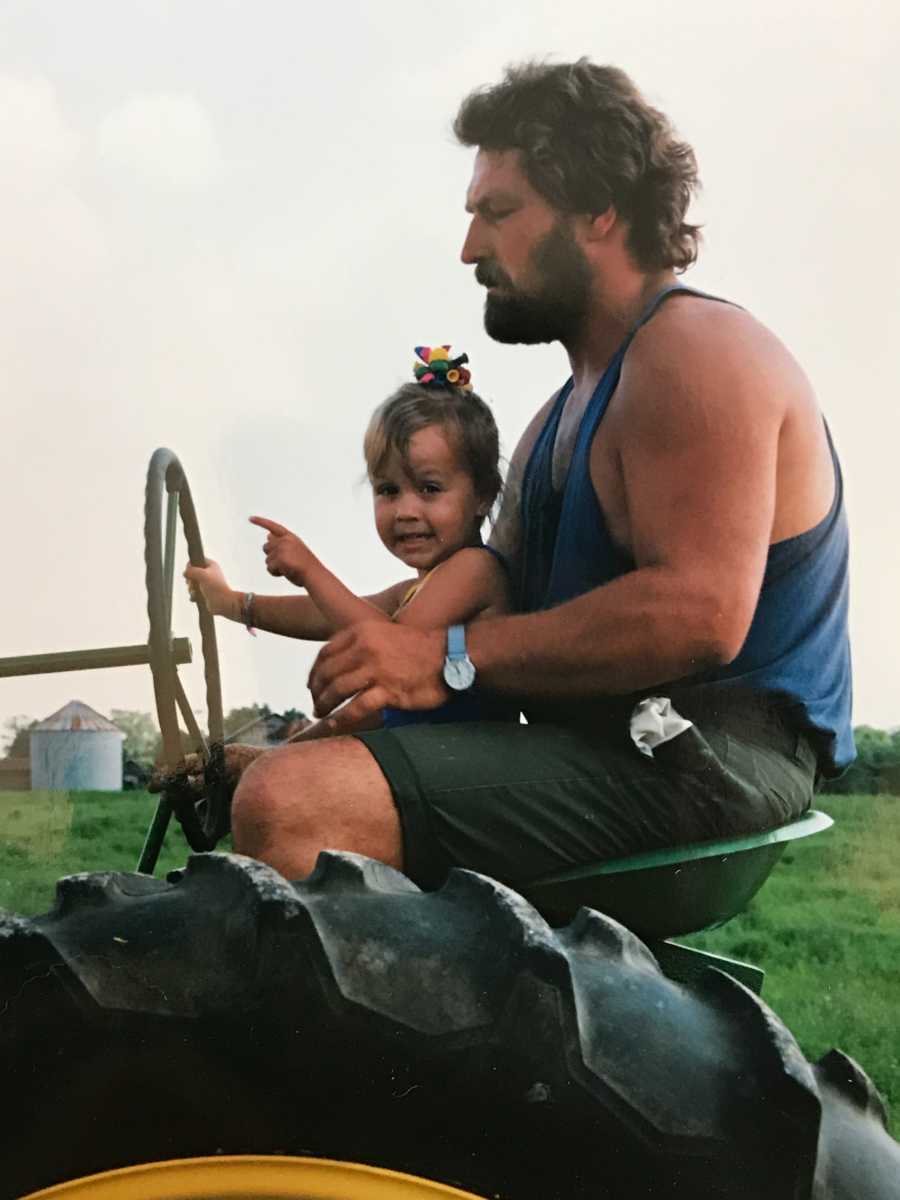 Growing up, there was rarely a time when we weren't together. Whatever he was doing, I wanted to do the same. Changing the oil, carrying the bucket that was too heavy and stepping in the same footprints he would make in the snow ahead of me, even if they were too far apart for my little legs. My fondest childhood memories have my dad in them. He has always been a flannel-wearing hero in my eyes, the strongest person on the earth, the best tree climber, the one that would make my mom, sister, and I all laugh as he danced in front of the TV, just to hear us giggle. That's just who he is and not just to us, he makes everyone smile.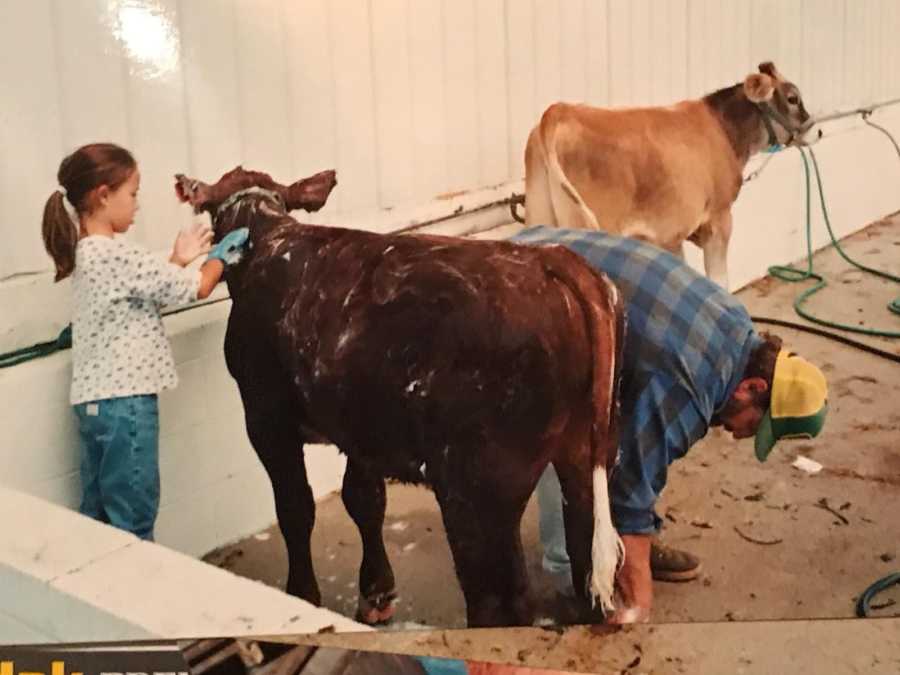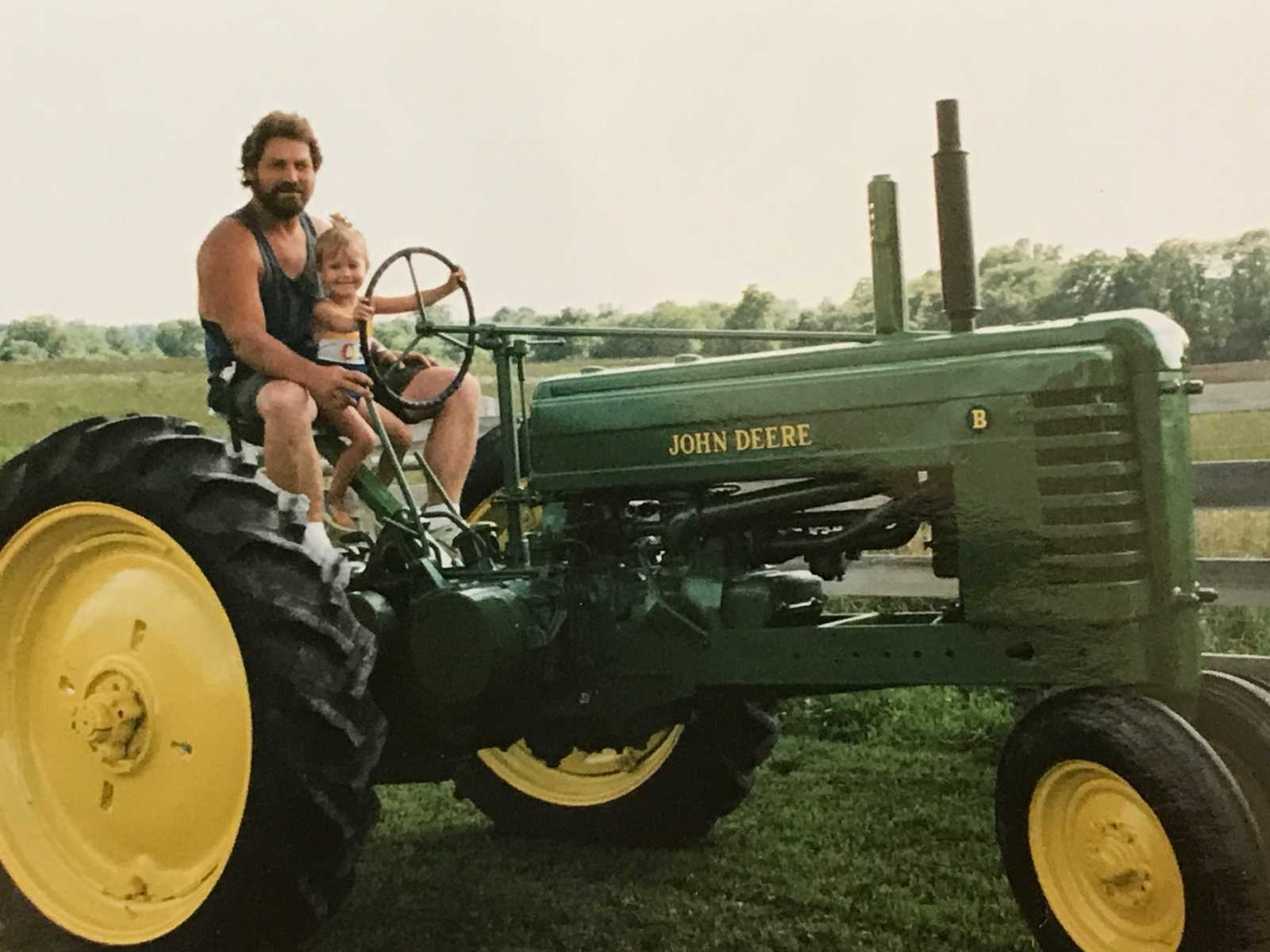 Fast forward to my sophomore year in high school, it was the same week as my high school dance. By this time, my sister had moved into her own place and my mom went down to visit our Mamaw in Florida. That left my Dad in charge of making sure I was ready to go for my dance. The year before, all he had to do was stop mowing to snap a quick picture with me in his flannel before I left. I drove to get my hair done. Mom and I had gone to pick out the perfect dress before she left, and I did my silver make-up just like Mom had practiced with me. My date had arrived, and I came out to the living room to get group pictures done. My dad didn't say a word, he just hugged me. That was when it hit me. He didn't have to tell me how pretty I looked, or that he thought my dress was nice, I just knew. From that moment on, I dreamed of my wedding day; the decorations, who I would marry, and what my dress would look like when I would get to see my dad for the first time dressed as a bride, not the little girl in muck boots.
'How could someone be this loved?': Stepfather overcome with emotion as stepdaughter, her dad, walk down the aisle
'My heart completely burst': Marine groom absolutely overcome with emotion seeing his bride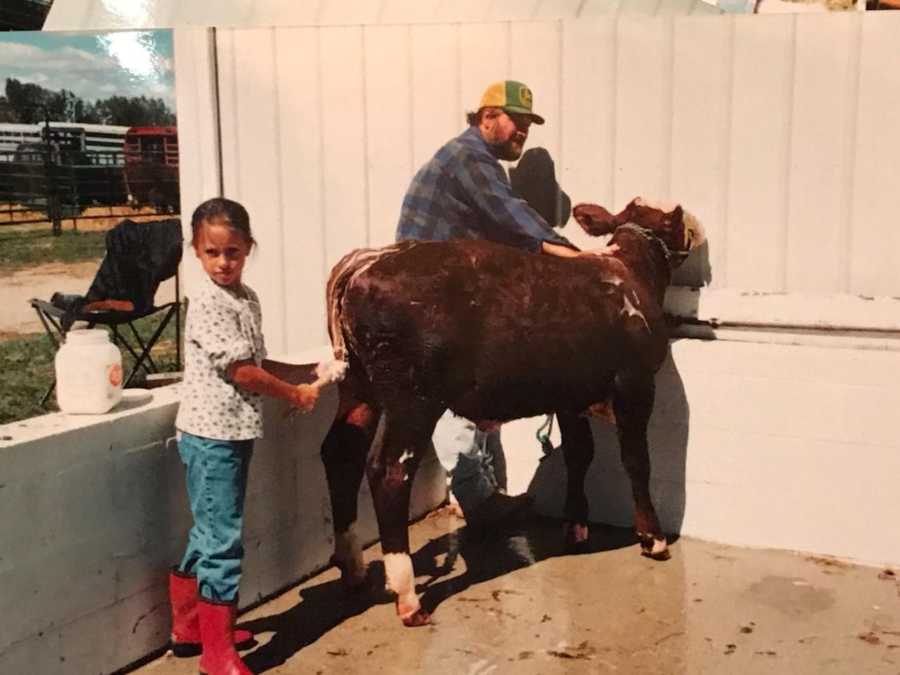 I was so excited to see my groom. The love and adoration I have for him stands on its own. My bridesmaids and I spent all morning getting our hair done, make-up ready and sharing laughs. Seeing my dad before walking down the aisle, to my now husband, was something I knew I needed to do to help calm my emotions. Although I knew getting married wouldn't change me being his little girl, and him my hero, something about him 'giving me away' was so hard to swallow.
Erika, our photographer, was waiting out on the porch to catch our moment on camera. I don't think any of us were prepared for the emotion that broke loose. We hugged, we cried, we smiled as I shared a moment with just him.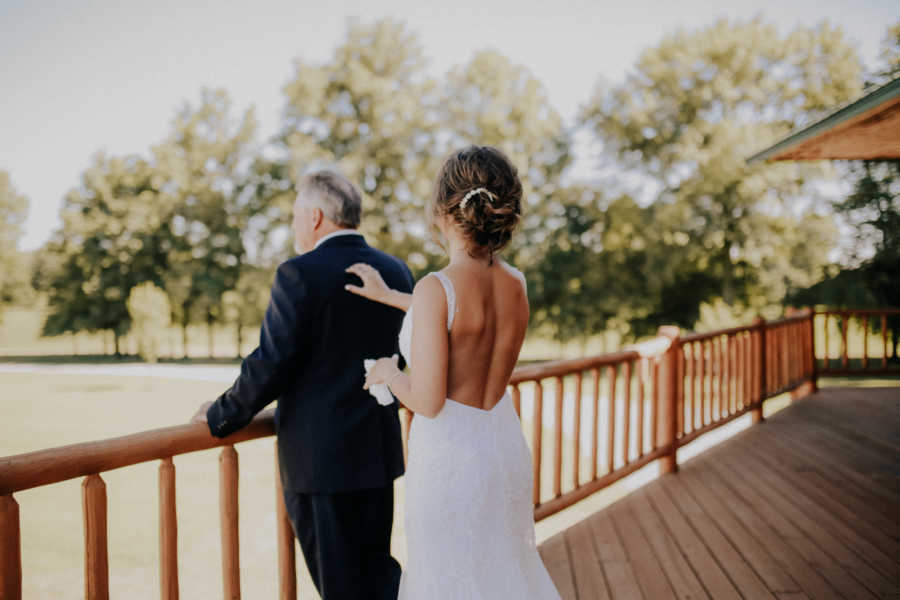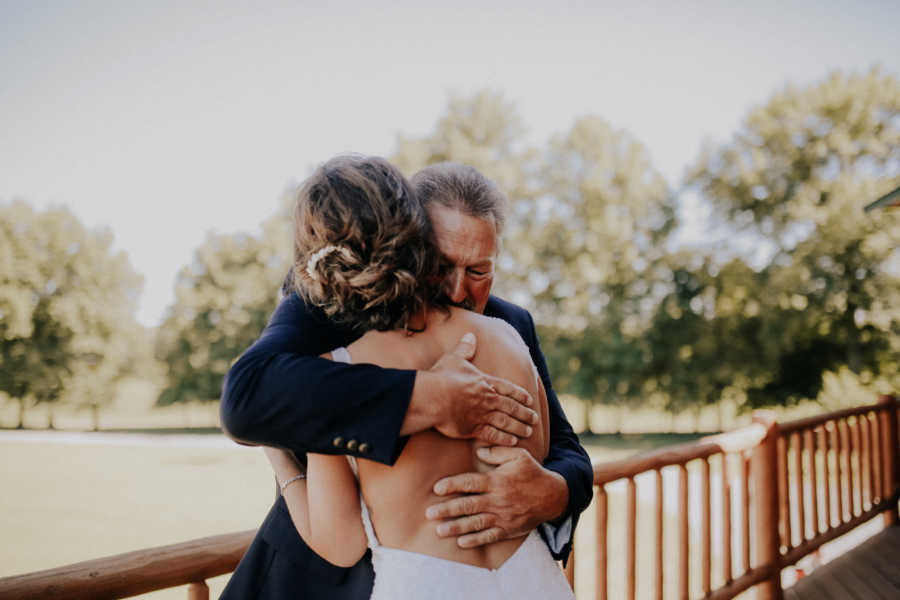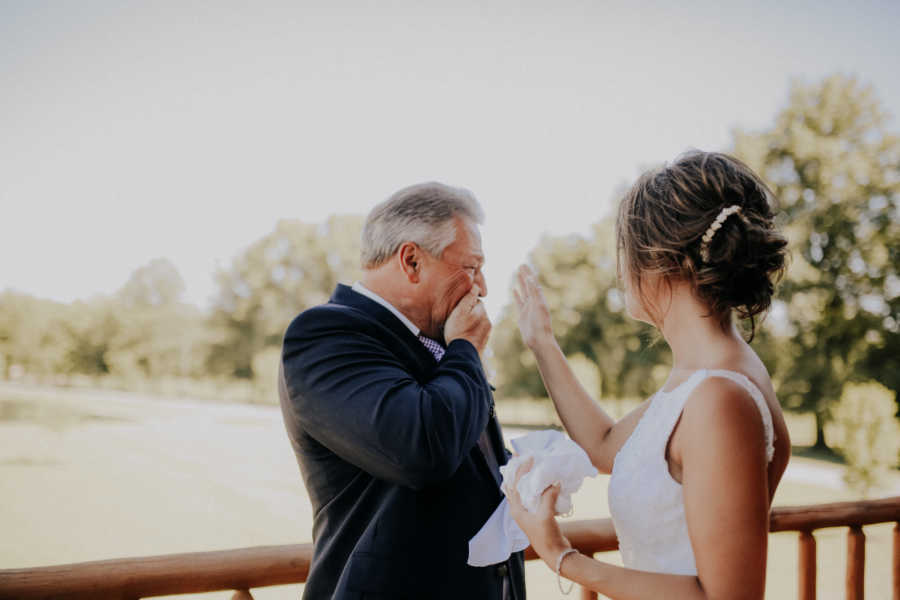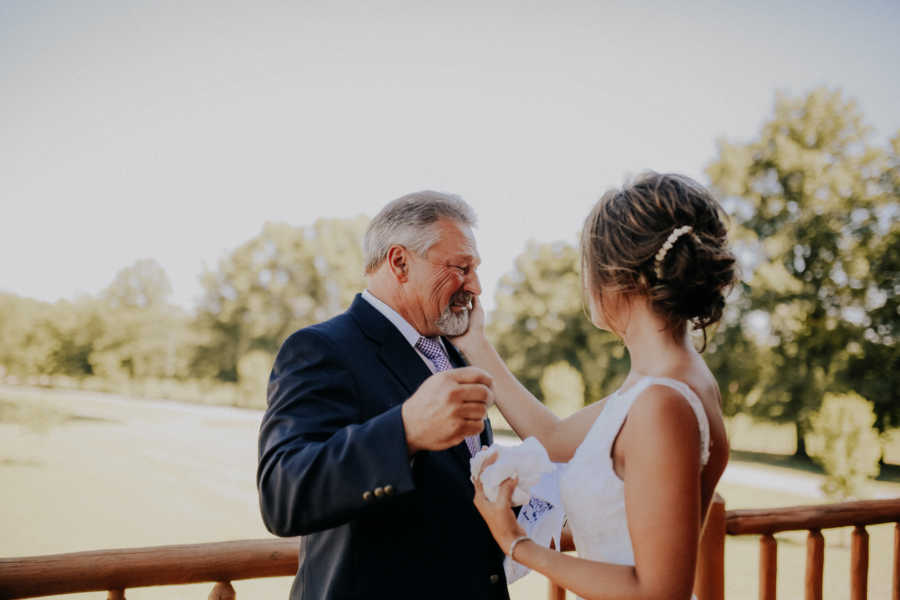 Memories flashed back faster than I could process. His blue flannel that he always wore had been cut into the shape of a heart and stitched into the bottom of my dress as my 'something blue.' I still have yet to throw away the extra scraps from when it was cut out.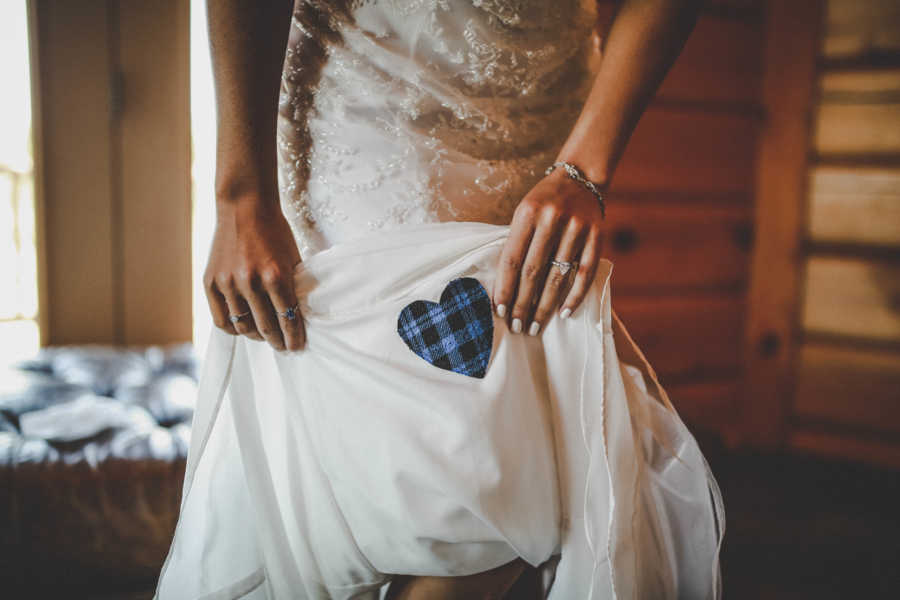 That moment will always be special to me and I am forever grateful to Erika for capturing the time with my Dad, as well as my husband and I's special day that followed soon after.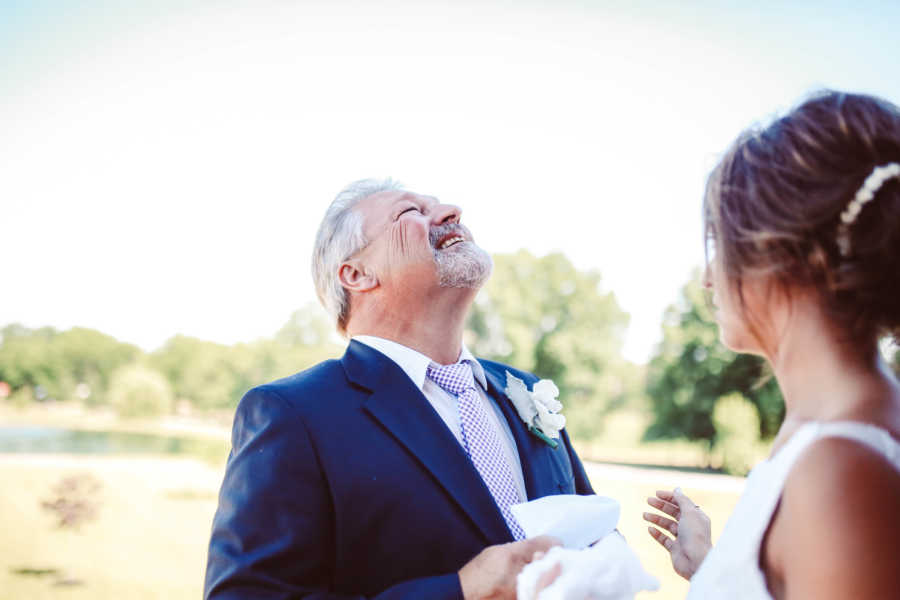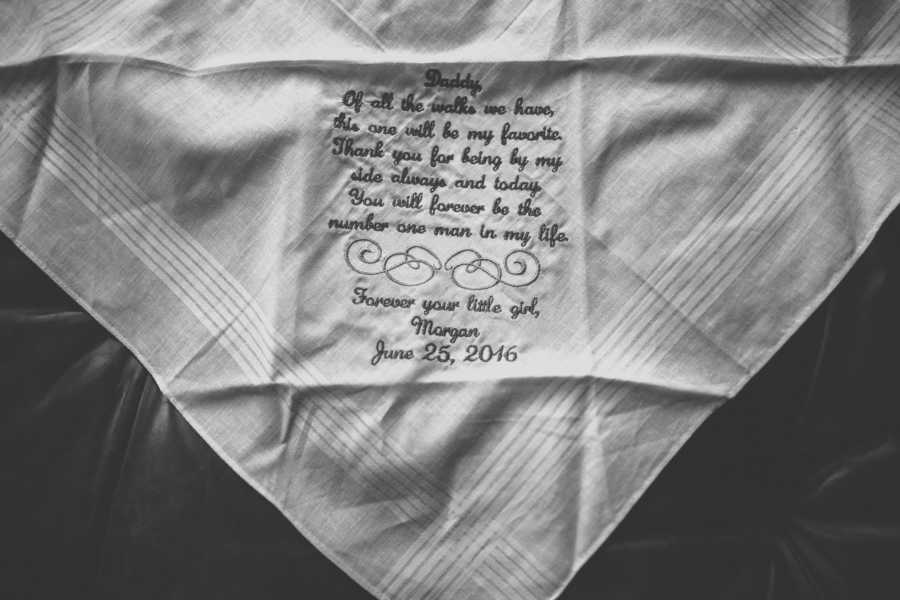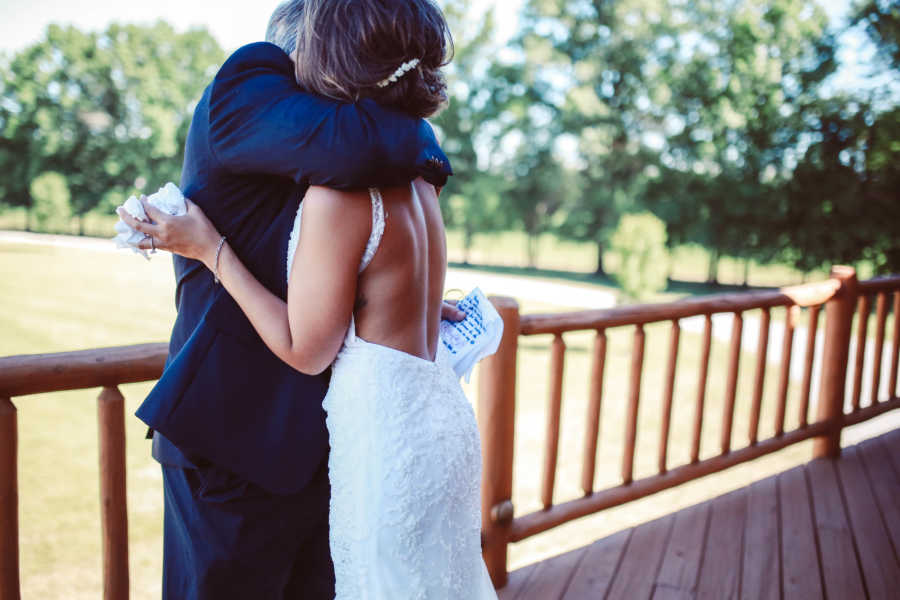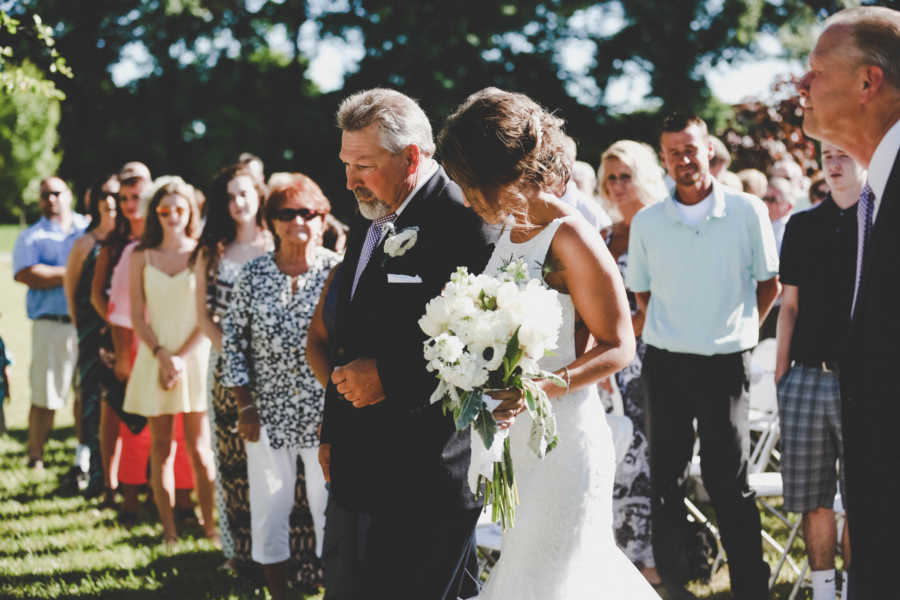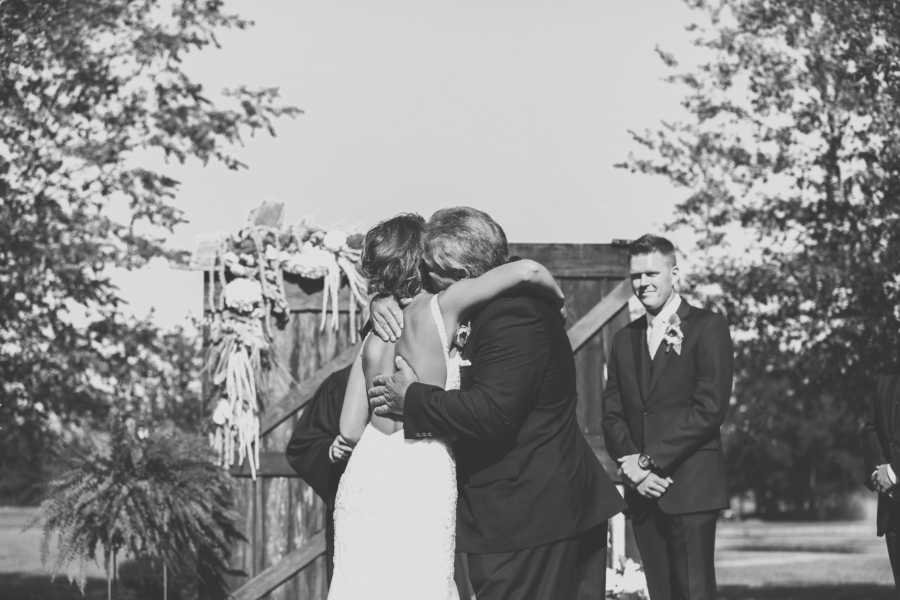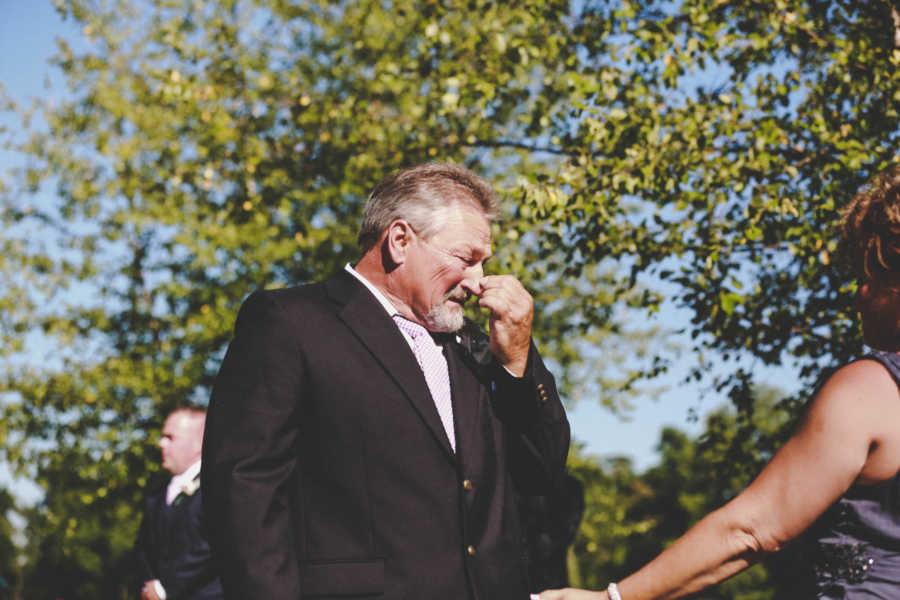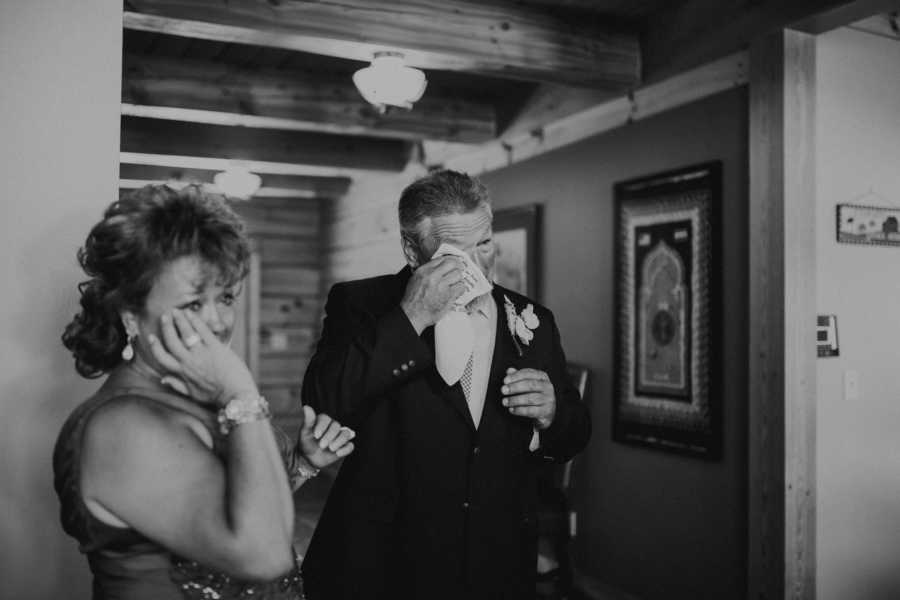 As you get older, you come to know your parents in a different way. You gain new insights on all they have accomplished and overcome. You see the strength from what they have been through. You see them differently, you love them differently. He has always been the best father to my sister and me. Now he gets to create laughter for my nieces and nephews while my mom, sister, and I giggle in the background. We continue to make memories at the annual Father's Day car show, and I continue to help him tinker around with a project on the farm. But nothing compares to when we would make a special drive out to the freeway for those chocolate Yoo-hoo drinks. Although they are probably terrible for you, they still put a smile on my face as I drink them today, picturing him shaking both bottles and me turning up the radio up on the drive home. My hero doesn't wear a cape, he wears a flannel."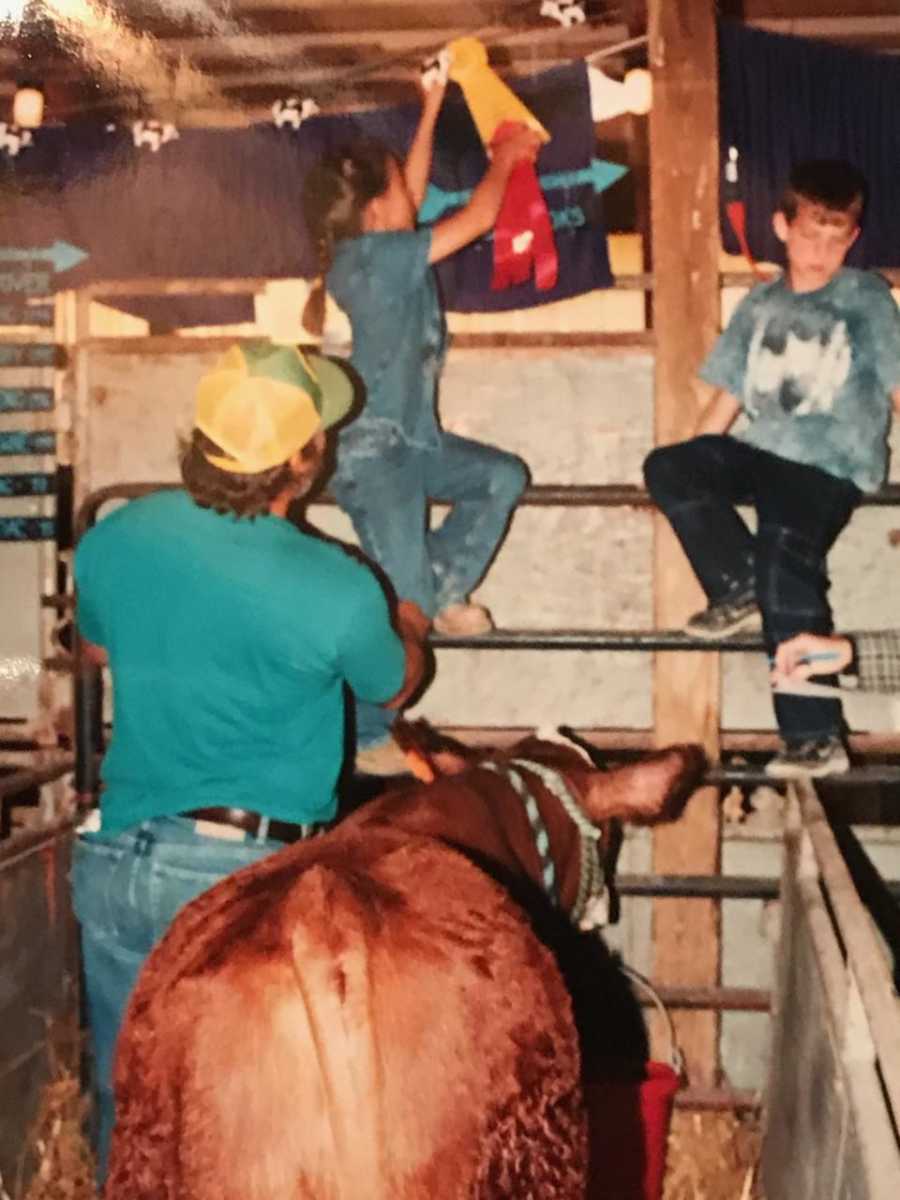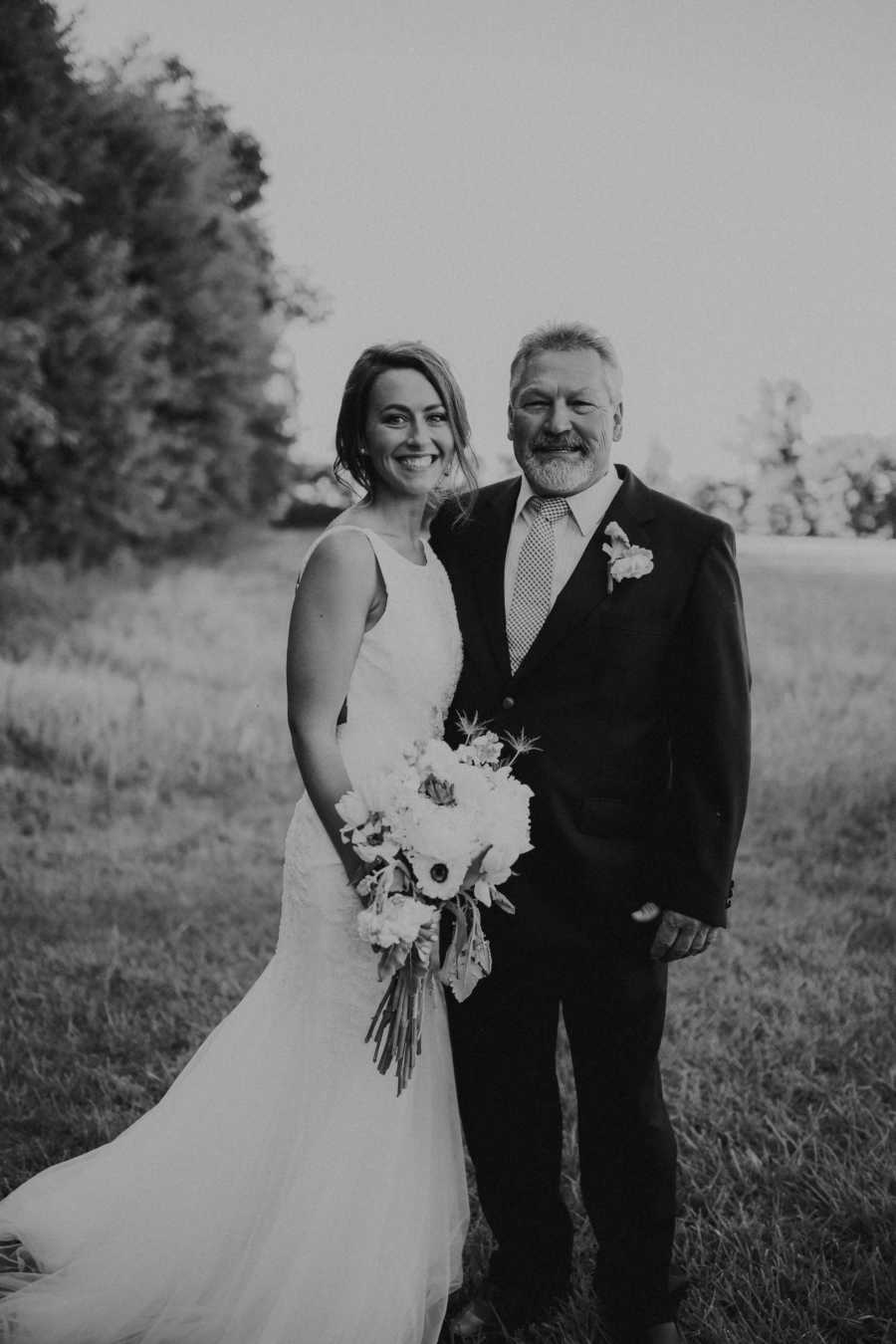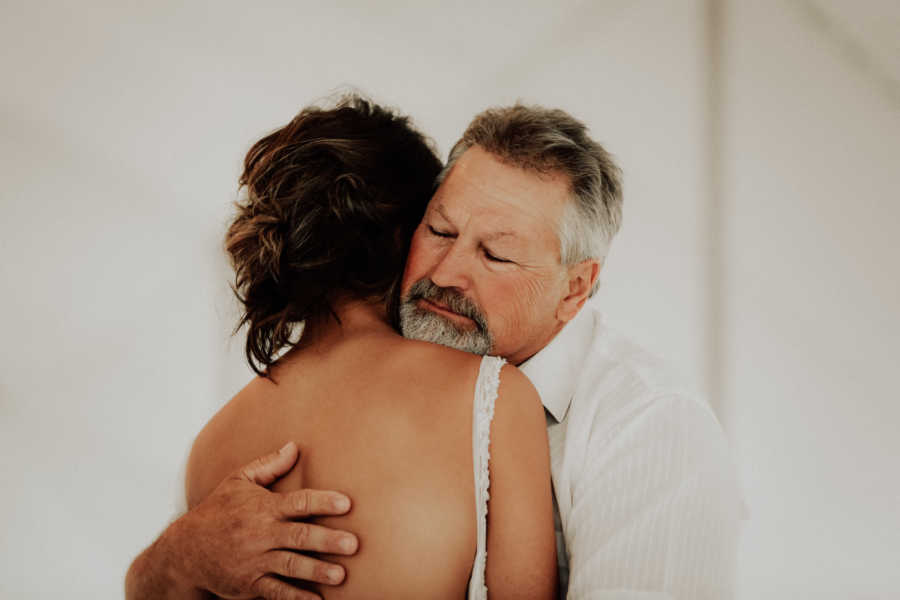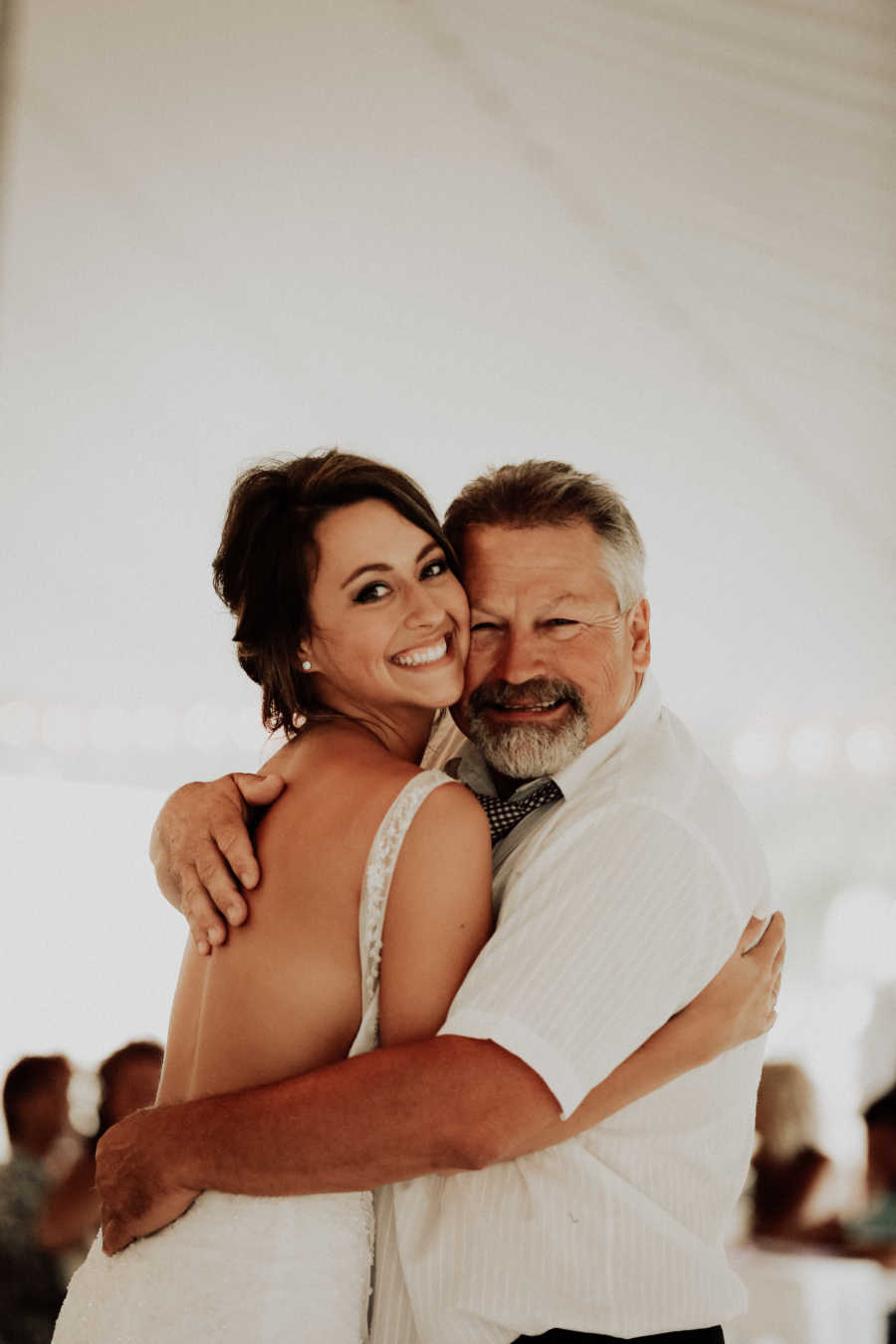 This story was submitted to Love What Matters by Morgan Gompf, 26, of Ohio. Submit your story here, and subscribe to our best love stories here.
SHARE this story on Facebook if you believe in the special bond between a daddy and his daughter.