This story was written by Bonny K. and is part of an ongoing collaboration between Love What Matters and StoryWorth, an online service that makes writing your loved one's memoir (or your own) as easy as writing an email. Click here to learn more about StoryWorth and begin capturing your loved one's lifetime of memories to cherish forever.
How did you get through the most difficult moments in life?
"God alone!
God alone is how I got through the most difficult times in my life. And there have been some difficult times, for sure.
In 1968, I married my high school sweetheart, Lenny Towndrow, after he joined the Navy. In 1970, our son, Willy, was born and Jesse followed just before Len was honorably discharged from the service. In 1975, our sweet daughter, Emily Joy, was born.
In the '70s, there were hard times, economically, but we loved and respected one another and adored our little family. Finances were a struggle. We made a step of faith and he went to tractor trailer school. The company guaranteed Len a job, but they didn't tell us it was out of Fort Scott, Kansas!
We were separated for weeks at a time, with little or no money to pay bills or even buy groceries. When he called and asked me what I thought of him quitting, I said, 'Please come home!' He eventually picked up a job driving trucks between New York and Florida. We were still apart a lot but he made better money. We heard of a local job opening and were excited to go see about it when he came home on May 25, 1977. Willy and Jesse were eating breakfast before going to school that morning when there was a knock at our door. A sheriff's deputy greeted me with the news that Lenny had been killed in Pennsylvania driving home. My world came crashing down on me, hard!
Friends and family came to offer comfort. I cried when I saw anyone. As I made funeral arrangements, God spoke to my heart and told me He wanted me to speak at the service. There was no way I could do that! I bawled whenever I spoke to anyone. I told God He would have to give me a double portion of His Spirit if He wanted me to speak. Well, He did just that. The funeral was more than three hours of praise and worship and sweet memories. I got up and shared the gospel message, and four or five people gave their lives to Jesus, including Lenny's sweet mom and his brother. I didn't cry at all that day.
My children were seven, five, and eighteen months old when they lost their daddy. I couldn't deal with my own grief, let alone help my children with their emotions. Why did I have to stay on this earth? I often wanted to die.
I shut off the TV, stopped reading the newspaper, and I buried myself in my Bible. That is where God spoke to me. Jesse's sixth birthday was in August and someone gave him a notebook. I commandeered that notebook and spent hours journaling in it. I cried. I prayed. I wrote out the deep, deep pain in my heart. For everything I wrote, God gave me a Scripture verse or let me know He understood what I was feeling.
A few months later, I felt God telling me to move to Florida. I had no desire to go, but my house was very old, the furnace wasn't working well, and I had lost all incentive to work on the house. After praying, reasoning, and arguing with God, I opened my Bible one day and these words from Exodus jumped out at me: 'Quit praying and get the people moving!'
Even though I had my driver's license for only four years, I packed a few clothes, put our bikes on the roof of my car, and headed for Kissimmee, Florida, where God provided a little home, fully furnished and surrounded by grapefruit trees for $80 a month. I arrived there on my 28th birthday. I immediately scrubbed the tub and bathed my children so we could find a church to attend the next morning.
I call it my wilderness journey. God removed me from my family and from my strongest support group, my church. It was on that journey He taught me to depend on Him. I was challenged with many obstacles, grief, and depression. Through it all, I studied my Bible and hung onto God with all my might. One of my favorite verses He gave me in those times was from Psalm 30: 'Weeping may endure for the night, but joy comes in the morning.'
I've wept a lot of tears, but my Father has given me His joy.
And the saga continues. A few years later, I married a man who also had three children, so we had a full house! He turned out to be very abusive, both physically and emotionally, to me and to my boys. We endured that life for six years until we divorced, for my sons' sake.
Then came husband number three, Claude. He, too, could be difficult, but I dug into God and endured, as He instructed me. Claude's son, Brian, lived with us for a while and then he returned to Kansas, where he was killed in a motorcycle accident at the age of 19.
My boys graduated from a Christian high school in 1989, just before we moved back to New York. Jesse joined the Marines in Georgia and Willy shipped off to the Navy soon after we moved back to Upstate New York in 1990.
Jesse was thrilled to be accepted in Force Recon, the Marines' special forces. After his training, he was sent to war in Kuwait. Thankfully, he came home with stories to share. Then a few months later, on the Fourth of July, 1991, we were awaiting his arrival for a big celebration. Instead of Jesse, the Marines met me and informed me that he had been killed driving home, on the same highway, in the same state where his father died fourteen years earlier. When the Marines gave me the news, I could sense Jesse saying to the Lord, 'Okay, God, I'll go with You, but don't let my mama hurt.' I immediately felt a tangible peace cover me, the peace Jesse now had in heaven. That peace has never left me.
God knit our hearts together and nothing can separate our love for one another. I still miss Jesse and his daddy, but I do my best to minister to widows and moms who have lost children. I will not waste the pain I have suffered. I will readily use it to help others through their grief.
Claude had severe heart issues and we struggled through great challenges, battling for his life. I took him to a hospital in Boston six hours away, innumerable times, eventually seeing him get a heart transplant. We even took our two young grandchildren with us to Boston many times.
Claude died a few years after the transplant, after 23 years of marriage. Again, God carried me through the loss and the great gamut of emotions.
A friend of ours from church was widowed a year and a half after Claude's death. In trying to help my friend heal, God ambushed me and I ended up marrying my widowed friend, Richie Keys. He is God's reward for living a faithful life.
Yes, I have had a lot of pain and suffering in my life, but I am still here, stronger for the struggles. I live a victorious life, through God alone."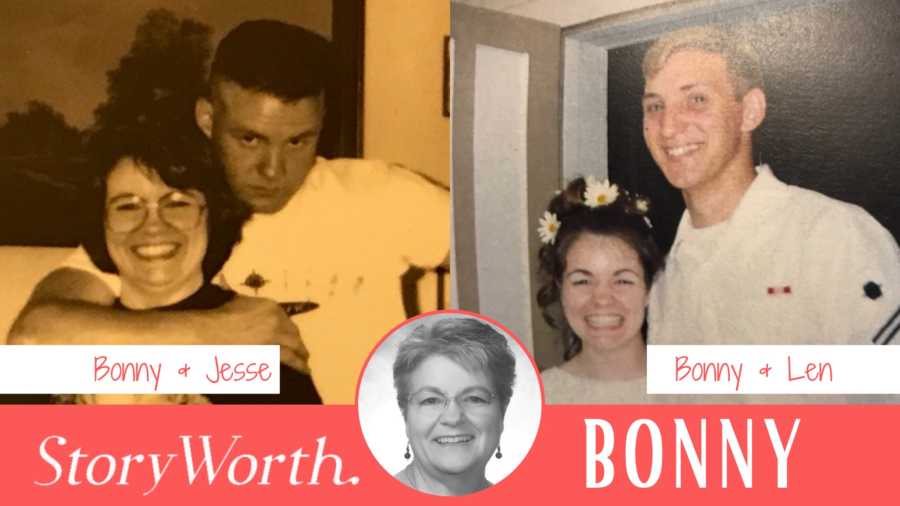 This story was created in partnership with StoryWorth and contains affiliate links to products. We may receive a commission for purchases made through these links.
Read more stories like this:
"Once Dad began telling his stories, that hospital room became a time machine – and he never wanted to stop.": Woman discovers lifelong memories from dad's 'glory days' after cancer diagnosis thanks to StoryWorth
Do you know someone who could benefit from reading this? SHARE this story on Facebook with family and friends.