"Until my father was diagnosed with lung cancer in 2016, I thought I knew about all of his biggest adventures. He grew up in a dirt-floor cabin in Appalachia; he became friends with a burgeoning country music star when he climbed a fire escape into their downtown Nashville recording studio; and he built my childhood home with his bare hands.
But when you spend weeks on end in hospital rooms waiting for news or tests or a cure, more stories have a way of spilling out. That dirt-floor cabin? He set it on fire when he was 13. The Nashville fire escape? He and his college roommate climbed it to escape from police after engaging in, what he described as, 'minor mischief.' My childhood home? He taught himself how to build it using a set of Popular Mechanics encyclopedias that now line my bookshelves.
I realized that there are more stories created in a lifetime than one can ever share. I wanted desperately to capture as many as I could and keep them forever – and, facing his own mortality, Dad was glad to tell them. That's where StoryWorth comes in.
StoryWorth, for all intents and purposes, is a service that helps our loved ones write their own autobiography one step at a time. That might sound like a daunting task, but StoryWorth makes it easy and fun. Here's how it works:
Sign up for a StoryWorth subscription. Users can purchase a subscription for themselves or for a loved one. (And right now you can save $20 because, honestly, is there a better holiday gift than ensuring a lifetime of memories isn't lost?)
Respond to question prompts. Each week, StoryWorth will email the recipient a prompt in the form of a thought-provoking question. If you buy this for a loved one you can choose from a bank of hundreds of pre-written questions, or you can customize your own. (I wanted to know more about that 'minor mischief,' personally).
Keep the stories forever. After one year, StoryWorth will compile all of your loved one's responses into a beautiful hardcover book that your family will treasure for generations. Users can also upload photos, design the book's cover, and edit responses as desired.
When Dad and I began writing down the tales of his glory days and laughable follies, that stifling hospital-gray room became a time machine. A spark returned to his eye and he laughed for the first time in weeks. And, most importantly, my family can read those stories and hold them close to our hearts forever.
Dad survived a successful surgery and has been cancer-free for two years. But once he started telling his stories, he never wanted to stop. Now he tells them as we work in the garden or repair the furnace and I've learned things that I otherwise never would have known.
For example: Why he named me after one of his ex-girlfriends (and how he kept Mom from finding out for 30 years); all about the pet cat he trained to sit on his shoulder and scare away the chickens that would attack him during his walk to school; and the time he was nabbed for throwing watermelons off an Ohio overpass.
You know, minor mischief.
You've probably heard that old Linda Ellis poem about 'living your dash':
I read of a man who stood to speak at the funeral of a friend.
He referred to the dates on the tombstone from the beginning…to the end.
He noted that first came the date of birth and spoke the following date with tears,
but he said what mattered most of all was the dash between those years.
For that dash represents all the time that they spent alive on earth.
And now only those who loved them know what that little line is worth.
I am so thankful that I now know what my dad's dash is worth. Don't let the incredible stories of the people you love slip away with time. Get StoryWorth and ensure those dashes are captured forever."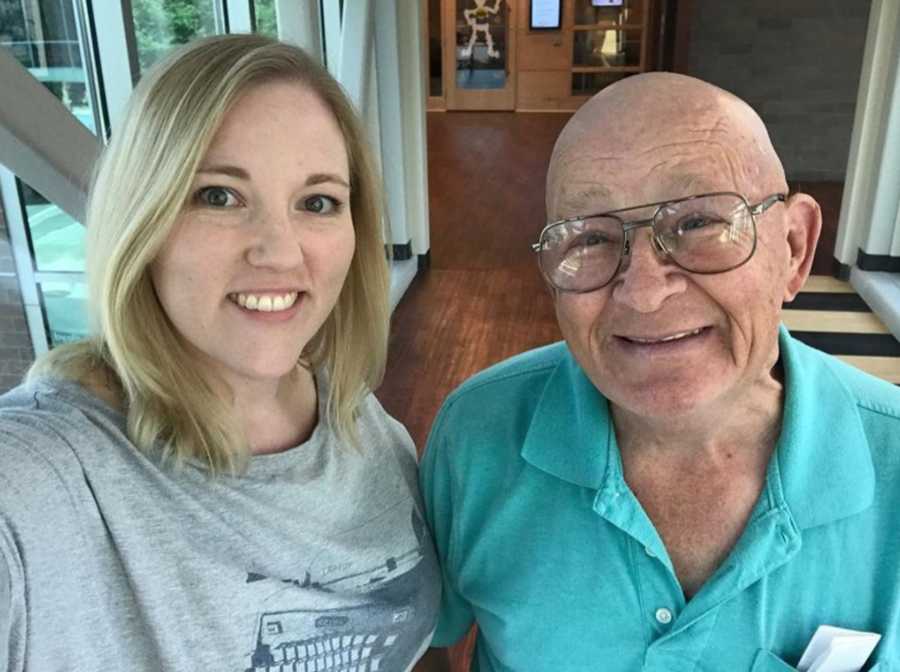 This article was created in partnership with StoryWorth and contains affiliate links to products. We may receive a commission for purchases made through these links.
This story was submitted to Love What Matters by Leslie Green. Do you have a similar experience? We'd like to hear your important journey. Submit your own story here. Be sure to subscribe to our free email newsletter for our best stories, and YouTube for our best videos.
Read more powerful stories like this:
'I have breast cancer.' I said on the operating table. The nurse wiped my tears. 'I know. And we have you.': Mom diagnosed with breast cancer 6 hours before giving birth to first child, 'This baby saved my life'
'Mommy, I've been scared to say this, but I have a big bump on my chest.' I lifted her shirt. Sheer horror!': 8-year-old girl diagnosed with breast cancer after both parents beat cancer, 'we are a family of fighters'
Please SHARE this story on Facebook to encourage others to cherish every moment and love what matters most.