"We were 13 when we met. He moved in next door to me and his first words to me were, 'We have 5th period math together.' I thought he was cute at that exact moment. We spent a lot of time together — baking cookies, swimming, and talking on the phone once it was time for us to come back inside from riding bikes around the neighborhood.
At 15, we held hands and he carried my backpack to our bus stop and then into our school. Once we got to school we went our separate ways because our educational paths were vastly different. We didn't run in the same crowd at all and we had almost no mutual friends. We were so different and yet so similar. We carried on with our lives and always found our way back to each other… the love he had for me has never been matched. The love I had for him, I have never felt again. Cell phones weren't the way they are now, so I have limited pictures of us at that time. I have our memories, but man what I wouldn't give to have a Facebook album full of us at that age.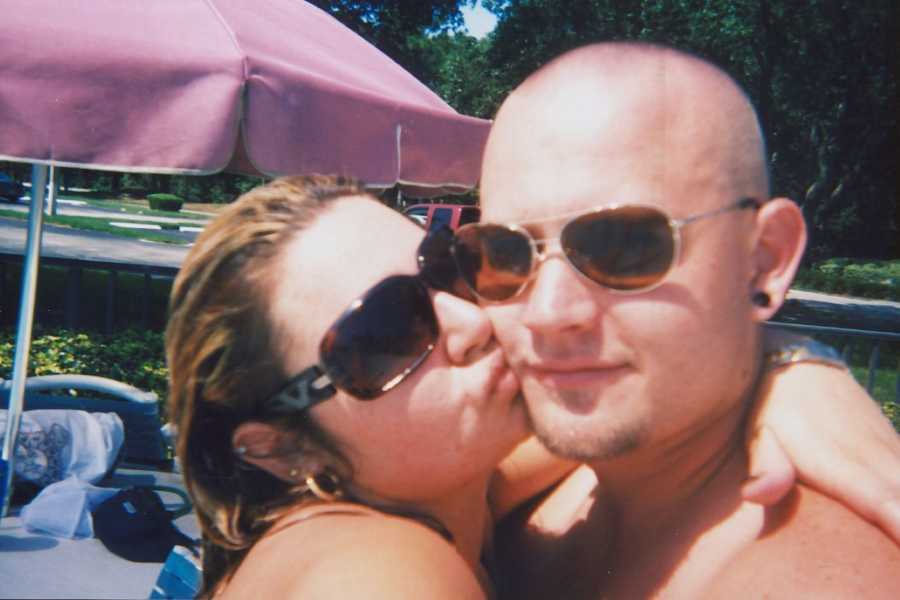 When we were 18, we went our separate ways. I went off to college in Tampa and he went off to work. Moving around from Texas, back to Florida, Washington, back to Florida again. Years passed. We would hear of each other or date each other for a few months, then he would leave again. I was stable, staying in the same area we grew up in. He was wild and free and never stayed put long.
One fateful night, we ran into each other at a local bar. It was like the Earth stopped, the music stopped, the lights were on, and it was just the two of us. We just stared at each other for a few moments, and then it seemed like the music started back up and the dark club became dark again and the people were everywhere. I went back to talking to my friends and that was that , for about 30 minutes… Then we crossed paths at the pool table.
We played a game of pool after 18 months of not seeing each other or even speaking. We still didn't say a word for almost the whole game of pool. Finally, one of us broke the stalemate (I don't remember who) and we started to catch up. Me speaking long, wordy sentences and him speaking in one-word answers and head nods (as usual). I was the chatty one out of the two of us. Everyone that knew us saw us together and didn't even bother coming over to interrupt us because they could see we were back to being one. That night we left the bar, stopped at the place he was staying, he packed all of his belongings and moved into my house. That became our house from then on.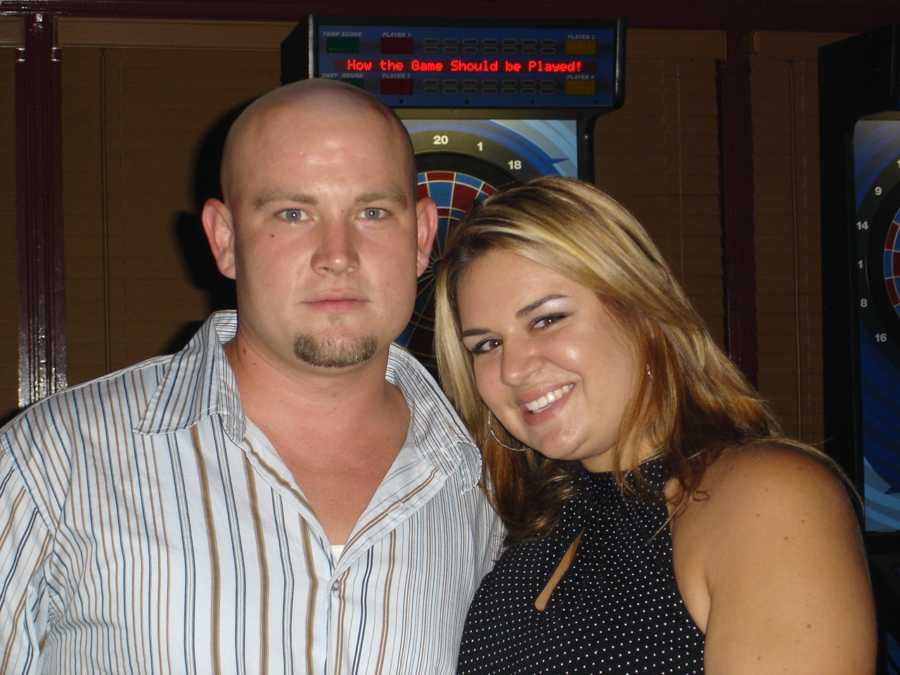 A month later we became pregnant. Telling him was easy and his joy was instant. We were on our way out the door to have lunch with my best friend at Applebee's. We took the positive pregnancy test with us to that lunch and I was waving it around and showing everyone. We were overjoyed. We came up with unique ways to tell each of our parents and everyone we knew.
We found out it was a boy very early on and picked his name almost instantly and we didn't waiver on it — Alexander Micheal. We didn't do a gender reveal or even maternity photos. I don't think either of us thought that would be our only child.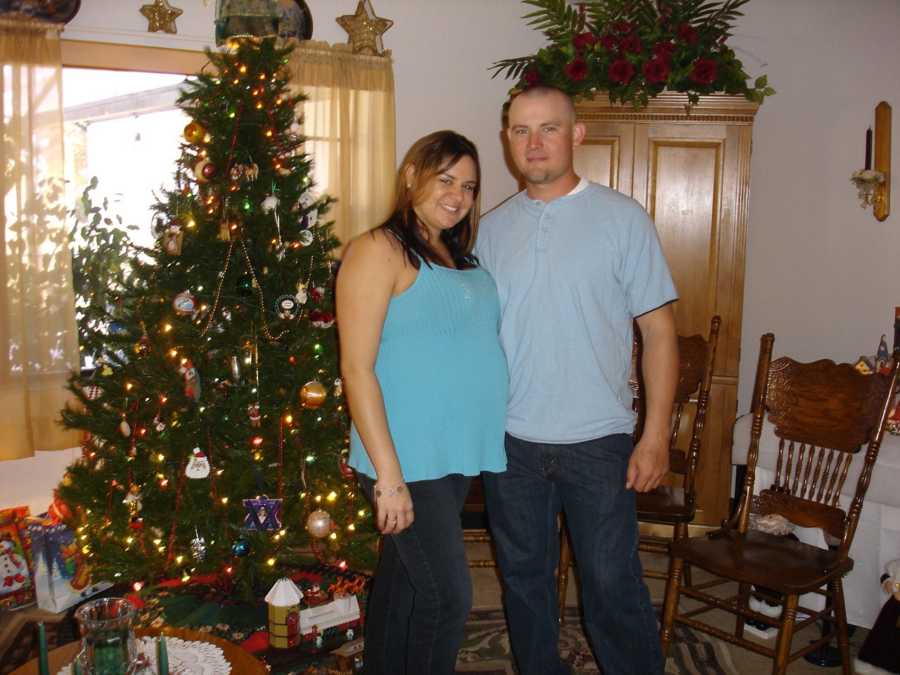 I had pre-eclampsia during the pregnancy and was on bed rest from 32 weeks on. Mike took care of everything. I broke my bed rest for our baby shower, albeit I sat the entire time as people just hugged us and congratulated us. He proposed to me at our baby shower. He gave me a dozen roses, and the ring was in a single red rose that he handed to me as he got down on one knee. I thought I was going to go into labor because I was so overwhelmed with happiness and emotion. The whole room was crying.
3 weeks later, our beautiful baby boy arrived. Mike was with me from the second we checked into the hospital until the second we checked out. He stood next to my bed for my entire 8-hour labor. When we were sent home 48 hours later, we sat on the couch and just looked at Alex and looked at each other and said, 'Now what?' Everyone was gone, the gifts were all unpacked and put perfectly in their places, we made it all the way to bringing the baby home… and 'now what.' Do I do laundry, does he go grocery shopping, do we go together? Literally… now what.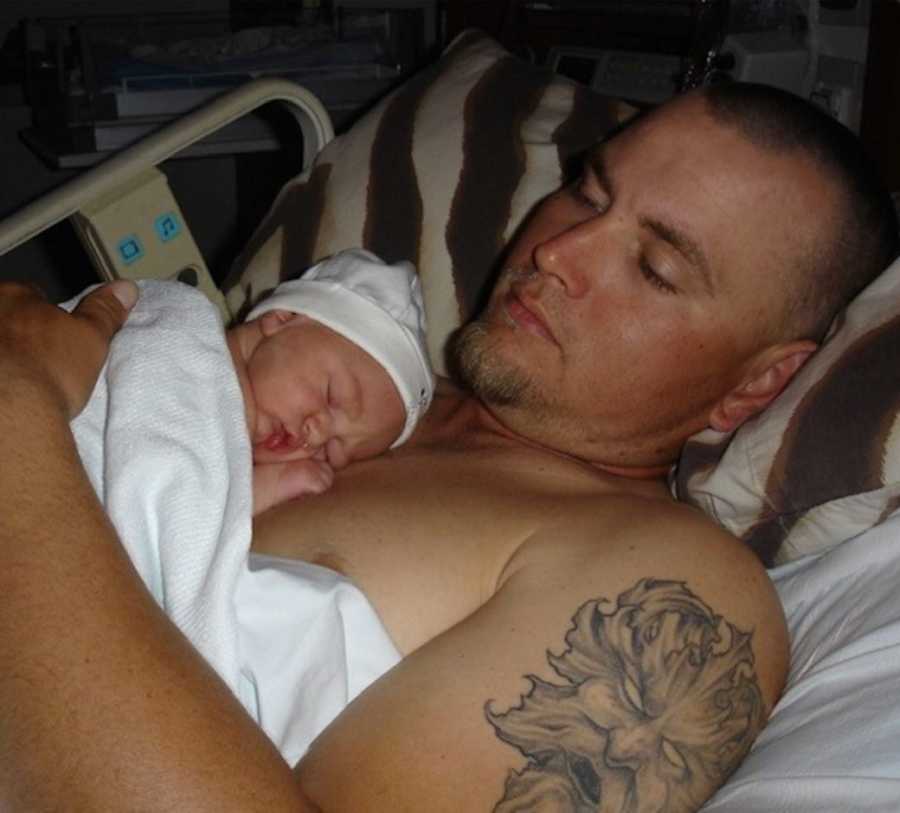 No one tells you about that part of bringing home a baby. I breast fed and I pumped. Mike would do one of the night feedings so I could sleep a little longer in between. Alex had colic from 8-10 p.m every night and Mike would hold him and comfort him. Because I would feed at 8 p.m. then sleep until I had to feed again at 3 a.m., Mike would take the 11 p.m./midnight feeding. On nights he didn't have anything pumped, Mike would bring him to me then take him back and change him and handle the rest so I could keep sleeping.
I wanted our son to have eyes like his, blue. Perfect — he got my eyes instead, but Mike said that was okay because I had the most beautiful eyes he had ever seen. Mike's blue eyes were my favorite color of blue eyes I've ever seen.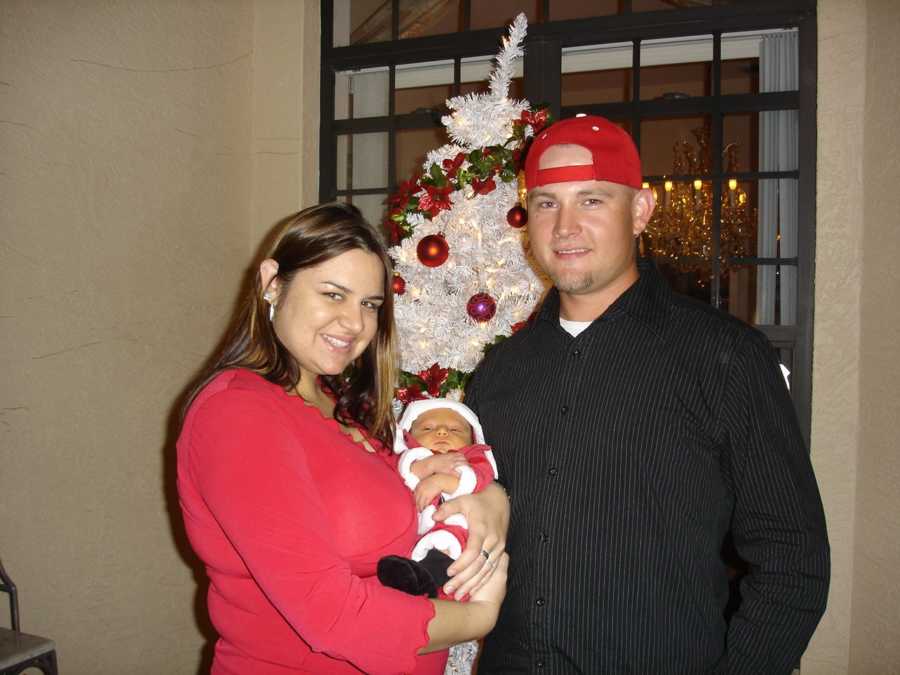 Our journey was fraught with very high highs and very low lows. We became pregnant again and wished for a girl — he wanted her to look like me. We lost her. That broke us. Losing her completely broke both of us. Instead of falling together, we fell apart. We separated and got back together again because I don't think we knew how to navigate our loss of that baby. Alex kept us together and kept us coming back together over and over. Our son gave US life even though we gave HIM life.
We did our best — he taught him to fish and to mow lawns. I never wanted anything to do with those guys fishing — that was man time. I wasn't going to be standing on a hot bank fishing. It just wasn't for me. Little do I know what I was in for. I have so many wonderful pictures of them bass fishing.
On Wednesday, December 7, 2017, I was teaching. My school day ended at 4 p.m. and around 2 p.m. my then mother-in-law was texting me nonstop. I would respond when I could, but she refused to call me or tell me what she wanted. She just kept asking me to meet her. I got sick to my stomach and I called Mike's phone. It went straight to voicemail. In that moment, I knew he was gone. I just knew it. The air was sucked from my world, and then I realized I had to tell my son. All of this was happening while I had a room of 3rd graders and I couldn't let on that something was seriously wrong.
I got home and Alex got home. I didn't say anything. My mother-in-law showed up with Mike's best friend and by the looks on their faces, they didn't have to say anything. I sat down with my son and told him his dad went to heaven. The next 3 days were a blur. Friends brought over meals, people came over just to come over and I don't remember much. I do remember going to my school to pick up my computer and I was a walking zombie. Alex wanted to try going to school that Friday. He made it halfway through the day.
He had his 9th birthday party that Saturday, December 10th and he refused to cancel it. We had the party at a therapeutic riding horse farm. Ironic, right? That party was a break. 100's showed up. That party started Alex's relationship with the farm, Kiddy Up Therapeutic Riding Farm, where he started equine therapy that very day. That farm would eventually save our lives and our sanity. Alex started riding and volunteering and we would go 3-5 times a week. Some days, instead of going to school, Alex would wake up in the morning and ask me to take him to the farm. I never argued; I would pack him up and we would spend as much time as he wanted with the animals.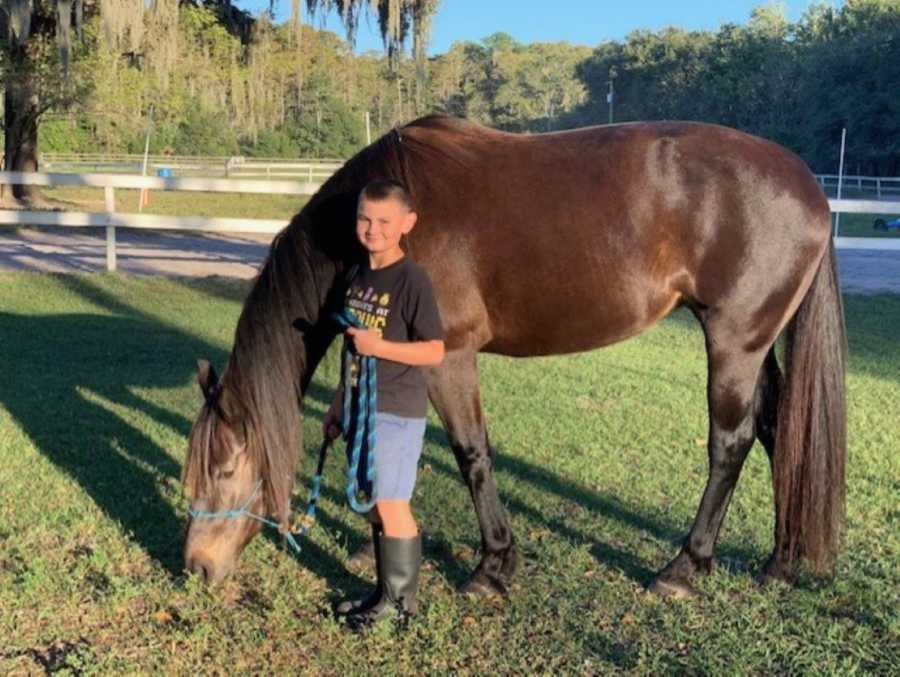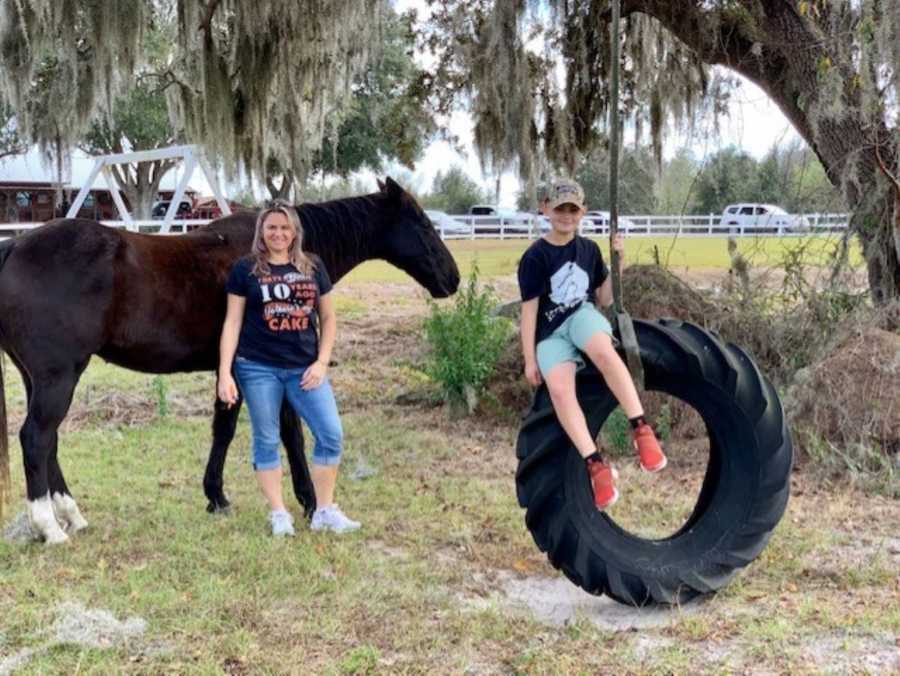 While the farm saved us, I had a nagging realization that my son would never fish again. I hated fishing. It wasn't for me and I didn't know how to fish, either. So, I turned to social media. My full-time job is social media, so I knew its power. I turned to the Tampa Bay Fishing Club to search for someone to take us fishing.
I literally just posted, 'Hey, I'm a single mom with a 9-year-old and I want to take him fishing.' People suggested we get a charter captain to take us out; I wouldn't have to touch anything or have any knowledge and it would satisfy Alex's needs. I booked a charter and it was cold and we caught almost nothing. When we got off the boat, I was so upset and Alex was glowing; he told me it was the best day ever! He had spent the day playing with the bait fish, learning how to throw a cast net and learning how to cast. The captain is now one of my best friends and has since taken us fishing many times where we have caught some amazing fish.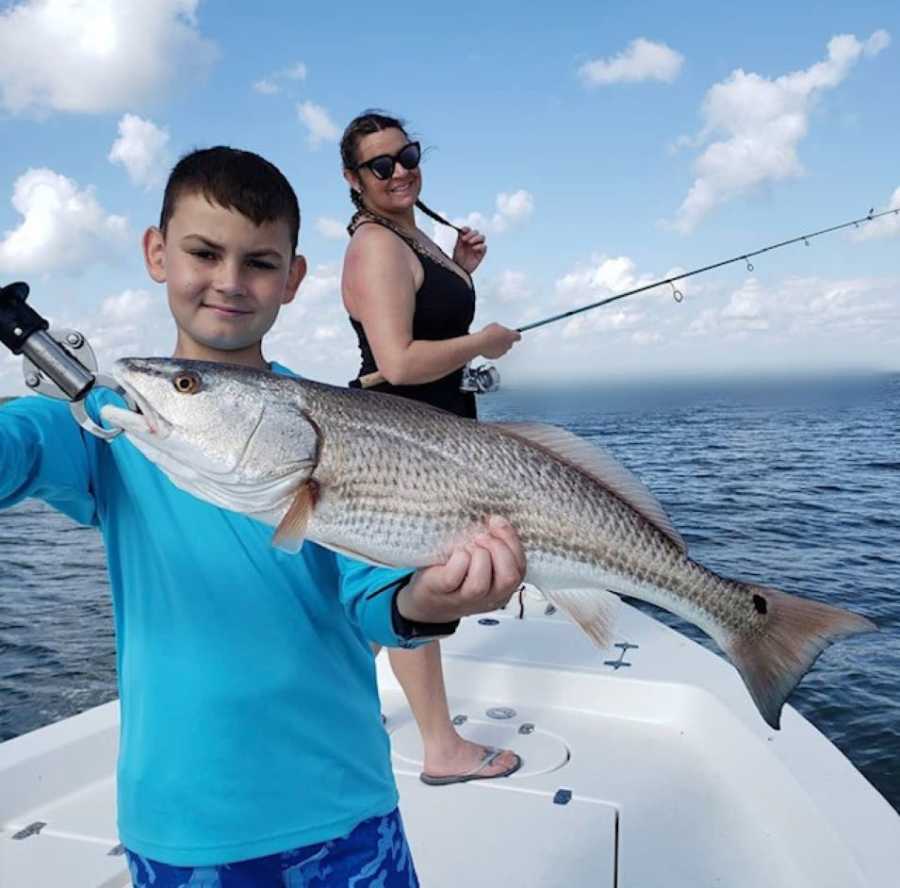 Since Alex was so happy with that, it started me booking charters in different areas and for different kinds of fish. And would you believe I started to enjoy myself? Fishing suddenly became SO MUCH FUN and it became OUR thing. Bass fishing on the lake is still his dad's thing but this, this was MINE.
I got so into fishing I am now on the board of Tampa Bay Fishing club and Alex and I have been featured in Florida Sportsman Magazine. I help organize kid's fishing tournaments where Alex helps other kids cast and bait their hooks and catch fish. I see other single moms with sons who don't know what to do and I think I give them hope.
The best part of all is Alex has gotten positive male role models out of this and he sees that mommy can do ANYTHING, which means so can he.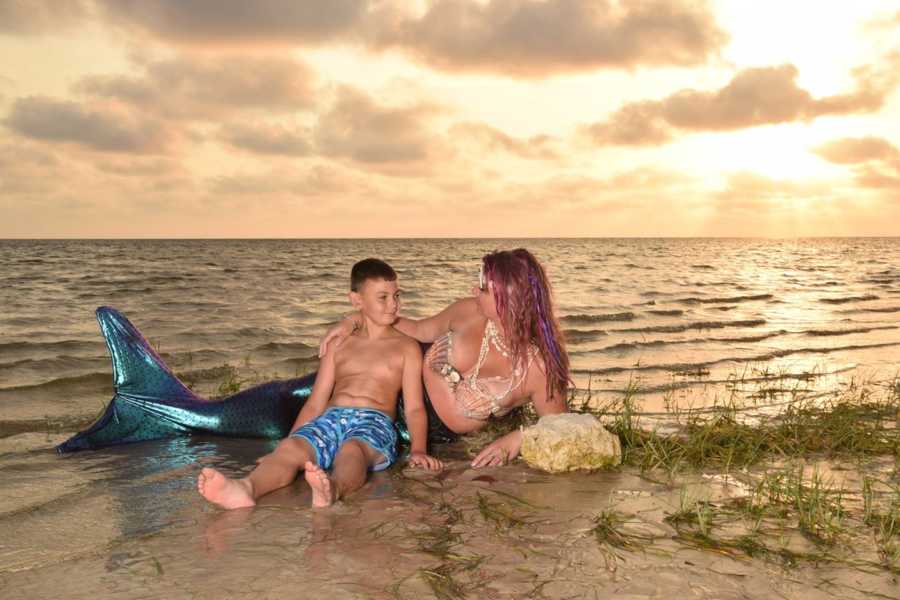 The Farm and the Fishing communities have saved us. Our bond is unbreakable. You won't find me without him and vice-versa. We also take days to go on adventures because memories are more important than work and school. The work will be there when you get home, the ability to go zip-lining or kayaking won't.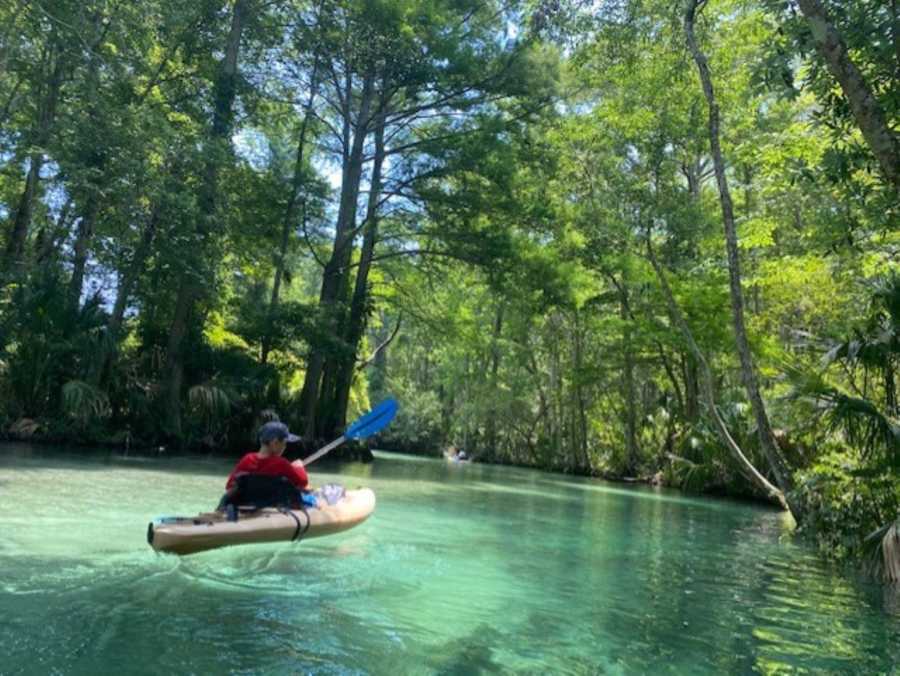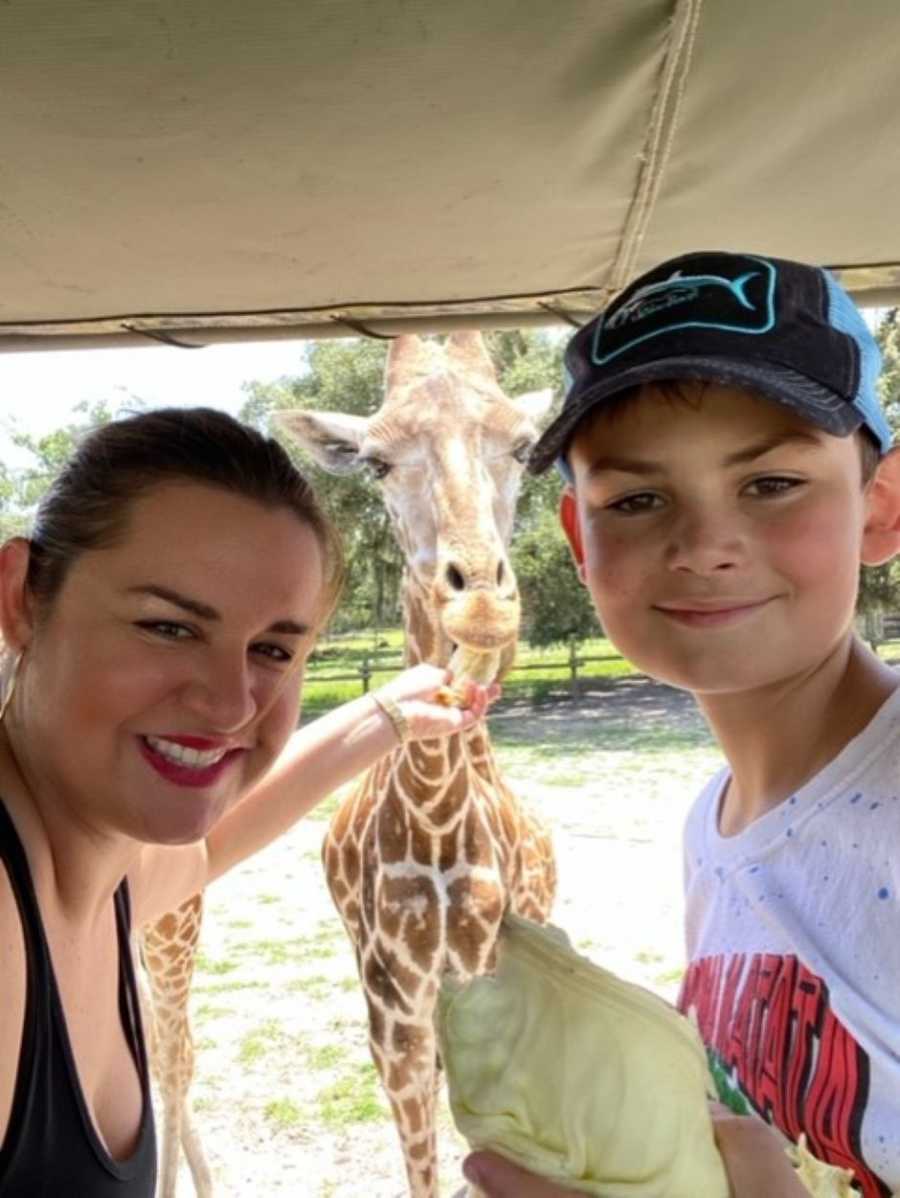 We learned to get up and go. Not to take anything for granted and most importantly to take the picture! Pictures are so important to us now. Healing isn't linear — I cry often, I laugh often, Alex and I fondly remember his dad constantly and we laugh and we are happy for the memories.
Alex is his clone. Sometimes it's like seeing a ghost. It's a ghost I love to see."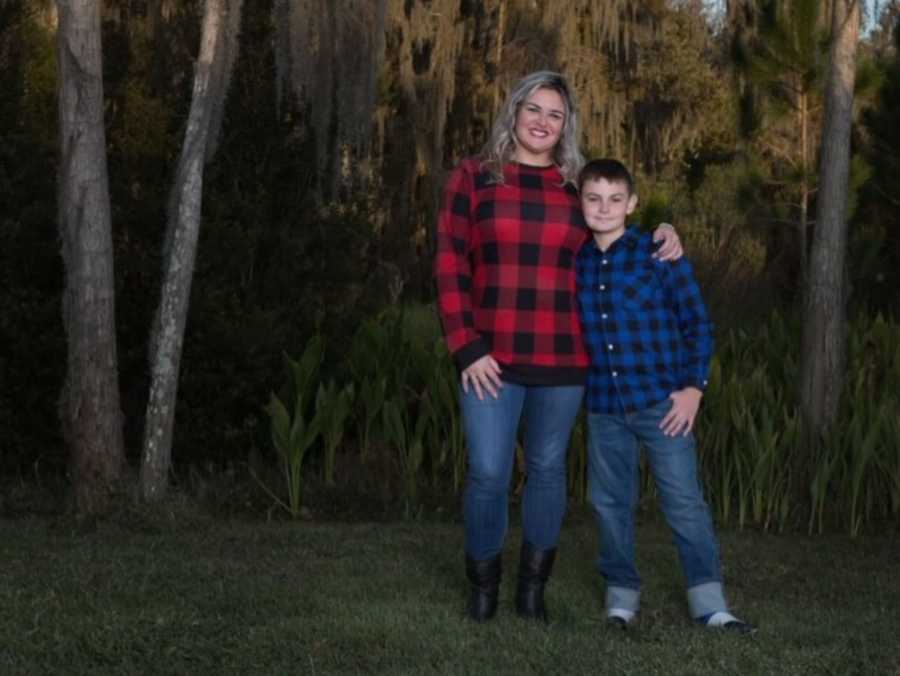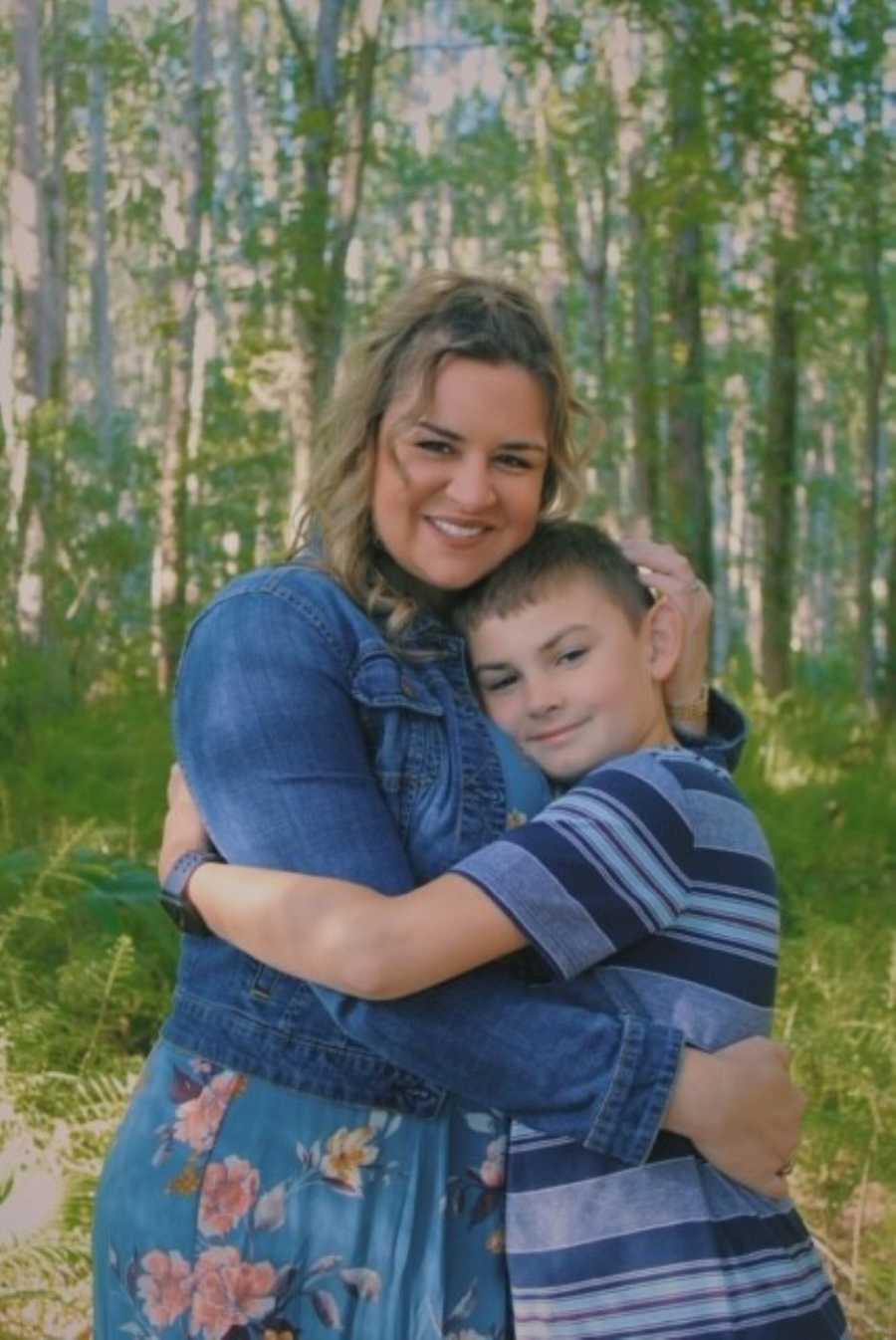 This story was submitted to Love What Matters by Elizabeth Haigh-Devine from Tampa, FL. You can follow their journey on Instagram and Facebook. Do you have a similar experience? We'd like to hear your important journey. Submit your own story here. Be sure to subscribe to our free email newsletter for our best stories, and YouTube for our best videos.
Read more powerful stories like this:
'Hang tight. He is on his way, and is beyond your wildest dreams.' A week later, I met the man who would be my fiancé.': Widow embraces love after loss after late husband dies tragically in 'mock robbery'
'I'm mesmerized by your blue eyes.' I laughed. It felt as if we knew each other 100 years.': Widow shocked to find love after loss in stranger on a lake, is now pregnant and 'forever grateful to be loved by two amazing men'
Do you know someone who could benefit from this story? SHARE this story on Facebook to let others know a community of support is available.