"Earlier this week, a version of myself from the past showed up to haunt me.
She was a version of me from six years ago.
She was 60 pounds lighter.
She ran 5k's.
She could lift heavy weights and was super strong physically.
She spent 12-14 hours each week at the gym.
The gym was her social life.
She was a size 8.
But she wasn't a happy girl.
She was scared to pursue her dreams.
She let toxic people have access to her heart and her life.
She hated herself.
She was fake.
She was lost.
She questioned often whether life was worth living.
But that girl showed up the other night like she was some better version of me, a version I should strive to be again.
And I fell for it.
When my son invited me to go to the gym with him, all I could think about was the other version of me.
I told him I couldn't go – I couldn't go until I was closer to the old version of myself.
How could I start working out in public, where there are people who can see me, when I'm not the other version of myself?
I need to just stick my with knock off at-home Peloton workouts, where the world doesn't have to see me.
And, as teenagers are so good at doing, my son called me out on my bulls–t way of thinking.
And I needed it.
Because then I remembered who I really am.
The version of me today sure looks different than that other version – but she's not less worthy.
She's not a version who should make me feel shame.
She's not a version who should make me feel embarrassed to be seen lifting weights in public.
She's not a version who deserves to be judged.
Yes, she's a version who is heavier.
But she's also a version who is more authentic.
She's a version who is happier.
She's a version who has healthier boundaries.
And she is so deserving of love and acceptance.
Just because sometimes our harshest judgments come from within doesn't mean we have to listen to them.
So, I took a deep breath, told that other version of me to go back to where she came from, and I went with my son to the gym.
And then I signed up for a membership.
Because we should never become our own bully.
And we all deserve to give ourselves permission to be flawed and real – and happy."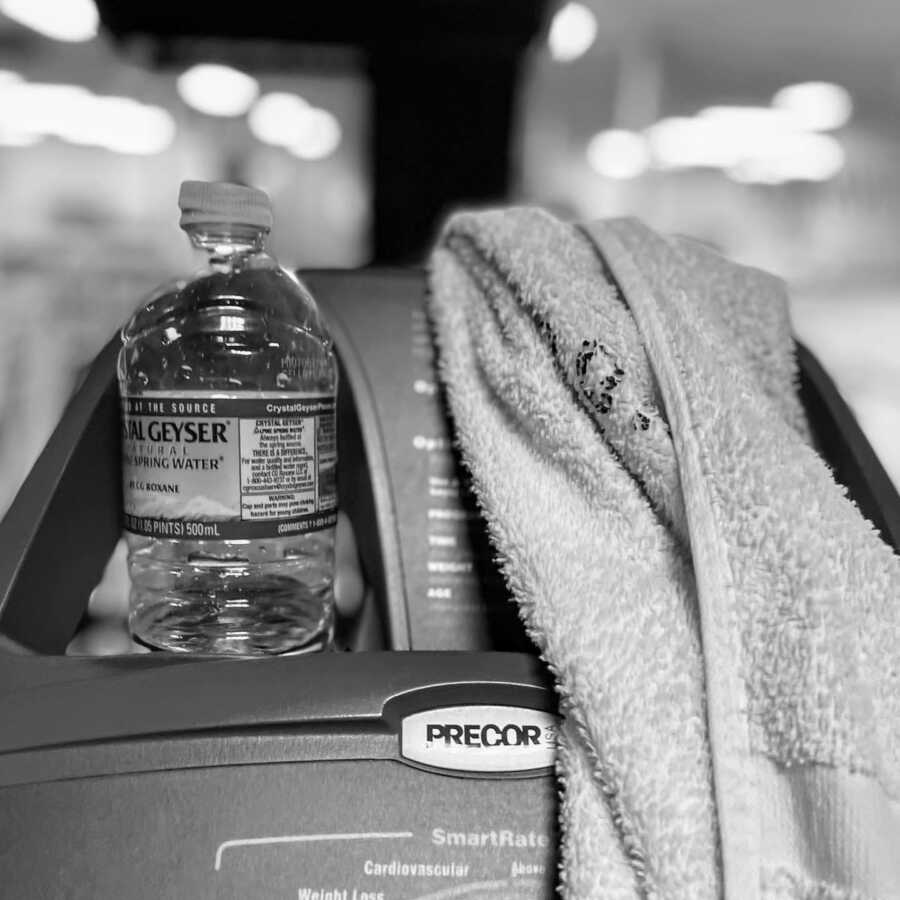 This story was submitted to Love What Matters by Jenni Brennan. You can follow her journey on Facebook, Instagram, and her website. Submit your own story here, and be sure to subscribe to our free email newsletter for our best stories.
Read more stories from Jenni here:
The 'Perfect' Family Is A Myth, And It's Time We Realize It
Walk Away From The Things And People That Drain Your Energy—Even If It Feels Too Hard
'She helps me see hope in the chaos. She silently encourages me to be my true self. She reminds me I am worthy of love.': Woman learns to embrace authentic self 'without judgement'
Next Time You Walk Into A Room And Panic About Someone There Not Liking You, Remember This Secret: It Doesn't Matter
Provide beauty and strength for others. SHARE this story on Facebook with your friends and family.