"Parents of graduates, lend me your ears.
Your kid did it. Allow yourself a moment to celebrate even if this looks nothing like you thought it would.
I see all sorts of kids in my school travels and every single kid is worthy of celebration.
Your kid may be crawling over the finish line with bloody knuckles while you raise a white flag, but it doesn't matter, they did it. They. Are. Graduating.
They may not have gotten a single award or accolade.
They may have had to remind you that a D is passing.
Doesn't matter – they did it.
They may not have a single photo to post surrounded by a group of smiling friends.
They may be unsure about where they are going next.
They may not have loved every minute of high school.
Doesn't matter – they did it.
They may not have a letter in a sport or have taken charge of a club or have gotten the lead in the play or even joined much of anything.
Awards and accomplishments are great, but man, there is so much more to celebrate. So. Much. More.
Seriously, there should be an award for the student who sat with the lonely kid in the cafeteria each day.
Or that was the lonely kid but kept showing up.
Or the one who spent the last year learning online and even occasionally turned on their camera so their teacher and classmates could see their face.
Or for the kid who worked their butt off for the C in math class…every bit as hard or harder than the kid who got all the A's.
Or for the one that faced anxiety day in and day out and endured mental health struggles no one could even see.
In absence of these awards, we just need to remember to celebrate the heck out of all they accomplished, whatever that looks like for each of our students.
They ran their own race and they are getting that diploma and THEY DID IT.
This may also be a good time to remind them that not once in my life have I ever been asked about my time leading the student council. Not. Once.
No one has ever cared a bit I never ran in a track meet.
I've never asked anyone how many awards they received at senior awards night or if they were on the prom court.
Because not one of these things matter to us as grown, human adults.
Our kids are going to walk across that stage and get their diplomas no matter what they did during the last four years.
My prayer is the kids leaving our schools are more resilient, kinder, and more thoughtful than when they went in. I hope with my heart they know to look for the underdog and root them on….and actually the best supporters of the underdog are those who have been underdogs themselves.
I dream they are ready to go into the world and find their place in it without comparing themselves to a single other person. Please, dear Lord, let them be ready to join us all in making the world a better place, we need them so.
And I hope when they get that diploma in their hand they will feel deep in their soul that they own this accomplishment. They did it…even if their doing it looks nothing like medals hanging from their necks or certificates hanging on their walls.
Their battle has been their own. And we should be just so darn proud of every single one of them."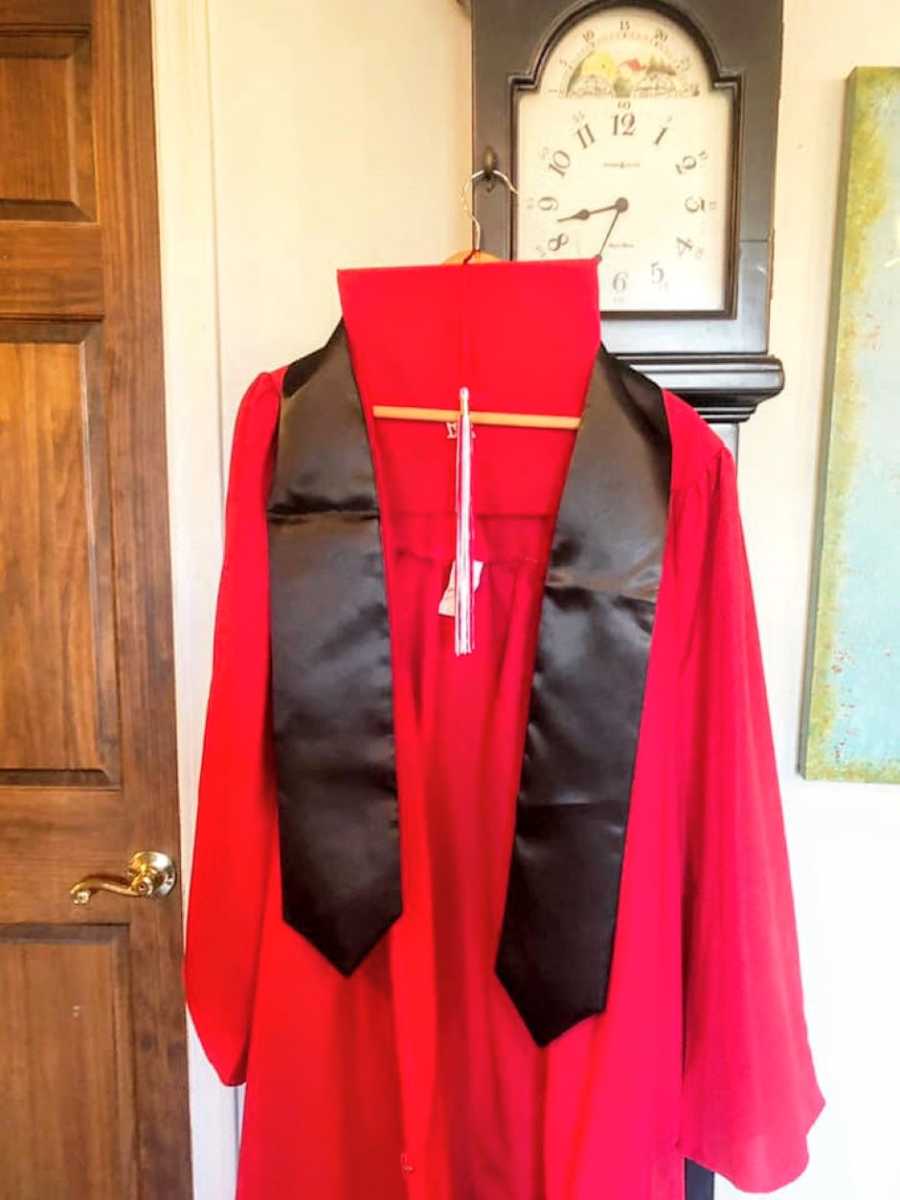 This story was submitted to Love What Matters by Hiding in the Closet with Coffee by Amy Betters-Midtvedt. Follow Amy on Instagram here. Submit your own story here. Be sure to subscribe to our free email newsletter for our best stories, and YouTube for our best videos.
Read more from Amy here:
'This is what your knight in shining armor looks like in your 40s.': Woman urges to younger generation 'watch how he treats you when Instagram isn't looking'
'5 kids? You know how this happens, don't you? Did you have all 5 on purpose?': Mother of 5 children says despite the struggles, 'these kids still run to hug me when I get home'
'We left the hospital this morning with an infant and apparently drove directly to the Target college shop.': Mom swears parenthood does 'legit' go 'that fast'
'Dear last child, I owe you an apology. Your older siblings sucked the life out of us. We're bringing you our 'B' game.': Mom apologizes to her 'last born child' in touching letter
Do you know someone who could benefit from this story? SHARE on Facebook or Twitter.