"I might hold you a little bit too tight.
For the next few months as your excitement grows and your plans unfold, please forgive me if I hold you a little too tight.
I look at you and still see the sweet baby I first held in my arms on the day I became a mom. I see the wonder of your face and feel the weight of the gift of you in my arms still.
I see you heading off to kindergarten just yesterday with your hair in pigtails, ready to take on the world. I remember the tears it took to brush your hair into those pigtails and wonder if I should have just let it go.
I see you so proud after losing your first tooth and I can still see you wiggling the rest so they would fall out quickly and you could collect more cash.
I see your head bent over your first homework at the kitchen table. So proud to have work to do at night like a big kid.
I see you riding away from us down the street on your first two-wheeled bike…the wind in your hair and your smile lit up with your first taste of freedom.
I see you giggling with girl friends, crying when friends disappointed you, leaning on your siblings as the friends who will always be by your side.
I see you taking on the awkward years of middle school, finding your way and starting to break free. I see you taking the stage as you always dreamed you would.
I see all these years of high school that went by in a blink, just like every single person said they would. All the moments on fast forward as I struggle to slow them down.
I might not be ready, but you, my sweet girl, are. I see it clearly now as you make decisions for yourself about your future. As your eyes light up with the possibilities. As you push your fear aside in favor of grasping the what if's.
So forgive me if I hold on just a little too tight. It just all went so fast…faster than I could have believed it ever could.
All the moments that seemed to last forever I see now were just a blink. And I don't want these last ones we have together to rush past us like the others did.
But I know they will…and yet it makes me feel better to hold on just a little too tight.
My heart is willing to be fooled if you'll just play along. And someday, when you're off on your own, I hope you remember you're still not alone.
I'll still be here, holding on just so tight to the beautiful memories you have given us."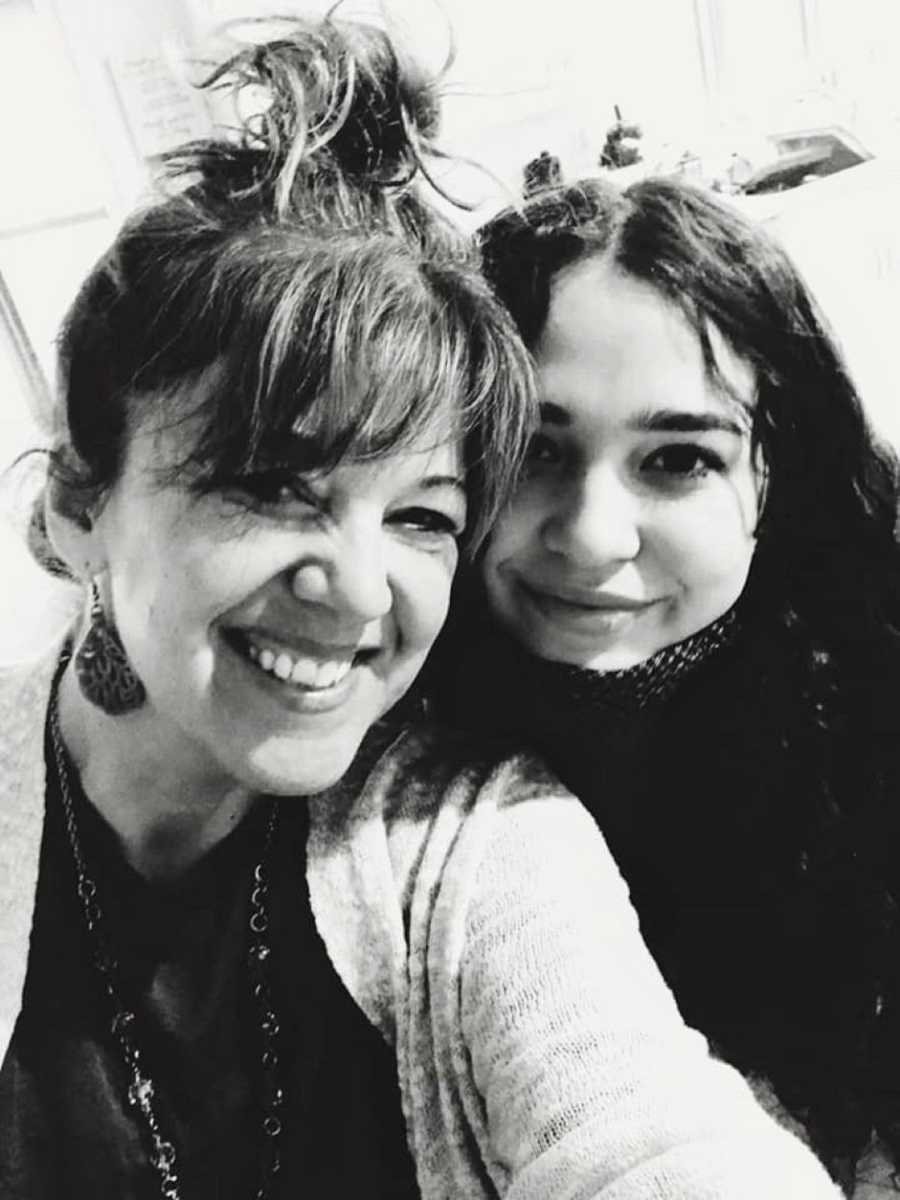 This story was submitted to Love What Matters by Hiding in the Closet with Coffee by Amy Betters-Midtvedt. Follow Amy on Instagram here. Submit your own story here. Be sure to subscribe to our free email newsletter for our best stories, and YouTube for our best videos.
Read more from Amy here:
'They used to line up to watch me leave. 'Don't forget to beep and wave!' they'd yell, 5 little faces pressed up against the glass.': Mom realizes she's now alone as it's her children who are leaving
'The plan came out for school next year. The younger two simply said, 'What are my friends doing?': Thinking about back to school, Mom says, 'Ask your friends how they're doing instead'
'Didn't think prom would be breaking it down in the cheese isle of festival foods with my father, but it was a good time.': Father treats daughter to fun night after missed prom, 'We can't make up for their losses, but we can love them through it'
'I just found a giant bottle of vodka in their closet, so I'm pretty freaked out.' Parenting teenagers makes us into liars. We show the shiny side. We can no longer spill our guts.': Mom says parents to teens 'need a village more than ever'
Do you know someone who could benefit from this story? SHARE on Facebook or Twitter.