"I looked around while standing in the security line at the O'Hare International airport.
Time to go home. I was only here for 24 hours. Not even, really. I attended an amazing event for an amazing cause and slept through the night. I call that a successful trip.
My hands were full, as they usually are. I was juggling my 2 bags, ID, cell phone, and cup of coffee.
I always get nervous in the security line. Like I'm breaking some law I didn't know about. I picture myself getting pulled aside for some random object one of my kids hid in my bag. Like, I swear that's not my nerf gun officer.
Anyhow, I saw people in masks. That coronavirus is no joke.
I saw old people and young people. Impatient people. Crabby and happy people.
Then I saw him. He was tall. Taller than me. He was 15 or so people ahead of me. Just out of reach for me to hear.
He was pacing. As much as he could of course being in line to go through security. He was looking down. And fiddling with his hands. Like my Cooper does. He had bright yellow noise canceling headphones on.
He stood out.
I immediately smiled. I looked for his parents. They were next to him. Kind looking people with kind smiles.
I was in awe.
One of my dreams is to take my son to the airport. Oddly enough, one of my greatest fears is taking my son to the airport. They were doing it.
I was mesmerized. I was worried for them. Would people be kind?
I watched the dad say something to the TSA officer checking passports. The dad walked though. The young man waited, every few seconds trying to step forward. His dad stood in front of him, facing him, on the other side using his hand to guide him back. I saw him talking. I'm sure explaining.
Please be kind, I thought. I was actually holding my breath for him.
No smiles from TSA. No nonsense. But he waited. This boy. Man, I guess. Who reminded me of my Cooper.
And then he was ushered through.
Shoes off. Bags into bins. The parents helping him. The young man pacing but staying close.
I heard the TSA say, 'Does he have any metal in him or on him? What about those headphones?'
The dad reached for the headphones. The young man covered his ears.
And then they let him keep them on. Through he walked. No problem. Thank God.
I willed the line to go faster so I could talk to them.
Once through, shoes not even on, I practically tripped as I searched for the family.
I walked right up to them.
'Hi, my name is Kate. Is this your amazing son?'
'Yes. This is Phillip.'
I turned to him and waved. He waved back. 'Hi, Phillip. My name is Kate. How old are you?'
'17,' he said.
'You did an amazing job, dude.'
The parents and I chatted for a minute. About my Cooper. About Phillip. It was like we'd known each other for years. Because of autism. See, when you meet a parent who gets it, who has lived the same life, there is no explaining or justifying. Only understanding.
I told them about my fear of airports for my son. But more importantly, my fear of unkind people. They told me to do it anyways. Travel. Bring him, they said. You can do it.
We chatted about headphones and adult strollers. About standing out and not blending in. About the feelings that go into using them.
Then the dad said something that I will carry with me.
'It's about the quality of life for our kids AND for our families. Take the help. Use the stroller. Use the headphones. Use anything that can help our kids.'
I ended it by telling them what a great job they were doing. And thanking them for showing me the way. And the future.
As I sit here, waiting to board, I'm reflecting how last night I tried to mingle with people and froze. I didn't know what to say about the weather or the recent Super Bowl. I felt out of place. But this morning, I chased a family with a boy wearing yellow headphones, just to say good job and thank you.
I often say I live in two worlds. I know where I feel the most comfortable.
I love finding autism, my son's autism, out in the world. Look for your people. They will show you the way."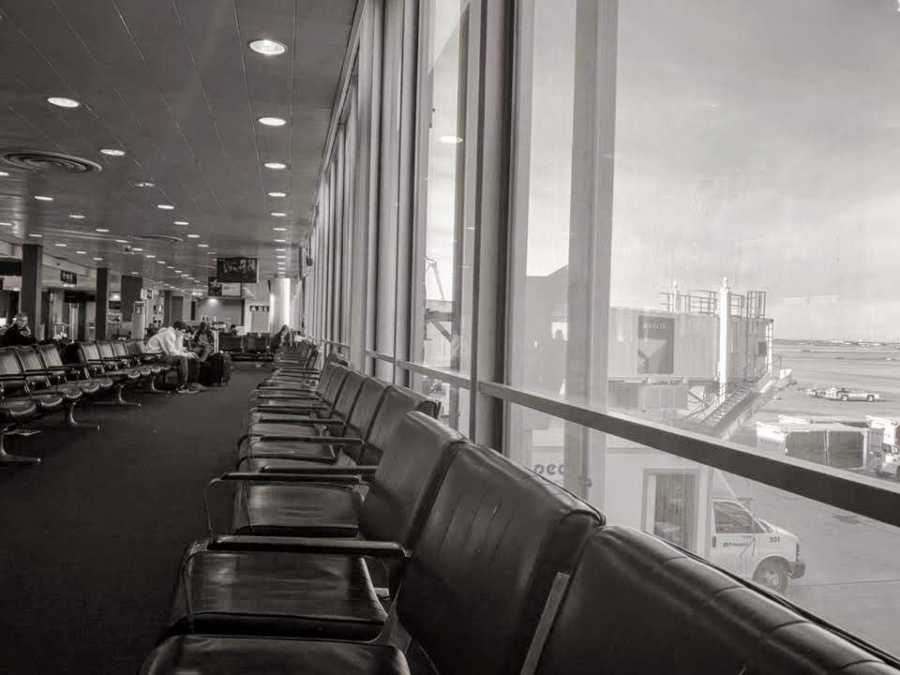 This story was submitted to Love What Matters by KT Swenson. You can follow her journey on Facebook and Instagram. Submit your own story here, and be sure to subscribe to our free email newsletter for our best stories.
Read more from KT:
'A man who sits in the trenches with you and never leaves. I'd like to see that on a Tinder profile.': Woman pens appreciation letter to husband who 'never gave up hope'
'My son makes fun of the autistic boy in his class and it's hilarious!' You could hear a pin drop. We stopped our giggling, and turned to her.': Mom of son with autism raises awareness about adult bullying
Do you know someone who could benefit from reading this? SHARE this story on Facebook with family and friends.