"I met my daughter when she was two. I was 26 and in the small, coastal nation of Liberia, West Africa for the first time. Newly divorced, I had decided to travel and had chosen to go to Liberia to do volunteering. I planned on staying for two weeks but ended up falling in love with the people and culture and stayed for almost five years. Liberia was like nothing I could have prepared for. It was tragically beautiful, and I'm still a bit unsure of what to do with all the hard lessons I had to learn because of it. I learned about corruption, child trafficking, and institutional abuse. I learned about the hidden dangers of non-profit work that hurts more than helps.
When I left in 2014 amidst the Ebola outbreak, I had been diagnosed with complex PTSD and was suffering a mental break. Liberia was hard and in many ways, it wore me down. Yet when I look back at that season of my life, I have so many good memories too: of hot sun and red mud and breezes rolling in from the Atlantic, of sweat and sand, dirt under my fingernails, a gulp of cool water. I remember toothy smiles and weathered skin, handshakes with snapping fingers, a kiss on both cheeks, brightly colored cloth, little hands clawing at my legs.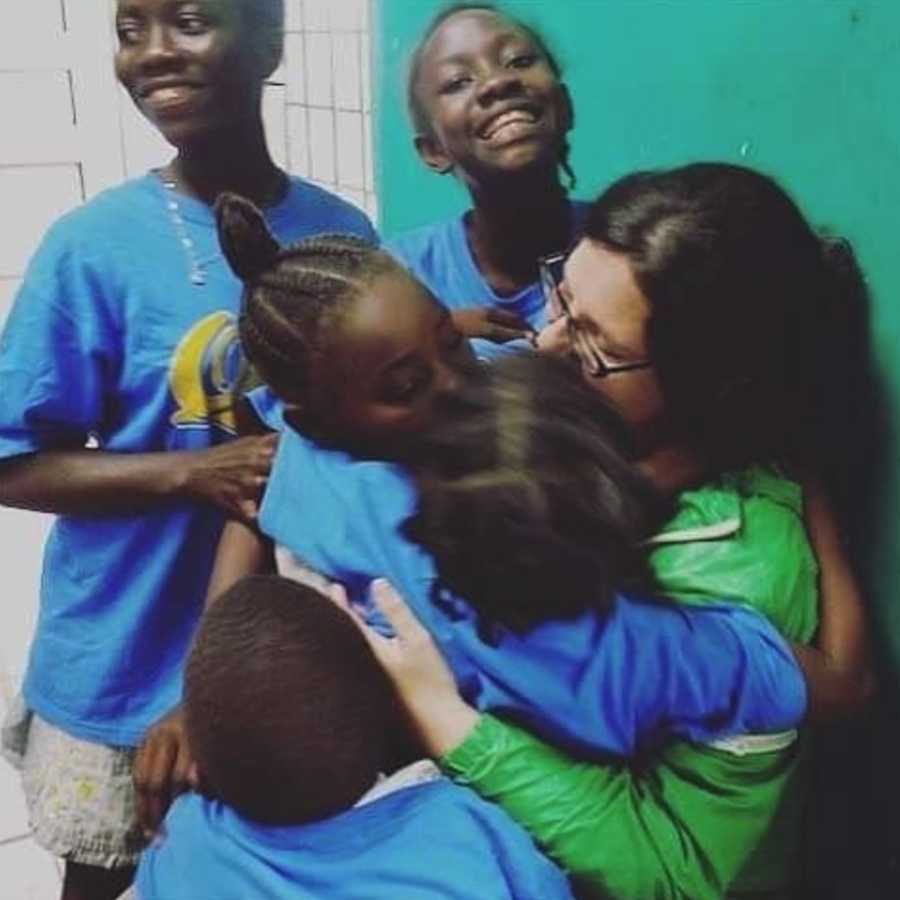 And Jumah. Small, with tight braids and big eyes, she nestled her head against my neck. I was instantly smitten. I couldn't have known it then, but that was the beginning of a story, our story, that would culminate a whole decade later. During my years in Liberia, I worked in various orphanages, Jumah's being one of them. I managed a mentorship program in which local mentors and I would meet with the kids regularly. At the time, she was living in a bombed-out radio station turned makeshift orphanage. My team and I, we fought hard for those kids, the ones at her home. There were feeding programs and medical care, and after a while, construction of a new home, one that had all its walls and a full roof. I can still remember the day we had the opening ceremony for the new orphanage, the kids cheering excitedly upon sight of their home. I remember Jumah's dress, the green ribbons in her braids, her dark eyes taking it all in. I remember fitting her for a new outfit at Christmas, how she'd run her fingers through my hair and marvel, 'It soft-o!' under her breath, how she'd sit in my lap on Tuesday afternoons with a smile on her face.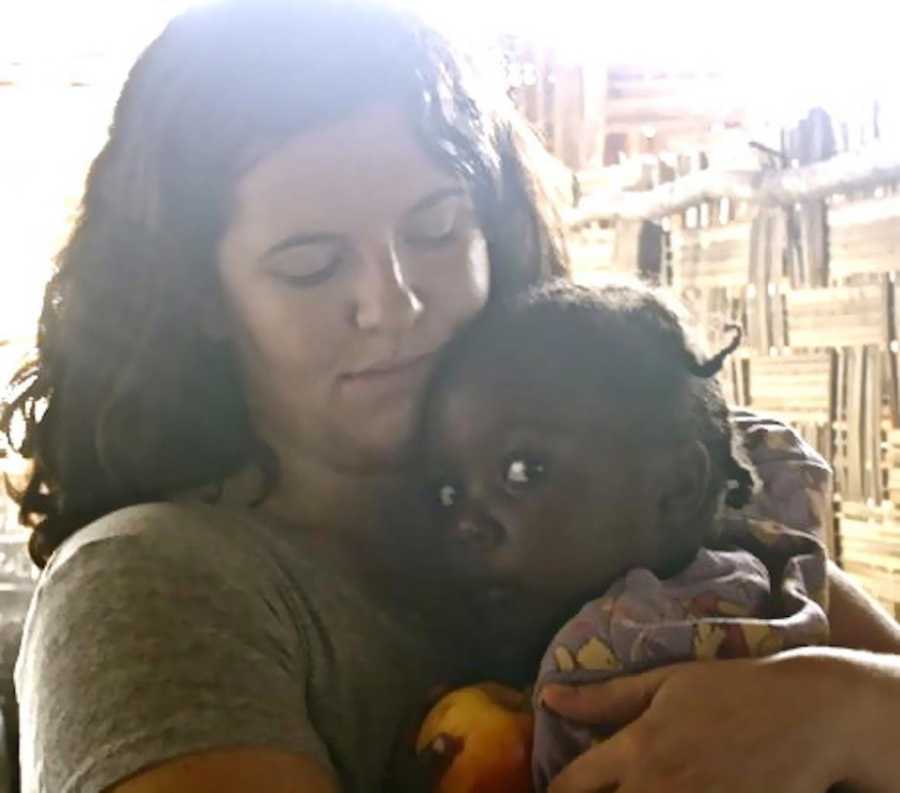 When I left Liberia, my goodbye to her was the hardest. She was still young, only about seven, and her short life had been filled with so much transition. I hugged her and told her I loved her and I would never forget her. It was July 27, 2014. My son would be born two years later. August 1, 2017, started out as an ordinary day. Atticus woke around 6:15, his cheerful chatter acting as my alarm clock over the baby monitor plugged in beside my bed. We ate French toast sticks and peach slices for breakfast, read a story, got dressed. We went to his pediatrician's office for his one-year checkup. He got two vaccines and a clean bill of health. He fell asleep in his car seat about two minutes after we started the drive home. My husband and I hushed our voices in the front, whispering to each other about dinner plans for the evening and how cute Atticus looked in the neon shorts he was wearing.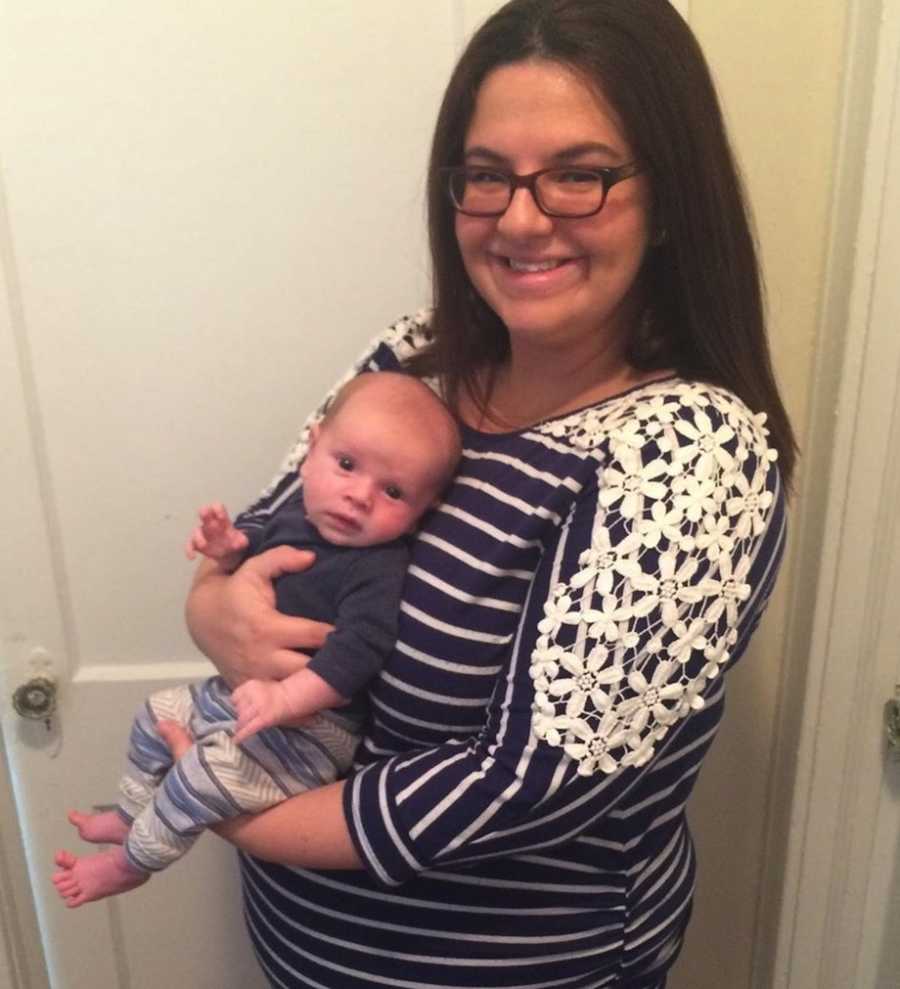 And then I checked my phone. My heart caught in my throat as I skimmed the paragraph, an update from Liberia. Words jumped out at me as I stared at the screen in disbelief, saw a picture of Jumah. Probable tumor in her eye. Untreatable in West Africa. High probability of spreading. I enlarged the picture, saw the white spot that had completely taken over her left eye. She no longer looked like the Jumah I remembered, the girl whose giggle sounds like sunshine, the girl I'd held and rocked and kissed for the majority of my five years overseas. By that point, she had begun losing vision in her left eye, and all the doctors she'd been to in Liberia said surgery there was impossible. There were too few resources and too many risks. The orphanage director had tracked down her birth family, but they were not interested in reunification.
At a loss, the director had messaged me, knowing the relationship Jumah and I had. 'If there was any way we could help,' she'd said. 'It's an emergency,' she'd said. 'She has no one left to help her,' she'd said. And that was the day we decided we'd pursue adoption.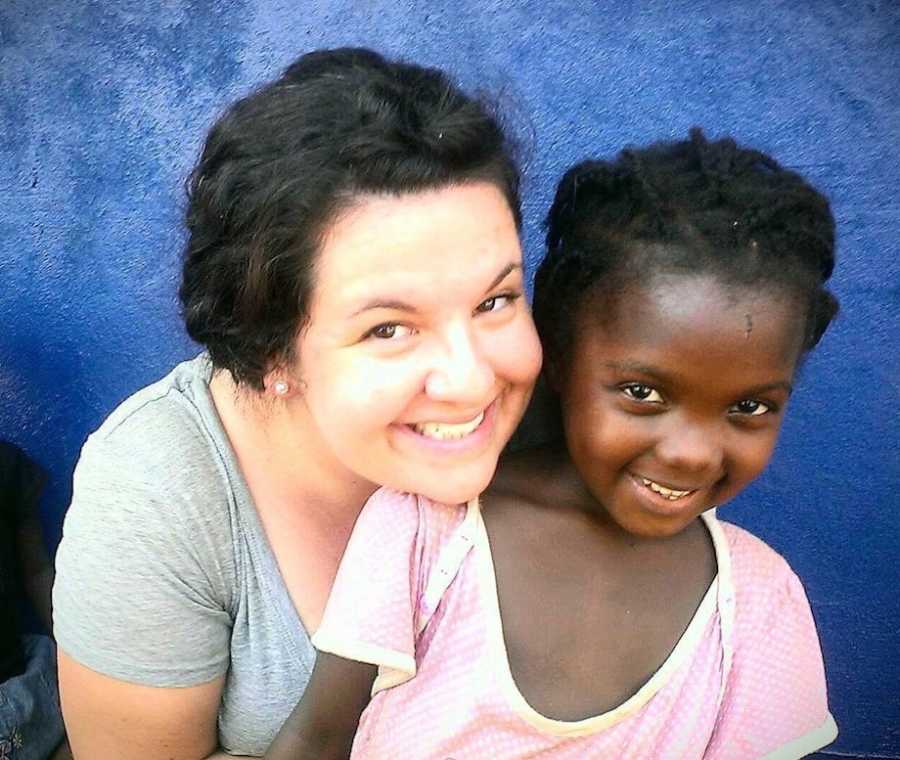 Starting out, we were terrified. As we waded through the mountain of paperwork, financial investment, and bureaucratic red-tape, we realized we were starting from the ground up. We spent the little savings we had on the down payment for adoption services with one of the few agencies that worked in Liberia. We sought out ophthalmologists and oncologists, who looked at the photos and added a second, less-crucial possible diagnosis. We worked with a social worker to help us with a home study and adoptive parent education. At first, everything happened so quickly, and I was encouraged by all the progress we'd made in such a short amount of time. About six months in, I got to have a phone call with Jumah. She remembered me, and I could almost hear her smile over the crackling phone line. I asked her if she knew what was happening, but she didn't. She was only 12. She knew she couldn't see and she had gone to a lot of doctors, but no one could help. I asked her if she knew what adoption meant. She didn't. I explained it the best way I knew how, talked about how we wanted to be her bonus family — if she agreed. Having her consent was important to my husband and I. For her entire life, others had made decisions for her and she never had the chance to have any autonomy at all. I wanted her to understand adoption was a big thing — a hard thing, but something we would get through together.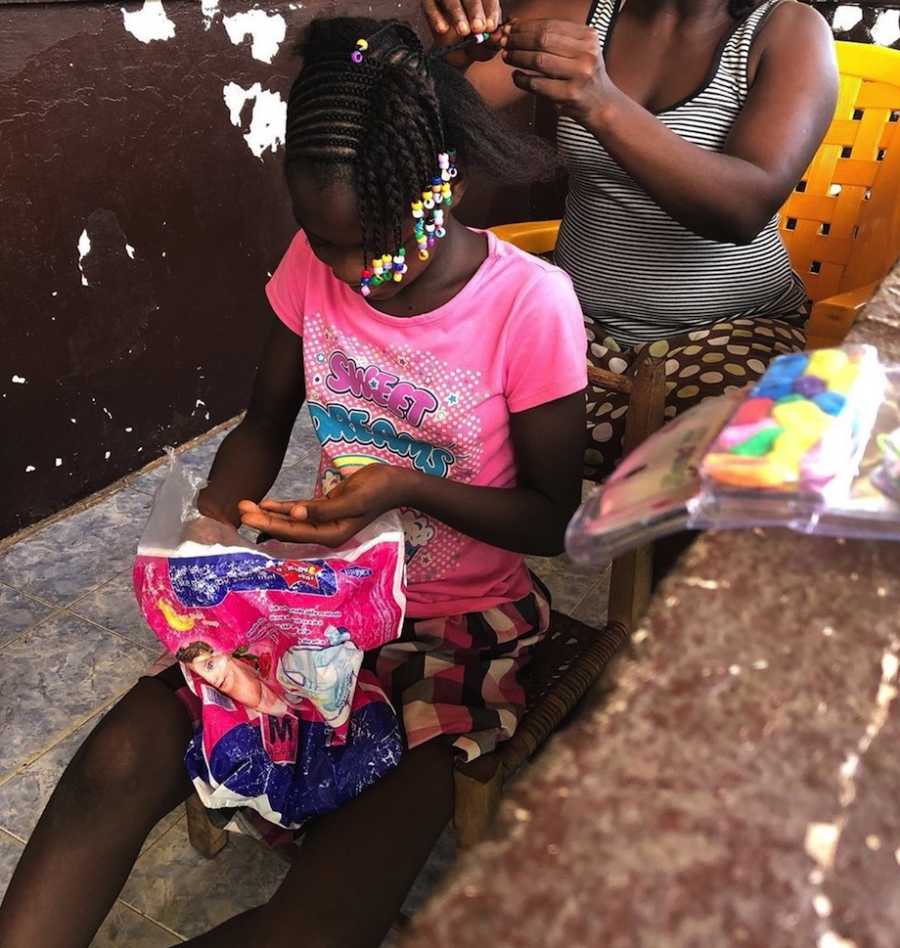 I also made sure to check with the orphanage director to make sure there was no biological family left uncontacted. My years spent working with children in institutional care had taught me that reunification, when possible, was always the best option. At the same time, there are some situations where that simply isn't an option. And in Jumah's case, it wasn't.
Our adoption process took just over two years. A year and nine months in, we got a series of exciting emails: we had an appointment with the judge to grant us parental rights, and we had an interview with the consulate to get her visa. So my husband booked a flight to Liberia and prepared to meet his daughter for the first time. After two weeks, the plan was he'd fly home and I would go to finish up all the paperwork before bringing Jumah home.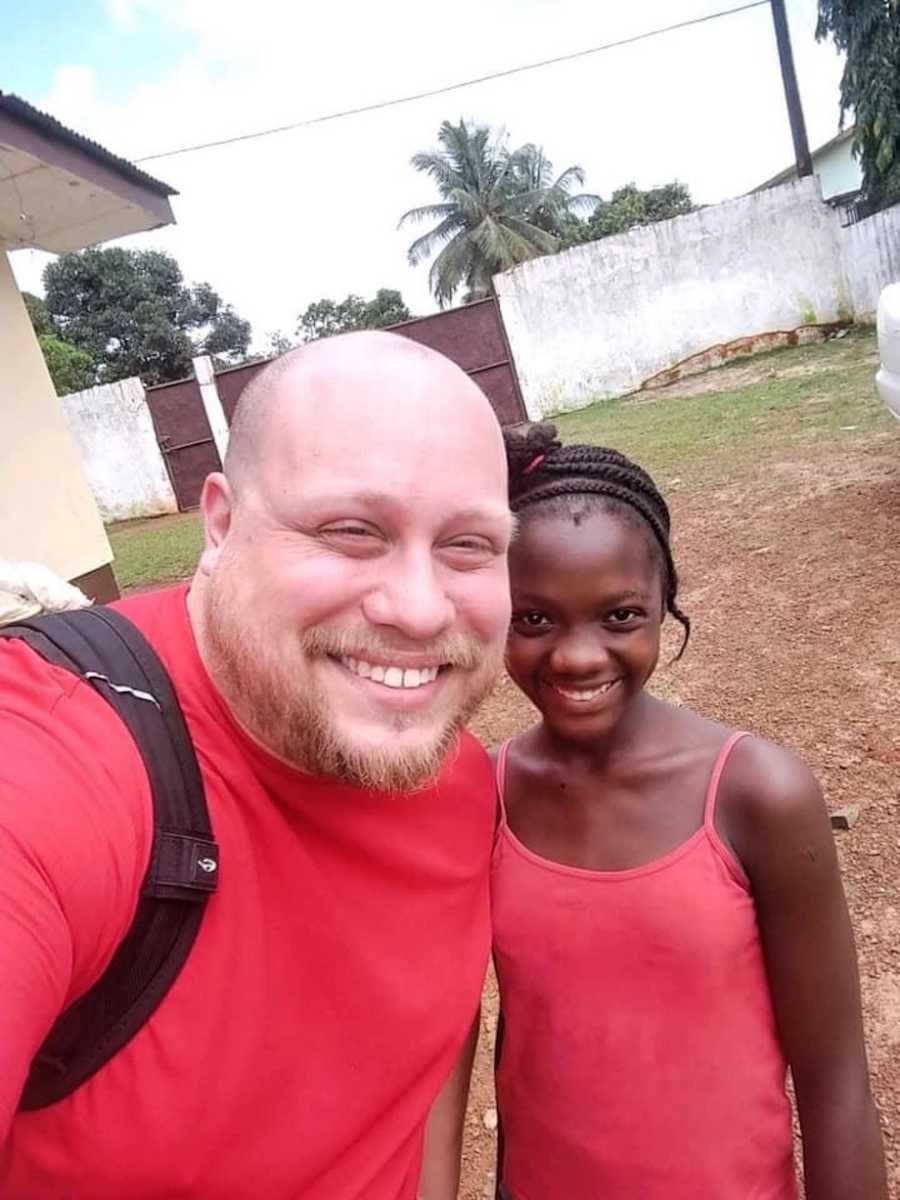 All went according to plan until I got to Liberia and was told by the embassy they wanted to investigate our case further. I felt like the bottom of my world had come out from under me. She was legally our daughter at that point, had our last name on her brand-new passport, but we were still unable to bring her home because her visa hadn't yet been approved. After holding out hope for three weeks, calling and emailing the consul every day, we made the heartbreaking decision for me to return back to the States and wait. And wait. And wait.
We waited for 83 days, and they were some of the darkest weeks of my life. I had thought I'd be bringing my daughter home. Everything was ready — her room set up, bookshelves stocked, drawers and closets filled with new outfits. But my daughter still wasn't home. I had to keep the door to her room closed because it hurt too much to walk by every day and see it empty. My husband and I cried almost every day. Our lives simply seemed to stop. Our son, who was only three at the time, was confused. We'd talked to him about getting a sister, yet she still was only a name, a face he saw on the phone screen when we called the transition home every week to talk to her. It was pure hell, there's no other way to put it. And then we got the news the visa was ready to be approved, and we could finally, finally bring our girl home. I was on a plane three days later. Thirteen days after that, I was hugging my husband in the middle of the airport, and my daughter was hugging her dad.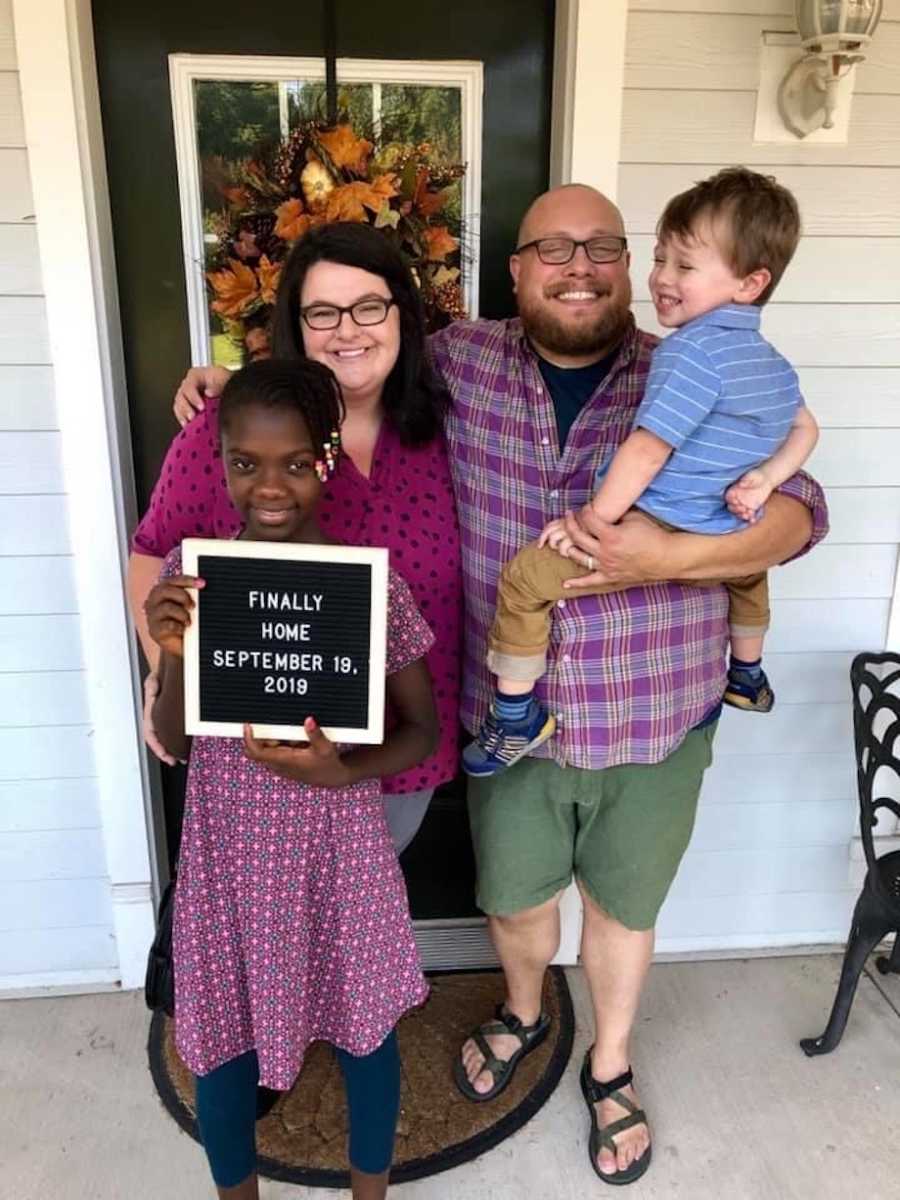 It hasn't been even a year since our adoption was finalized and Jumah came home. Less than 365 days since our story reached its conclusion. A lot of people ask me what adopting is like and honestly? It's hard to convey the duality that it exists in. Adoption is beautiful, definitely, but it also involves loss. Loss of family, loss of connection, loss of culture, loss of identity. Adoption is beautiful, but it's also really hard. Adopted kids feel a lot of big emotions, and it can be difficult for them to communicate or convey them in a healthy way. In the beginning, particularly, we were frayed, worn thin from walking on glass around each other, unsure how to talk about protective walls and angry outbursts, the tears at the breakfast table, the concerns about affection, the trauma, the loss, the worry of getting it all wrong, the fear of rejection, the bonding process, the wavering voices, the way we folded into each other, or folded into ourselves, as if we're pieces of paper, crumpling between someone's fingers.
Is it worth it, though? One thousand percent. My life and our family was not complete until Jumah came home.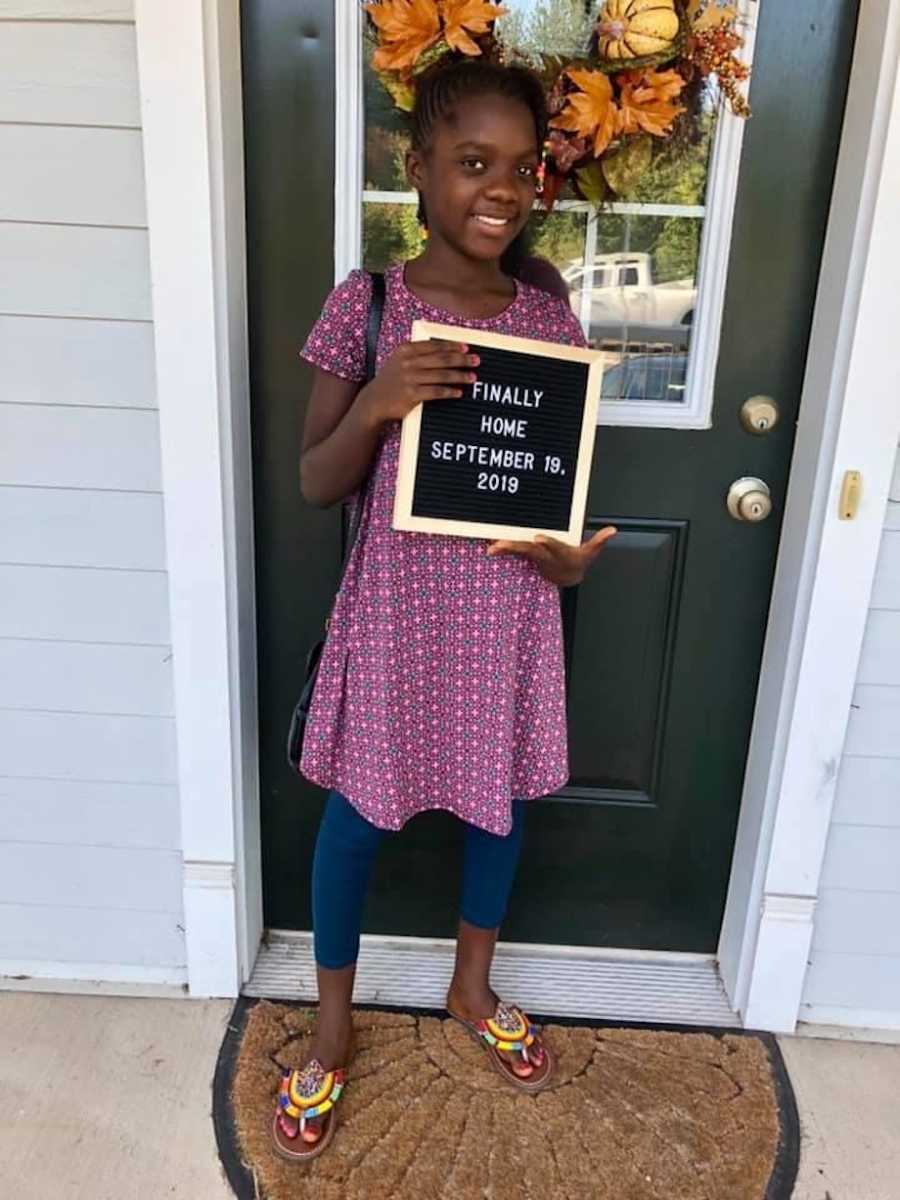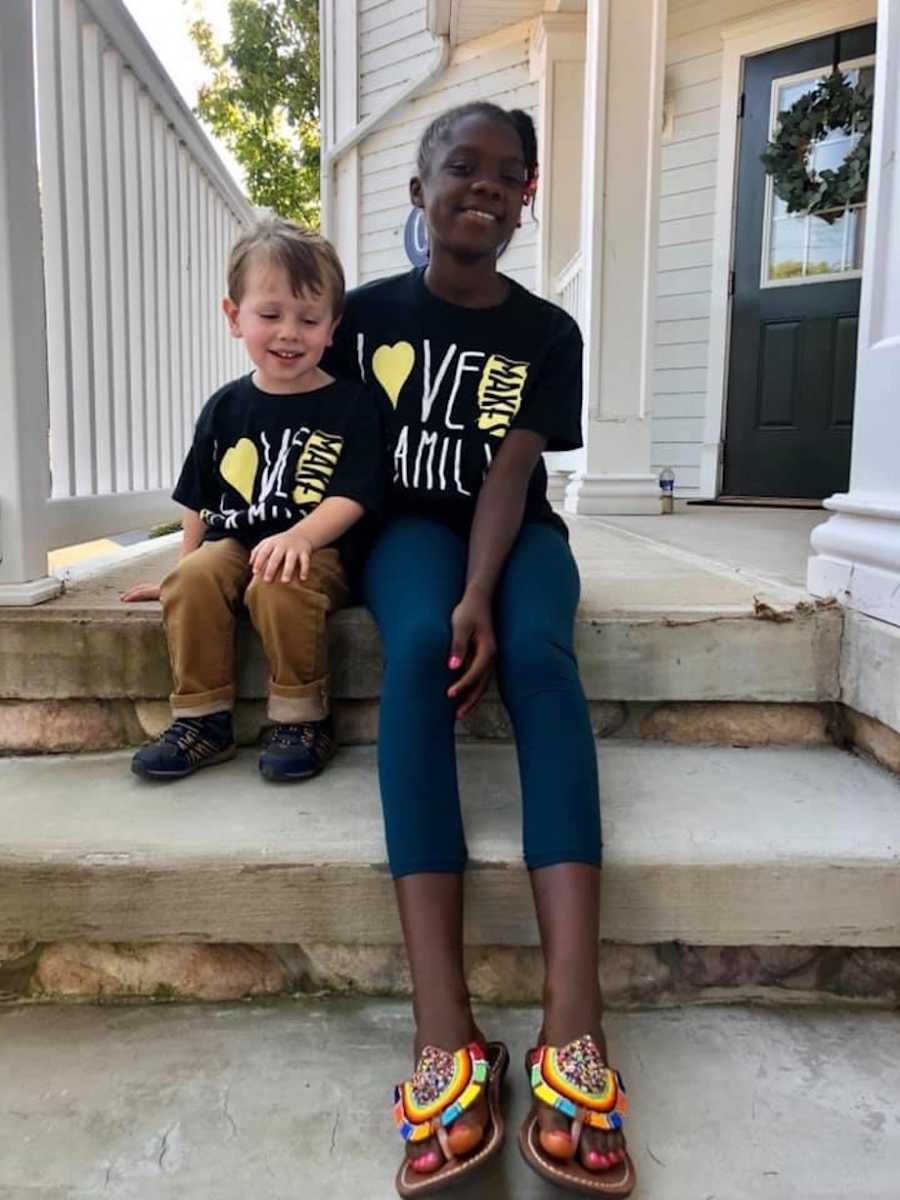 And now it's time to see how her story unfolds, where she goes and who she will become. She carries worlds within her. In some ways, she's a typical teenage girl that anyone would mistake for being American. She loves TikTok videos and milkshakes and painting her nails. She wants to be a singer when she grows up. Yet she has her own secret struggles, ones she rarely talks of, as she works through balancing her African identity in her new context. It is an honor I do not take lightly to be by her side as she explores all of this. I am thankful, deeply so. The grief and loss that tinges the beauty and gift of adoption is one that weighs on me. Joy and pain, sadness, and blessing. Both/and. Now more than ever I see that all of life, including adoption, is spent in the tension of the two."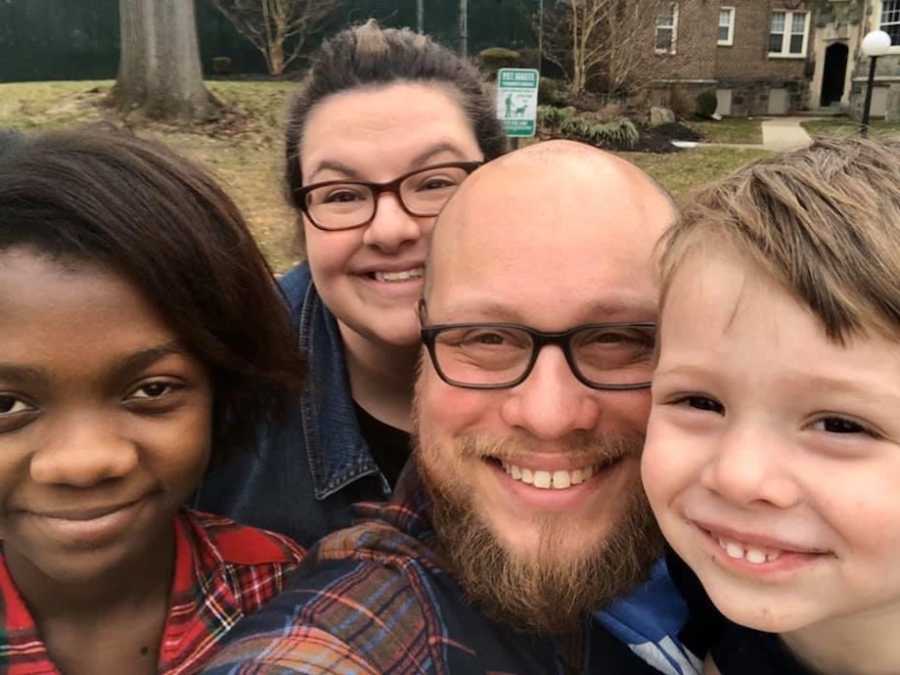 This story was submitted to Love What Matters by Elena Delhagen from Rochester, NY. You can follow their journey on Instagram. Do you have a similar experience? We'd like to hear your important journey. Submit your own story here. Be sure to subscribe to our free email newsletter for our best stories, and YouTube for our best videos.
Read more stories like this:
'Try to have your own children first.' But we wanted to adopt. Our son pushed us away. We cried with guilt.': After infertility journey, parents adopt from Korea, 'He brings us laughter'
'I was threatened, 'Go back to your country.' You would offer to sit on these bullies. You taught me to be proud.': Woman shares beautiful memorial at mother's passing
'My parents detonated a bomb inside our tiny, thatched roof hut. I was supposed to die that night.': Adopted bomb survivor now hopeful paralympic swimmer, 'I'm so thankful for the opportunities this life has given me'
'Let's do it!' We sat on the hotel floor with this sweet, innocent baby. We had 24 hours to back out.': Couple adopt special needs baby in time for Christmas after grueling journey, 'I would do it all again in a heartbeat!'
Do you know someone who could benefit from reading this? SHARE this story on Facebook with family and friends.