"Today I ran.
The rain was pouring, the wind raging, but today I ran.
Today I cried, heavy tears mixed with raindrops.
Today I ran with a hurt more powerful than the wind.
Images, questions, and pain brewing like a tornado.
I am confused, and angry.
Today I ran with my 9-year-old son, who has no clue how cruel this world can be.
Today I ran because Ahmaud's last moments trying to fight for his life, where he was probably terrified and confused, are etched in my mind.
Today I ran because Ahmaud's mother, Wanda Cooper Jones, saw her son come into this world — and watched him be brutally taken out.
Today I ran because Ahmaud should be celebrating his 26th birthday.
Today I ran because I'm outraged it has taken over two months for them to finally be charged the day before his birthday.
Today I ran because I'm sick to my stomach thinking they could still walk.
Today I ran because on February 7th, 2011, my innocent son was already born a stereotype.
Today I ran and mourned for the families of all who've lost their loved ones due to these senseless crimes.
Today I ran hard letting the cold rain hit my face willing myself to feel every bit of it.
Today I ran with a somber realization, my son will have to fight harder to prove his motives, innocence, worth, and intelligence, all because of the color of his skin.
Today I ran with an ache in my soul knowing one day I will have to explain all this to my compassionate and loving son. Something I will have to explain to all my children.
Today I ran as I thought of the coworkers who hugged me at work or commented saying four profound words. 'I STAND WITH YOU.'
Today I ran because I am furious with the posts saying, 'Let's give them the benefit of the doubt.' Had the roles been reversed, there would've been no doubt it was a horrendous murder.
Today I ran for: Alton Sterling, Philando Castile, Sandra Bland, Oscar Grant, Johnathan Ferrell, Walter Scott, Tamir Rice, Trayvon Martin, Akai Gurley, Tanisha Anderson, Eric Garner, Botham Jean, and Ahmaud Arbery.
Today I ran sadly, for all those who haven't even been shared or made headlines.
Today I ran because unfortunately there will be more Ahmauds.
Today I ran because I hope those with privilege see this and accept that it is real. Don't turn a blind eye, and speak up. STAND WITH US, but whatever you do, don't stay sitting.
Today I ran. Because on February 23rd, 2020 Ahmaud had his last run."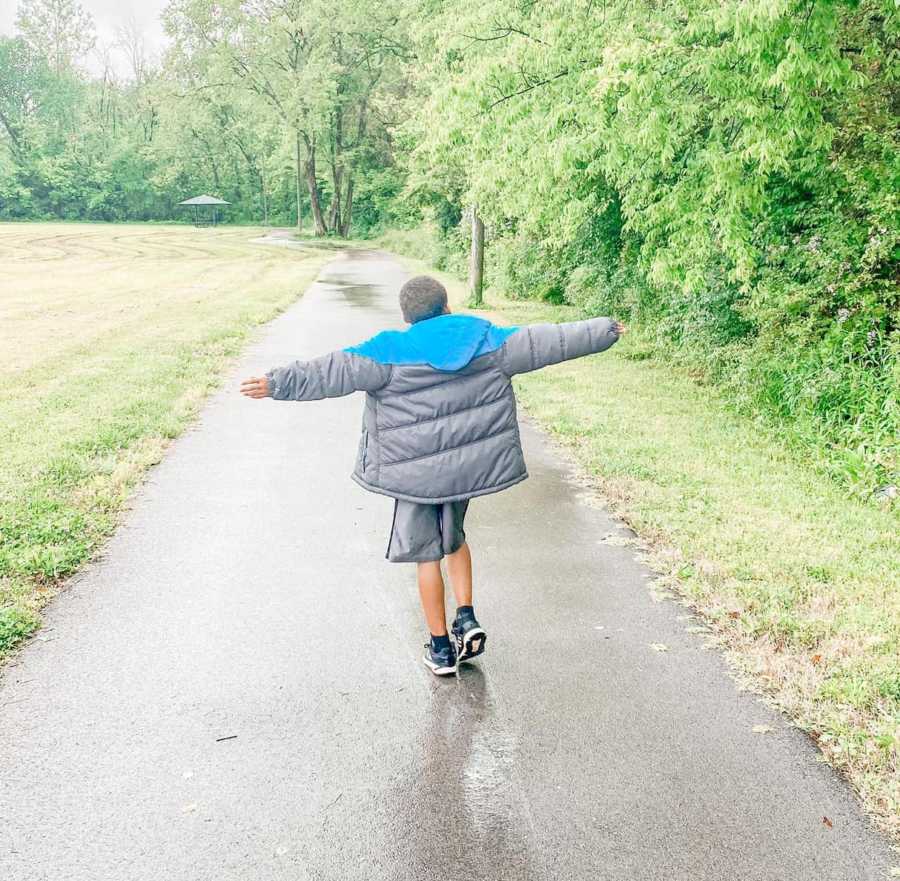 This story was submitted to Love What Matters by Jasmine Martin. You can follow her on Facebook. Submit your own story here and be sure to subscribe to our free email newsletter for our best stories, and YouTube for our best videos.
Read more stories about Ahmaud Arbery here:
'Her mother told me she could no longer be friends with me because I was black. We snuck around town, stealing moments of friendship when we could.': Woman says 'you can change the world' in wake of Ahmaud Arbery death
'I am a black man who jogs. My wife won't let me out of the house unless I wear enough colorful and 'innocent' clothing so as not to appear threatening.': Man urges for compassion in wake of Ahmaud Arbery's death
Do you know someone who could benefit from this story? Please SHARE on Facebook and Instagram to let them know a community of support is available.