"While setting up for the village garage sale on Saturday, I set out a stuffed Elmo doll among the items to sell. As I continued to get things ready, our 3-year-old daughter, Gabby, stood on the grass yelling, 'Yard sale, yard sale.' She was very frustrated that people did not immediately show up to buy our items. I noticed a Blasdell police officer a few houses down and told her maybe the policeman will stop and see us. Gabby looked up at me and said, 'I am going to give him my Elmo.' I asked her why and she explained, 'The policeman works all alone. He needs a friend.'
I told her she could give it to him if that's what she wants to do. We waited on the sidewalk, but the officer drove by. That's all she talked about all day. That night when I put her to bed, she told me she was sad the policeman was still all alone. I told her we would watch for him tomorrow. We did not see the Blasdell police officer on Sunday. So again, when I put her to bed Sunday night, she insisted Elmo had to go to the police officer. I told her we would look for him Monday after school. So Monday, we took Elmo, a red line flag for the fire company, and a blue line flag for the police department and we went driving. We gave the fire flag to the fire department and they let her sit in the fire truck and gave her some goodies.
We found the police officer and asked if we could have a moment of his time. Gabby looked at him and raised her arms to give him the Elmo and said, 'I want you to have my Elmo so you don't work alone.'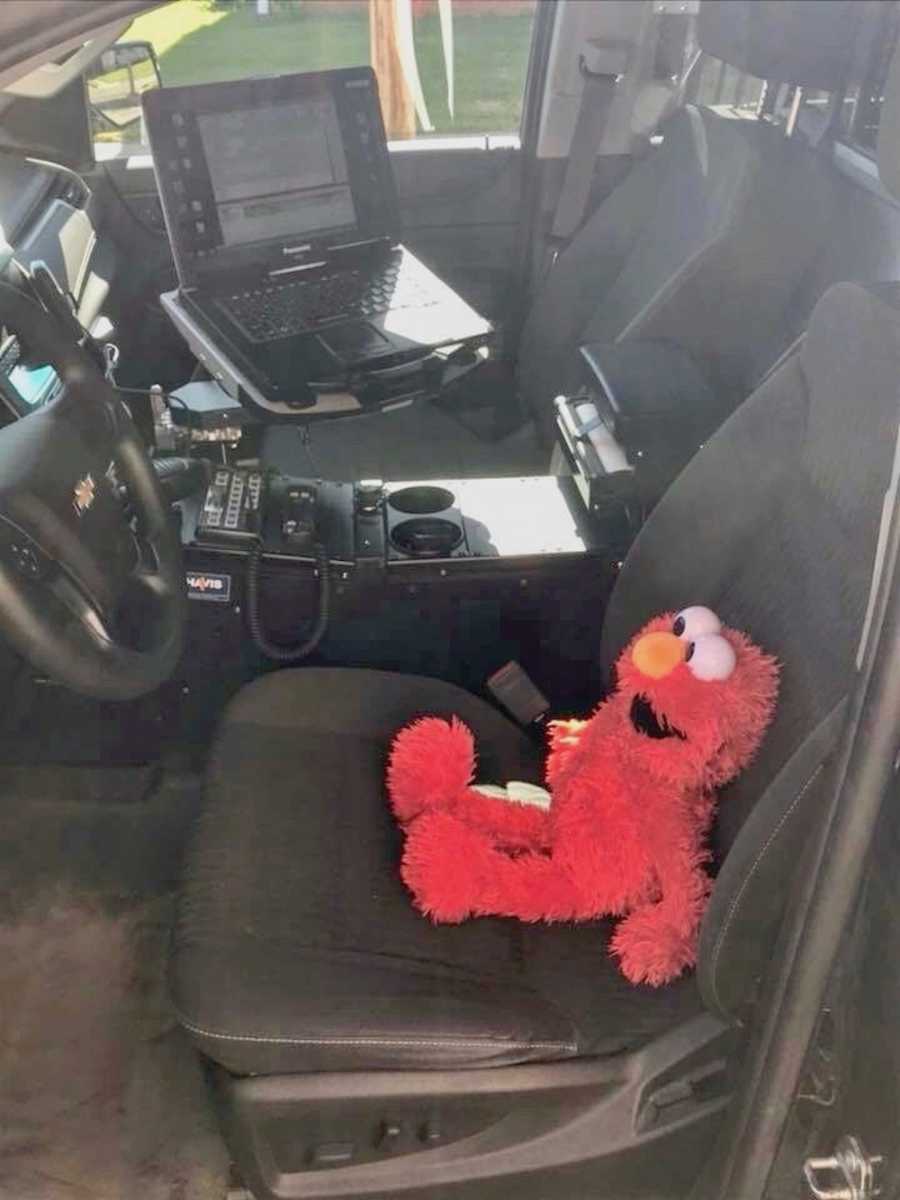 I helped her hand the Elmo to him. The officer was rather surprised and asked her several times is she was sure. He thanked her, she gave him a high five, and we gave him the blue line flag.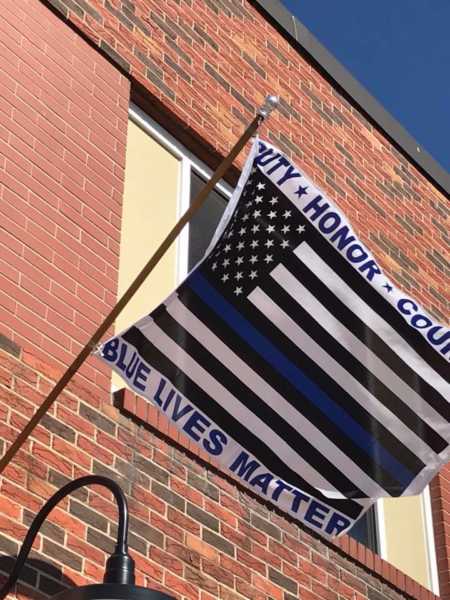 On Tuesday morning, a police officer came to the house to personally thank Gabby for the Elmo, but only our teenage daughter was home. According to the pictures on Blasdell Police Facebook page, Elmo drove the police car and went to Tim Horton's.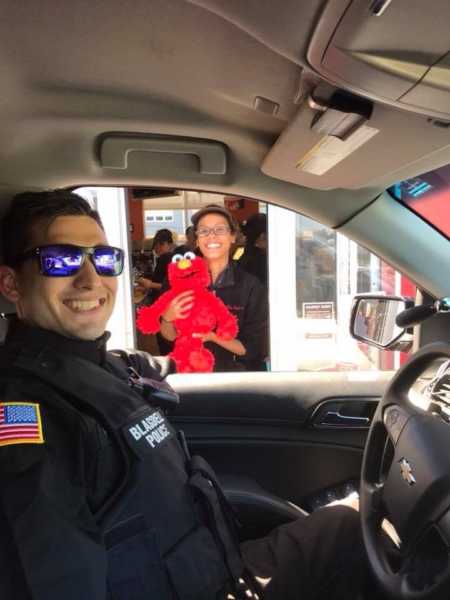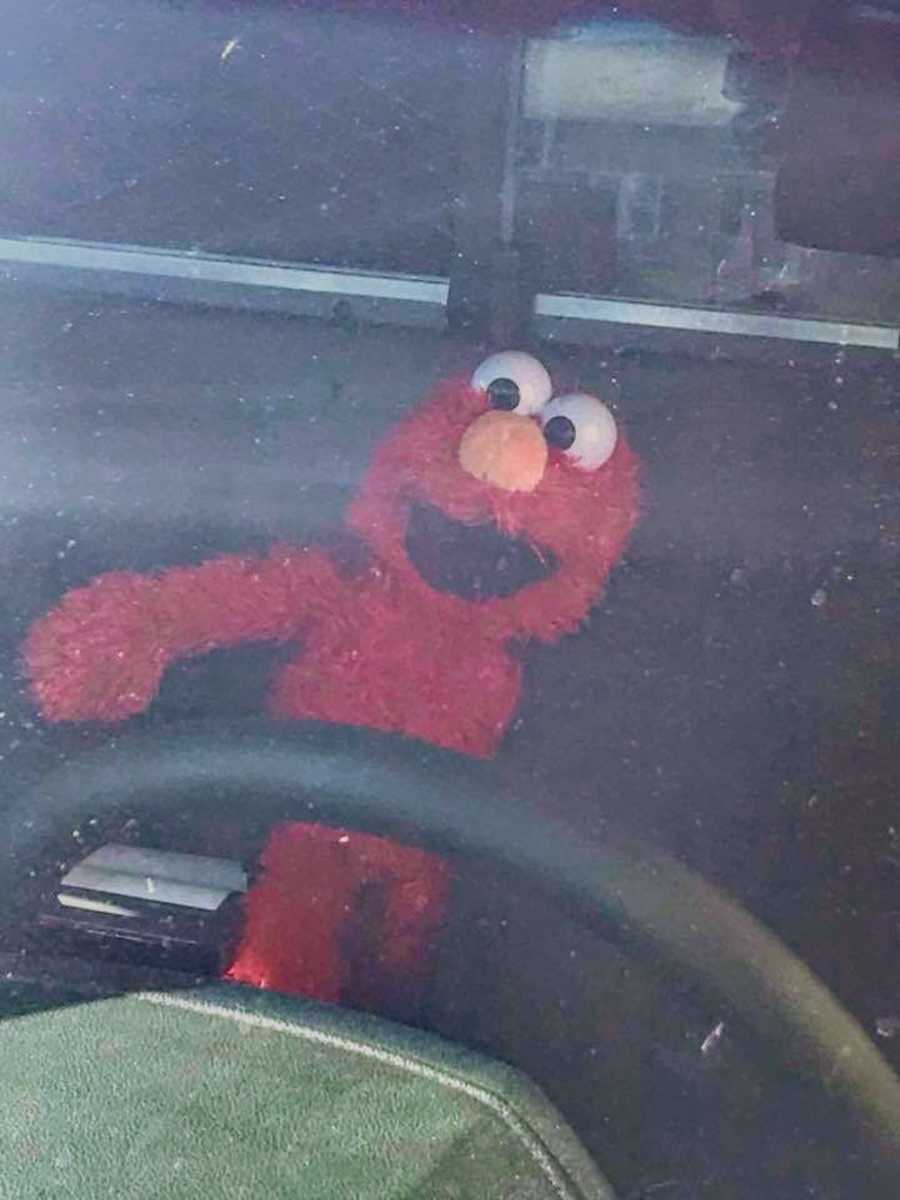 On Wednesday I received a call from the police department asking if Gabby would be offended if they returned Elmo. He explained Elmo was now in full police uniform and has a certificate from police training.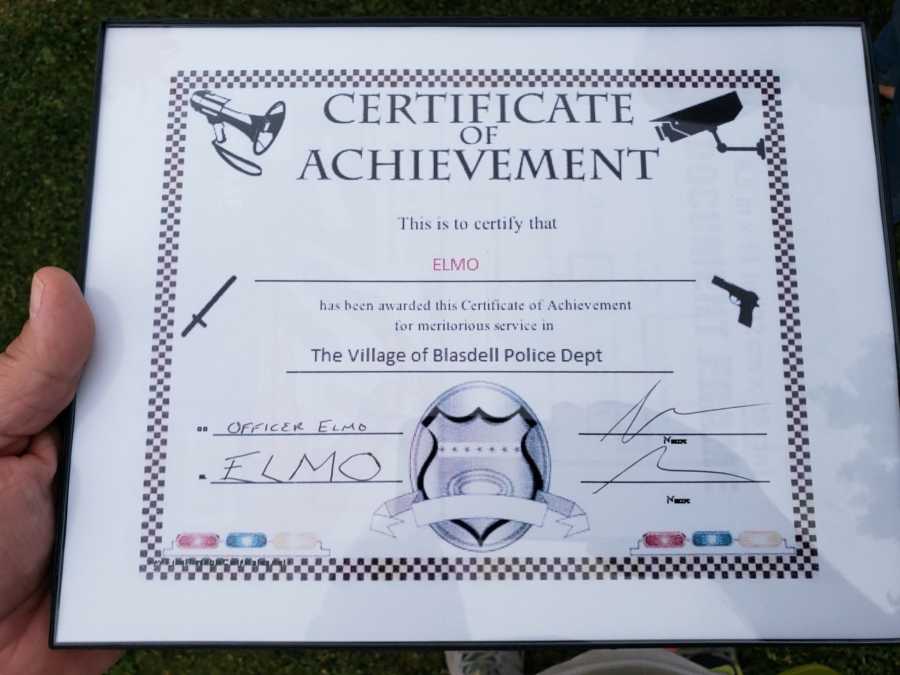 Later that evening, the officer that Gabby gave Elmo to came to our house with the Mayor of Blasdell. Both of them thanked Gabby for being so kind to the police department. They gave her Officer Elmo, the certificate, and some balloons. She was so excited. They stayed and visited for quite a while, posing for pictures, and watching her play in the yard. The officer explained to my husband, Mike, and I that he was so thankful to be the one that Gabby gave the Elmo to and after we left, he immediately started to reach out to other people in the department letting them know what she did.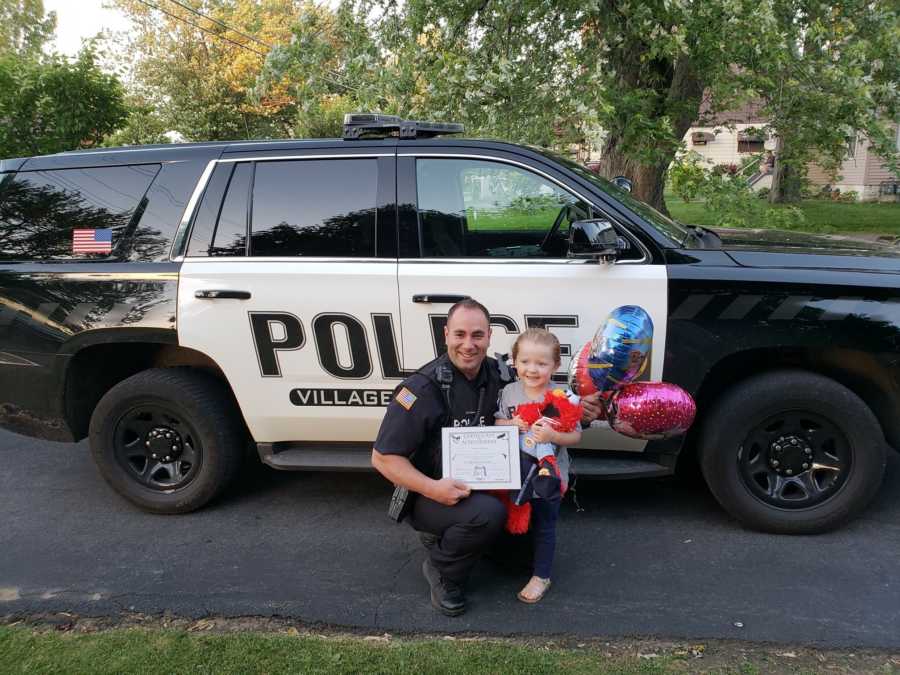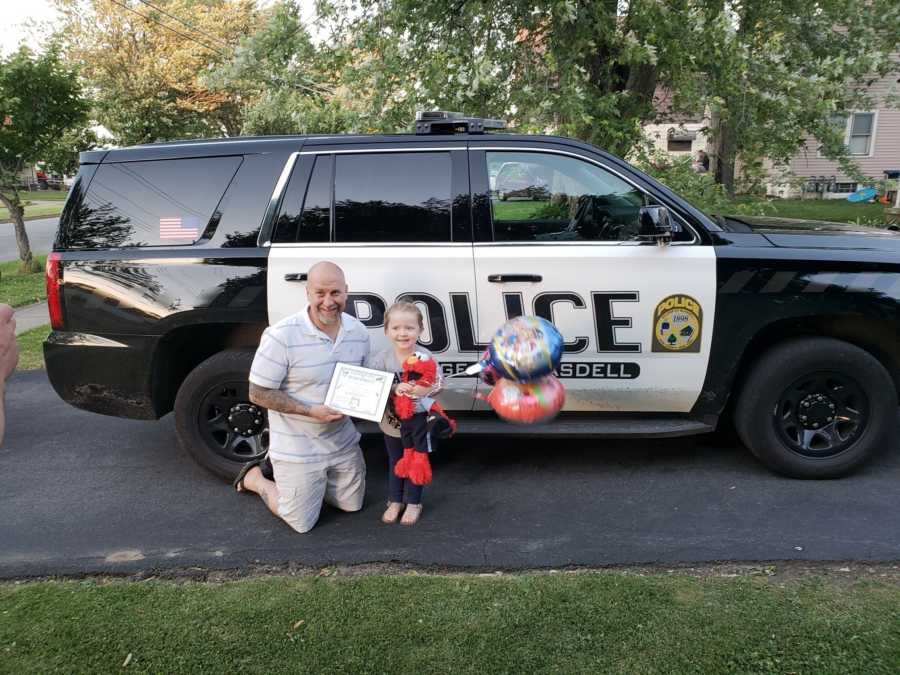 Officer Elmo is back in Gabby's room on the book shelf and she is now saying she wants to be a police officer when she grows up. She is a bit concerned that the police officers no longer have a friend to keep them company at work. My husband and I are very thankful and in awe that the village took so much time and care in surprising our daughter."
This story was submitted to Love What Matters by Kimberly LaRussa, founder of SweetBuffalo716.com via Gabby's mom, Eileen ORourk Yesis. Submit your own story here, and subscribe to our best stories in our free newsletter here.
Read more stories like this here:
'Last week, I got a phone call from Michael's Spanish teacher. She wanted to tell me how emotional my son had made her.': Mom shocked, proud of son's amazing act of kindness, 'He has the biggest heart'
'My 5-year-old saw a homeless man on the way home. 'I don't have any cash on me.' And then it happened. Our son caused a chain reaction.': Dad in awe after son's act of kindness
'This is Sophia's math teacher. I wanted to let you know about what happened this morning.': Mom stunned by daughter's act of kindness for struggling classmate, urges 'we rise by lifting up others'
'I want to give this toy to them.' I couldn't believe my ears.': Mom shares daughter's act of kindness, offers advice on raising kids full of 'kindness and gratitude'
SHARE this story on Facebook if you believe in the healing power of small acts of kindness.