Christmas is clearly a very special time for most, whether you are religious or not. Not only does it herald the end of the year, but for many, it is often the only chance to see their family or partner. Still, others have, or want, to celebrate Christmas alone, which is why I spent a long time pondering the question: what makes Christmas special? And how can I make every Christmas and holiday season—no matter the circumstances—an unforgettable experience? Here are my answers.
It's Not About Rituals
Wait, what? Sure, rituals are certainly important for many Christmas fans, as they give us consistency and genuinely nostalgic moments. But the fact is: it also works without. I realized that in 2017 when I spent Christmas Eve in a gas station. The background was that I wouldn't see my dad until two days later and therefore had no plans for December 24. However, a friend of mine had to work the night shift at the gas station, so that's why I decided to visit her. I spent an incredibly beautiful Christmas night with her and two strangers who played cards with me while eating cookies. To this day, this Christmas Eve is one of those I remember best and most fondly. Rituals? Far from it.
It's Not About Gifts
There is nothing wrong with giving something nice when it comes up, because who doesn't want to receive presents? However, the problem with gifts at Christmas is that they are kinda assumed and most would probably be disappointed if they didn't get anything. In my opinion, we stress way too much about what to buy, and I simply don't think it's the purpose of a gift to be given out of an expectation or a compulsion. My experience is: (1) personal gifts before material frills, and (2) less is more. The less we focus on gifts, the more attention we can give to what really matters: spending time together.
It's Not About People
Okay, this one is tricky, so let me explain it this way: Christmas can be wonderful even without certain people you'd really like to have with you. Of course, it is desirable to have the dearest ones around, but often this is not possible at all, because someone has to work or you live in different countries. Does that automatically mean that Christmas is gonna be a disaster? No! If you care a lot about someone, video chat with them or call them, but try not to depend on them to enjoy some festive days. Further below I will show you how to rock Christmas even when you're alone.
So…what is Christmas about then? I'm sure you've guessed: love. Just four letters, but they mean a lot and involve giving, gratitude and self-reflection as a form of self-love.
Christmas Is About Giving
This is probably not a new insight for you, but I often get the feeling that we tend to forget this point. Love is all about giving, not getting things. So think about how you can do something good for yourself and your beloved ones, which can be presents, compliments, or a helping hand. And don't forget: the most valuable thing you can give at Christmas is your time.
Christmas Is About Gratitude
Closely related to the wonderful feeling of giving is the feeling of gratitude, a very essential, but central aspect of Christmas. Nothing is so highly praised and neglected at the same time as this—to be grateful for everything and everyone you have in your current life. Some are starting to groan just thinking about the upcoming family reunions, while others would be happy if they had a family at all. You are blessed with so much. Become aware of this and use the reflective time at the end of the year to appreciate all the things you may have completely lost sight of for a while.
Christmas Is About Self-Reflection
Last but not least, Christmas and the days after are a great opportunity to switch off from all the duties and tasks of your everyday life and calm down. How did your year go and what have you planned for the next one? Are you happy right now or do you crave changes? Use the holiday season to spend more time with yourself, come to rest, and think about where you are and where you wanna go. That's also why some people find it challenging to spend Christmas alone: they have lots of time to think about everything, and often it's hard to bear what comes up. A tip: motivate yourself with goals for the upcoming year and think about which dreams you can finally fulfill. Give yourself perspective, look forward to new possibilities. The days off are wonderful for dealing with your desires and plans.
In summary, the only things that can spoil Christmas are our own expectations. Focus on the positive aspects of this day rather than what you don't have or dislike. You will see: a beautiful Christmas doesn't need much. Sometimes all it takes is two strangers playing a few rounds of cards with you.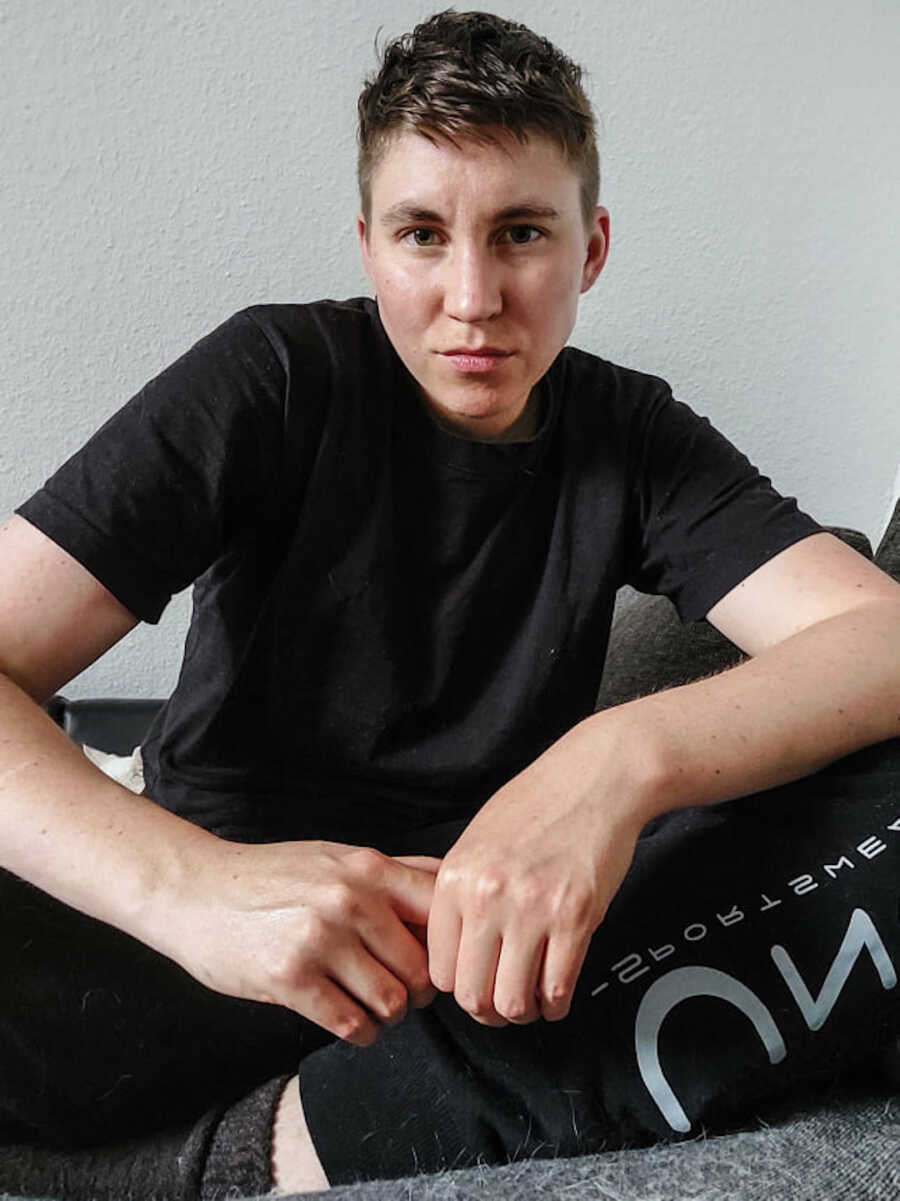 This story was submitted to Love What Matters by Florian K. from Bavaria, Germany. You can follow his journey on  Instagram. Submit your own story here, and be sure to subscribe to our free email newsletter for our best stories, and YouTube for our best videos.
Read more from Florian here:
'With every inch of hair gone, I was HAPPIER. Can you imagine how it feels to come into yourself? 'That's me!': Trans man comes out at 29, 'You are enough, whether you realize it at 10, 30 or 60'
Read more stories like this here:
'It's been hard to place my feelings lately. But as I sat in my car, tears streaming down to Faith Hill's 'Where Are You Christmas' on the radio, I finally understood.': Woman shares magical reminder 'not even 2020 can take away the love in our hearts'
'We have to come with new ways to connect.' Our traditional stages went dark. COVID wasn't going to stop us.': Musician finds peace during COVID-19 Christmas, 'We've found healing'
'A lot of us don't got good Christmas memories. My mom couldn't afford presents, or was too drunk.': Woman who worked with troubled youth struggles with holiday traditions after hearing their hardships
Please SHARE this story on Facebook to encourage others to cherish every moment and love what matters most.