"I found out I was pregnant with my fourth child the night of my brother-in-law's wedding back in April 2018. My husband and I were guarded with our excitement, as I had miscarried the year prior. In the past, we'd shouted from the rooftop each time we saw those little pink lines, but we kept this pregnancy quiet until we got close to the coveted 12-week mark, naively thinking we were out of the woods. We had hoped to spare our older children the heartache and confusion they had felt the last time when we had to explain 'the baby isn't in mommy's tummy anymore.' I could hardly stand to wait, so we broke down at 11 weeks 5 days, giving them a special puzzle I had made to share the news: Baby Fiala Arriving December 2018. My children were elated to find out that they would be getting a new brother or sister as an early Christmas present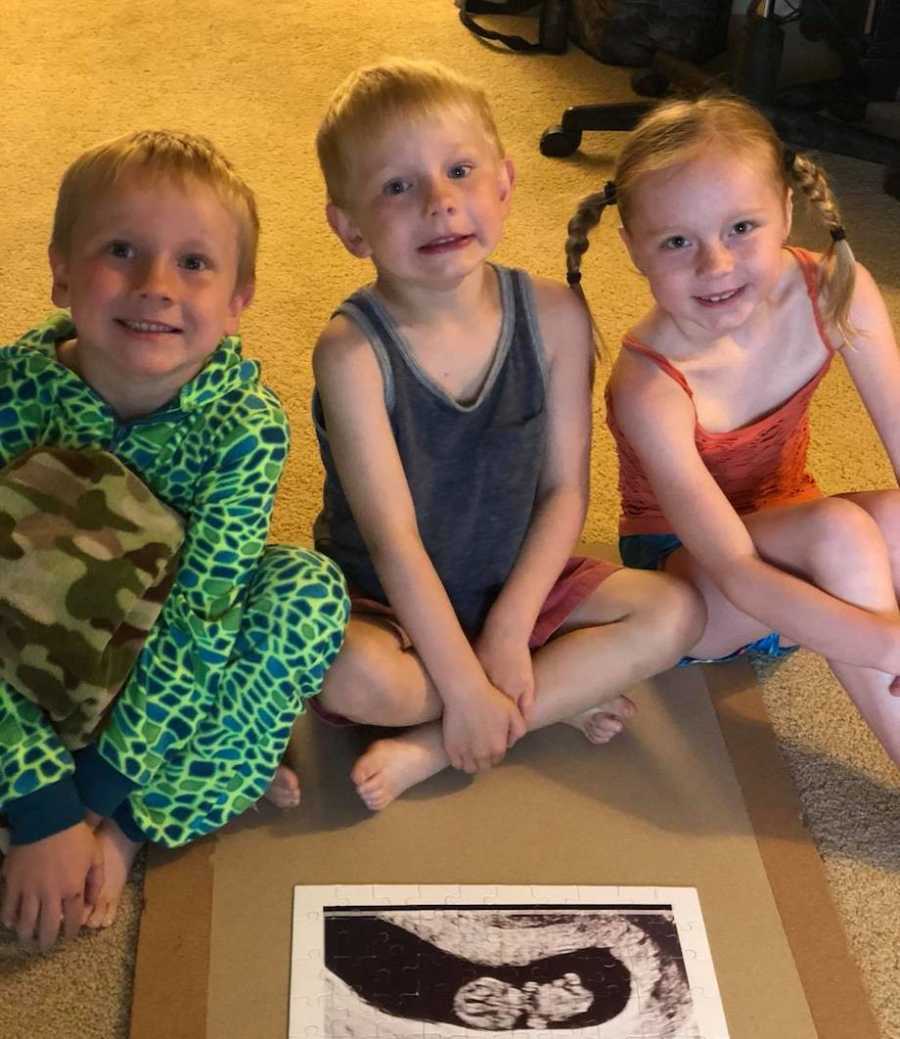 Spoiler alert: That didn't happen.
We dreamed about what life would be like when our new baby arrived for about three weeks. Then my seemingly normal pregnancy took an unexpected turn, and I began to experience complications. Even as my symptoms worsened, I took comfort from each ultrasound that showed a growing baby with a strong heartbeat. At 20 weeks, we found out we were expecting another boy. Almost everyone was thrilled with the news. Our daughter quickly came around, passing me a note a couple of hours after getting home that read, 'Dear Mommy, I will love my baby brother.'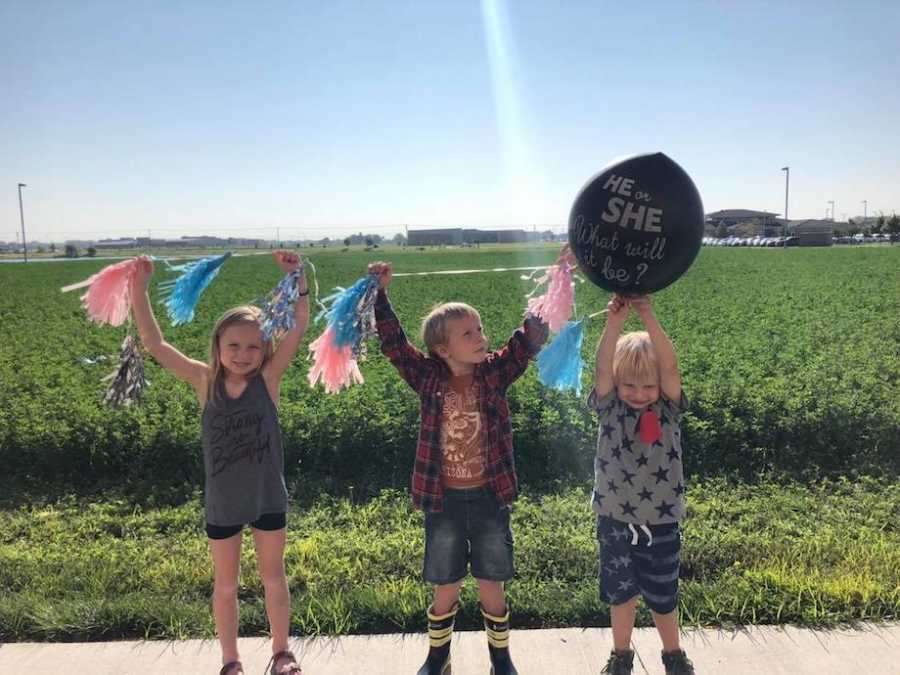 I probably had a half dozen ultrasounds during what was supposed to be the first half of my pregnancy, and each time, everything was fine… until it wasn't. At just twenty-three weeks along, I got the news that would change our world forever. Our baby boy still had a strong heartbeat, but there was no longer any amniotic fluid in my uterus other than what was in his stomach and bladder – my water had broken. In what felt like a déjà vu moment, my two oldest children sat staring at me as I broke down in tears. A nurse escorted them from the room while another held me in her arms as the doctor called to make arrangements at another hospital. My husband picked me up and rushed me to the nearest hospital with a Level III NICU, more than 80 miles away.
I was admitted to the antepartum unit. The team did everything they could to stop labor, but it quickly became clear I would soon be delivering our itty-bitty baby boy. A neonatal nurse practitioner was called to consult on our case, and she shared with us the horrible odds our infant son would face once he came into the world. With tears in her eyes, she asked us what level of support we would like our son to be given once he was born. Of all the decisions my husband and I have had to make in our lives, this one was by far the most difficult. We visited for a few minutes and decided we did not want our son to suffer unnecessarily but if, in their expertise, they thought he had a fighting chance, we wanted to give him that chance.
I was quickly prepped for delivery. I was taken to the operating room as Garrin was almost ready to make his grand entrance into the world. The resident OB had barely gotten her gloves on when Garrin fell from my womb. It was 1:07 a.m. I groaned in pain, not the kind of pain an epidural would touch, and they whisked him away before I even got to glance at him. The labor and delivery team finished working on me while I screamed in agony, convinced they would soon be bringing me back my tiny baby with looks of 'there's nothing we can do' in their eyes.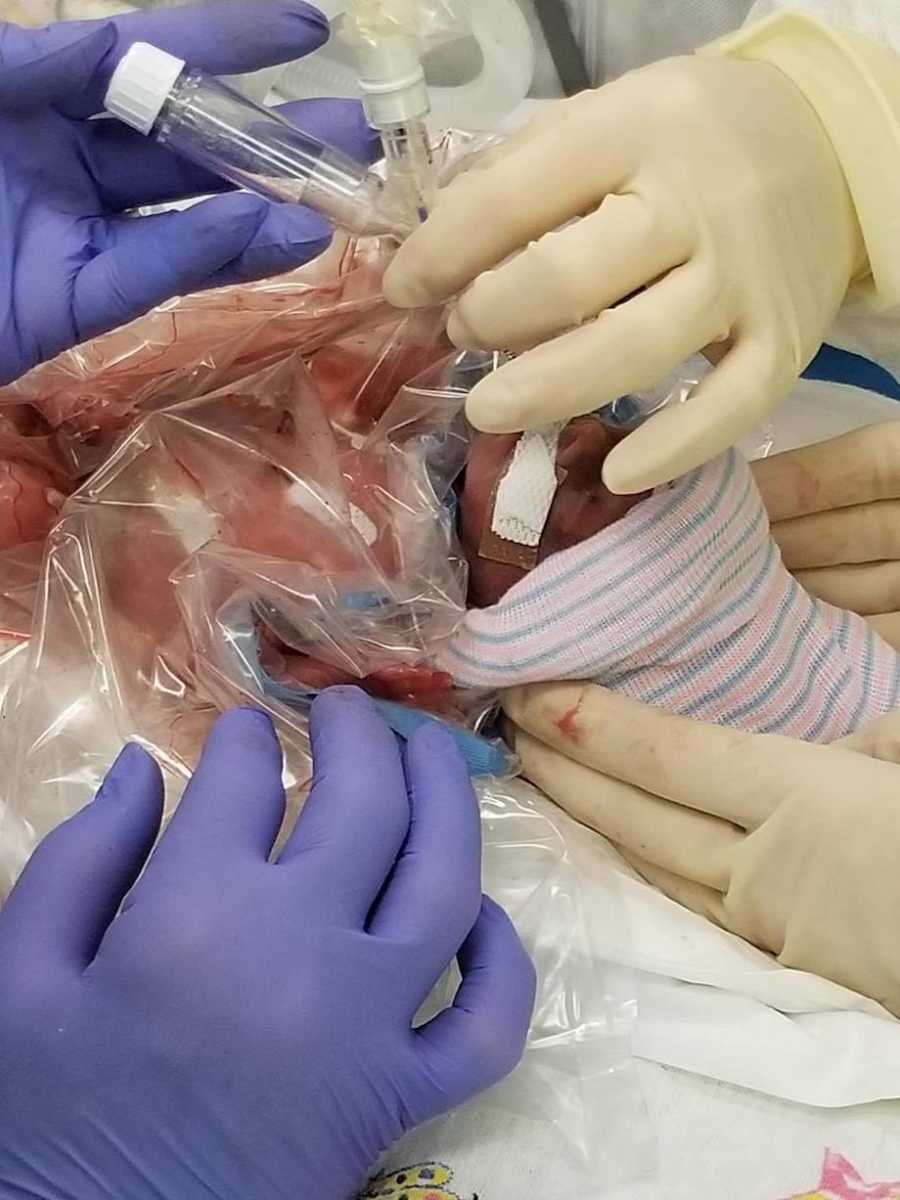 That didn't happen.
Instead, my husband and sister were called back to spend a few minutes with our 1 pound 9 ounce bundle of joy. They took pictures so I could see him, and they were there when he was baptized. Garrin was wheeled away to the (NICU), a place I'd only heard of on TV medical dramas. There was so much uncertainty, and the last thing I wanted was to be alone but I encouraged my husband and sister to leave me to be with Garrin. The very first time I saw my son was courtesy of Facebook video chat. I remember repeating, 'He's beautiful, honey. He's just beautiful.'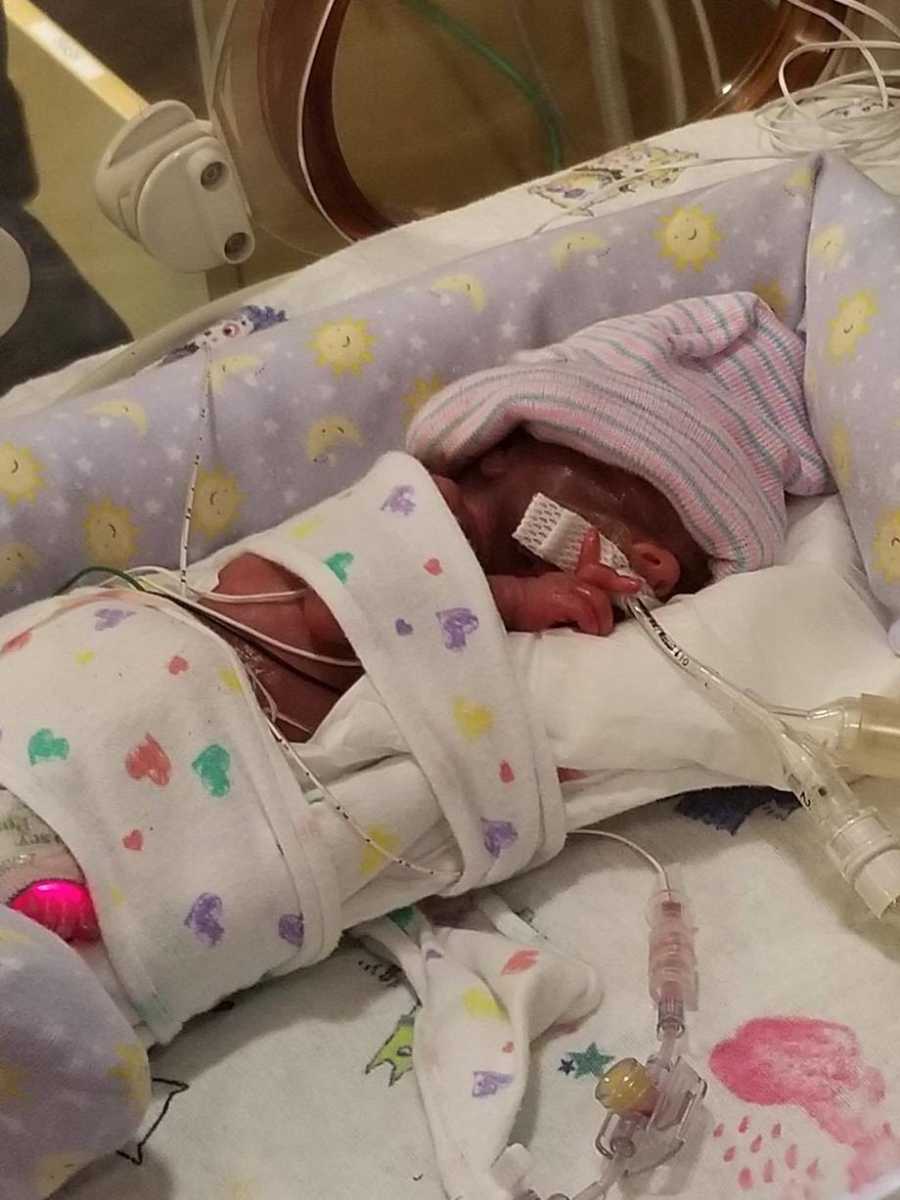 It seemed like hours before the epidural wore off. I looked at the clock at 1:50 a.m., thinking 'seventeen more minutes and he'll be one hour old.' I remember how hurt I felt each time the newborn lullaby would play for another birth, and I remember how irritated I got when anyone congratulated us. I remember being disgusted with my body for failing Garrin and the frustration I felt when no one could tell me why I went into labor so early. I remember being told many times this journey would be like a rollercoaster. My naivety showed again when my mental reaction was, 'I'm tough. I can handle this,' when I had no idea what we were getting into.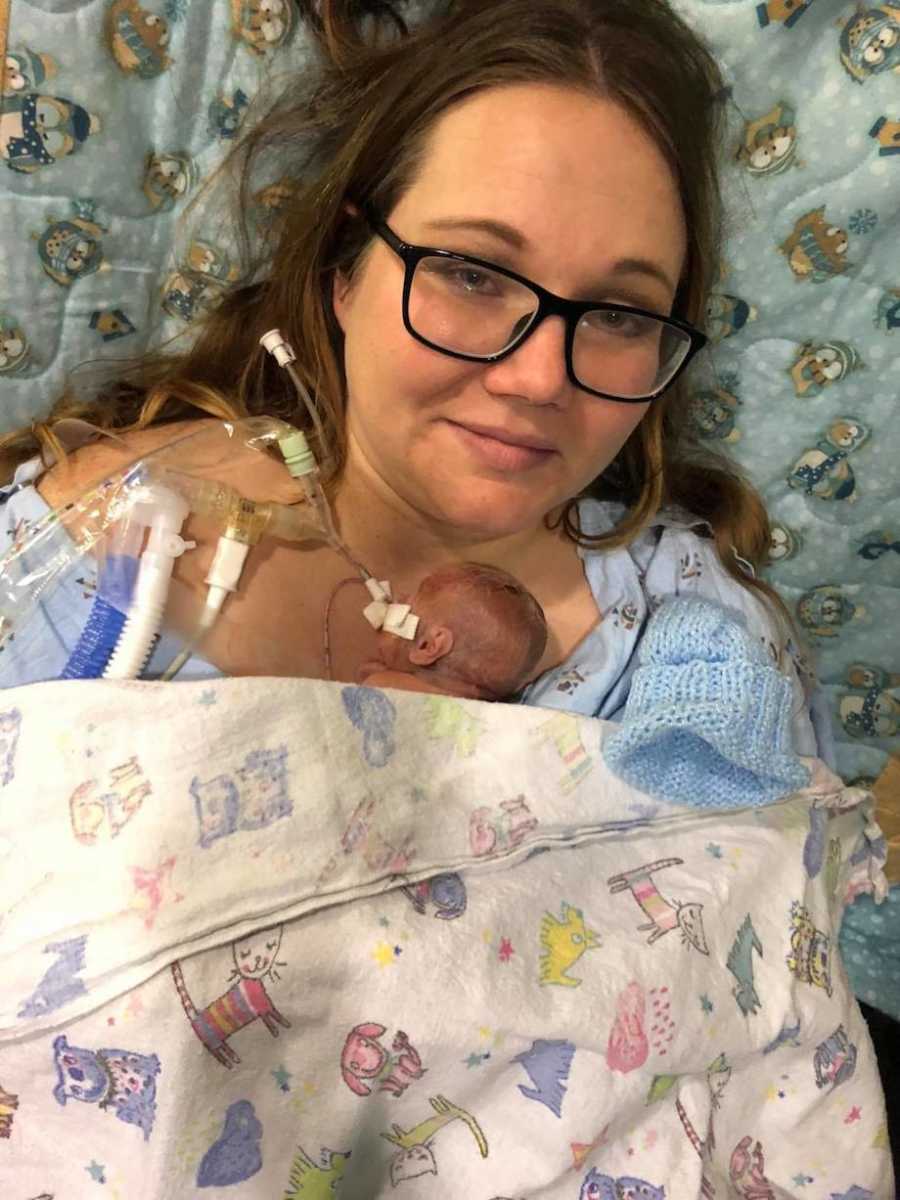 During those early days, the on-service doctor mentioned several times how important it was I pump for Garrin, so I pumped and pumped. I took solace in that labor of love as it was the only thing I could physically do to help my sweet boy. After one of those early pumping sessions, my husband and I dozed off for what we thought would be a very short rest before going back to the NICU. We were awoken by a neonatal nurse practitioner whose update was dire. In the few moments we'd been sleeping, Garrin had experienced a pneumothorax (collapsed lung) and was moved to the oscillator, a high-frequency ventilator that makes a sound you cannot unhear.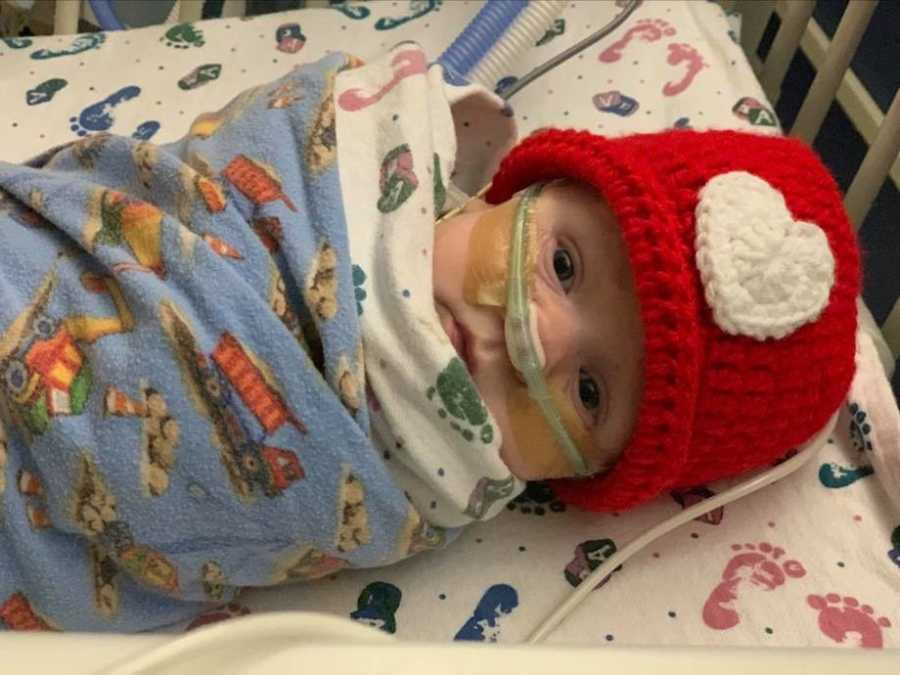 It was then I knew it was imperative for my older children to get to the hospital to visit their baby brother. This time it was my parents trying to answer their questions about 'why the baby wasn't in mommy's tummy anymore.' I wrestled so much with how to help them deal with the wide range of emotions they must have felt, but I knew I wanted them to meet their baby brother, to love him for the fighter he is. So, they came, and they stared, and we hugged, and we prayed before they went back home with Grandpa and Grandma.
My husband had started a new job 13 days before Garrin was born, so he was only able to stay with us at the hospital for the first week, returning each weekend. Long after that time, Garrin was the sickest baby in the unit, and there was more than one occasion when we weren't sure he would live to see the next morning. Each day, I sang to him, and I prayed with him, not knowing if that day would be our last together earthside. I didn't leave the hospital to go home for nearly a month for fear of what might happen while I was gone. But Garrin never stopped fighting – he had a drive to survive unlike any I've seen.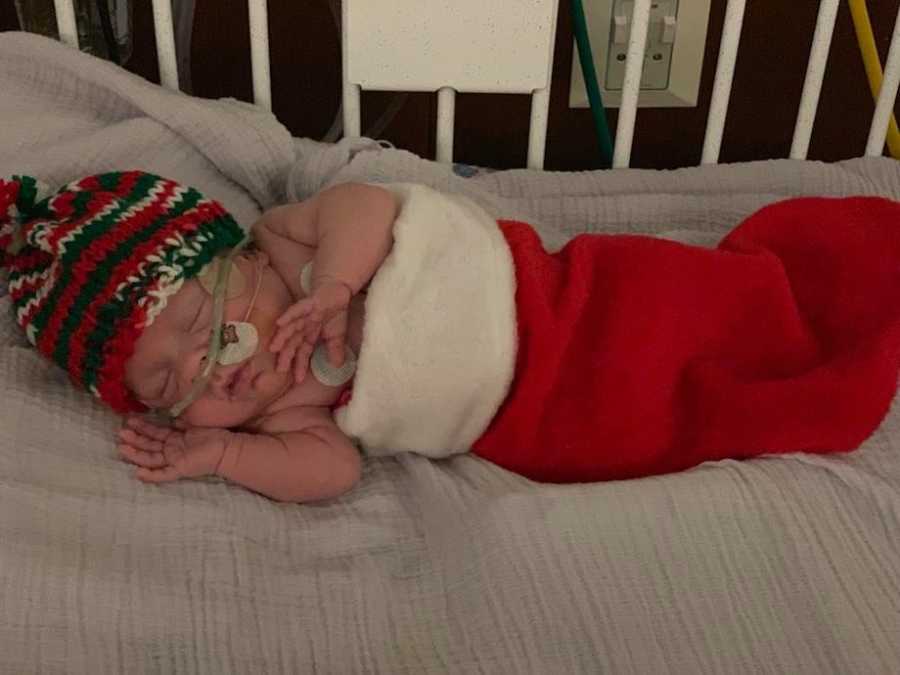 Garrin was four weeks old when we got the slightest indication there was hope for us to ever bring him home. 'He's full of piss and vinegar,' the doctor said, and his best-case prediction was that Garrin would go home at 44 weeks gestational age on supplemental oxygen. Garrin spent Labor Day, Halloween, Thanksgiving, Christmas, and New Years in the NICU. Sure enough, after 147 days, he graduated. It was such a bittersweet moment: We were elated to finally bring home the child we had prayed for but saddened to leave our newfound family, the people who had helped us survive the lowest of our lows.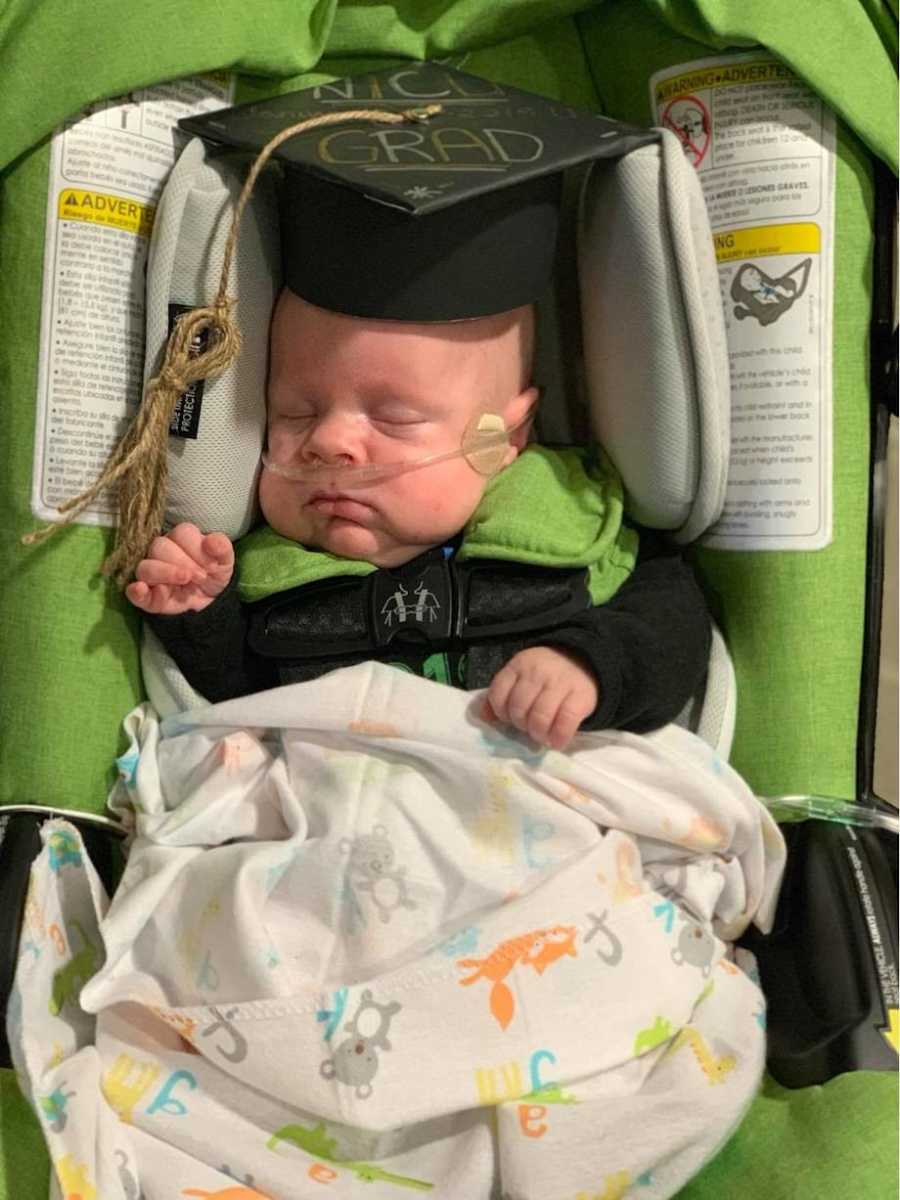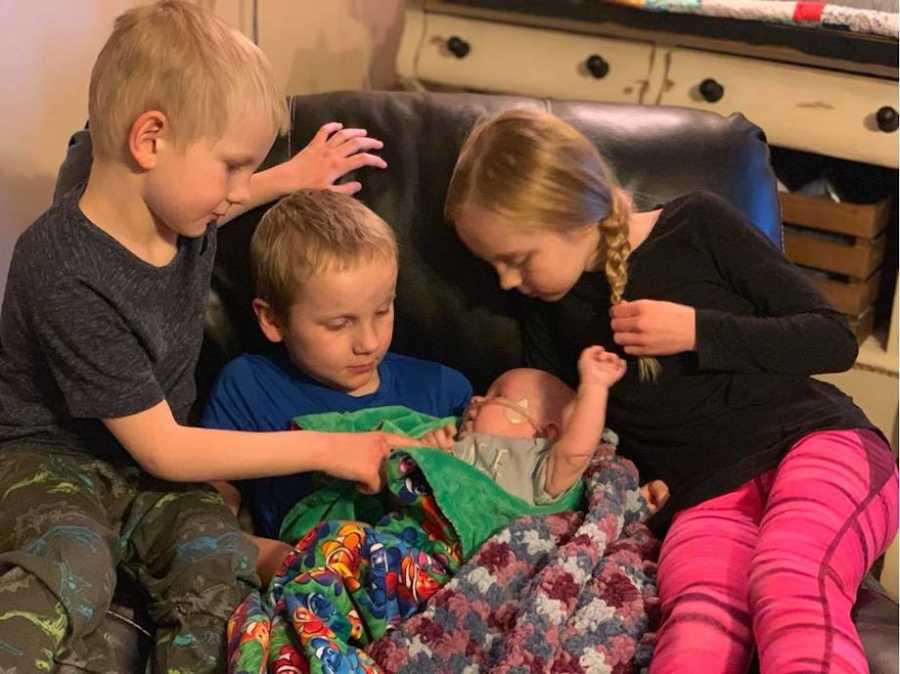 It wasn't until the day we brought Garrin home I was finally able to start dreaming about his future again, about our future as a family of six. Garrin came home with quite a bit of baggage: He was on supplemental oxygen and an apnea/bradycardia monitor that would alert us if he stopped breathing. We were fortunate to be gifted an Owlet Sock and Monitor by the Briggs and Barrett Project that helped us to keep track of Garrin's blood oxygen levels, so he wore that around the clock too. We relished in those first weeks at home. All three older children loved holding and cooing at their baby brother, and my third loved to help me make his bottles. He'd always say, 'Mommy, don't forget to call me Doctor because I helped you make Garrin's food.' We were making the memories I'd thought we had lost when Garrin was born so prematurely. None of his doctors we saw for follow-up visits could believe he was a 23-weeker because he looked so great, but unbeknownst to anyone, things weren't great.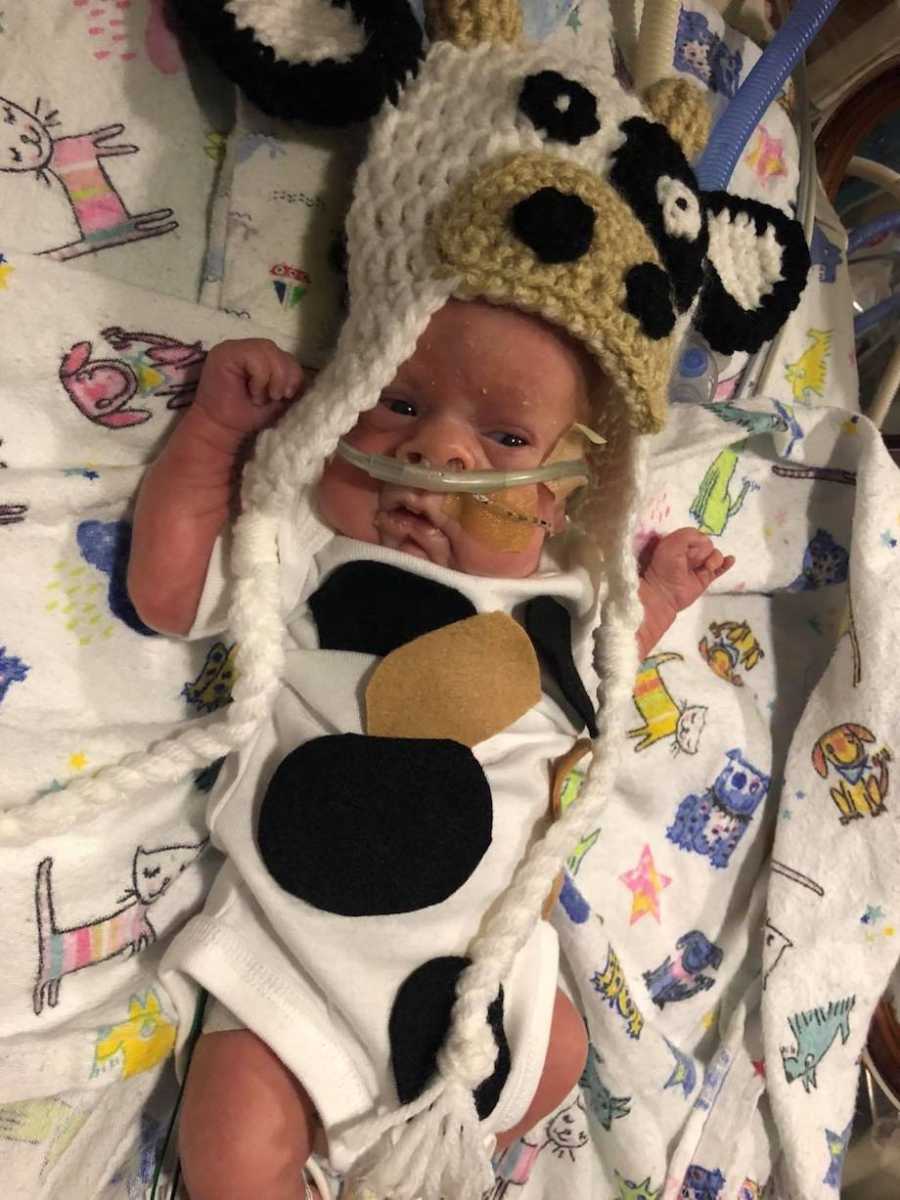 A couple of weeks after Garrin came home, his Owlet monitor started to alarm frequently during the overnight hours. This was concerning to me, and I remember standing in his pulmonologist's office, showing him the data from my iPhone. Based on the information, Garrin's oxygen prescription was increased and an overnight oxygenation study was ordered. Garrin's regularly scheduled visit to the pediatrician was uneventful. In fact, the doctor commented on how great he looked. That same afternoon, the overnight oxygenation study results had been read by the pulmonologist, and his nurse was calling, telling us to bring Garrin in for a same-day appointment. I knew then something was really wrong.
Garrin was admitted that night to a different hospital, nearly two hours from our home. It was soul-crushing. I was once again wailing as the doctor kept repeating 'His lungs are so bad. Nothing is off the table.' I kept asking for clarification about what 'nothing' meant, being told neither tracheostomy nor death were out of the realm of possibilities. My husband said he'd never heard me cry like I cried the night Garrin was admitted to the second hospital. Garrin went from being home and what we thought was healthy to being a patient in a different hospital on increased respiratory support with a bleak outlook, and it was rough. He tested positive for coronavirus (NL63 not COVID-19), but we soon found out he was suffering from a more serious medical condition called pulmonary hypertension.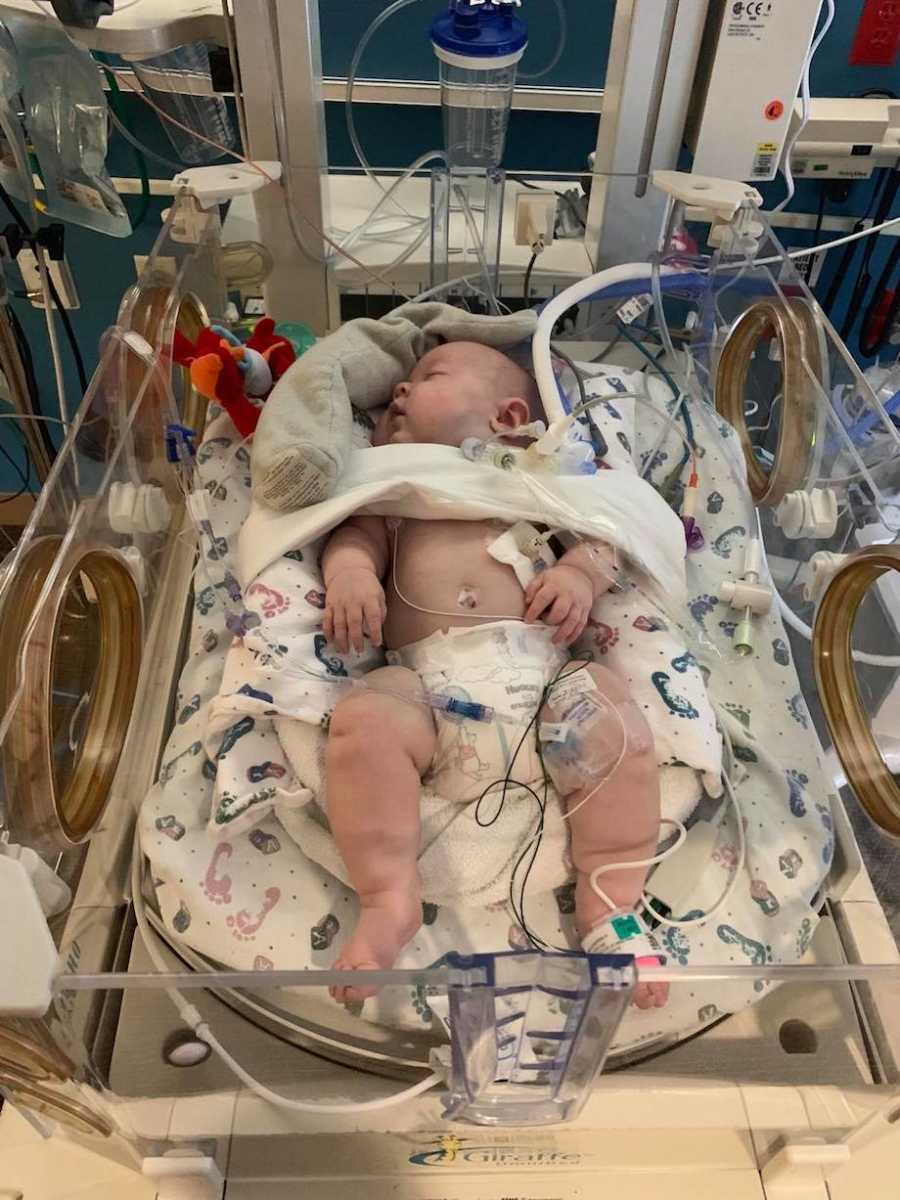 After visits from two doctors from Garrin's original team and six weeks without improvement, we were convinced Garrin was not going to get better without further intervention. In March 2019, we consented for his baby makeover, where he received a tracheostomy and gastrostomy and had his hernia repaired. In the weeks prior to the procedure, I lamented over that decision. I felt like I was consenting for them to hurt my baby. I couldn't stop thinking about the guilt I would feel if something happened to him during the procedures. Praise be to God, Garrin tolerated everything like a champ. Seeing him in the isolette again after the operation brought up a lot of still very fresh wounds. He was so swollen and on significantly more support. 'That's normal,' they told me. The hope was after he recovered, he would need less support and be able to quickly transition to the home ventilator and be on the path to back home.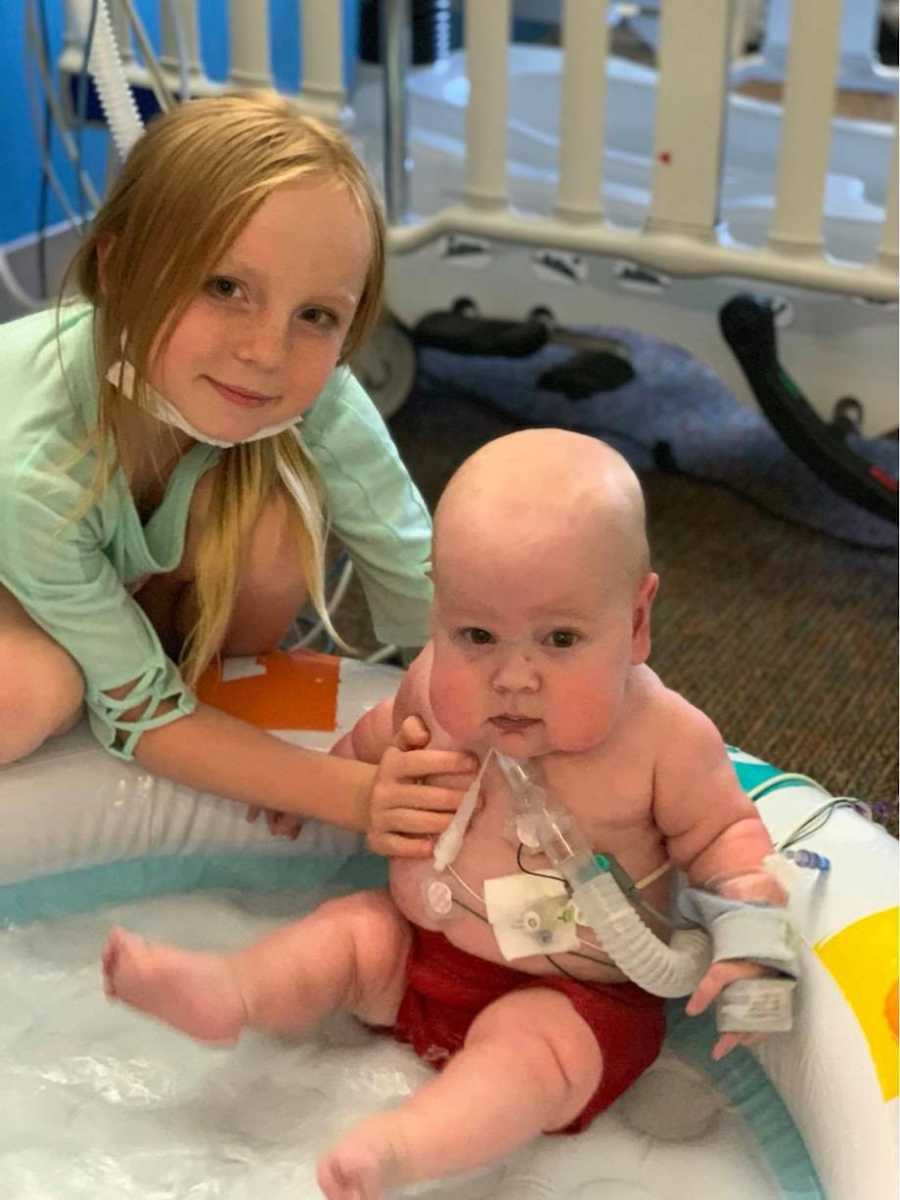 That did not happen.
Valentine's Day, St. Patrick's Day, Easter, Memorial Day, and Independence Day had all passed, and Garrin had still not spent a single holiday at home. We celebrated his first birthday like there was no tomorrow because we weren't sure there was. Garrin had failed the hospital's go-to home ventilator two times. During each attempt, we were very hopeful that it would work for him. A lung transplant was a very real consideration, but the transplant team decided he was not sick enough to meet their criteria.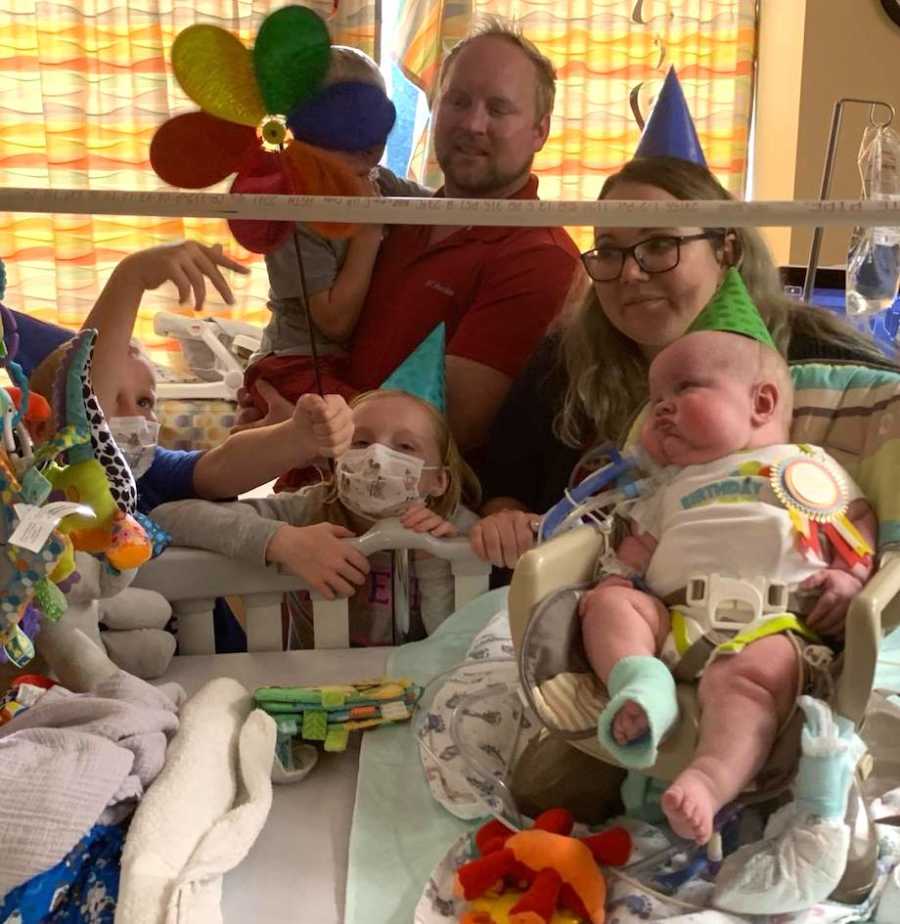 So we waited for Garrin to grow, and I became bitter. I nitpicked the way the nurses did their job and the way the hospital cared for my son. These are not proud memories, but it's what happened. During the last attempt to transition Garrin from the hospital ventilator to the home ventilator, we received the phone call no parent ever wants to get: Garrin experienced a code event, where he was blue and lifeless and needed chest compressions to regain consciousness. I'll never forget that phone call. I screamed into the phone at the nurse practitioner, 'What do you mean you gave him chest compressions?!' Still not feeling in sync with the team at the second hospital like we felt at the first hospital, I could not comprehend how my 14-month-old went from being stable (for him) to needing chest compressions. Henceforth, he was known as 'the hardest baby to get on a home ventilator' and we were advised to 'focus on quality of time, not quantity.'
I immediately started looking at different hospitals for second opinions and different home ventilators to try. I was dealing with an intense internal battle, struggling between trusting the experts and knowing my son.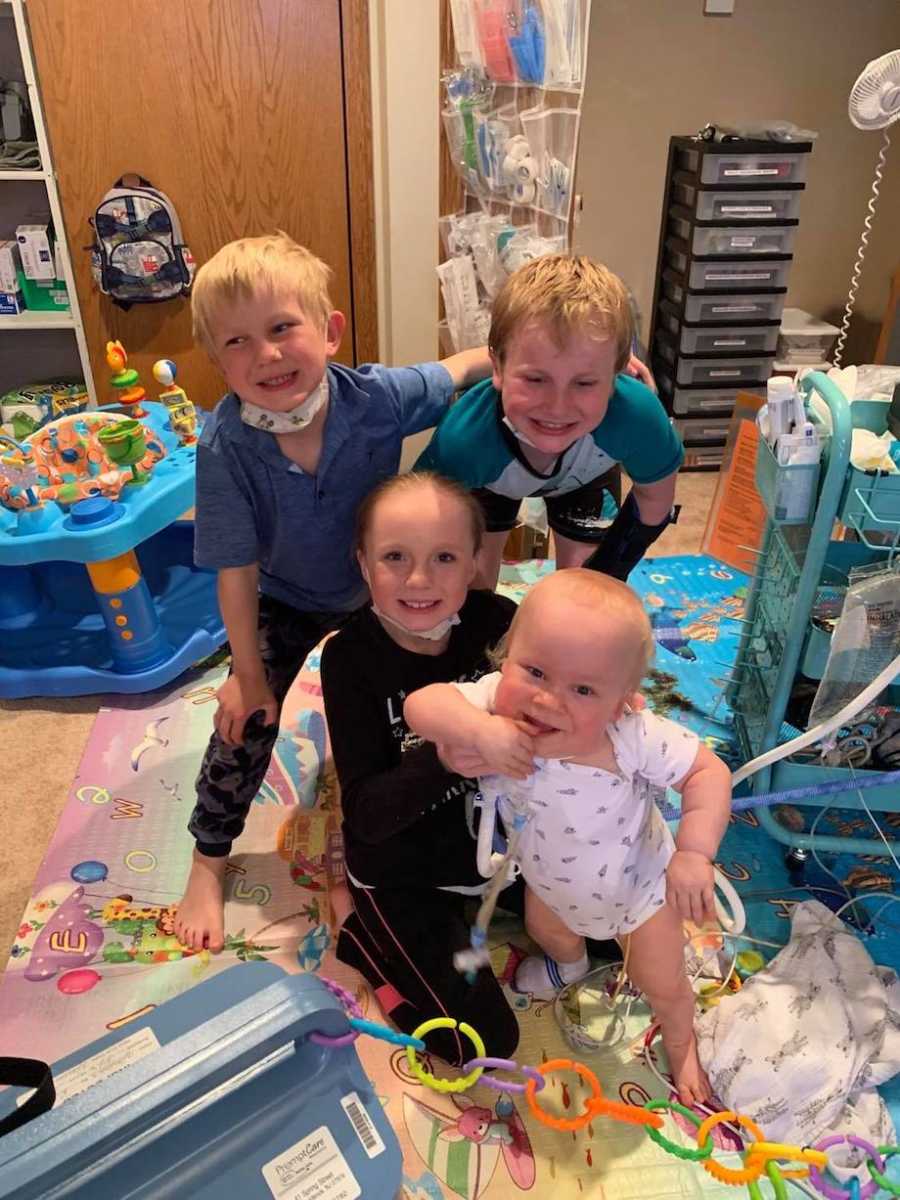 By January 2020, even with the support of Garrin's pulmonary team, very little progress had been made on procuring the more sophisticated ventilator. The team encouraged me to give their ventilator the fourth try. I conceded for a moment, but the day Garrin was supposed to trial the hospital's home ventilator for the fourth time, he came down with an ear infection, giving us more time to advocate for the better option. That week, I spent six hours on the phone with doctors, patient relations, nurse managers, department managers, our insurance company, and two other national hospitals. I was desperate. I pleaded with every employee I talked to. 'All I want is for this hospital to be who it markets itself as on TV,' in commercials, ironically, that my son is depicted in.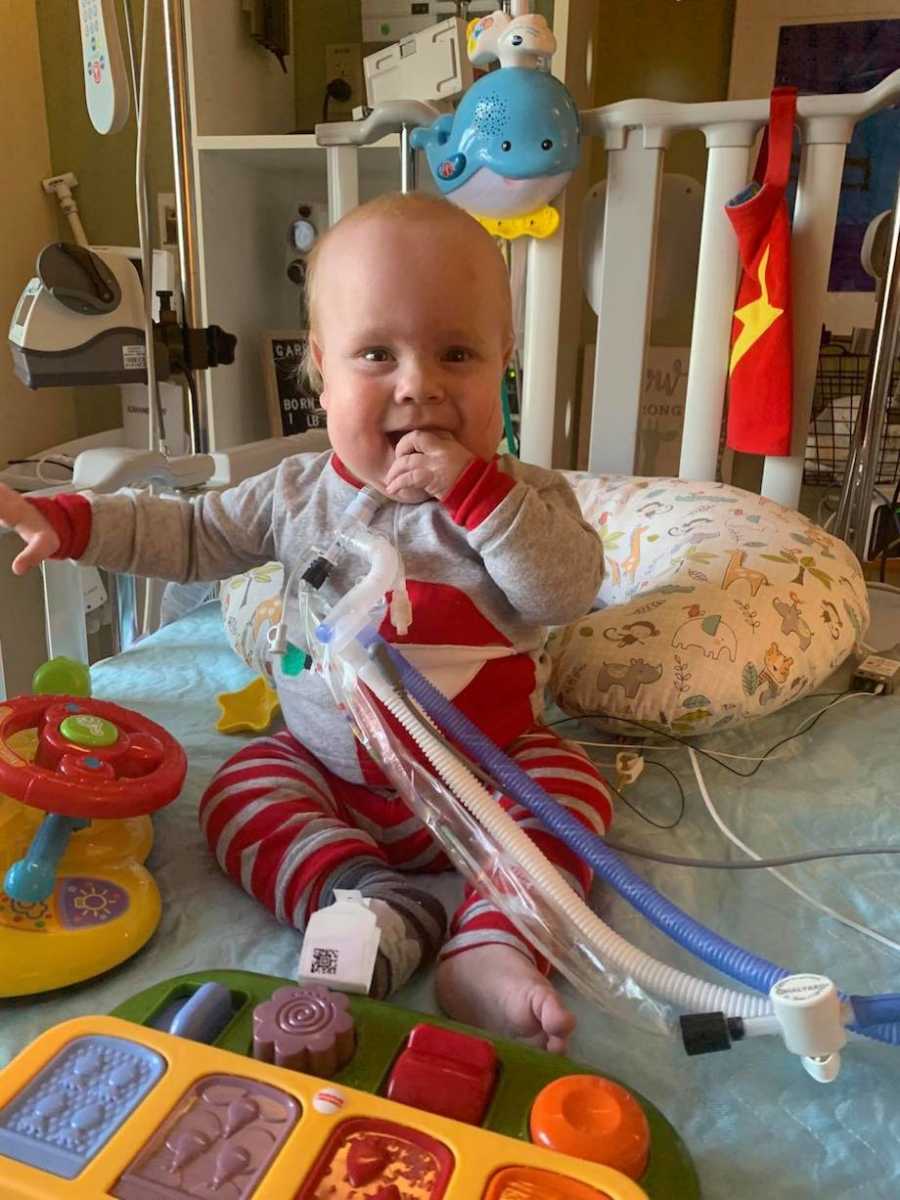 I don't know which of my pleas landed on the right person's desk, but by Thursday, we had a timeline and a plan for bringing in the new ventilator for Garrin. I cried tears of relief yet I worried after all of these months and all of my advocating, I might be wrong. On Friday, my phone rang, and much to my surprise it was a pulmonologist from Children's Hospital of Philadelphia. The pulmonologist visited with me, a desperate mom of a patient she had never seen or heard of, for nearly a half an hour. Her hospital had been using the newer ventilator with patients like Garrin for more than 18 months, and she graciously offered her expertise to our team.
And then it finally happened.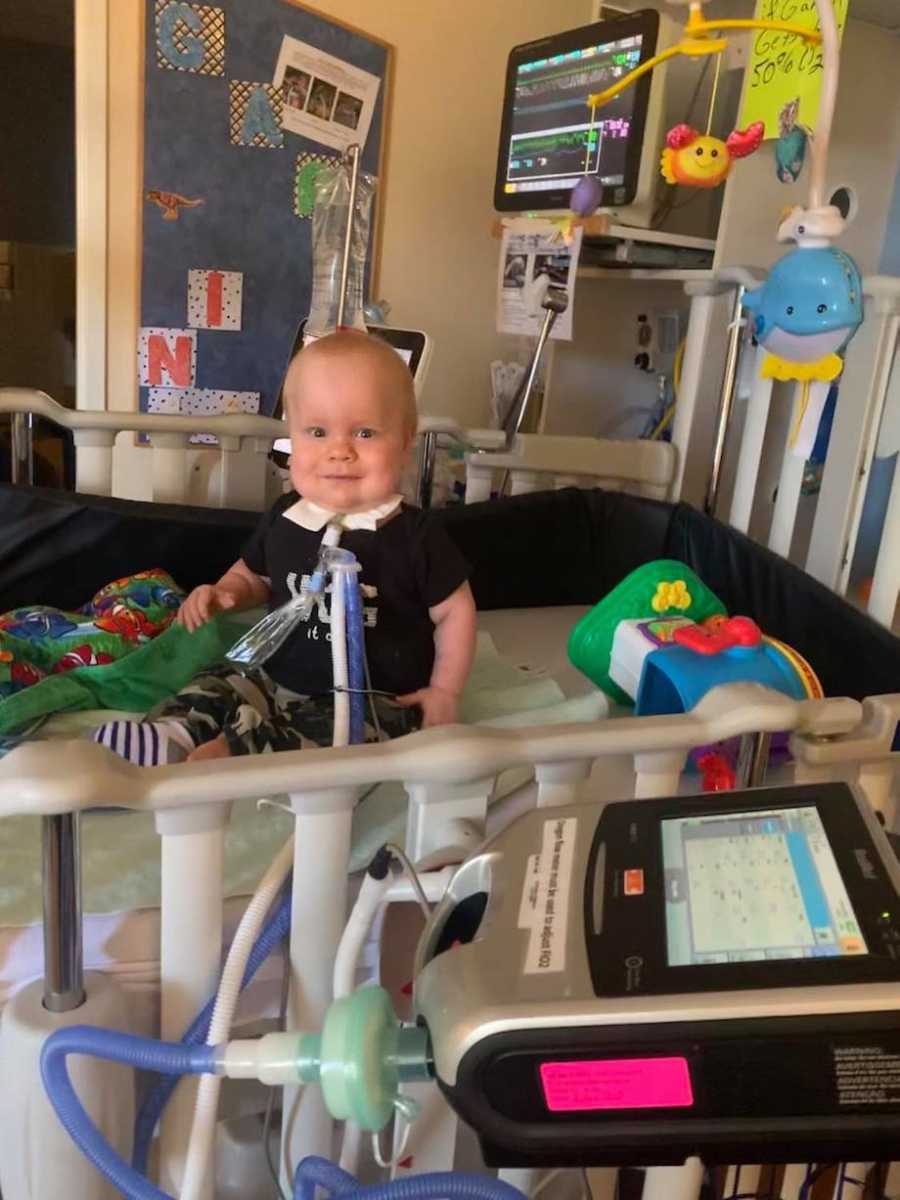 I was shaking as Garrin went on the new home ventilator for the first time, but when he was moved from the hospital ventilator (the Ferrari) to the home ventilator that I had advocated for (we'll call it the Cadillac, a step above the Ford), it was as if nothing in his level of support changed. He was never out of sync with the machine, and he never got air hungry, two issues he regularly faced. His team was as thrilled as we were to see him soar. Garrin spent six more weeks in the hospital so they could ensure he continued to be stable and was released to home on April Fools Day, during a pandemic. The kid sure does know how to make an entrance. Since coming home, the team has discontinued numerous medications and weaned his vent settings. We finally got the results we were hoping for. The bus is moving in the right direction, and Garrin may get to start sprinting off that ventilator I fought so hard to get for him as early as this fall.
After a 414-day stay in the second hospital (a total 561 days inpatient between the two hospitals), we are once again dreaming about our future as a family of six, but we spend most of our time celebrating the right now, moments we feel blessed to have been given. There is no way to know how much the newer ventilator impacted Garrin's rapid progress since coming home. What I can say with certainty is I have absolutely nothing to second guess. What I can say with certainty is God is good and because we exhausted countless avenues for helping Garrin, I've been able to let go of all the second-guessing and just live."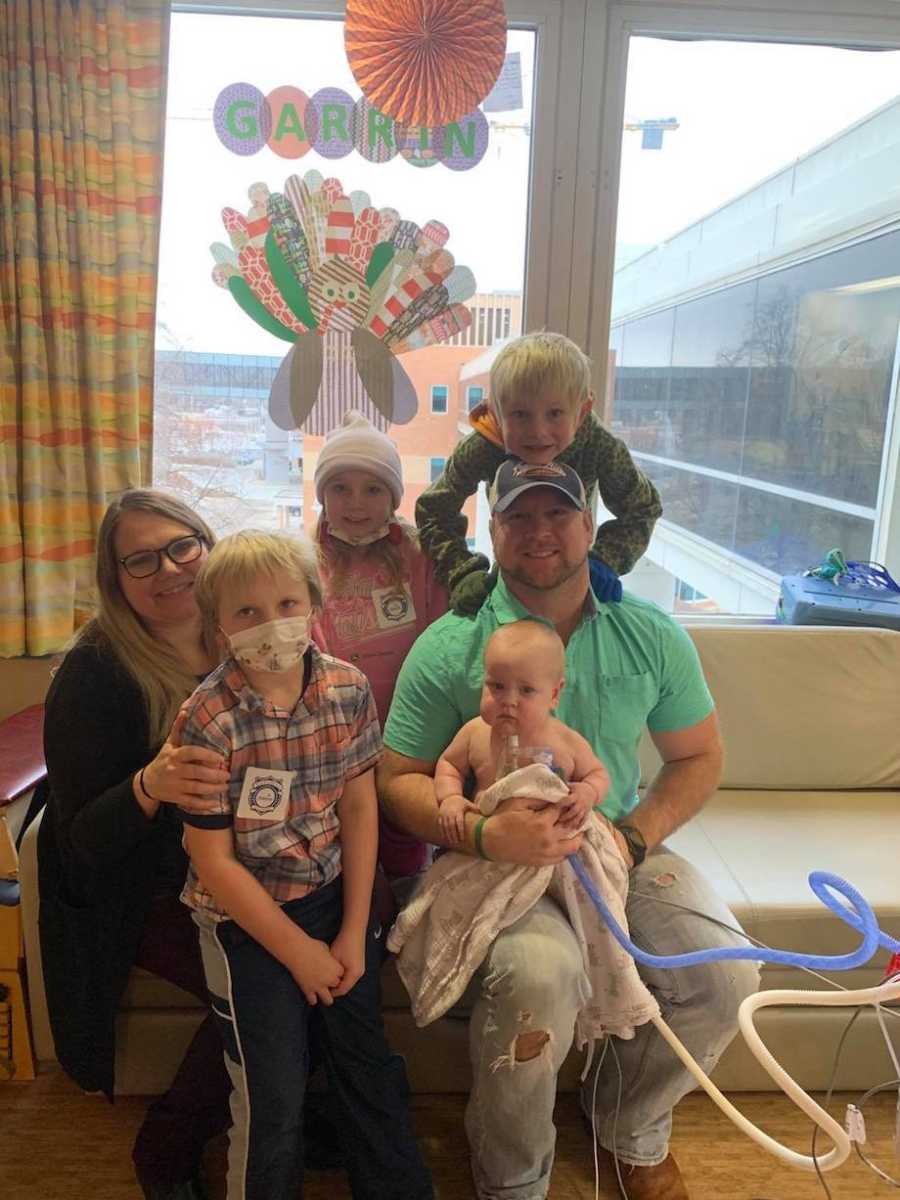 This story was submitted to Love What Matters by MJ Fiala. You can follow their journey on Instagram. Do you have a similar experience? We'd like to hear your important journey. Submit your own story here. Be sure to subscribe to our free email newsletter for our best stories, and YouTube for our best videos.
Read more touching stories like this:
'The sonographer said, 'There's a foot in your vagina.' I didn't hear my baby cry. 'Is she alive?': Woman gives birth to micro-preemie, 'My life plans didn't include a NICU stay during a pandemic'

'I'm going to throw up.' He looked like an unfamiliar creature. Everything I expected went out the window.': Woman gives birth to twin preemies at 24 weeks, 'We knew this would be the greatest fight of our lives'
'Let's get it over with. Your twins will be born and die.' She denied me pain medication. I was banned from seeing them because it was a 'waste of time.': Mom births twin preemies after pressure to let them die, 'They can and WILL thrive'
Do you know someone who could benefit from reading this? SHARE this story on Facebook with family and friends.